Bohemian styles are characterized by a lack of structure, opting instead for carefree layers of pattern, texture, and color. While there are some common practices with the bohemian look, there are no hard and fast rules like there are with modern or minimalist styles.
Whether you love the straightforward, all-natural look or adore more vibrant, daring colors, it's never been easier to transform your home into the cozy oasis of your dreams. There are so many gorgeous options, but we narrowed it down to 12 of our favorite bohemian living room decor pieces from Anthropologie. These will all add that rich, luxe, and earthy vibe to your space.
Knotted Melati Hanging Chair
Add some knotted interest to your living room with a cool bohemian hanging chair. The Knotted Melati Hanging Chair from Anthropologie will add a neutral-hued macrame texture to your space. This is a decorative chair that is unique and comfy, bringing the boho vibes into full swing — literally!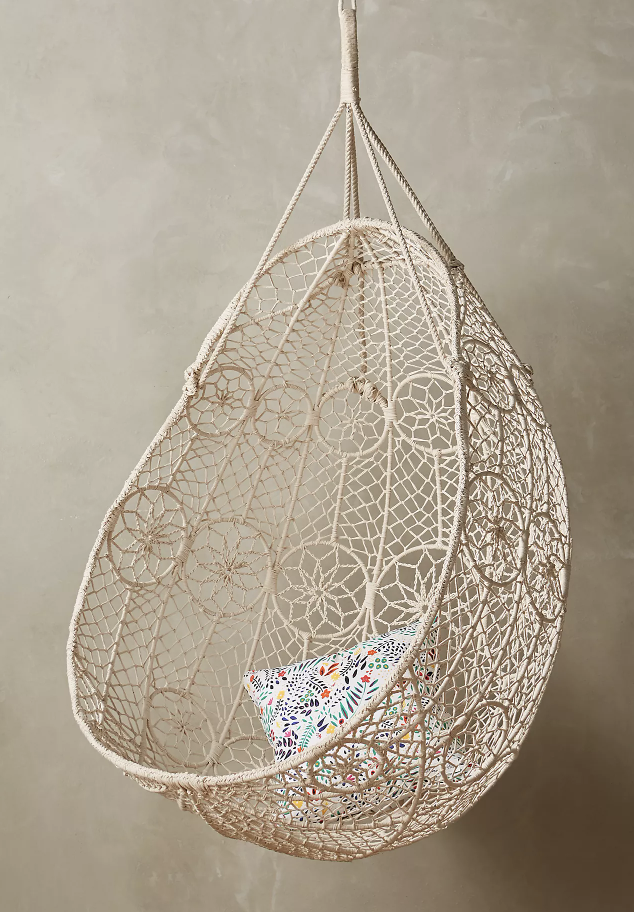 Peacock Cabana Daybed
Ditch the traditional sofa look and opt for some beautiful rattan uniqueness. This gorgeous daybed grounds your living room oasis with refined style in a bold statement-making piece composed of natural rattan.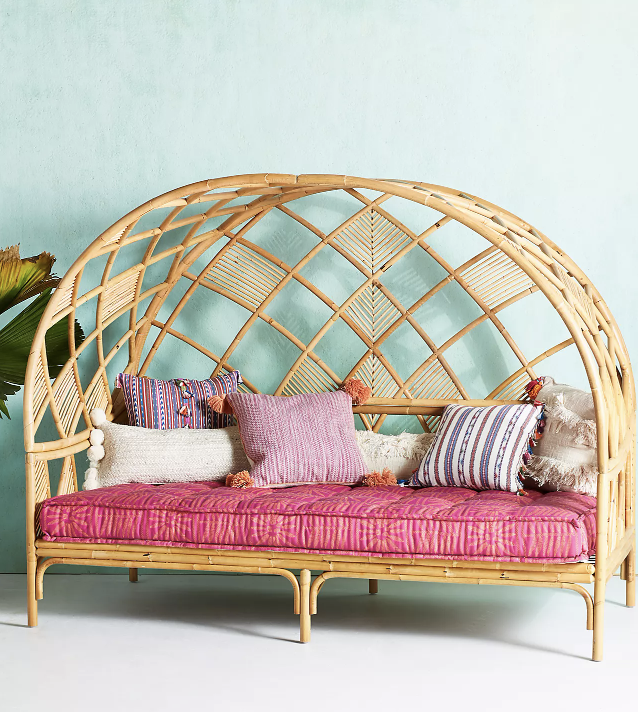 Targua Inlay Coffee Table
Craftsmen have used inlaid bone to decorate furniture surfaces since ancient Egypt. It provides a natural sheen that adds instant indulgence to any space. This room-anchoring piece grabs the spirit of Moroccan tilework with a reiterative bone inlay design atop a brass base and was handcrafted using the same centuries-old process.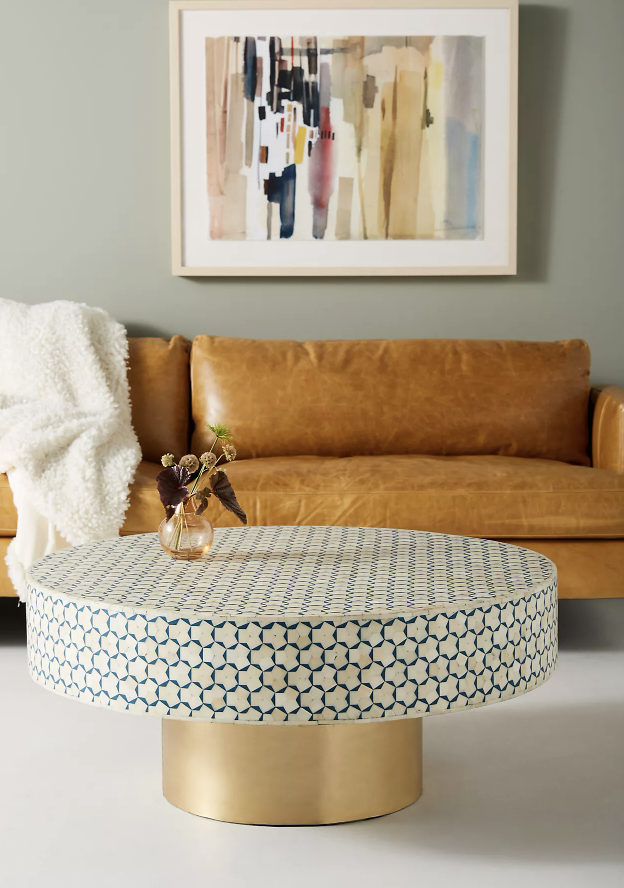 Handcarved Lombok Storage Cabinet
This cabinet is a true work of art. Handcarved from tropical hardwood, its filigree-inspired cutouts create a breathable space where shadows and sunlight play, while drawers and shelves offer ample storage space. While it's shown in the bathroom, we cannot help but feel it would make a lovely addition to a boho-style living room.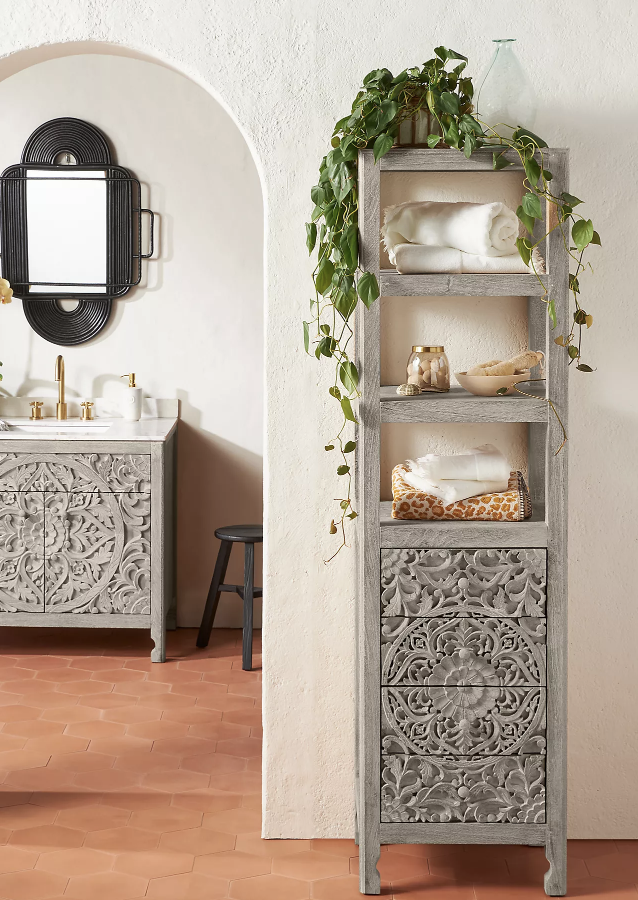 Scalloped Ceramic Side Table
This eye-catching side table offers a burst of color and a unique scalloped shape to suit your boho style. The bright coral color will add life and vibrancy to your space. This is a gorgeous table to set your drinks on!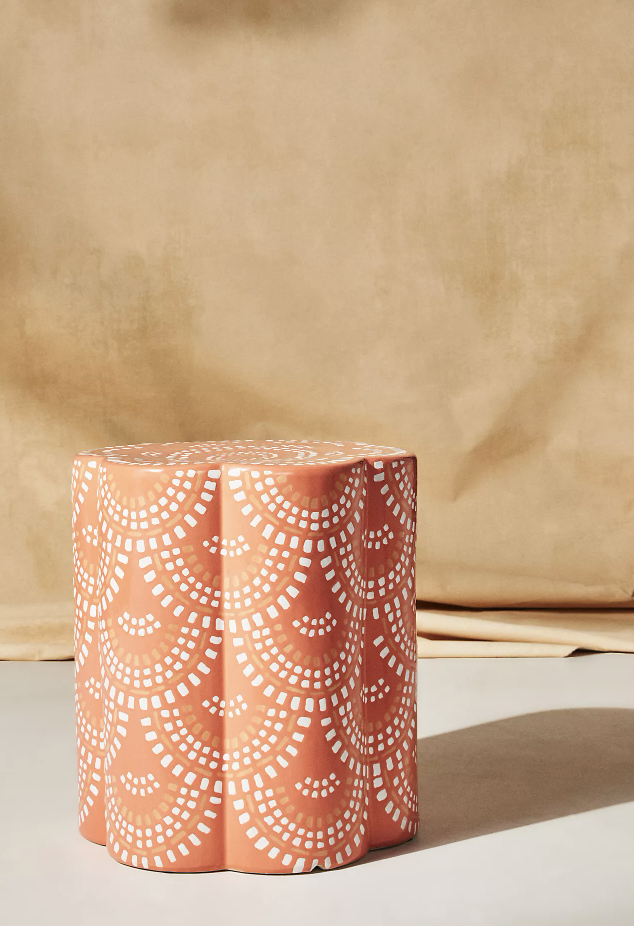 Susila Ottoman
Kick your feet up and relax in a dreamy boho space. The rattan-crafted frame with leather-wrapped accents infuses a touch of earthen elegance into your interior. Rattan is a bohemian staple, so make sure you have at least one rattan piece if you want to create a truly boho look in your interiors.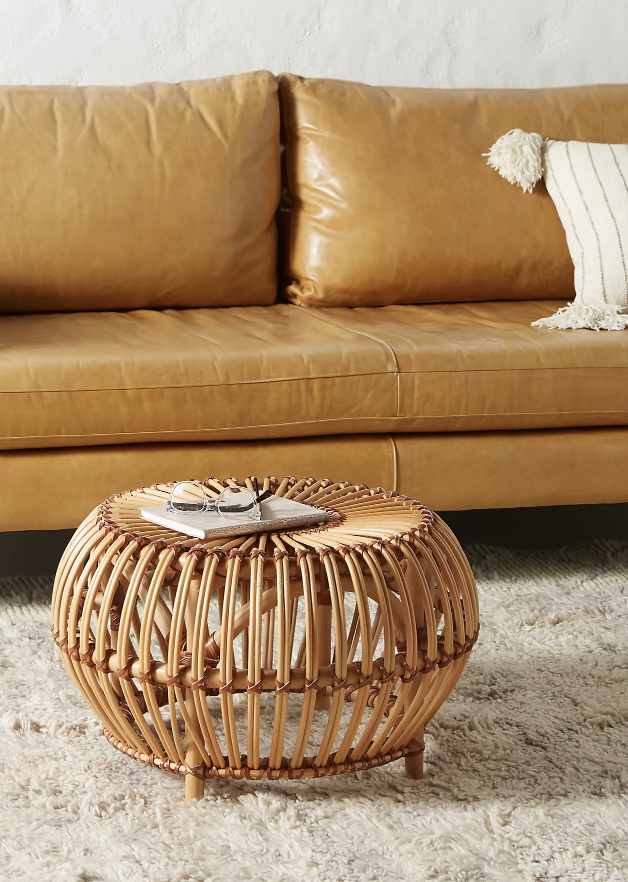 Tufted Caro Rug
Inspired by the beautiful patterns that grace classic rugs, this multicolored floor covering loans a decorative touch to your bohemian-style living room. It also comes in two other colors – navy and blue – if pink isn't your style. Pull the pink from the rug and incorporate it into other pieces in your room to create a visually stunning look.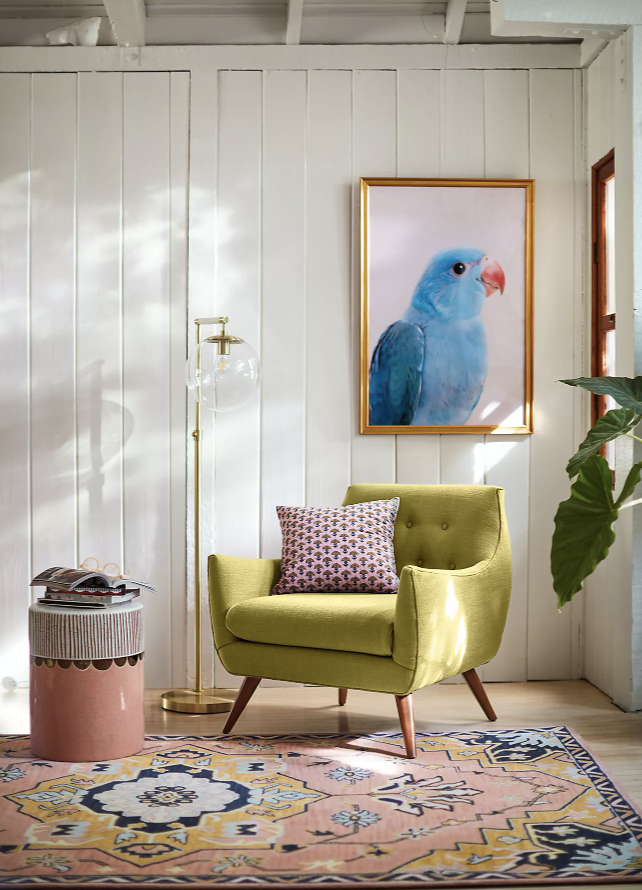 Verdure Floor Lamp
This sleek lamp offers an antique-inspired floral glamour to your living room. While it may feel like an antique piece, in the right boho setting it can add some depth and dimension to your space.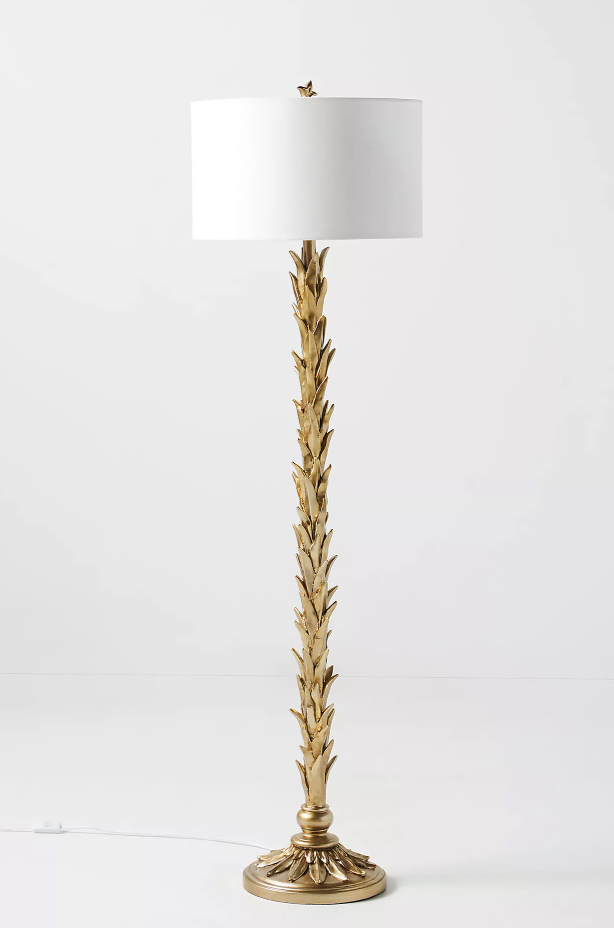 Oval Capiz Chandelier
Featuring an ethereal, luminescent arrangement, this capiz shell chandelier is handcrafted and would make an eye-catching statement piece in the living room. While chandeliers aren't always a typical choice for the living room, this one would look simply stunning in the right space.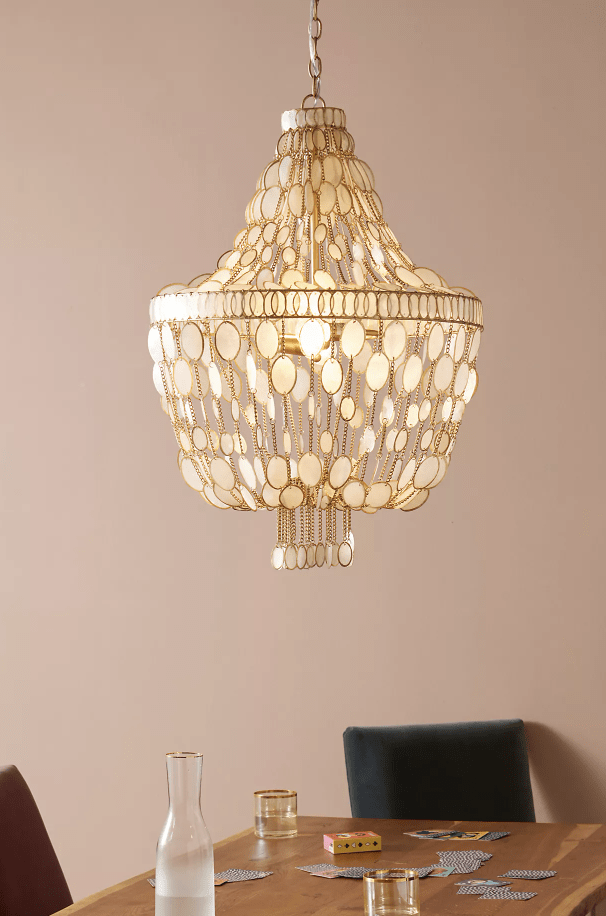 Havana Leather Chair
Crafted from luxe, supple leather, this stunning chair will elevate any living space but would look particularly gorgeous in a boho living room. No detail is left untouched, from the brass-accented legs to the buckled armrests. This chair is definitely a show-stopping piece to be admired.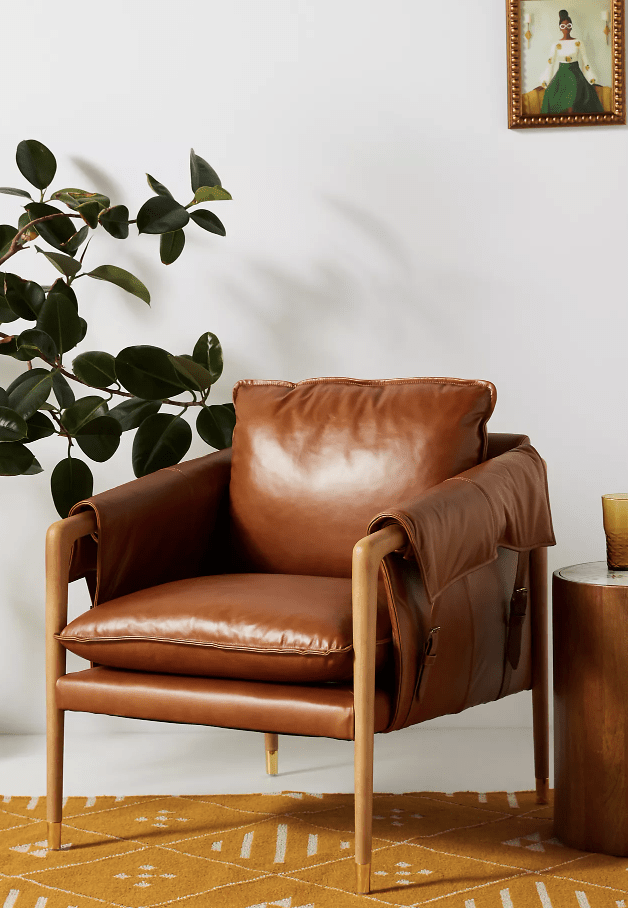 Handcarved Gulliver Media Console
The warmth of this solid tropical hardwood console invites a classic, bohemian-inflected aesthetic into your space. Rest your television on this beauty, or just leave it decorated. Meticulously hand carved in an all-over floral motif, it's finished with brass hardware and brass-capped legs, completing its relaxed yet sophisticated look.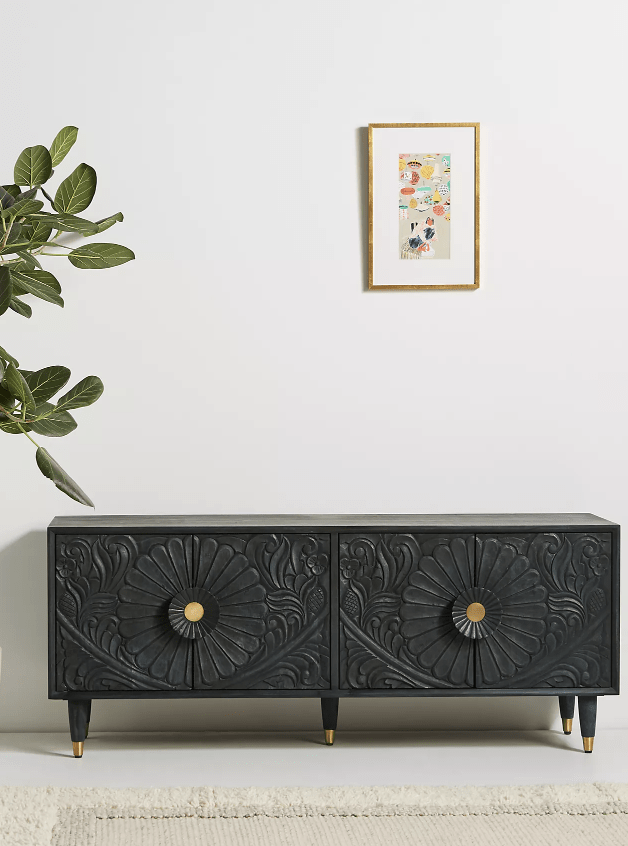 Moroccan Wedding Pouf
Floor poufs have become increasingly popular for cozy boho living rooms, and this one is sourced from traditional Moroccan wedding blankets that are then stitched together to create a lavish piece. This will add texture and style to your boho space for sure.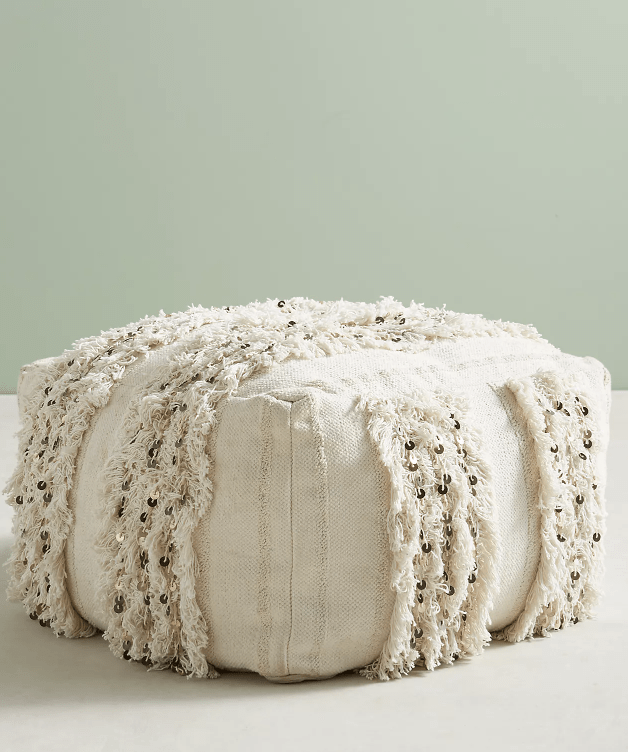 We know that photos can be an amazing source of design inspiration, so this article may contain affiliate links that will direct you to a particular decor item. Clicking on a link may result in a portion of proceeds being paid to www.decoist.com.