Curves or angles? This may be the very question you're asking yourself as you shop for the perfect bathtub. And if you're a modern design enthusiast, the choice becomes even more difficult, as there are clean-lined advantages to both approaches. Today we shine the spotlight on round bathtubs, both oval and circular. We'll take a look at the different styles that can be evoked by round tubs, and we'll even point you in the direction of some fabulous bathtub sources should you be ready to make a purchase!
Clean and Simple
Round bathtubs are often used to accentuate clean, crisp powder rooms. And when it's a room with a view, a simple form is the preferred tub of choice, especially when the focus is on the scene on the other side of the glass windows! [photo from Carlton Architecture]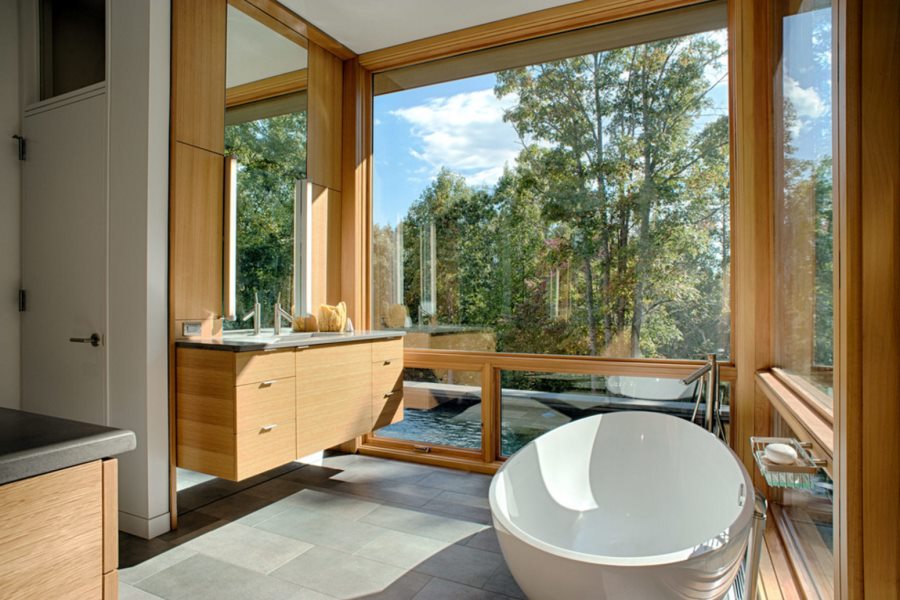 Bathrooms with round tubs often feature round sinks. Here's one more modern powder room with a view. [photo by Merle Prosofsky Photogray Ltd., from Habitat Studio]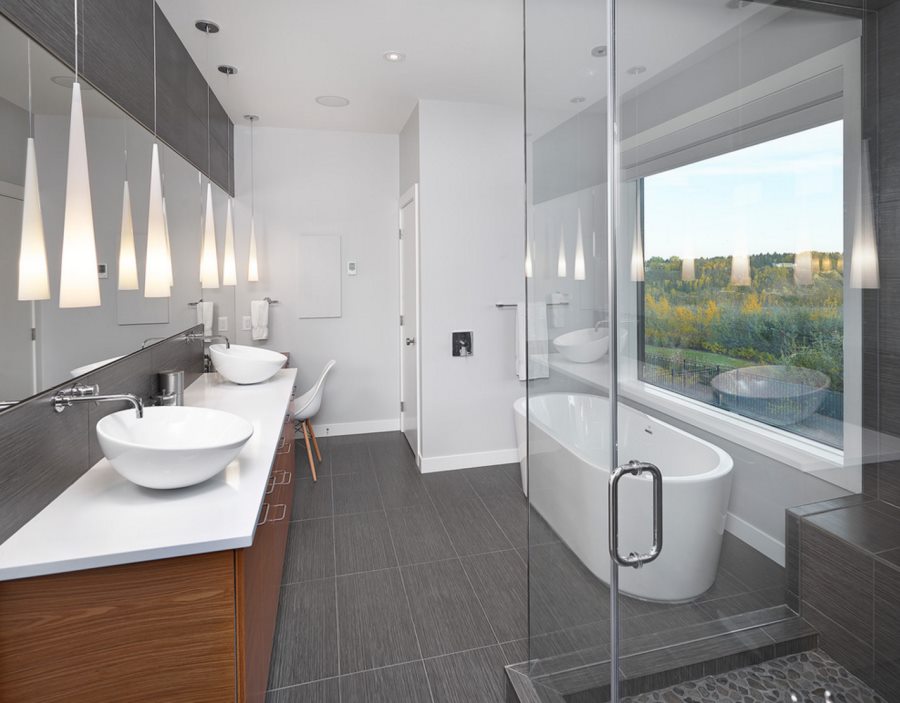 Round tubs are often used to mirror other round forms in the powder room, such as the skylight in the all-white bathroom below. Curved built-in wall shelving provides another focal point in this space, especially since it's filled with coral and other natural wonders. [from Magni Design]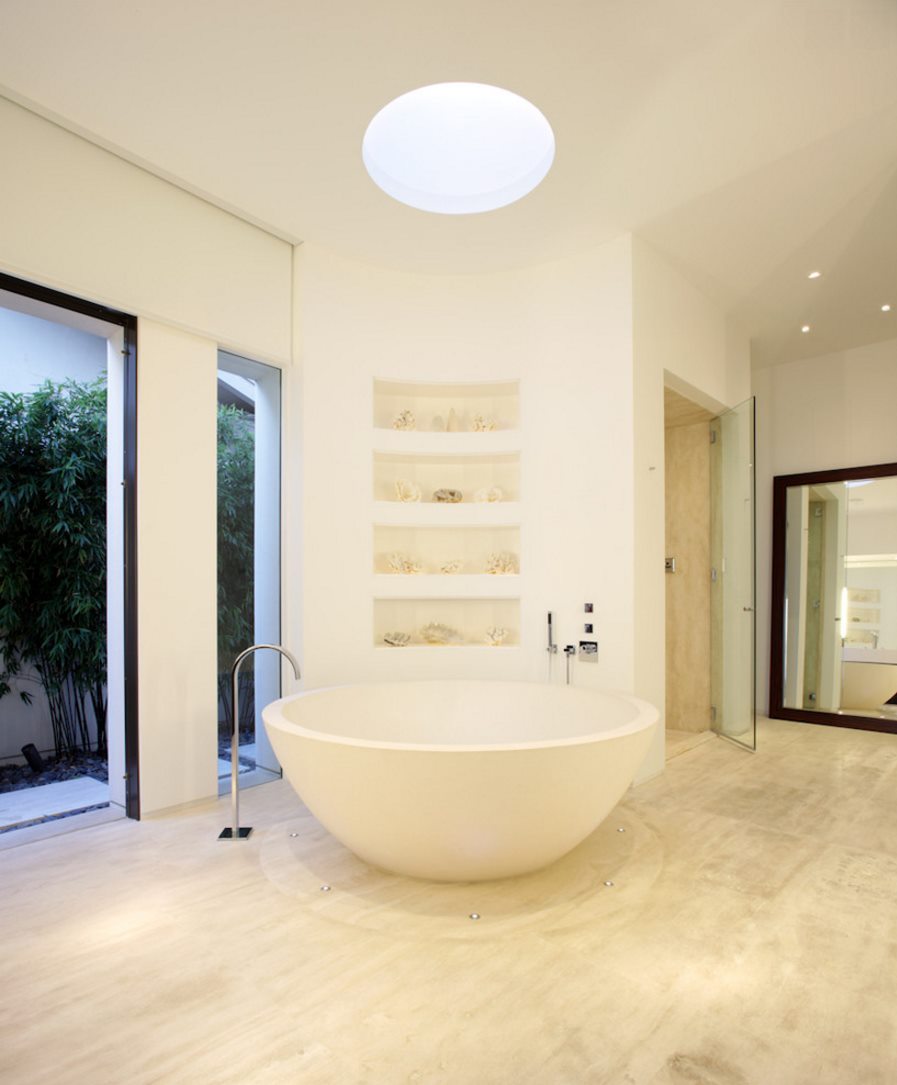 Apaiser is a great source for luxury round stone tubs, such as the Eclipse Stone Bathtub shown below. In fact, Apaiser tubs are perfect for spaces that showcase building materials such as stone and tile. Soft edges are a highlight of this piece, and it's also available in a range of hues and materials.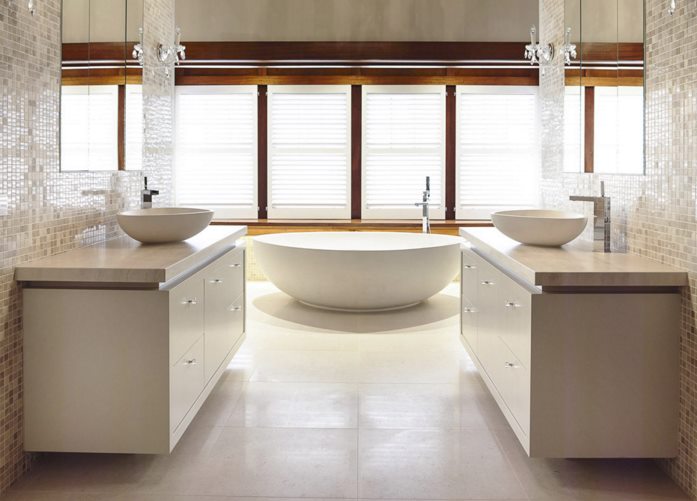 Keep in mind that when it comes to the modern powder room, a round tub has the power to soften the bold lines of the space. Yet you don't have to play it safe with the bathtub, as shown below by a bold selection in black, a Caroma product purchased from Reece. [from Bagnato Architects]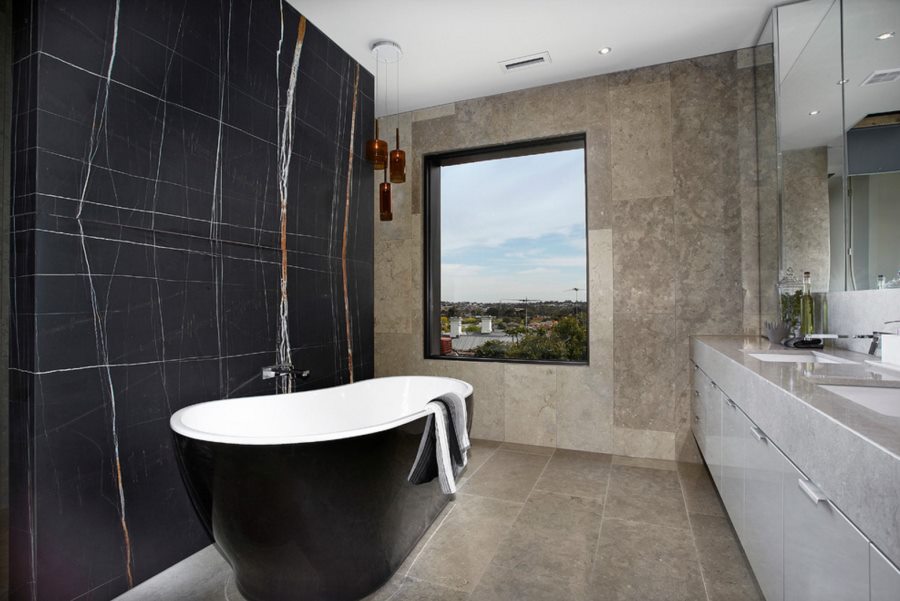 Here's another Caroma tub, this time in a pearly shade of white. In fact, this Caroma Pearl (also available through Reece) boasts an oval organic shape. Note the way its simplicity is the perfect contrast to the ornate wall in the product shot below: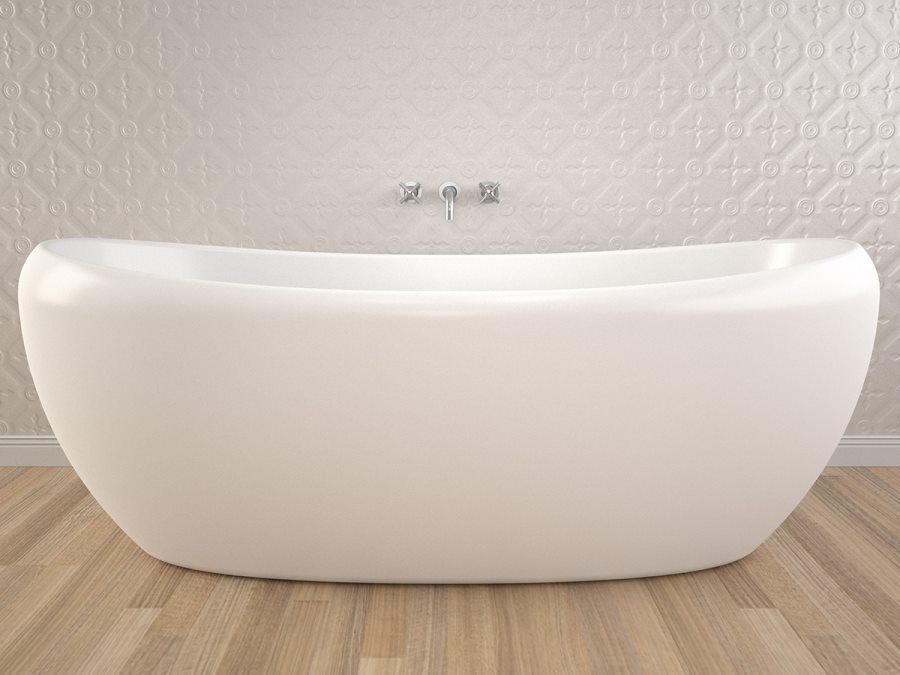 Would you choose an acrylic tub for your crisp, clean powder room? This Nazzano Acrylic Modern Bathtub from Modern Bathroom Vanities has the advantage of being nonporous, which means it's very hygienic and easy to clean: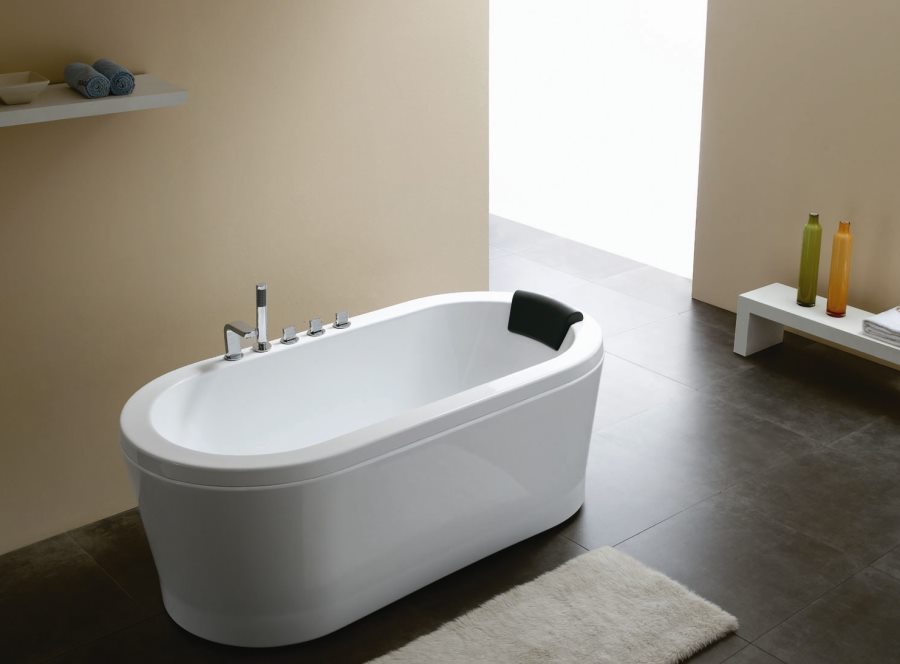 Rustic with a Twist
The rustic-modern bathroom often presents a blend of strong, simple forms and warm, earthy details. Note how the wooden shelves and charming view soften the modern features of the bathroom below from Jasmine McClelland Design. Once again, we see a lovely Apaiser tub take center stage: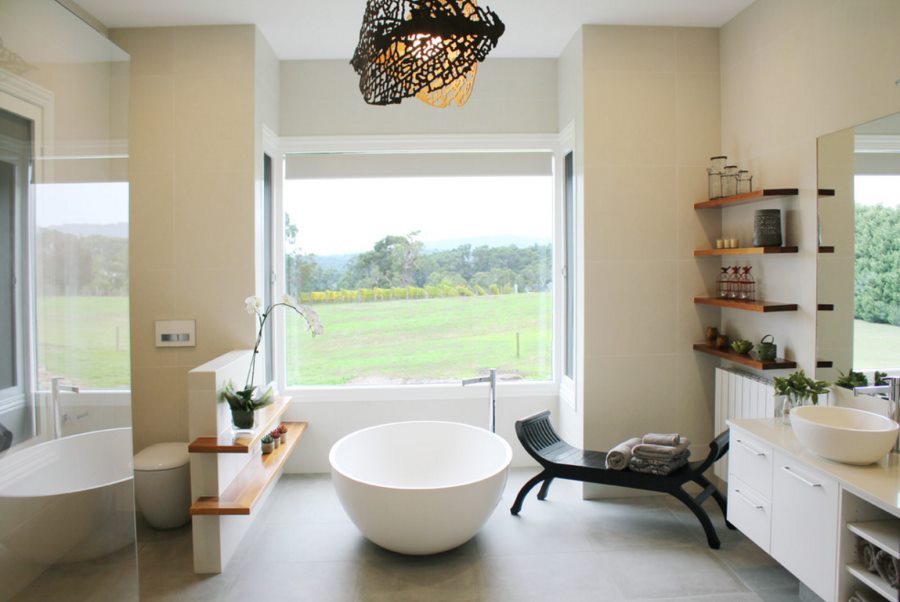 Warm wooden tones are also alive and well in the next featured powder room. We're loving how the round form of the tub perfectly complements the modern Vernor Panton Large Globe Light, which adds industrial flair to the space. [photo by Andrea Ferrari, from Kit Republic]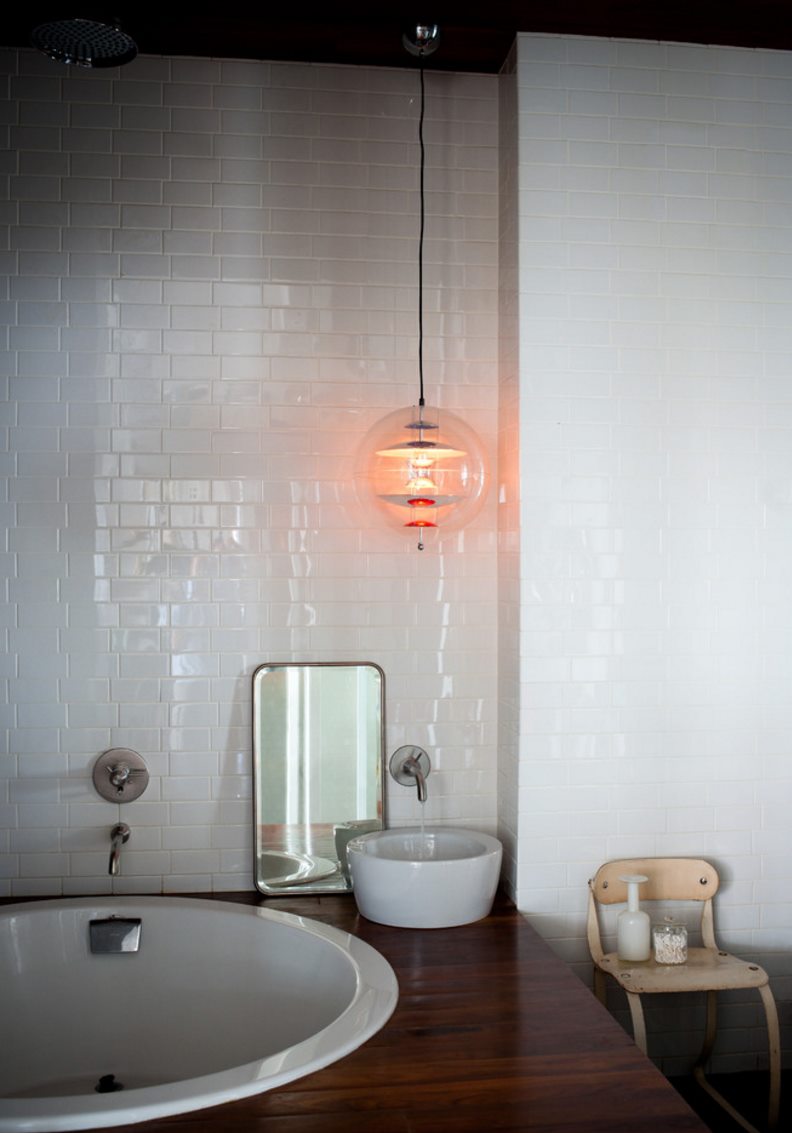 Modern Marvels
We now shine the spotlight on a series of modern powder rooms that are magnificent in their own right. Stone is the material of choice in the bathroom below, which makes the Haven Stone Bathtub with Base from Apaiser an ideal choice for the space! Note how details such as a sculptural pendant light add layers of eye-catching design to this interior: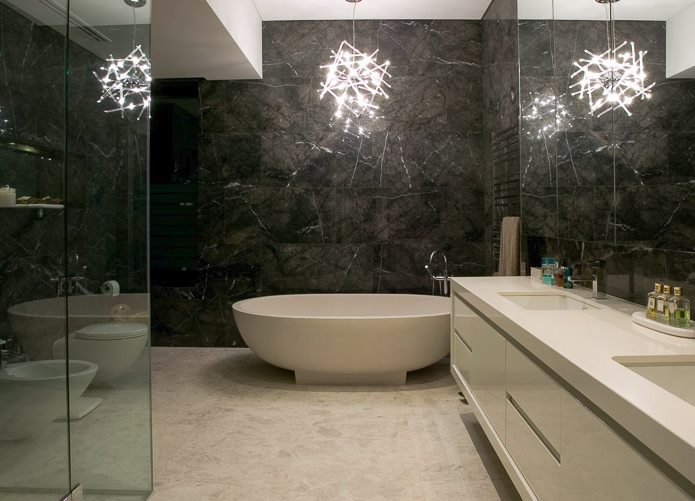 Sometimes less is more, and when the powder room is all about the tub, it's not a bad idea to go bold. Next we see Apaiser's Haven Stone Bathtub (this time without the base), and if black isn't your tub color of choice, note that in true Apaiser tradition, the piece is available in a variety of finishes: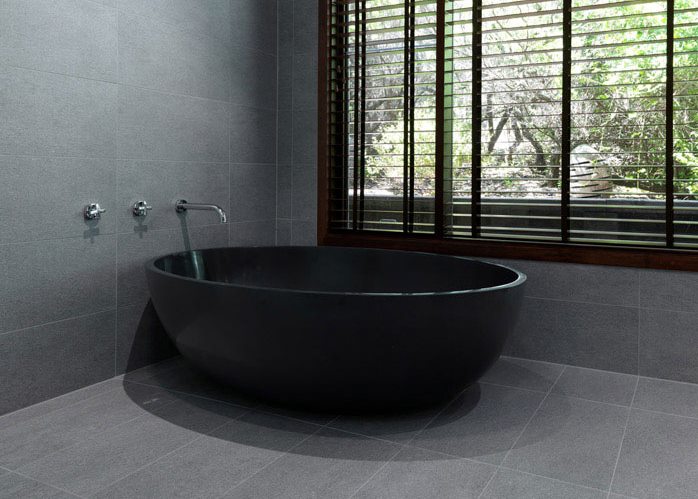 Here's another modern black bathtub in a grey bathroom, and this time the tub is available through Modern Bathroom Vanities. Say hello to the Dazio IV, which has a velvety satin feel: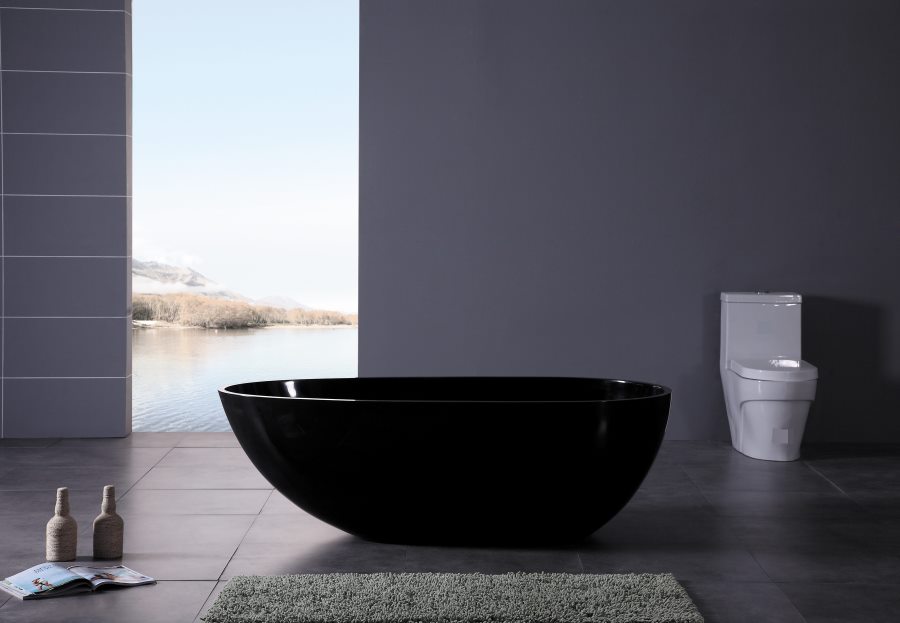 There's a dash of tropical style in this bathroom, thanks to deck-like flooring, a view of palms, and a tub that mirrors the round shape of a porthole-style window in the distance. [from SOSTUDIO/Sergio Orduna Architects]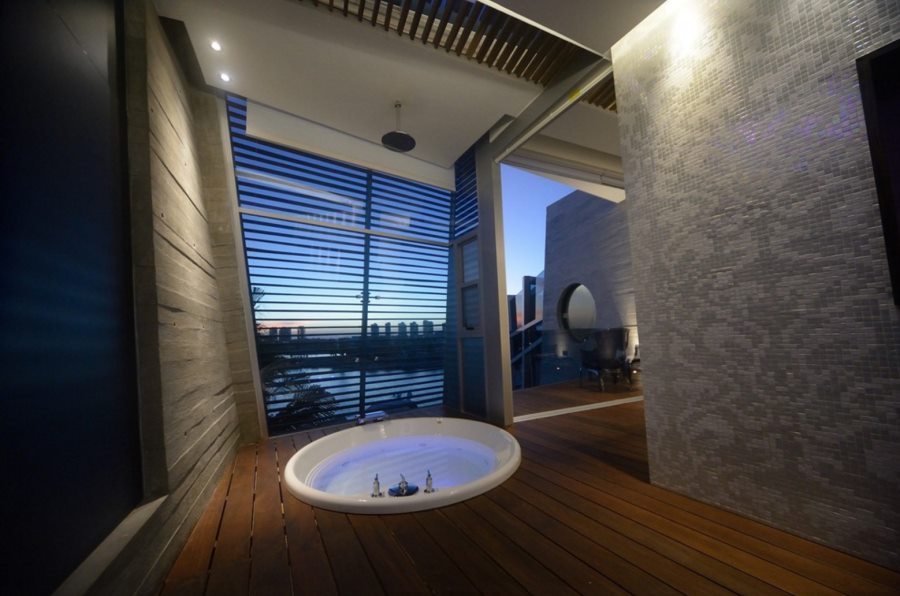 This luxe bathroom is filled with glamorous details, such as a plush rug and Mirror Ball pendant lighting. A round tub and two round basins complete the look. [photo by David Giles, from Amberth]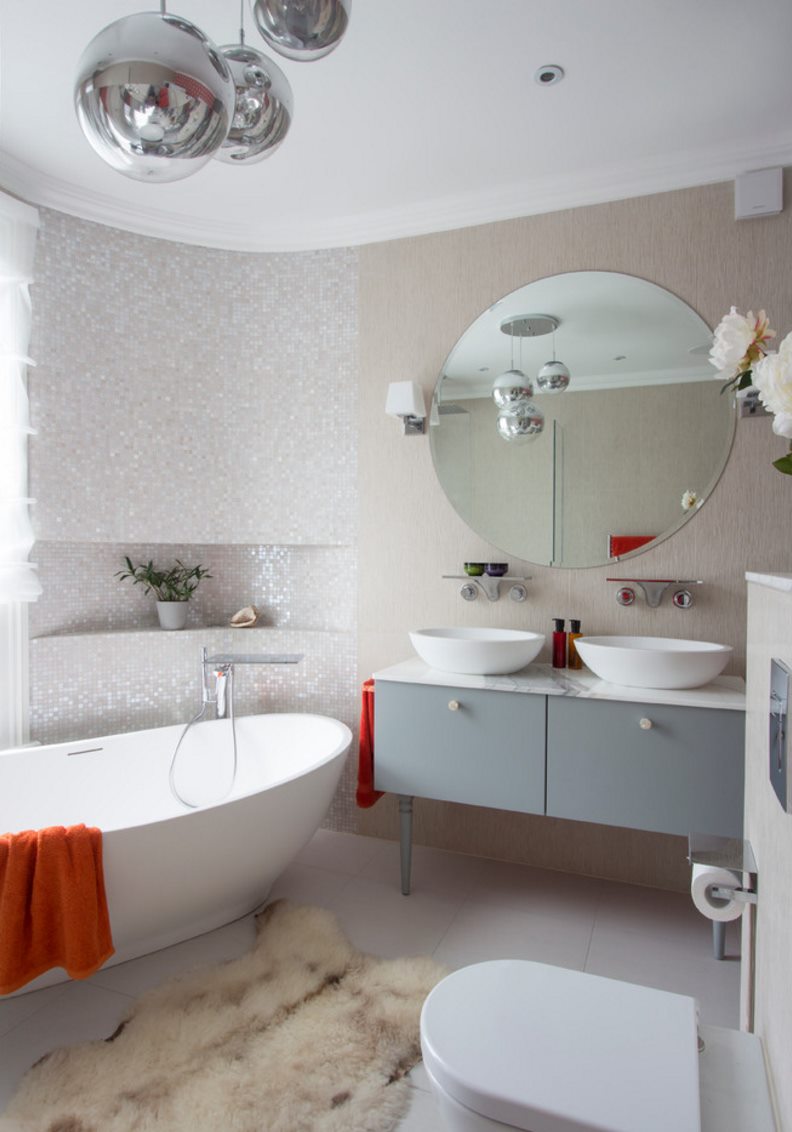 Traditionally Fresh
We end today's post by highlighting powder rooms with traditional style. Charming wall tile, an arched window and a clawfoot Astonian Luxor tub grace the light-filled bathroom below. [from Aston Patterson Disston Architects]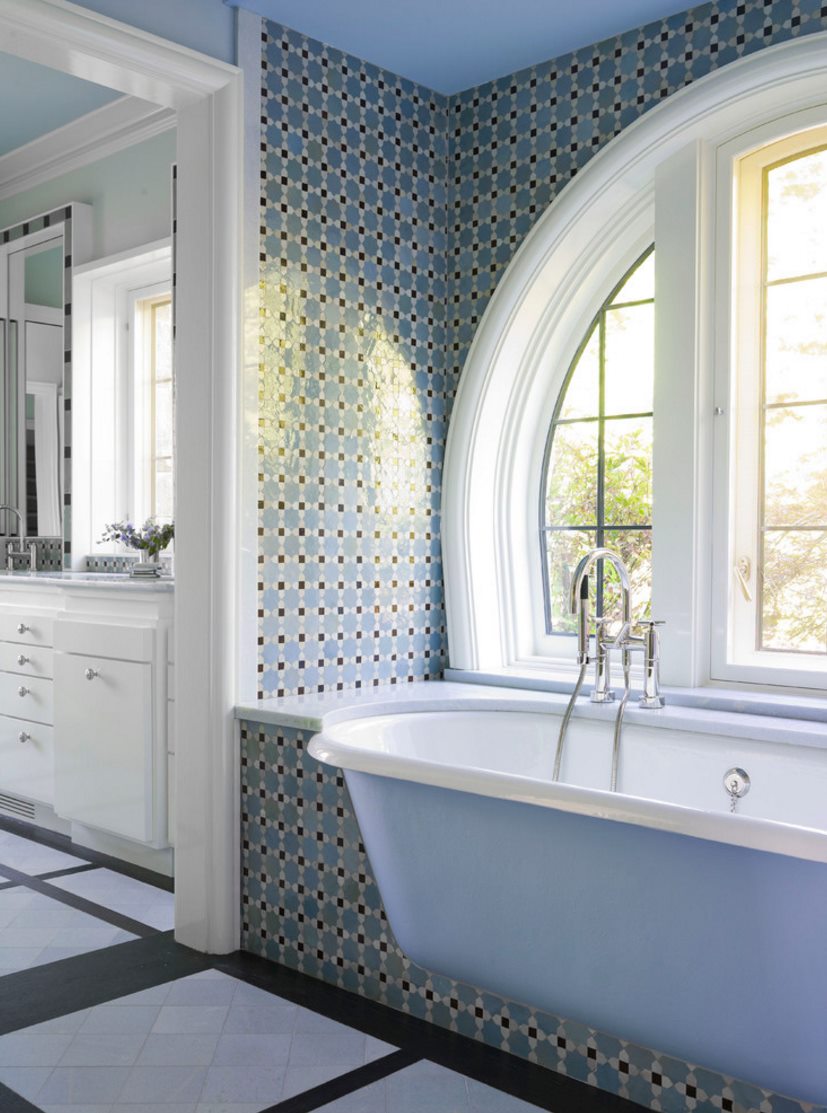 While subway tile adds a modern look to this next featured space, striped curtains and (once again) a clawfoot tub put their traditional stamp on the room. In case you're curious, that fabulous shower rail can be purchased at Lefroy Brooks. Be sure to check out the brand's lovely bathtubs as well! [from Leviars]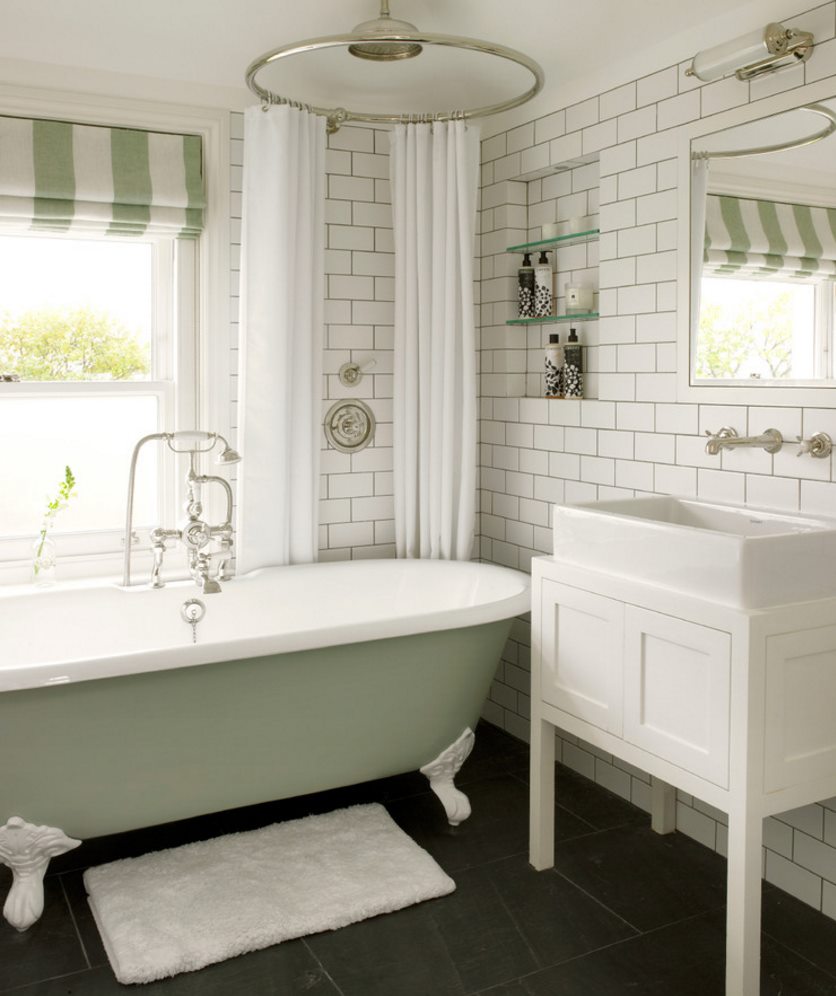 The silver feet on this clawfoot tub make it a true standout. Surround it with black tile, and you have a powerful contrast that can't be ignored. [from Elad Gonen Photography]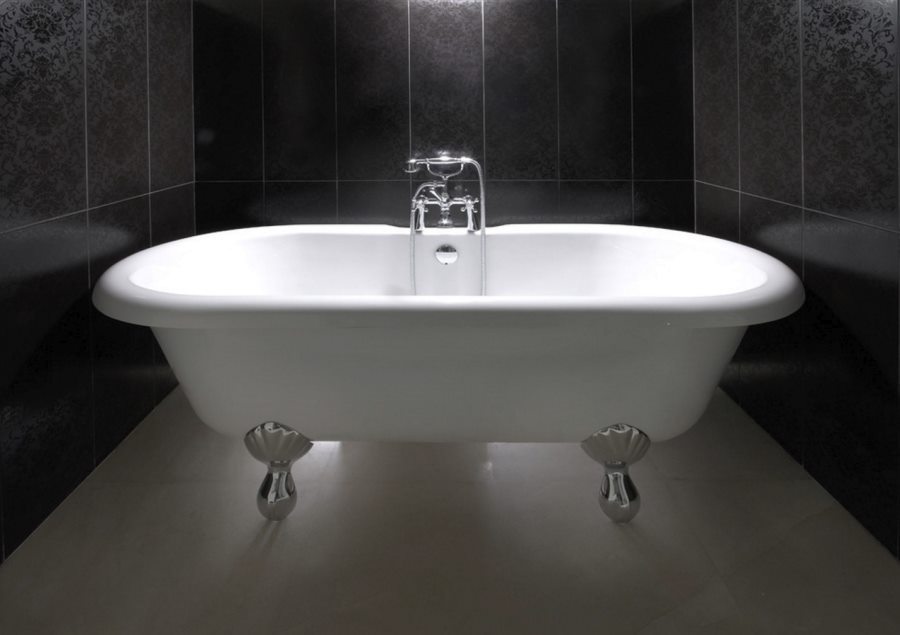 If you're a fan of the clawfoot look but you're searching for a selection that's a bit more modern, check out the Kado Classic, available through Reece. A contemporary form meets detailed feet in this modern tub find that takes a bit of the past and brings it into the present: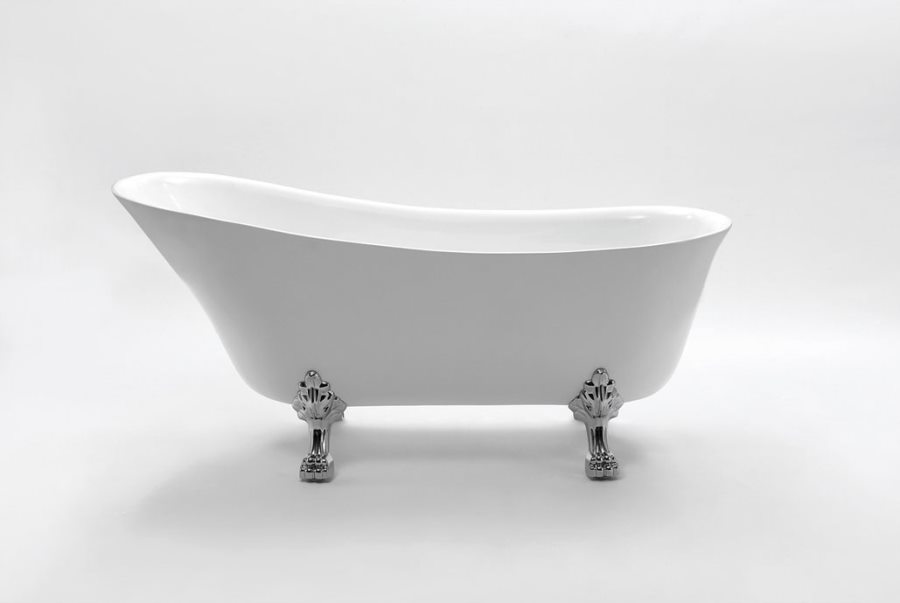 When it comes to round bathtubs, which styles are your favorite? And in which types of powder room do you think they work best? Modern? Traditional? Rustic with a twist? Share your thoughts by leaving a comment below…
Liked the story? Share it with friends.