There are still plenty of lounging days left before the weather turns chilly, so let's make the most of it by celebrating some amazing outdoor furniture finds! Today's post is dedicated to deck furniture ideas, from dining tables and chairs to stylish loungers. Put your feet up and enjoy the view as you browse the images below, and be sure to check out the specific furniture finds we've highlighted, inspired by the furnishings in the beautiful design photos that follow. Happy shopping! [photo by Casey Dunn Photography, from Chioco Design; custom fabricated chairs; table and benches by RAD Furniture]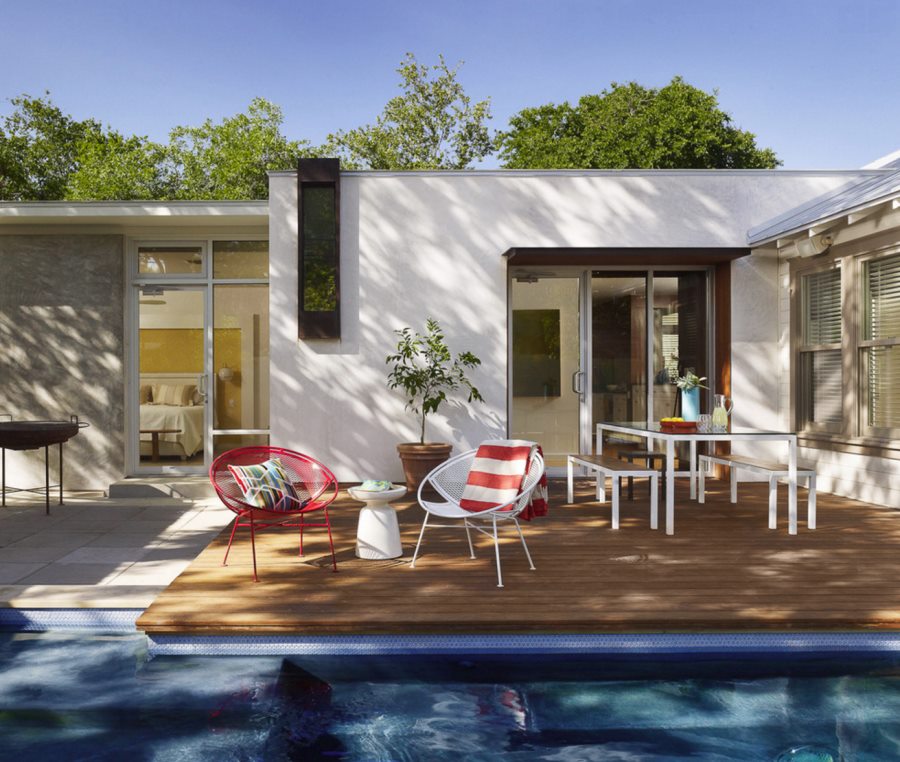 For Lounging
We begin with a series of images that celebrate the beauty of outdoor lounging, and nothing beats a pair of sleek lounge chairs on the deck! [photo from Christiano Homes]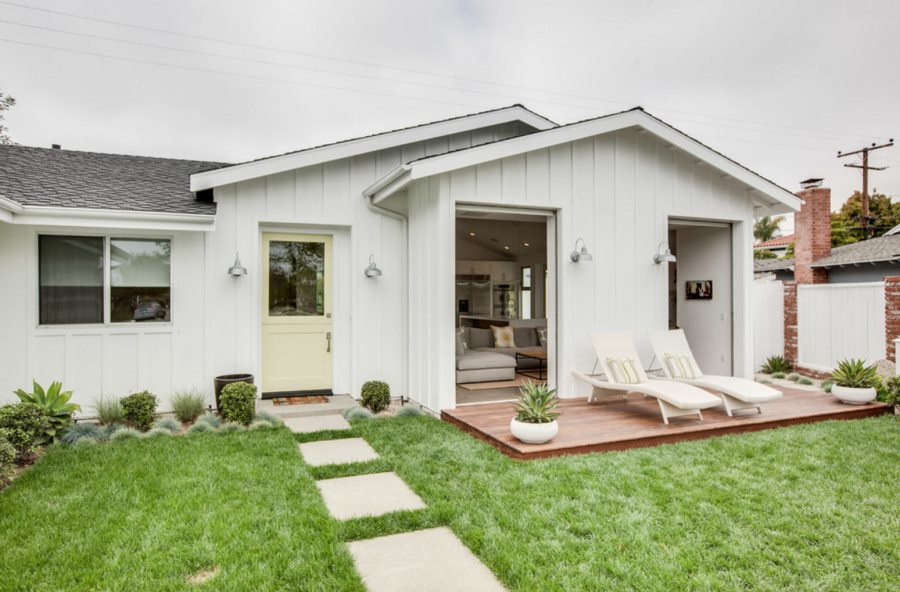 For a modern chaise that's a bit less curvy, check out the Idle Grey Outdoor Chaise Lounge from CB2, shown below with the same chair in turquoise. Affordable, modern and fabulous with its powdercoated aluminum frame, this chair delivers big style, even if you're on a small budget: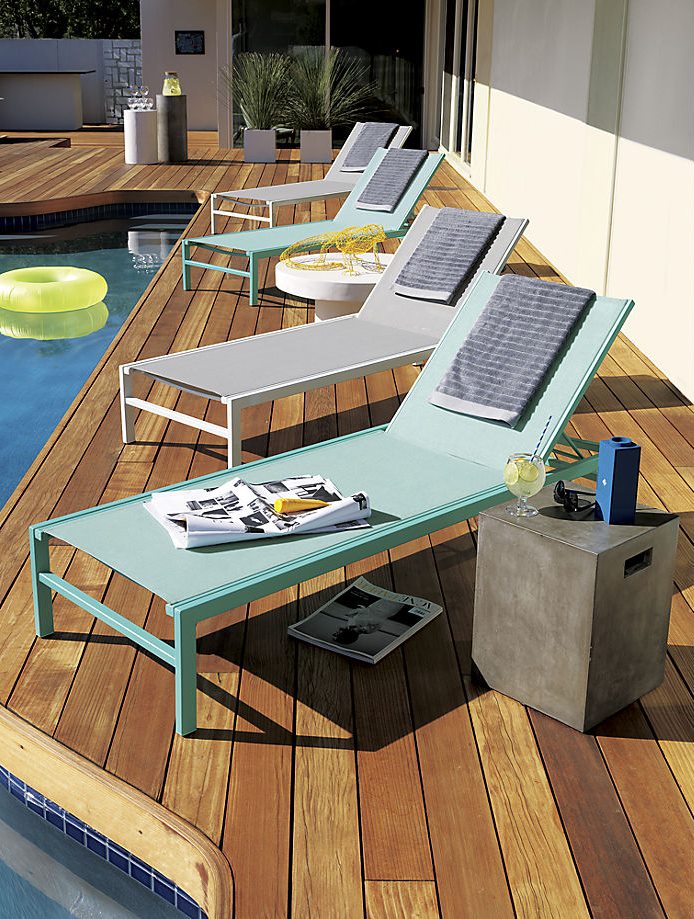 Enjoy your time on the deck from the comfy perch of a large sofa, like this sectional from Pottery Barn. Perfect for chatting with friends or napping on a lazy afternoon! [from Michael Hsu and Restructure Studio]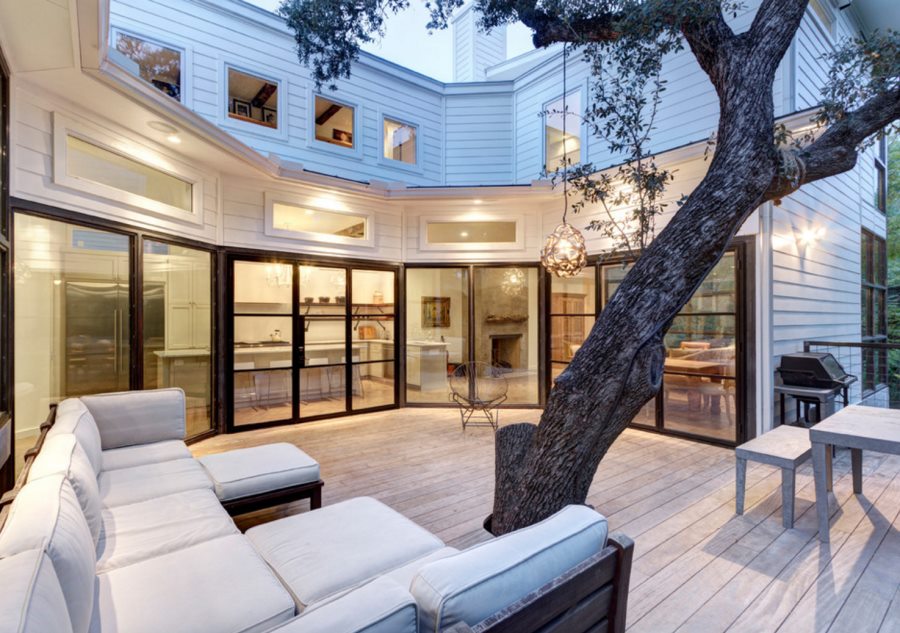 For a similar look, check out the Chatham Sectional from Pottery Barn, featuring FSC-certified mahogany and eucalyptus. Plus, you can piece together the perfect-sized sofa for your deck. Subtle curves make this sofa a true standout:
Sometimes all you need is a teak frame, a fabric sling, and a pillow for your head… [from Bates Masi Architects LLC]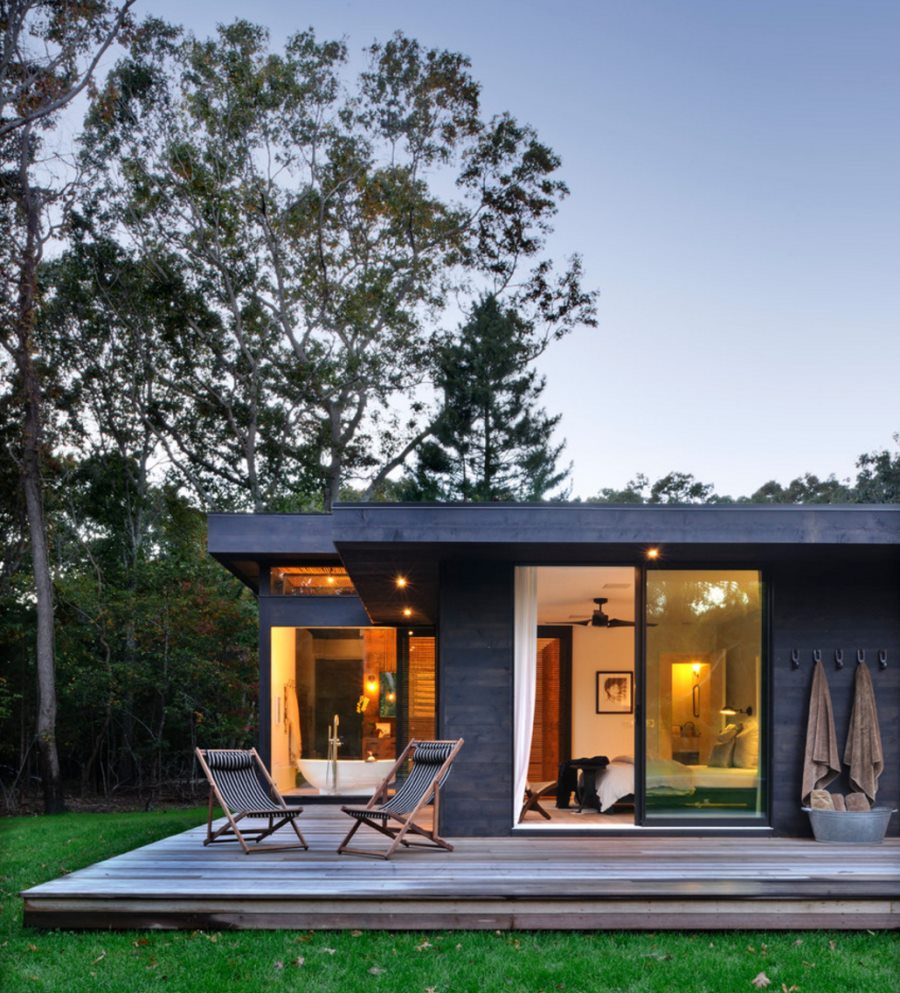 Curious about the chairs above (and the chair below)? You're looking at the Lanikai Deck Chair from Gallant & Jones! Different patterns await you, so find the fabric that suits you best and enjoy this chic outdoor seating option: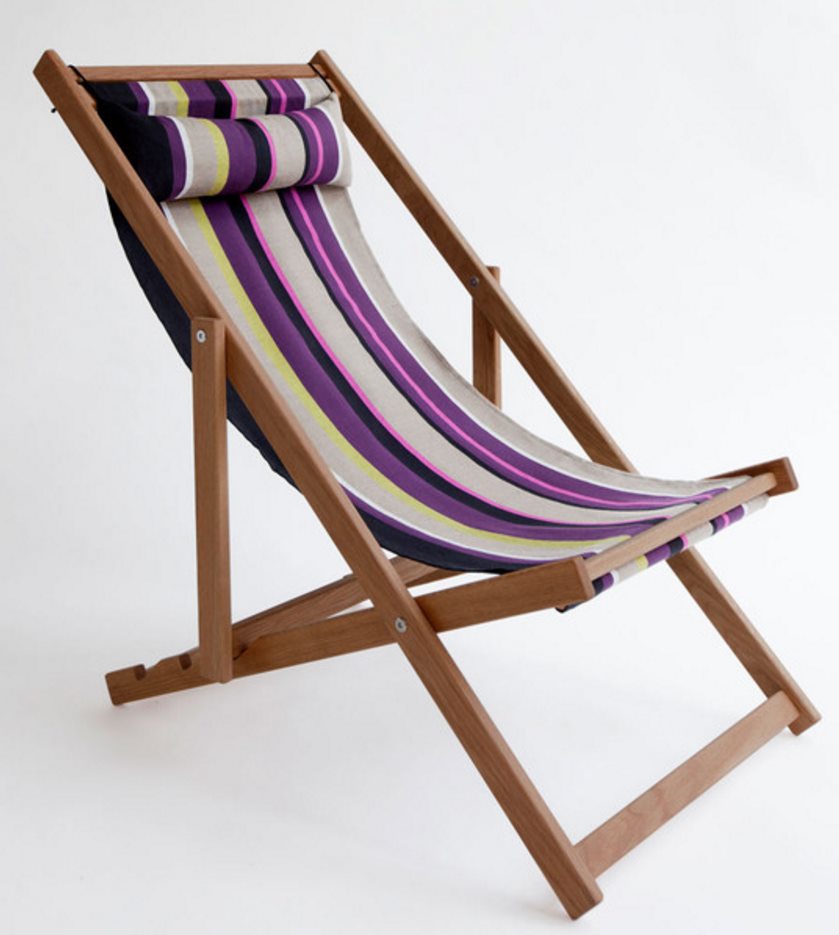 For Dining
We now turn our attention to dining furniture, and when it comes to the modern deck, it's hard to beat a slatted dining table with a matching bench. [from Danny Broe Architect]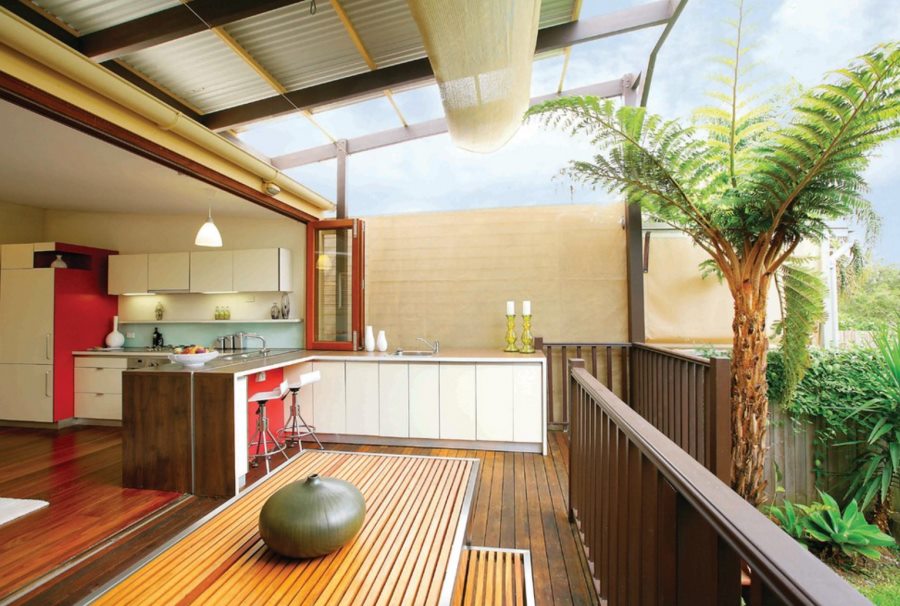 For a similar look (at a great price), say hello to the Dockside II Dining Table and Dockside II Bench by Jonas Wahlstrom, available at CB2. Below we see two tables, paired to create one long dining space. Also note the mix of bench and chairs for a colorful, eclectic look.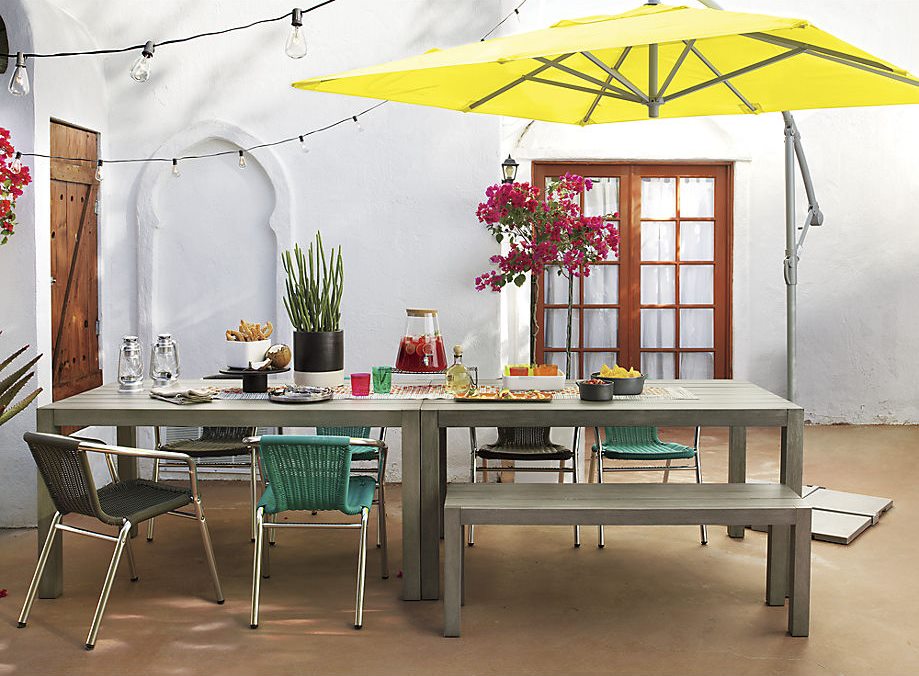 You can also pair your slatted table with metal chairs for a dash of vintage/industrial style. Many of today's top metal chairs can be used both indoors and out. Overhead globe lights are optional! [from New Eco Landscapes]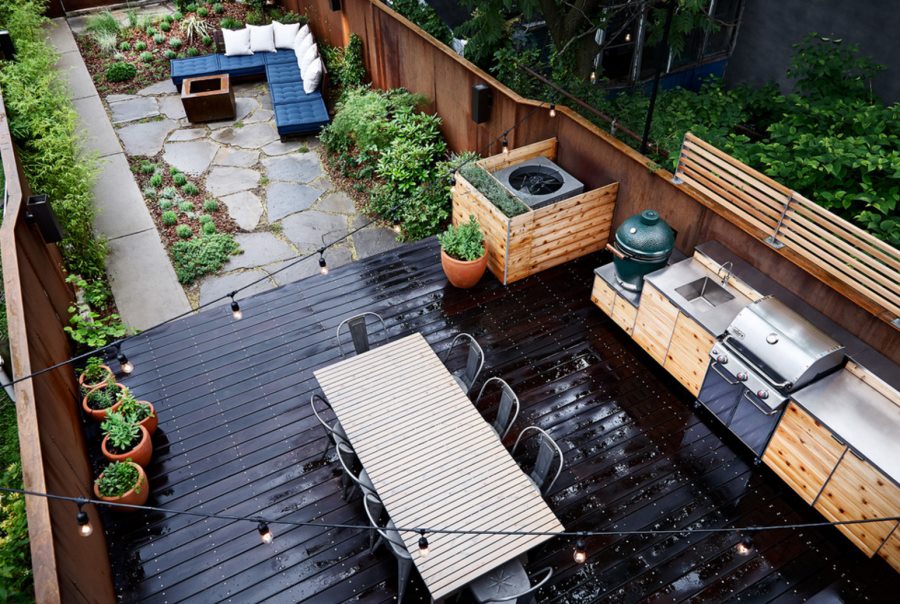 If you're in the market for some metal chairs, this Lyle Metal Dining Chair from Crate & Barrel is perfection, thanks to the beauty of galvanized steel. And yes, this chair can be enjoyed both indoors and out!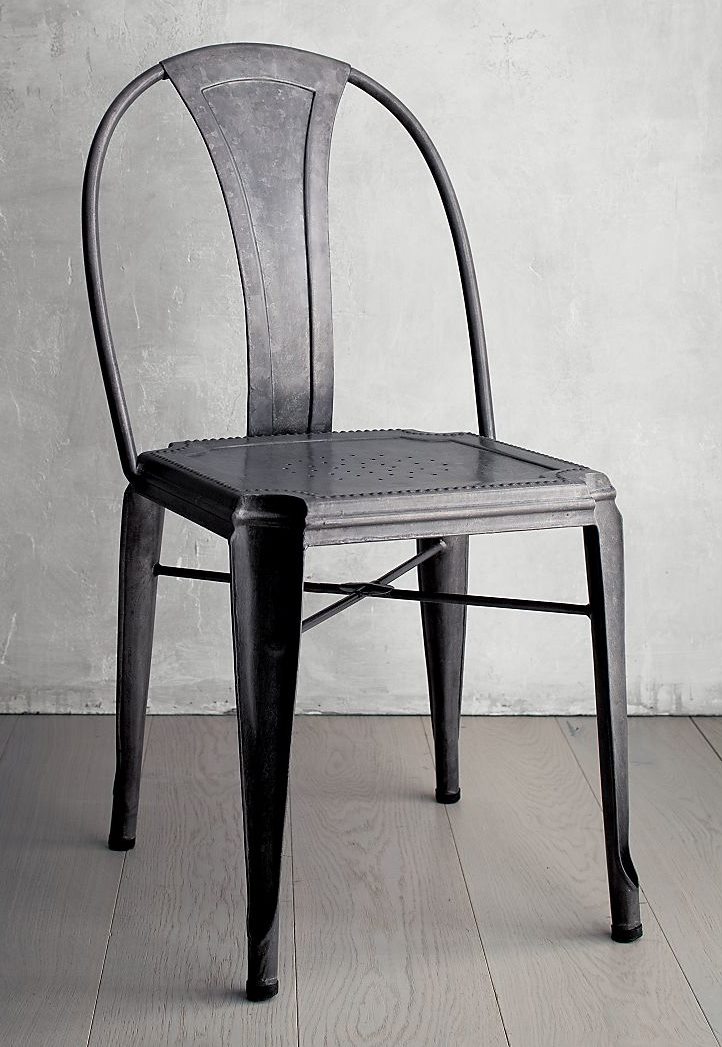 If you're looking to introduce more color to your outdoor dining area, going with a vivid hue such as turquoise or lime green can really add a dash of vibrancy to your deck! [from Clark Kitchens and Construction]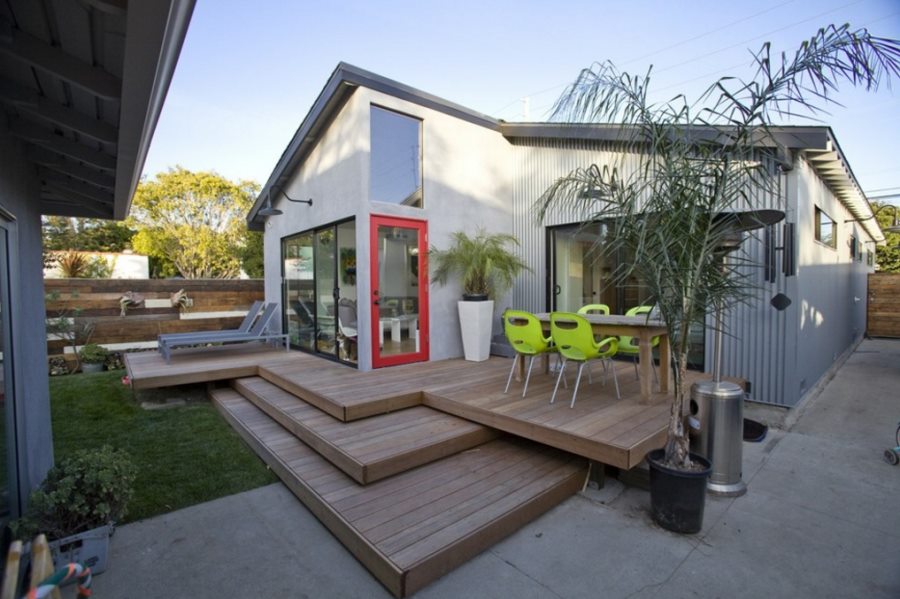 Those green chairs above and the blue chair below are an iconic design by Karim Rashad. Yes, it's the Oh Chair, and you can purchase your own through Umbra. We're loving the update that pairs the vibrant seat color with powder-coated legs in the same hue!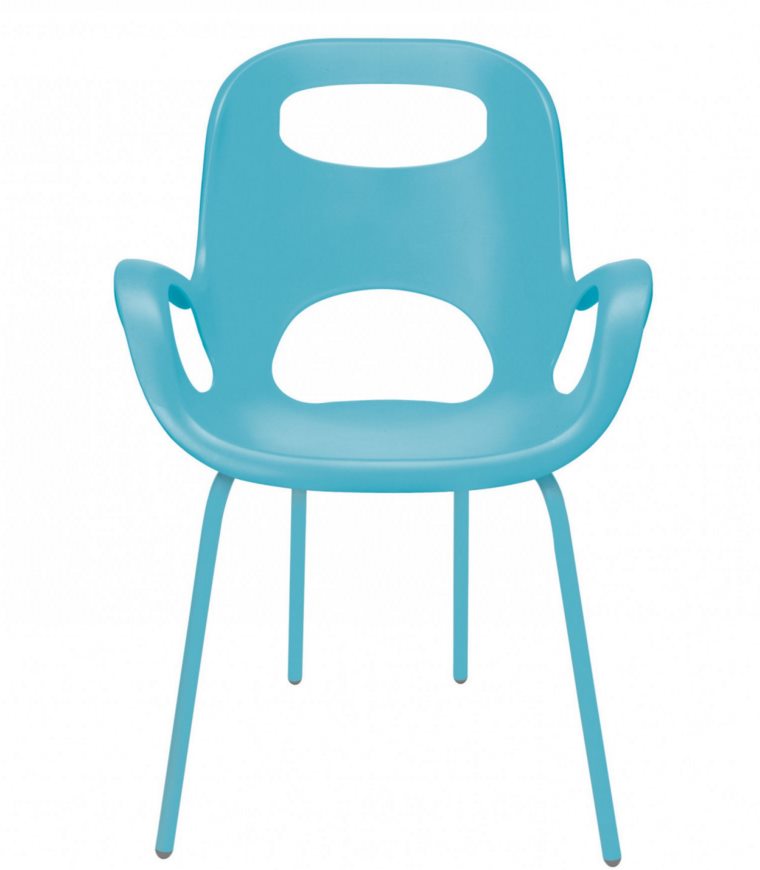 Mix and match the colors of your outdoor dining "set" for a festive look. Next we see a quartet of eye-catching dining chairs. [photo by Tim Turner Photography, from C.O.S. Design]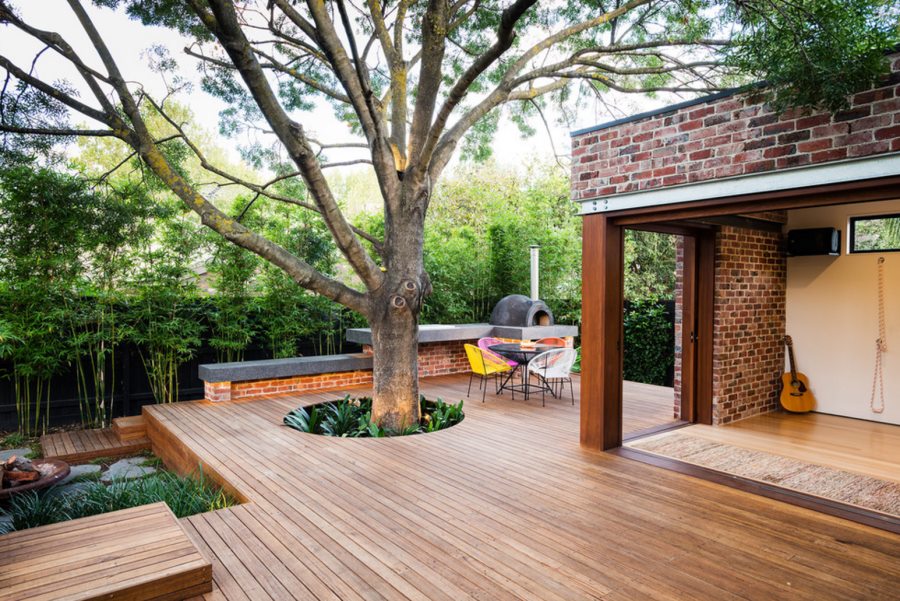 If you like the design of these colorful chairs, check out the Ixtapa Blue Outdoor Lounge Chair from CB2, featuring PVC cord handwoven over a black powdercoated steel tube frame: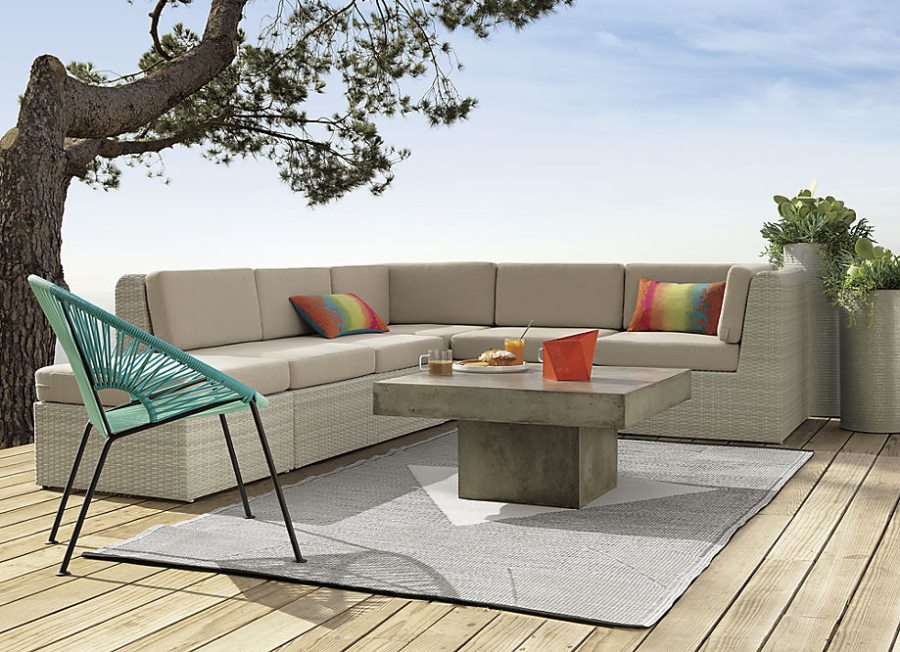 Rocking and Rolling with It
We end today's post by celebrating the joy of rocking on the deck and watching the waves roll by. You'll see what we mean! First up, outdoor rocking chairs! [from Anston Architectural]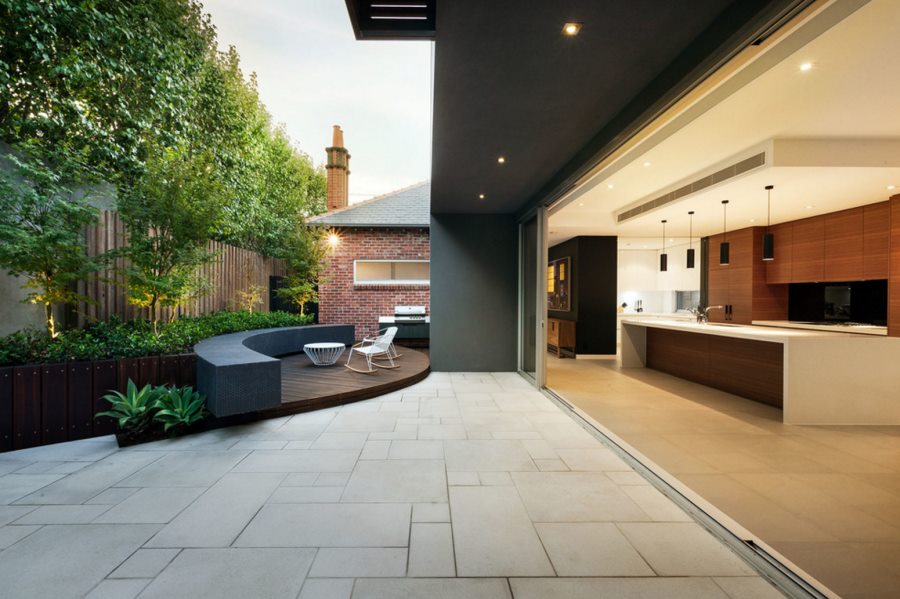 And it's hard to get more iconic than the Eames Molded Plastic Armchairs with Rocker Base featured on this next wooden deck. [photo by Ignacio Salas-Humara, from Ignacio Salas-Humara Architect LLC]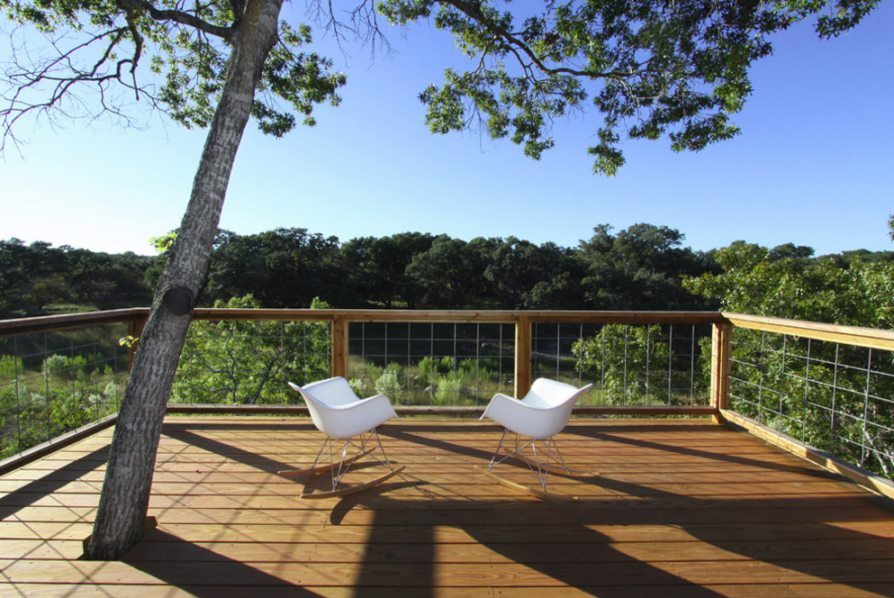 And if you're inspired to purchase your own Eames Molded Plastic Armchair with Rocker Base, visit Herman Miller for details. Made of 100% recyclable polypropylene, this iconic chair is available in a range of colors: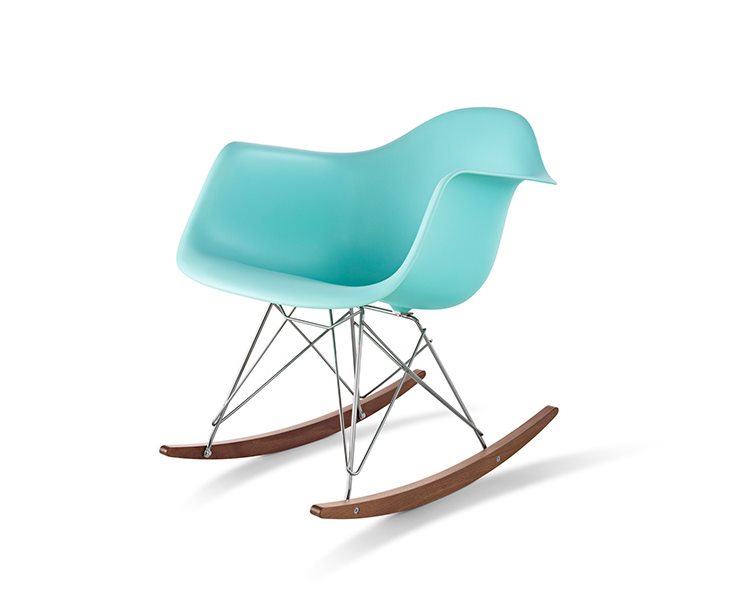 Let's wrap up with the ultimate in deck furniture: a built-in bed. Because watching the waves while drifting off to sleep is exactly how we want to spend the last days of summer. How about you?… [photo by Steve Passmore, from Lisa Canning Interior Design]