Ah, the outdoor lounge…it sounds like a distant dream limited to resort hotels, doesn't it? Kate here, and today my goal is to turn that dream into a reality. Why does the idea of an outdoor lounge seem so unattainable? Maybe it's because cushy outdoor furniture and accessories can really add up, especially when you're on a budget. That's why today's post is dedicated to cutting corners. For those of us who are short on time and money when it comes to outdoor projects, there's still hope for transforming our outdoor spaces. Let's start with the image below! [from PROJECT.interiors]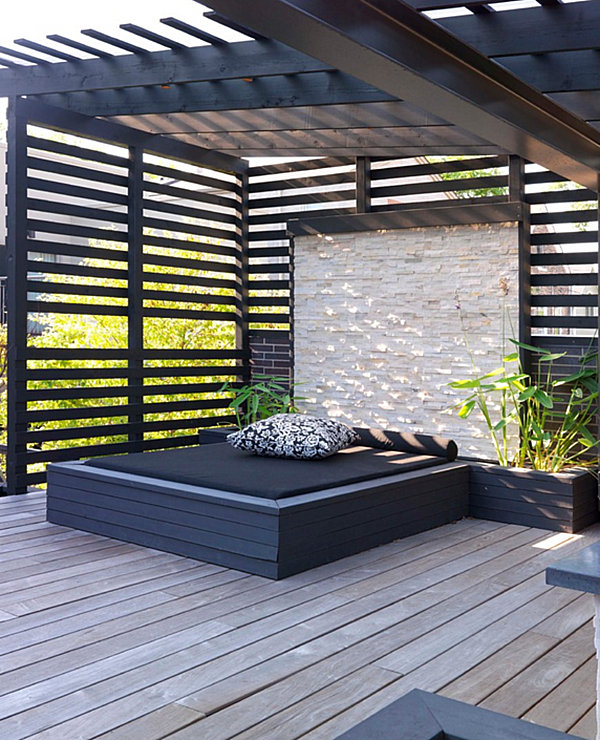 What are the key ingredients for your outdoor lounge? This image says it all! You'll need a sense of privacy, a place to comfortably rest, some outdoor cushions, and of course, plants that make an impact. Today I'll show you where to start, how to shop affordably, and how to create each item yourself if you're up for the DIY challenge! Read on for all the details…
Outdoor Curtains
OK, so the image below features more of a dining area than a lounge, but it's the curtains I'm after. Don't they create a cabana vibe, channeling the feel of a relaxing vacation? Plus, they help define the space by giving the area a sense of privacy. [from Rachel Laxer Interiors, LTD]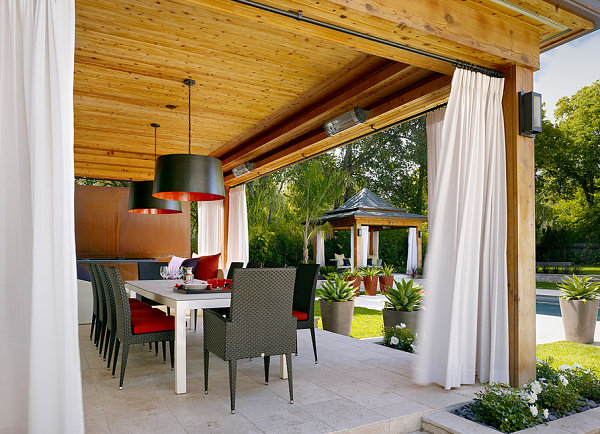 Curtains can be pricey. Good thing Laura from A Beautiful Mess has shown us how to make our own pergola curtains! This is a fabulous tutorial, folks, because it covers practical elements, like the need for sewing weights into the hem so the curtains don't blow all over the place. Don't you love how Laura has transformed her outdoor space into a breezy lounge?!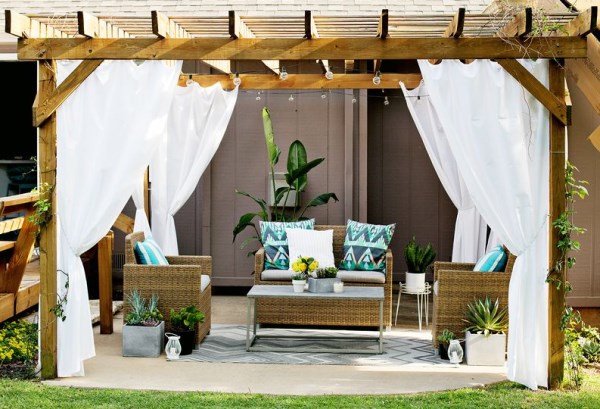 Maybe the idea of sewing your own curtains terrifies you to no end. Consider using an inexpensive shower curtain or two to embellish your outdoor lounge. After all, many of them are waterproof and mildew-resistant, they already come with the holes that you'd need to create with grommets if you made your own, and most shower curtains have a weighted hem. Even a fabric shower curtain liner like the one below from Amazon.com just might get the job done. It's affordable enough to throw out at the end of the season! Just make sure the length is a good fit for your lounge.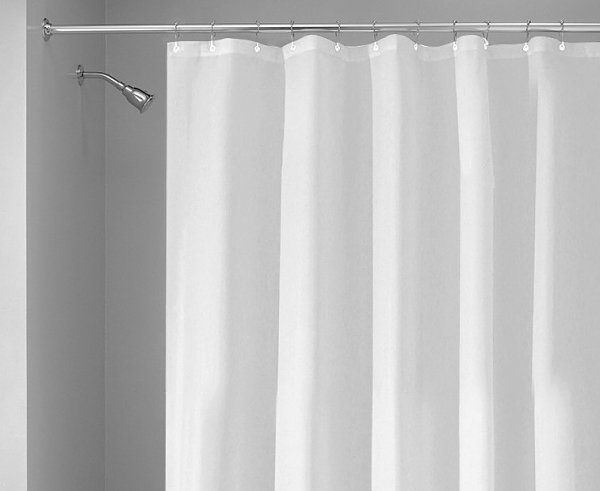 A Place to Lounge
What would your outdoor lounge be without a place to lounge?! We're talking more than an outdoor folding chair. A place where you can spread out, put your feet up, and read a good book. Doesn't the daybed below look comfy?! [from GM Construction, Inc.]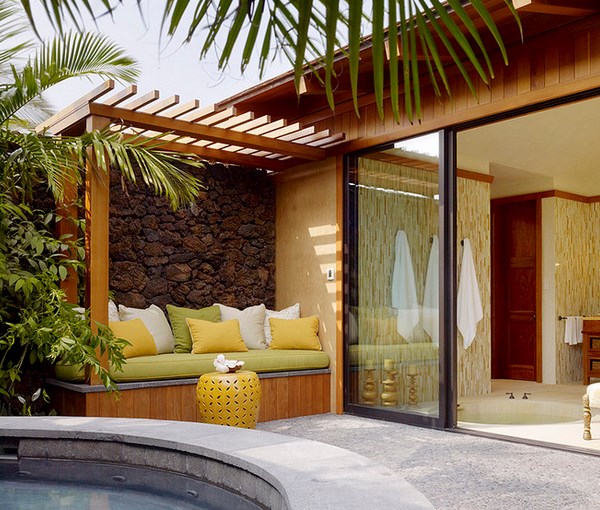 Outdoor chaise lounges and lounge chairs can be very expensive, especially if you want them to look halfway nice. Would you consider making your own? This Day Bed Tutorial from The Apprentice Extrovert shows you how to turn a boring corner into a decadent resting spot: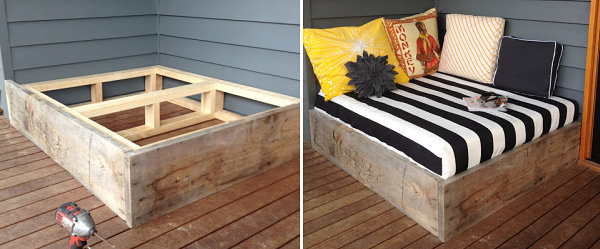 If woodworking won't fit into your schedule, consider using cinder blocks to your advantage. Remember the cinder block bench I created this spring as part of my front porch makeover? It was super easy! I'm considering expanding that idea into an actual lounger. You know, a long bed-like bench that extends from the wall, complete with pillows. Speaking of cushions, check out the next section for some helpful ideas. [image below features tutorials from Simple Living via Curbly (left) and Better Homes and Gardens (right)]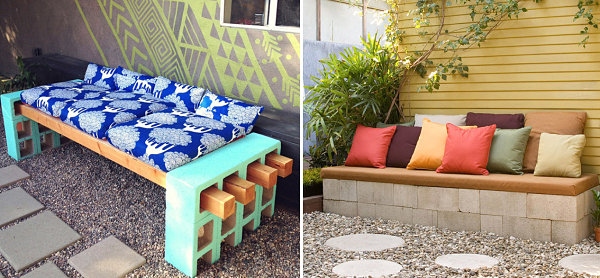 Comfy Cushions
I can't take my eyes off these vibrant cushions in the image below, which features striking covered seating from Vondom of Spain. [from Contour Interior Design]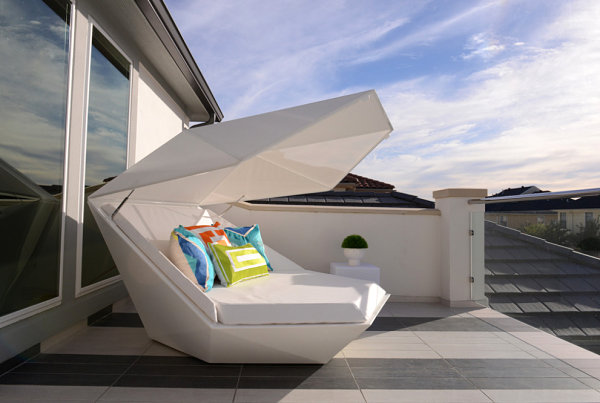 For sensational outdoor pillows in eye-popping colors, check out the selection at CB2. So many fun designs, including geo-meets-tribal patterns!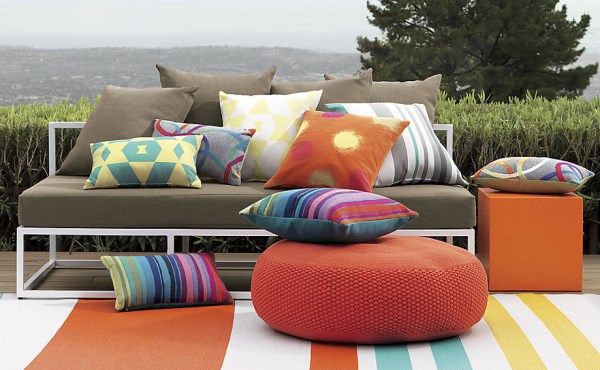 But sometimes when you're trying to make ends meet, spending money on a grouping of outdoor pillows may not be in the cards. What if you made them? You can even make them weather-resistant by strategically choosing affordable materials. This Outdoor Pillow DIY from TBF (shown below) uses an inexpensive vinyl tablecloth and old throw pillows. Another idea from Chaotically Creative (not pictured) involves $2 bed pillows, a shower liner and an indoor/outdoor tablecloth. Now that's doable!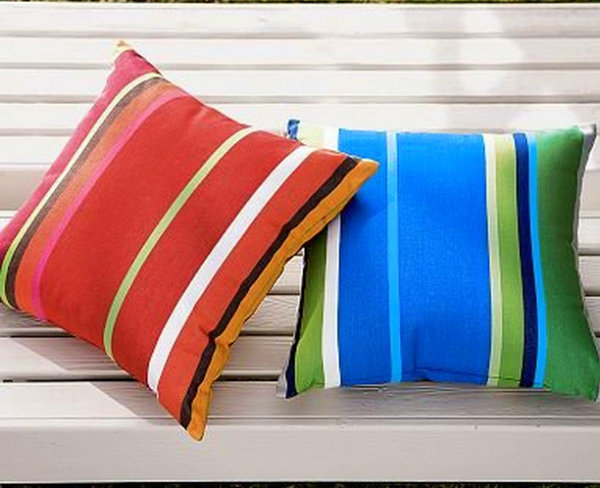 Statement Plants
For the icing on the cake that is your outdoor lounge, purchase some plants that make an impact. So many times I've resisted buying greenery because I simply couldn't find affordable planters that resembled the modern metal selections below. [from Blondie's Treehouse]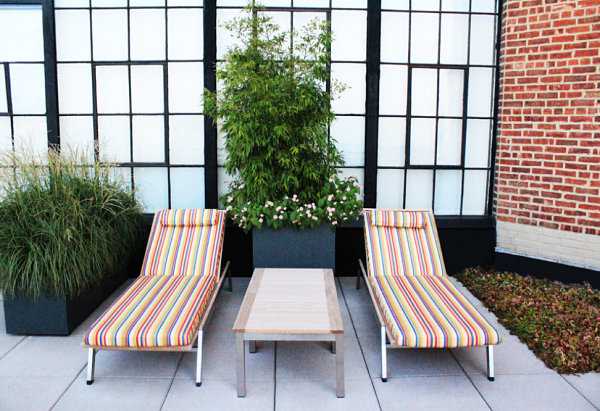 Once again, CB2 comes to our rescue! They're currently offering a variety of galvanized metal planters with clean lines, classic colors and a range of sizes. Galvanized steel is the supply of choice here: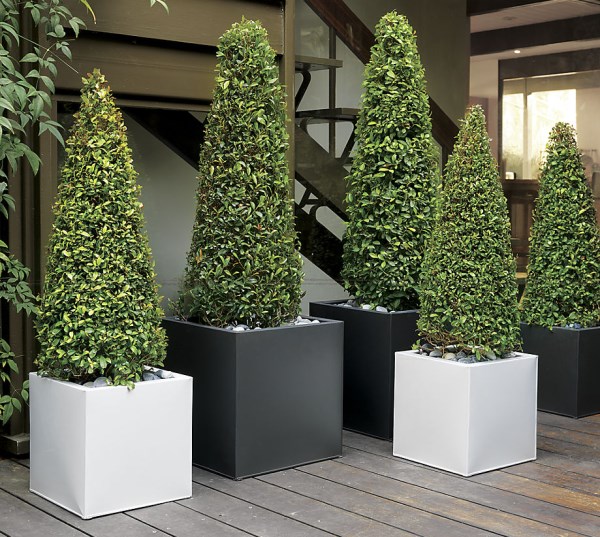 But if you're running low on funds after budgeting for curtains, seating and cushions, you can once again turn to our friends the cinder blocks. Because you can stack them as tall as you like, paint them any color you wish, and purchase a bundle for mere dollars. And you've gotta love their modern aesthetic! For another clean-lined DIY planter idea, check out this Patio Paver Planter tutorial from By Stephanie Lynn (not pictured). [DIY projects below from Pinterest (left) and Modernly Wed (right)]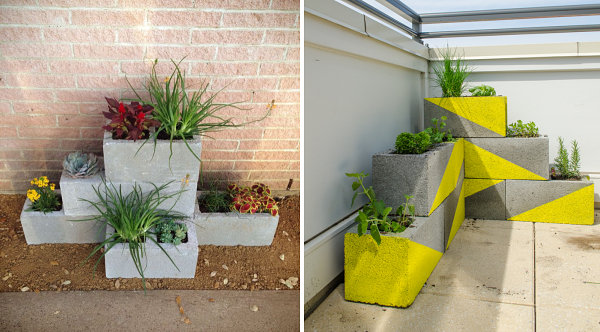 I don't know about you, but I'm already browsing shower curtains, gathering cinder blocks and pavers, and shopping for weather-resistant tablecloths. They will become my supplies for outdoor curtains, modern loungers, comfy cushions contemporary planters! If I'm successful in my endeavors, I promise to share the results here on Decoist!