In today's post, we celebrate the latest and greatest in new modern design finds! From furnishings with bold simplicity to decor that demands a second look, today's featured pieces are clean-lined, and many showcase the best in geo minimalism. If fall design fever has put you in a shopping mood, take this opportunity to create a wish list for the new season. Enjoy browsing…
Contemporary Furnishings
We couldn't be more excited about ferm LIVING's new AW2015 Collection for autumn and winter! This design company founded by Trine Andersen continuously introduces modern furniture and decor enthusiasts to Scandinavian-inspired treasures, including the Turn Sofa, shown below. Note that this piece is available in several different upholstery materials, as well as blue and grey for the reversible dual-tone cushion hue.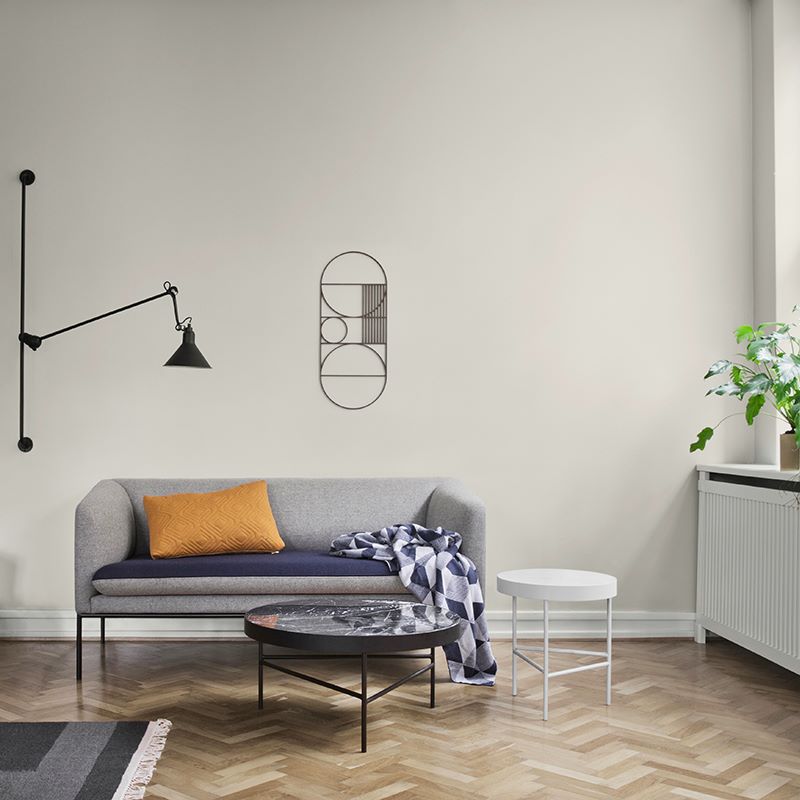 While ferm LIVING's new items won't be available until later this fall, it never hurts to put them on your wishlist now. After all, the company will notify you when the products are in stock if you wish. Below we see another great new ferm find, the nesting Cluster Tables! Make an artistic statement in the room of your choice. Or you can split up the tables and place them in different areas of the home!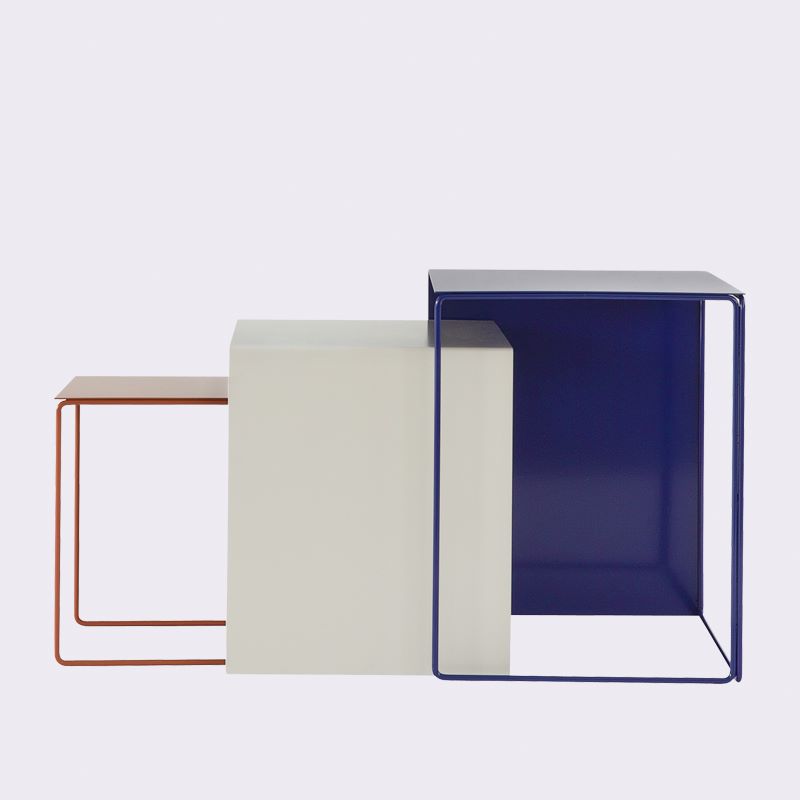 Round Mirrors
Mirrors are having a moment. Especially geo mirrors! The Enter Mirror is a collaboration between ferm LIVING and Søren Rose Studio. Below we see the large version of the mirror, and we're loving the way it's displayed over the sink for a minimal yet powerful effect.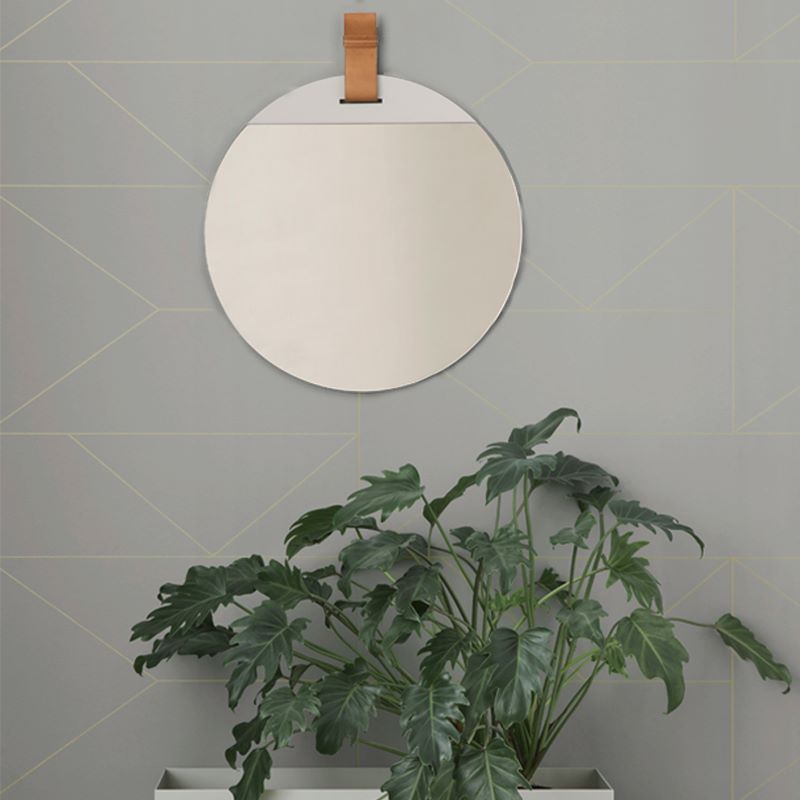 Austin-based shop Spartan is filled with carefully curated treasures, and this Disc Mirror with Brass Tube does not disappoint! Simple, sculptural and unexpected, the piece can also be purchased online: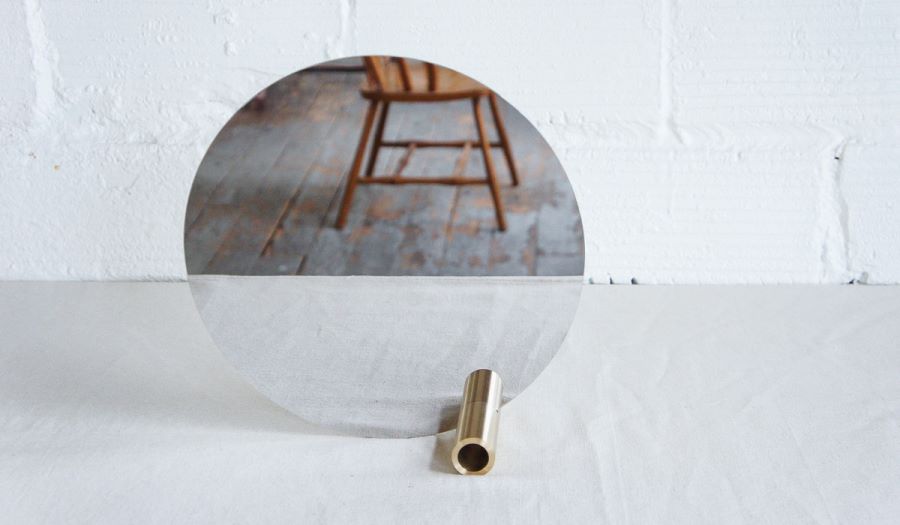 Planters with Panache
If mirrors are having a moment then planters are starring in their own production! Especially planters of the geo and woven varieties. Next we feature a hexagonal find from Brika, an online shopping experience dedicated to featuring the work of authentic makers, artisans and designers. In fact, this Hexagon Planter by Boyce Studio is carefully crafted from solid blocks of walnut or ash laminated together. We think it's an unforgettable piece: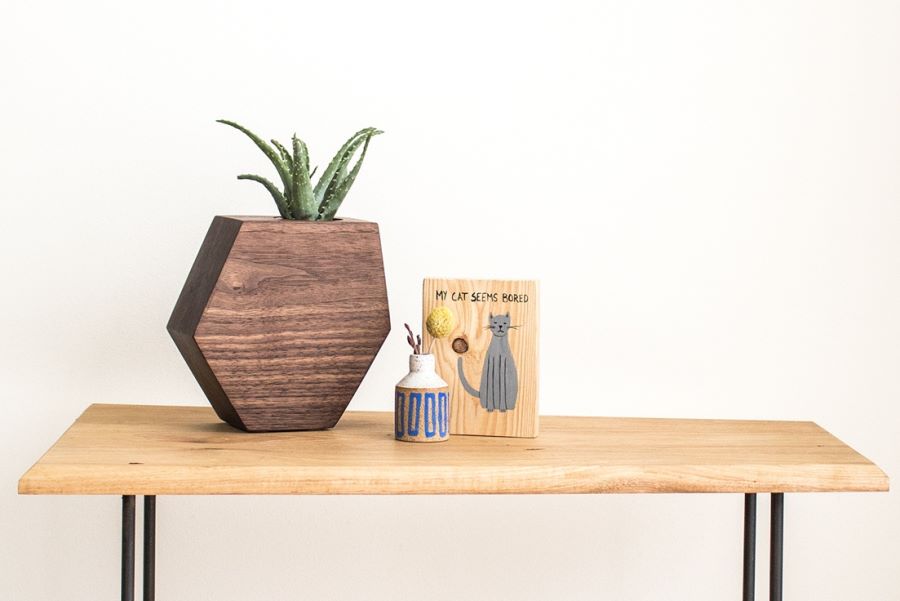 The Kati Von Lehman Planter with Woven Basket from Spartan features a handmade ceramic bowl with a handwoven hanging basket. Handmade in Portland, Oregon, this piece represents the best in earthy modern design with an edge: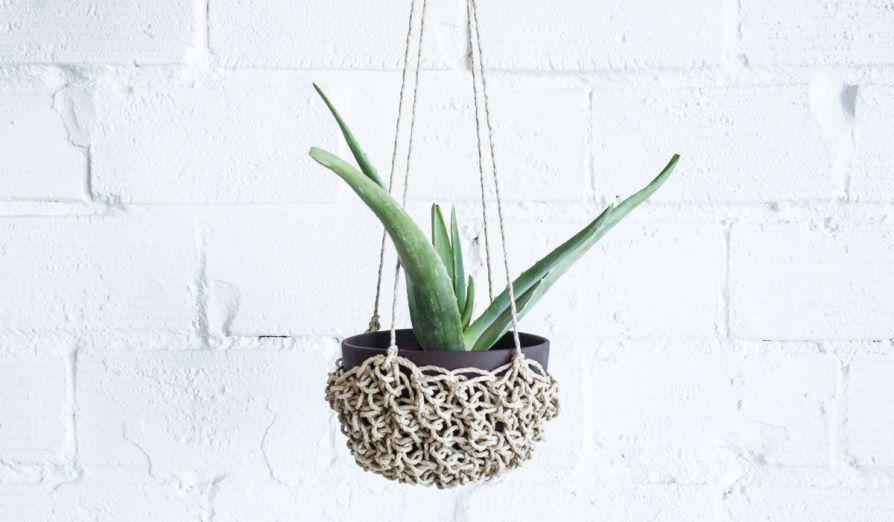 Clever Containers
A thoughtfully designed container can be used to keep items in place, yet it's stunning enough to be displayed on its own as a work of art. This Large Seafoam Basket by Gemma Patford (available through Brika) showcases the alluring combination of gold and seafoam. Not to mention, the hand-painted and hand-cut rope basket celebrates today's geo design trend: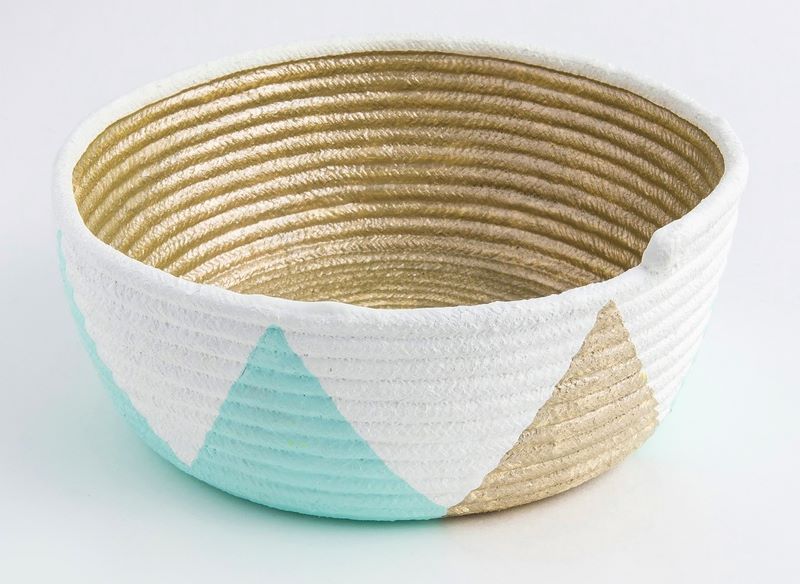 Enjoy these Ceramic Round Cups with Square Base from Spartan at the dining table, and then display them on a shelf for a sculptural statement in fresh white. A delicate speckled pattern adds textural interest.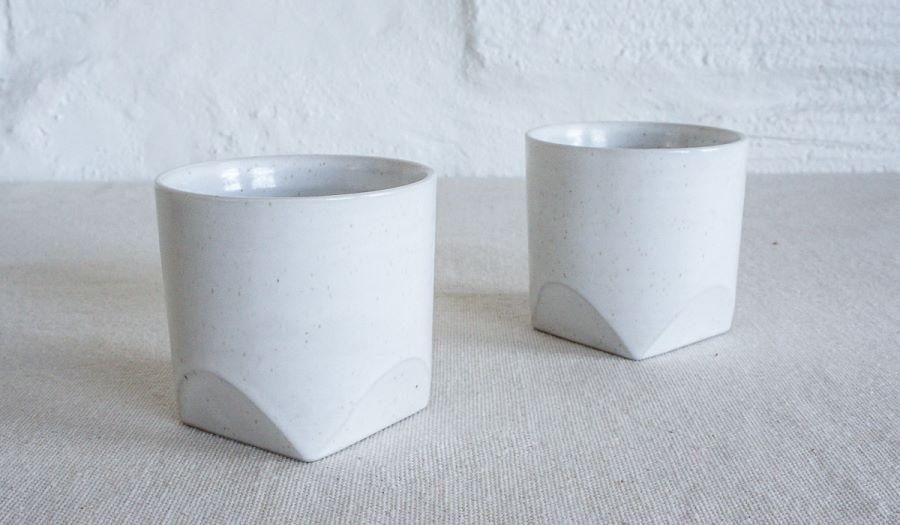 For the Dining Room
On that note, let's move on to items that shine in the dining room, like these Outline Dinner Mats from ferm LIVING. Simple geo style meets Deco flair for a tabletop statement that's available in dark blue, dusty blue, off white and mint: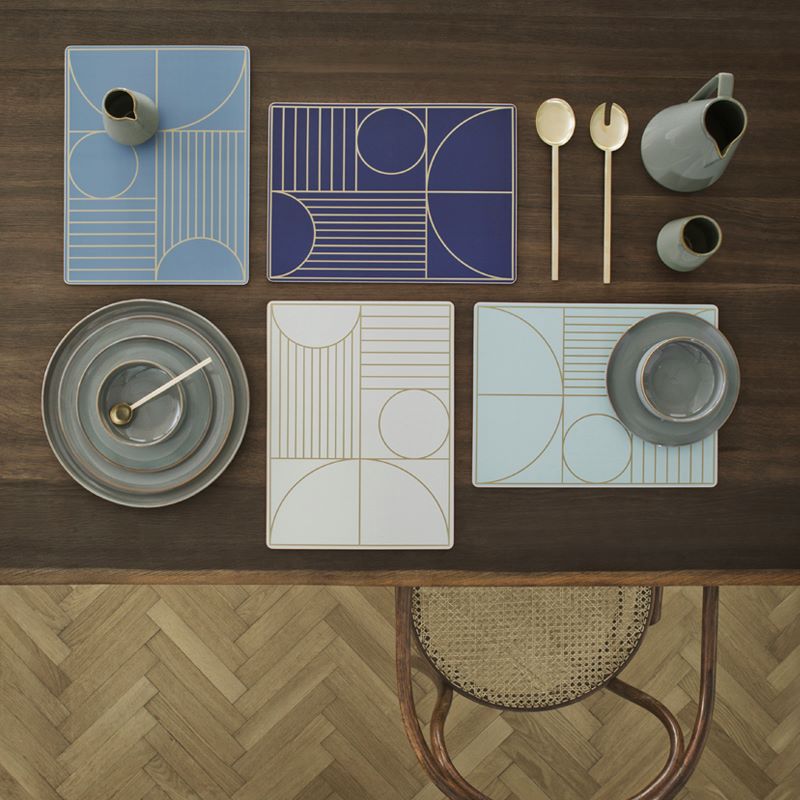 Bring some playful geo style to your table with these Sketch Triangle Napkins by Emma Zwissler of Loft Studio, available through Brika. Sold in a set of four, the napkins are also available in black and navy. Plus, they're made from 100% linen and chemical-free water-based inks: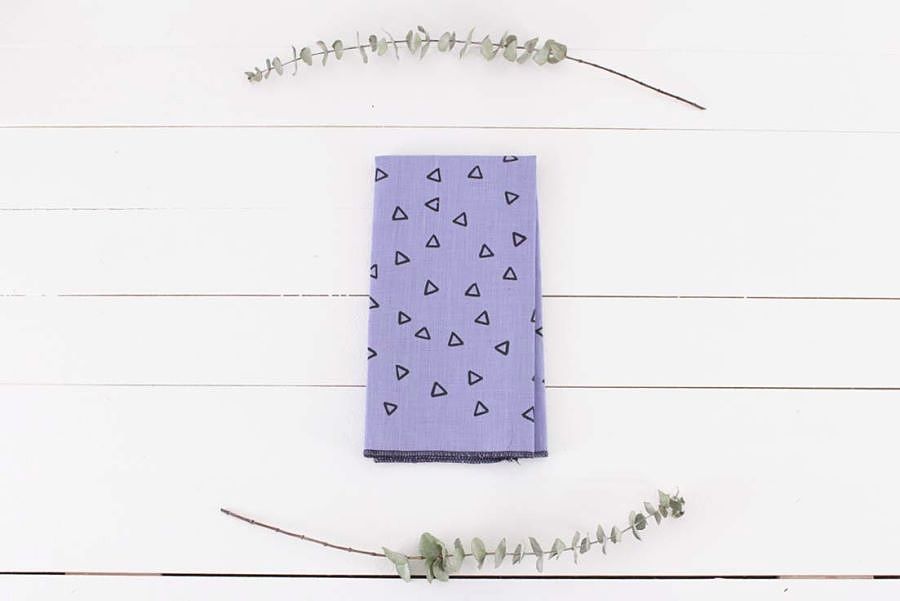 Did anything above catch your eye? Tell us about your favorites by leaving a comment below…