We spend an inordinate amount of our working day seated at desks, in meetings, with colleagues and visitors. If we must remain seated, why not do so with poise, style and a discerning chair? These 20 high-end workplace chairs and seats are perfect for the design conscious behind.
Solitaire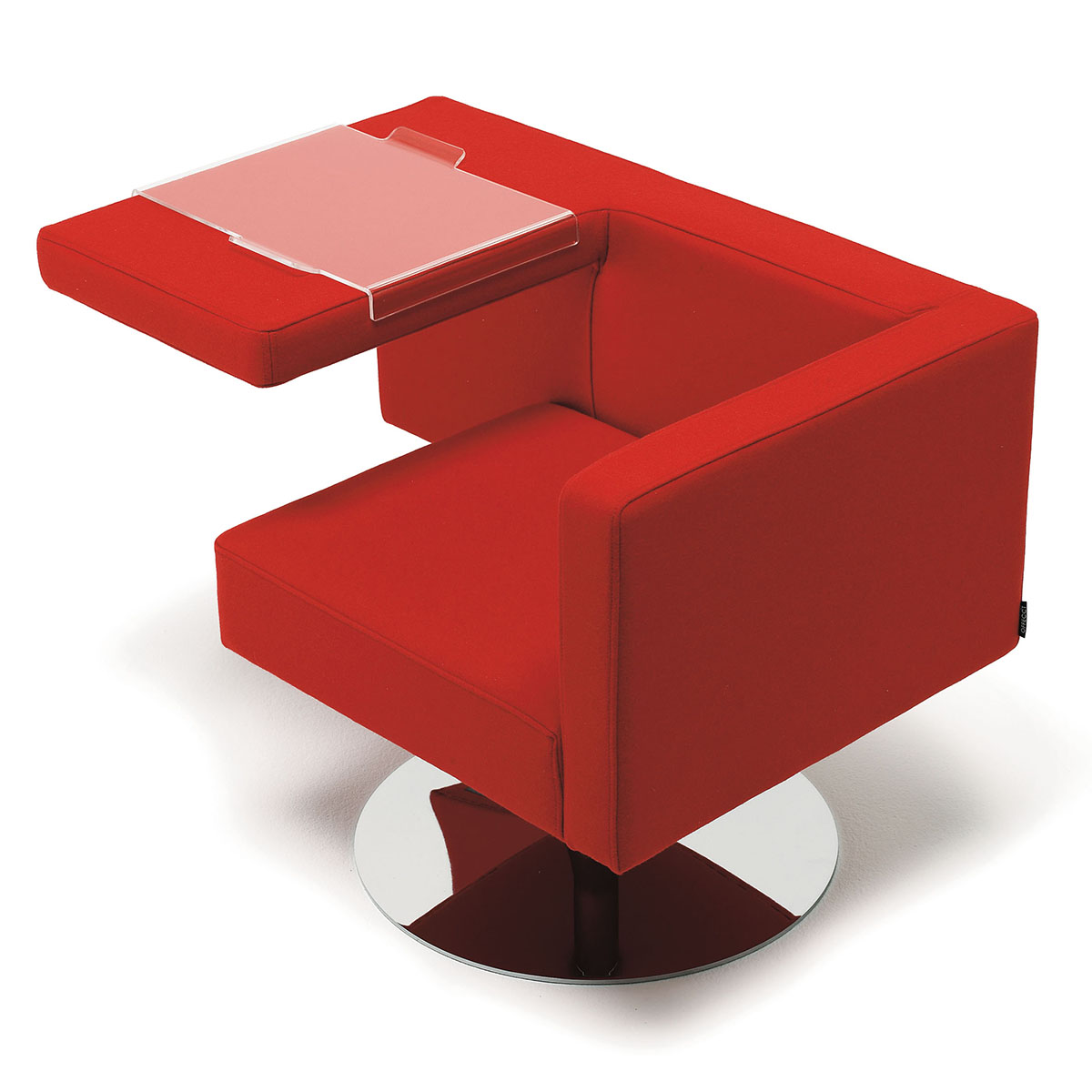 The studious Solitaire low chair with table was designed in 2001 by Argentinian-born designer Alfredo Häberli. It might just be the perfect chair for that office meeting when scribbling notes is a must.
Image © Alfredo Häberli Design Development.
Papilio Shell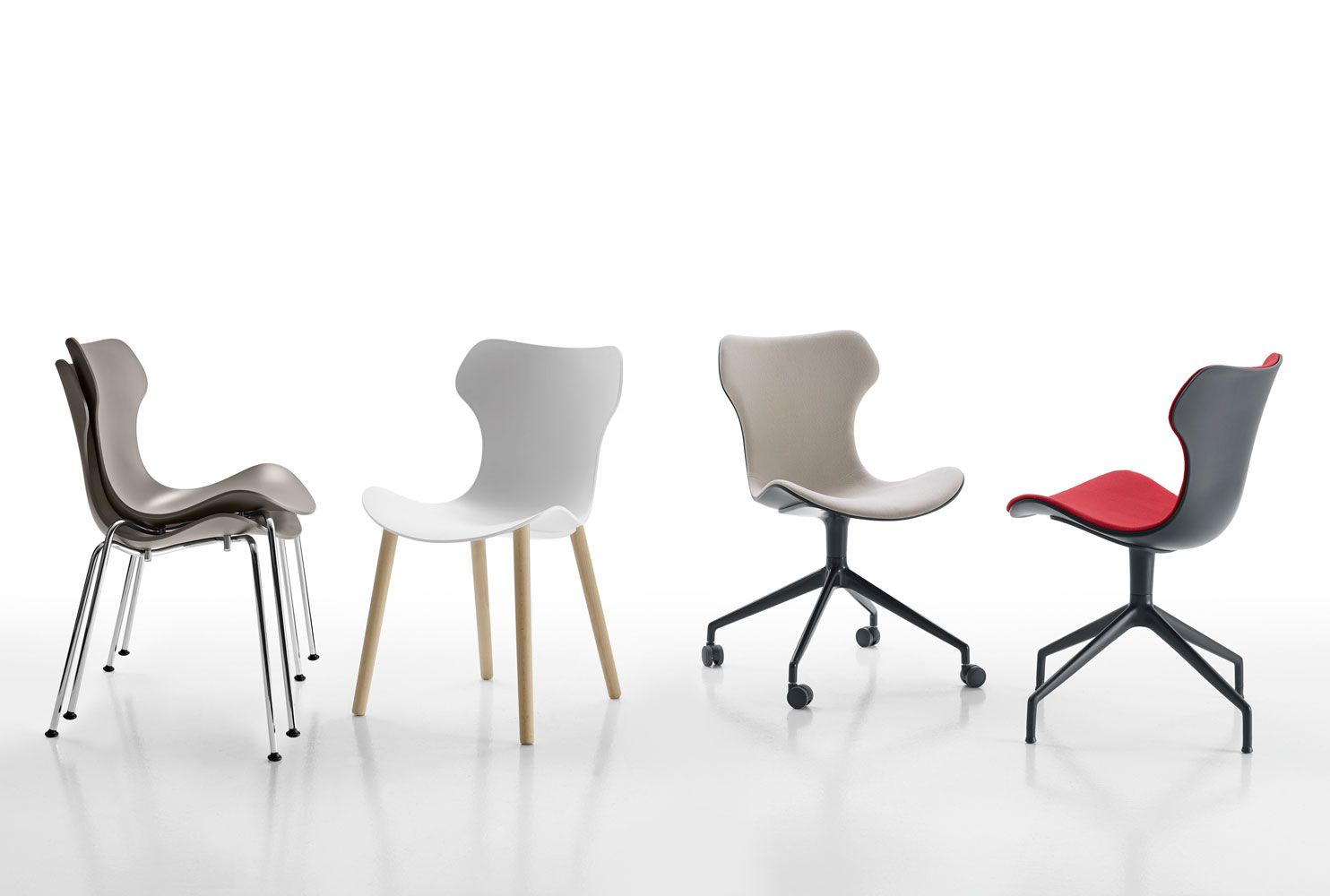 Japanese industrial designer Naoto Fukasawa designed the Papilio Shell for B&B Italia in 2015. Available with a plastic or upholstered shell and a variety of bases, the Papilio Shell is a versatile design that will suit any modern workplace setting.
Image © B&B Italia Spa.
Pod
With its pressed recycled PET felt and enveloping form, the Pod, from British designer Benjamin Hubert (for DeVorm), will act as a "do not disturb" sign in 3D. It is ideal for a moment of privacy and respite from the maddening workplace din.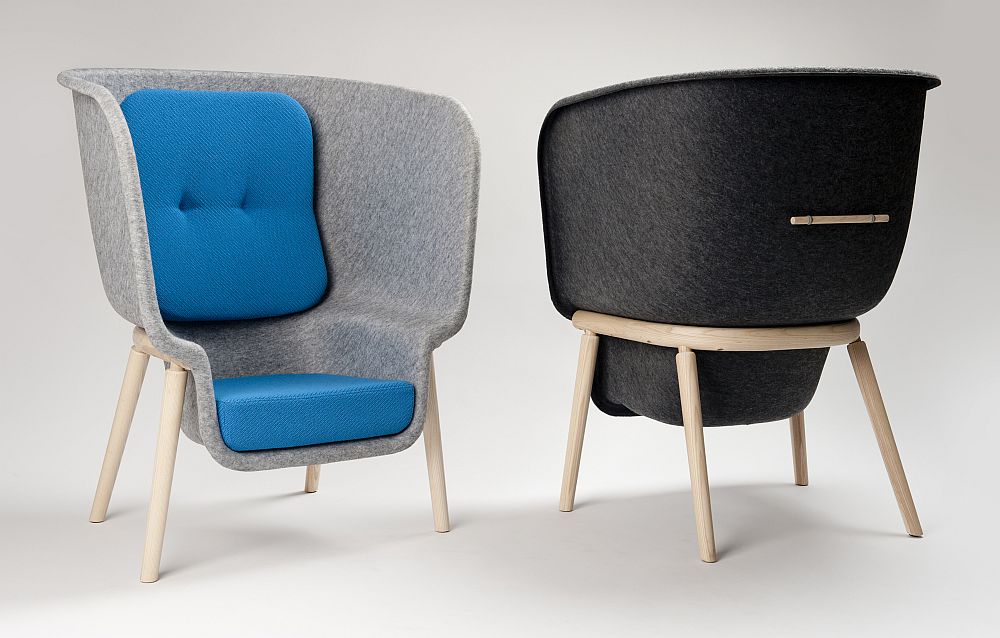 Image © Benjamin Hubert.
K06 Aki Biki Canta
With its quirky character and shape, the K06 Aki Biki Canta, designed in 2000 by Toshiyuki Kita for Cassina, is a chair that will bring an element of wholehearted fun to the workplace. The name refers to its configuration: backrest (aki), backrest with armrests (biki) and backrest with armrests where one is also used as a headrest (canta).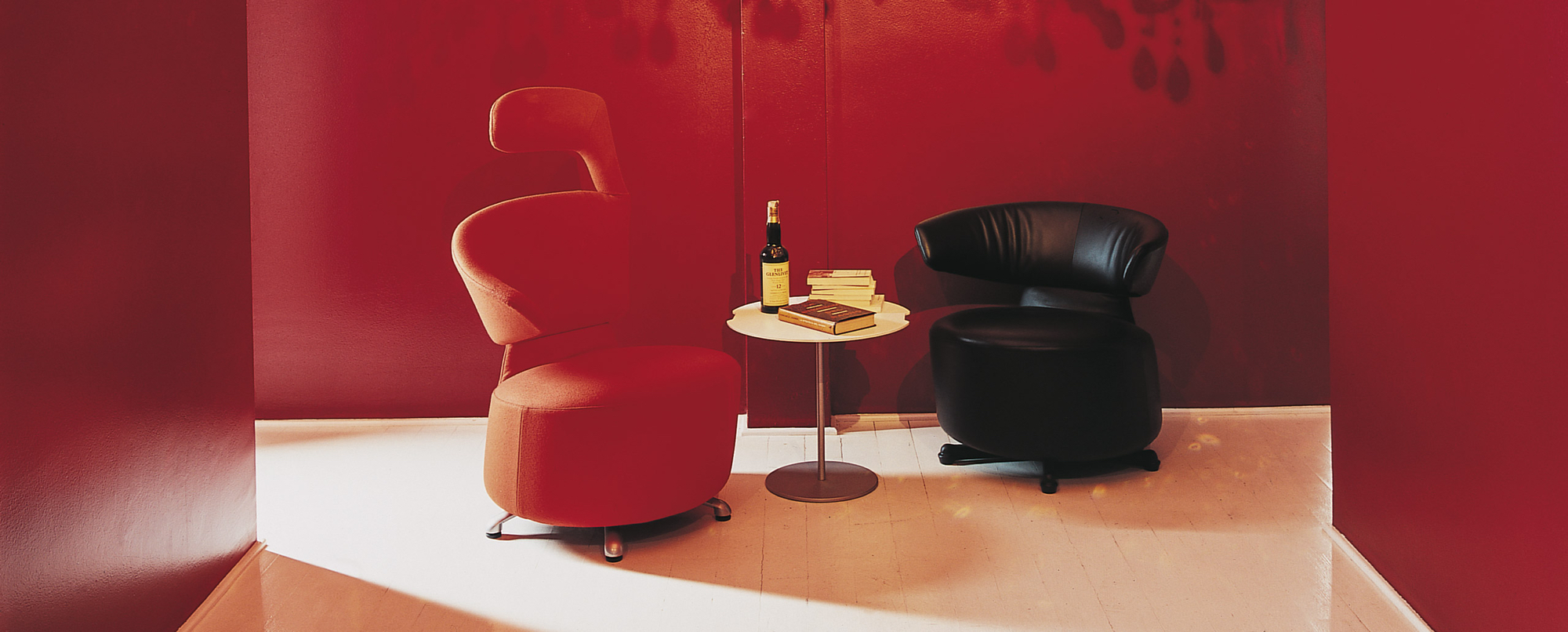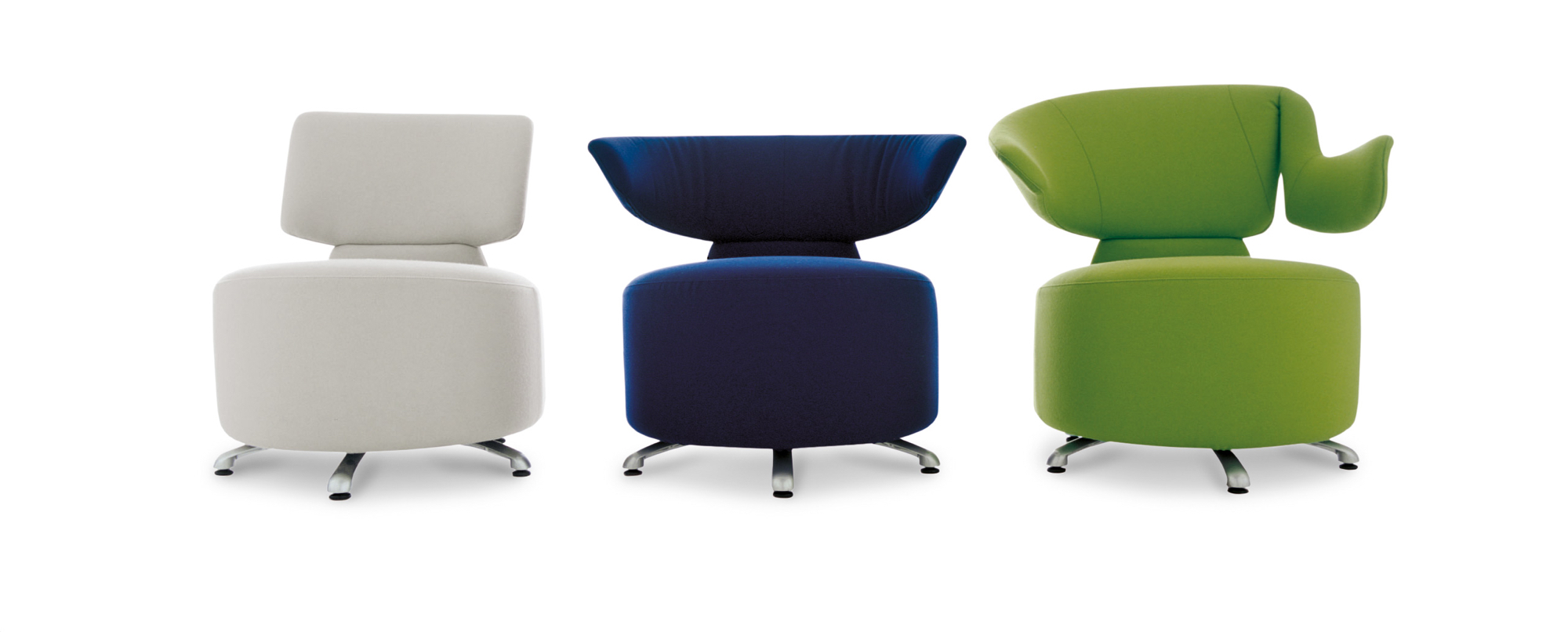 Image © Cassina.
Eames Executive Office Chairs
The executive office chairs designed by Charles and Ray Eames remain current, classic, desirable, aspirational and formative. Exuding personality and prestige, they elevate the image conscious executive to new heights. In the echelons of workplace design, these high-end office chairs have earned their seats at the top table.
Eames Aluminum Group Executive Chair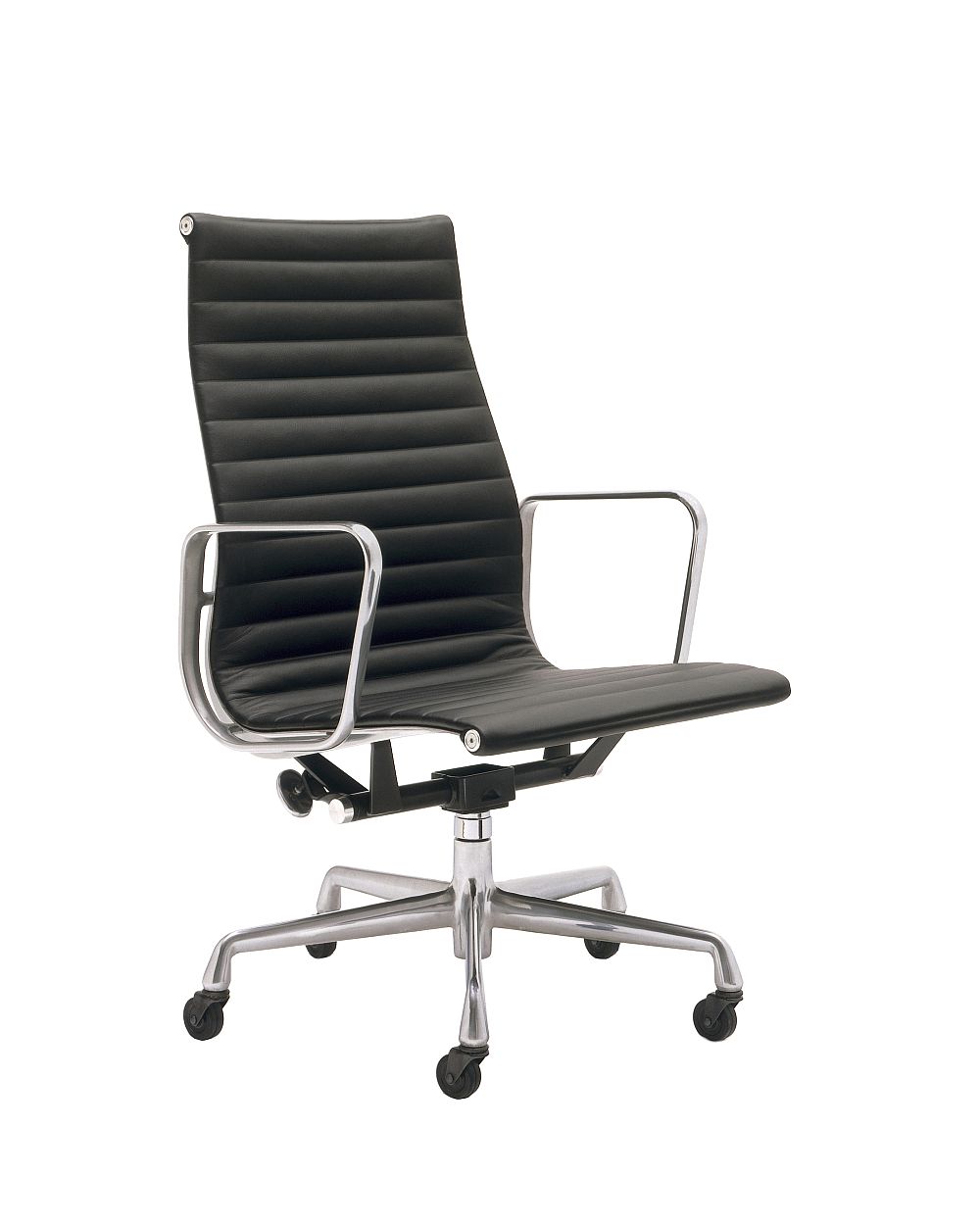 Eames Soft Pad Management Chair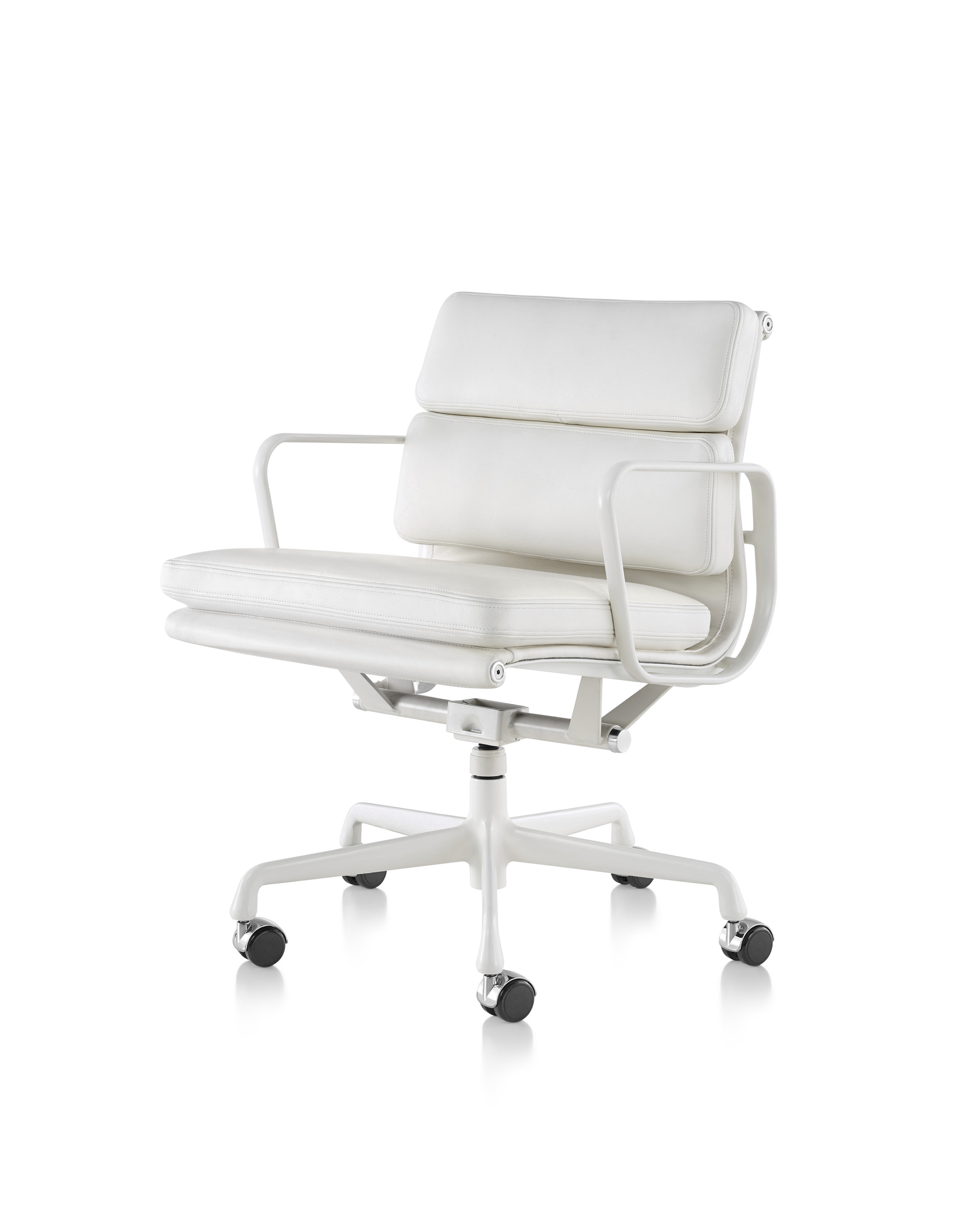 Eames Executive Chair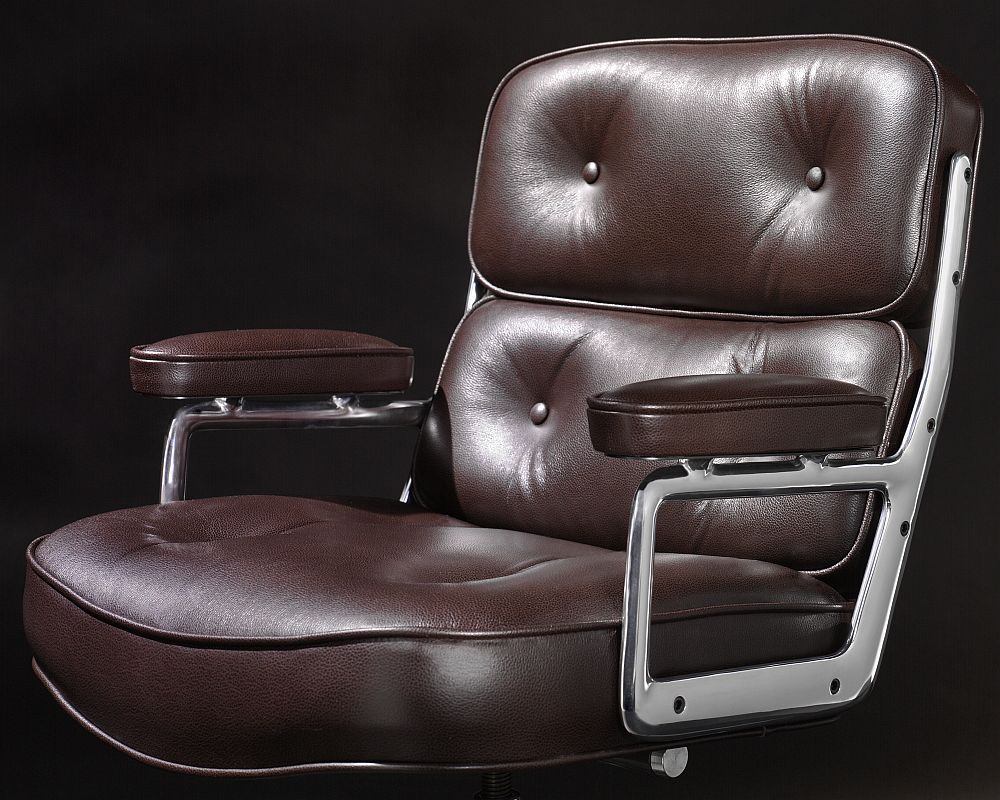 Images © 2015 Herman Miller, Inc.
Eames Plastic Armchair PACC
The Vitra Eames Plastic Armchair PACC is a beloved midcentury design classic.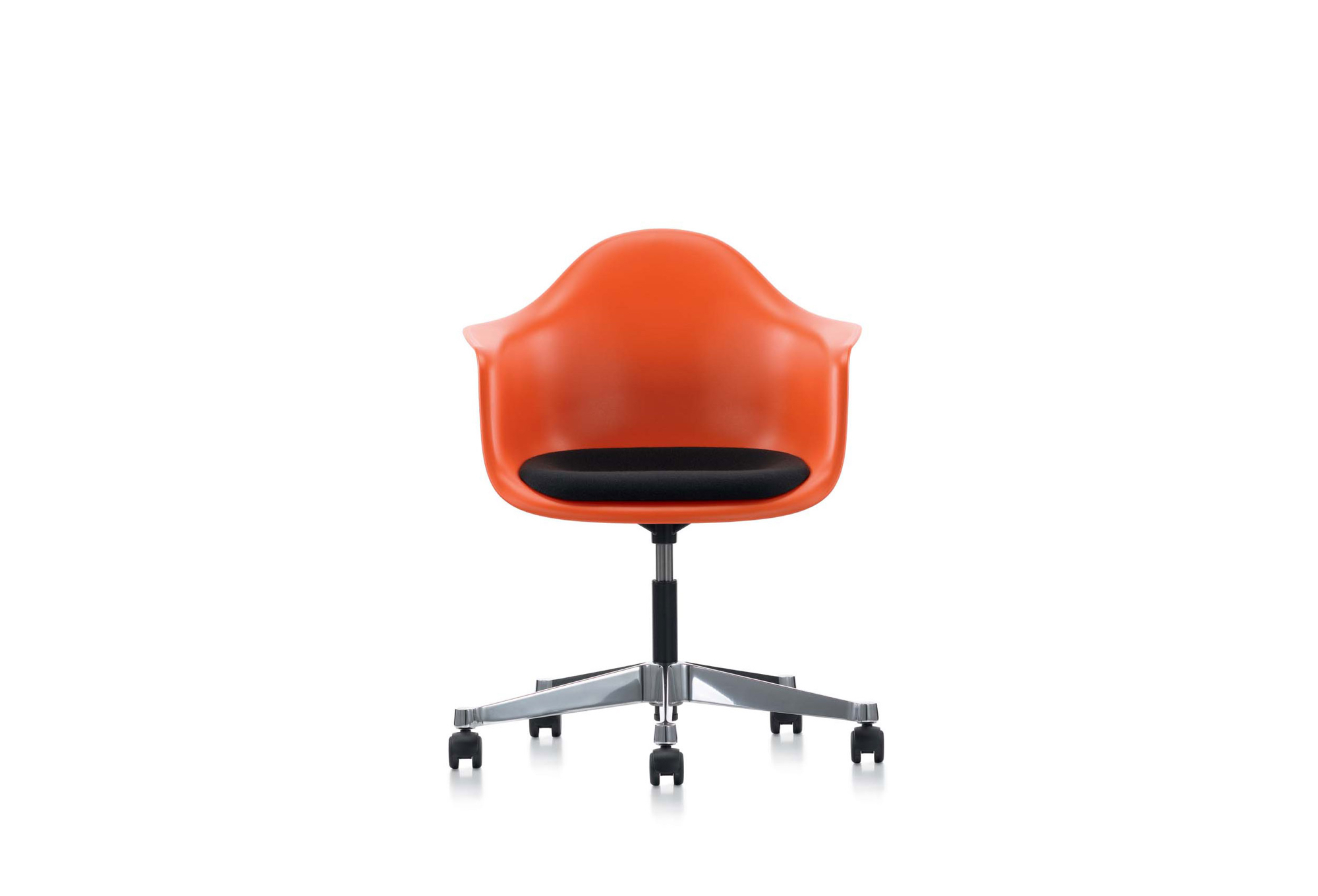 Image via LOBOF.
Envelope Chair
Wrapping itself around the sitter, the appropriately named Envelope chair was designed in 1966 by Ward Bennett. Any workplace visitor and guest will surely feel comfortable in this modern classic.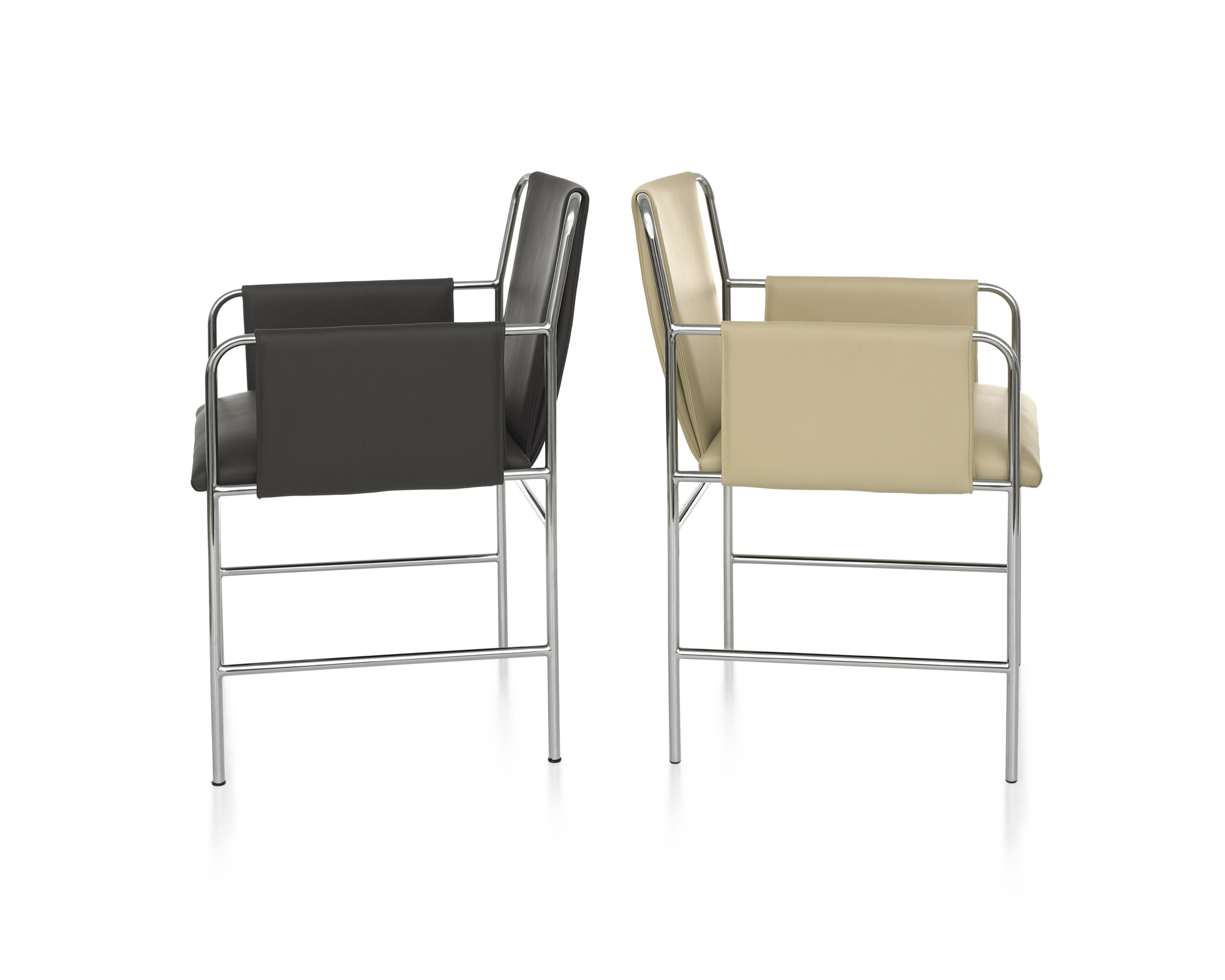 Image © 2015 Herman Miller, Inc.
Link Chair
There are many so-called imaginative and wacky companies who throw a few beanbags around the office and expect staff to get creative – hardly the most effective or comfortable seating solution. Yet this Link beanbag chair may be just the remedy. Designed by Brooklyn-based designer Evan Clabots, Link will also connect (using a zip) to form a sofa. It would certainly work as a stylish office breakout pad.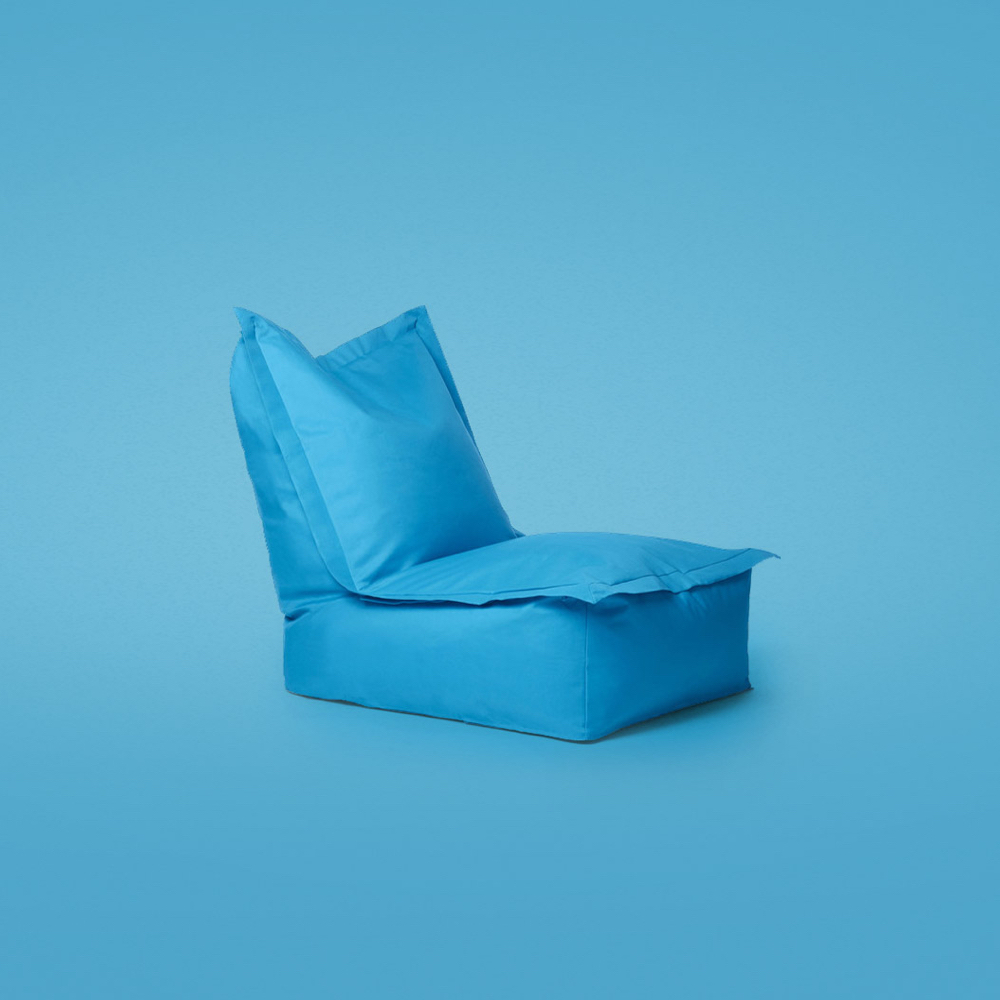 Image © 2004-2015 Evan Clabots.
hm23
The hm23 from Hitch Mylius is a serious contender when considering a chair fit for a boardroom or office waiting area. Refined, smart and handsome, the hm23 strikes a confident profile.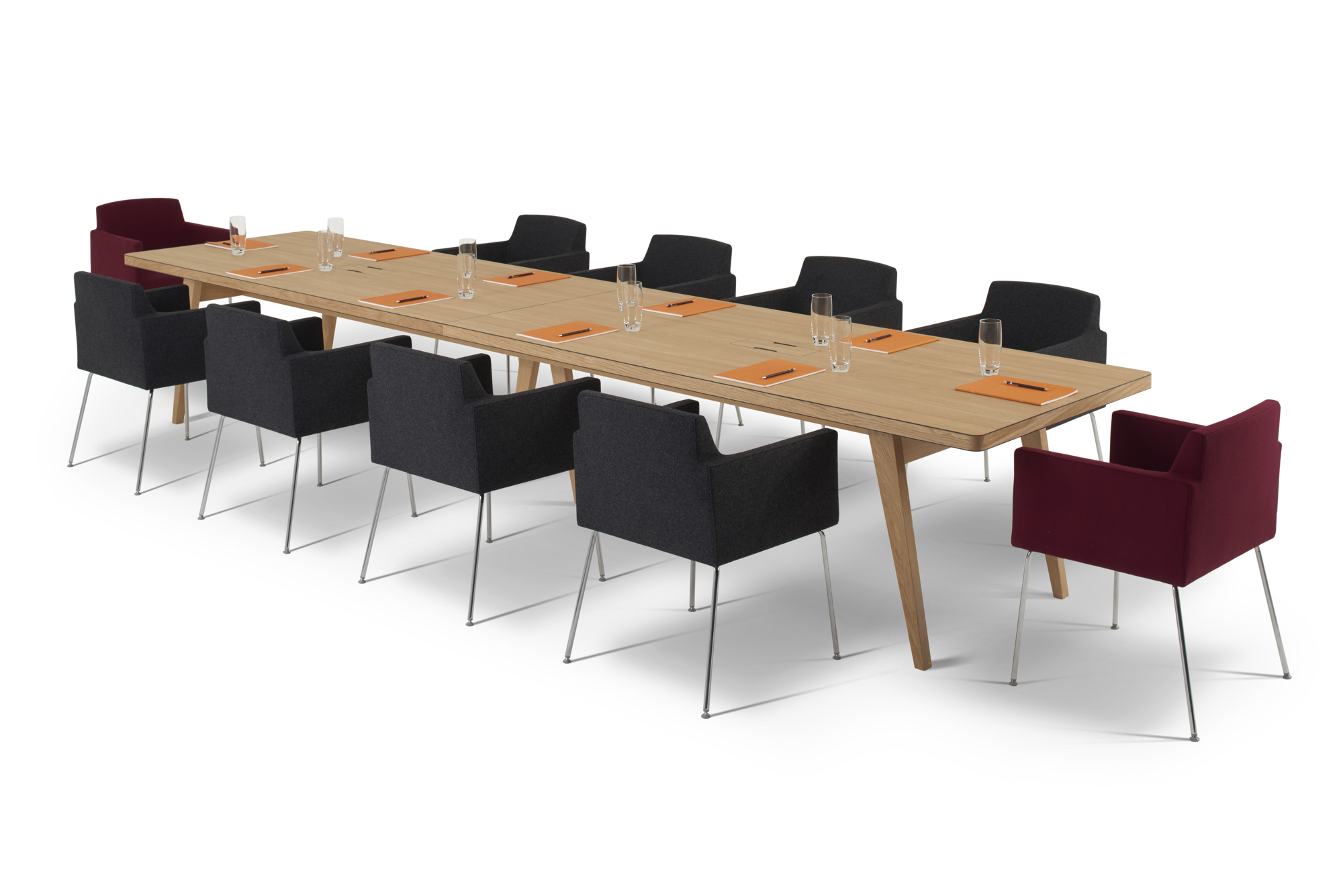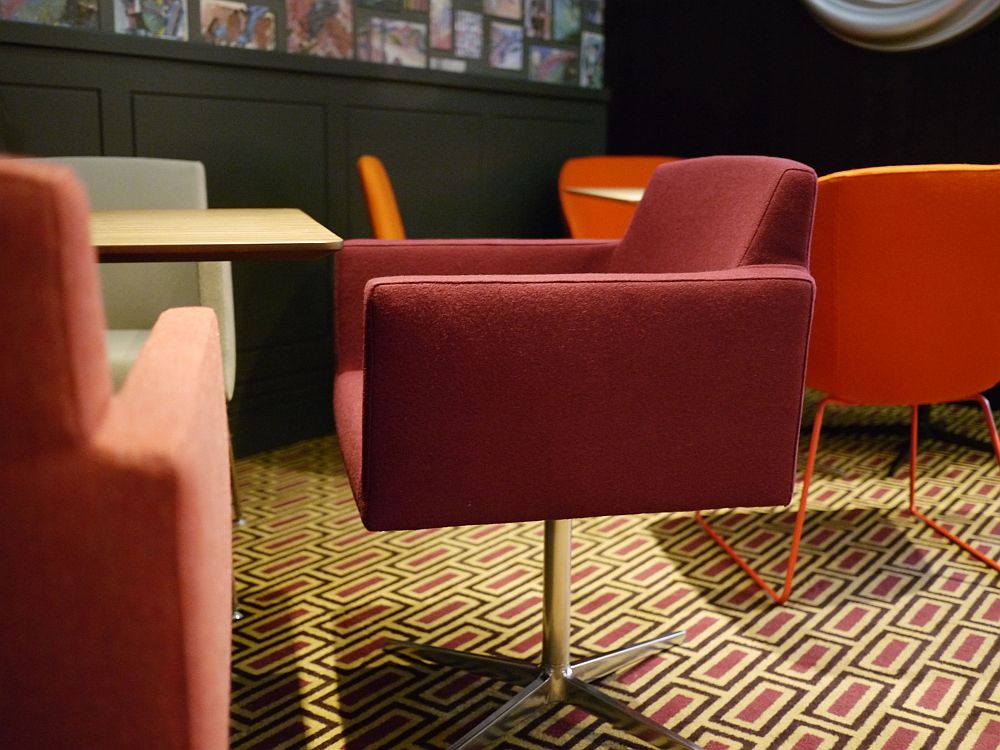 Images © Hitch Mylius.
Barcelona Chair
The Barcelona Chair, designed by Mies van der Rohe, is a signature piece for the Knoll brand. Arguably one of the furniture icons of the 20th century, the Barcelona Chair is a heavyweight office lounger.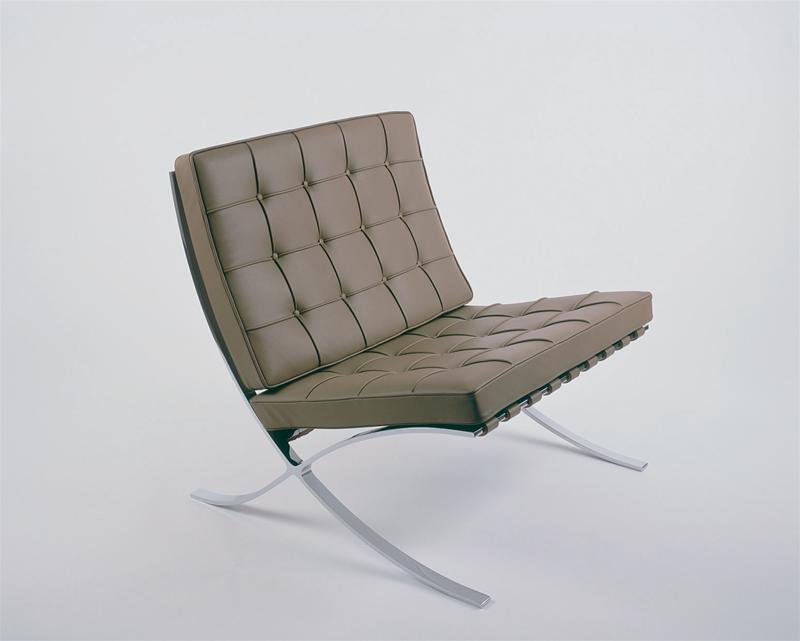 Image © Knoll, Inc.
Dune
Dune, a neat and stylish tub chair, was designed by Monica Förster for Modus. This version with its sleek chrome swivel base is workplace ready.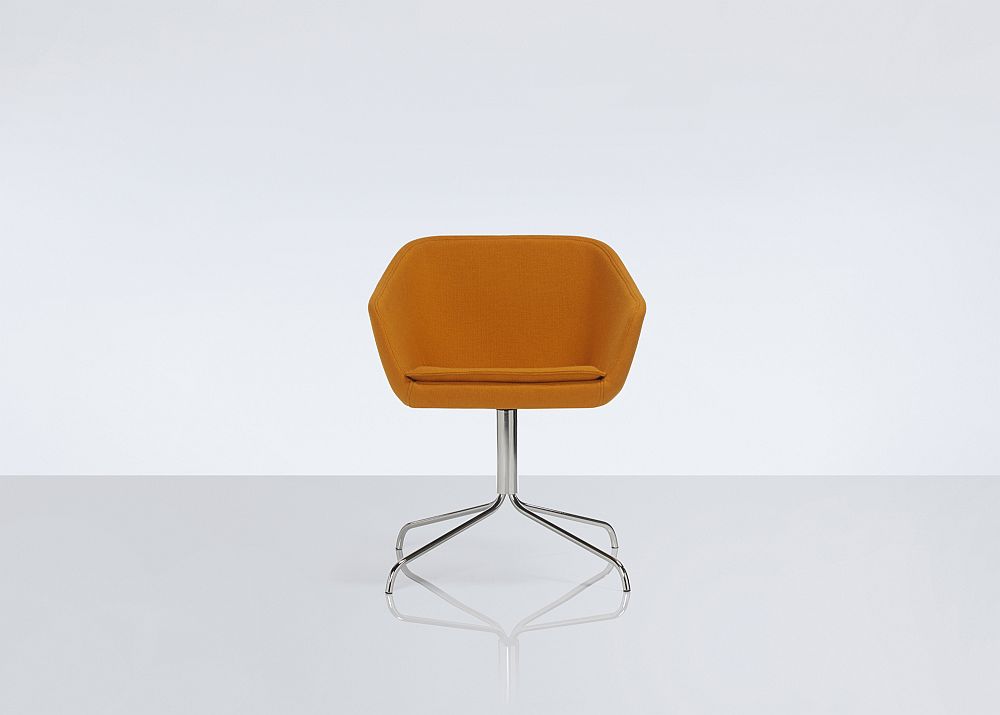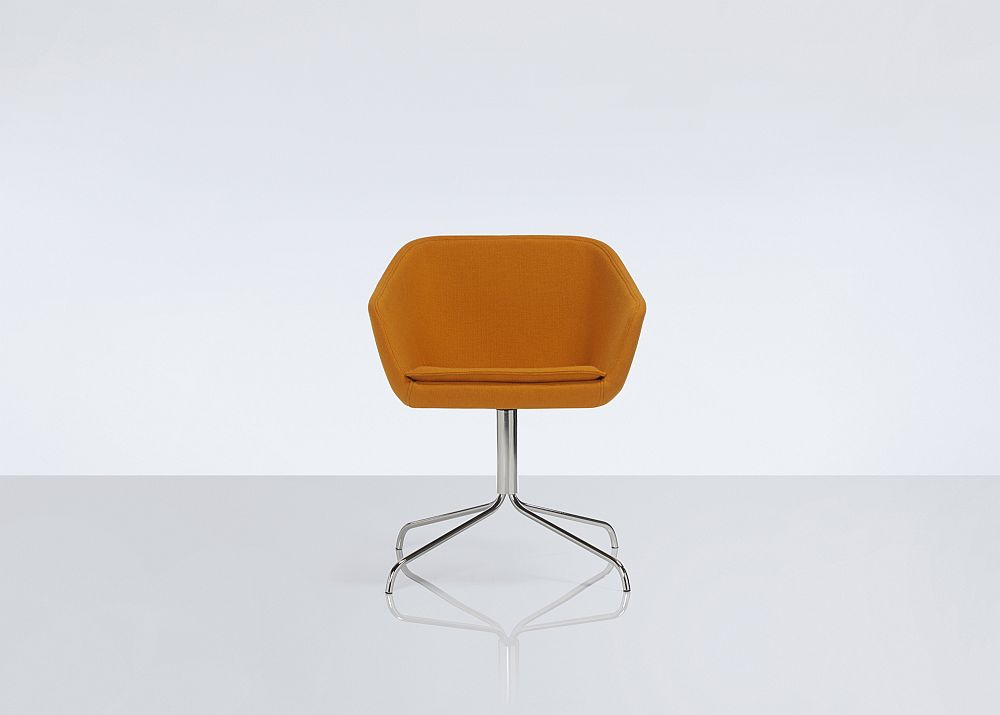 Image © All Rights Reserved 2015. Modus Furniture Limited.
DownTown
DownTown is an armchair for the learned executive who prefers to make key decisions from a graceful seat. The chair was designed by Jean-Marie Massaud for Poltrona Frau and is available in five size variations, from the president to the visitor (pictured top and bottom).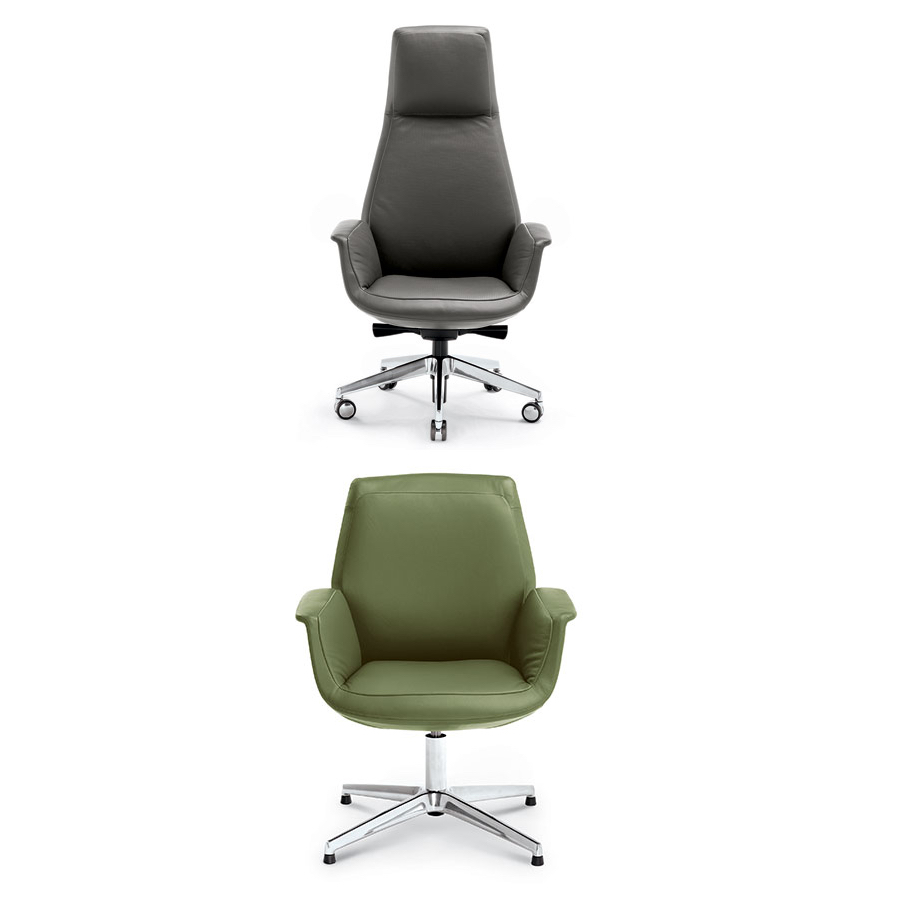 Images © Poltrona Frau S.p.A.
Cron
The Cron chair was featured in a previous Decoist post: 22 Ideas for a Well-Furnished Office. With the classic qualities of an executive chair, Cron is available in three well-designed models: high backrest with headrest, high backrest only and low backrest (pictured top to bottom). Cron was designed by AlegreIndustrial Studio for ACTIU.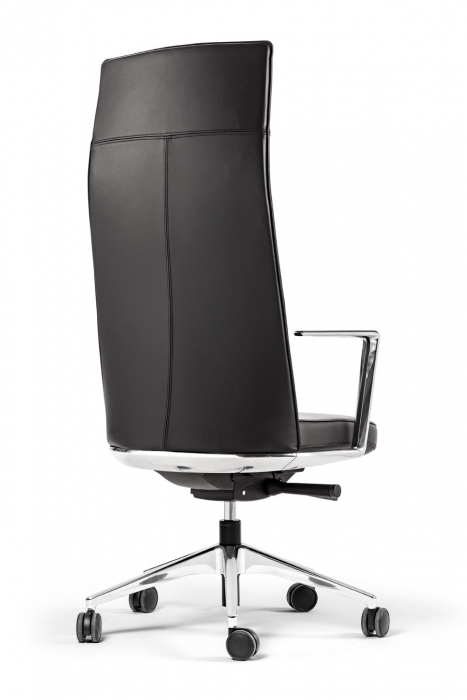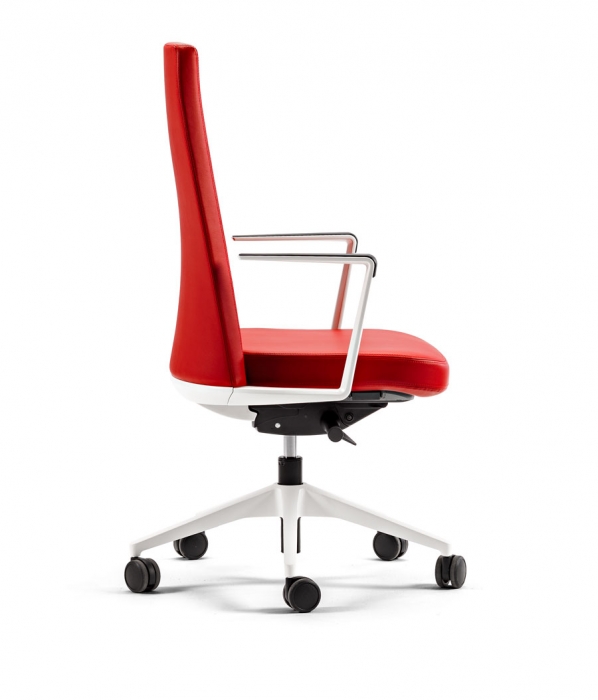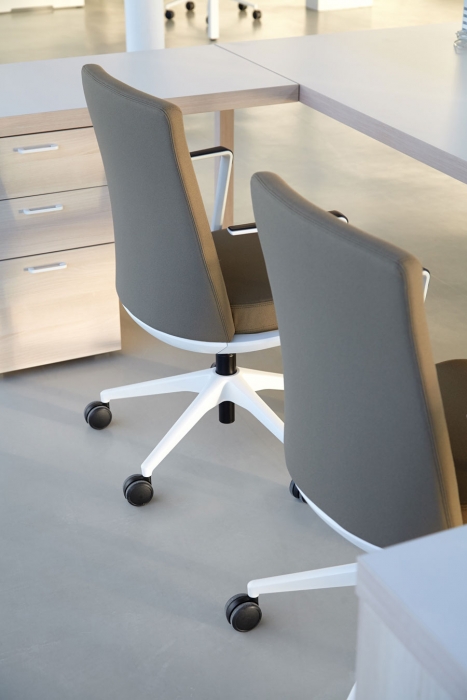 Images © ACTIU Berbegal y Formas, S.A.
Catch Chair
Designed by Jaime Hayon for &Tradition, Catch will welcome you to the office with open arms. Its form is a witty, playful and embracing design in true Hayon fashion.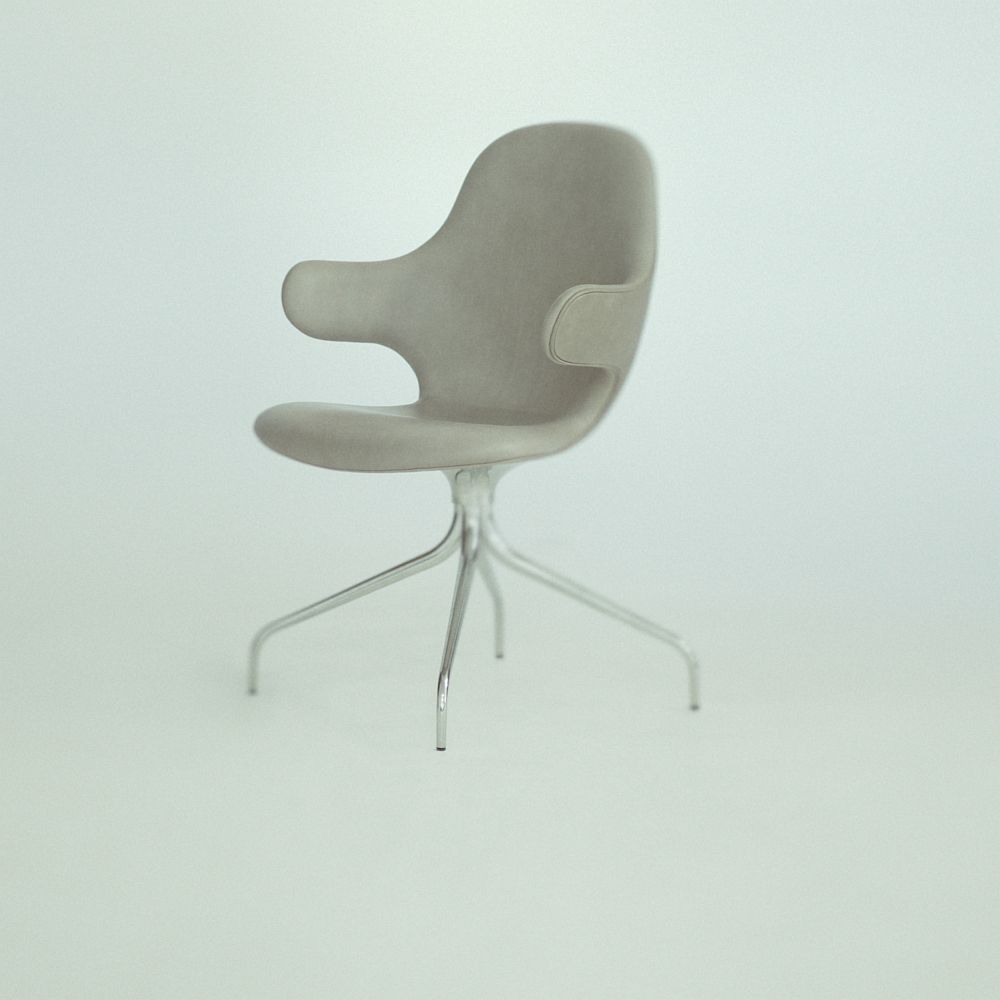 Image © &Tradition.
Mayor Sofa
The Mayor Sofa was created in 1939 by Arne Jacobsen and Flemming Lassen for Søllerød City Hall in Denmark. 'Mayor' was first made commercially available to buy in 2013, when it was produced by &Tradition. The sofa is a veritable statement piece and will ensure office visitors and guests repose in style.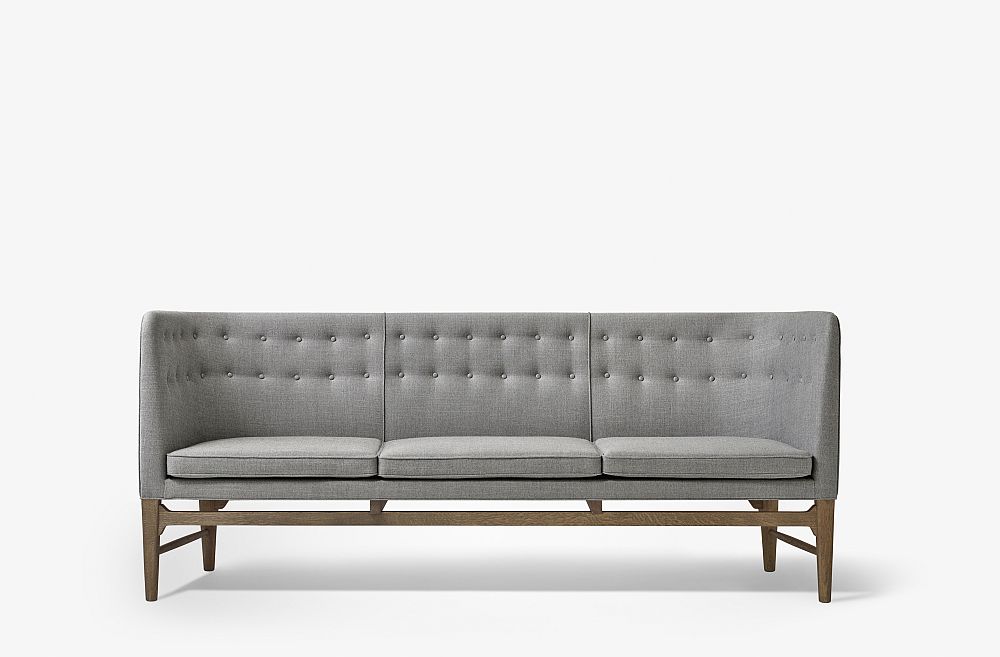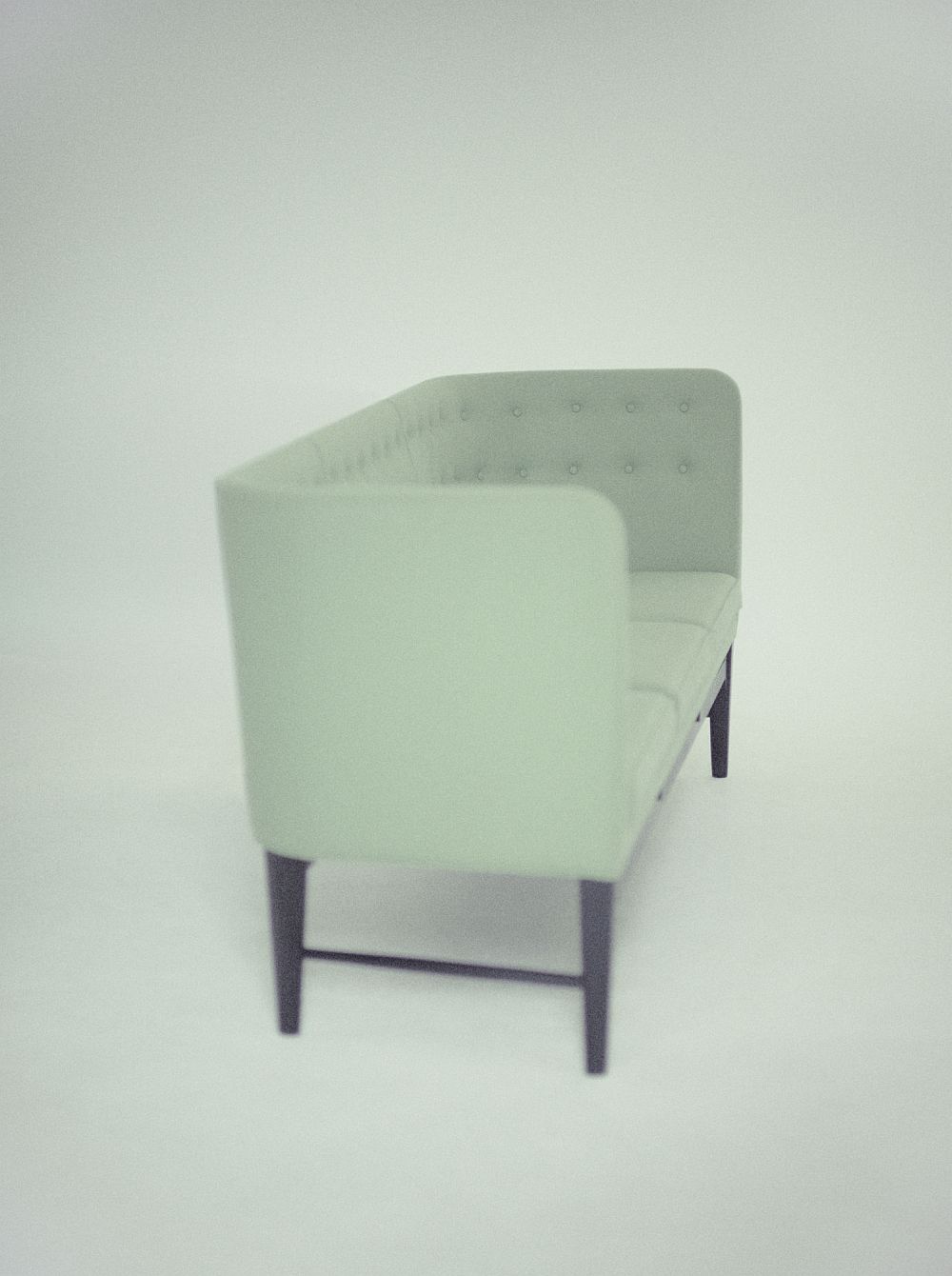 Images © &Tradition.
Oxford™
When designing an extension to St. Catherine's College, Oxford, Arne Jacobsen also designed the Oxford™ Chair (in 1965) for professors at the college. The chair is now a Danish modern classic.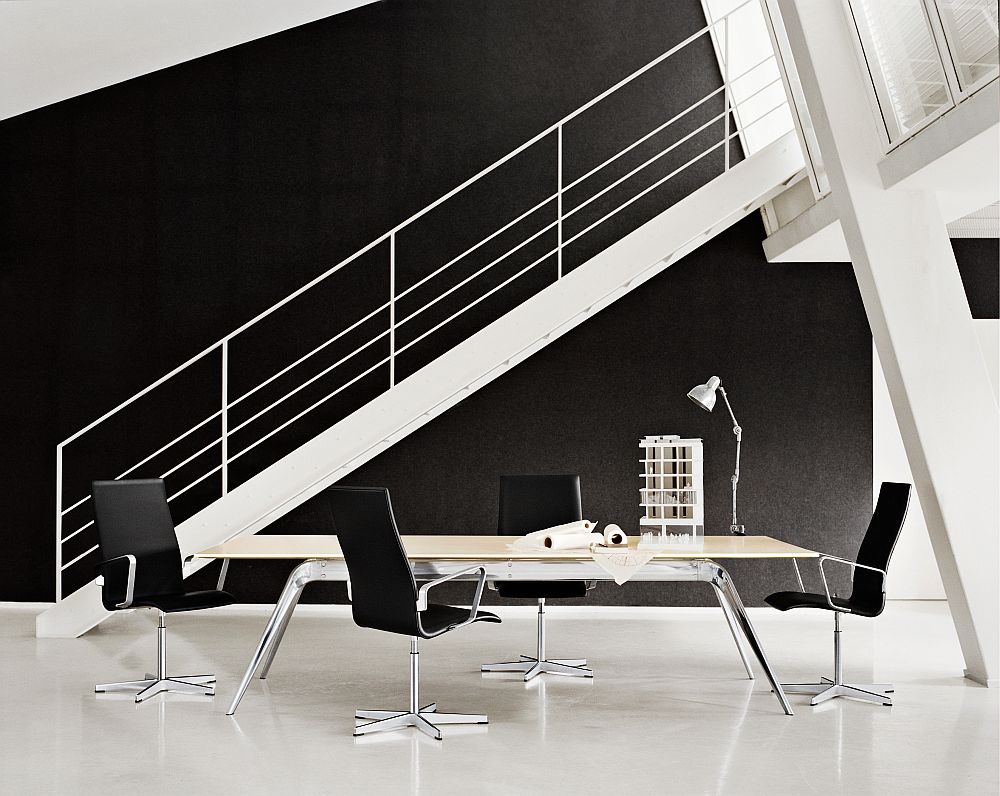 Image © Republic of Fritz Hansen.
Time
Time, by Henrik Tengler, is a most urbane and punctilious piece. Designed by Tengler in 2013, it has a clear midcentury profile and timeless quality, appearing somewhat Mad Men-esque.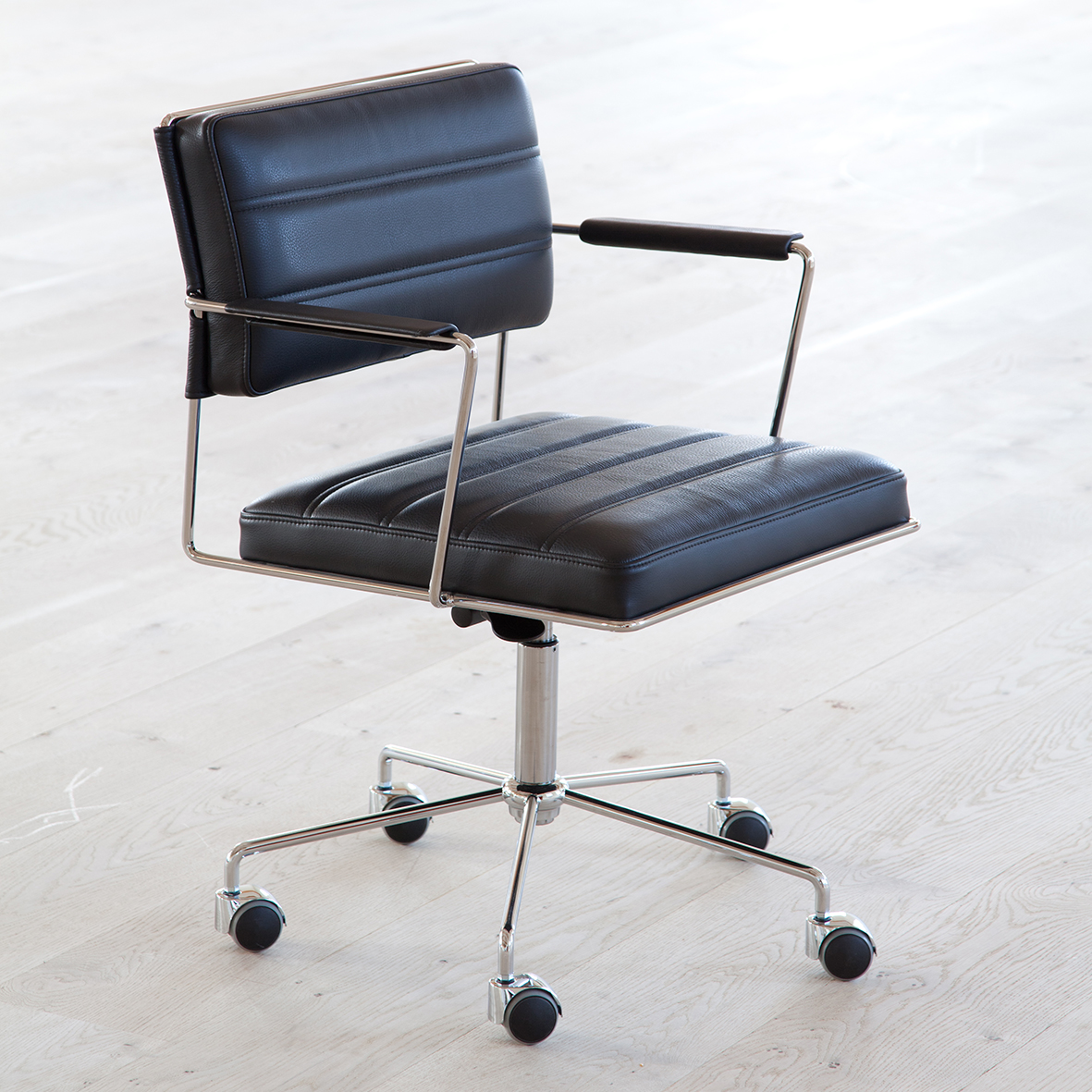 Image © Onecollection A/S.
Council Chair
The Council Chair was originally designed by design duo Kasper Salto and Thomas Sigsgaard for a permanent chamber at the United Nations headquarters in New York. In conjunction with Onecollection, the Council Chair (in moulded 3D oak or walnut veneer) has been made available to buy.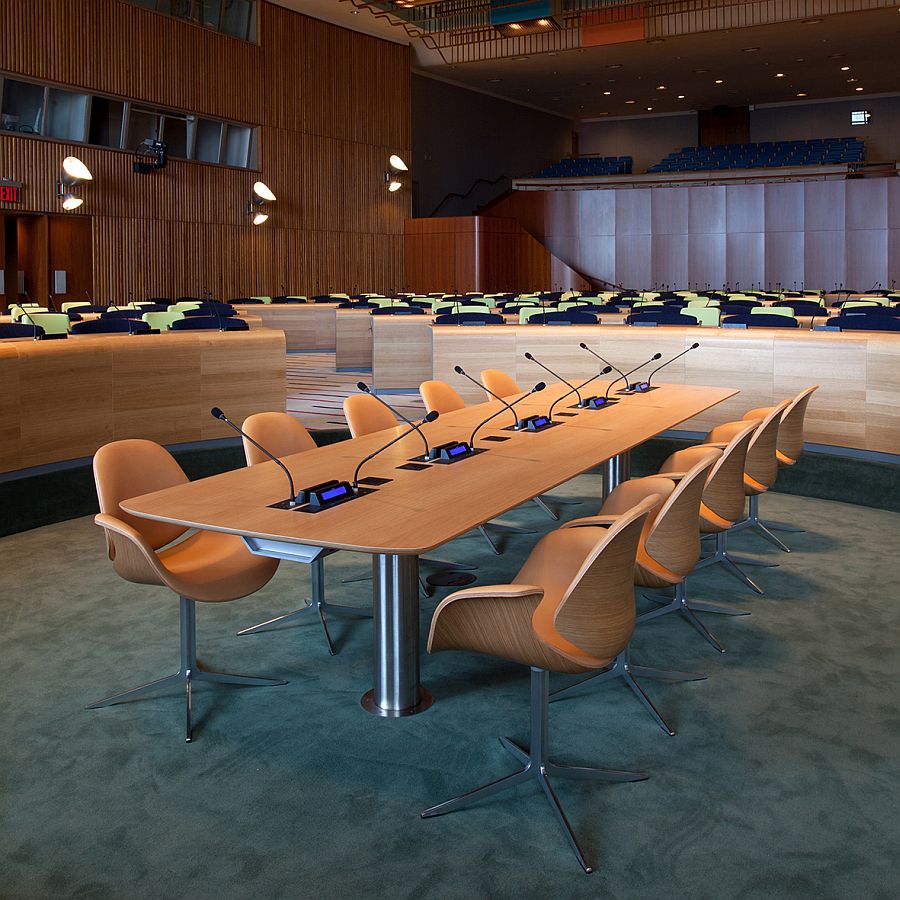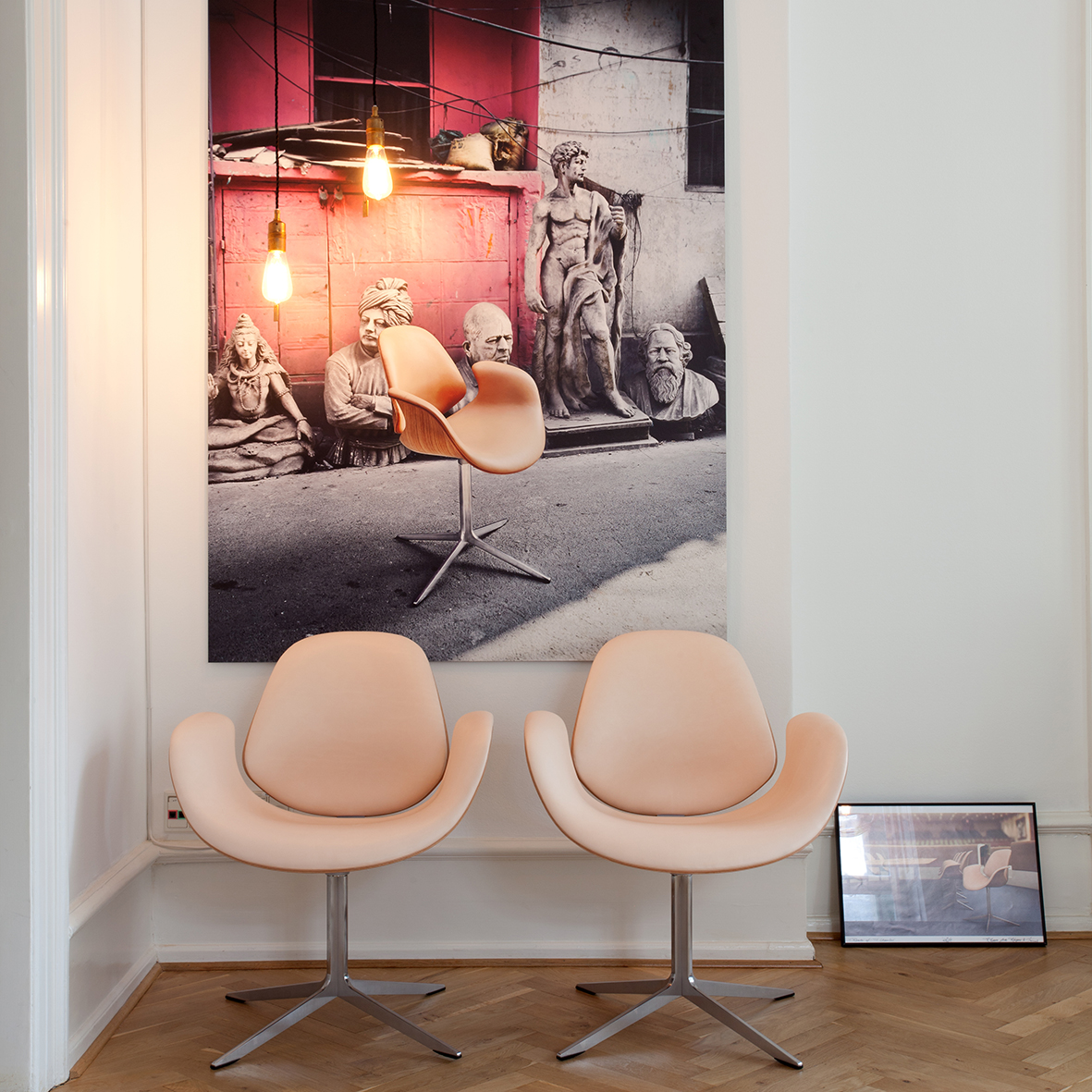 Images © Onecollection A/S.