Making a floral statement with Asian flair, the cherry blossom motif is one of today's most popular wallpaper designs. That's why we've rounded up a collection of rooms featuring this eye-catching pattern, from living rooms and dining rooms to bedrooms and bathrooms. Browse the images below for cherry blossom inspiration, photos from various wallpapered rooms of the home, and even cherry blossom wallpaper alternatives (such as wall murals). Enjoy! [Cherry Blossom Wallpaper from Anthropologie]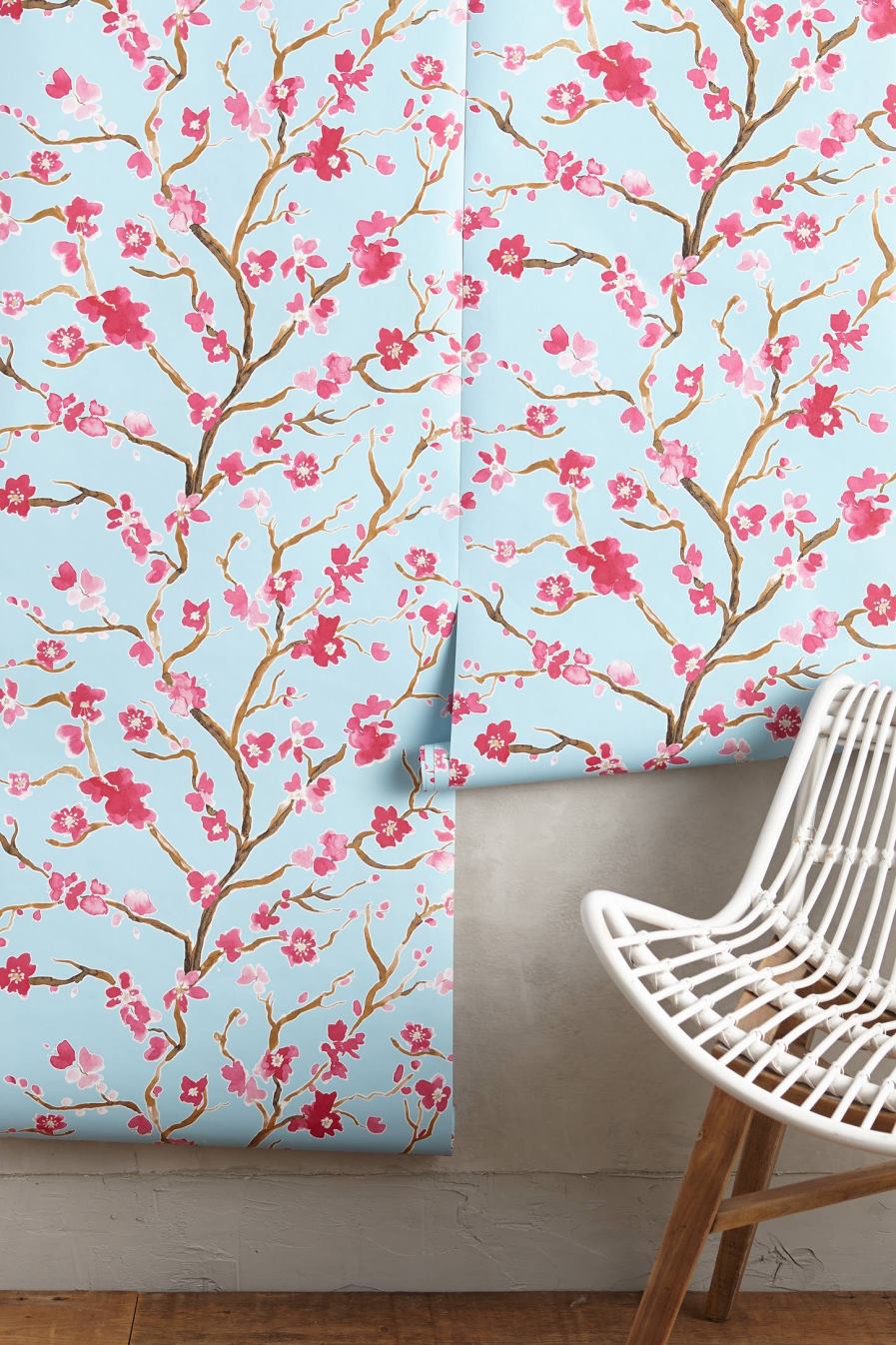 Cherry Blossom Inspiration
Why are cherry blossoms so alluring? There's something festive and magical about branches dotted with delicate flowers. And you can't beat the crisp look of pink blossoms in a white container! [photo from Lonny]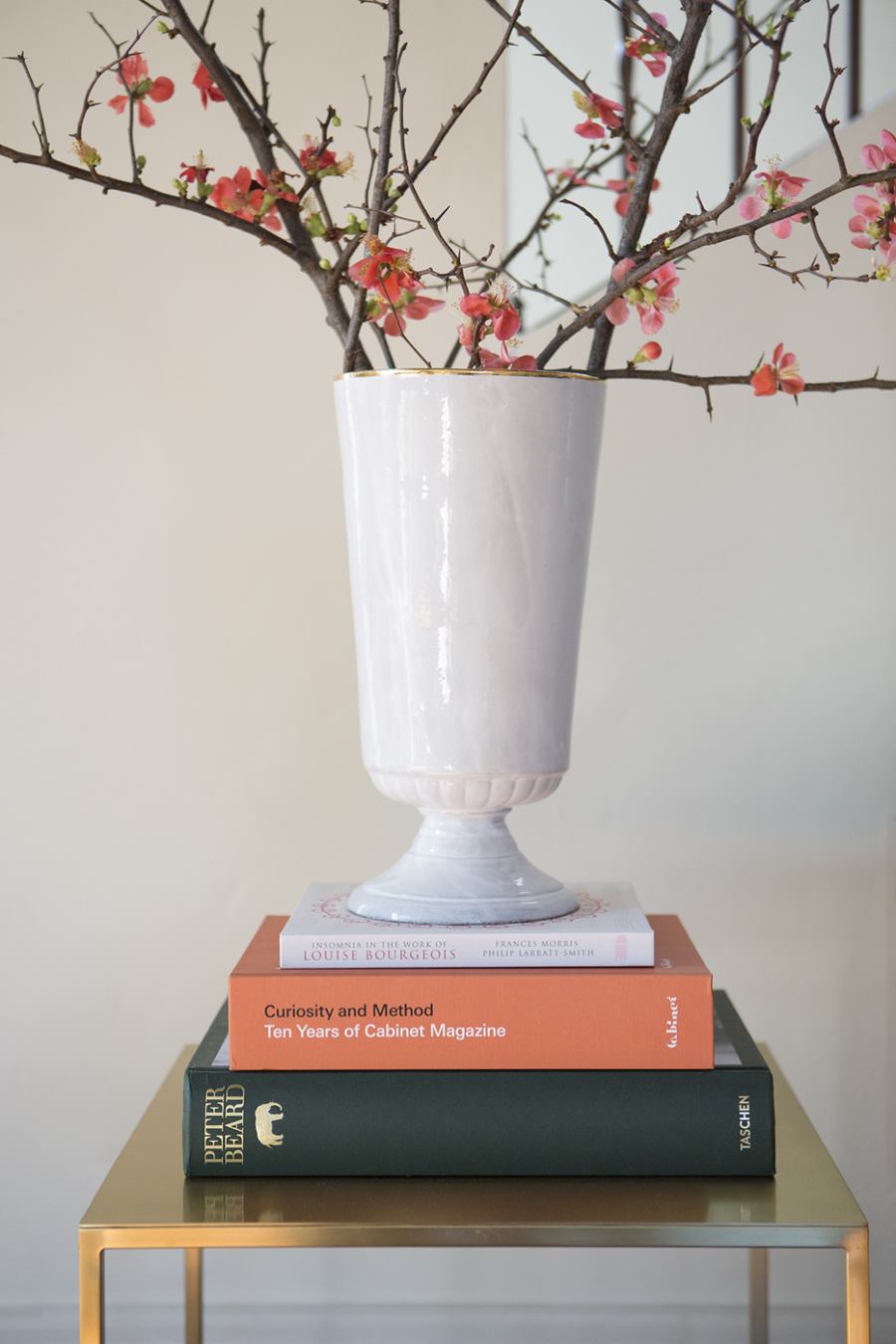 Wallpaper designers take inspiration from the structural element of the branches, as well as the feminine feel of the flowers. Some wallpaper patterns are evenly decorated, while others have a mural-like feel, as if one large tree or branch cluster were dramatically decorating the space. [photo by Steve Freihon, from William Reue Architecture]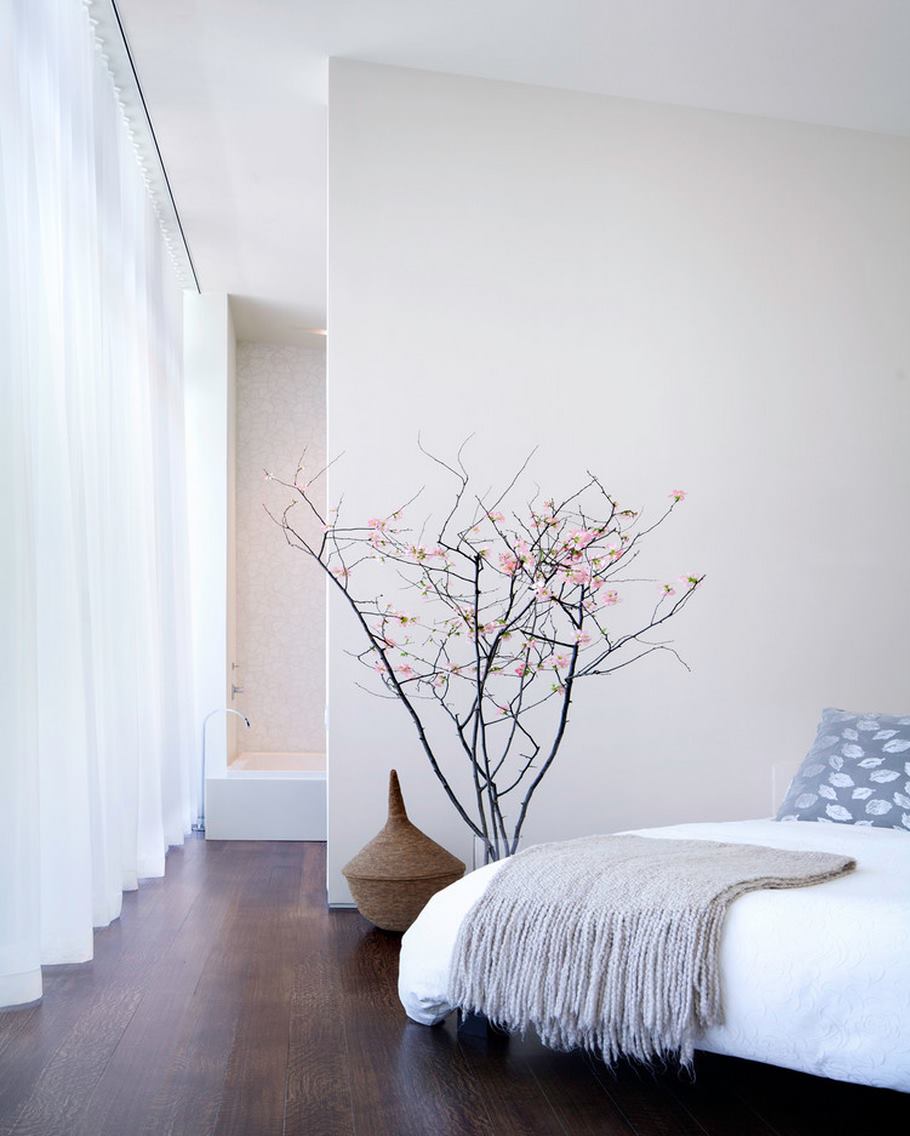 There's power in the cherry blossom, and there's nothing like finding yourself under a cluster of trees! Artists and designers try and bottle that feeling when creating cherry blossom wallpaper. It's the next best thing to enjoying cherry blossom viewing in Japan or having the blossoms right outside of your window. [photo from Riota Design]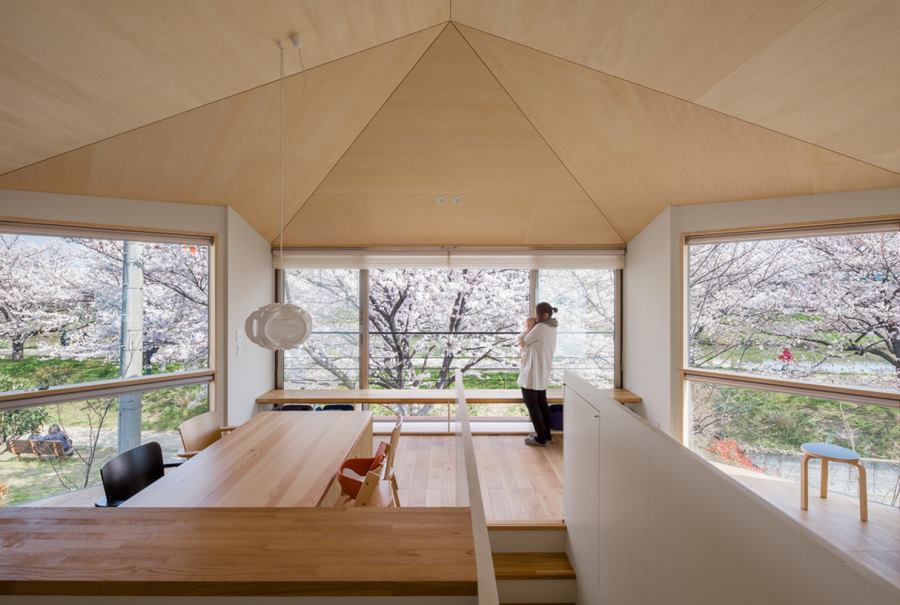 As you'll see in today's post, blue is a popular complementary color when it comes to cherry blossom style. Whether the blossoms are pink or white and whether the blue is aqua or powder, the combo of blossom and blue is unbeatable! [photo from blog Dreamy Whites]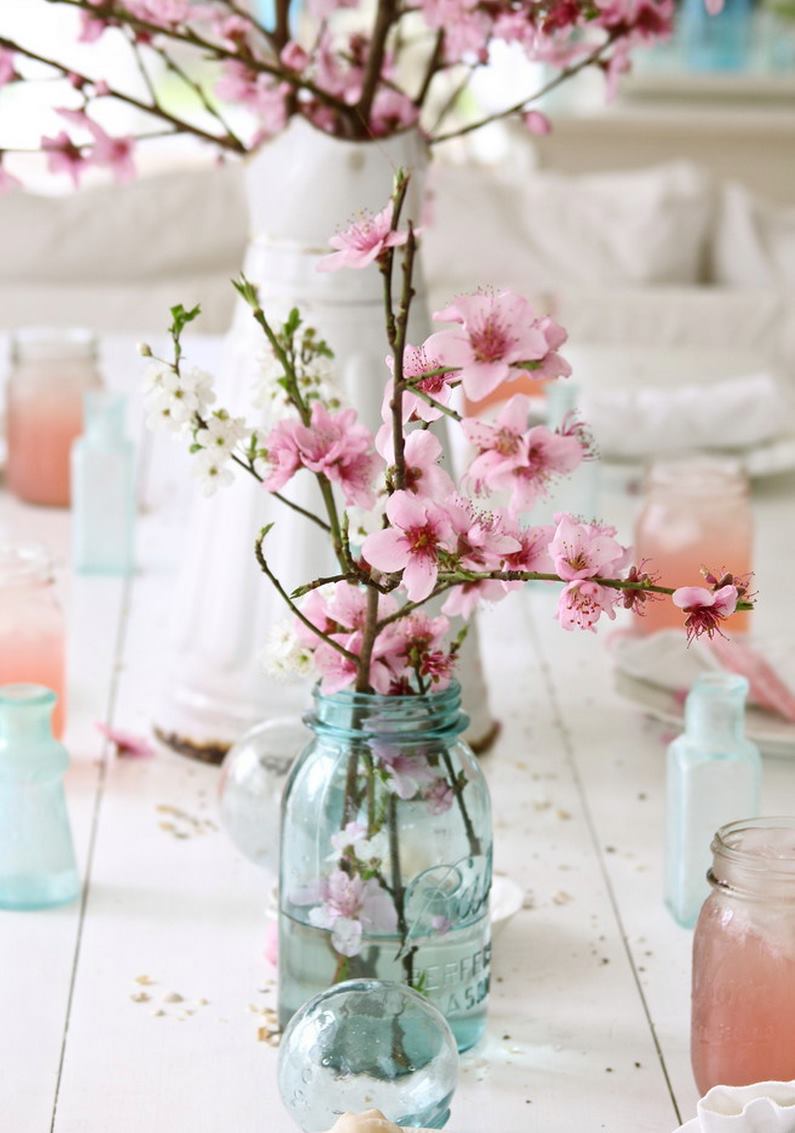 Living and Dining Room Cherry Blossoms
We're guessing you're ready to see the wallpaper now! Let's start with living and dining areas decked out in blossoms. Below we see a windswept blossom design by de Gournay, printed on tarnished silver gilded paper: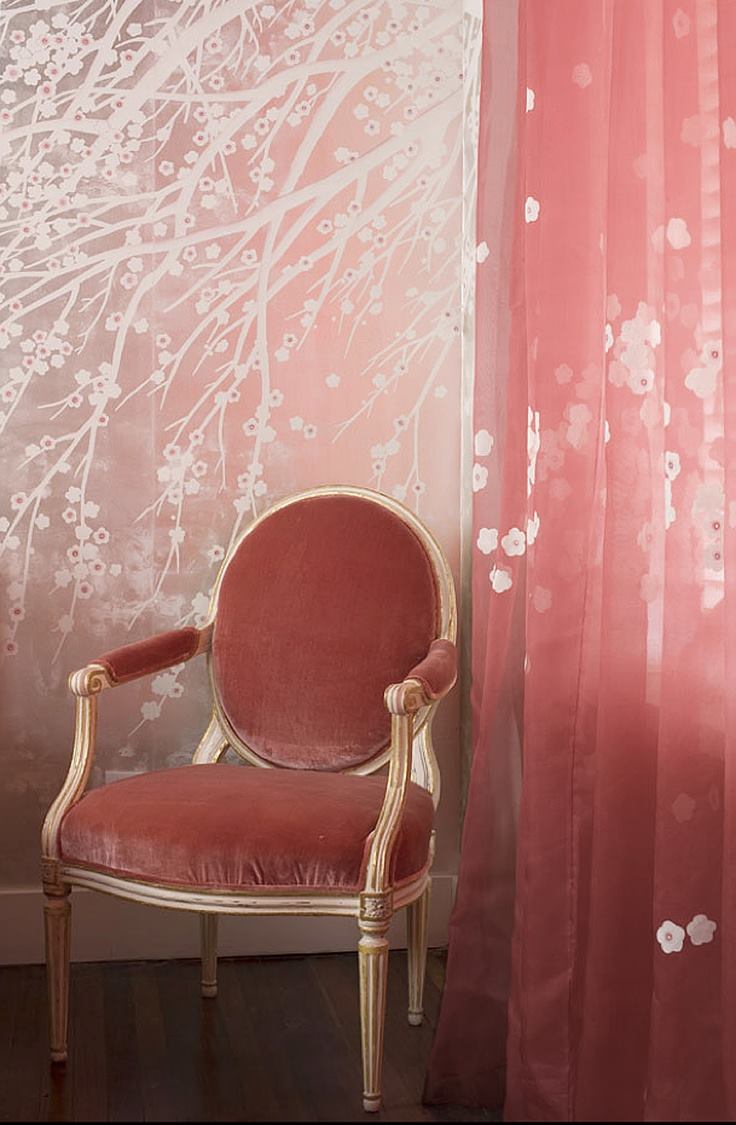 How decadent is this custom wallpaper, created by Cynthia Rowley with the help of Flavor Paper's Josh Minnie?!! Rowley designed the paper for her Manhattan dining room, and we think you'll agree that the result is quite striking! [featured at Elle Decor]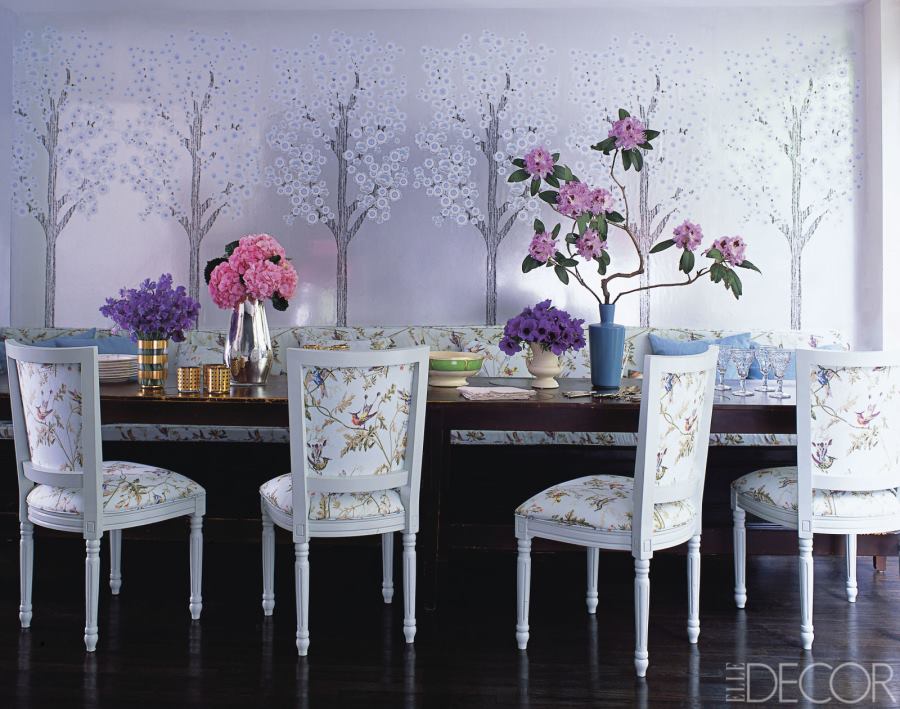 Refreshing white is an ideal background for this cherry blossom wallpaper from de Gournay. When you want the wallpaper to take center stage, try keeping the furnishings simple. White chairs and a white tablecloth are the perfect choice for a compact dining area: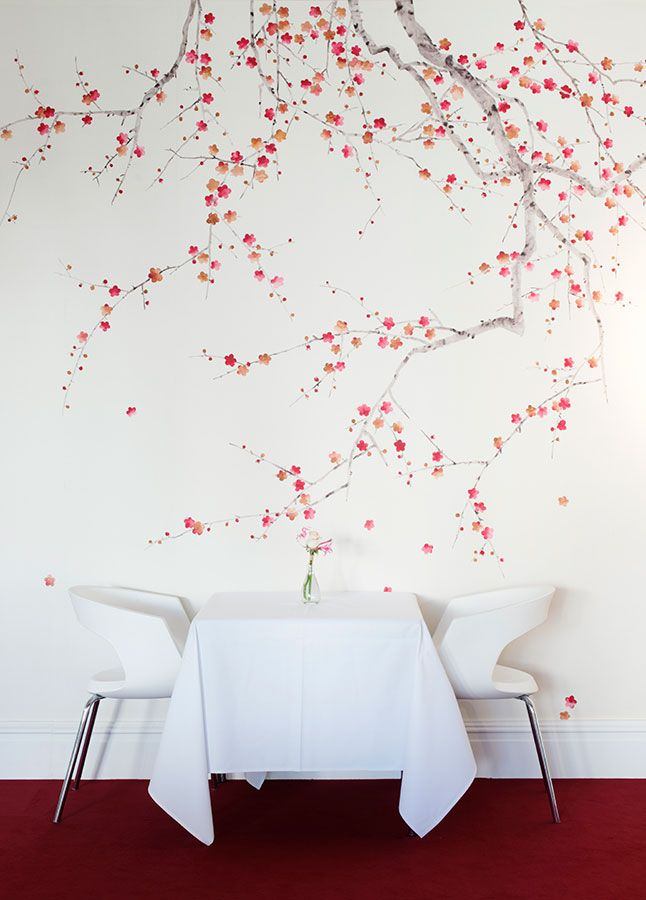 Cherry Blossoms for the Bed and Bath
We now move into the bed and bath arena, starting with neutral blossom wallpaper in a plush room designed by Juliette Byrne. While the wallpaper is definitely a focal point, bright accents in unexpected colors such as pink and kelly green steal the show. Byrne has proven that floral wallpaper doesn't have to overpower the room it graces: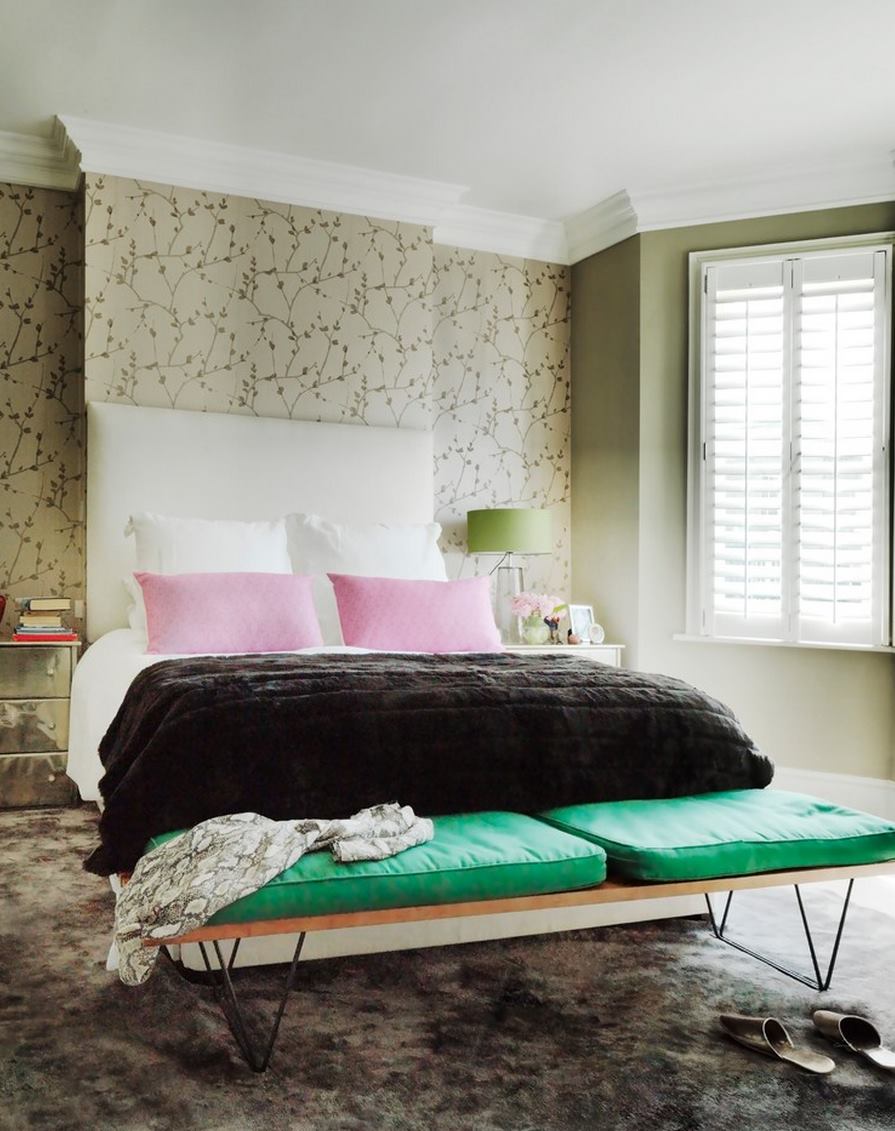 We once again see the beauty of blue in combination with cherry blossoms in the bedroom below. The wallpaper gives the space a designer feel, and crisp white textiles and trim make this small room irresistible. [photo from Decor Pad]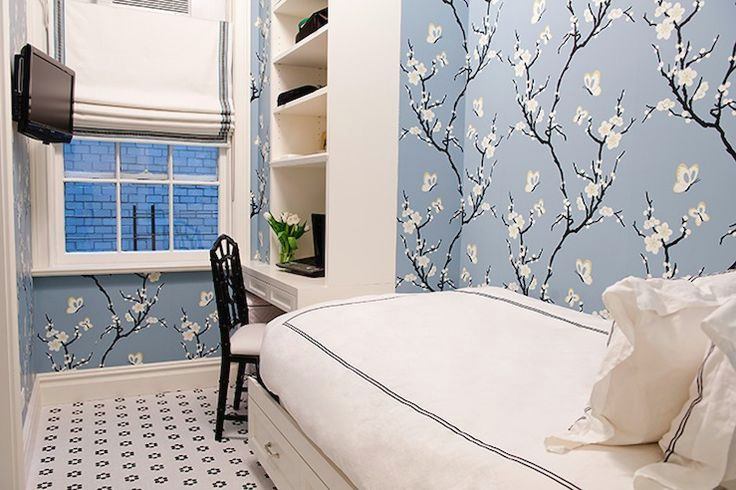 While the next room showcases Flowering Quince wallpaper rather than cherry blossoms, the effect is similarly enchanting. And so is the appeal of combining the blossom pattern with a cool tone, as shown by the minty trim! [photo from Amy Lau Design]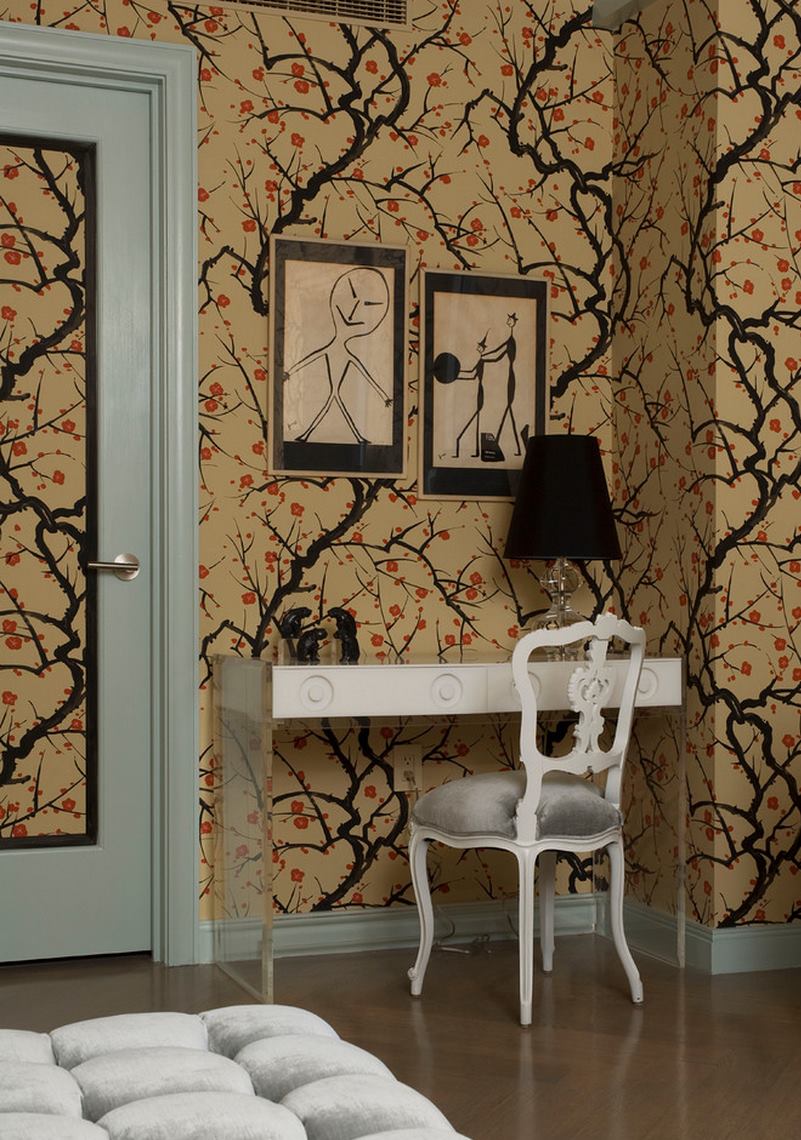 Here's another room featuring Flowering Quince on the walls, and as you can see, this time the blossoms are brought to the powder room. Note the addition of modern touches, such as the marble sink and the pebbled floor. [photo from Margaret Carter Interiors]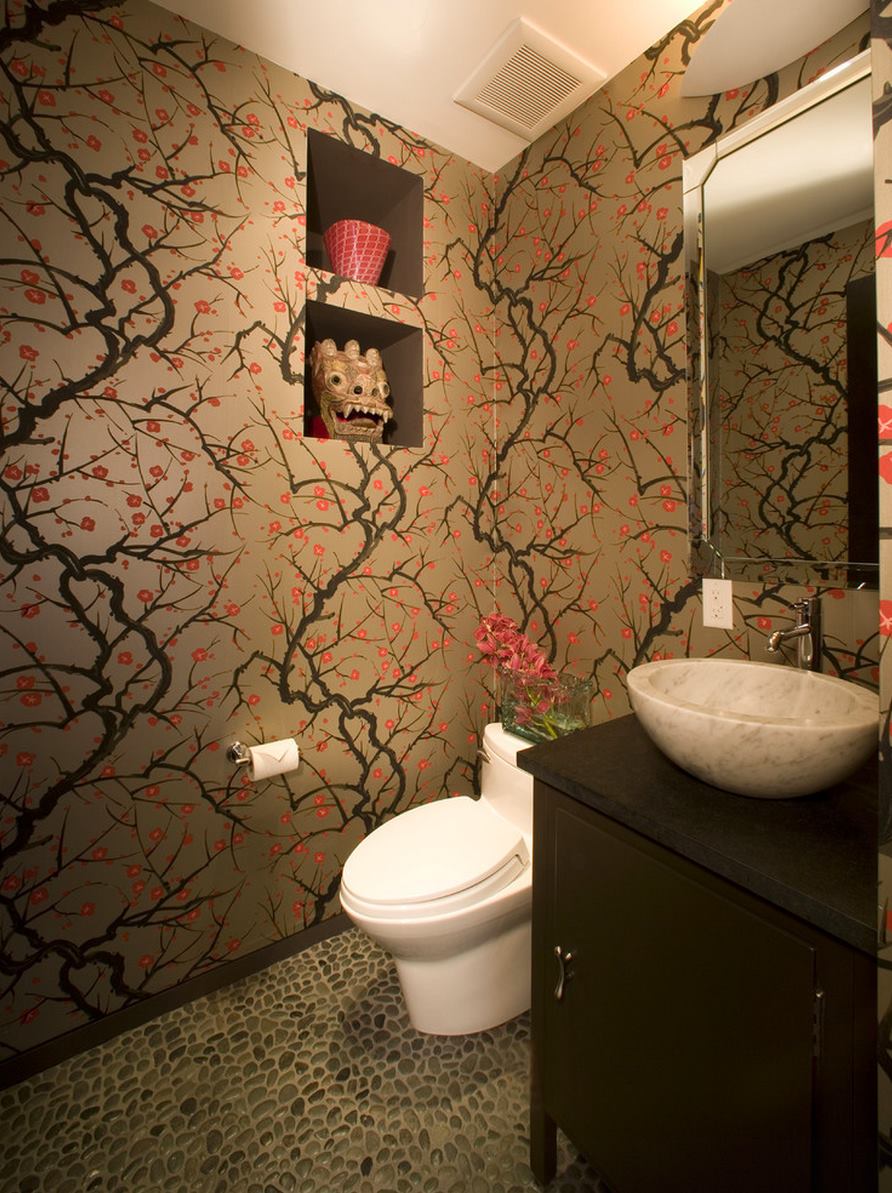 We end this section of the post with one more blossom-filled bathroom, this time featuring white blooms against a light aqua backdrop. When the palette is this refreshing, crisp white details are the way to go. The marble tile and white trim perfectly complete the space. [photo by Shannon Fontaine, from Leland Interiors]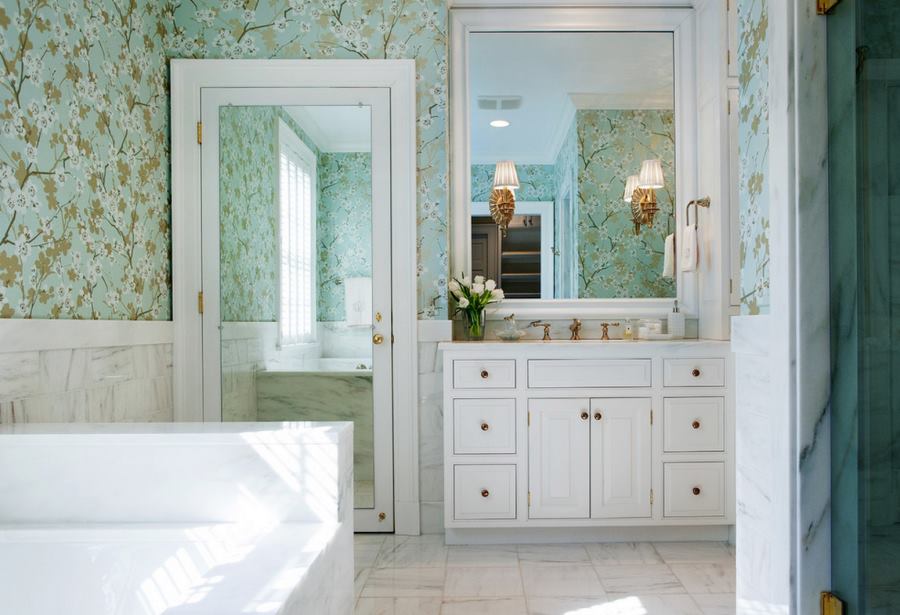 Cherry Blossom Wallpaper Alternatives
If wallpaper isn't in the cards, there are other alternatives to explore. For example, a cherry blossom wall mural can add a dash of drama to the room of your choice. All you need is some paint and a little creativity! [photo by Allison Cartwright, from Twist Tours]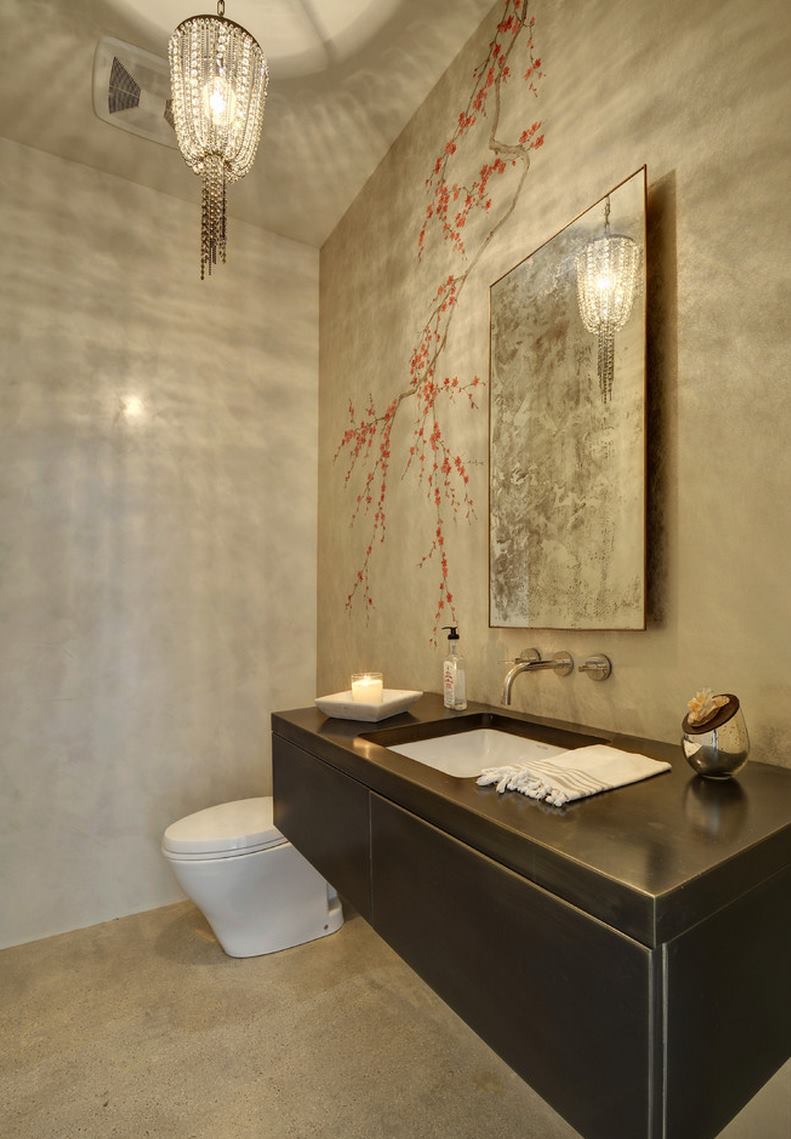 Here's another powder room featuring a subtle yet striking cherry blossom mural. In this space, the delicate chandelier mirrors the soft silhouettes of the branches and blossoms. [photo by Marili Forastieri, from David Scott Interiors]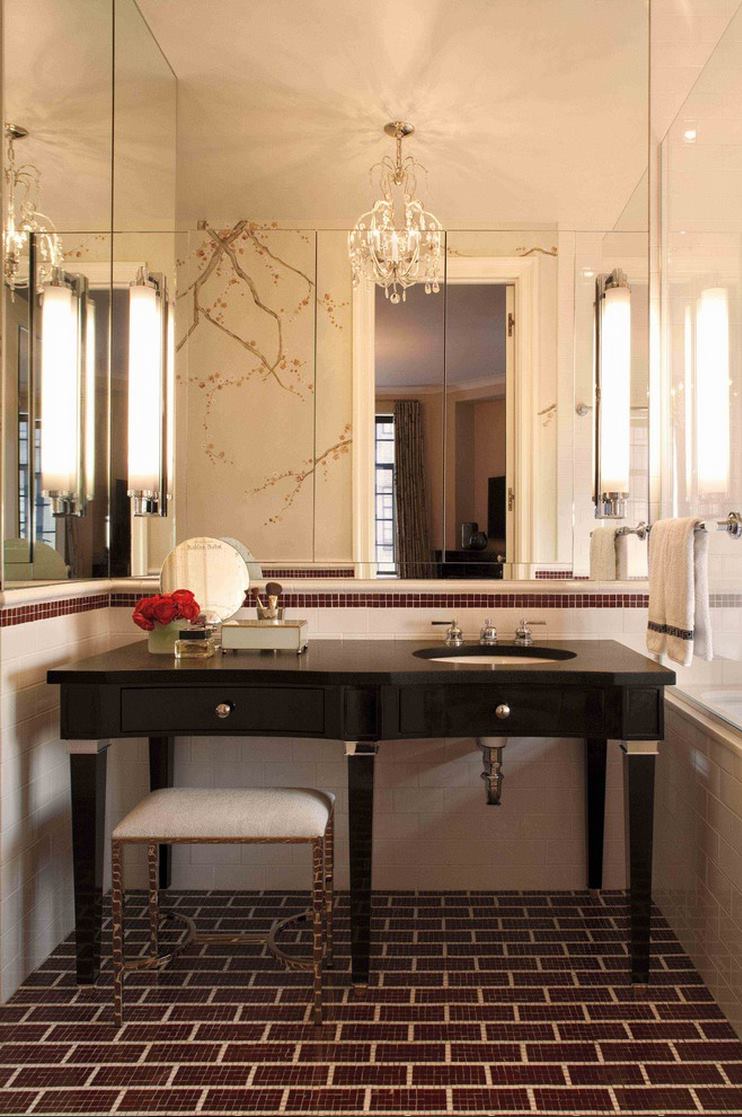 Cherry blossom tile murals are another increasingly popular choice. The mural below is powerful because of its dark/light contrast, as well as the simple, elegant way it's presented in this modern bathroom. [photo by Emily Minton Redfield, from Laurel Quint Interior Design]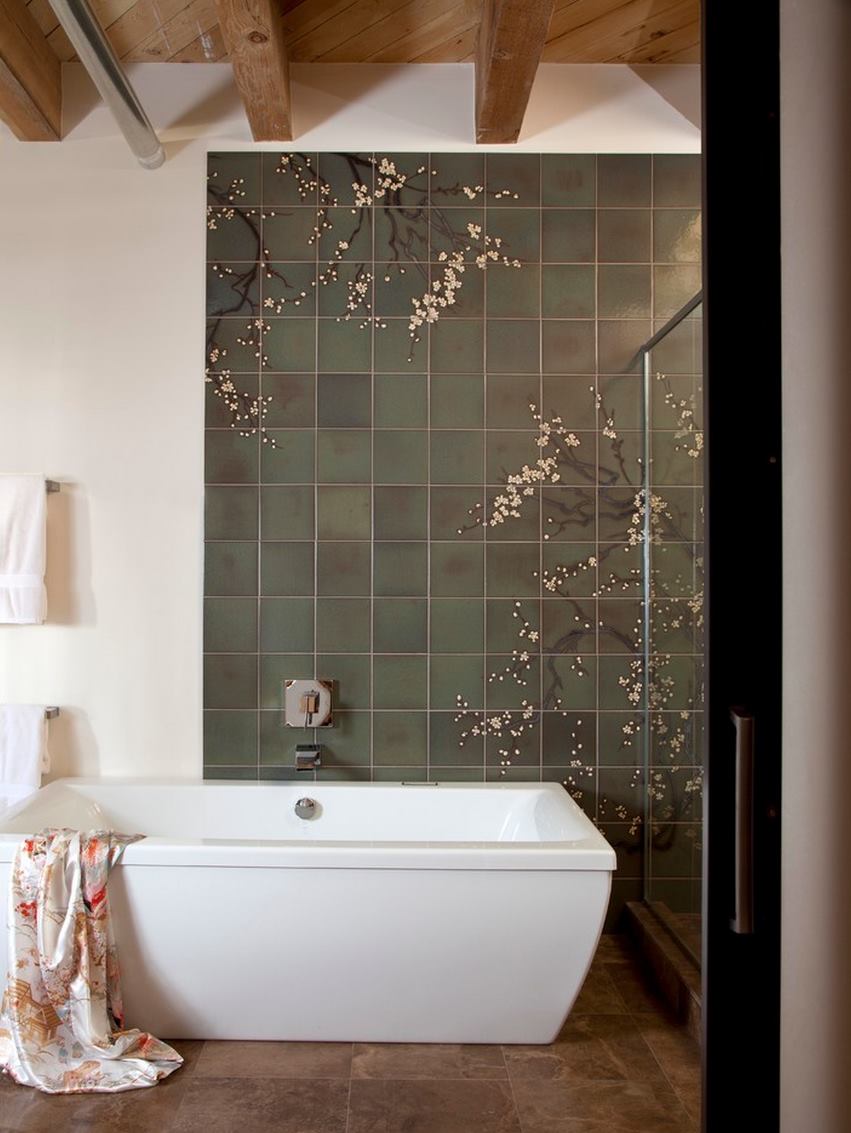 We end today's post with a custom tile mural by designer Caroline Beaupère. There's something beautiful about a blossoming mural against a white backdrop, don't you think?! [featured at HouseBeautiful]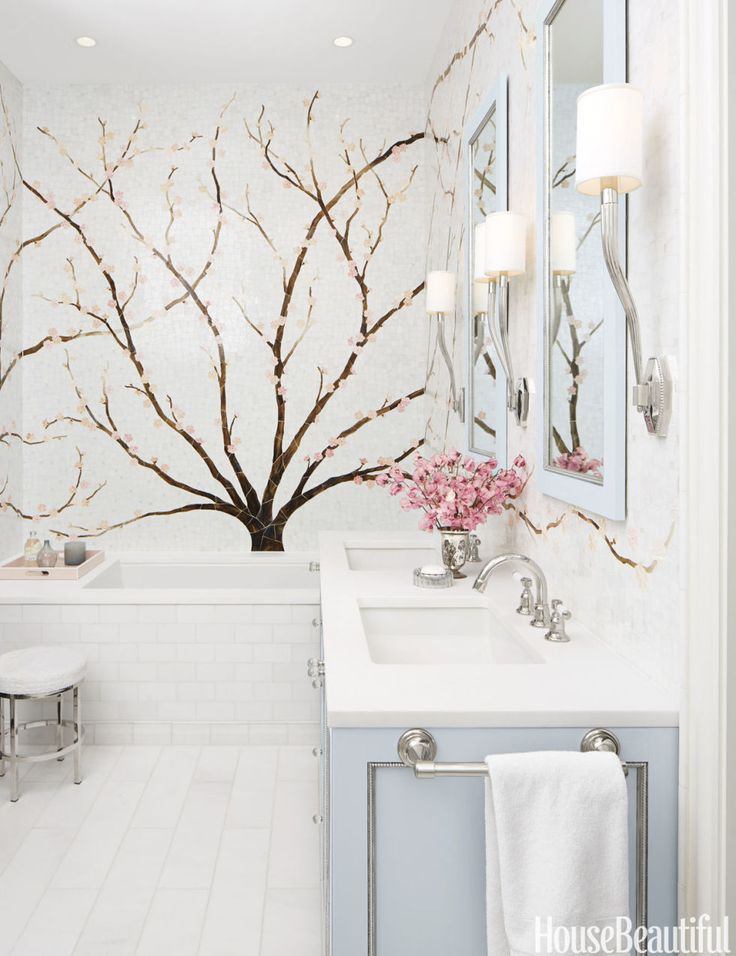 Will you bring the festivity of cherry blossoms into your home? If so, do you prefer wallpaper, murals, or a vase of blossoms on the counter? Share your thoughts by leaving a comment below…
Liked the story? Share it with friends.