Plant mania! Plants never really "went away," but they're certainly experiencing a revival as one of today's most popular decorative accents. Needless to say, a slew of plant stands have stolen the design spotlight in recent years. After all, the only thing better than a stunning houseplant is a stylish display method. Below we've rounded up our favorites, from store-bought treasures to DIY plant stands that make a big impact. Whether your favorite plants live inside our outdoors, enjoy our celebration of plant stand style…
Plant Stands for One
We begin with stands that let one plant take center stage! Geometric legs are a standout feature of the Iris Planter + Chevron Stand from West Elm, pictured below: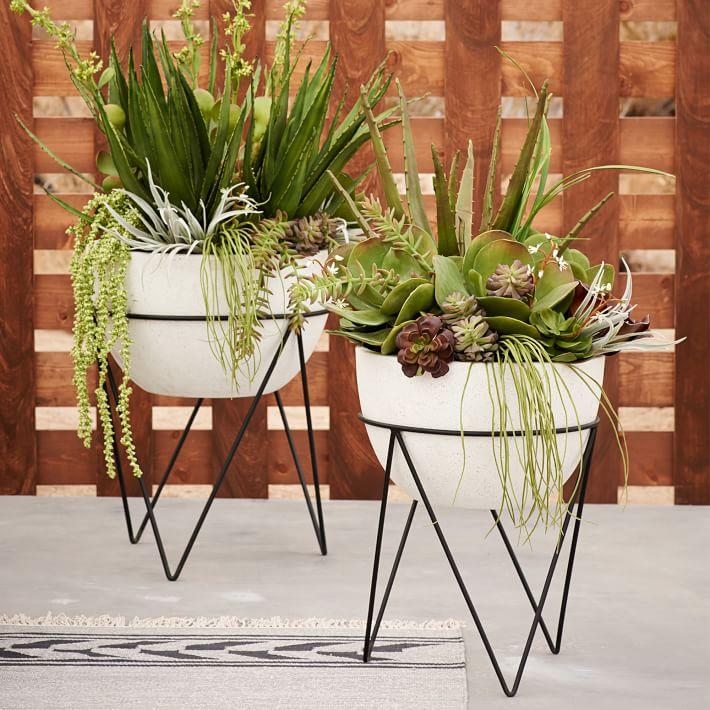 These Silver Footed Plant Stands from Terrain are perfect for accommodating terracotta pots, terrariums and more! Plus, they're budget-friendly, making it possible for you to find the perfect containers to top them off.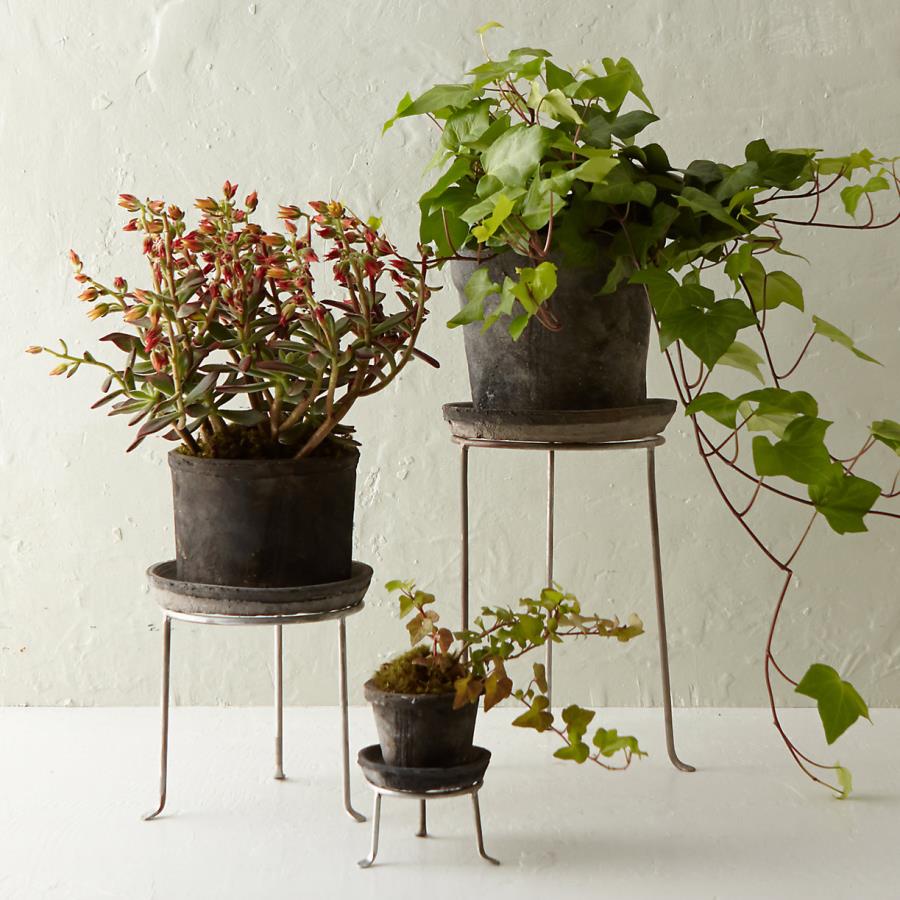 Tall and stately are two words that describe this Protected Teak Plant Stand from Terrain. Great for indoor or outdoor use, the teak treasure is just waiting for a lovely potted plant to showcase: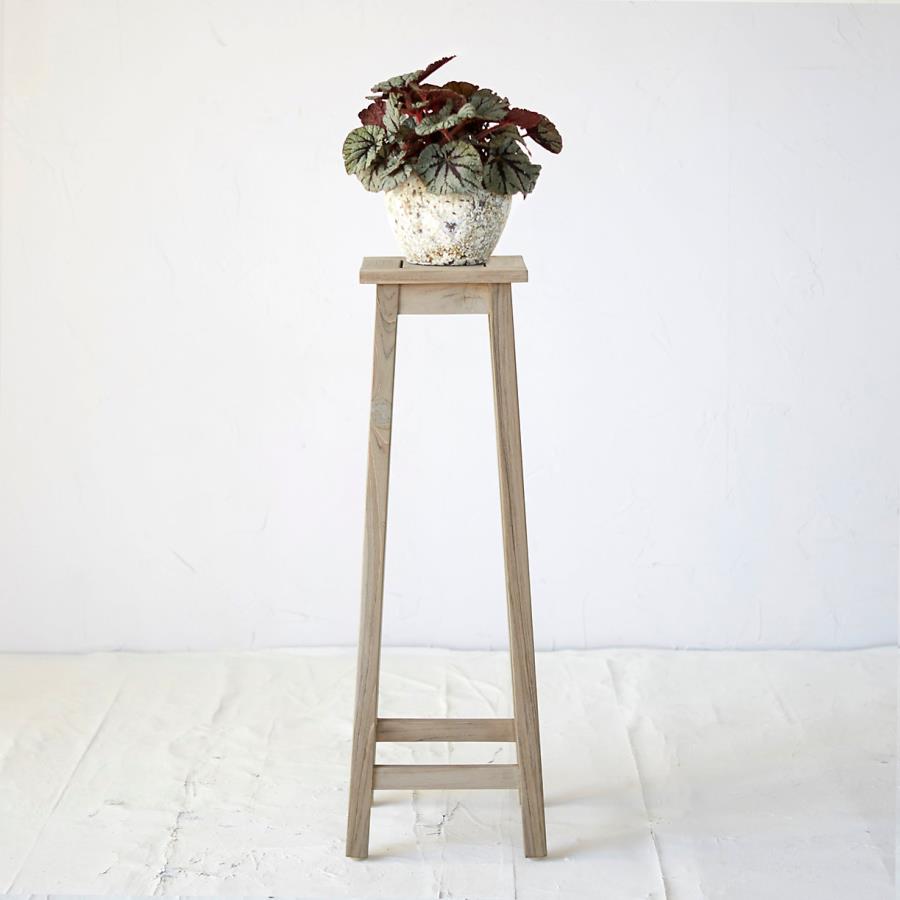 Oh Ferm Living, how we love thy innovative modern design! These Plant Stands will not disappoint. Crafted of powder-coated iron, they serve as eye-catching pedestals for the potted plants of your choice: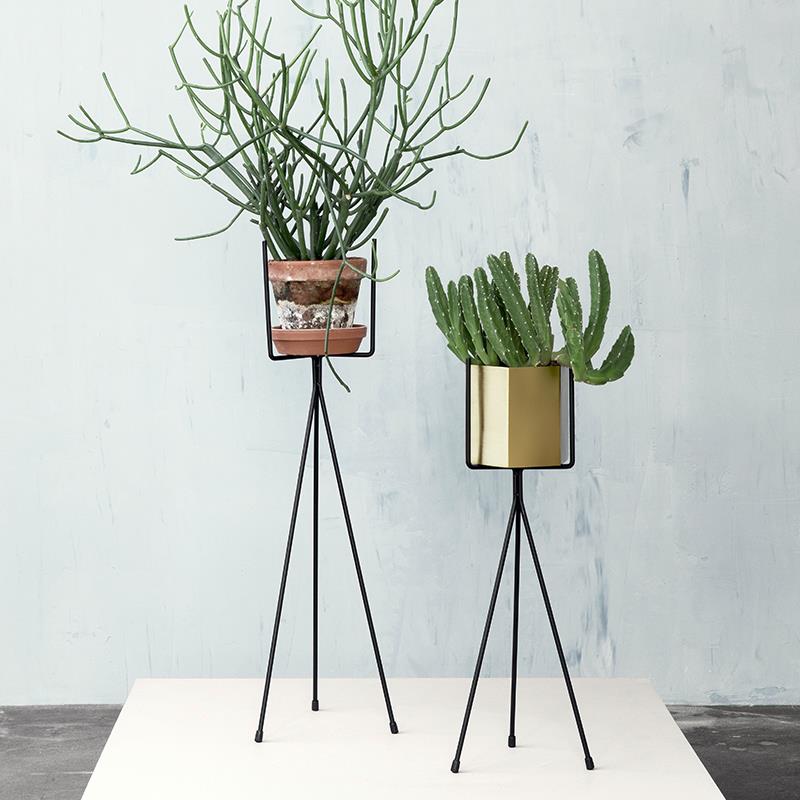 Crate & Barrel has done it again with these sleek modern Dundee Floor Planters. A handcrafted iron construction and antiqued bronze finish are special touches that complement each planter's contemporary form: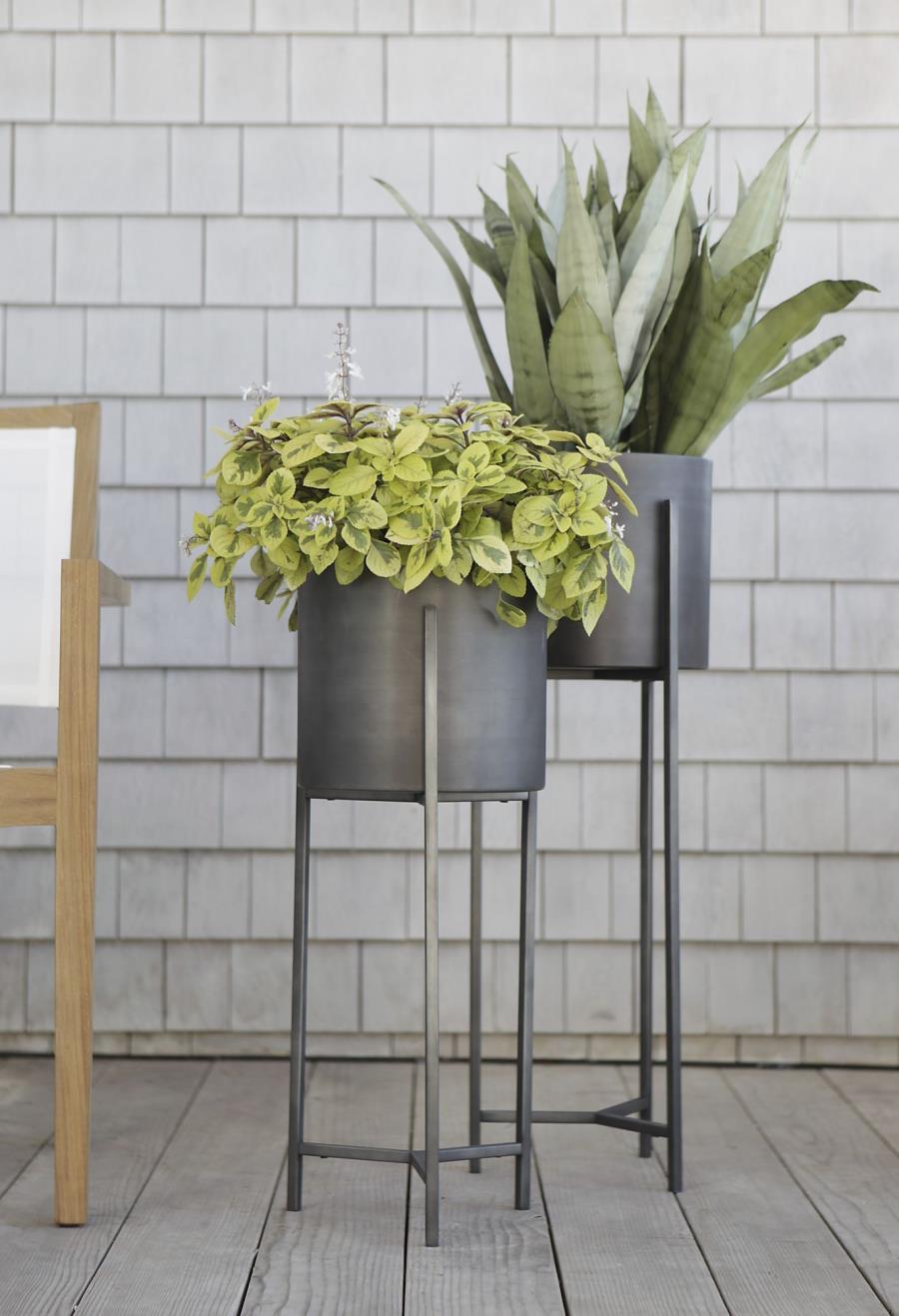 Is it a plant stand or a side table? You don't have to decide! This aptly named Side Table Plant Stand from Terrain can be used both indoors and out: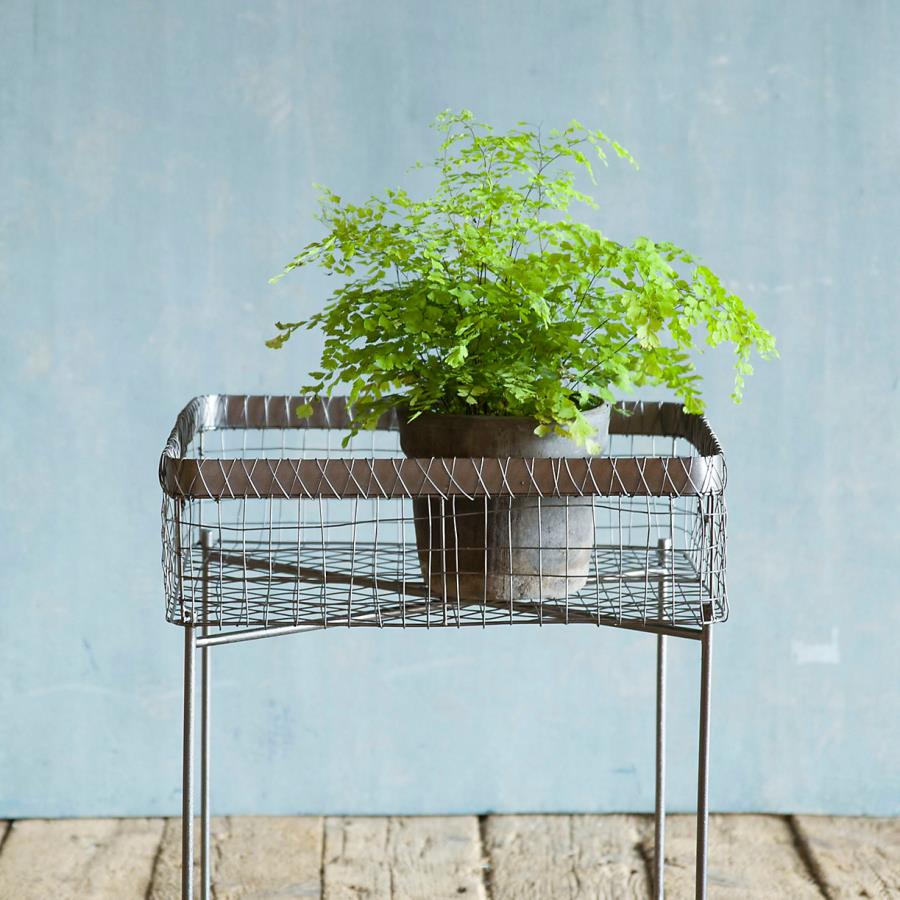 Stands for Multiple Plants
If more is more in your book, you'll love the plant stands below. Why not show off several plants in one fell swoop?! This Prism Plant Stand from West Elm can hold four 8″ planters, and the supports can change shape from different angles. Geometric fun!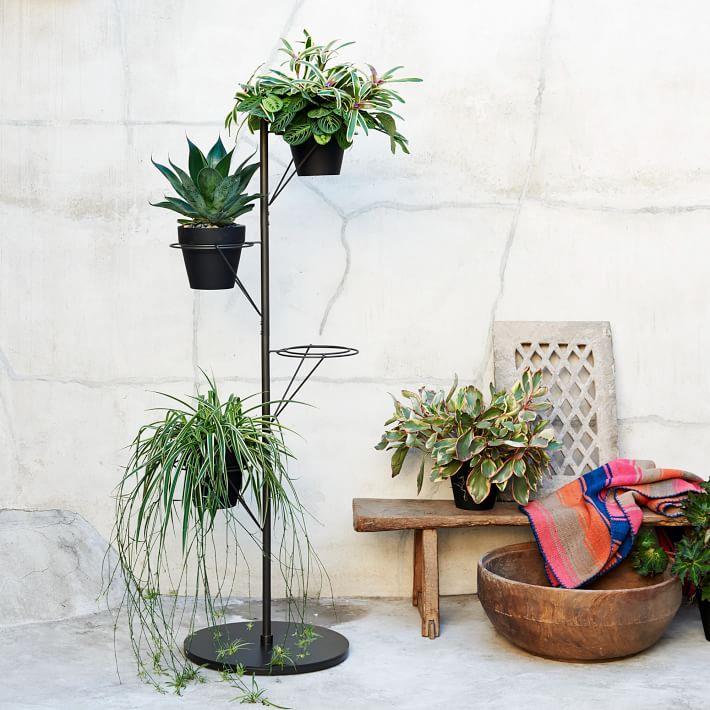 CB2's Angled Plant Stand features a dramatic architectural frame crafted from steel rod and mesh. Double the shelves means double the fun…and maybe even quadruple the fun if you take full advantage and display four plants!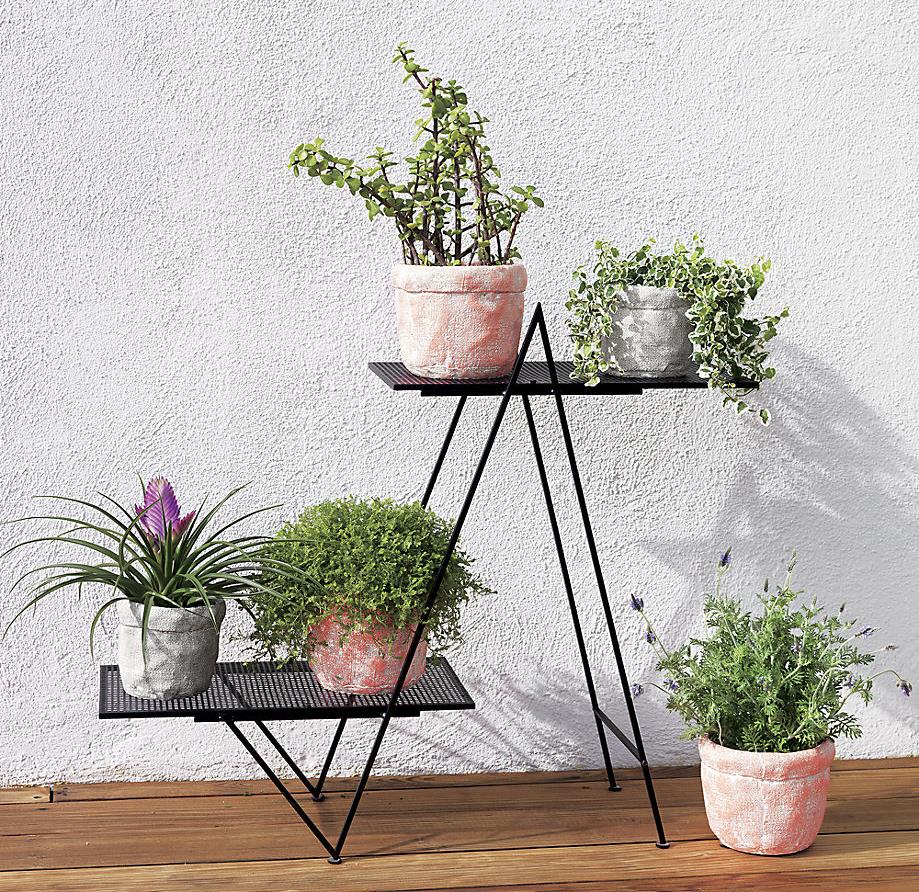 Create a wall of greenery with this Deco Screen Plant Stand from West Elm. With eight brackets and a section for trellis activity, the possibilities are endless!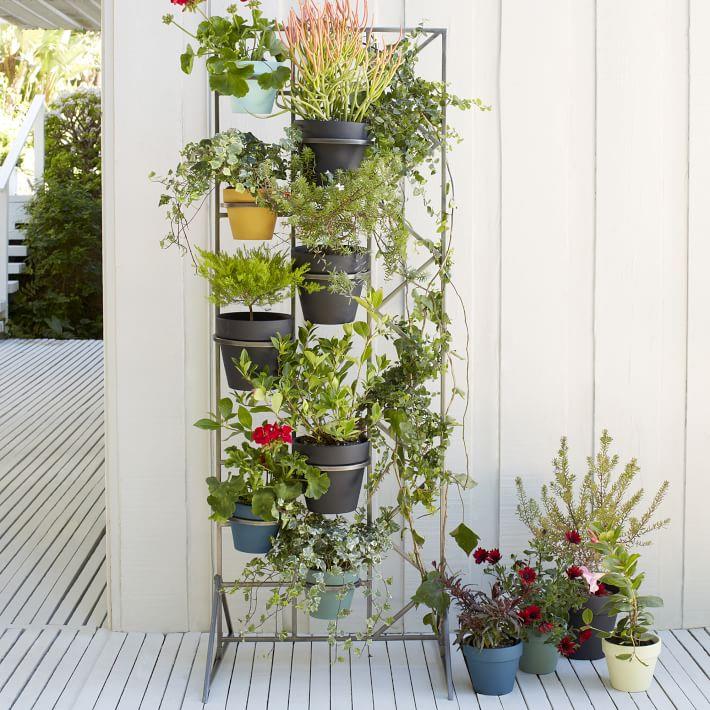 IKEA Plant Stands
Some of today's most popular and budget-friendly plant stands come from IKEA. You can't beat modern design at a good price! Let's start with an oldie but goodie—the plant stand below is no longer available, but I bought it for a ridiculously affordable price more than 7 years ago, and it continues to be one of my very favorite pieces (and currently resides in my living room). Check out my previous post on favorite IKEA pieces for more fabulous Swedish design!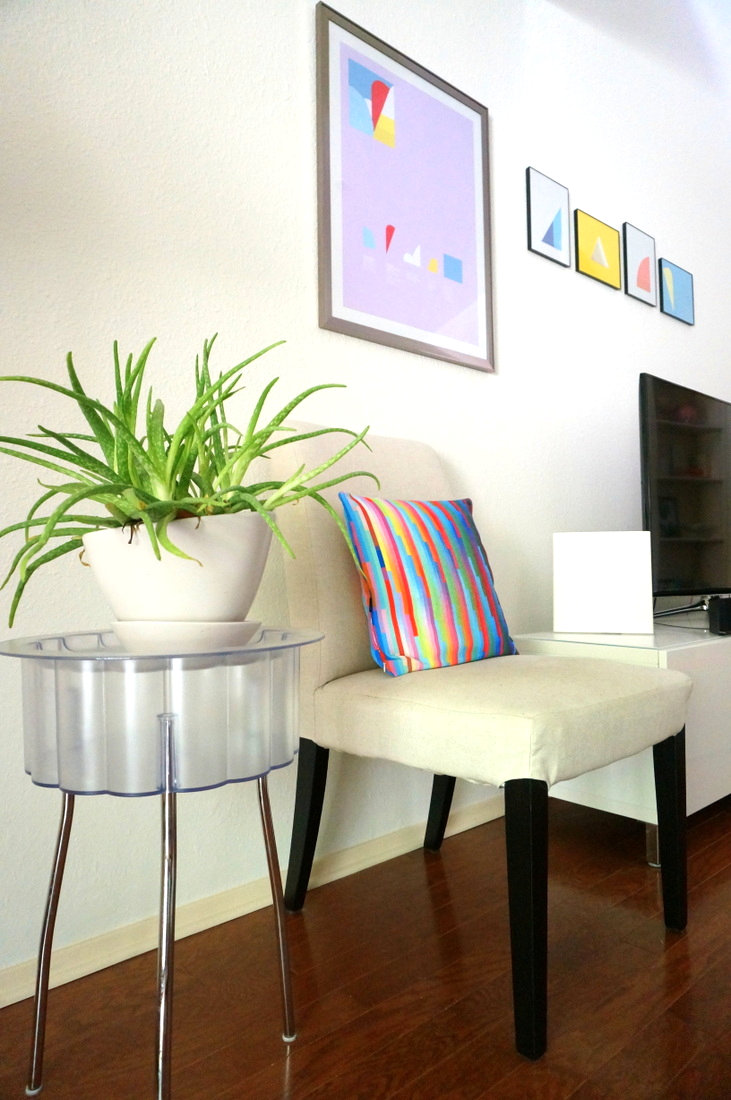 So which plant stands are currently available at IKEA? This IKEA PS 2012 plant stand is still a big hit! The vertical design is perfect for displaying plants in small spaces: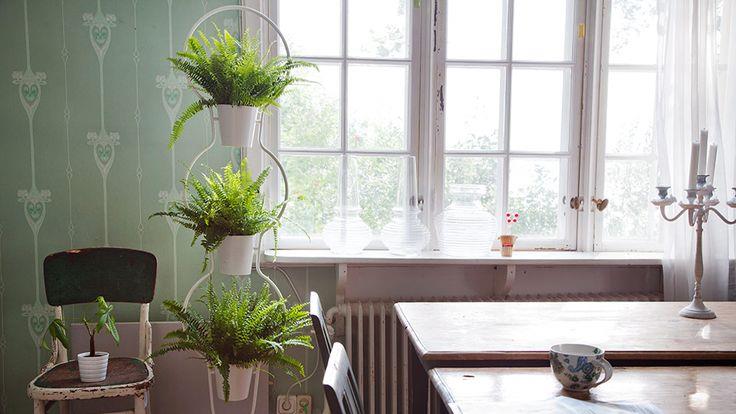 If you're a fan of IKEA plant stands, check out this DIY Acacia Wood Plant Stand from Sugar & Cloth. It's an IKEA hack using the PS 2014 plant stand, and it's well worth the acacia wood upgrade. [photo by Jared Smith]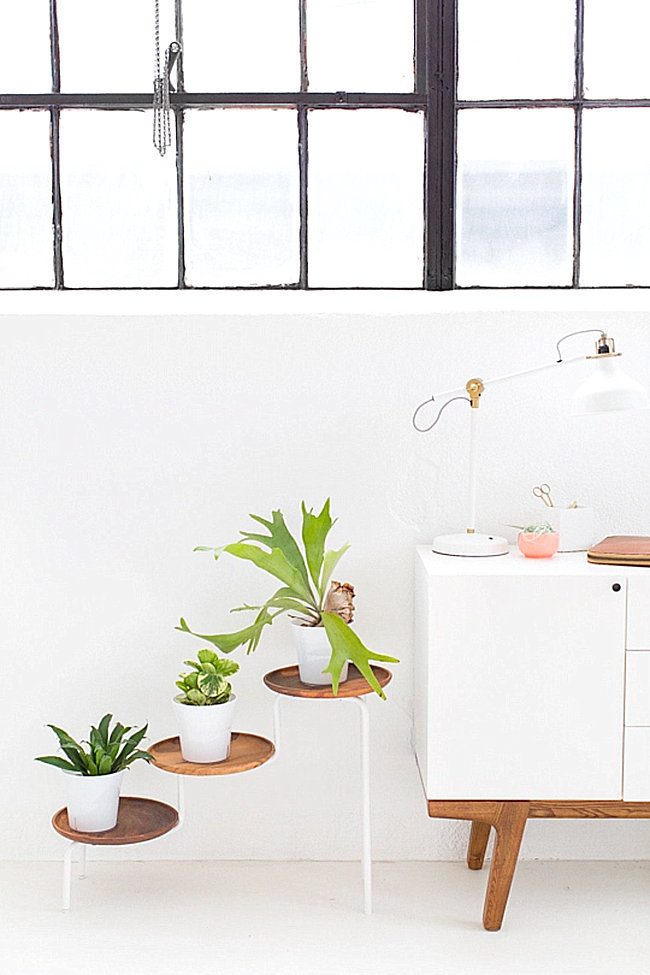 DIY Plant Stands
Because many modern plant stands can be pricey, more than a few design bloggers have crafted their own DIY versions. This DIY Midcentury-Style Plant Stand is as easy to create as adding tapered legs to a pre-cut wooden circle and slapping on some wood stain. For all of the project steps and helpful photos, head on over to A Beautiful Mess. A fun project with a big payoff!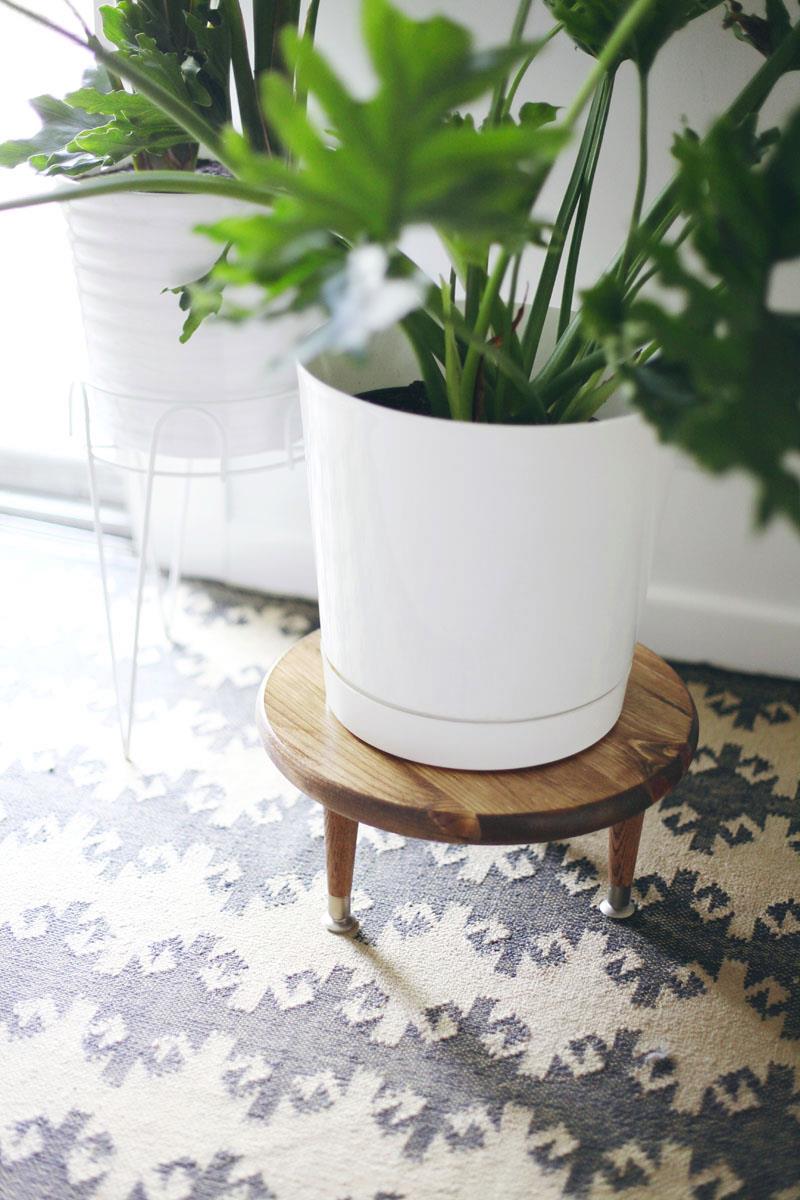 For a modern elevated plant stand option, check out this Wood Plant Stand Tutorial from Hello Lidy. Inspired by a Modernica plant stand, Lidy's version is every bit as modern, with an extra dose of sleek!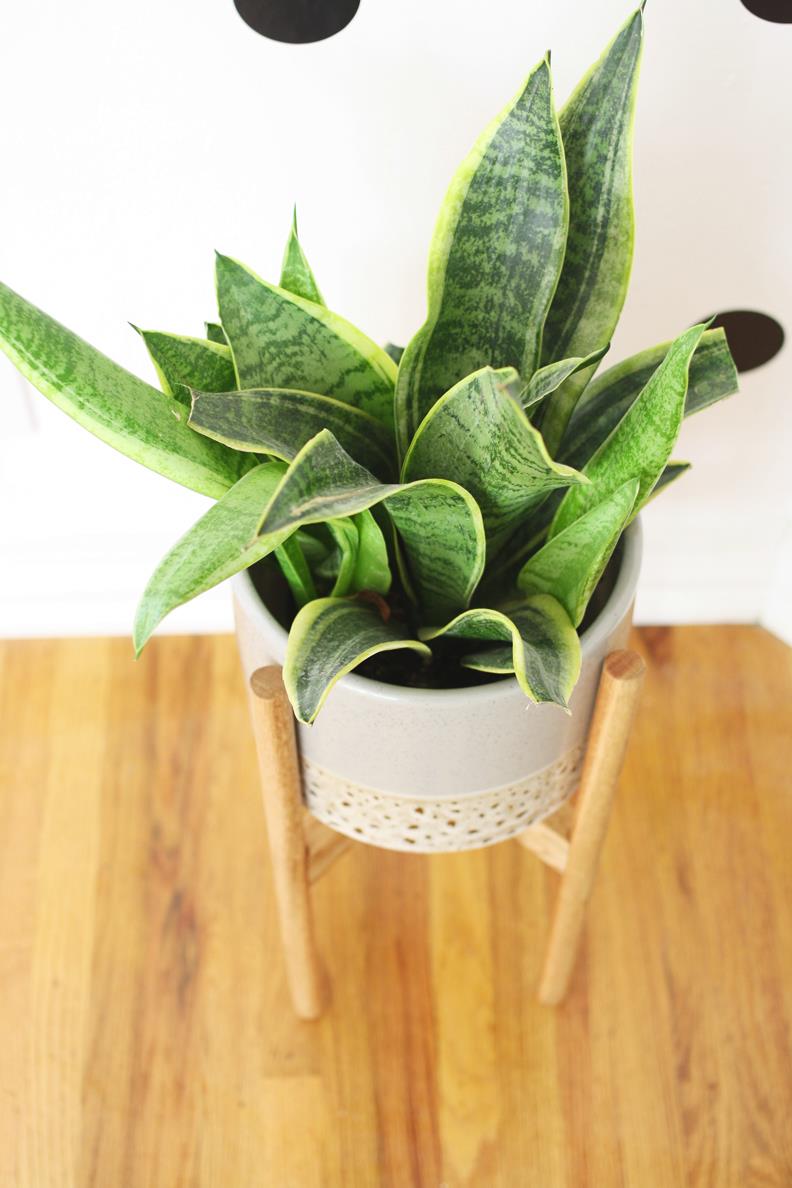 This DIY Copper Pipe Marble Plant Stand from A Bubbly Life is a beautiful "mixed materials" piece that celebrates modern style. A pipe cutter is involved, but blogger Laurel has designed the piece for us, so all we have to do is follow her instructions to create a marble tile-topped plant stand that looks much more expensive than it truly is!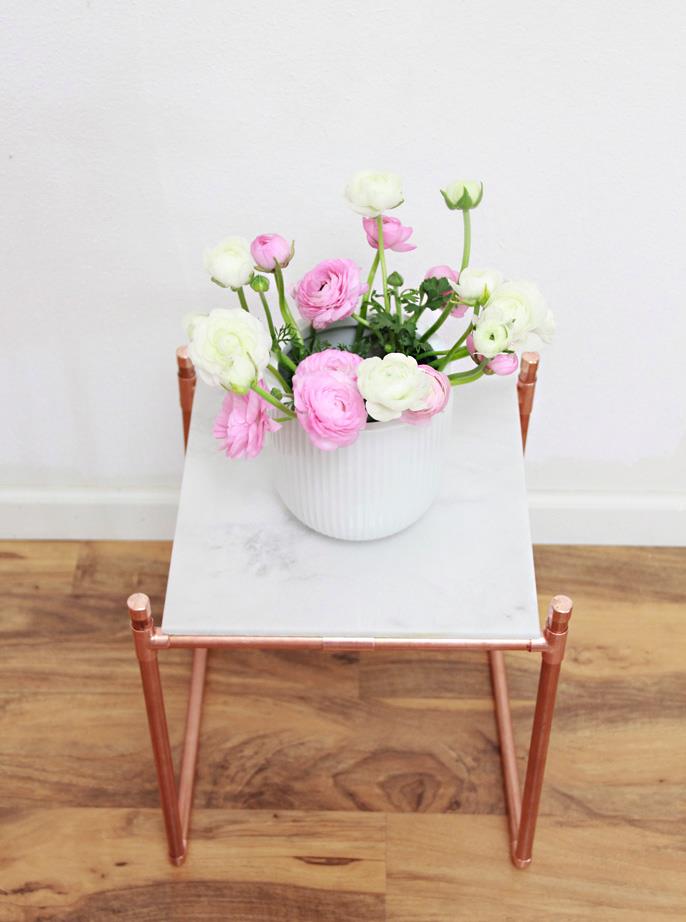 If you give this project a whirl and you enjoy the process of working with copper pipe, check out A Bubbly Life's follow-up planter project: this 3-Tiered Copper Planter. Such a minimalist look, and such a clever design!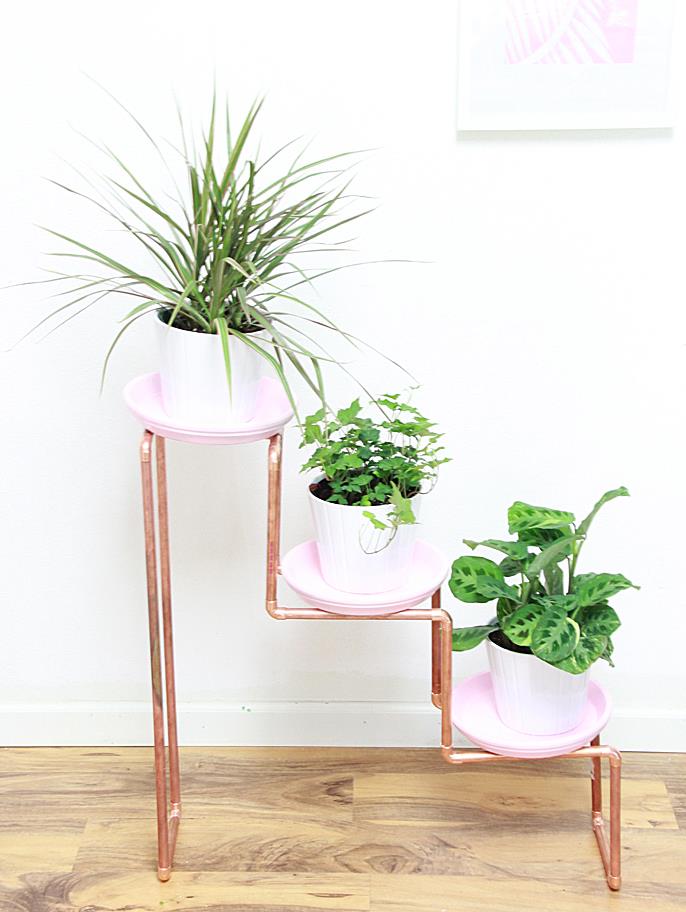 Last but not least, this piano stool makeover from Nur noch proves that you just might find your next plant stand DIY project in a piece you already own!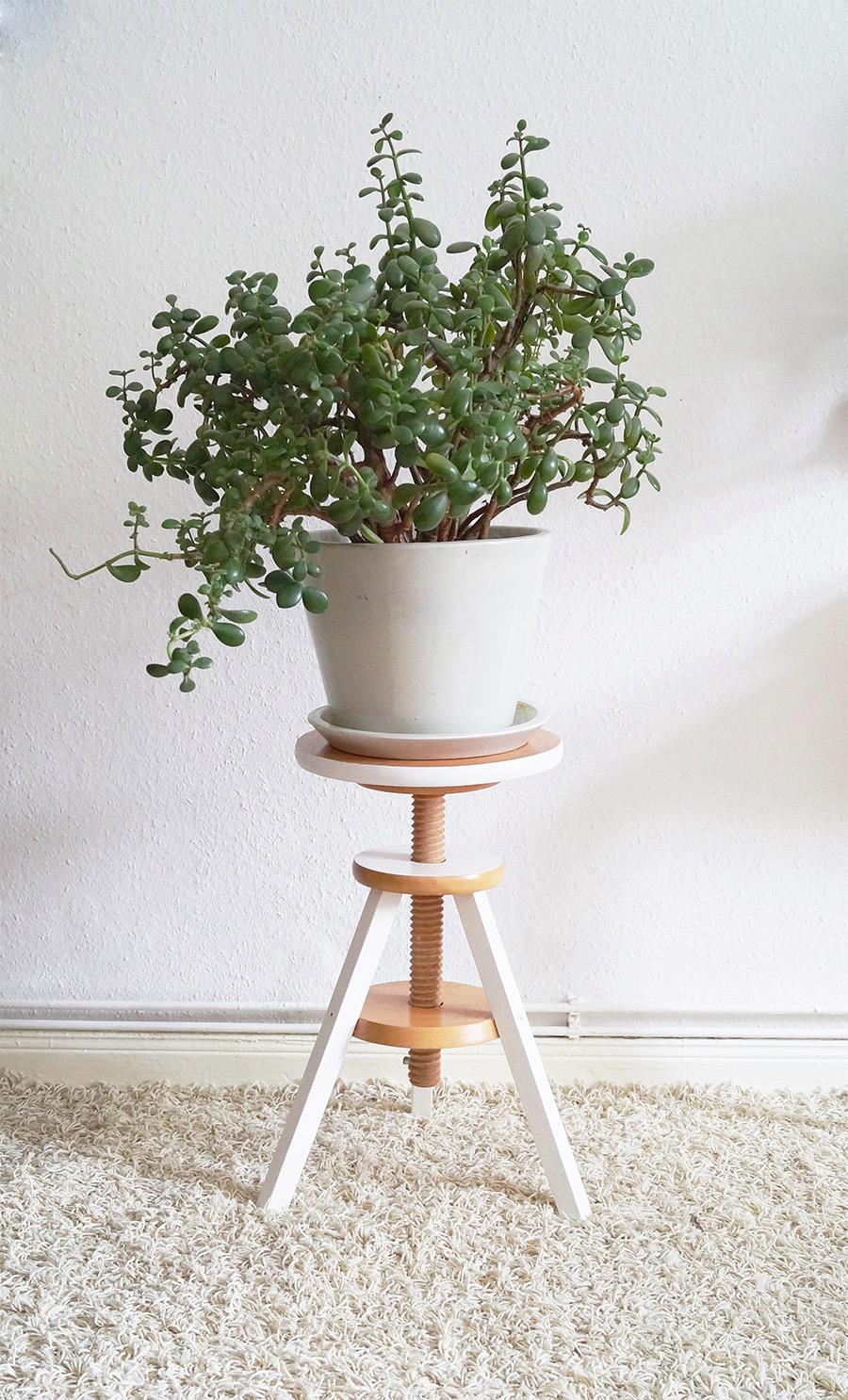 Did any of today's featured plant stands catch your eye? Share your thoughts by leaving a comment below…