There's something so completely satisfying in finding a banged up, unloved piece of furniture and making it usable (or even better than when it was new).
And there's nothing easier than painting or reupholstering to refresh a dresser, mirror, couch or set of chairs. If you're not motivated to grab a paintbrush (or spray can!) and attack one of these projects after you take a look at the following, I'd be shocked! You can, of course, DIY any of these projects, but you can also hire a furniture restorer or upholsterer to do the work for you. Either way, you'll save over buying new, and have a unique and interesting piece to show off in your home.
Dutiful Dressers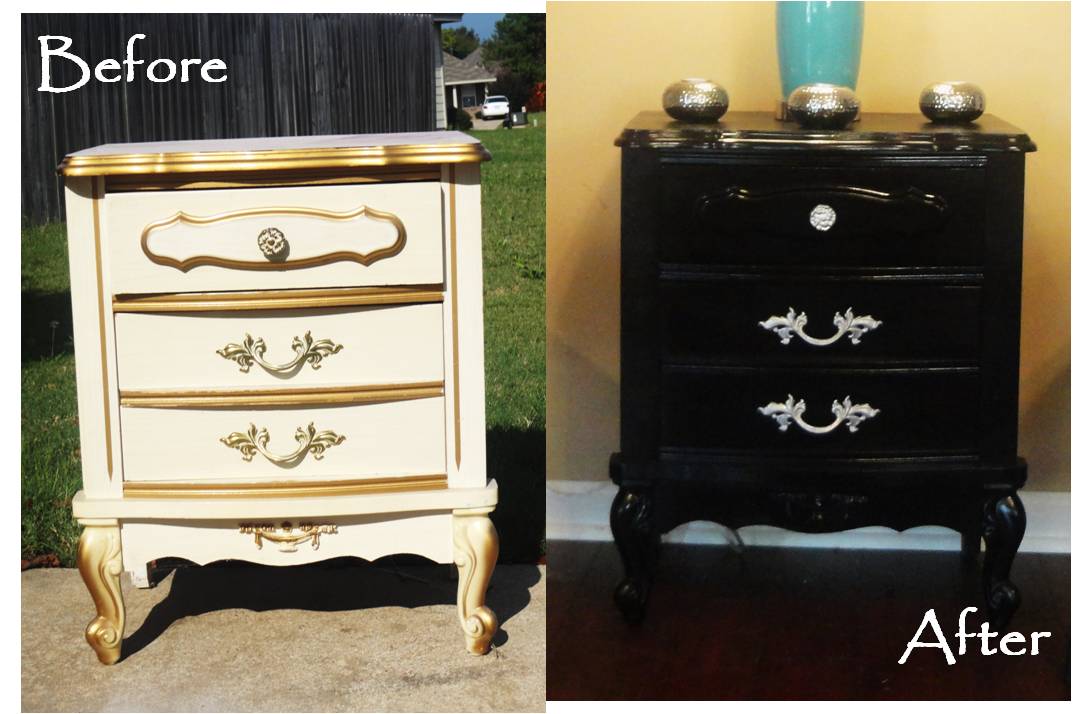 White-to-black is one of the strongest transitions you can make—it can be hard to tell it's even the same piece with this particular change.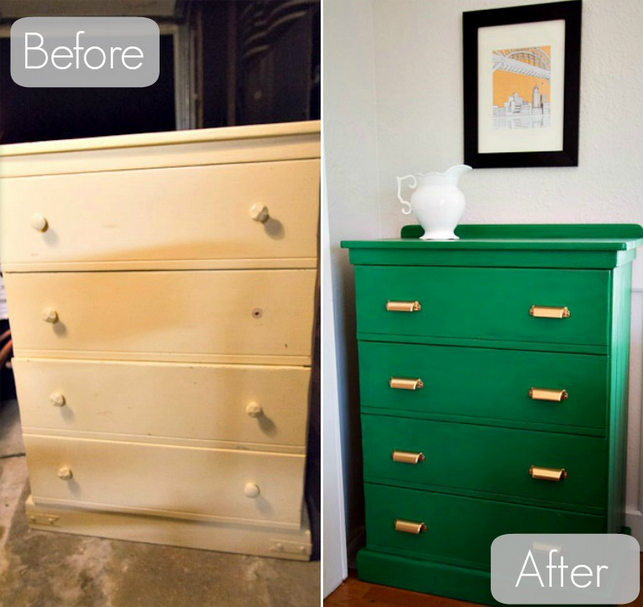 This refurbishment takes advantage of both a color change and a swapping of handles; you can find new drawer pulls in vintage furniture stores as well as Anthropologie's home section.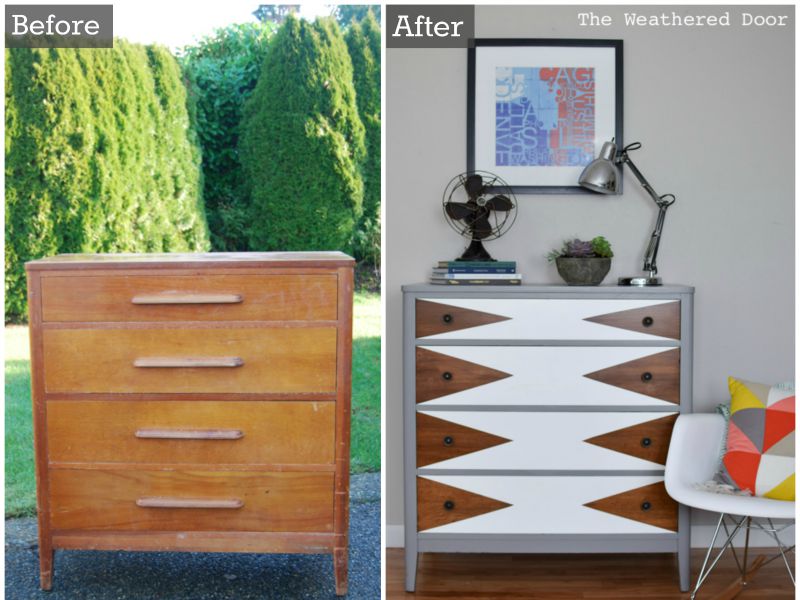 The writer/designer behind the Weathered Door did a beautiful job refurbishing this bland chest of drawers to the left; check out the site for exactly how they achieved this fabulous new look!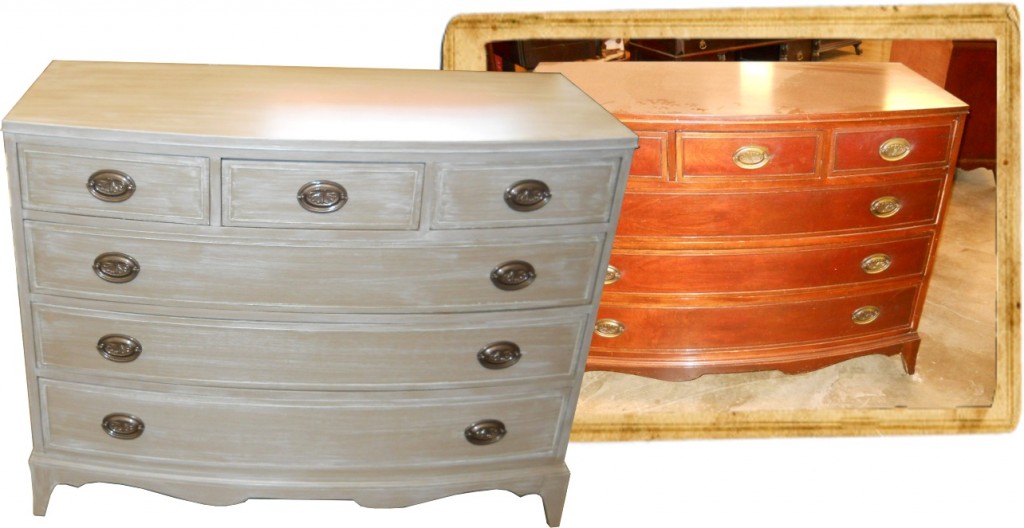 Sometimes simple is the best solution. For a beat-up wooden chest of drawers, you can just use a light distressed finish—a translucent color rather than an opaque layer—to bring new life to an old piece.
Creative Credenzas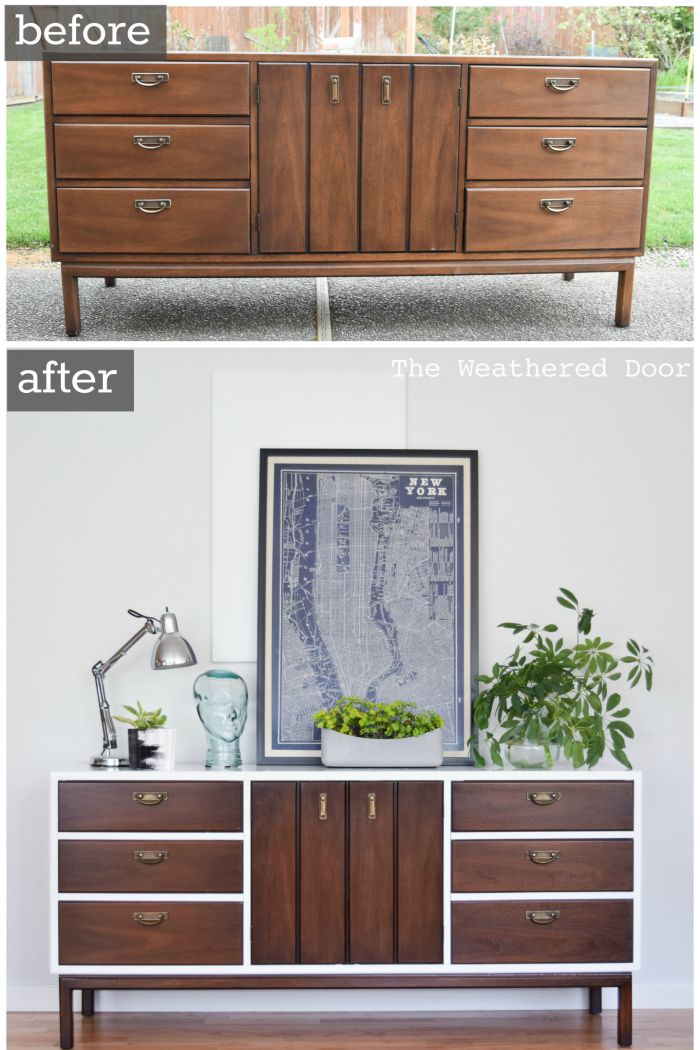 This beautiful piece was updated by adding some white paint to the frame, and simply refinishing the wood fronts—another thoughtful job by the Weathered Door.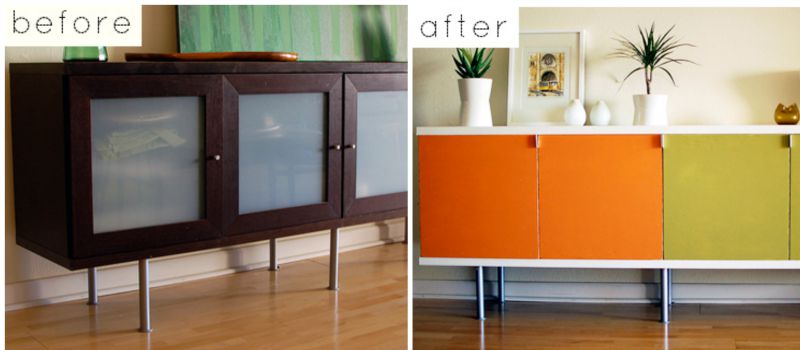 This credenza isn't vintage; it's a modern one from Ikea. But that doesn't mean it can't be hacked—clearly this beautiful redo is a thoughtful conversion.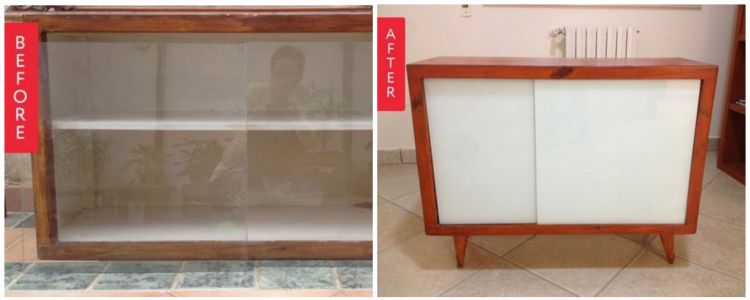 An especially crafty project, this credenza (which got its glass spray-painted white) proves that you don't have to hew to original design inspirations when you rethink a piece for your own home.
Recrafted Couches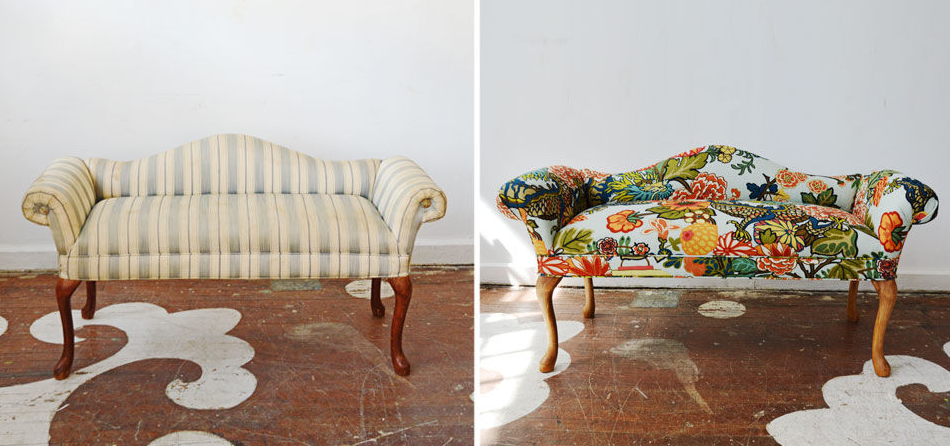 Above we see a gorgeous transformation that included refinishing the legs of this small couch (to a lighter color) and recovering an ordinary print to an extraordinary one.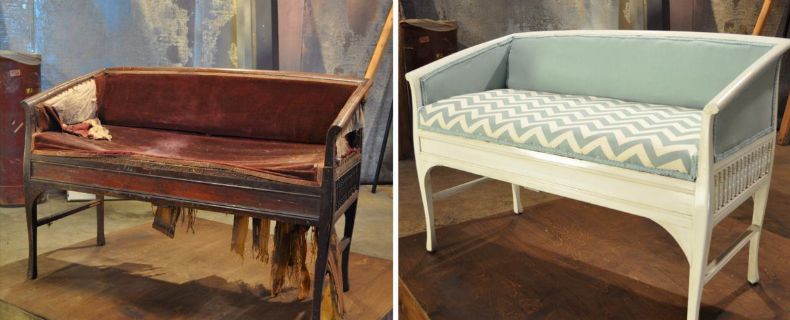 This lovely settee doesn't even look like the same piece of furniture after a major renovation: Talk about a Flea-Market Flip!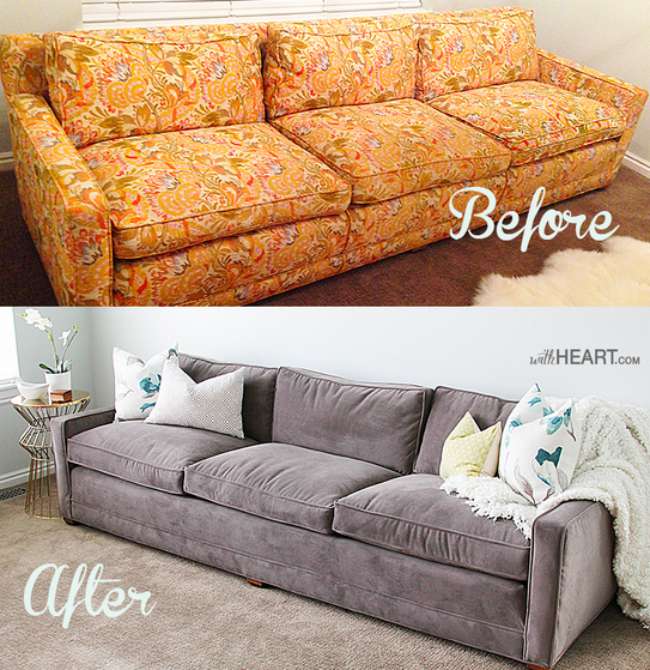 A beautiful couch redo with just the basic solution: recover with new fabric! You almost can't tell that the new sofa is an upcycling job.
Charismatic Chairs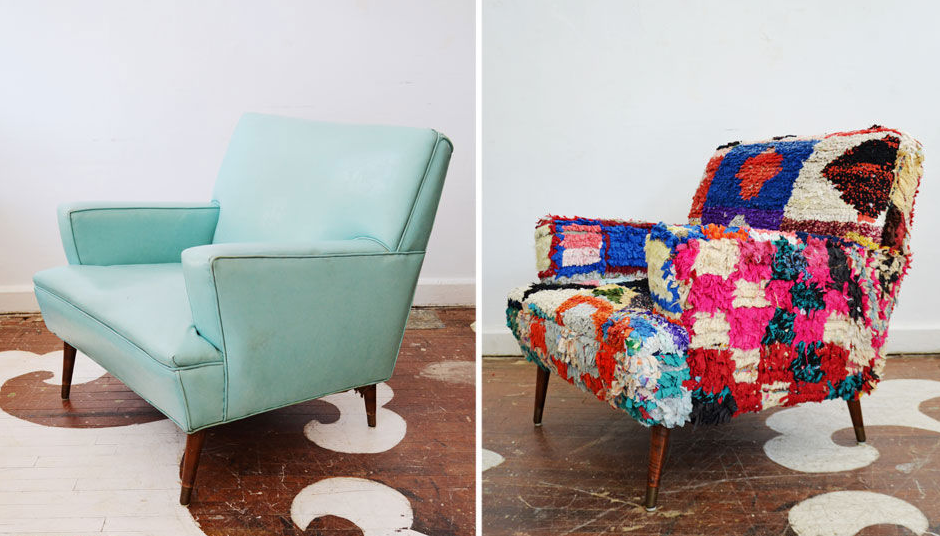 This pretty midcentury modern chair gets a thoroughly modern makeover with a cool Moroccan rug covering.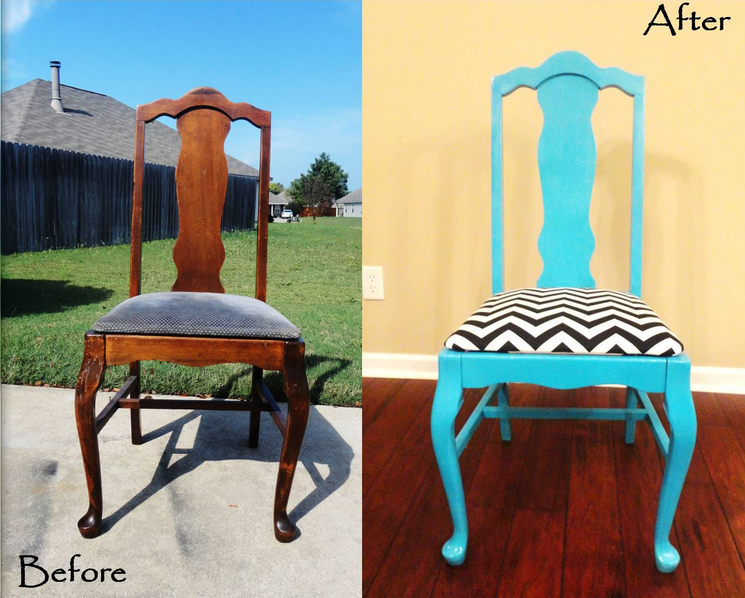 A boring Queen Anne's chair gets a colorful and interesting redo with bright aqua paint and a fun black-and-white pattern. Here's how it was done.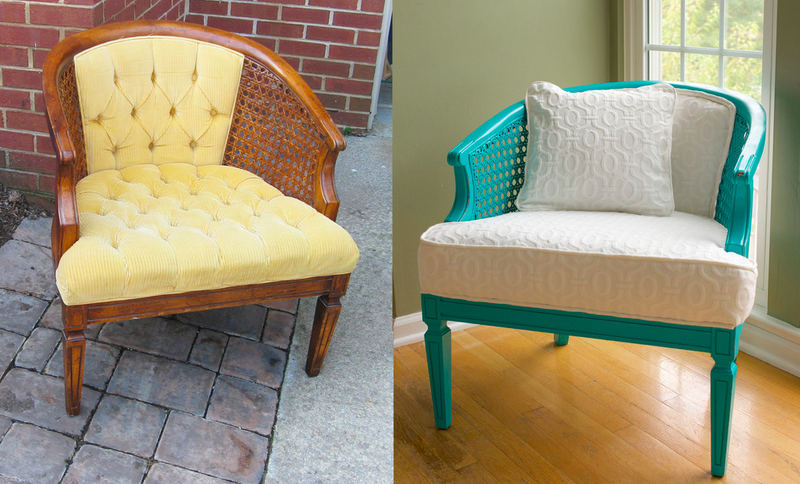 This is what refinishing is all about: taking a grandma's patio chair to a cool, poolside lounger.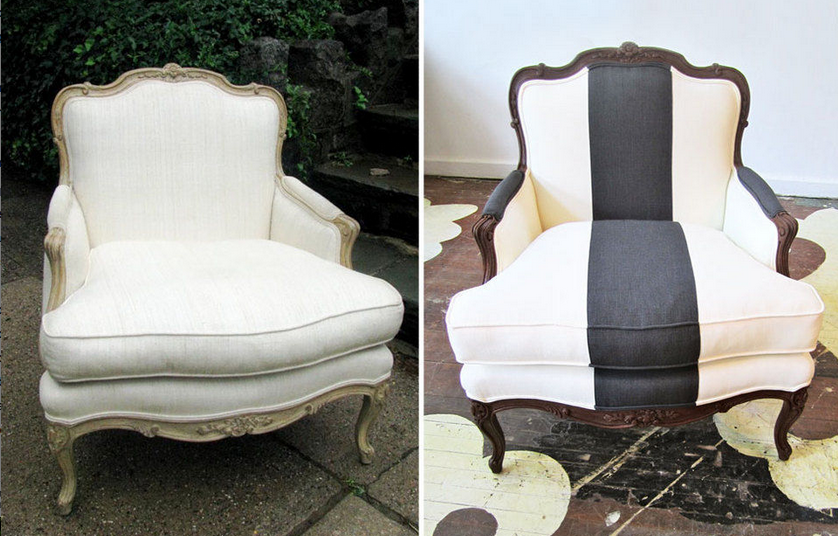 You don't have to go crazy or extreme when recovering or repainting furniture; you can keep a classic-with-a-twist look going on if you go with a single stripe, like this example from Chairloom.