Can you tell we're smitten with trestle tables here at Decoist? First we explored the power of trestle tables as desks, and then we celebrated the clean look of modern trestle tables. Today it's all about the classics! In fact, the trestle tables below are so elegant, they just might inspire your next purchase. There's nothing like a piece that evokes a sense of history and character. Check out the classic trestle tables below, and then tell us about your favorites by leaving a comment at the end of the post…
Rich Tones
We begin with a collection of tables that showcase rich wooden tones, like this Legacy Classic Larkspur Trestle Table from FIG Stores, crafted from pine with birch veneer. Love the caramel finish!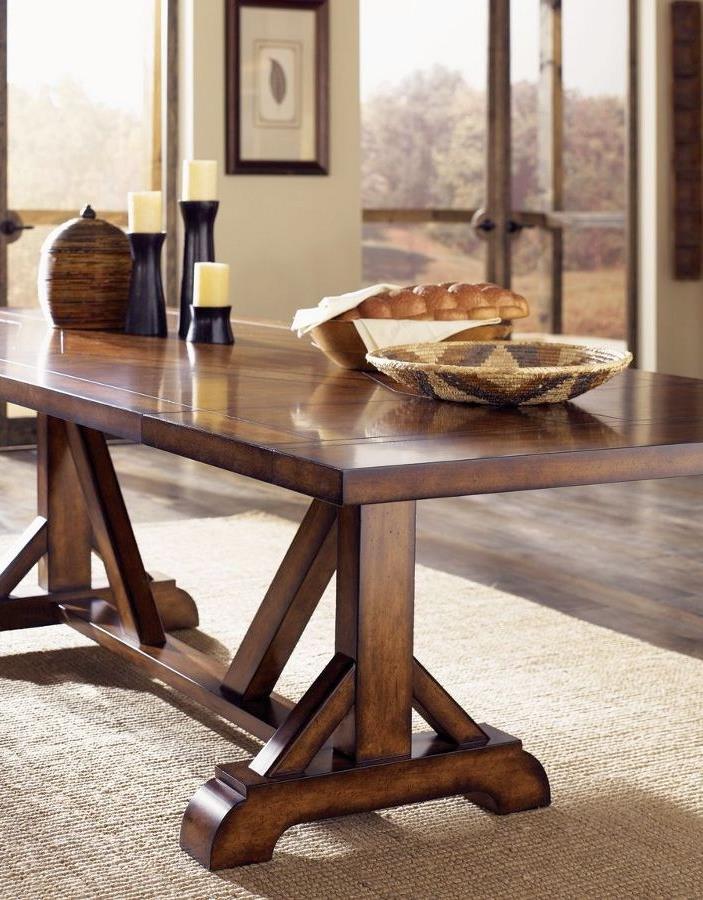 X-base legs are a popular trestle table feature, and this Legacy Classic Thatcher Trestle Table from FIG Stores showcases the form well, thanks to poplar, quartered white oak veneer and a rich amber finish: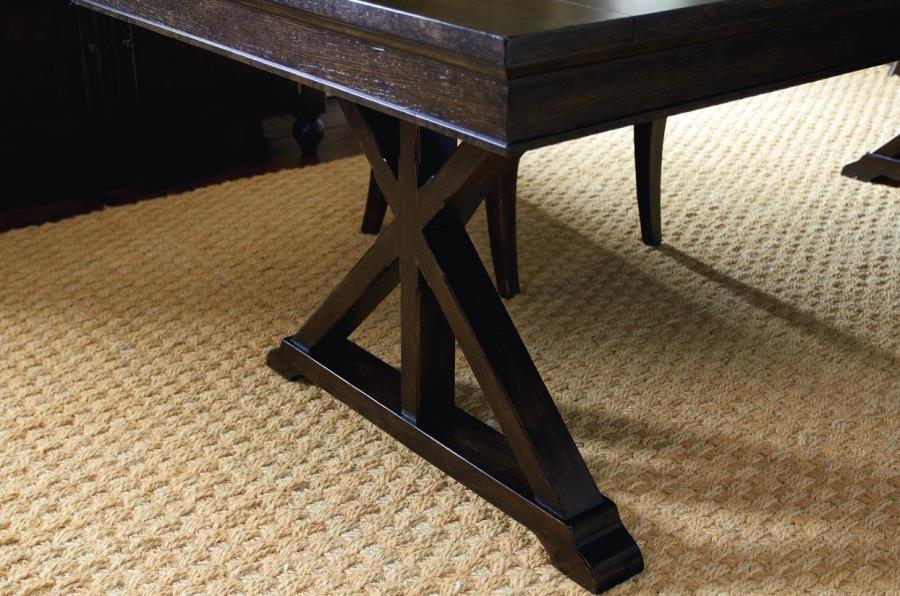 This Salvaged Wood X-Base Rectangular Extension Dining Table comes from Restoration Hardware, and unfinished solid reclaimed pine timbers from 100-year-old British buildings are the materials of choice: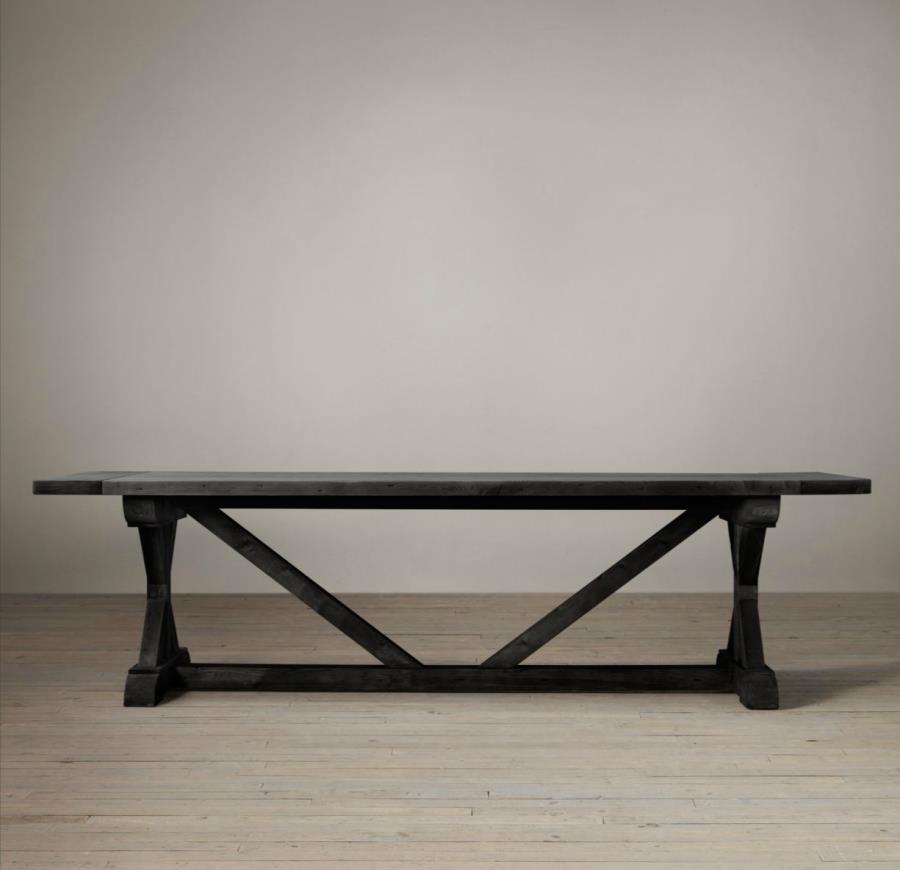 Clean lines get the job done with this Harbor Table from Gingko Home Furnishings. Evoking the classic style of trestle tables from Boston and Nantucket, this piece also boasts a bit of Asian flair!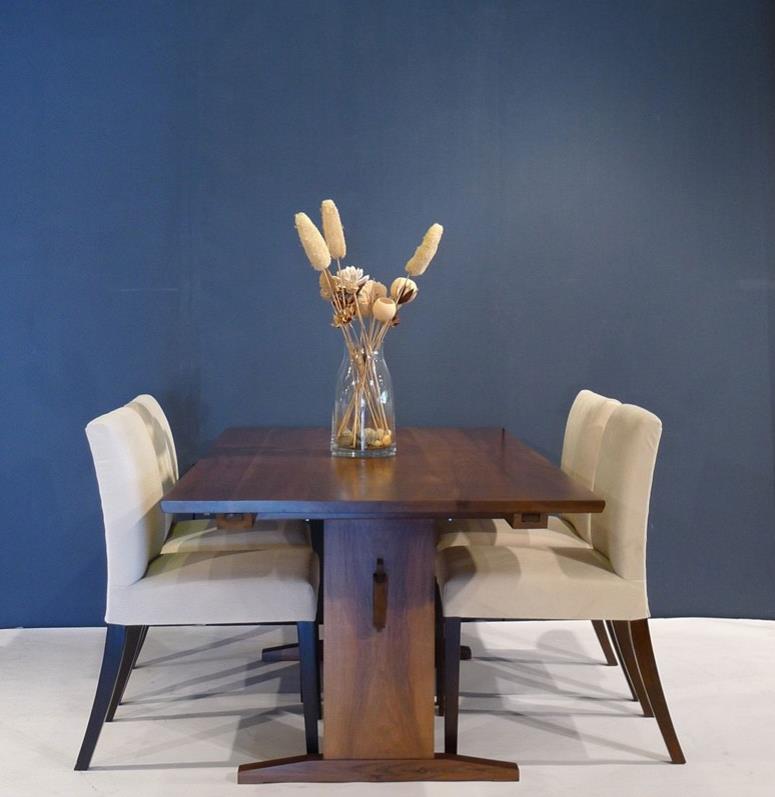 A weathered finish can go a long way in bringing an architectural feel to the dining room, as shown with this long trestle table that makes a big statement under unique pendant lighting. [from Amy's Casablanca via Pinterest]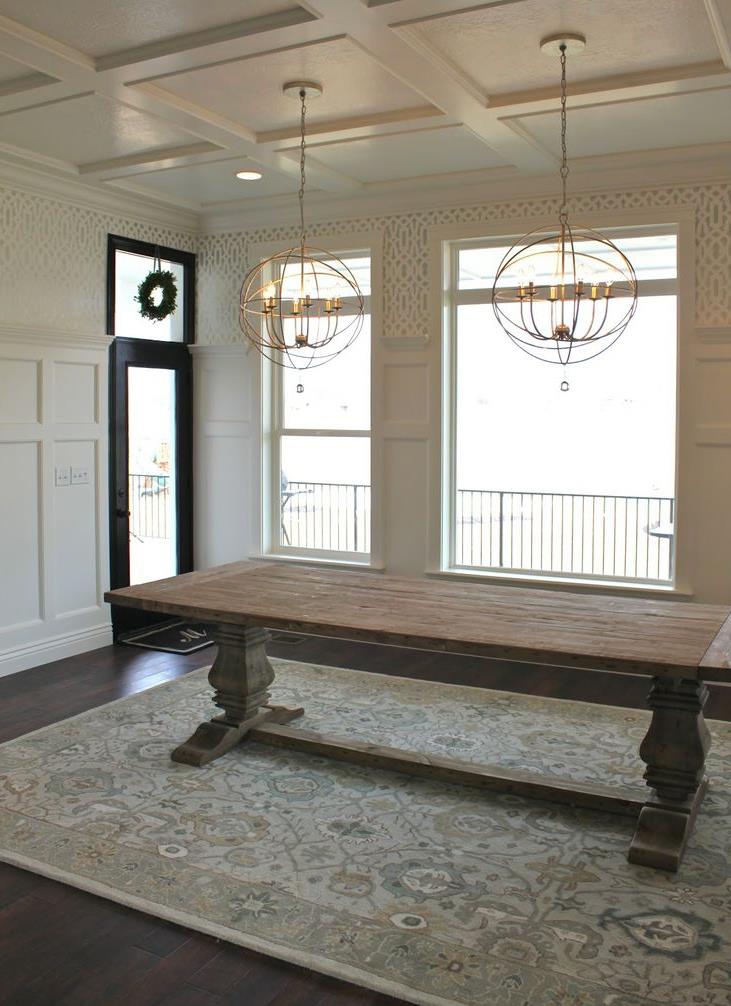 Last but not least, golden tones are alive and well on this Classic Trestle table from The Lorimer Workshop. Note the simple centerpiece of a rustic bowl. What's your favorite dining room table centerpiece?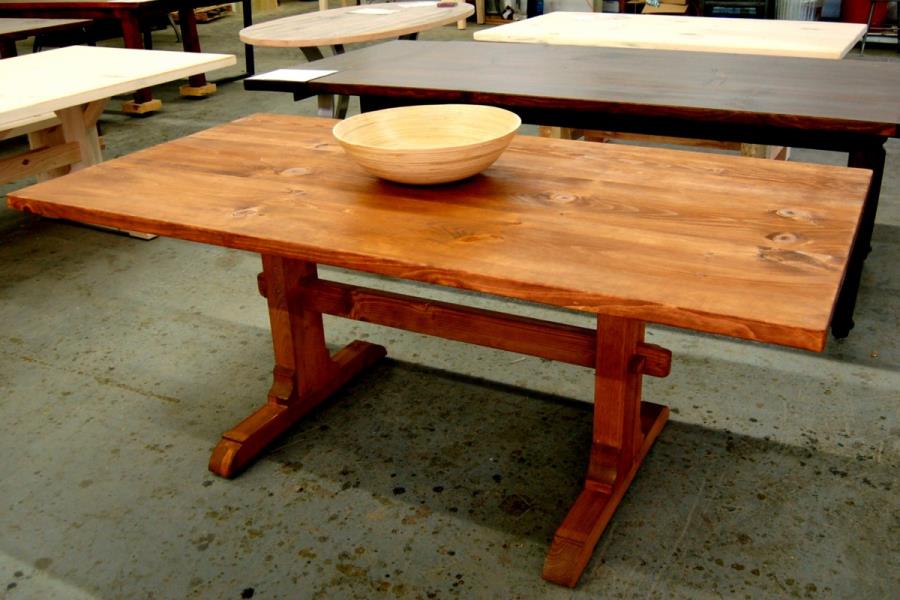 Lightening Up
We now check out tables that have a light presence, either from accompanying light-toned chairs or the wood of the table itself. Would you pair a dark trestle table with chars in pale hues? The effect is modern, bright and airy! [photo from ZeroEnergy Design]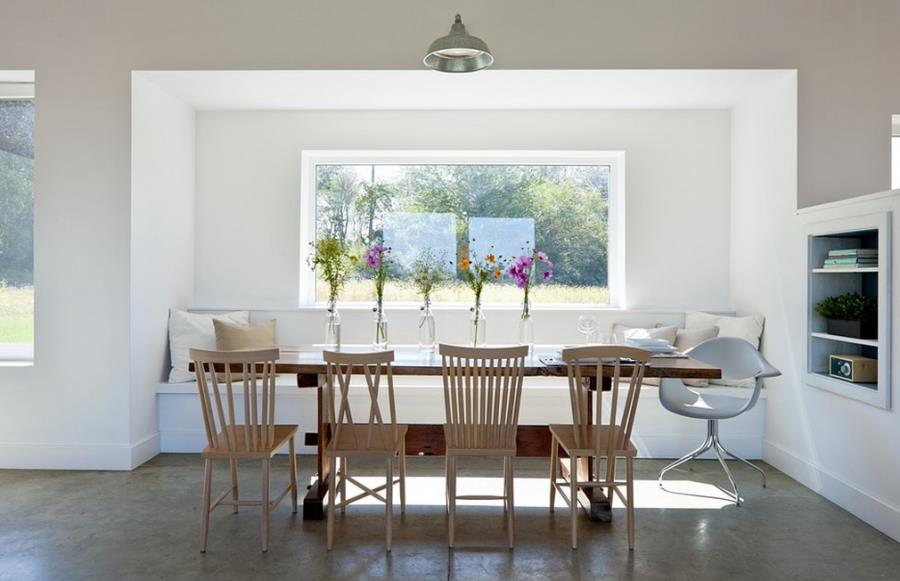 You can introduce some brightness into your dining room by painting the base of your table white. We're loving the look of this Harvest Table Oak from Etsy shop GroversGrove, which features pedestal legs. In fact, the legs can be painted the color of your choice!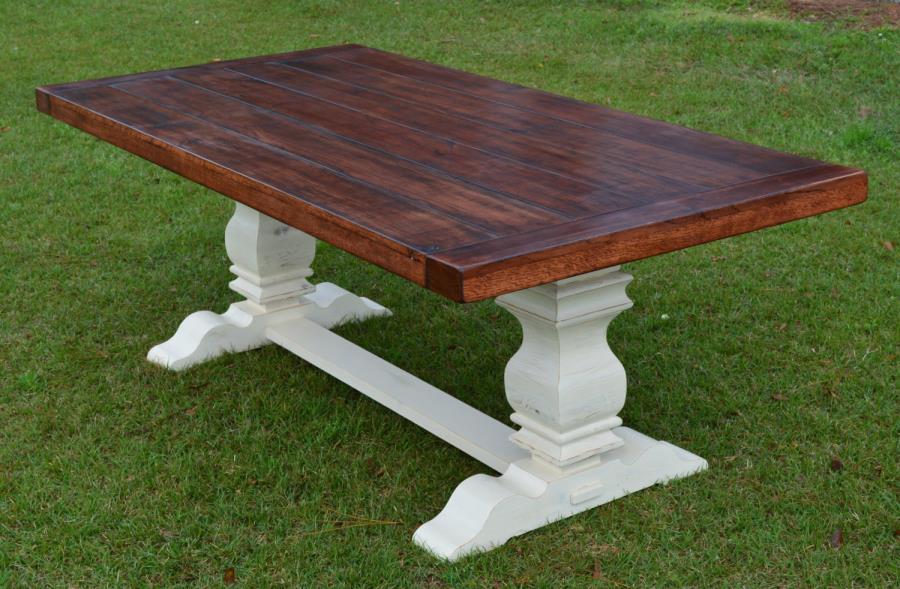 This next dark trestle table from Woodland Furniture gets a tropical update with wicker chairs and palm fronds in a vase on the table. An interesting twist on classic trestle style! [photo from Margaret Donaldson Interiors]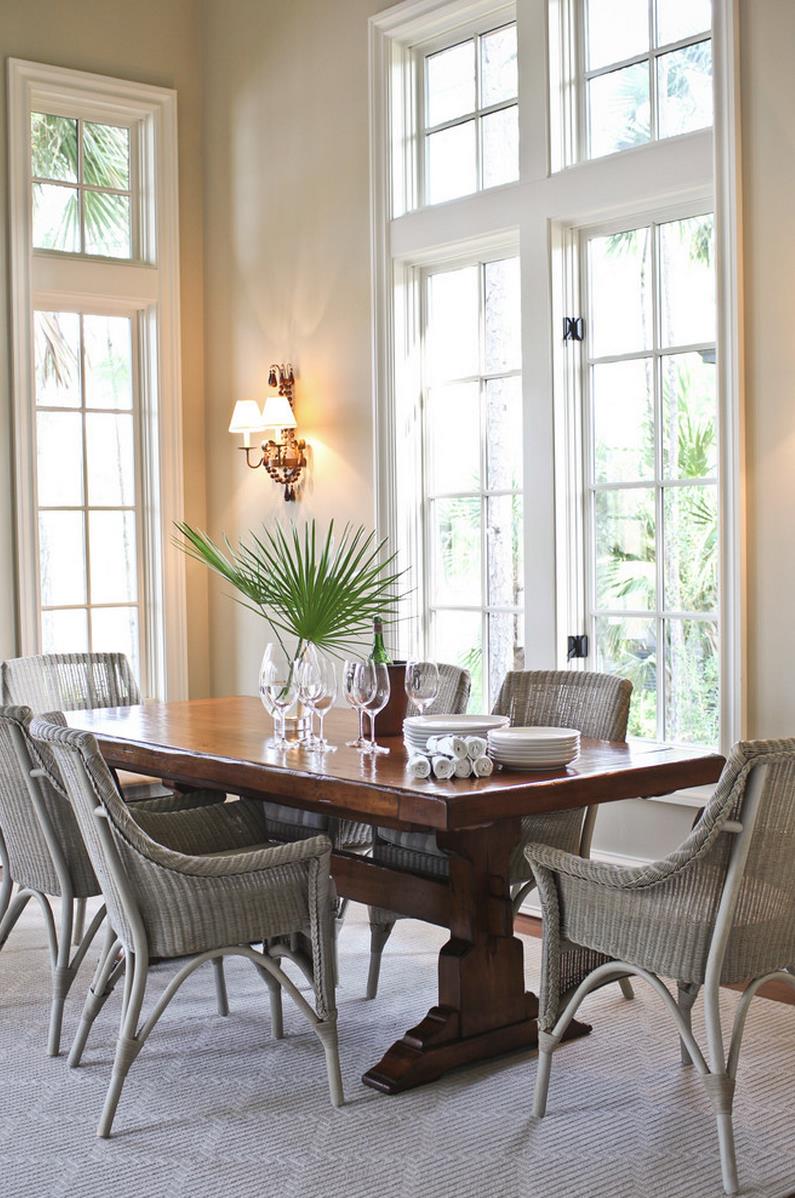 Contrast can also be created by pairing a light table with dark chairs. This Hart Table from Room & Board is sturdy and chic. A classic trestle base gives a nod to traditional Shaker style. Not to mention, there's plenty of room under the table for seating!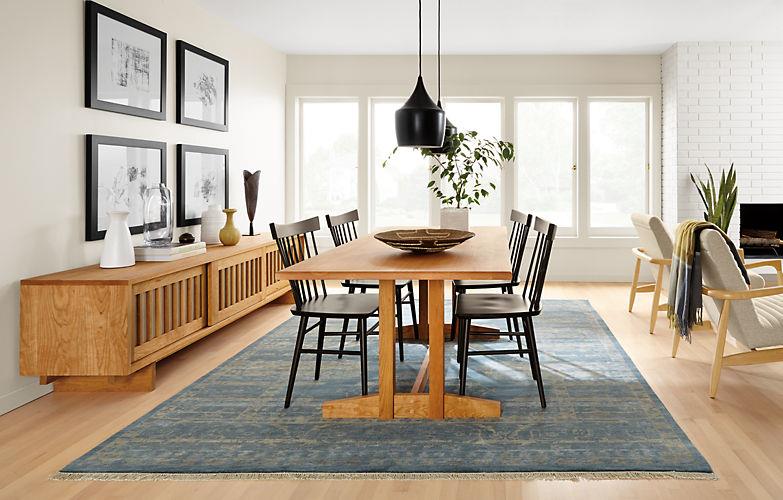 If you're feeling crafty, consider building the table yourself! Don't worry—you don't have to do it alone! This Farmhouse Trestle Table DIY Kit from Etsy shop Lakeshore House & Home guides you as you assemble and build your own farmhouse-style trestle table: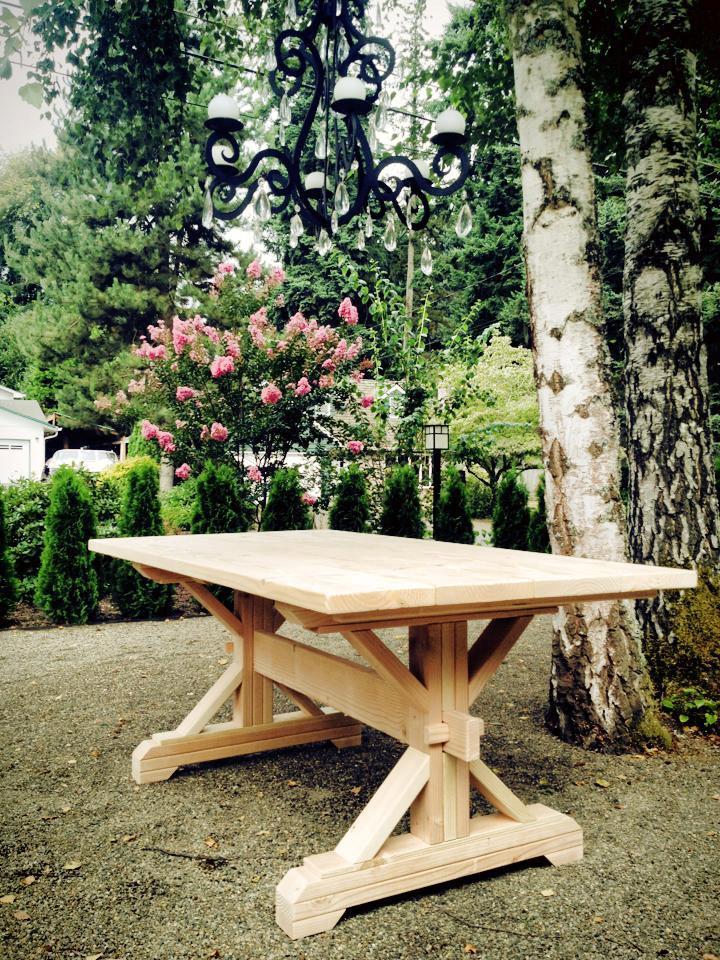 A light farmhouse table with light cane chairs creates a refreshing statement. Top it all off with a bowl of green apples, and you have a dining room that has history, style and true presence. [photo from Charlie & Co. Design]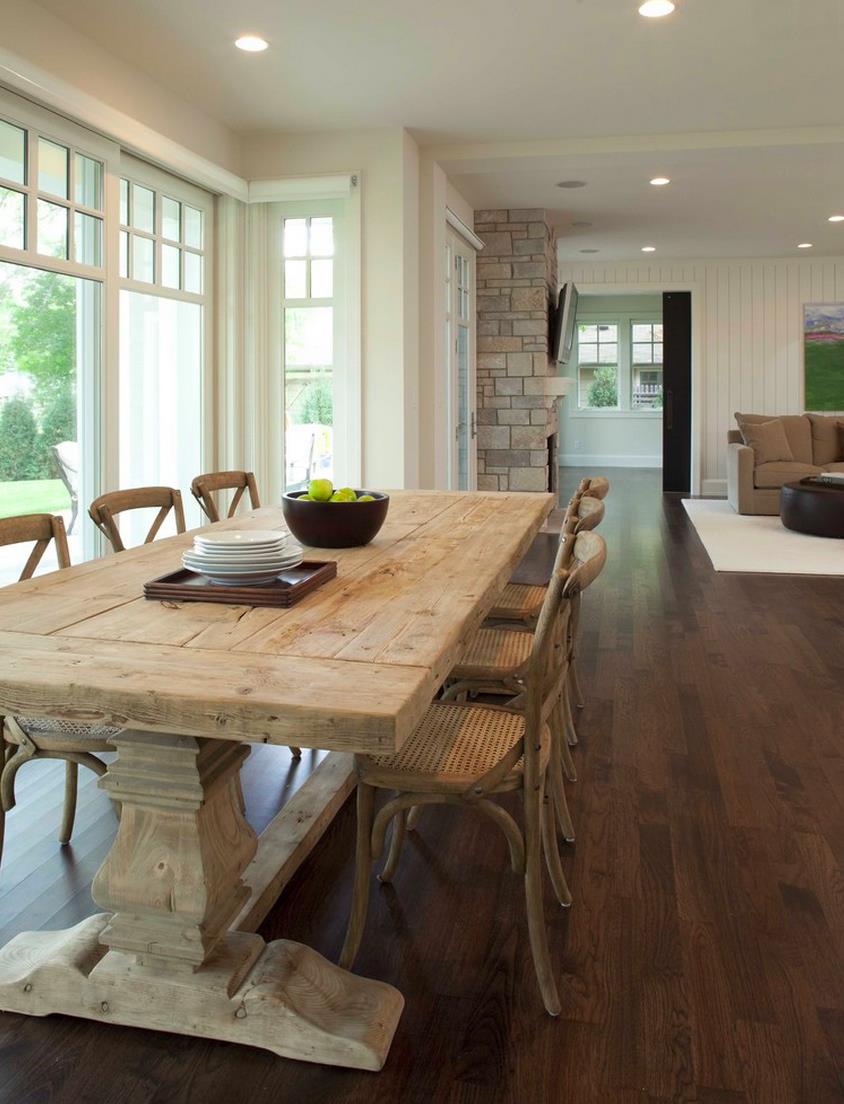 Restoration Hardware offers an array of beautifully crafted trestle tables, including this Salvaged Wood Trestle Rectangular Extension Dining Table, shown in natural. We're loving the pairing of this table with upholstered chairs in neutral fabric: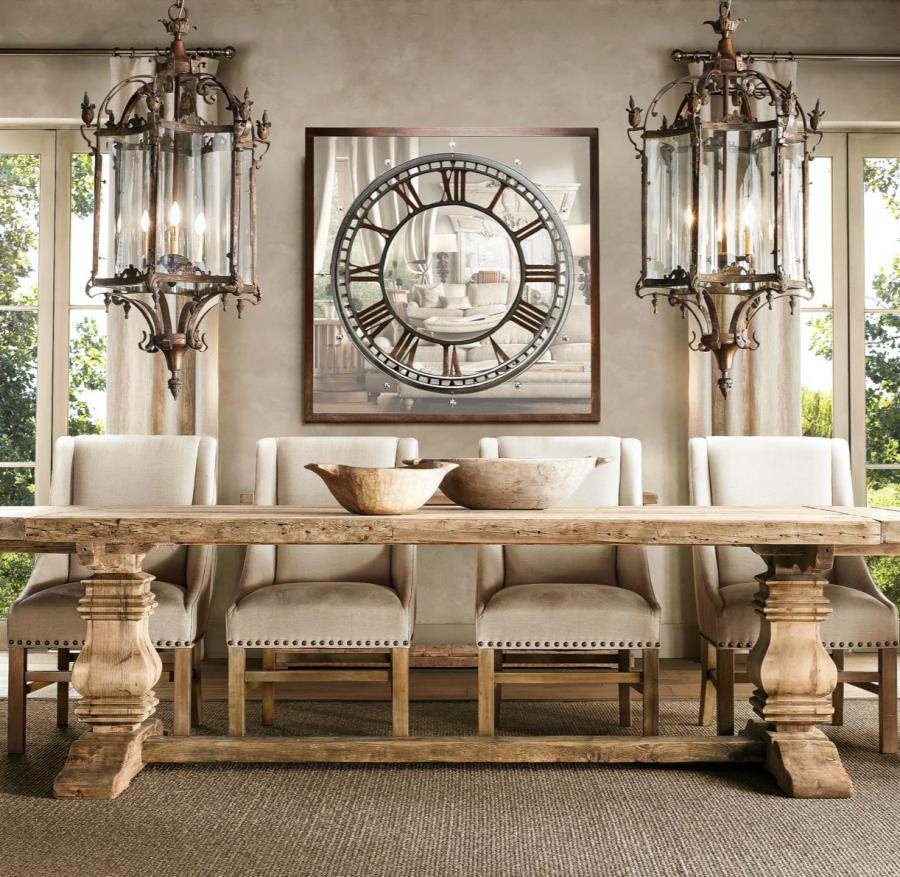 Ornate legs are a desirable feature when it comes to trestle tables with classic style, and this piece from Matthew Elias of Custom Made does not disappoint: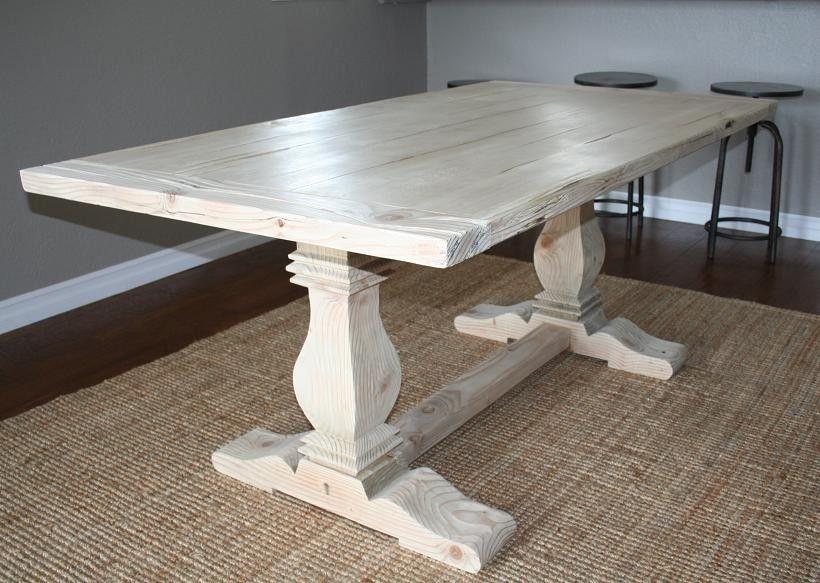 Unexpected Style
We end today's post with three trestle tables that dabble in a dash of the unexpected. Concrete is the standout feature of this Salvaged Wood & Concrete Trestle Rectangular Dining Table from Restoration Hardware. Not to mention, it creates a beautiful contrast with the salvaged pine base: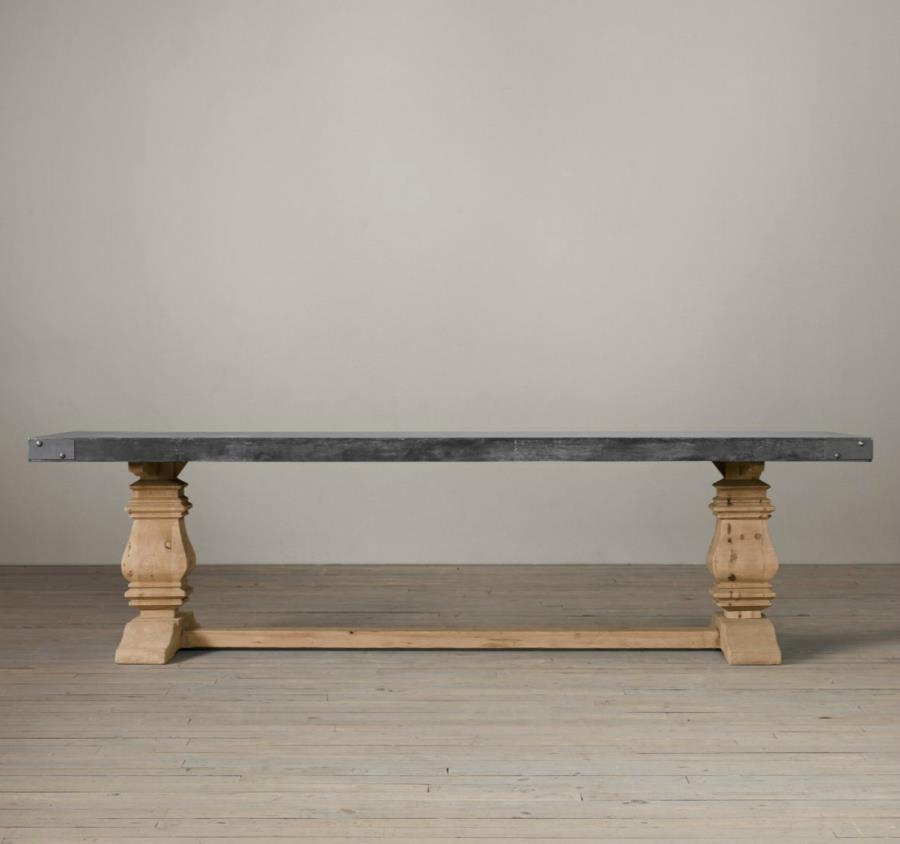 Try pairing your classic trestle table with metal chairs for a rustic-industrial vibe. Top it all off with interesting pendant lighting, and you're set! [photo from The Design Atelier]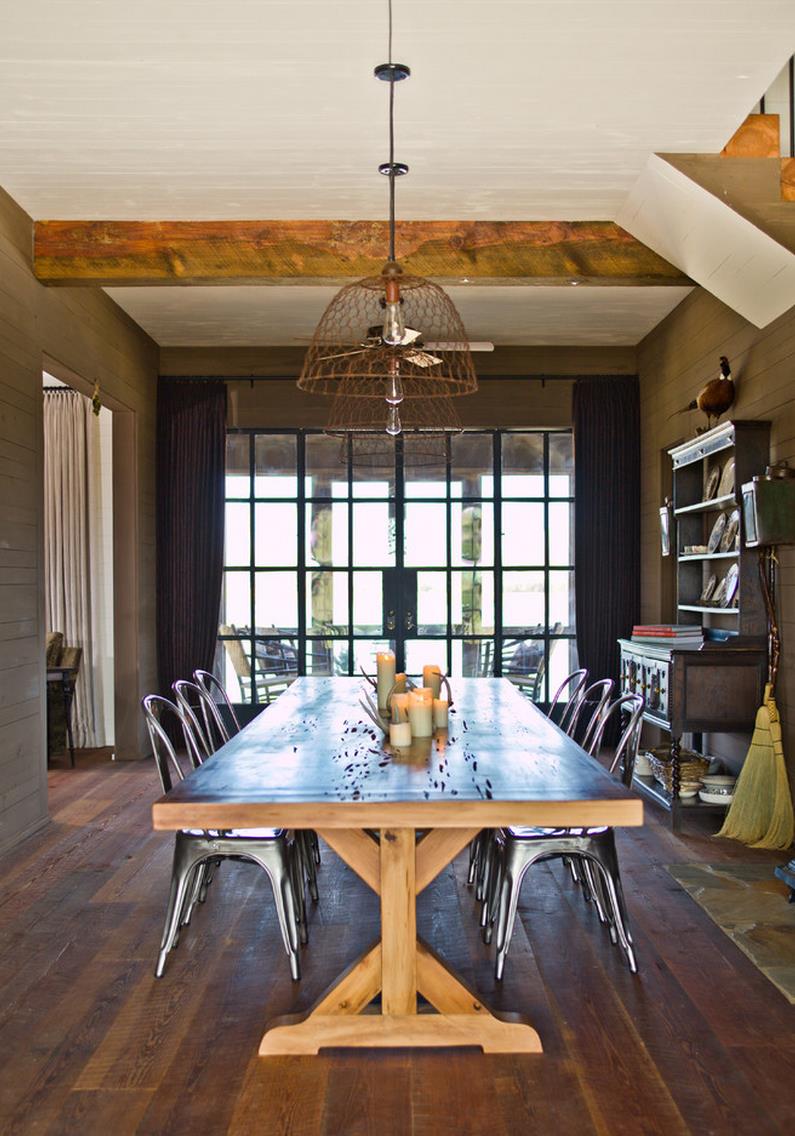 Grace your home office with a dramatic focal point by introducing a trestle table as a desk. While trestle desks are widely available, you can also opt for a small trestle dining table. Just pull up a tufted chair and get to work! [photo from Jennifer Pacca Interiors]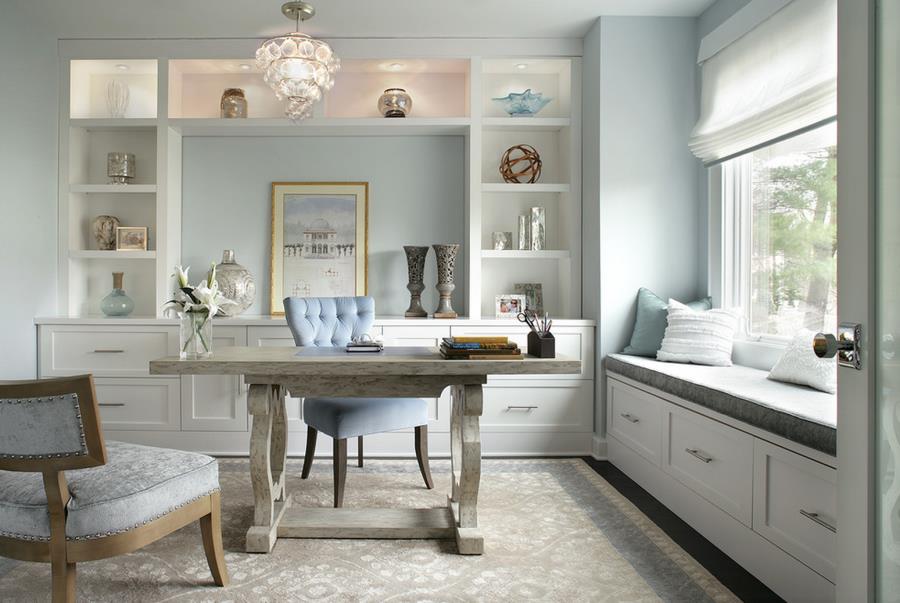 When it comes to trestle tables, do you prefer ornate, rustic, or clean-lined with a hint of modern style? Share your thoughts and tell us about your favorites by leaving a comment below…