A gazebo is much more than a place to take shelter and enjoy the view. It has the power to be an outdoor living area, as well as a sculptural statement for the yard. Today we celebrate gazebo style with a roundup of spectacular garden structures that just might inspire your next outdoor project. Enjoy!
Traditional Gazebos
We begin with traditional gazebos that are charming and whimsical. The metal selection at the end of graveled path below appears to have a weather vane at the very top! [photo from Lonny]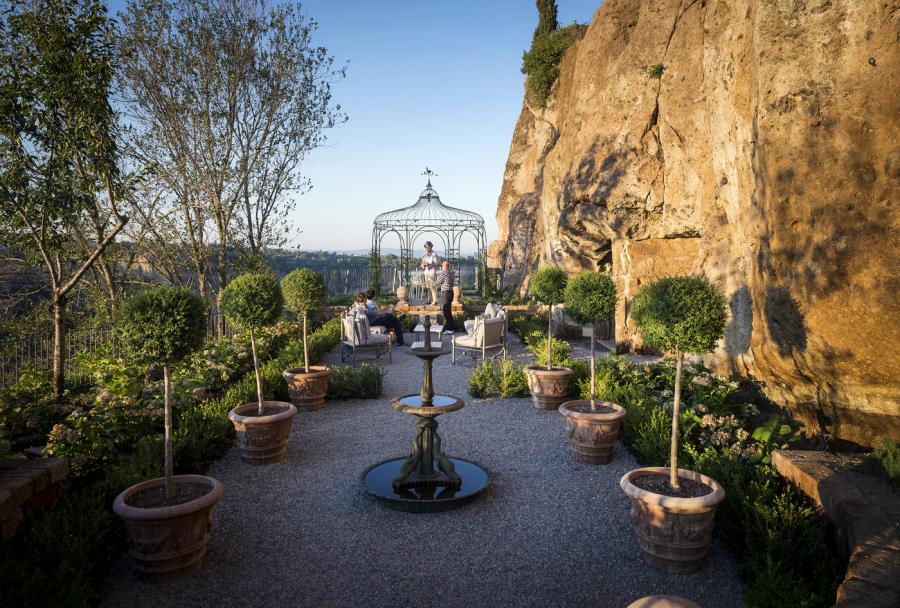 This next gazebo just might be part castle! The flowering blooms that border the path to this structure truly enhance its storybook vibe. [photo from Lonny]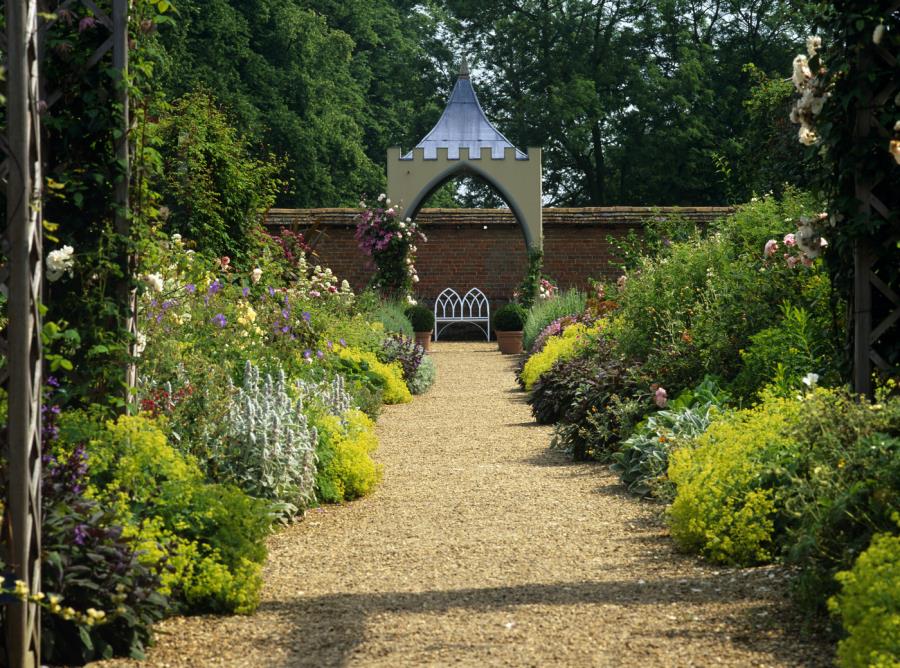 On the left (below), we see a rusted iron hexagonal gazebo that just happens to be available in a range of sizes, as well as 38 colors of canvas! On the right is a birdhouse/gazebo at the home of the late writer Roald Dahl. Both structures are featured at House & Garden. [photo on the right by Jan Baldwin]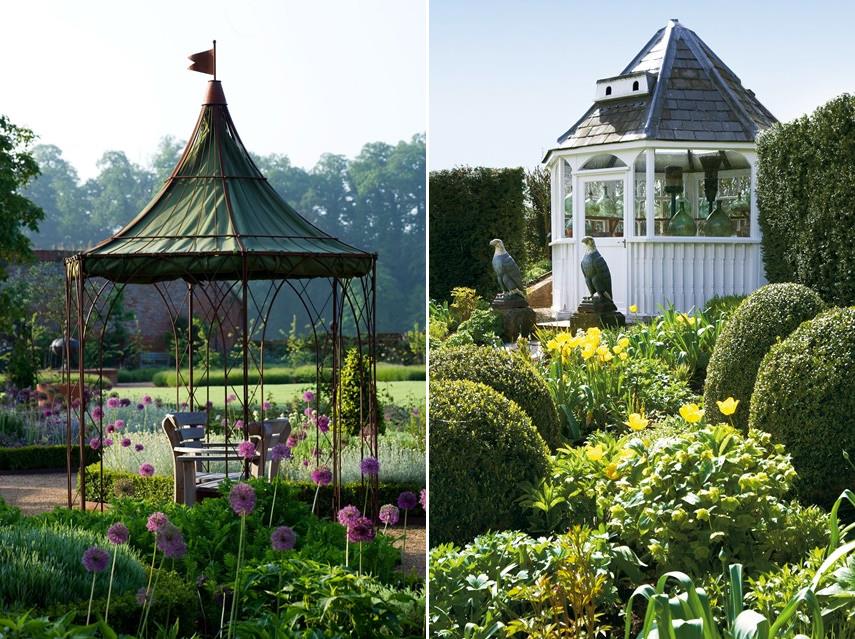 A cluster of trees adds a woodland feel to the traditional gazebo below. A shingled roof is the perfect contrast to the white wooden frame: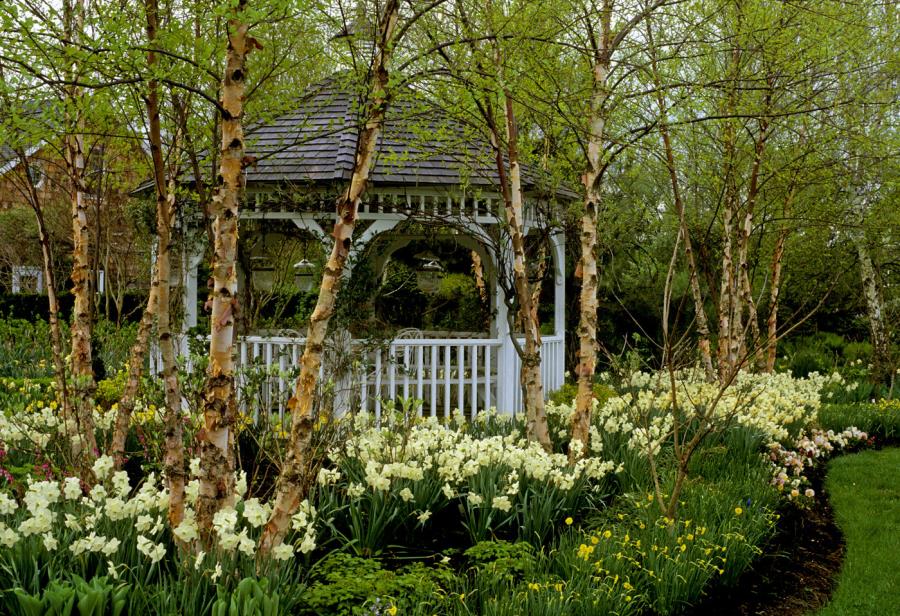 If you're looking for a shaded area with a spot for sitting and enjoying the view, a gazebo just might be the answer! Why not take in the sights and sounds of the lily pond from under the arches? [photo from Aquascape]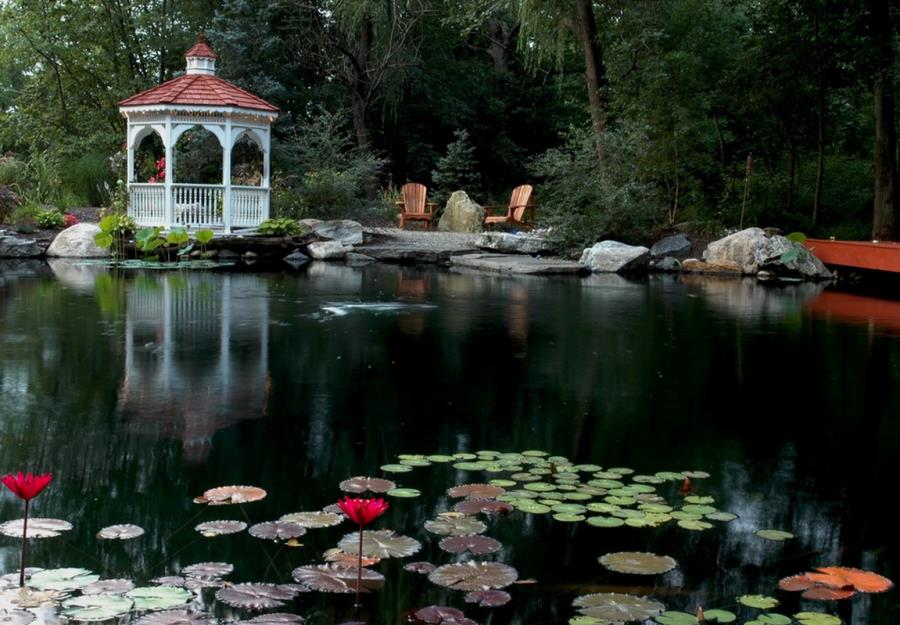 Is it a secret garden? With flowering vines creeping up the posts of this gazebo, it might as well be! [photo from Lonny]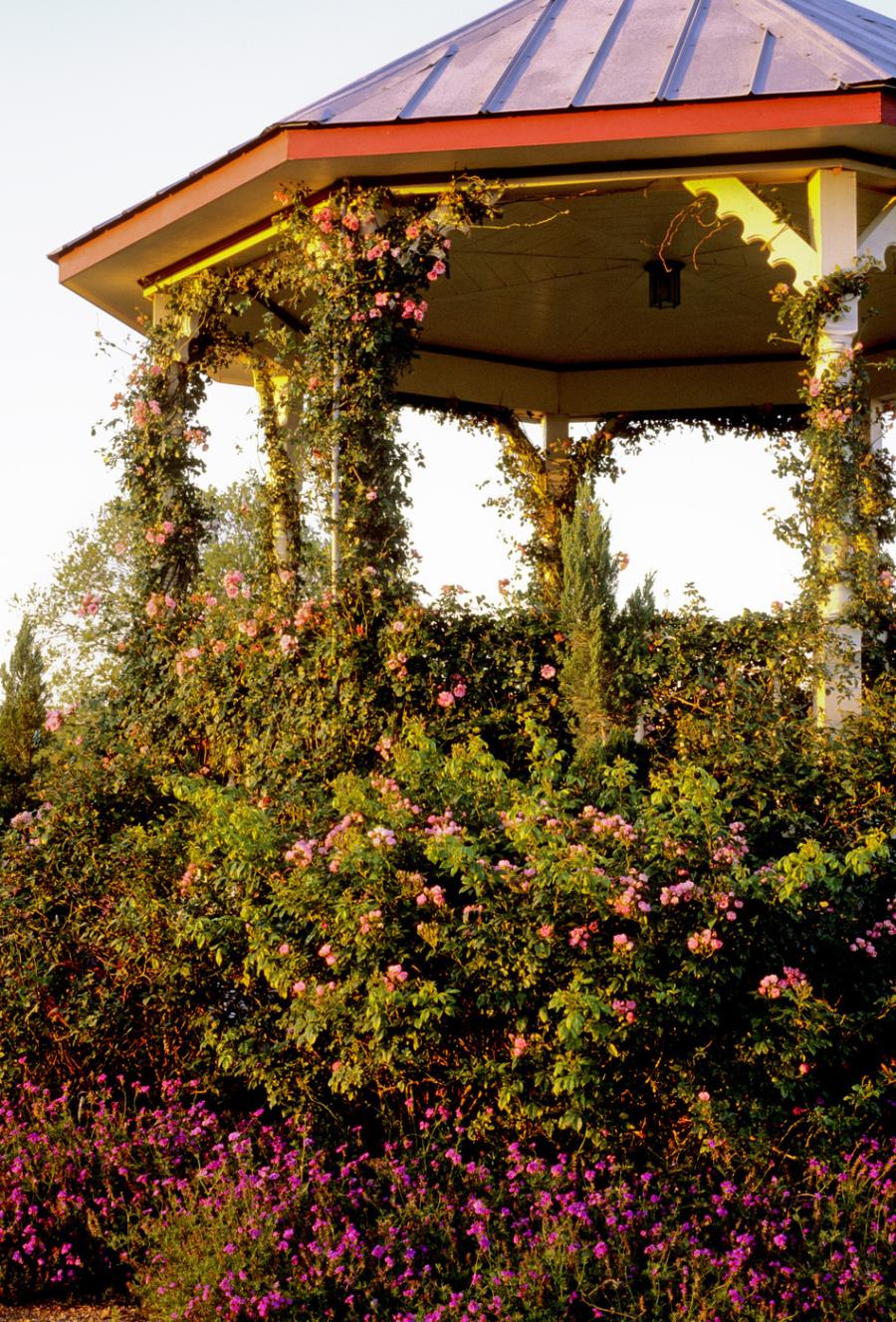 We've seen gazebos right at home in English garden- and Asian-inspired settings. They're also the perfect addition to a tropical yard. Perhaps the sea is waiting on the other side of that garden wall… [arched bridge from Redwood Garden Bridges]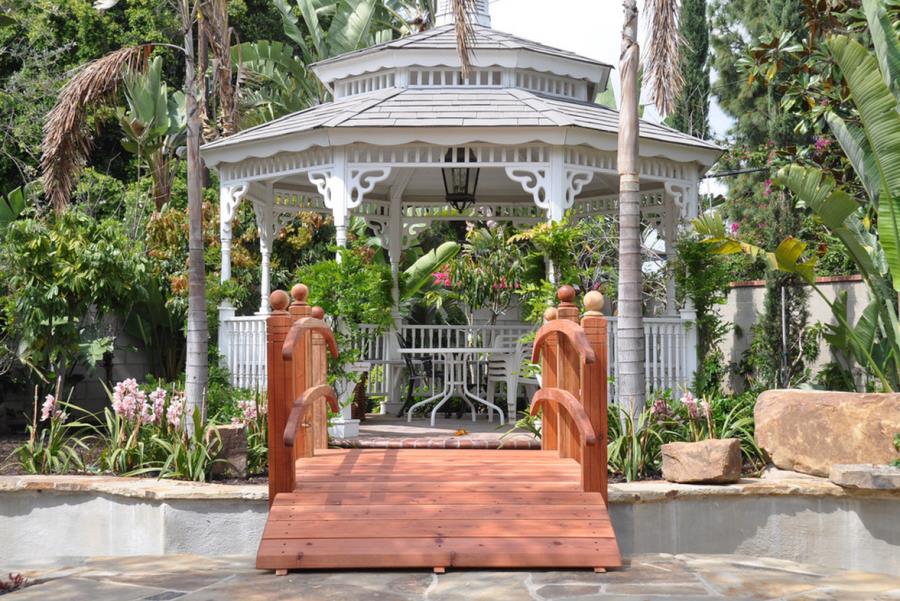 Before we leave the enchanting land of traditional gazebos, we take a look at one more dreamy selection, this time with columns and a metal domed roof. Classic, no?! [photo from Barnes Walker]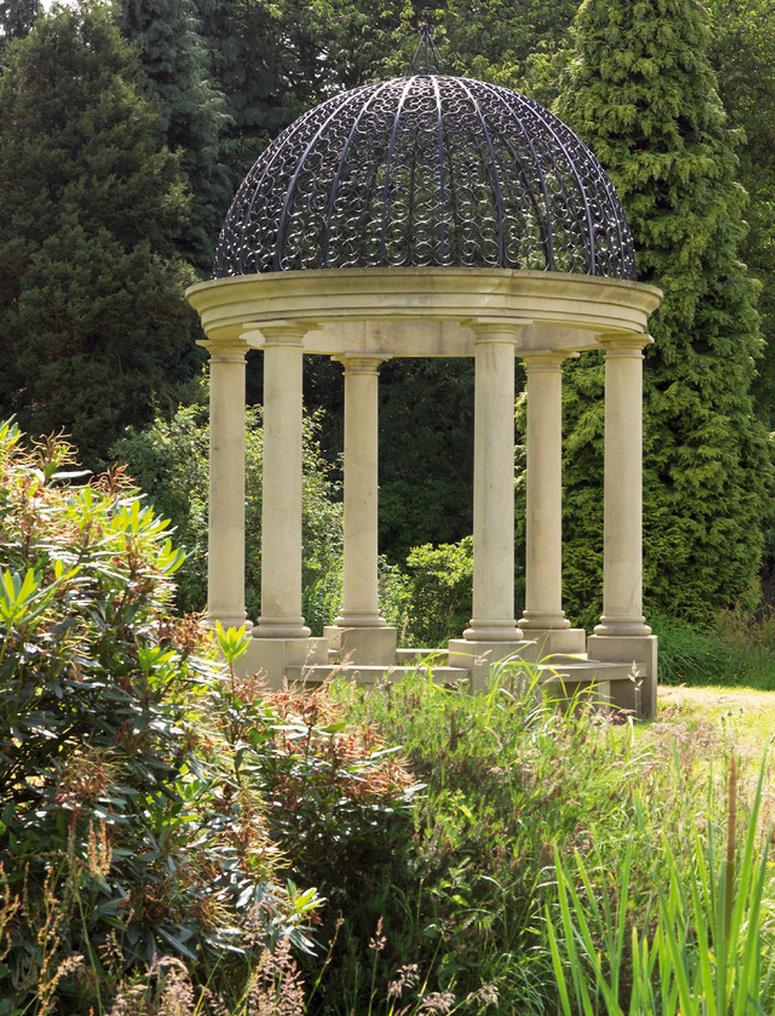 Rustic Gazebos
We know that gazebos and traditional style are the perfect marriage! But after seeing the garden gazebos below, we think you'll agree that rustic style is another fabulous option. In a Flea Market Gardening feature, Jeannie Rhodes talks about the process of constructing a gazebo from a corncrib, including the power of fun details such as a gravel floor and eye-catching decor: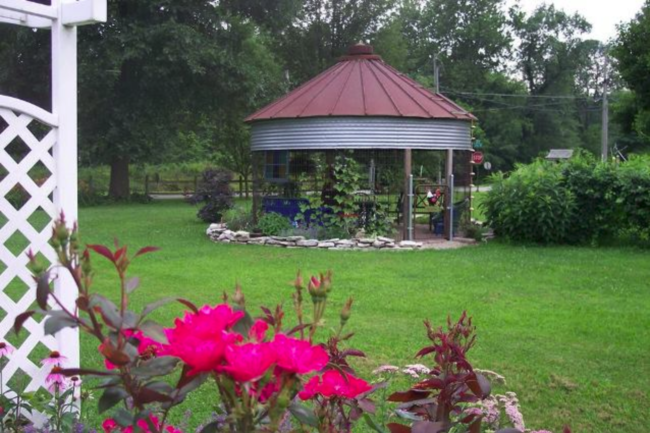 Would you consider building a gazebo out of logs? After viewing the structure below, it's definitely a tempting strategy! [photo from BHG.com]
Once again, we see logs used as posts, this time with potted ferns that add greenery to the vignette. This gazebo also provides a storage space for firewood under the seating! [photo from Hearn Woodworks]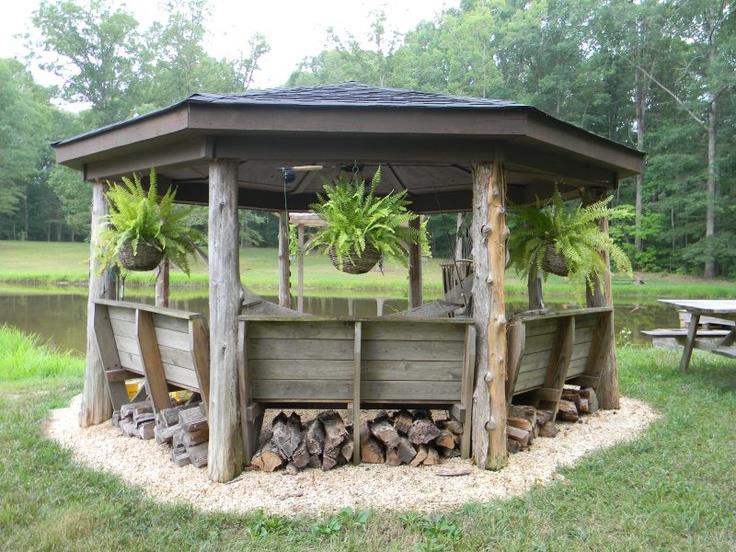 Something Unexpected
We end today's post with a collection of gazebos that celebrate unexpected design, starting with this structure by Matt Parker of Creative Carpentry & Design Co. See more amazing photos here . You won't believe your eyes! [photos below via Liftbump]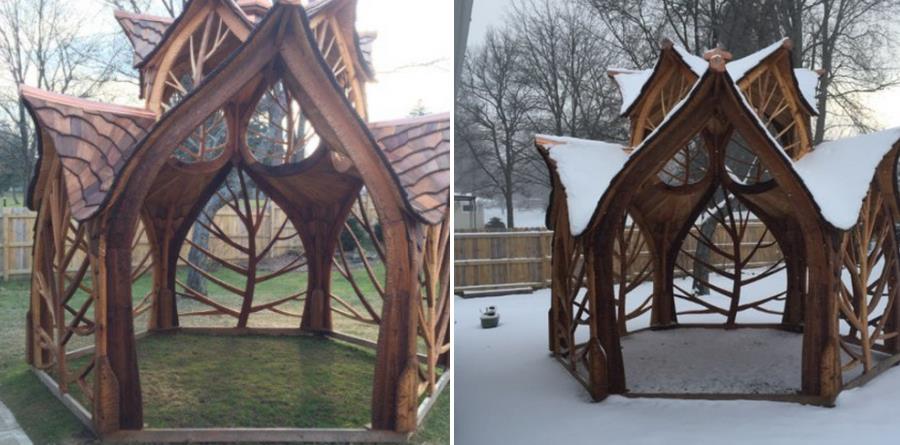 Would you consider painting your gazebo a bold color such as royal blue? There's something elegant about a strong choice like this one, especially when detailed metal design is involved! [photo by LopezVivas, from Coleccion Alexandra]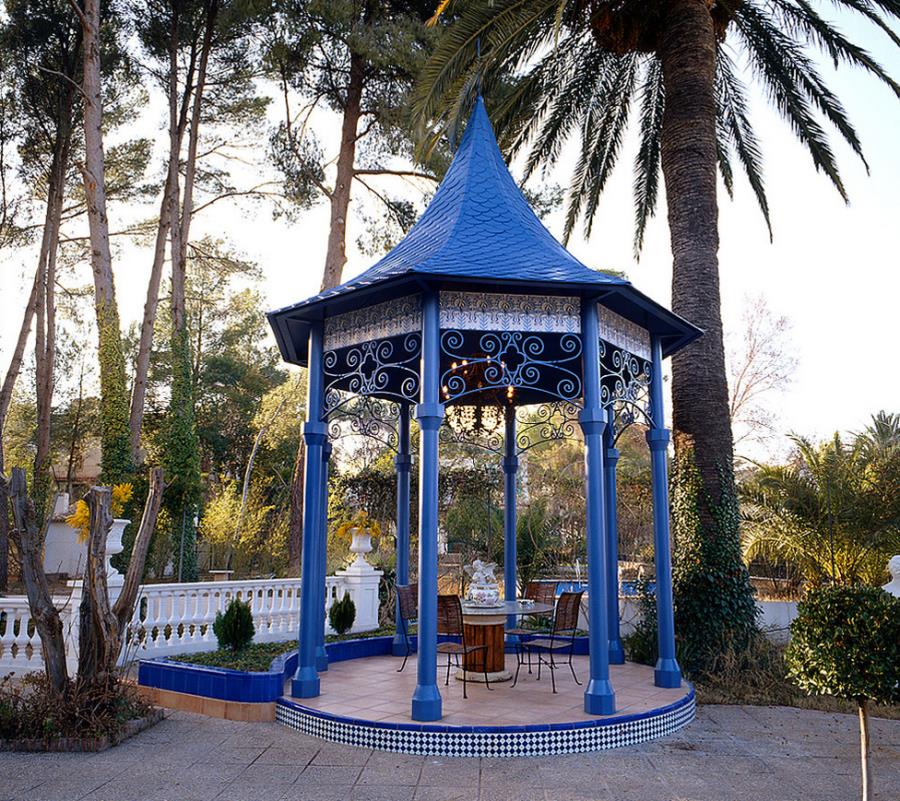 Gazebos aren't always round or hexagonal! This next featured gazebo celebrates the power of right angles and lattice work. Throw in a stone floor by Maiden Stone Inc., and you have the setup for the perfect outdoor lounge. [photo by Matthew Millman]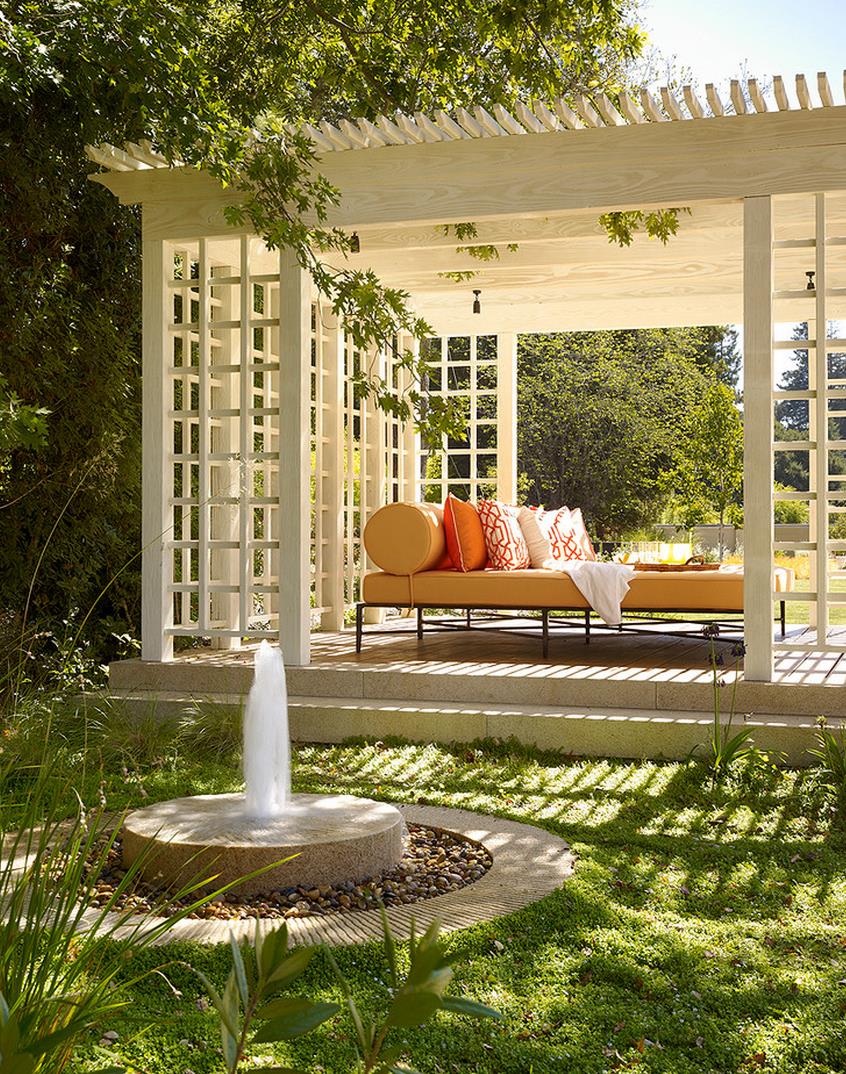 While this next structure is more of a garden pod, its rounded openings and flat roof just might inspire the design of your next gazebo. [featured at Landscape Juice Network]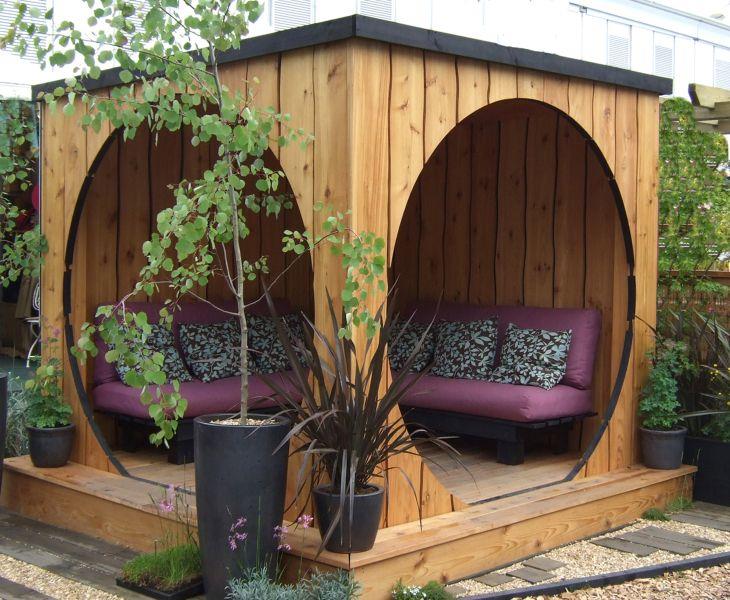 Last but not least, we see a modern interpretation of a garden gazebo, which provides a completely uninterrupted view of the nearby lake and countryside. [photo from AR Design Studio]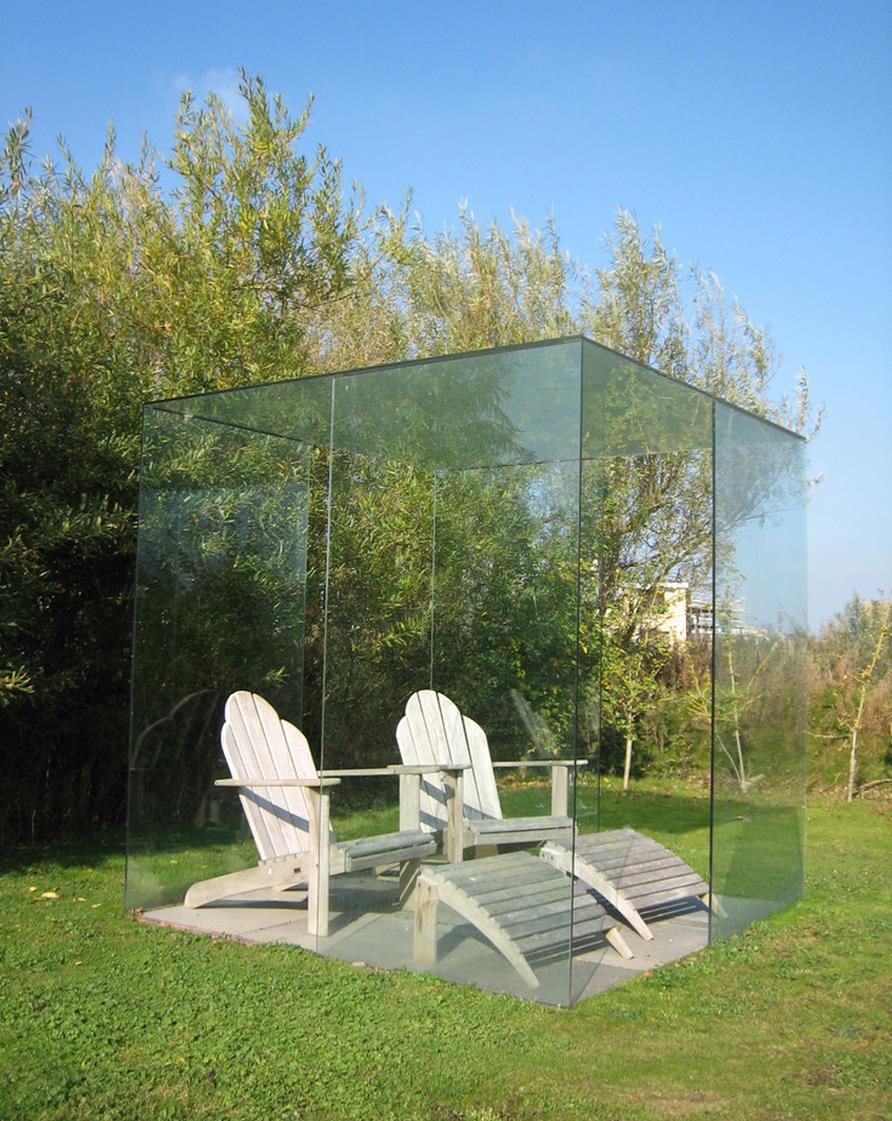 Which gazebo above would you choose for your outdoor space? Share your thoughts by leaving a comment below…
Liked the story? Share it with friends.