Radiators: in many cases, you can't live without them. But when it comes to good design, sometimes it seems like you can't live with them! Luckily, there is a range of radiator covers on the market to help you conceal this functional home staple. Today we've gone beyond rounding up radiator covers for sale. We've also collected images of some fabulous custom-built selections, and we've included a few DIY project ideas should you want to build your own radiator cover or get creative with some colorful painting! Keep reading for details, links and photos…
Radiator Covers for Sale
Radiator covers come in a range of styles and size options to accommodate the radiator(s) in your home. Below we see an Old England Classic radiator cover in Satin White from Amber Radiator Covers. A traditional design with a white finish, this selection also features rounded corners for your little ones' safety.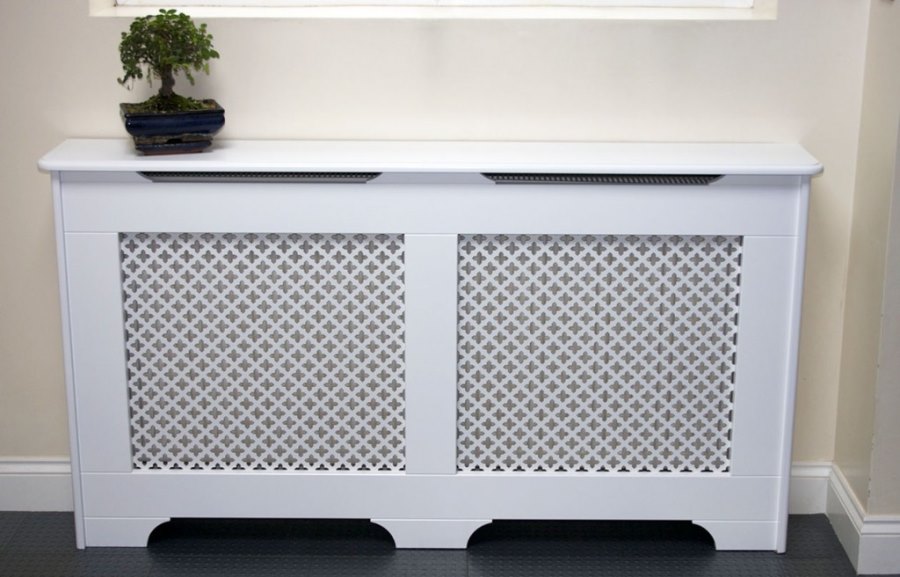 Some radiator covers completely conceal the radiator, while others provide a thin veil of visual coverage. The best part of today's radiator cover designs: they can often double as console tables, holding items such as books and objets d'art! [photo from Camber Construction via Houzz]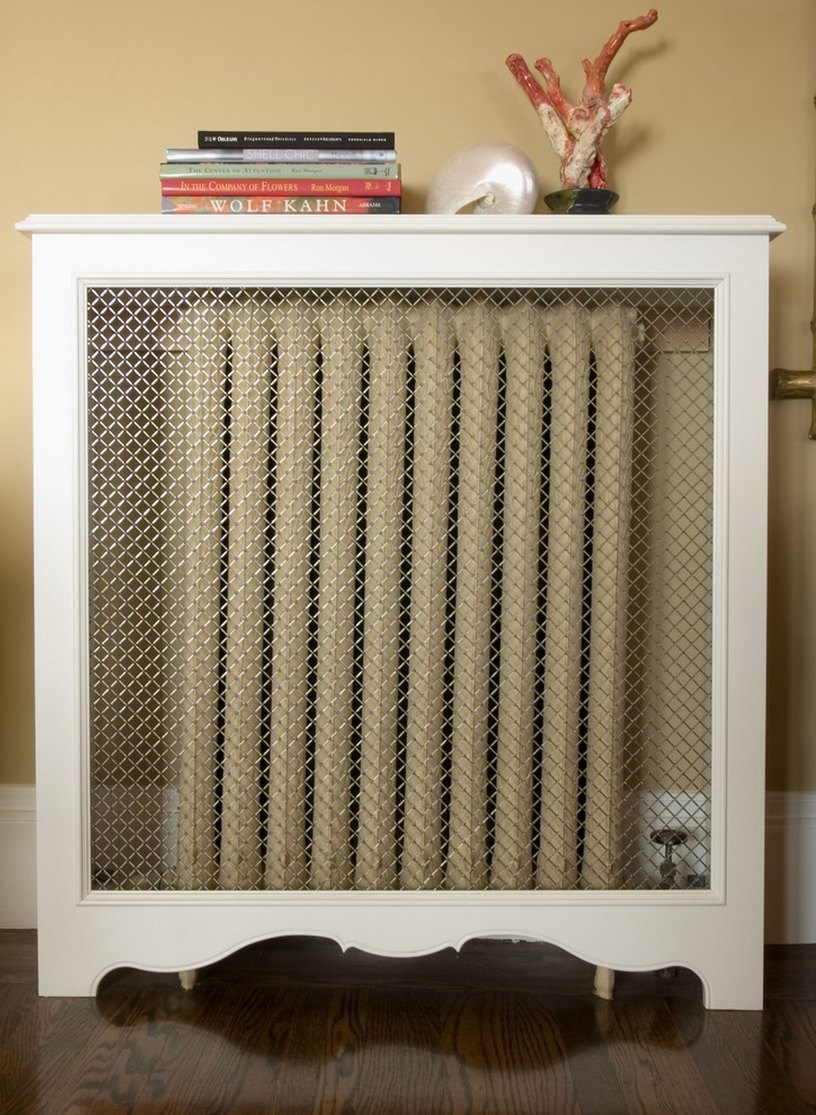 Just as there are traditional radiator cover options, there are cutting-edge contemporary designs as well. Ombre is the style of choice in the montage below, which features Yellow Grey Ombre, Pink Mint Ombre and Red White Ombre selections from Couture Cases:

In fact, Couture Cases offers a wide variety of materials, including fabrics, woods, vinyls, laminates, metals, copper, chrome, crystal and more. Plus, they can color match to fit the needs of your space!

For a sleek slatted look, consider timber and laminate radiator cover options designed by Jason Muteham. Whether the look you desire is modern, earthy or even Deco, you can find a sculptural selection that's sure to be a conversation piece in your home:

Speaking of conversation pieces, Jason Muteham also offers fabric selections, which are truly "the ultimate in bespoke covers". Choose from a range of fabrics that can be laminated to the cover and sealed with a protective coating. We're loving the floral motif below, especially against the brick wall in this space: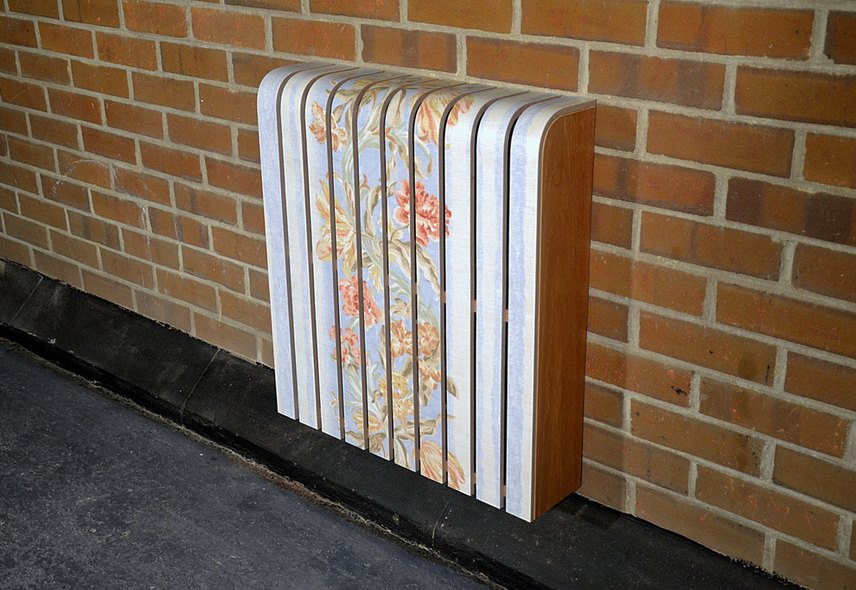 Custom-Built Options
As mentioned above, it's possible to order a radiator cover in a custom size to meet the needs of the room at hand. You can also involve a contractor, a handyman or other professional to have the cover built specifically for your very own space. [photo by Laura Resen, from ABRAMS]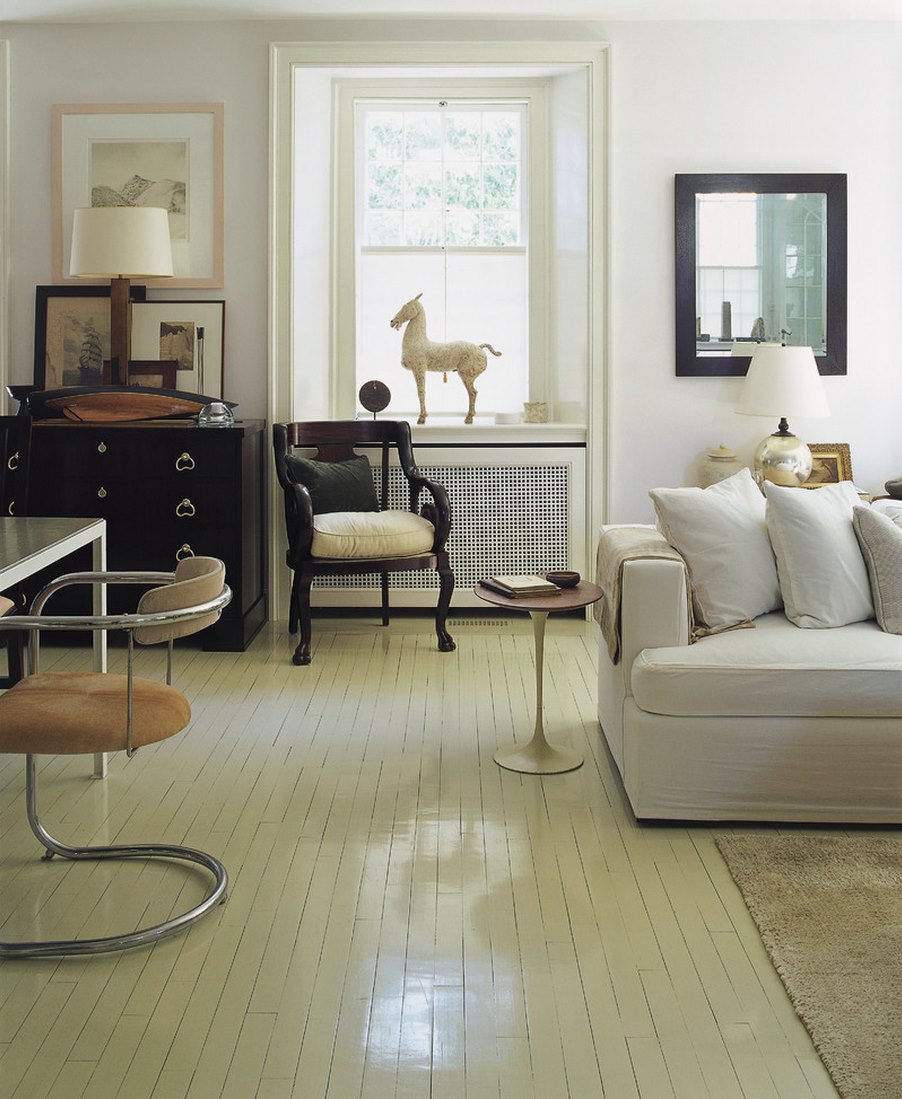 How many times do you think you've looked at photos of beautiful interiors and assumed that the radiator cover in the room was in fact a console table? The radiator cover below is so beautifully integrated into the space, it's easy to forget that it's providing an important cover-up solution for a functional item! Thanks to an intricate pattern on the doors (which mirrors the other patterns in the room) and the symmetrical presentation of decor (such as Fiddle Leaf Figs and matching lamps), this interior is design-perfect! [photo from Lonny]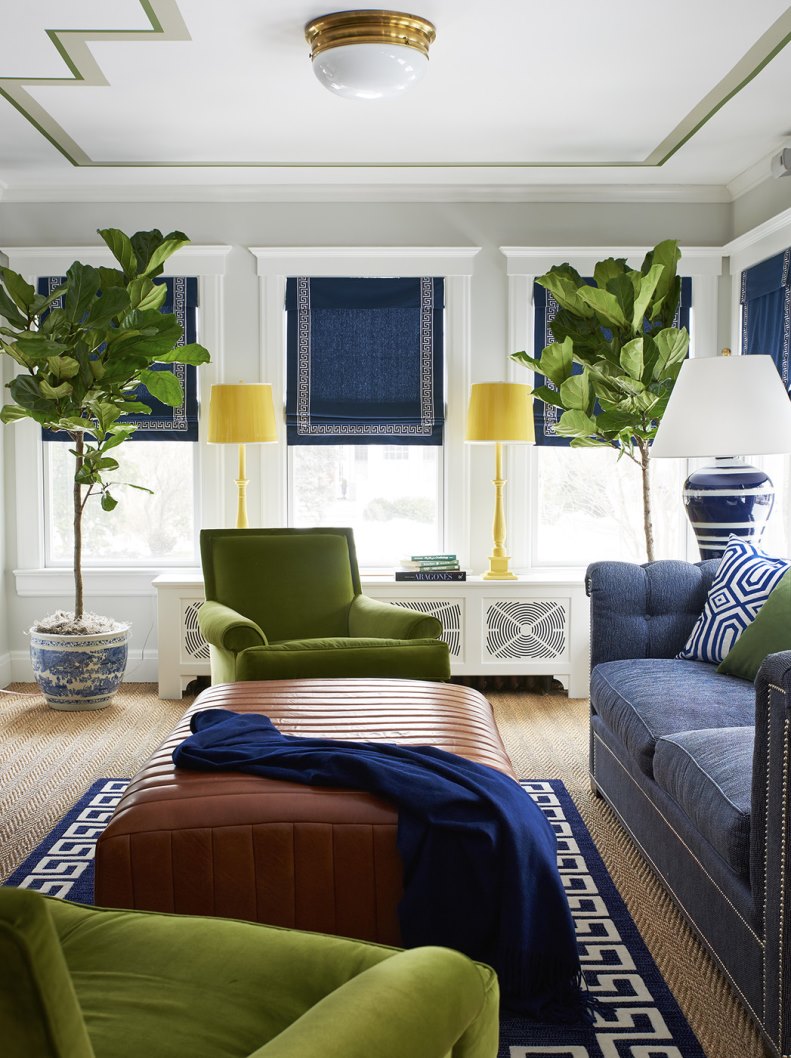 When pondering a custom-built radiator cover, remember that you have the luxury to choose a style and design that enhance the look and feel of your space. Warm golden tones abound in the next interior, thanks in part to the woven earthiness of the radiator cover screen. [photo from Lonny]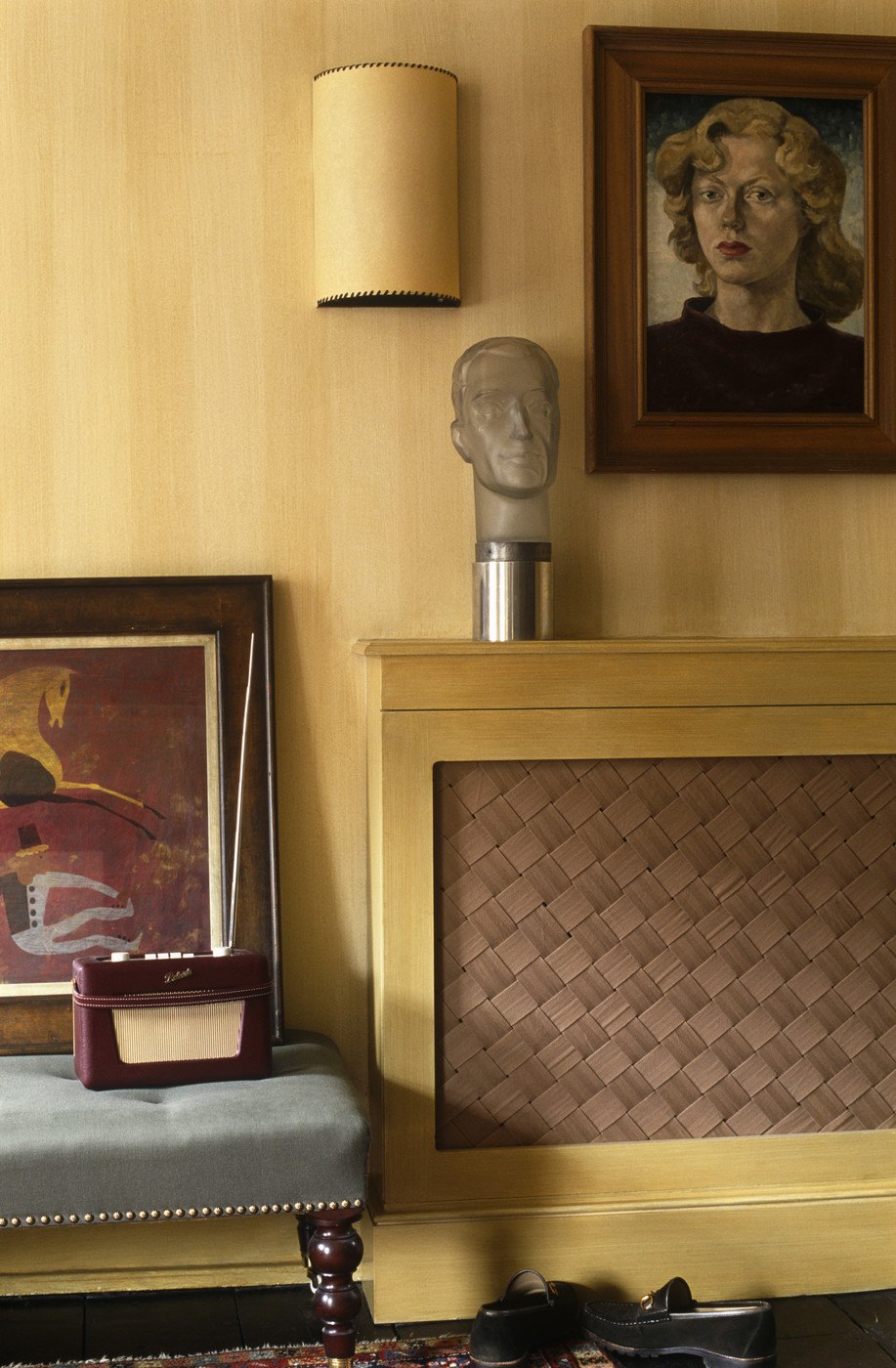 If your room is modern and minimal, your radiator cover can emulate that very look! In fact, you can combine it with custom shelving to create the perfect long, lean accent piece for displaying books and other items. [photo from Rodriguez Studio Architecture PC]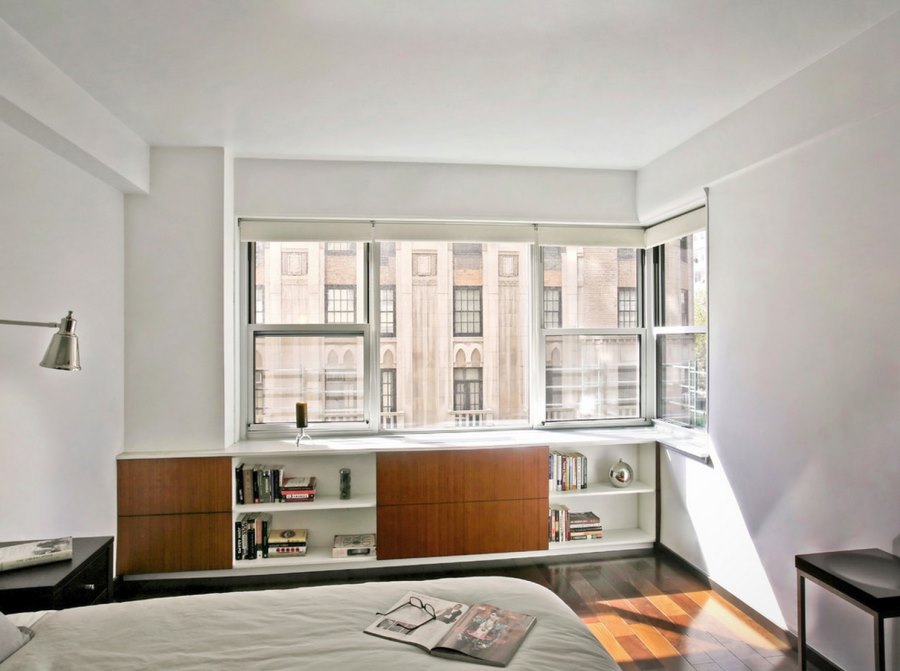 Got a small space? No problem! A custom radiator cover can be as narrow as you need it to be! Below we see a radiator cover custom designed by SchappacherWhite. With a Corian top and a painted lacquer masonite removable access panel, this piece is as stylish as it is functional. You can find additional details via Houzz (check the comments section). [photo by Jason Lindberg, from Schappacher White DPC]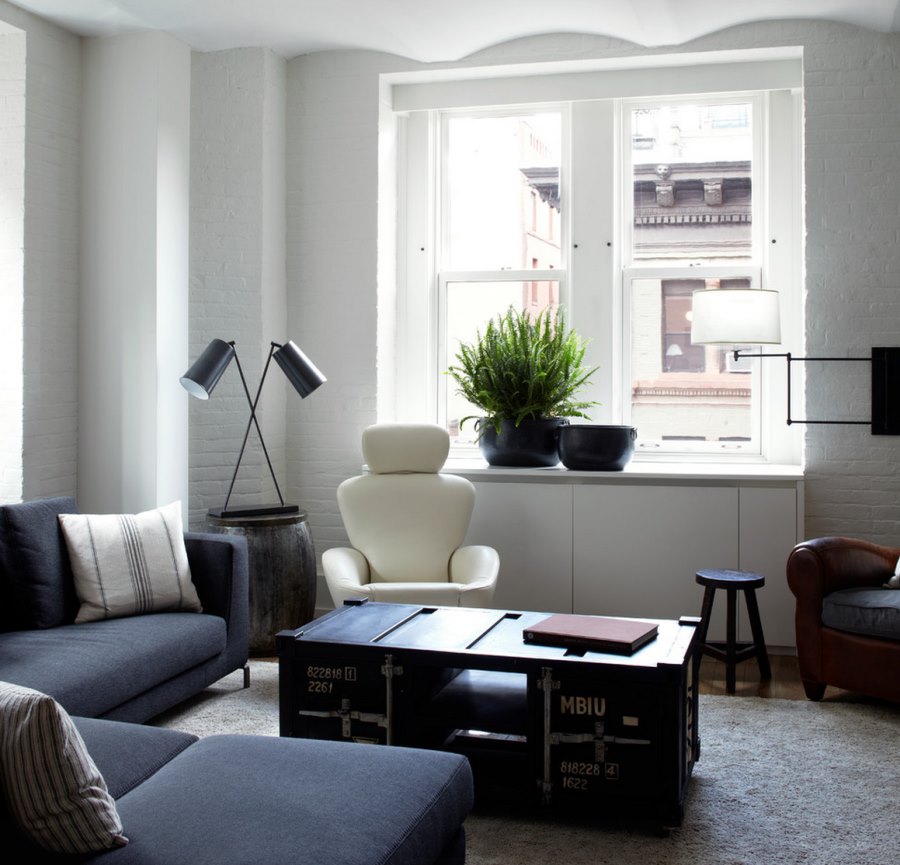 Note how the custom-designed radiator cover below (another piece custom designed by SchappacherWhite) complements the clean modern feel of the space and even blends well with the room's striking end table: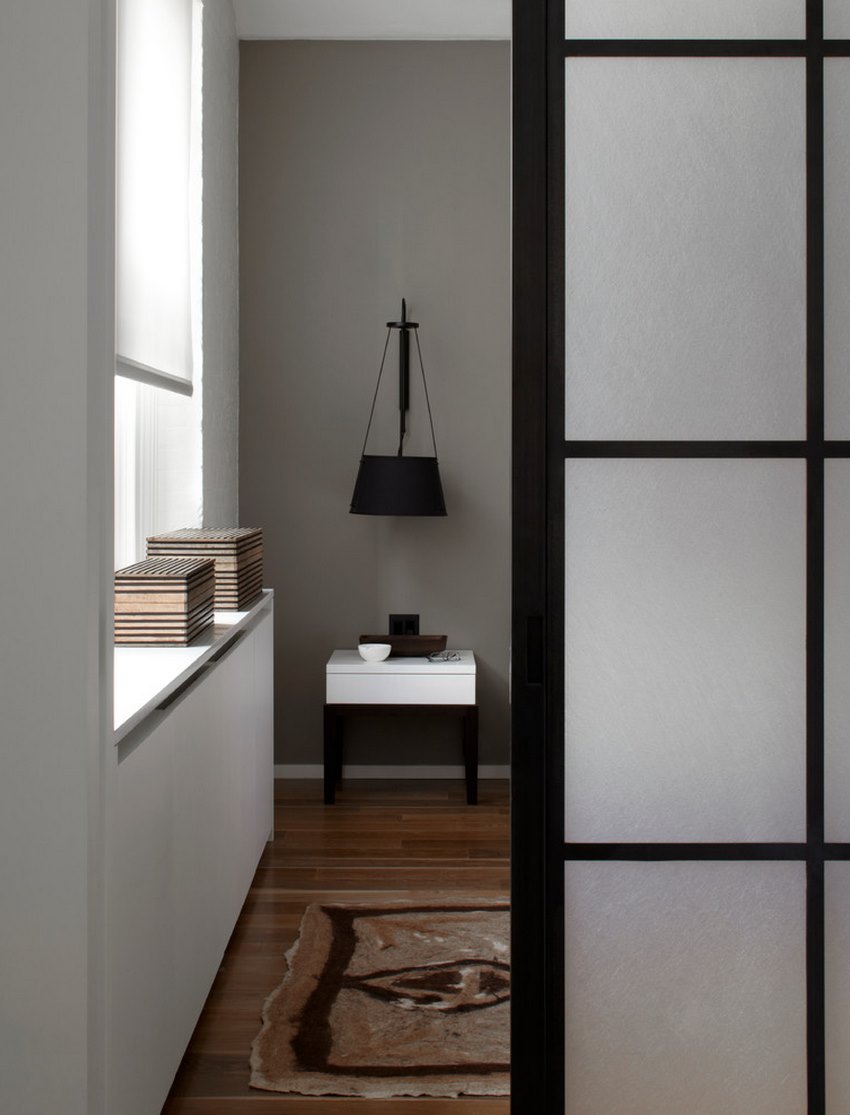 Don't forget that it's easy to have your radiator cover custom painted to match the other features of the room. For example, the radiator cover below (made by Robert Mooney Furniture) was painted to match the charming woodwork of the space. [photo from Optimise Design]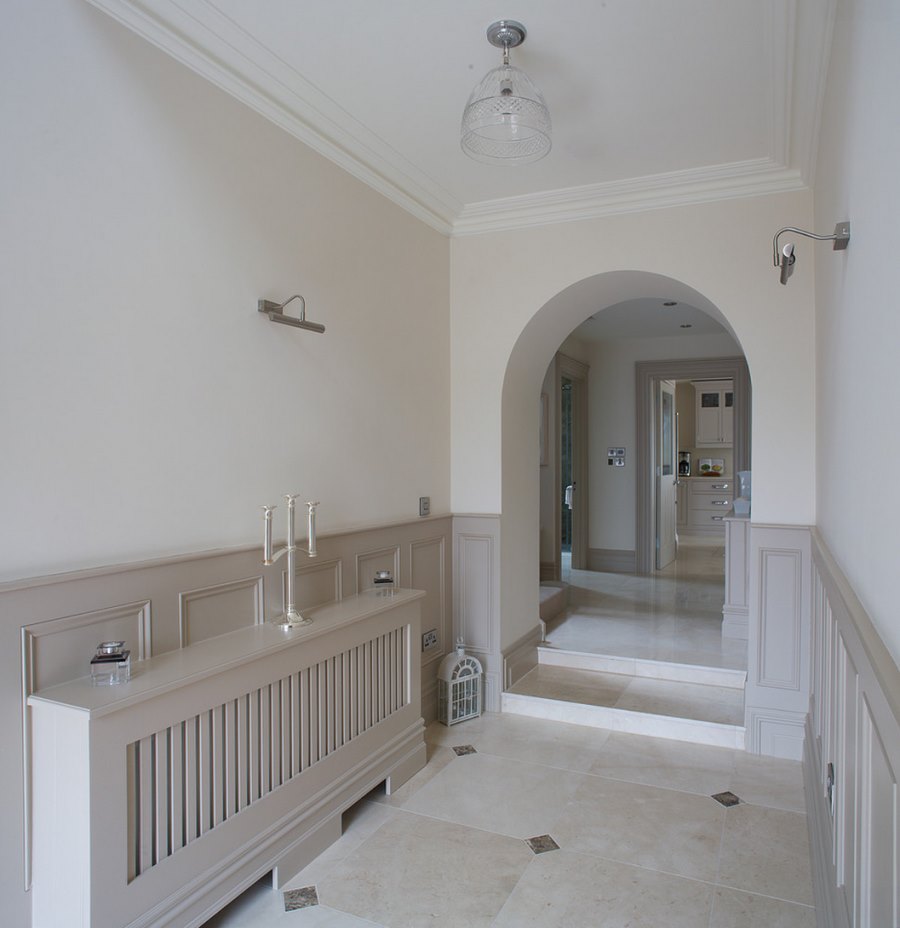 DIY Ideas
Speaking of special paint jobs, we now turn our attention to creative DIY ideas that can transform an ugly radiator into an eye-catching design accent. A special paint job is worth a thousand words! Even if you purchase your radiator cover rather than make it, don't forget that you can always use paint to your advantage. In the powder room below, the border of the radiator cover is painted to match the lavender/periwinkle shade of the walls, allowing it to seamlessly blend into the space. [photo from Lonny]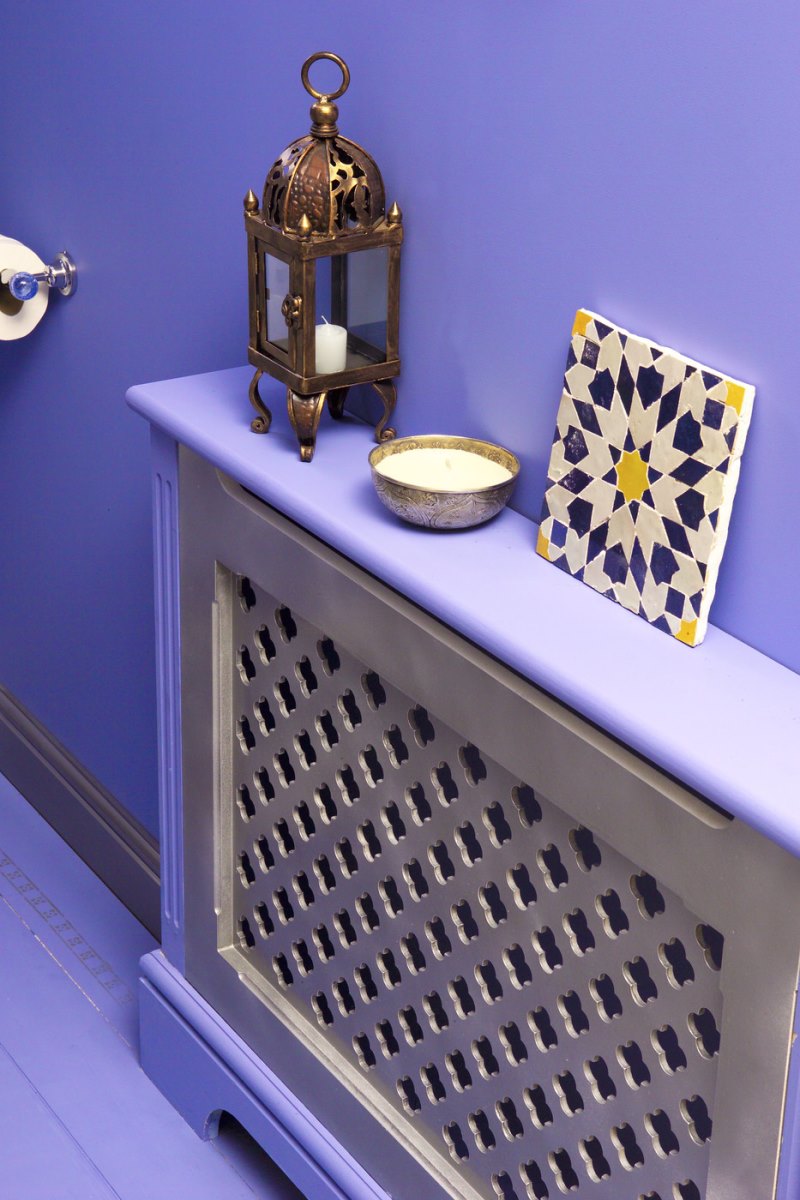 If you're looking to build your own radiator cover, you can find a great tutorial at DIY Network. Another fabulous tutorial: this DIY Window Seat and Radiator Cover from Stately Kitsch, featuring a bronze lattice grille with a quatrefoil design. When your radiator cover doubles as a window seat, you have an instant spot for reading, reflecting and napping!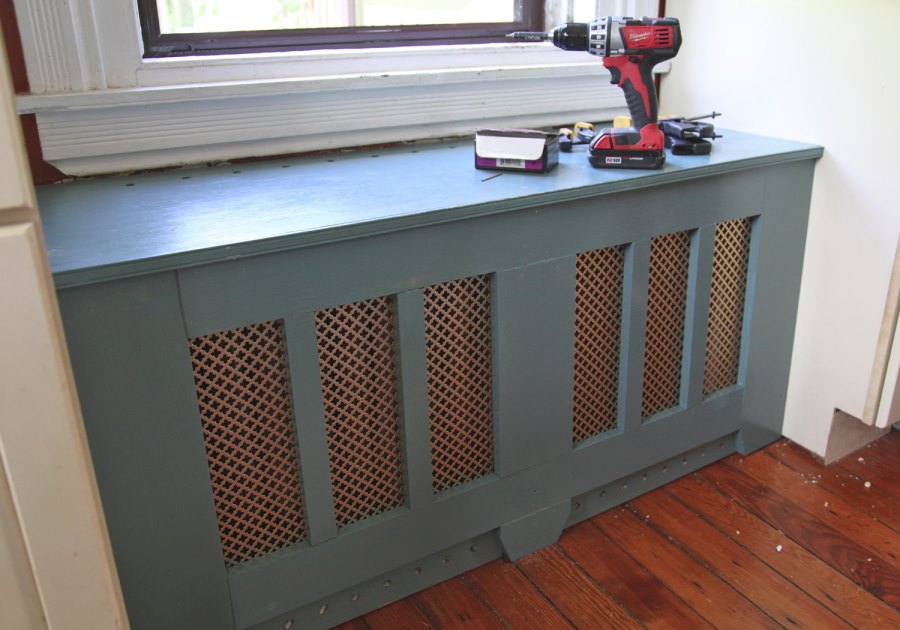 Creativity shines brightly in this futuristic radiator cover featured at Apartment Therapy. Inspired in part by the art direction from video games Halo and Mass Effect, this DIY creation also doubles as a bedside console. The best part: it was created for under $50!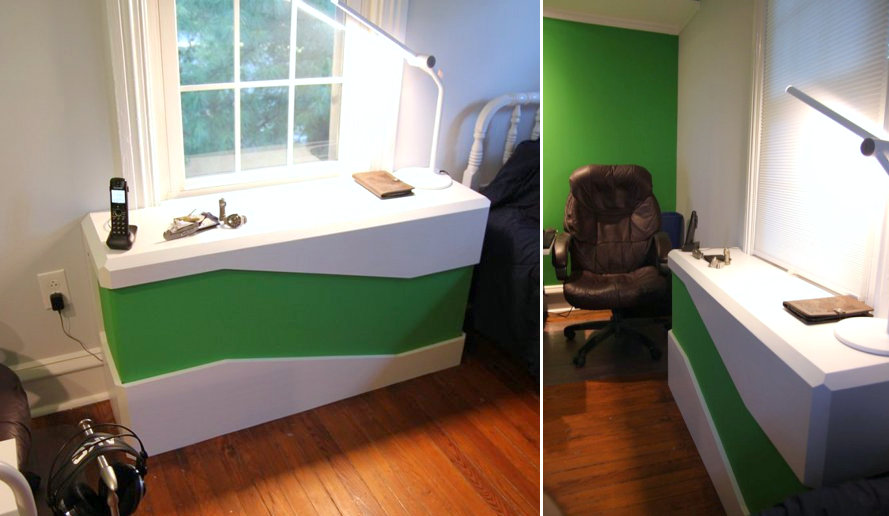 Let It Be
We end today's post by exploring the option of simply painting the radiator rather than covering it! By using an eye-catching paint color, you can transform a radiator into an interesting sculptural option. Should you choose this strategy, be sure to select a paint that can withstand heat, as well as one that will not readily emit chemicals when heated. [photo from Pop Culture & Fashion Magic]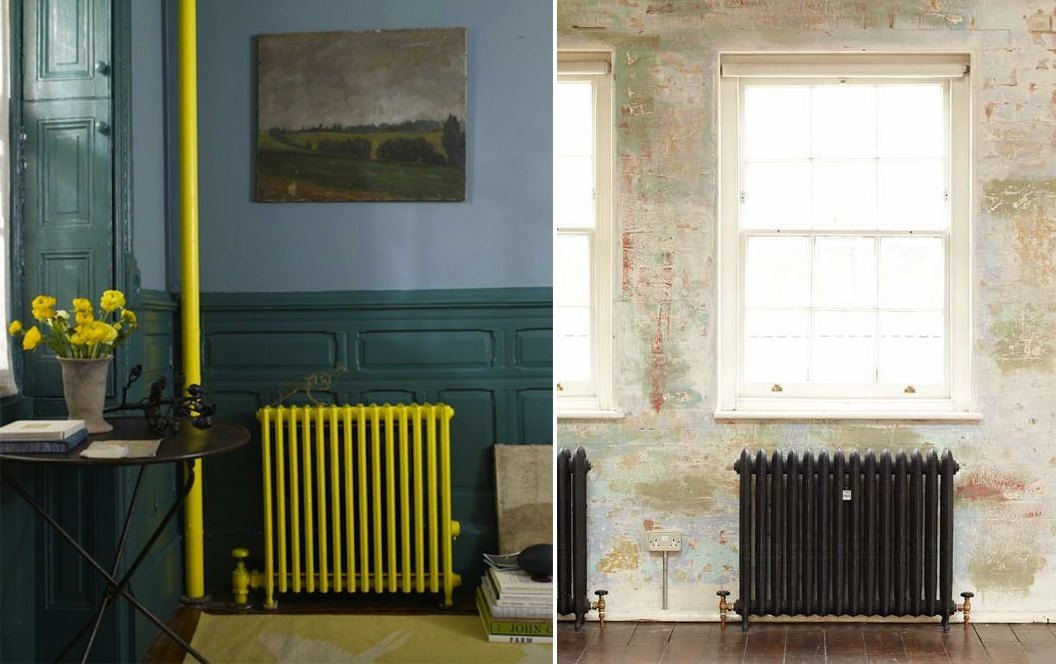 You can always go the ombre route! The repetitive structure of a radiator makes it the perfect canvas for a gradient of hues, such as yellow and orange. Below we see ombre radiator designs via Poppy Gall Design Studio (left) and Aimee Herring/Living in a Nutshell via Bob Vila (right):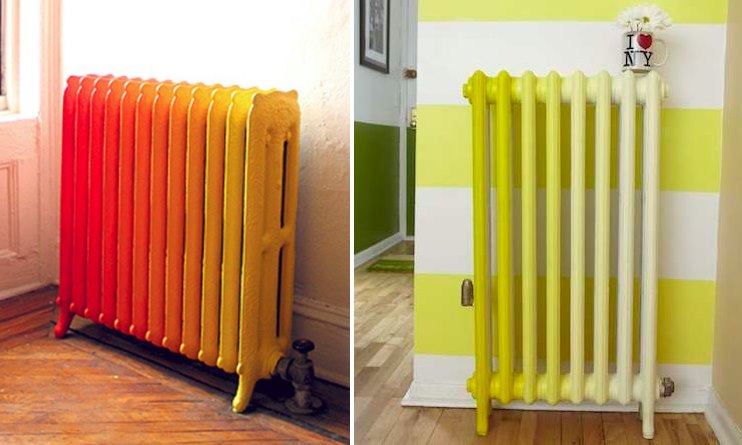 When it comes to the radiator, are you the type of design enthusiast who prefers to paint it, or are you inclined to conceal it with one of today's featured radiator covers? Share your thoughts by leaving a comment below…