How often do we really think about the make-up and cultivation of our working environments? A workspace needs to be many things to many people and through design should aim to accommodate an array of working preferences. Yet we are time and again fettered by convention and a lack of imagination. Good design in a workspace will augment our creative vision, bolstering expression, passion, communication and professionalism.
Something as simple as a thoughtful desk light will uplift a workspace. As well as a functional item, think about a desk light as having character, providing ambience and making tasks that little bit more pleasurable. The following ten uplifting desk and table lights will enjoy helping you to read, write, sketch, type and think.
Anglepoise®
A truly iconic British design, the Anglepoise® Original1227™ task light was launched in 1935 and is widely regarded as the archetypal Anglepoise® light. The classic profile and somewhat jaunty shape of this characterful light graces desks the world over. In more recent times, lauded British industrial product designer Kenneth Grange created the noteworthy Type75™, a venerable addition to the Anglepoise® collection that finds particular favor with architects.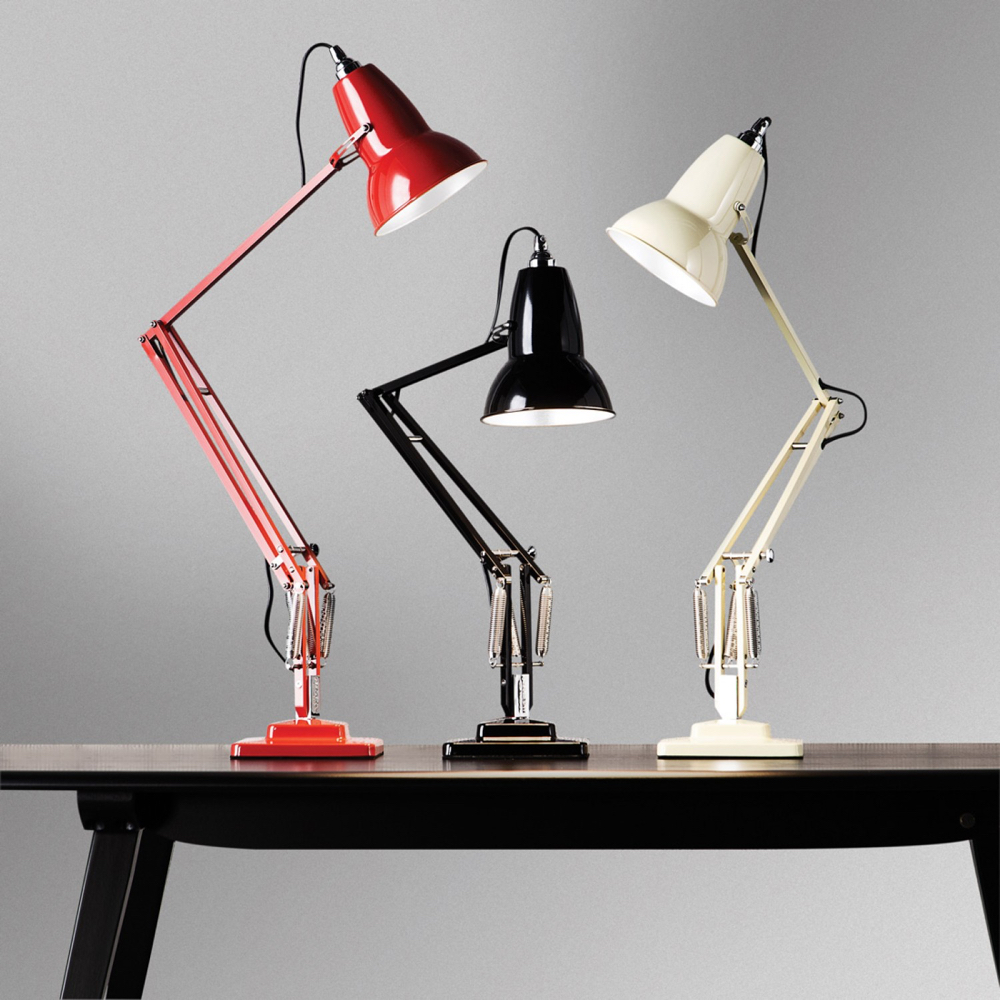 Anglepoise® Original1227™. Photo © 2015 Anglepoise.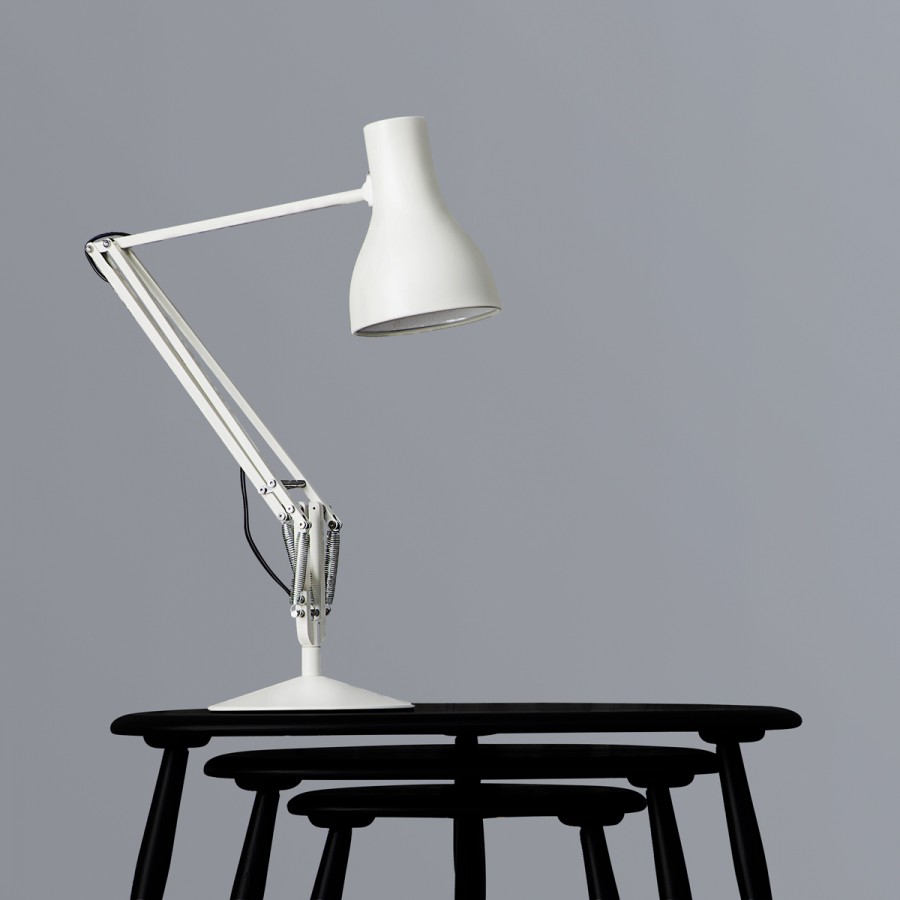 Anglepoise® Type75™. Photo © 2015 Anglepoise.
Bellevue Table Lamp
Designed in 1929 by Arne Jacobsen, the Bellevue Table Lamp was reintroduced by Danish company &tradition. The Bellevue was Jacobsen's first lighting design and with its swan-like neck and clean form takes inspiration from the Bauhaus era. The 45-degree cut shade (which made a later appearance on Jacobsen's Bellevue petrol station near Copenhagen) diffuses the light with minimal glare.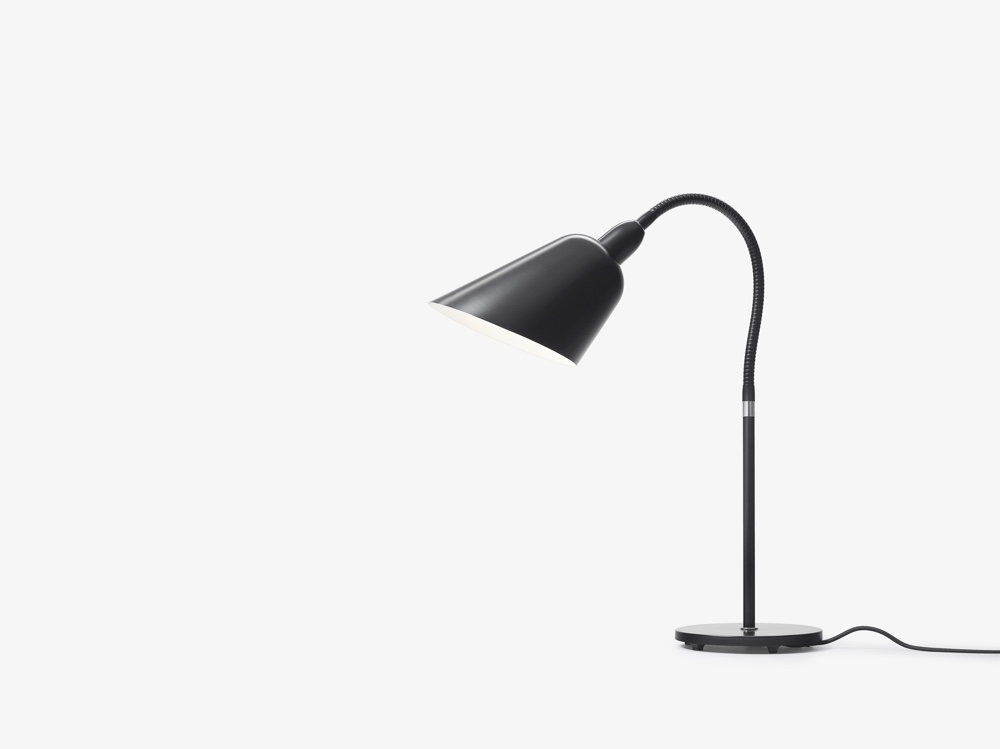 Photo © &tradition.
Birdy
Birdy is a modernist table, wall and floor lamp series that was designed in 1952 by Norwegian interiors architect Birger Dahl. The series was relaunched in 2013 by Northern Lighting, an Oslo-based lighting company, who ensured Birdy's original shape and features were preserved.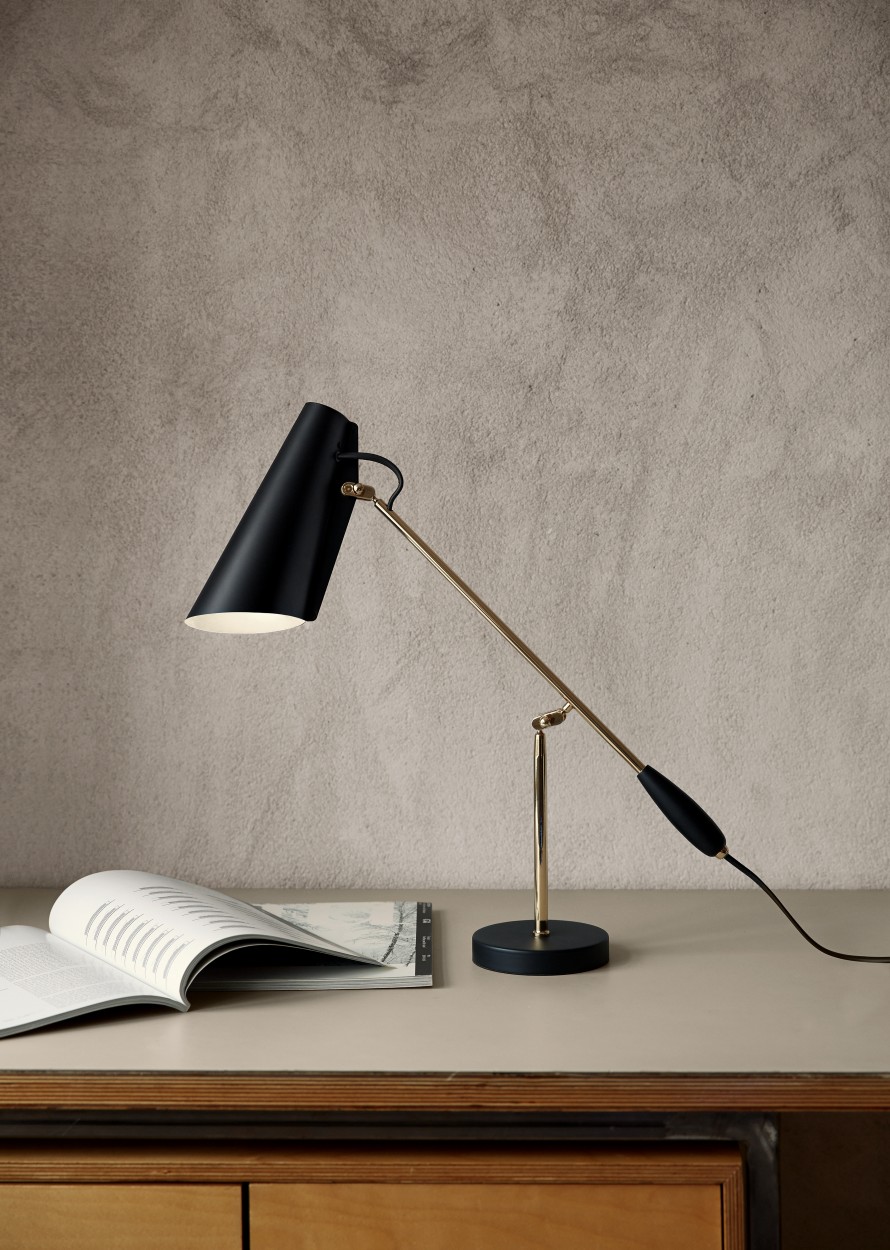 Photo © Northern Lighting AS.
Cloche
The Cloche lamp by young Norwegian designer Lars Beller Fjetland exudes grace, control and charm, as profiled in its striking 1930s industrial-esque form. Produced by Wrong for Hay, the poetic design of the Cloche explores beauty, weight and balance through an off-set cast-iron base, black powder-coated stem and shade (in matte white, matte black or polished copper).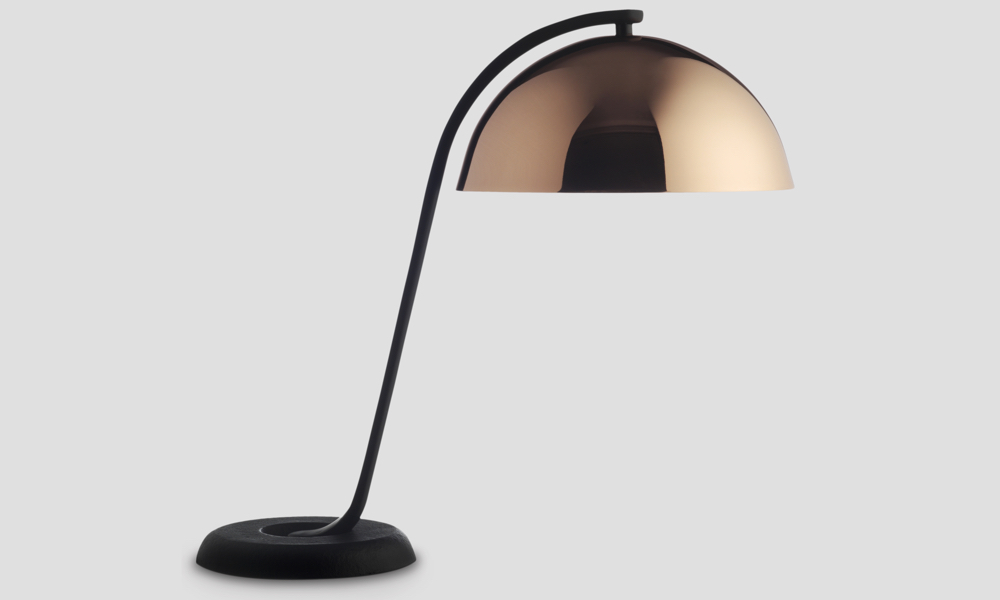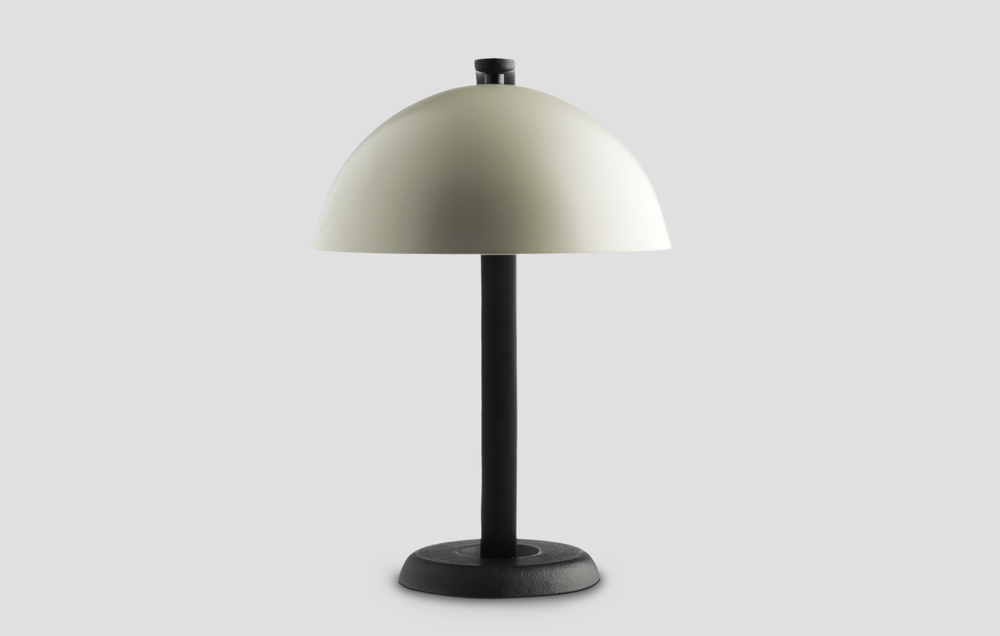 Photos © Hay.
Lune Lamp
Fusing woodturning craftsmanship with natural materials and modern LED technology, the Lune Lamp is warm, contemporary and individual. The base and shade are envisaged as parts of wooden spheres, their form providing an aesthetic that is harmonious and tactile. Lune was designed by Norwegian designer Sverre Uhnger and is manufactured by the Danish family-owned company Brdr. Krüger.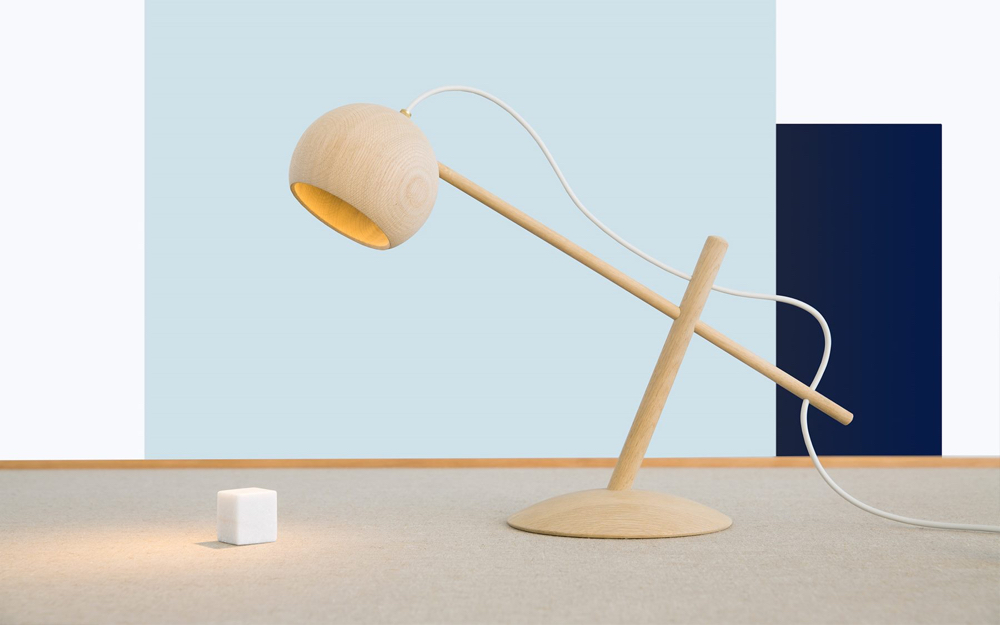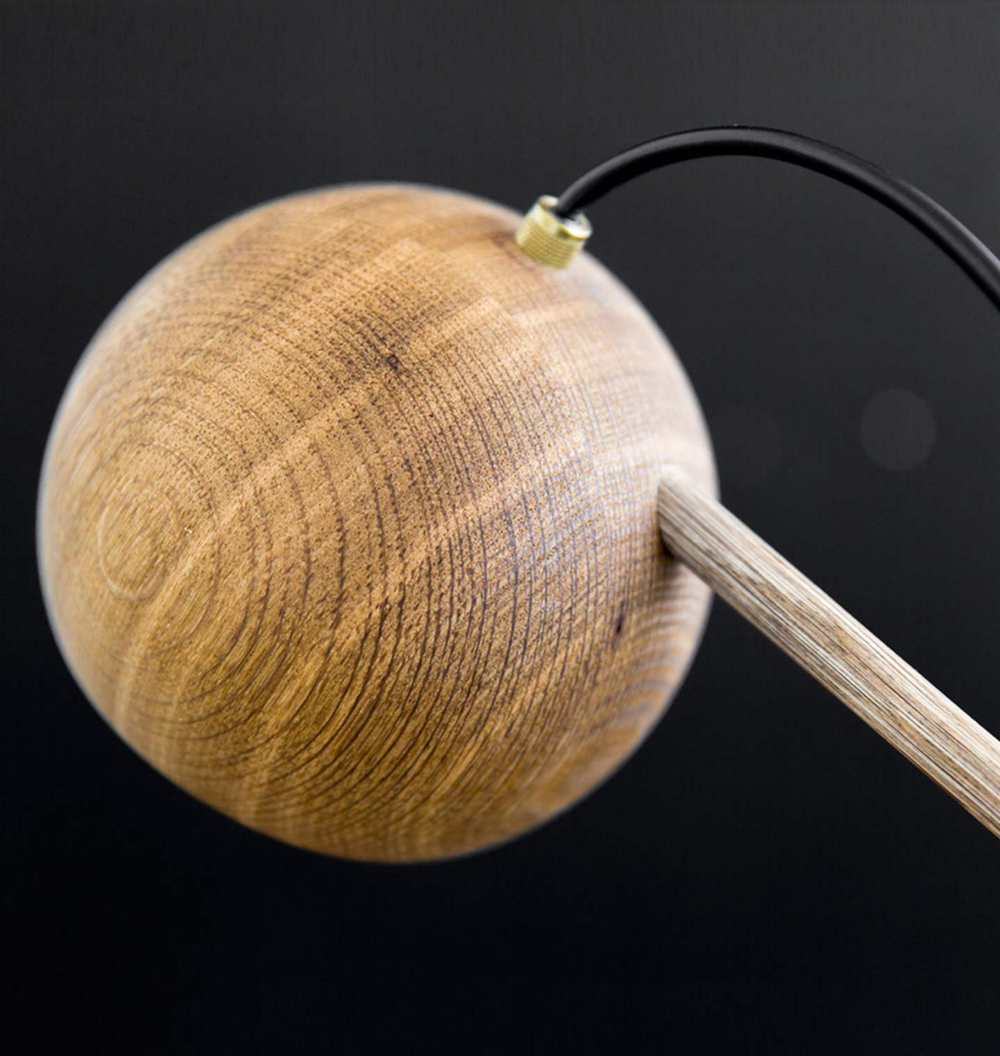 Photos © Brdr. Krüger.
Rough Diamond Cage
The Electrical Shop has a simple design philosophy that blends quality, innovation and affordability. With its lacquered and hand-finished steel construction, the Rough Diamond Cage light offers an unfussy geometric design. Standing upright or resting on its side, the Rough Diamond will add a smart piece of industrial styling to a desk.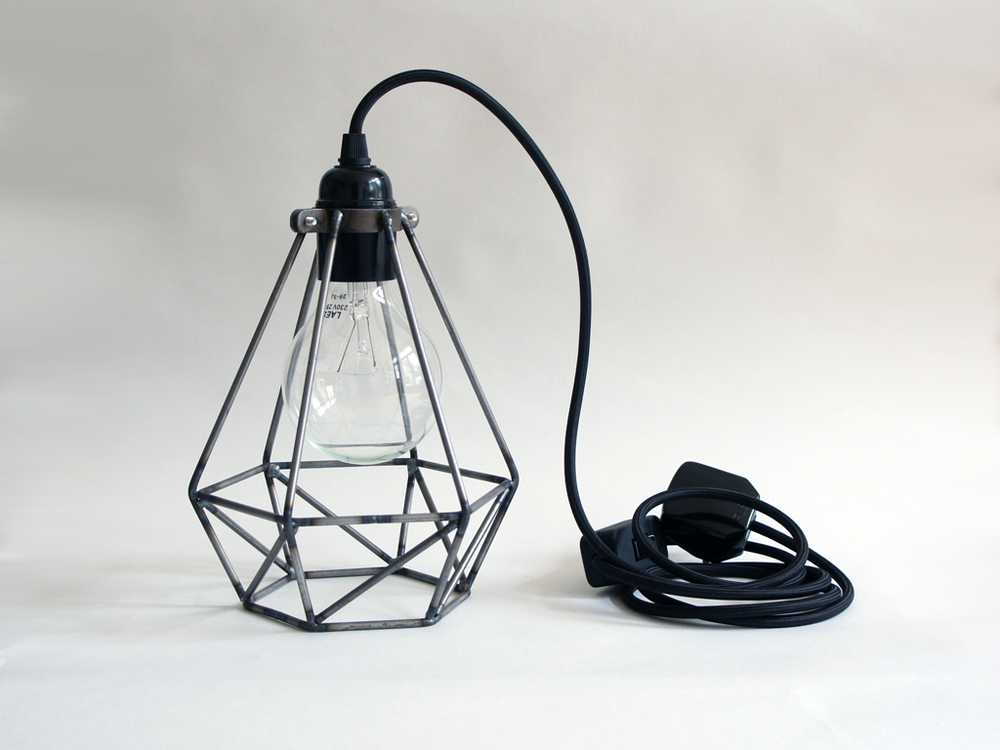 Photo © The Electrical Shop.
Spar Junior
The Spar Junior table light, designed by Jamie McLellan for New Zealand manufacturing company Resident, is a scaled-down version of the original larger cantilevered Spar Floor Light. This minimal cantilevered table light has a spun aluminium shade that pivots on two axes, so allowing light to be directed as required.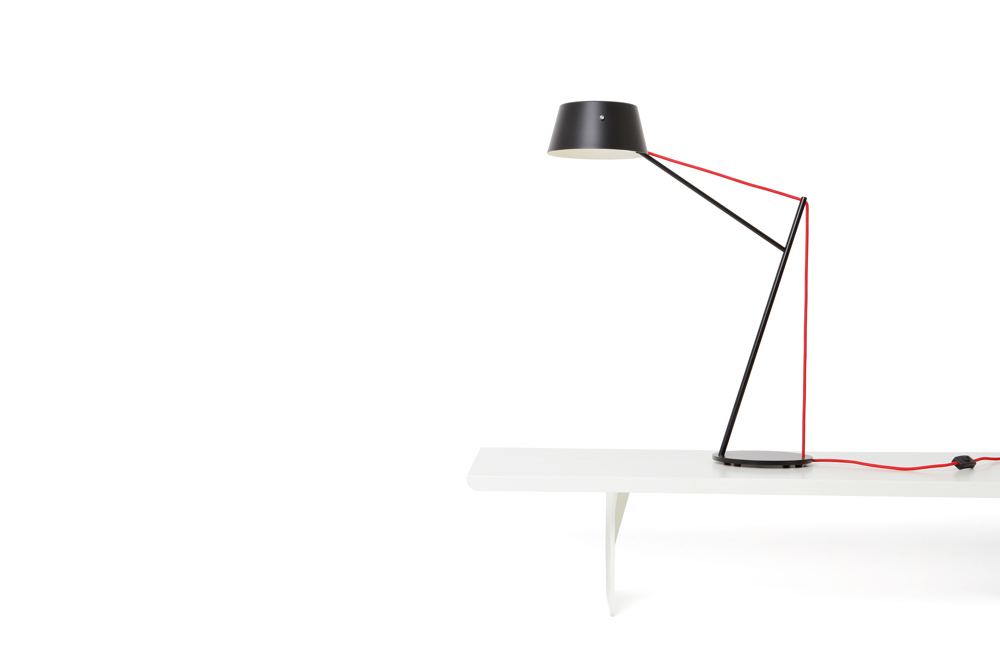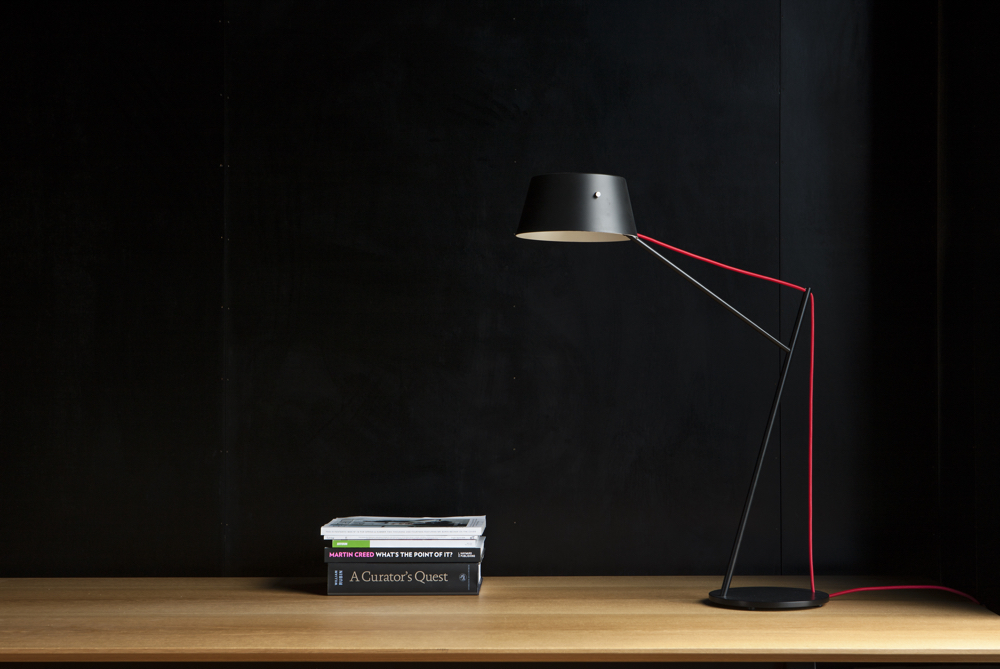 Photos © Resident.
Studioilse w084t2
British designer Ilse Crawford describes the w084t2 as a sturdy friend who is unpretentious and always there. Its design has an honest character, and one can imagine this light offering inspiration during long working days and nights. Manufactured by Wästberg, the Studioilse w084t2 has a base made of sand-casted iron that is treated with burnt vegetable oil; its arms are made of beech and the shade is slightly transparent.
Photo © Wästberg.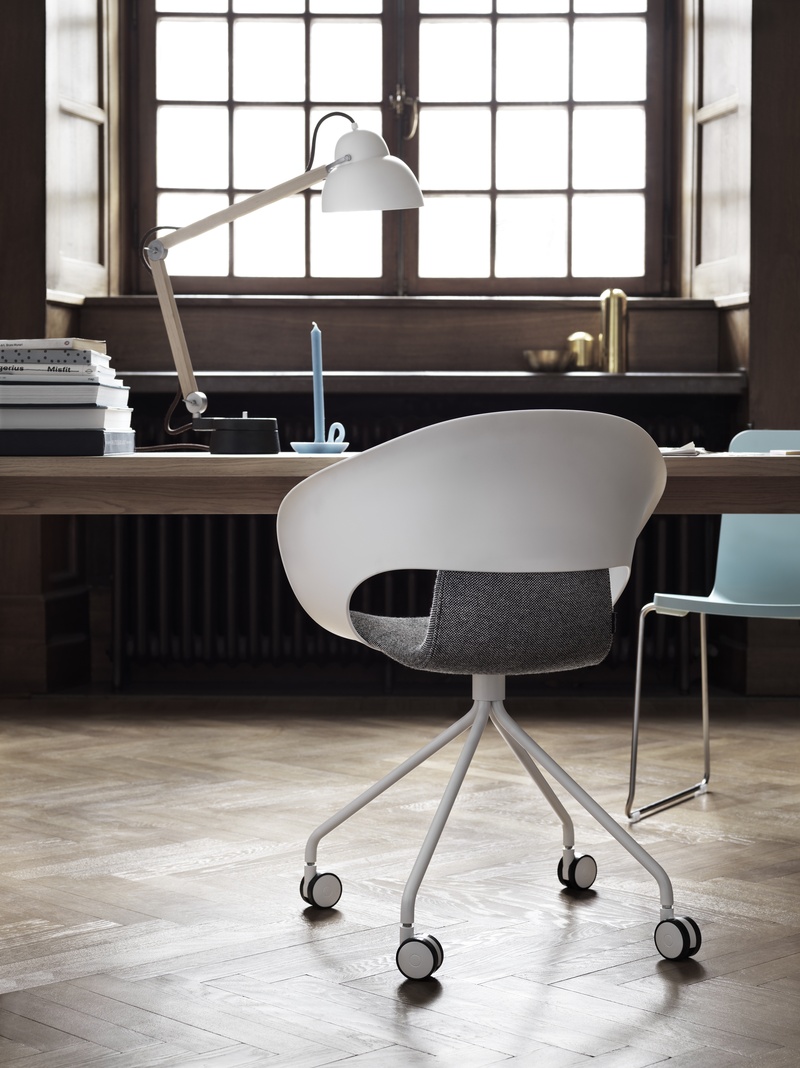 Photo by Marcus Lawett via Wästberg.
Torun Desk Lamp
The Torun Desk Lamp has an Art Deco bent that is exemplified by its classic profile. Available in chrome or antique brass, the Torun Desk Lamp features contemporary barrel joint detailing and a French drum shade in ivory silk. Its decadence is enhanced by the simplicity of its pure design, one that is certain to add an elegant finish to any desk.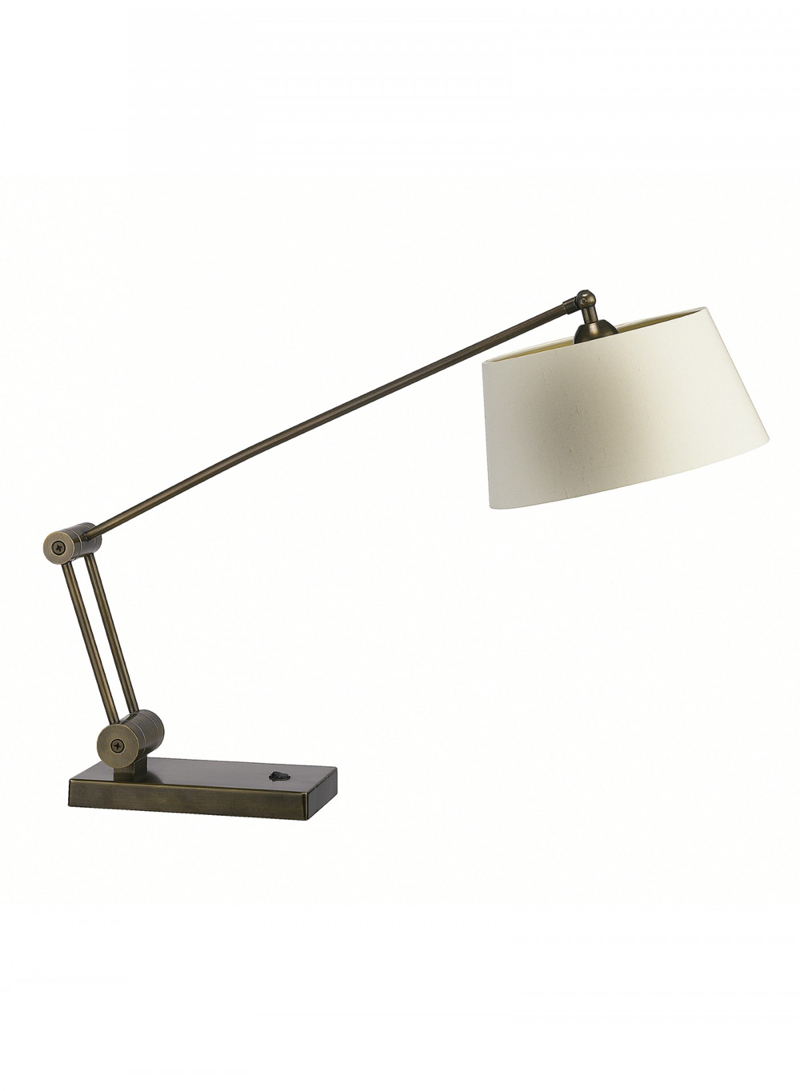 Torun Desk Lamp antique brass.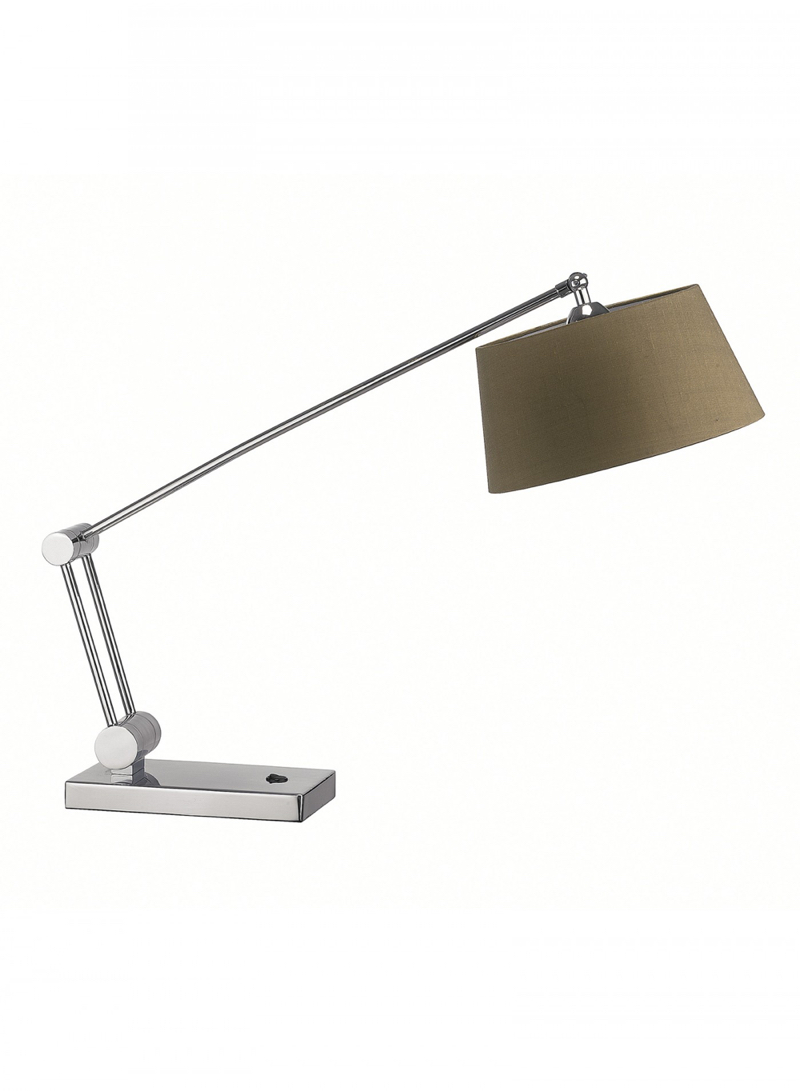 Torun Desk Lamp chrome. Photos © 2015 Heathfield & Co.
Trumpet Lamp
Marcel OSSendrijver – MOSS Design – is a Netherlands-based designer creating 100% handmade Dutch designs. His Trumpet Lamp is a delightfully quirky character whose base and arms are made with beech and whose shade is formed from cast clay. Doubtless a happy and affable desk companion for many years to come.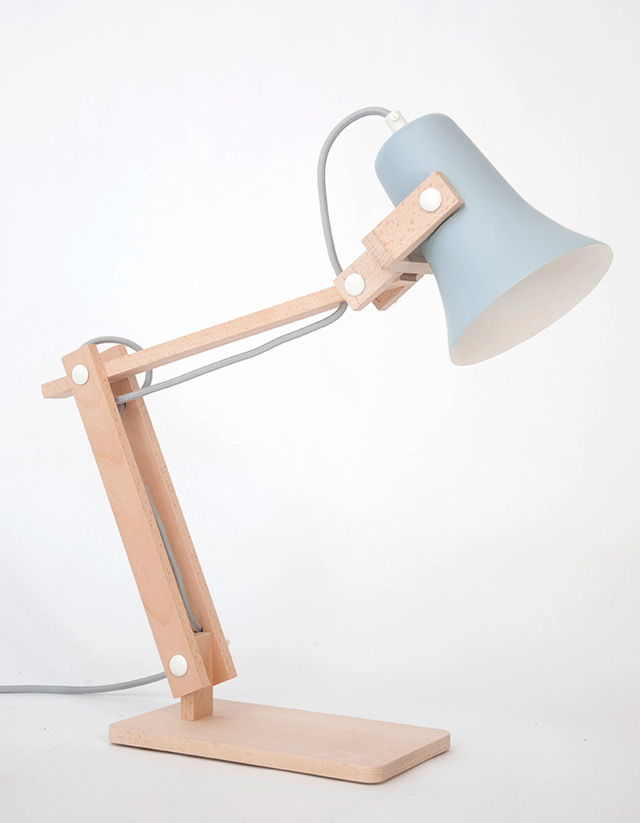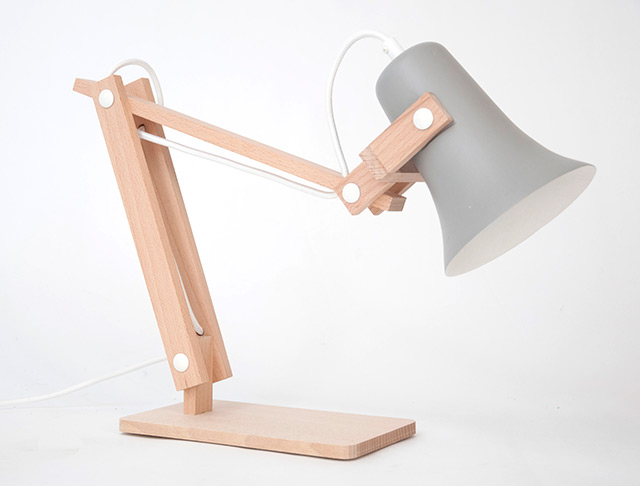 Photos © MOSS Design.