Like the chef who tells a story with the food he prepares, the container gardener sculpts interesting plantscapes that add personality to indoor and outdoor spaces alike. The ongoing houseplant revival has made container gardening all the more popular, and now that a range of interesting pots and planters are at the ready, the creative possibilities for gardeners and design enthusiasts are greater than ever! In today's post, we explore the option of putting garden plants in containers rather than the ground. Read on for some unique inspirational photos and ideas… [photo below from West Elm]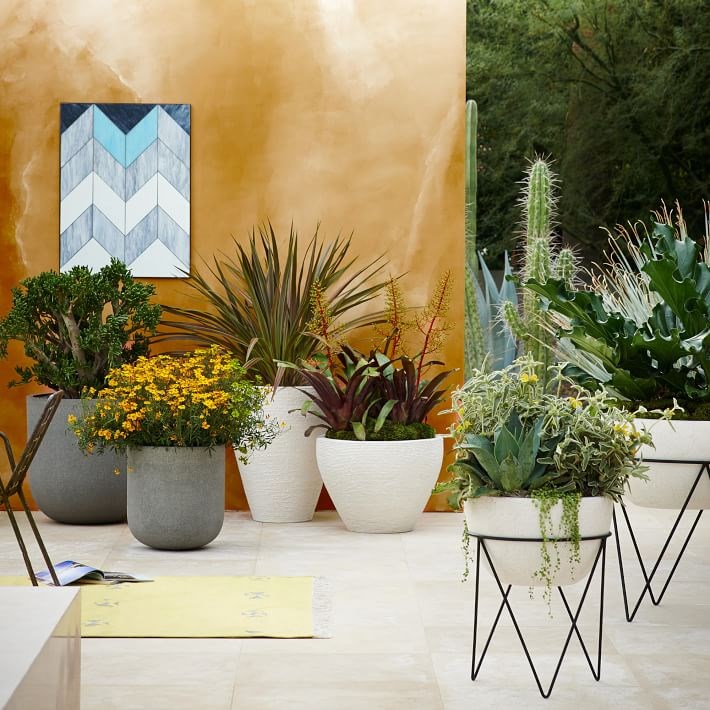 Creative Groupings
Container gardening is perfect for renters, as well as homeowners who want to cultivate plants that they can move around as the seasons change. While native plants are recommended for the ground (especially plants that can survive the cold of winter or the heat of summer in your climate), you can always move a potted plant indoors when needed. This gives you freedom to experiment with the plants of your choice. [photo from Hotel San Jose]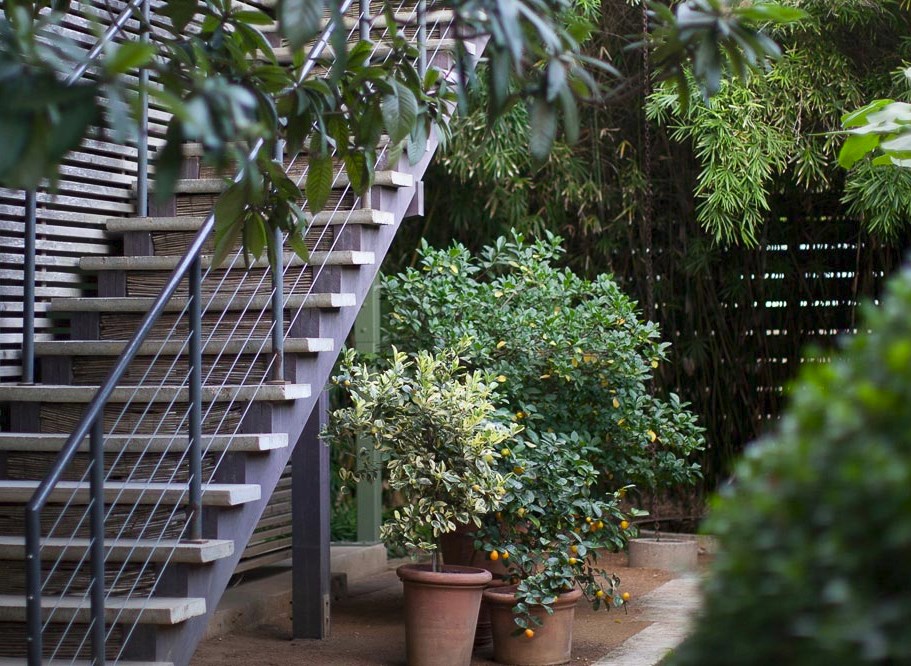 A grouping of plants makes a powerful statement. Try matching containers for a big impact. Above and below, we see striking combinations of potted plants. In the photo above, terracotta pots are the perfect receptacles for trees and shrubs at Austin's Hotel San Jose. Below is a grouping of containers curated by Pamela Crawford. Sanseveria 'Moonshine', mixed Echeveria and Aloe succulents are the selections of choice. [Photo by Joe McBroom]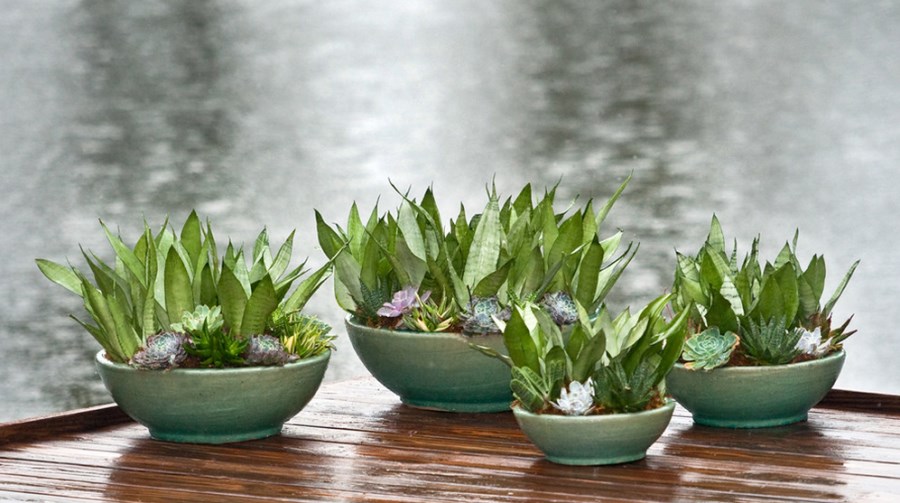 Mixing different types of pots also makes a strong statement, as shown below in a grouping of two grey pots and one chartreuse planter. The collection is modern, sleek and sculptural. [from Aloe Designs]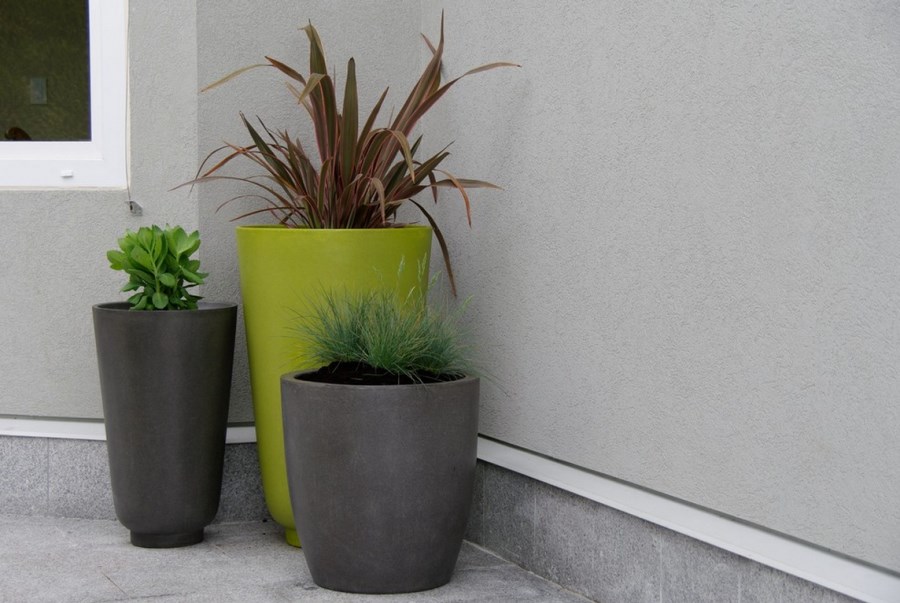 A grouping of potted plants is also the perfect way to frame a patio, balcony or other special outdoor feature. The tipi in the next image is already a focal point in the yard, but a trio of plants gives it earthy flair. [photo by Teri Lyn Fisher via Houzz]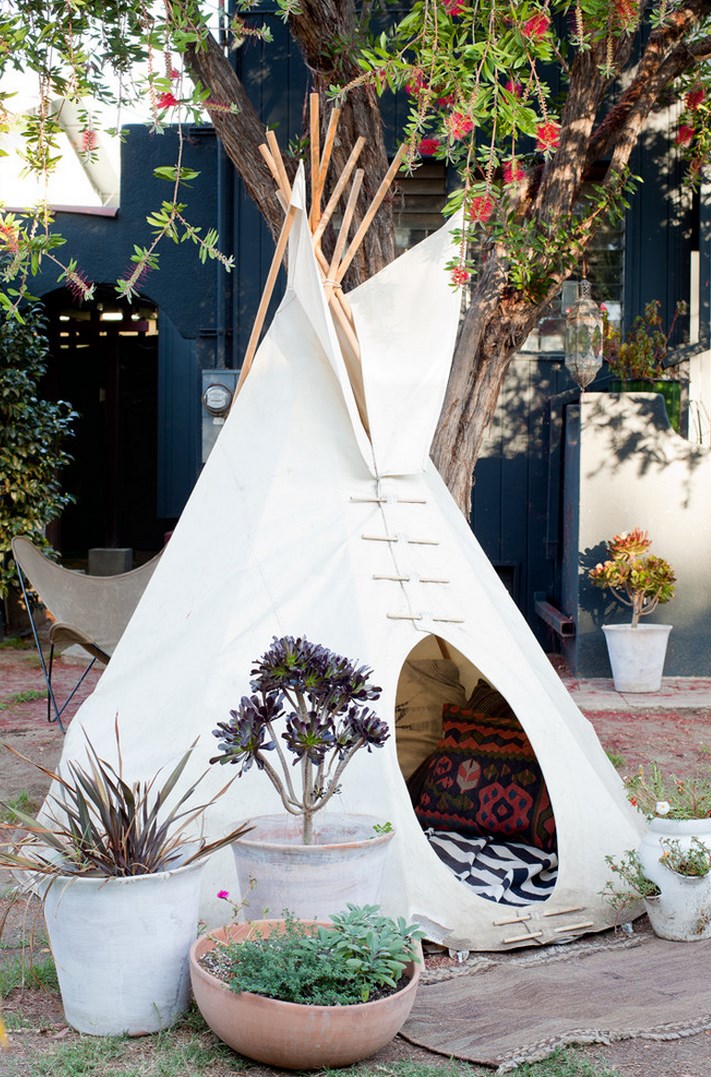 Sculpting Each Arrangement
We now turn our attention from the benefits of special groupings to the art of creating an arrangement. Start with a container, such as a planter. Going with a sculptural selection gives your container garden a unique twist. The plants in the metal containers below look like works of art, thanks to the modern forms of the planters! [the next three photos are from Big Red Sun]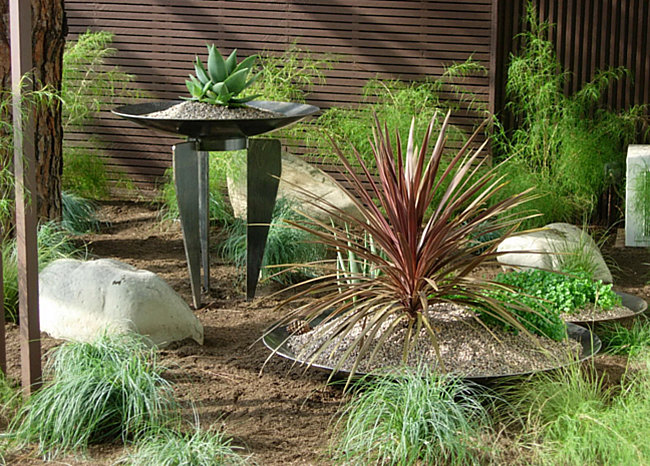 When it comes to grouping clusters of plants, choose a variety of colors to create interest. The vegetation in the next featured container garden ranges from mint green to deep red: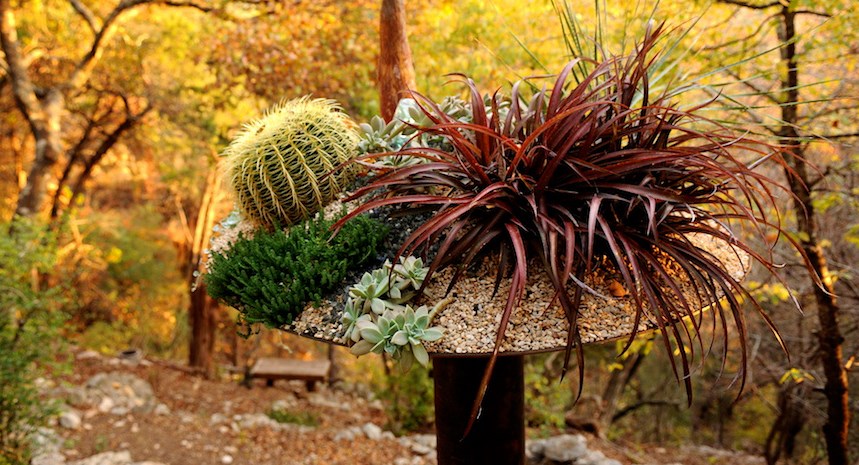 Another interesting strategy employed by landscape designers such as Big Red Sun is to envision each planter/container as the setting of an intricate plantscape. Gravel, rocks, minerals, driftwood and an assortment of plants are the tools for creating a miniature world: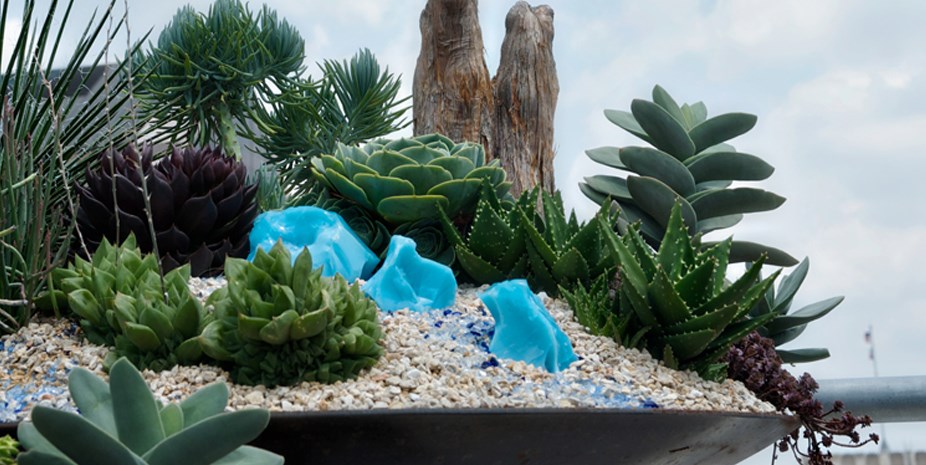 When arranging plants and other elements in your container, remember to vary the height of the greenery. One tall selection (such as horsetail reeds) adds drama, while succulents are perfect for ground-level greenery. Finishing off your arrangement with a cascading plant creates a stunning finished product. [photo from Urban Nature/Troy Silva Design Group via Houzz]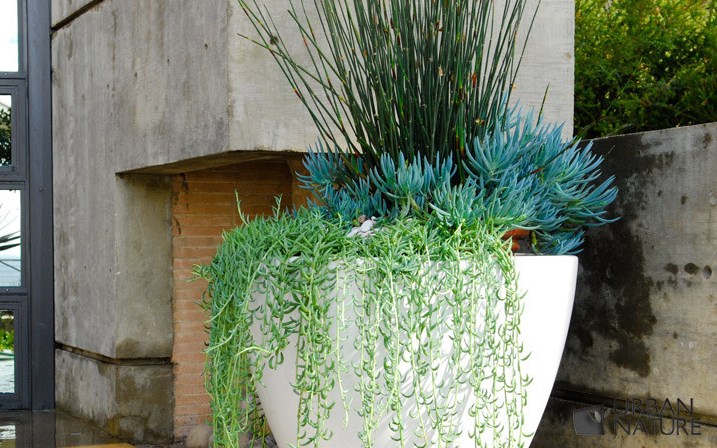 Also consider the surrounding scenery when choosing plant selections for your container. For example, the container garden below (another fabulous creation by Pamela Crawford) is filled with Bromeliads, which evoke a tropical feel. For more information on how to design and plant container gardens, visit Pamela's website, which includes a 24-page sample from her book, Easy Container Gardens.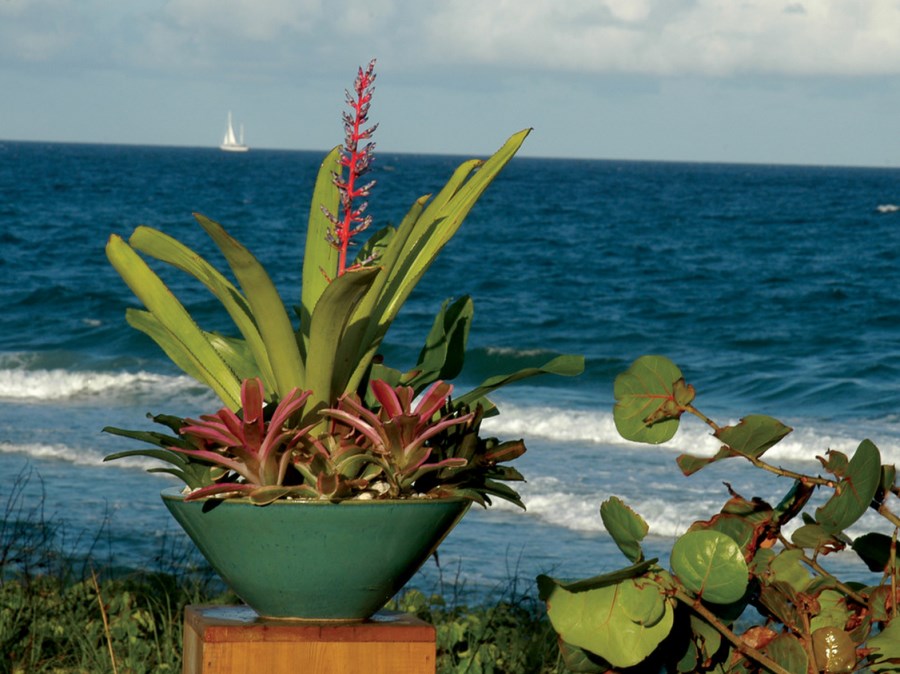 Here's one more point to consider: it's not just how you fill your container–it's how you display it! The terracotta planter below is taken to the next level by a sculptural table. [from Studio William Hefner]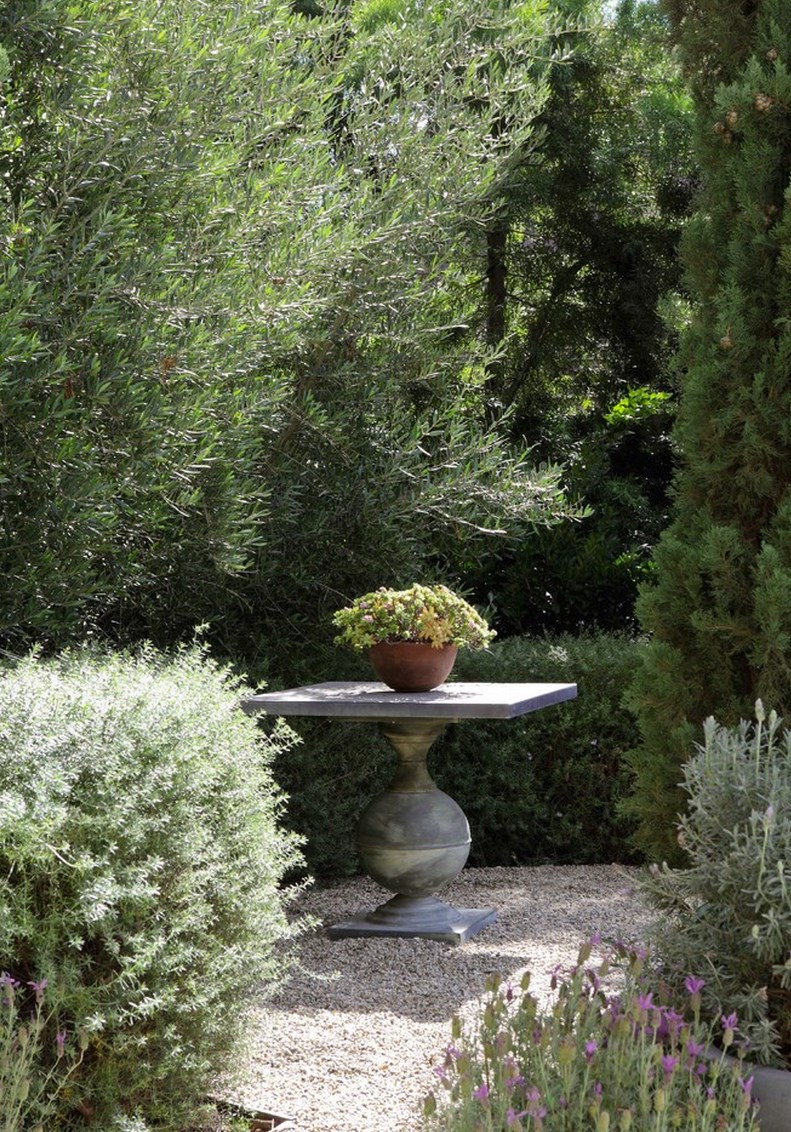 Once you begin designing container gardens, you may find that you can't stop! But then again, surrounding yourself with interesting plantscapes is a worthwhile pastime. You just might end up creating the perfect backyard retreat… [from Houzz]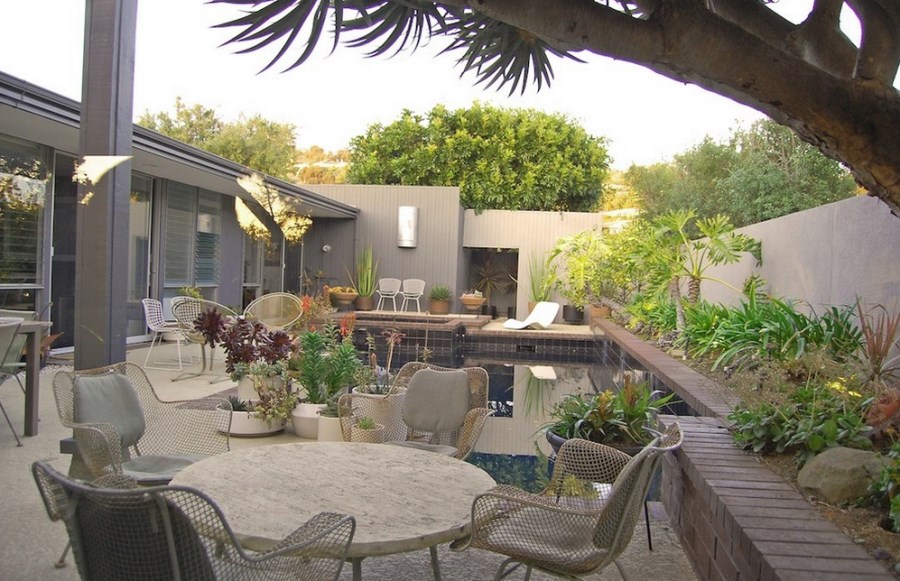 Liked the story? Share it with friends.