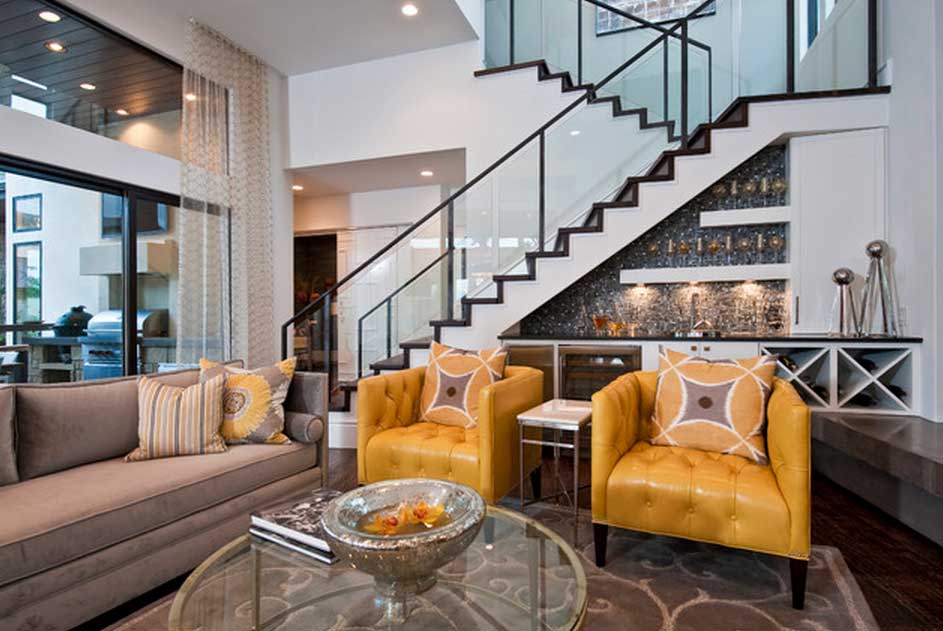 Under-stair space has gotten a bad rap thanks to books like Harry Potter, but it doesn't have to be a scary, dark abyss like the one the young wizard was forced to live in. In fact, the oft under-utilized area can make a world of difference when converted into a useful laundry zone, work space or children's play room. If you're looking for some inspiration on how to transform the space under your staircase, read on for some of our favorite examples, from a spotlight-stealing wet bar to a cozy pet retreat.
A Relaxing Nook
When extreme sleepiness strikes, a hallway or a staircase can seem like an awfully long way to travel to get your nap on. The solution? A cozy, under-stair sleeping nook like this one designed by Smith & Vansant Architects (seen over at Houzz). This would also be really convenient in a vacation home to create extra room for visiting guests.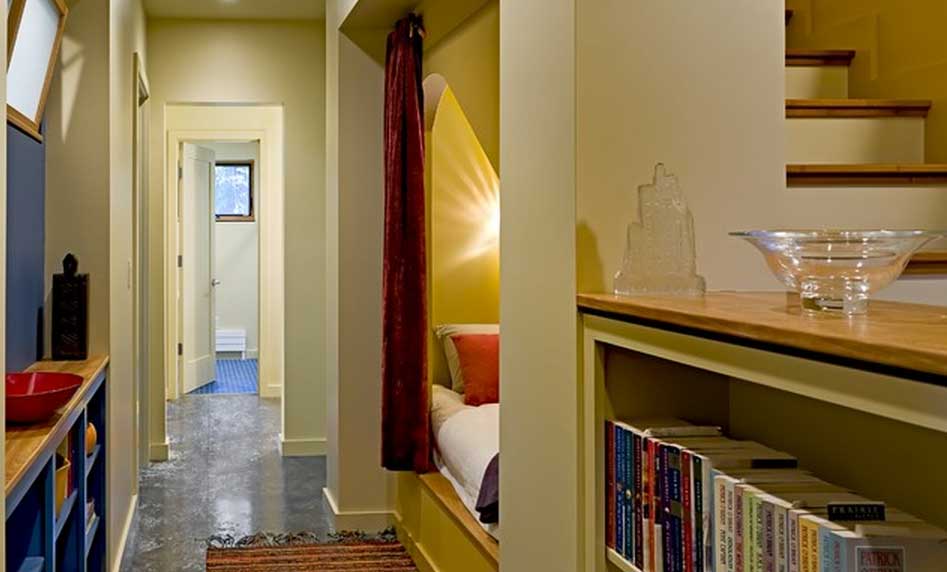 Kitchens and bathrooms may sell homes, but it was another space in this on-the-market waterfront estate that caught our eye. Can't you just picture yourself curling up in this inviting little reading nook on a chilly winter afternoon with some cocoa? We're sold!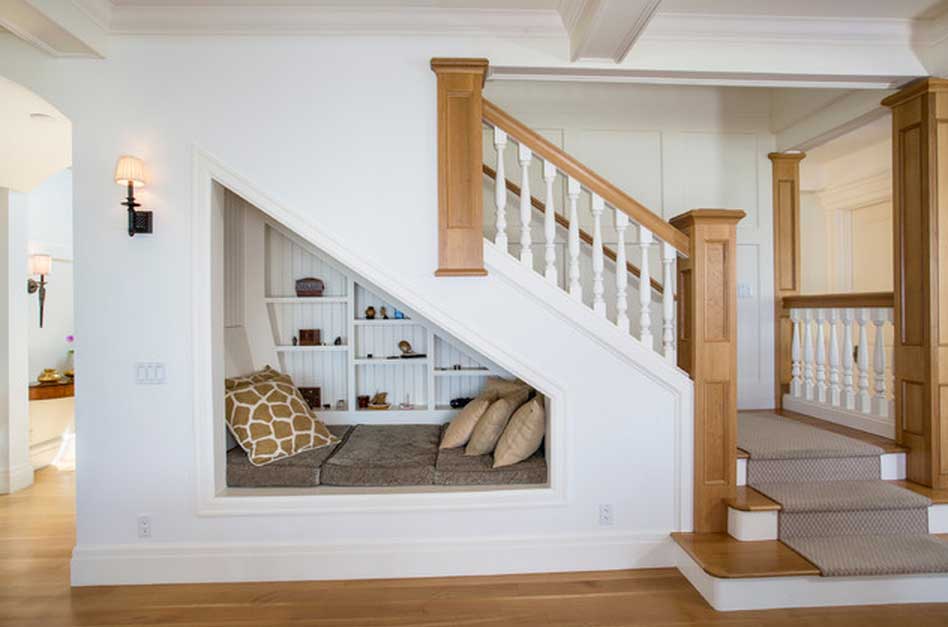 Additional Storage Space
How convenient would it be to have some much-needed extra drawers located under your stairs for grabbing things like umbrellas, shoes or bags in the mornings? Check out the work of Miles Enterprises, which specializes in custom cabinetry, for some configuration inspiration.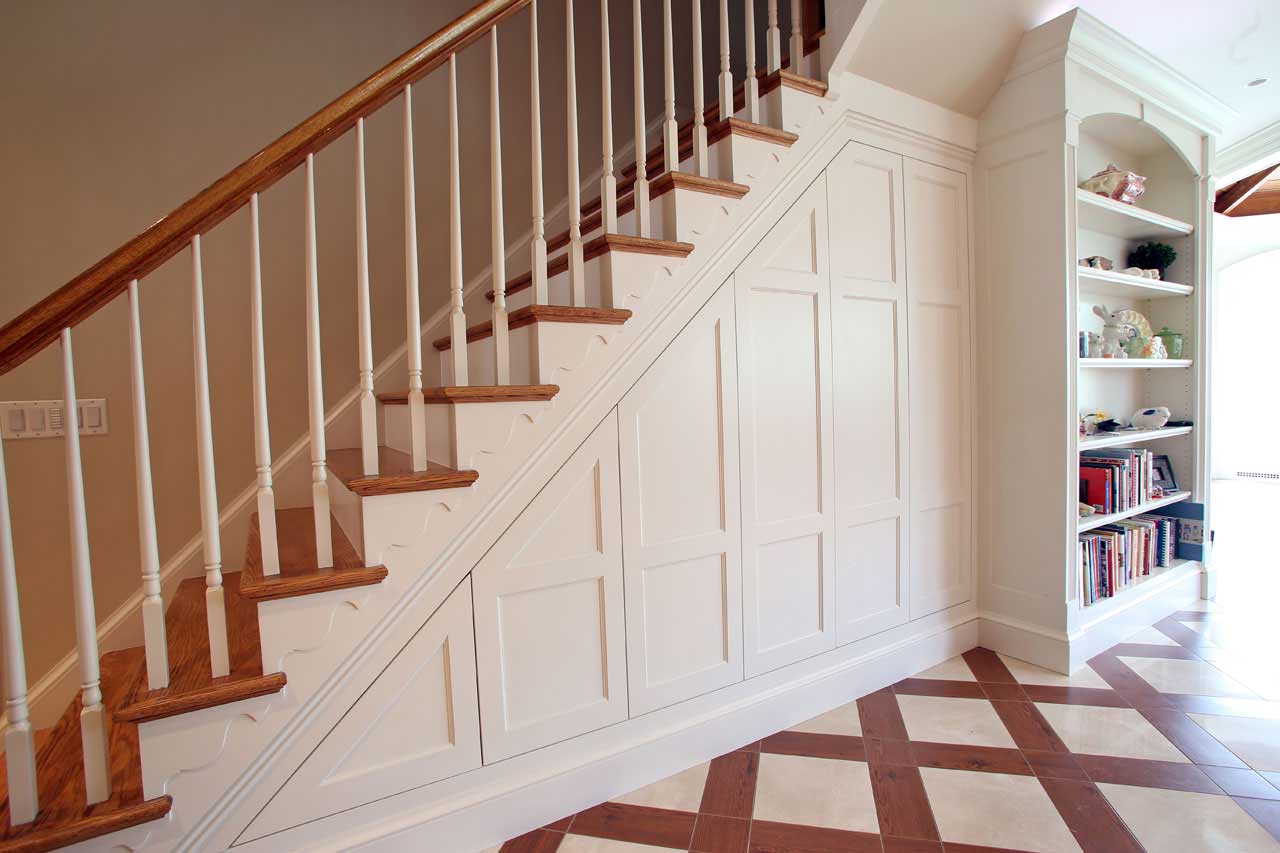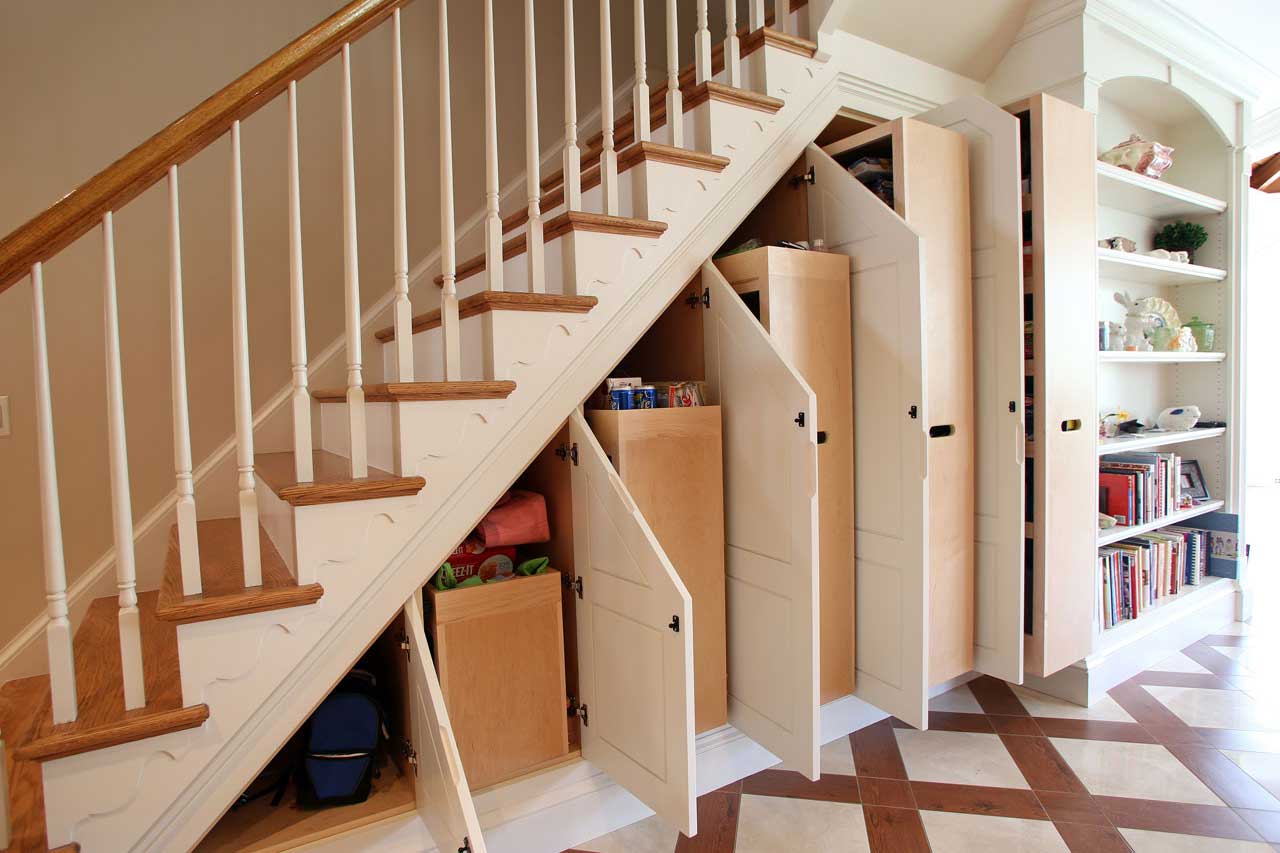 Or if you also need a place to pop your washer and dryer, take a tip from this space-saving laundry pet area conceived by architect John Hannah as part of a Montreal loft renovation. Don't worry Fido – there's a warm spot for you tucked right beneath the dryer.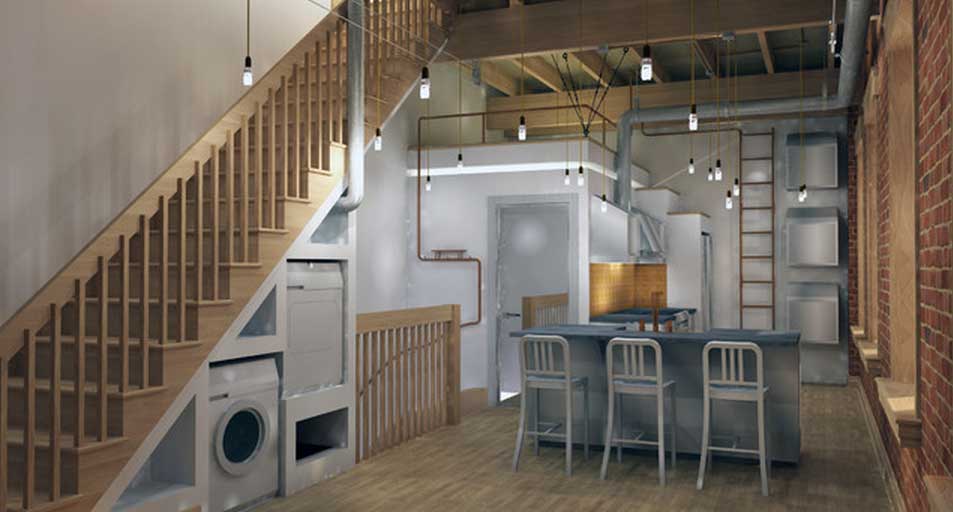 A walk-in pantry was always on homeowner Shawna Mullarkey's wishlist, so she was disappointed when her new home was without one. Unfazed, she came up with a creative plan to turn an unused under-stair closet into a dream pantry that can be accessed conveniently from her stunning kitchen. Click over to The Kitchn for more pics of this envy-inducing space.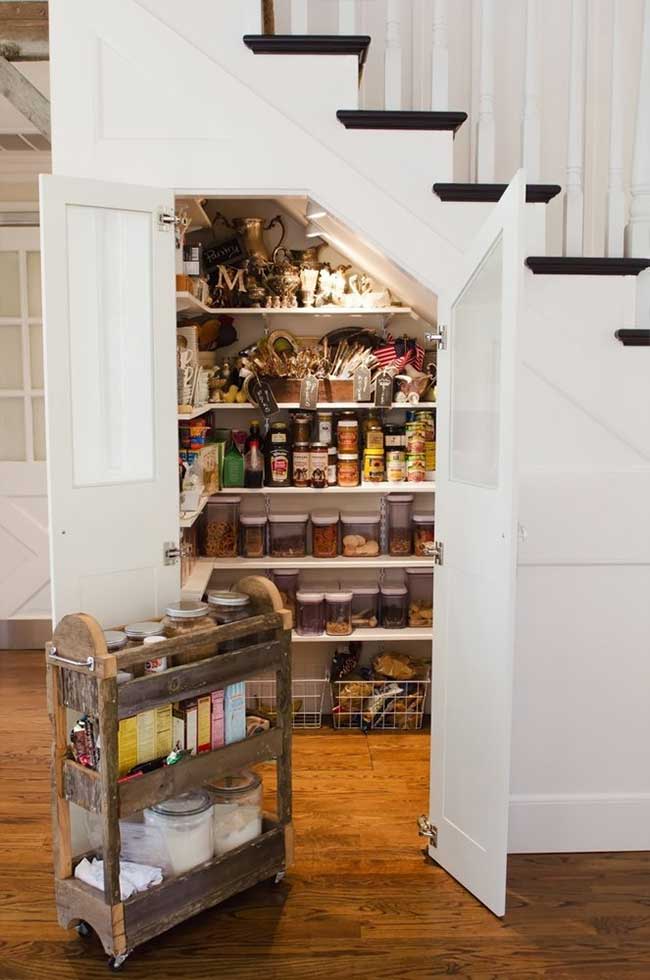 Playful and Practical Designs
Your under-stair area may not seem like a ton of space to you, but it actually looks huge in the eyes of your little ones. Create a playhouse like the one Joy 2 Journey whipped up, and you'll be rewarded with less toys on the floor in your living room. And don't you also love how she has it all decked out for the holidays?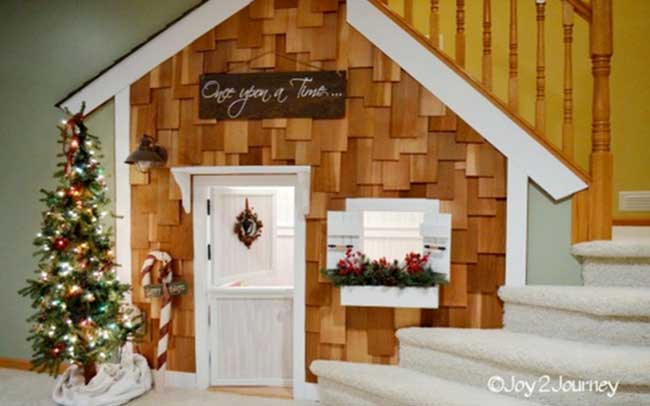 For a more adult approach, check out this glamorous and elegant under-stair bar built by Triton Austin Custom Homes as part of the 2010 Parade of Homes. The built-in cabinetry adds functionality to an otherwise dead wall while mosaic tiles glint and glitter, reflecting light back into the living room.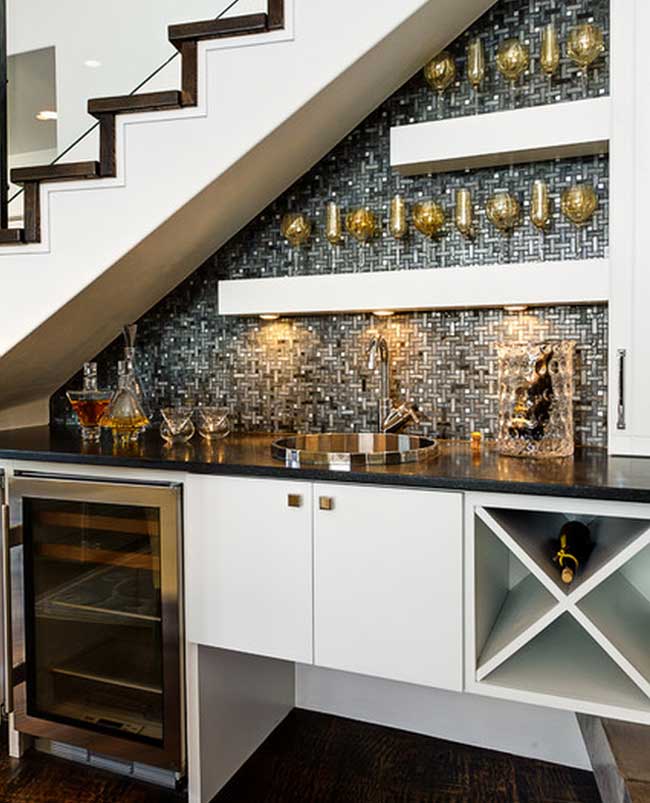 We can't think of a pet who wouldn't love having his own cozy under-stair dog bed like this one shared by Style Craft Homes. And perhaps then he'll stop trying to climb into bed with you every night!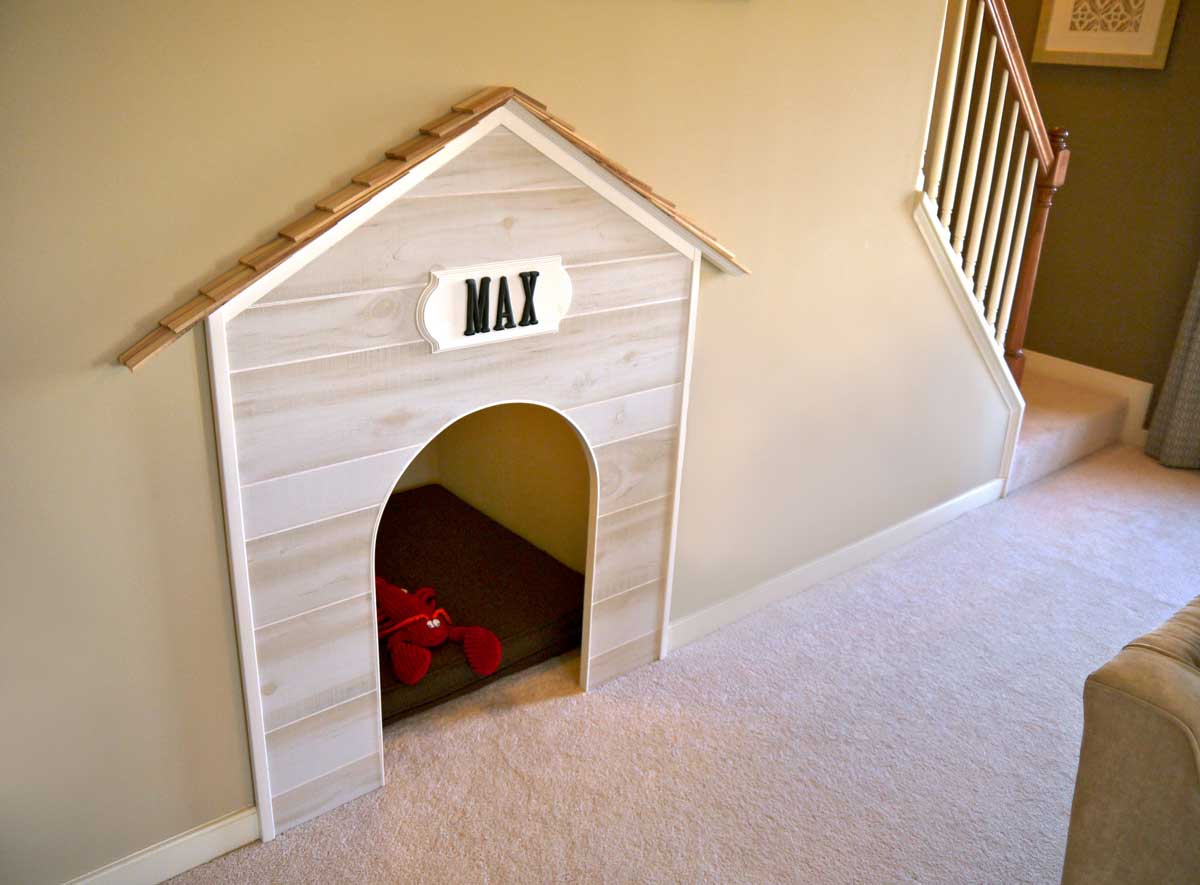 What would you want to transform your under-stair space into?