If you've ever priced freestanding umbrellas for your yard, you probably know they're not cheap. There ARE affordable options, even for under $100, but are they durable? When shopping for a freestanding outdoor umbrella, it's important to acknowledge your budget, the needs of your outdoor space, and the true reason you're buying the item in the first place. If you're looking for some extra shade in the backyard and you don't mind folding up your umbrella ahead of a windy storm, a bargain purchase just might work. Yet if the sky is the limit, why would you cover it with anything less than a top-notch piece?… [photo from Pottery Barn]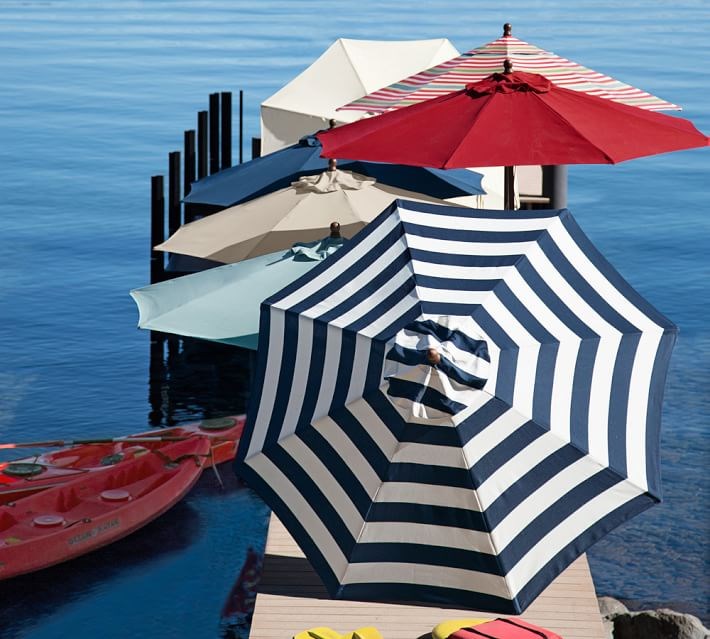 Sturdy Style
Begin your umbrella shopping journey by asking yourself how sturdy you need the umbrella to be. Do you have children who might delight in tipping it over? Are you placing it in an area where it could be dangerous if it fell to the ground? [photo from Restoration Hardware]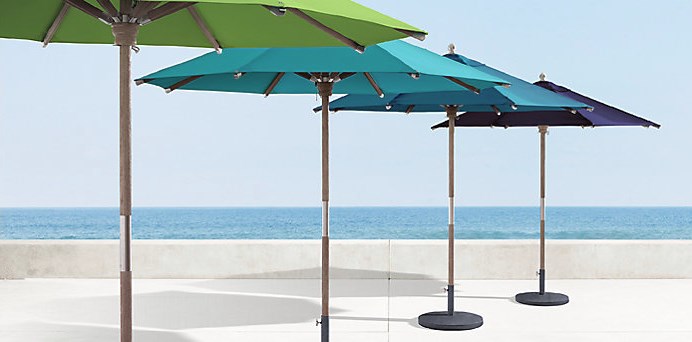 If the answer to either of these questions is "yes," perhaps you should avoid an impulse bargain buy and save up for something truly durable. Speaking of durable, Restoration Hardware offers a range of sturdy umbrellas built to last. In fact, their Premium Ocean Master MAX Cantilever Umbrellas are constructed from marine-grade materials that can tolerate high winds. How's that for effective?!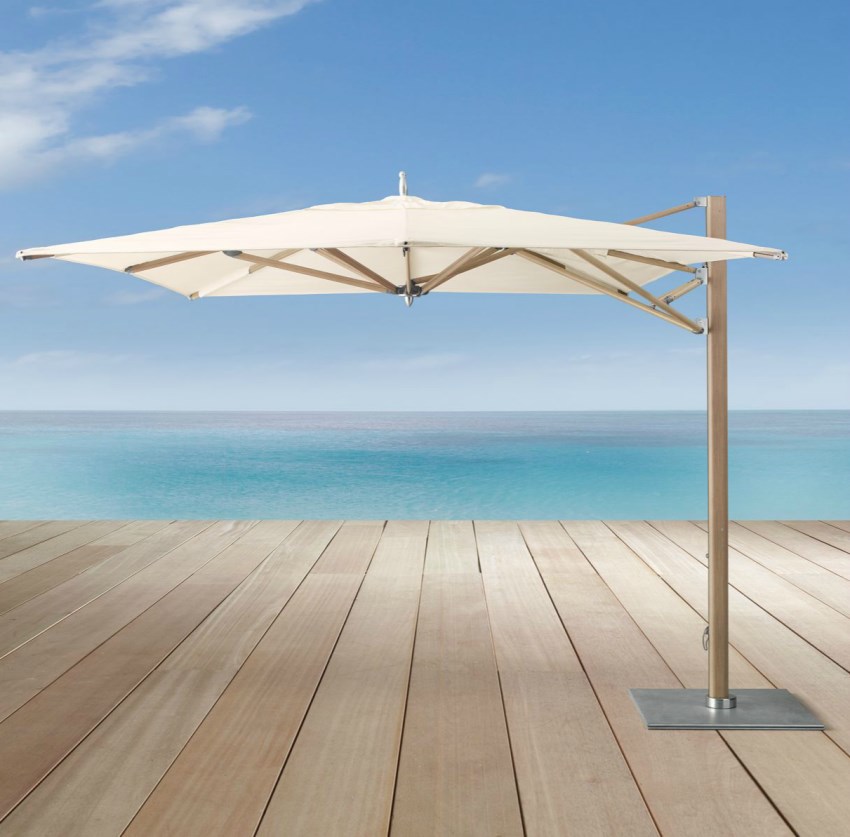 When shopping for a durable, stylish umbrella, consider the climate in which you live. If wind, heavy rain or intense sunlight are factors, you'll want to make sure your umbrella is crafted from materials that can withstand the elements. For example, is the canopy fabric waterproof?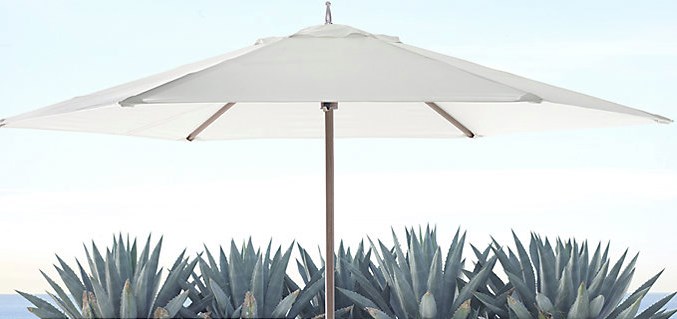 Bargain Buys
If you're wanting to "try out" an umbrella in your yard and you're not ready to commit to an expensive purchase, there are bargains to be found. In addition to amazing sales (especially during spring and summer holiday weekends), you can sometimes find attractive umbrellas in the $100-$200 range (or less) at retailers such as Target. In fact, Target even offers this Solar Lighted Umbrella that makes evenings on the patio just as enchanting as those restful summer days: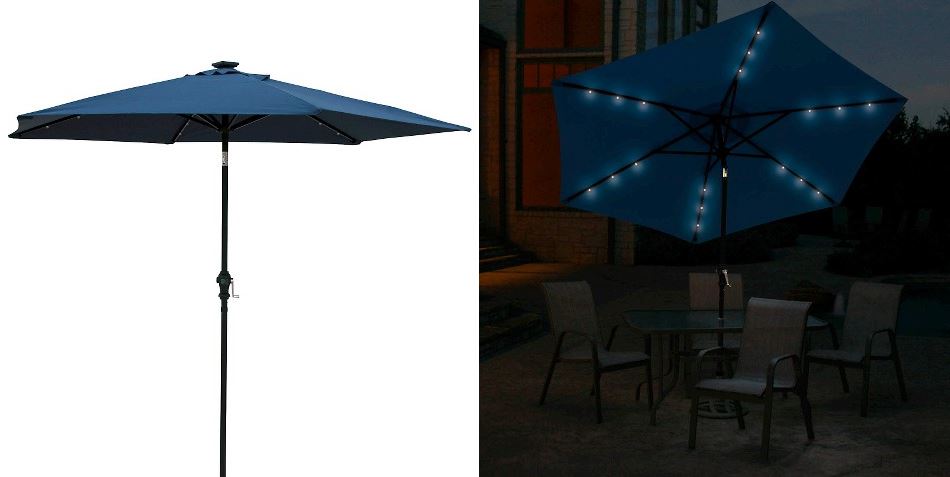 West Elm offers affordable umbrellas crafted from wood, as well as water- and UV-resistant fabric. Below we see the Round Wooden Umbrella in Steel: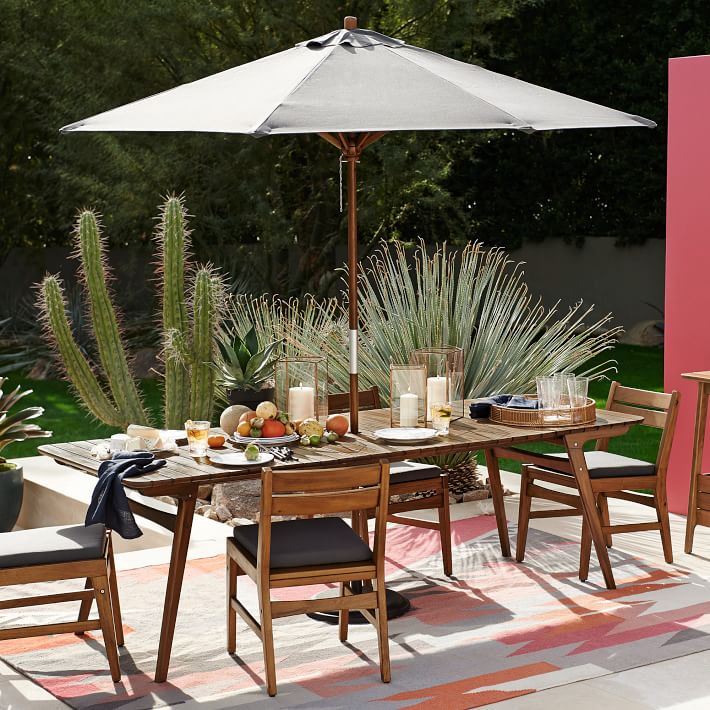 This Eclipse Yellow Umbrella from CB2 features rust-resistant hardware and a cantilevered design. Plus, the vibrant yellow shade is summer-perfect: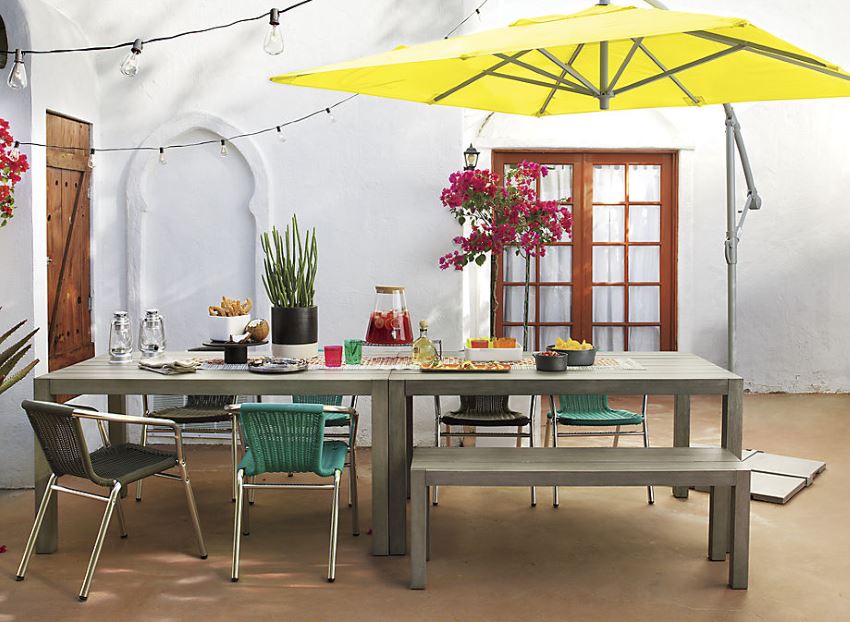 If you purchase an umbrella at a bargain price, make sure you understand exactly what you're getting (for example, a plastic stand instead of a metal one, or outdoor fabric that isn't fade-proof). Who knows…you may even find an affordable selection that meets all of your criteria!
Bring on the Stripes
Another important question to ask when shopping for an outdoor freestanding umbrella? Should I go with a solid color, stripes or some sort of pattern? Your answer will depend on the needs of your space. While solid hues seem to be the most popular choice, you can't go wrong with classic stripes. This Round Market Umbrella in Stripe from Pottery Barn offers the choice of a teak, aluminum or FSC-certified eucalyptus pole, as well as the choice of a 100% polyester canopy, or a 100% Sunbrella® acrylic canopy: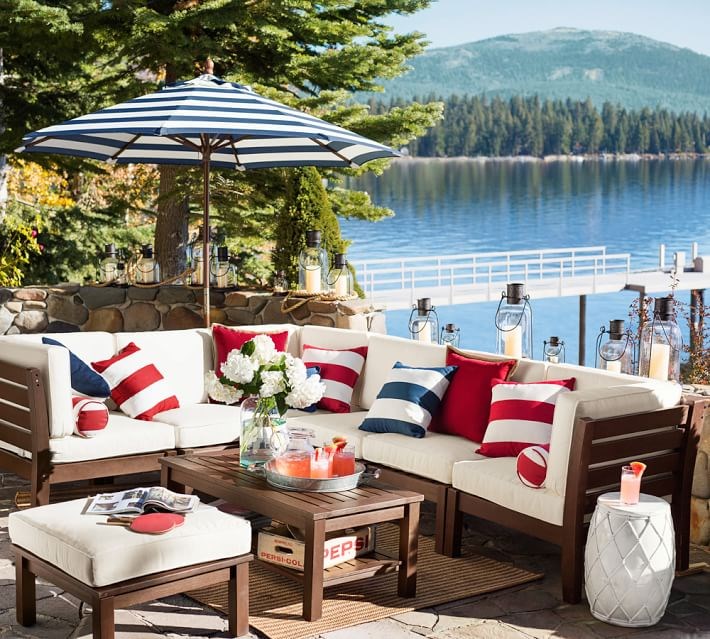 Here's another striped selection from Pottery Barn offering the same choices and options as above, this time in a rectangular form. Say hello to the Rectangular Market Umbrella in Stripe: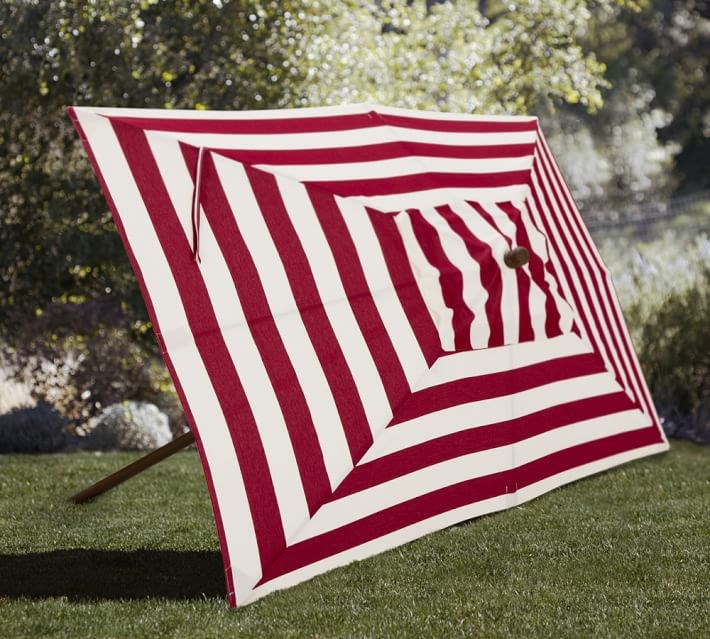 This Round Wooden Umbrella in Peridot Stripe from West Elm is outdoor perfect with a healthy dose of yellow-green. In fact, this affordable piece features a wood pole and a water- and UV-resistant polyester shade: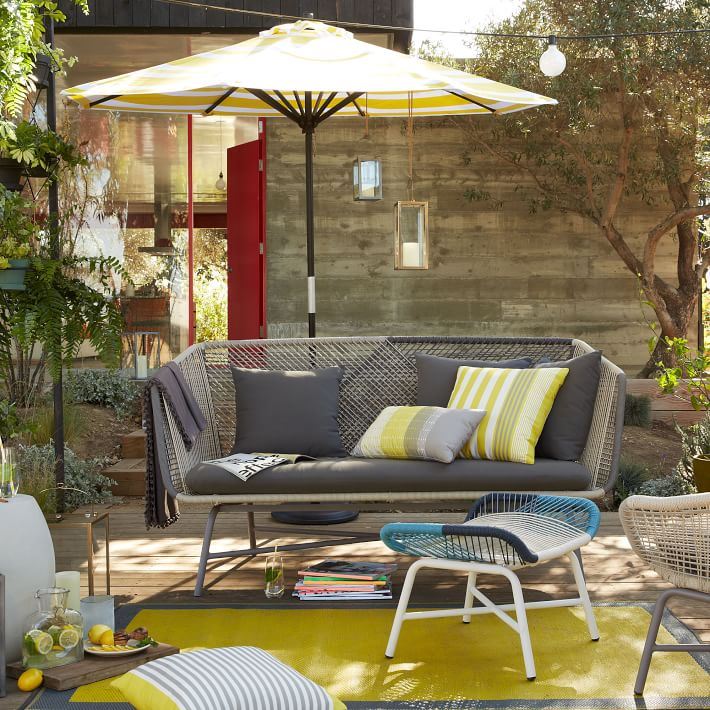 For an unexpected take on stripes, check out West Elm's Round Wooden Umbrella in Navy Stripe, which is the epitome of crisp, refreshing summer style: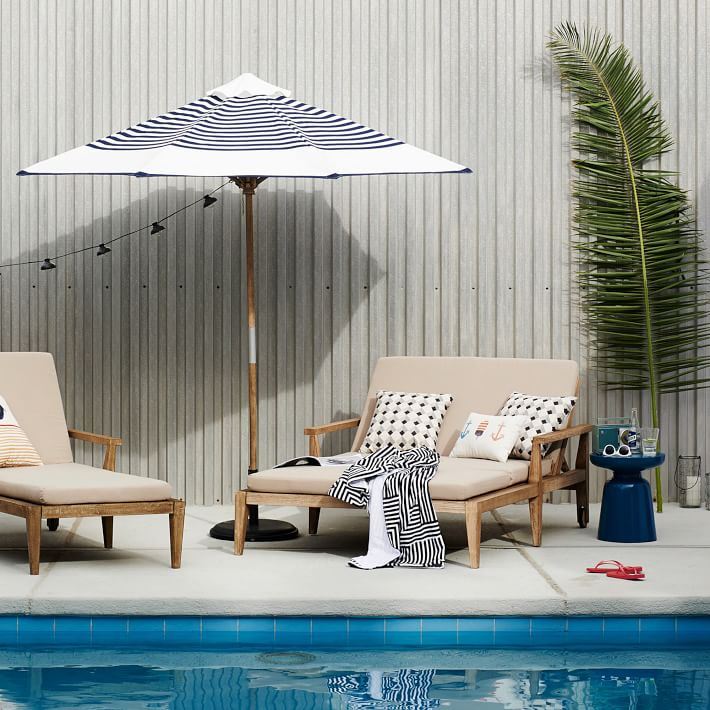 We wish you luck with your hunt for the perfect outdoor umbrella!