With summer not too far away, we are all tempted by the thought of warm, long days and dreamy afternoons that you wane away on the pool deck. But there are plenty of ways that you can capture this 'fuzzy feeling' and replicate it indoors all year long. While homeowners and designers often gravitate towards the classy beach style and coastal decor to get this done, its close cousin, the tropical style, is not too far behind! From lovely prints to natural materials, its soothing presence makes it ideal for aesthetically pleasing and productive home offices.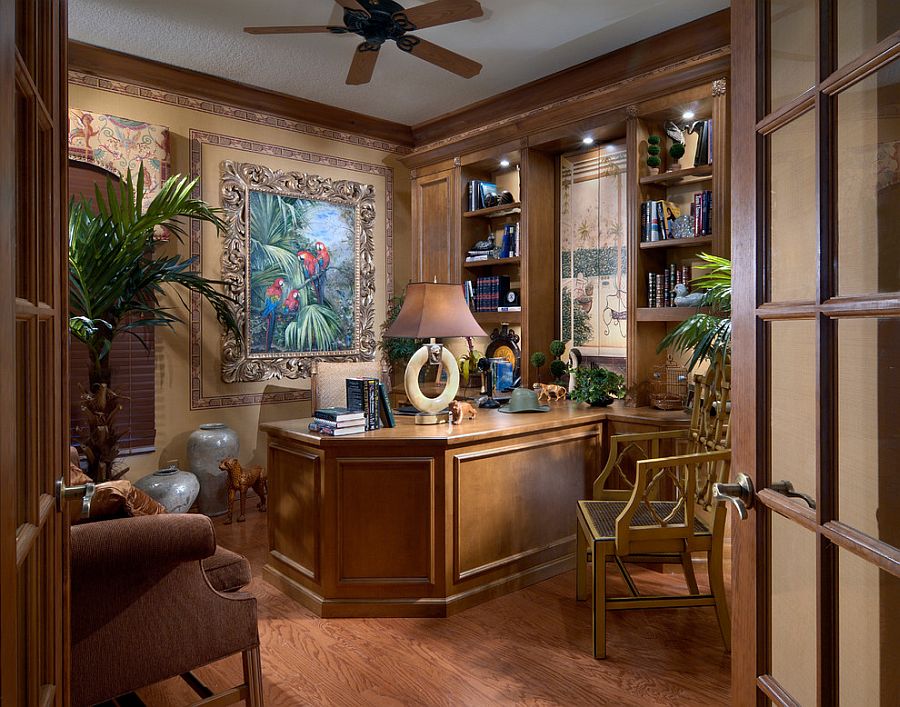 A tropical-style home office does not need any major overhauls, and often a change in the simplest of details can transform your existing modern home office into a workspace with tropical flair. Tropical-themed decor and accessories fit in with most other contemporary styles, and here are 10 different ways that you can bring some of its gorgeous goodness into your home office.
1. Contemporary and Tropical
One of the best ways to start experimenting with tropical style is by combining it with your contemporary home office. This requires not only the addition of some natural greenery, more nature-centric decor and lovely lighting, you also need to do away with the unnecessary. Instead of opting for large leafy motifs and bright colors, try understated patterns or even chic zebra stripes to get the same effect in a classier manner.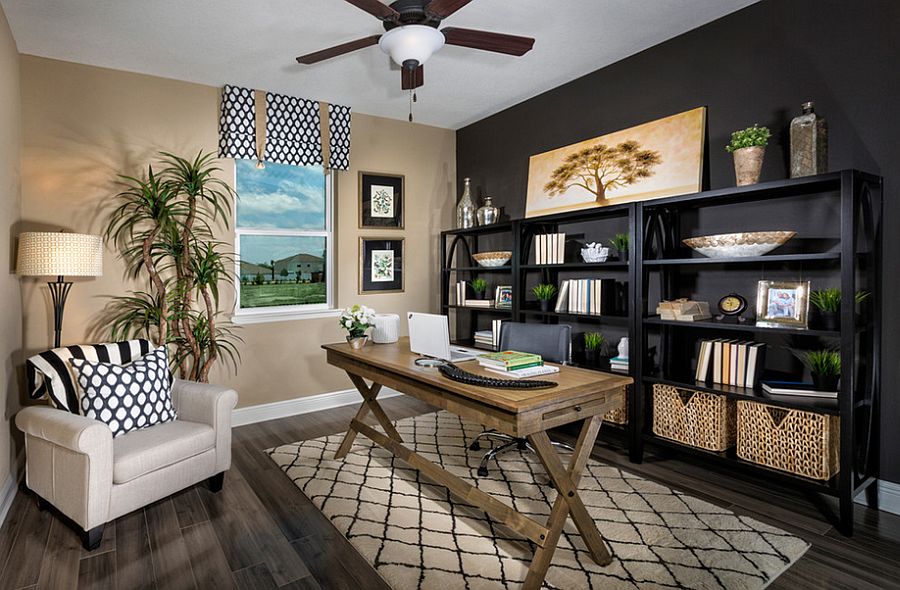 2. A Soothing Backdrop
This home office is a beautiful blend of the serene beach style and chic tropical touches, and it's the perfect way to bring beach-side ambiance indoors. Light blue and white is a timeless color duo that never fails, and the washed white used here and the unique ceiling add to the tropical look. Large windows, a ceiling fan and lovely wooden decor complete this elegant and inviting home office.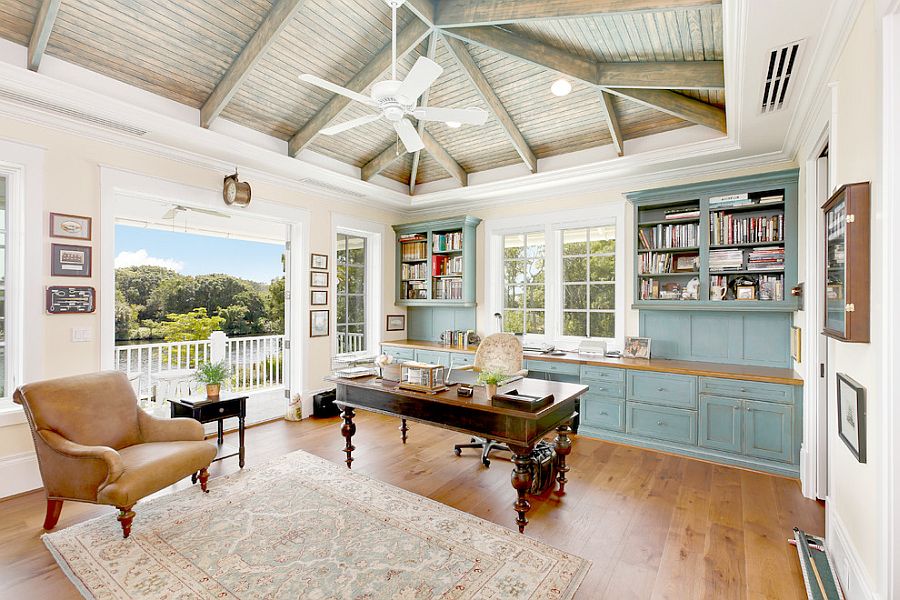 3. Color and Creativity
When you think of tropical style, it is often spaces like the home office below that first spring to mind. The decor is typically what you would get in a tropical-style interior with bright colors, nature-inspired patterns and a fabric that features colorful prints. A cleverly hung poster or two that complements the theme and the view outside the window turn this oceanfront home office into a trendy delight!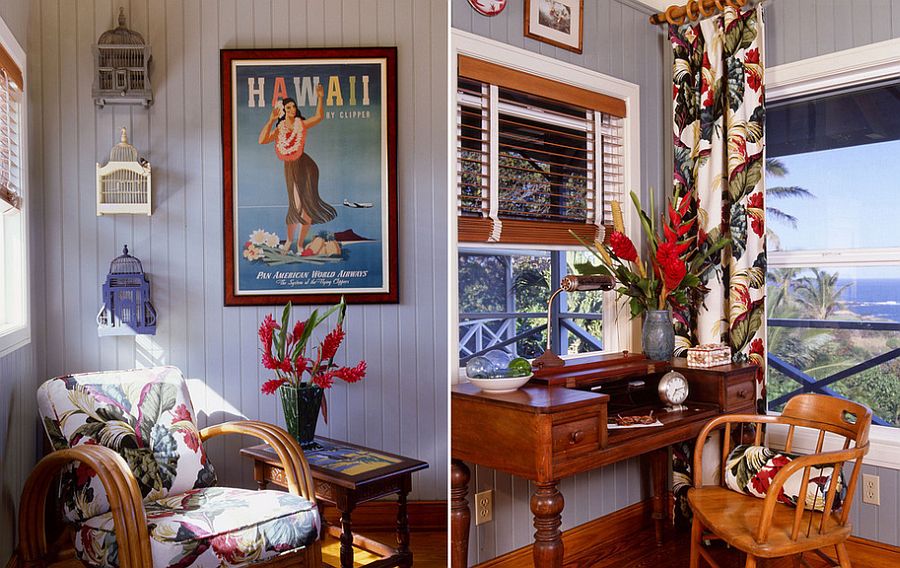 4. Bamboo and Rattan
This is one of our absolute favorite home offices ever for its sheer simplicity and unassuming beauty. A custom-crafted desk with a leather-wrapped rattan frame and a chair and cabinets that complement its form perfectly create a home office that takes up very little space. Yet this workspace makes a big visual impact, and working here must truly feel like a perpetual holiday. We can imagine someone like Hemingway working away at that desk, even if it is only for a few fleeting moments between his exciting trips to Africa and beyond!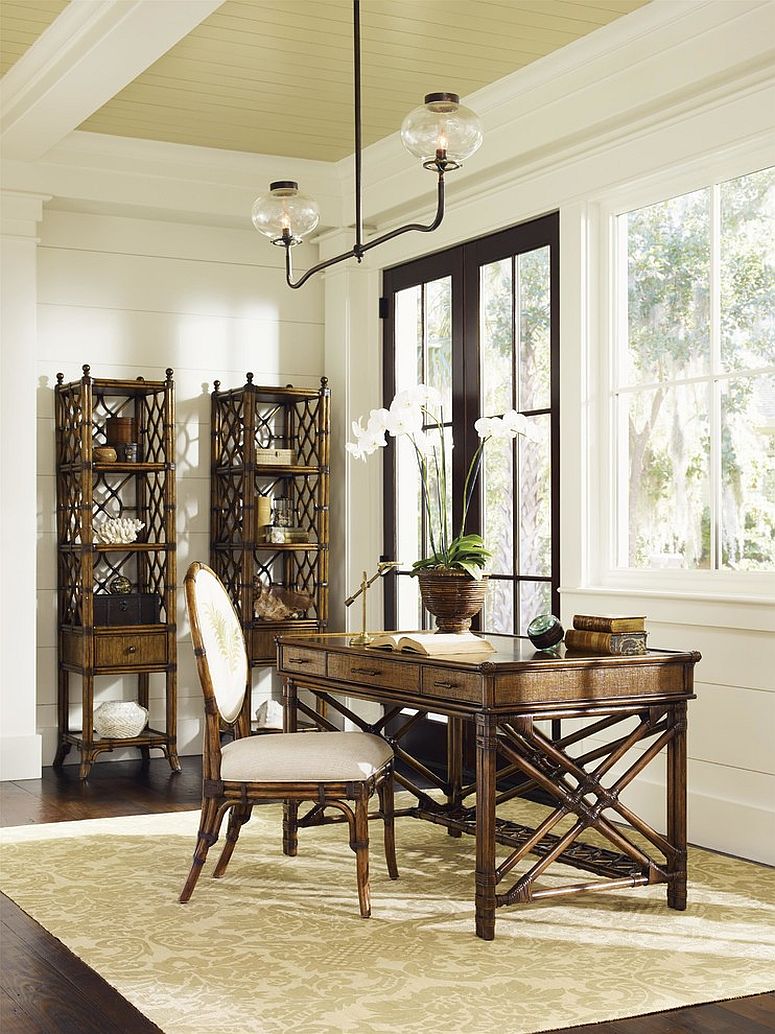 5. It's all About Greenery!
If you are a nature-lover, then you will feel right at home in a tropical home office. Greenery is an integral and almost essential part of the style, and the more natural, potted plants, the better. Plenty of tropical plants require minimum attention and care, making them an ideal choice, even for those who are not all that good with regular care. From decking out the shelves to giant potted beauties in the corner, there is plenty you can do here.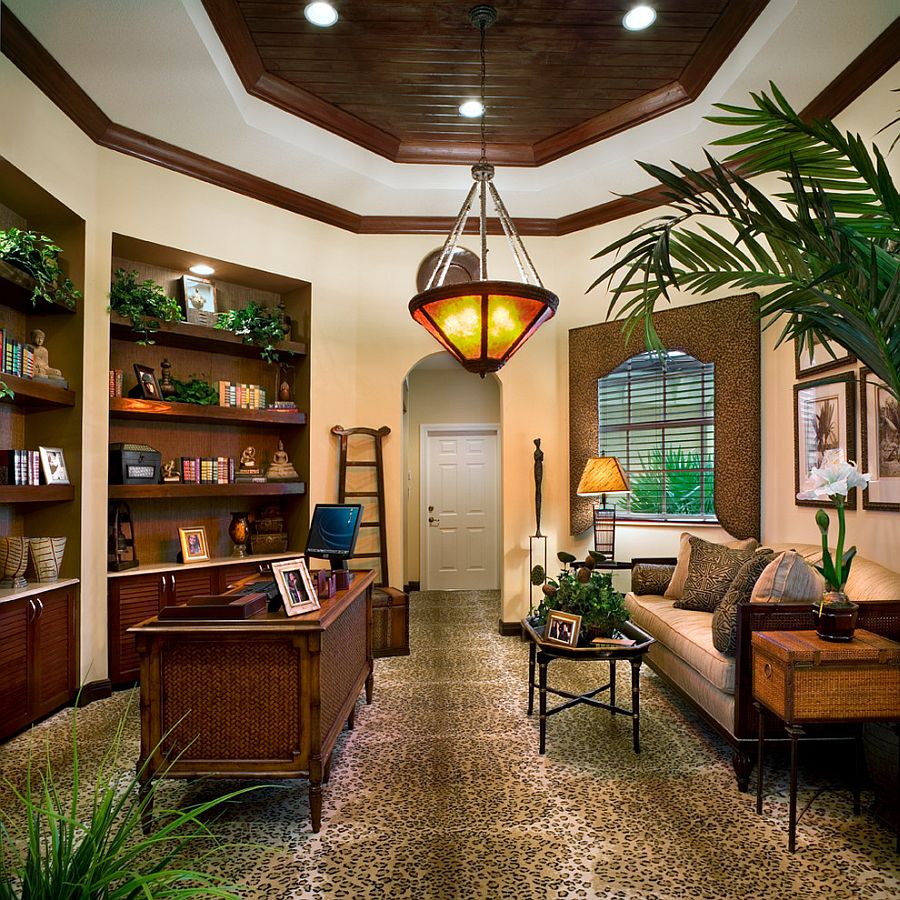 6. The View Outside
While some of us have to work really hard to capture and replicate the spirit of the tropics indoors, others have it easy because… Well, because they happen to live in the tropics and next to a lovely beach! Take advantage of the swinging palm trees, the lazy hammocks, sun, sand and waves outside and the open up the home office to that wonderful view. Even if the home office is simple and modern, the aura of the setting outside will automatically give it a tropical flavor.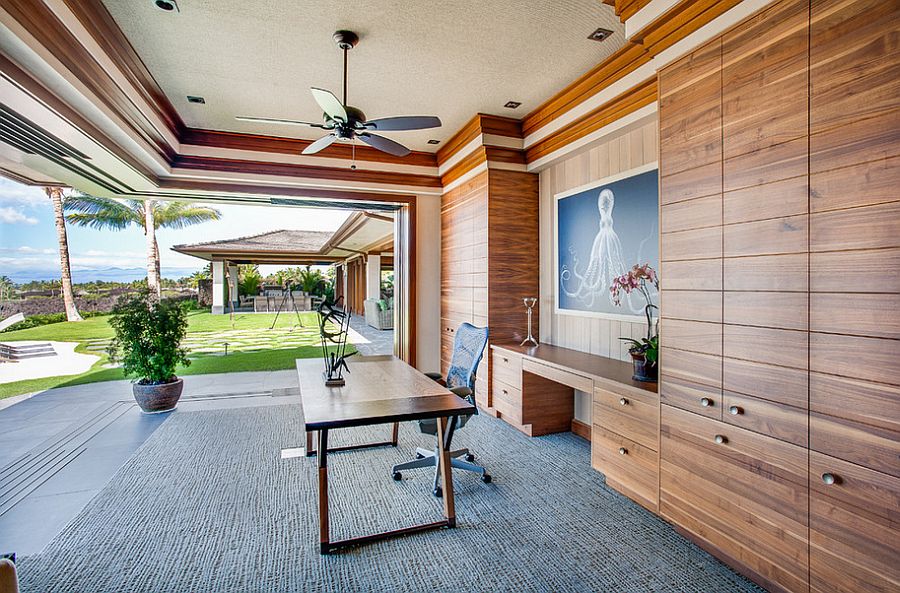 7. A Touch of Texture
Texture and pattern are a big part of the style as well. Whether it is natural wood with its knots, stripes and streaks, patterned rugs with leopard spots, or zebra stripes or wall coverings such as grasscloth, try and add natural and unique texture to the home office with decor and accessories. Wallpaper is obviously a great choice here, as it combines both texture and pattern beautifully in an efficient and affordable way.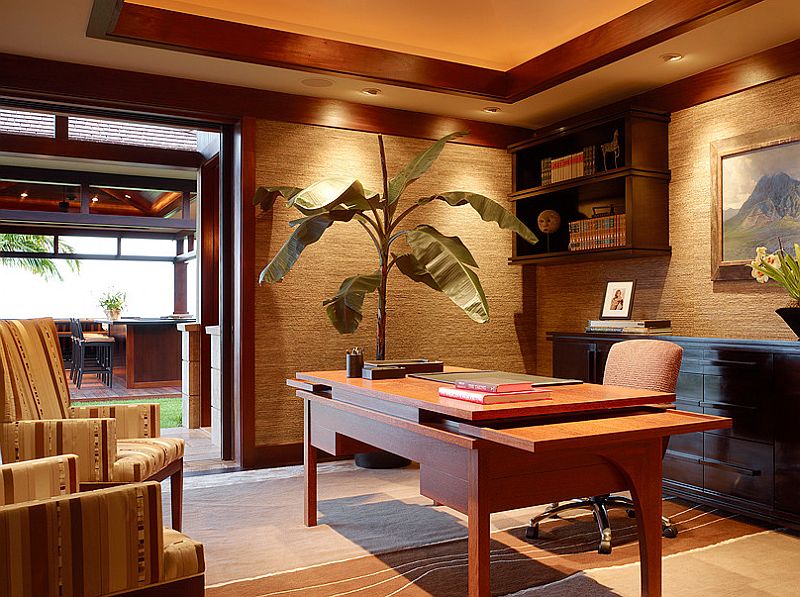 8. A Fitting Backdrop
We talked about how important natural materials and textures are above, and if you have a home like the one below, you really need not do much to bring in a tropical style. Walls, ceiling and the entire ambiance are filled with cozy warmth, and the earthen color palette of the decor simply lets the backdrop shine through.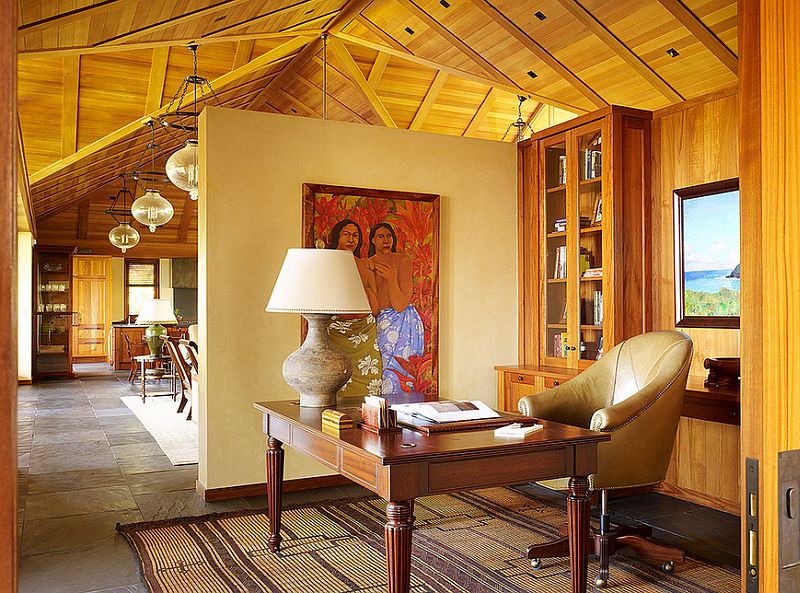 9. Let There Be Light!
Much like in the case of beach-style interiors, natural light is an essential part of tropical style. Of course, you can still use artificial lighting to compensate wherever possible, but make sure that you get in as much sunlight as you can. Large windows and even skylights can be used to not only offer a tropical aesthetic, but to create functional lighting solutions for the home office. Windows with rattan or bamboo blinds further accentuate the tropical style.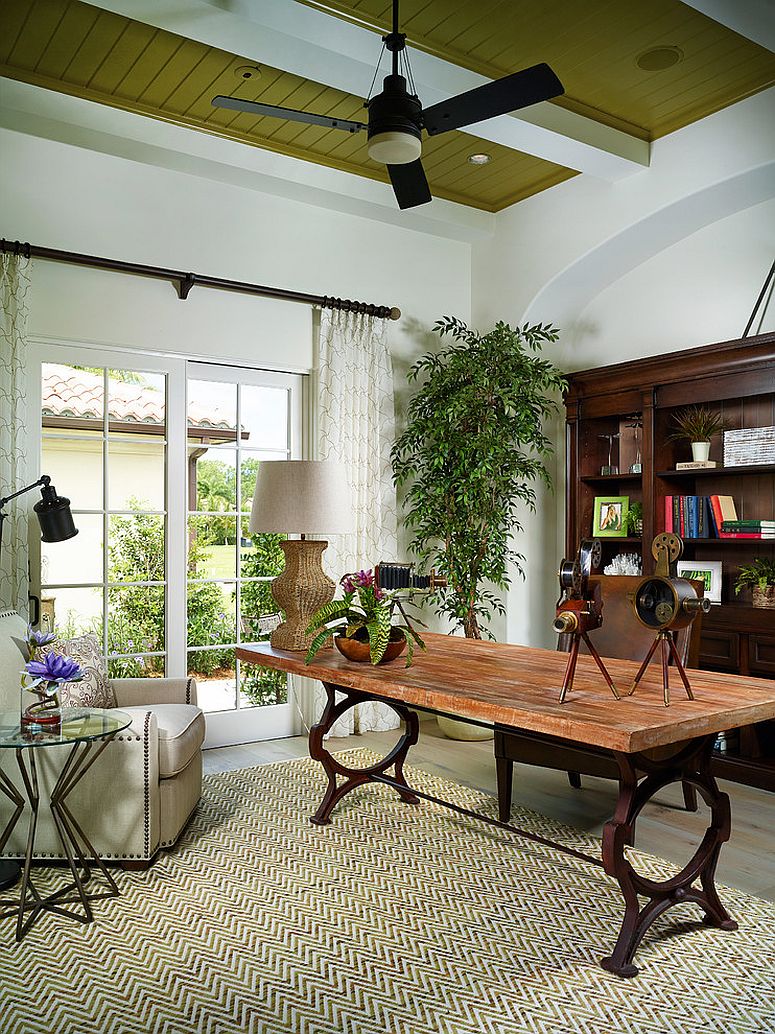 10. Subtle and Versatile
Finally, we have a home office that might not be drenched in tropical goodness, but does just enough to bring in some of its zesty brilliance. An extensive use of wood, a warm color palette and the view outside help in achieving this balance between modern and tropical styles, even as the potted plant in the corner shines through!