Today's post is dedicated to the power of the stencil. Not wanting to take the wallpaper plunge? Try a stenciled wall instead! You can always paint over it if you decide it's time for a change. Not to mention, stencils are often more affordable than wallpaper, and when you tell friends and family that you painted the design yourself, you're sure to get many compliments. Whether you're looking for a consistent pattern or you're piecing together a mural, check out the stenciled walls below… [image from Ebcon Corporation]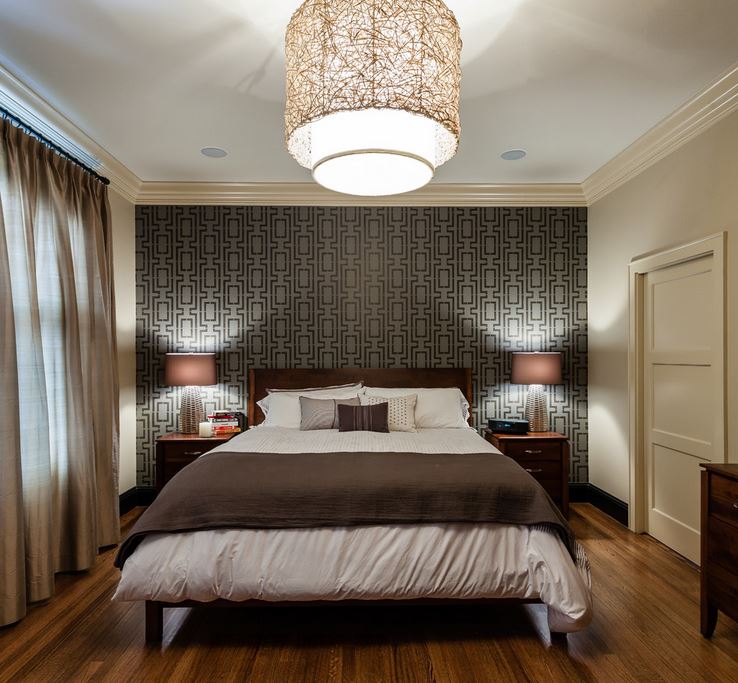 Choosing the Right Stencil
A stenciled wall may seem like a big commitment, but there are some questions you can ask yourself to help choose a selection that you'll love for years.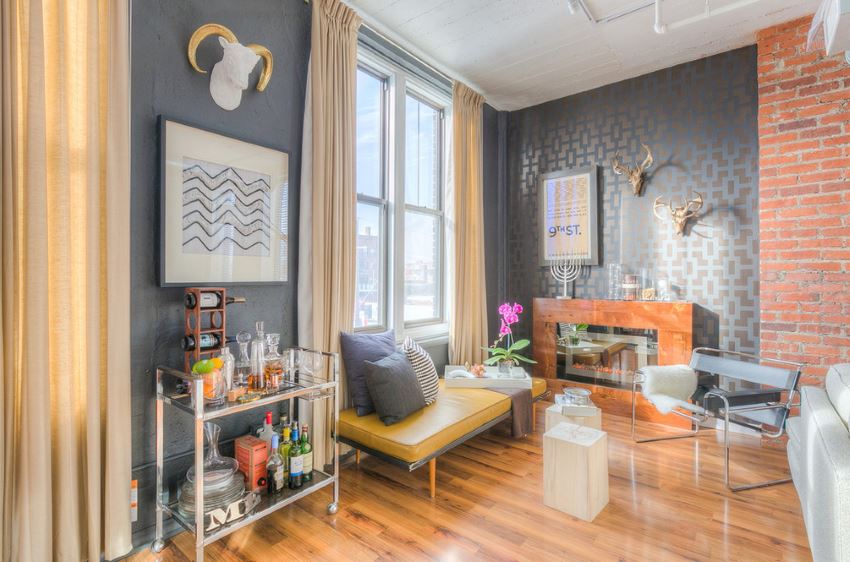 1. Is the pattern too trendy? There are many patterns out there that reflect trends that are at their peak, as well as trends that are already on the way out. Whether it's trendy or not doesn't really matter. It's how you really feel about the design. If you like it simply because it looks like it's design-forward or on-trend, the trendiness will fade. What's important is that you're a true fan of the stencil! Which brings us to the next question… [from Cutting Edge Stencils]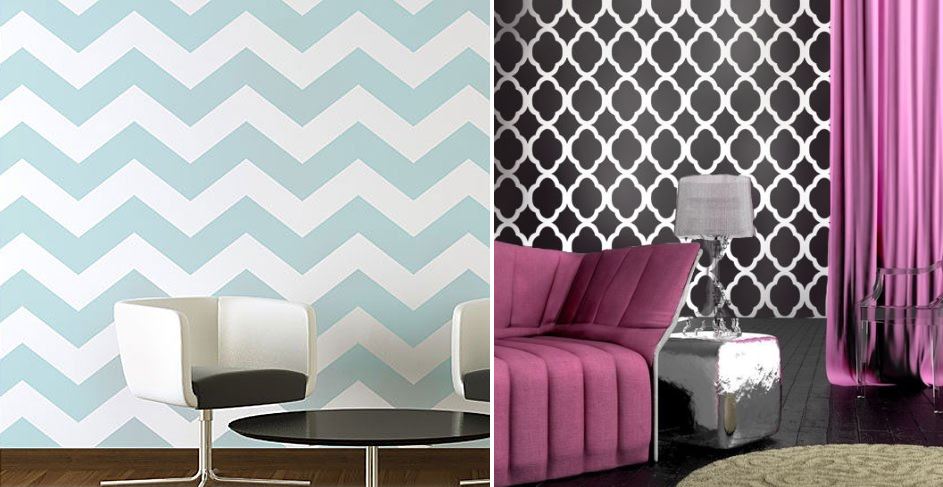 2. Do you truly love the stencil? Is this a pattern you can live with? If it's something trendy, are there elements involved that you would have loved even before the pattern was "in style"? For example, while Hollywood Regency patterns made their biggest revival impact years ago, perhaps you've always loved lattice designs, so you know you're likely to be a longtime fan of this classic motif. [stencil below from Etsy shop Stencil Up]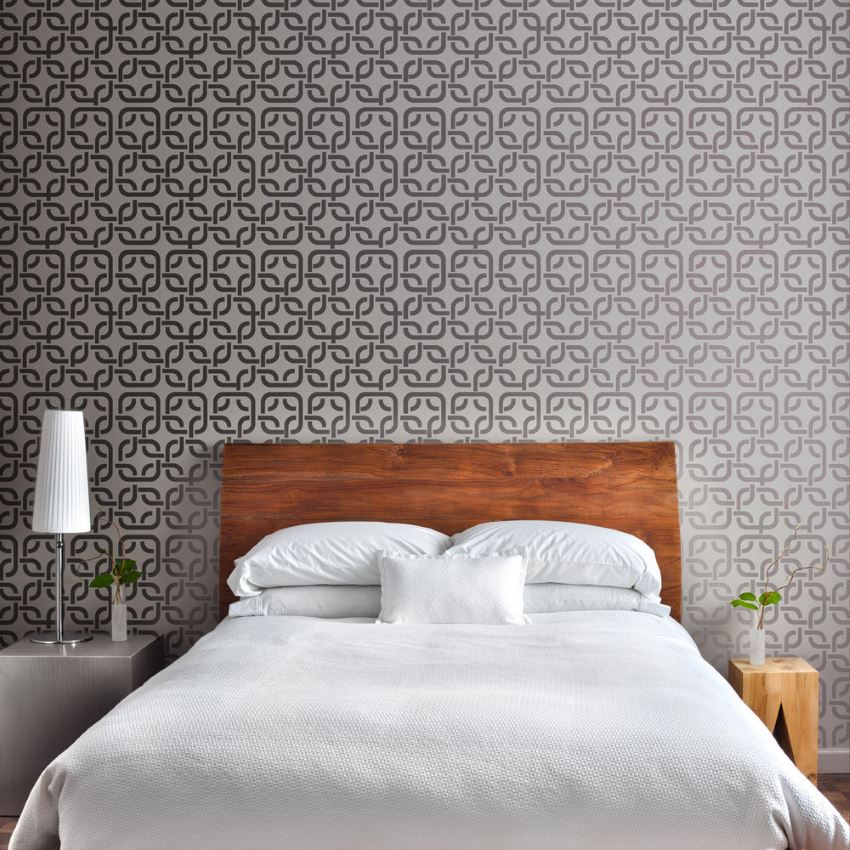 3. Is the stencil the best choice for the room at hand? For example, people are often more adventurous with whimsical patterns in spaces like the bathroom or the laundry room. If you're going bold in a space such as the living room, make sure you can live with the stencil for long periods of time day in and day out! [from Fine Redesign]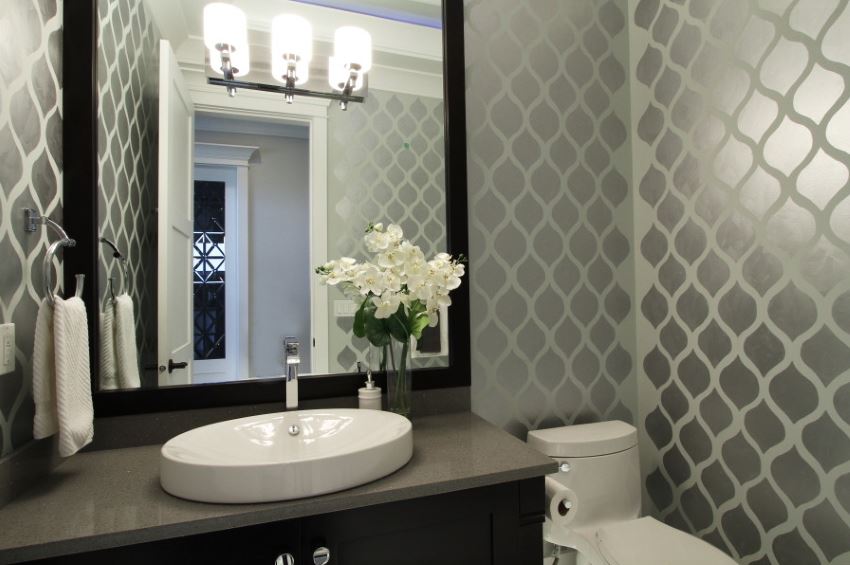 Stenciled Patterns
When you create a patterned wall using stencils, repetition is key. By taping the stencil to the wall and using a roller brush, the process goes a lot faster than you might think. [image from Cutting Edge Stencils via Houzz]
With stencils getting larger and easier to use, covering a wall is anything but intimidating these days. This seamless wall stencil from Etsy shop ArtLabNY boasts a timeless shell pattern, and an adhesive coating ensures a precise paint job: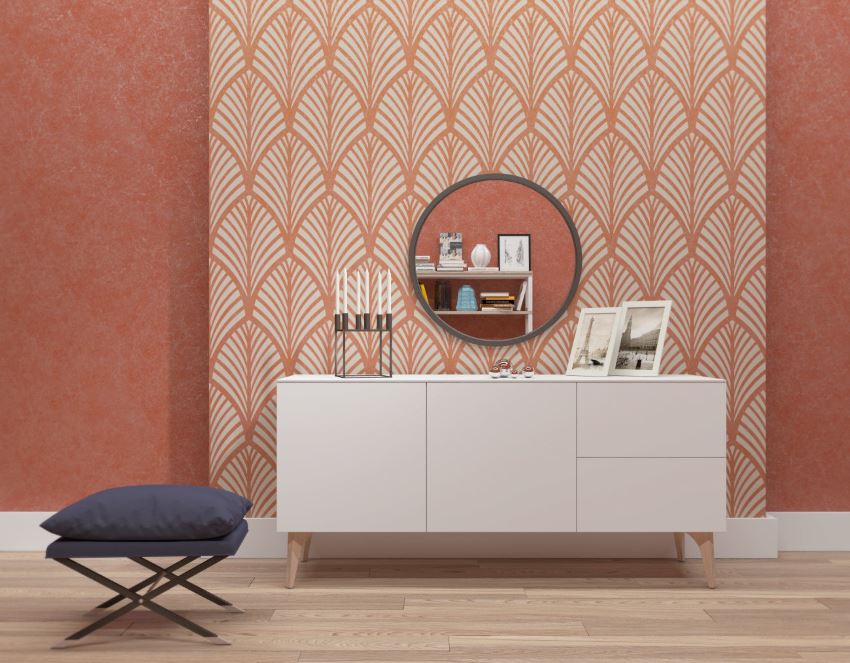 The Ikat Samarkand Allover Stencil from Cutting Edge Stencils is the perfect example of a stencil design that's classic and chic. One benefit of a patterned stencil wall is the ability to custom design the colors (which is much more expensive to pull off with wallpaper). The blue and white wall below is crisp and refreshing:

Geo motifs are still going strong, and the whimsical, loose-lined look of this pattern by Cute Stencils (available for purchase via Houzz) gives it a unique touch: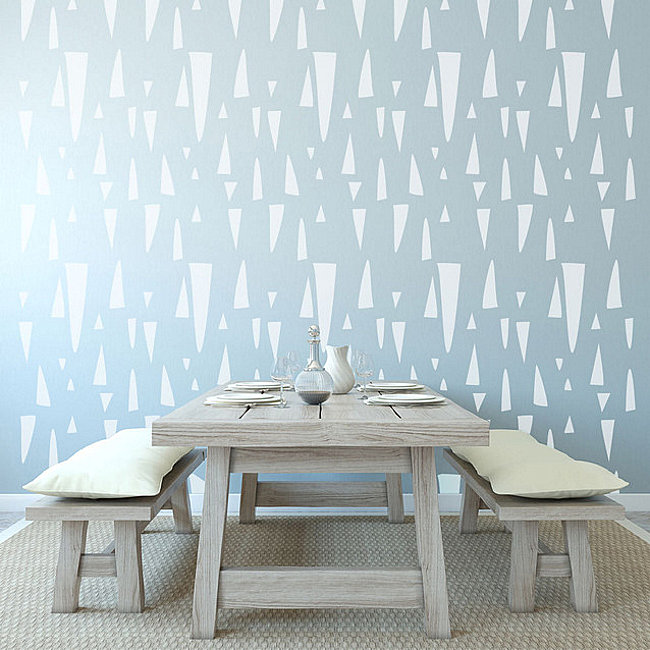 Stenciled walls are a great option for children's rooms. This stenciled cloud wall was created by Merrilee Liddiard of Mer Mag using stencils by Handmade Charlotte. Whimsical, modern and sweet!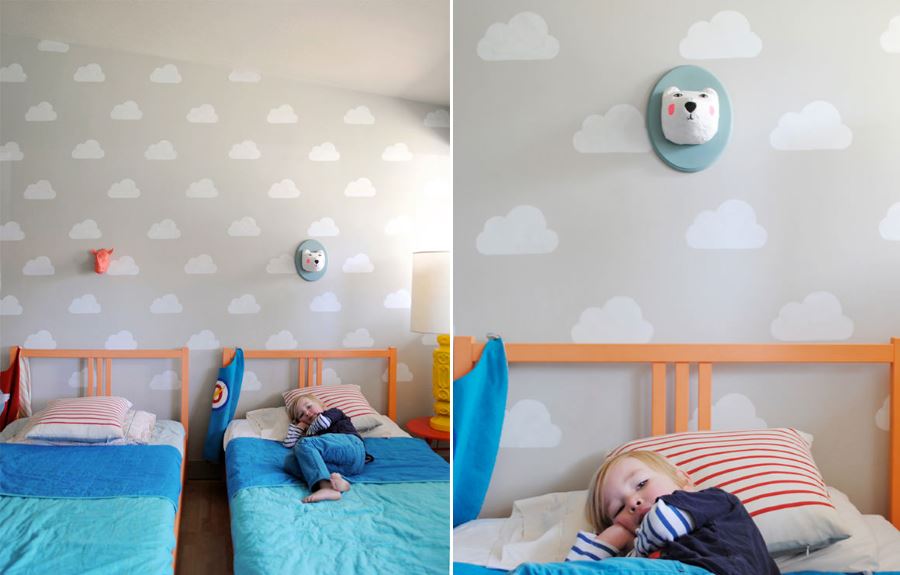 Let's not forget about the DIY stencil option. We're talking about stencils that you create yourself rather than purchase as a guide. You don't have to rely on the stencils that are for sale at your local craft store! This blue and white geometric wall by Mandi Johnson of A Beautiful Mess was achieved with the help of a hand-cut stencil created from an antique Art Deco pattern: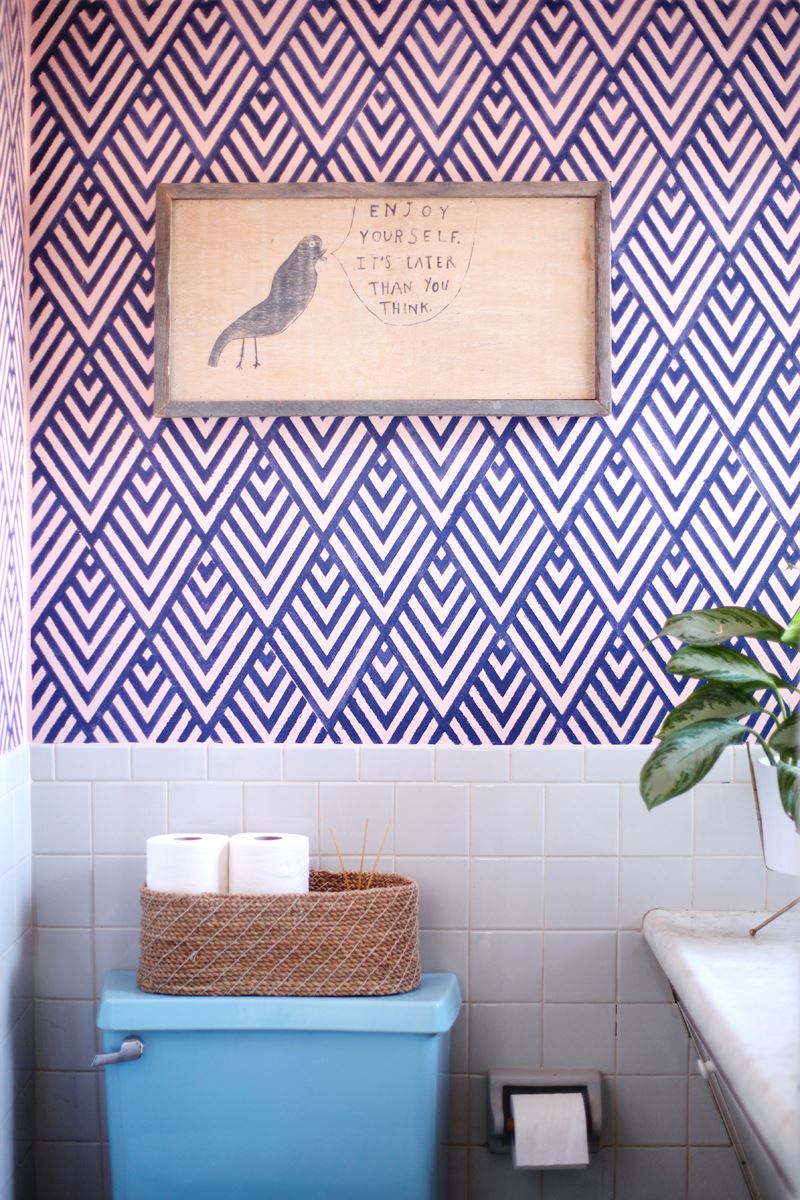 For another inspiring project from A Beautiful Mess, check out this statement wall created with paint pens. And a stencil to guide the way, of course! Blogger Laura Gummerman made the stencil from cardboard, and the geo print that resulted is truly modern and fabulous: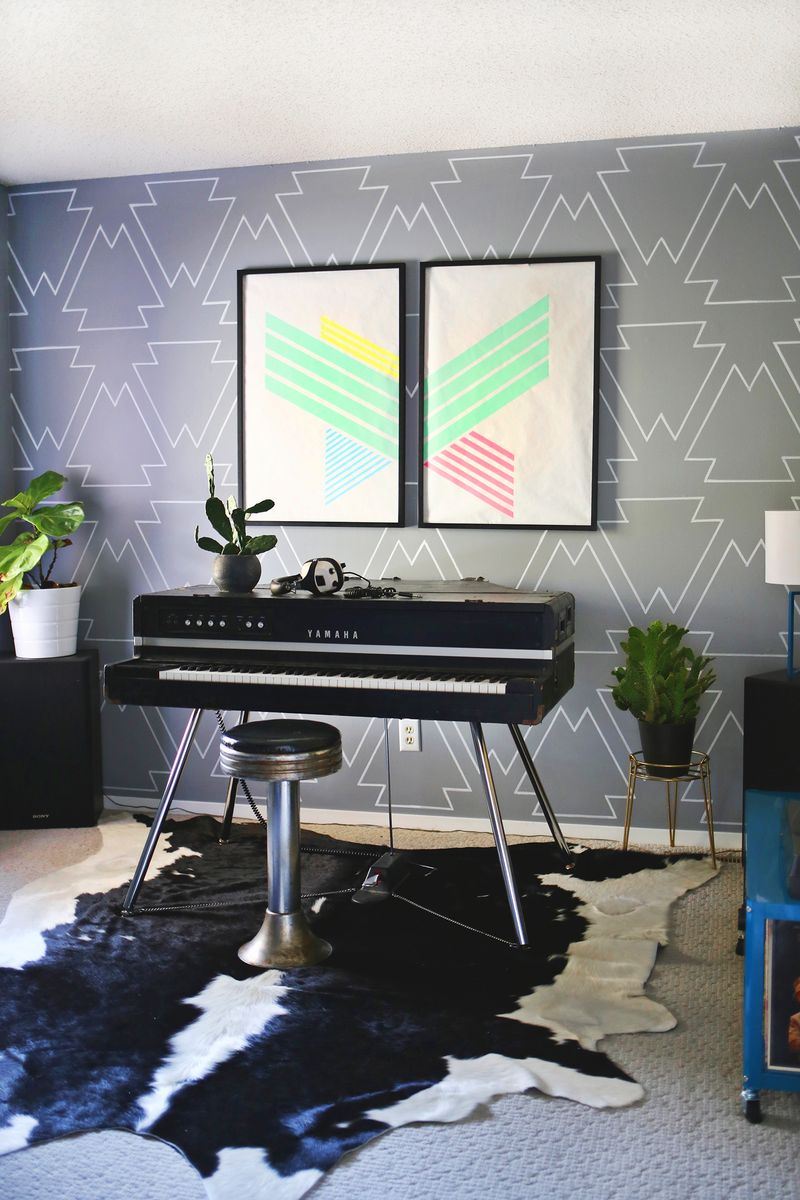 If you love the patterned look but you're not up for painting, there ARE wall "stencils" available that closely resemble decals. For example, the Floral Crown Pattern Wall Stencil from My Wonderful Walls (sold via Houzz) is a peel-and-stick option. Stencils are sold in sheets, and you purchase the number of sheets needed to cover the wall. More expensive than actual stencils, this solution is definitely hassle-free!
Stenciled Murals
If you're a fan of variation and bold statements, a mural wall just might be the way to go! Instead of creating a pattern that predictably repeats, try piecing together a striking design using stencils. The geo wall below was created using mosaic wallpaper by ZNAK, but we can imagine a hand-painted version with the help of homemade triangular stencils:

This moon wall from Vtwonen is child-friendly, clever and modern. Would you create a custom stencil to achieve a mural effect in your child's room?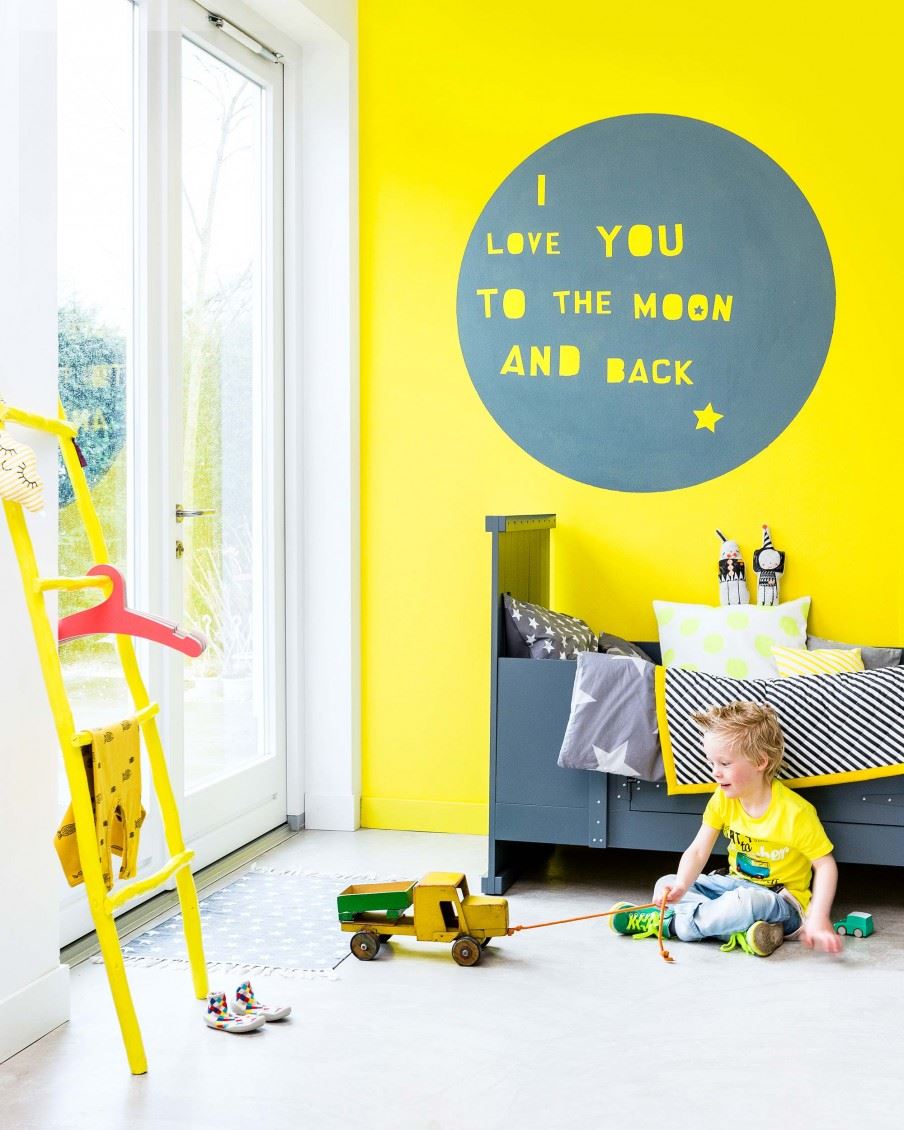 The geo stencil below from Storenvy can be used to create an entire wall of patterning (as shown below, left), but we're loving the idea of turning the stencil (below, right) on its side to create a geo border on a painted accent wall.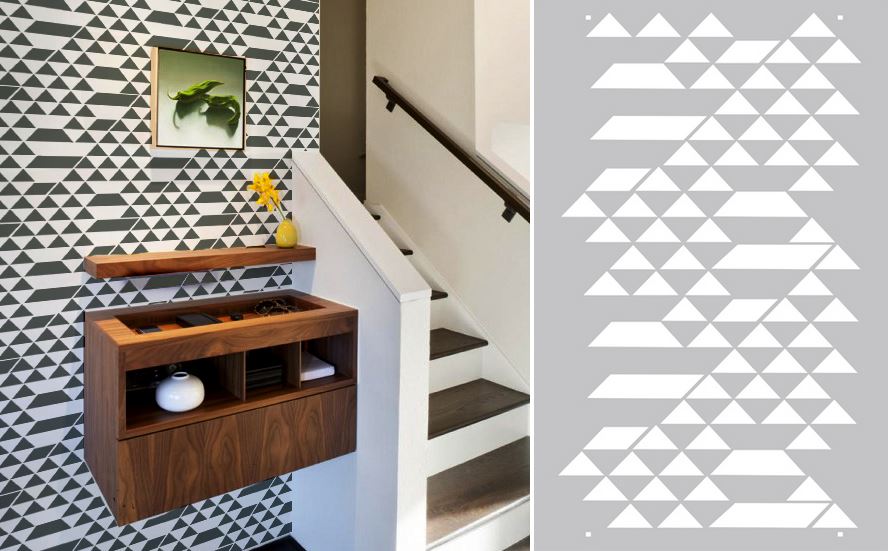 This modern bedroom from Architectural Elements & Design features a vivid pink wall with a dandelion mural. It's unclear whether the design is painted or created with decals, bit it inspires us to create our own large stencils to make the painting process easier (if hand-painting seems too daunting). Try creating the flowers using a stencil, then free-handing the stems if you wish!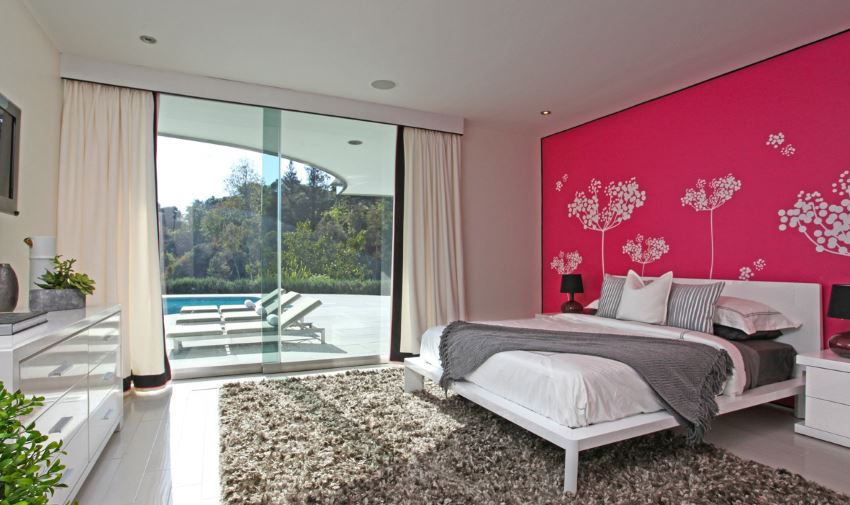 Did any of today's stenciled walls catch your eye? Share your favorites in the comments section below…