Spring is a time of renewal, and for many, it's also a time to tackle a variety of home improvement projects. When you're landscaping the yard or recaulking the tub, purchases such as flowers for the dining room table may seem frivolous. Today's post proves that with a little bit of creativity, you can create a lovely spring floral arrangement on a budget. Here are two ideas to inspire you…
Monochromatic Charm
Idea #1: Fill a votive candle holder with inexpensive blooms in the same color family.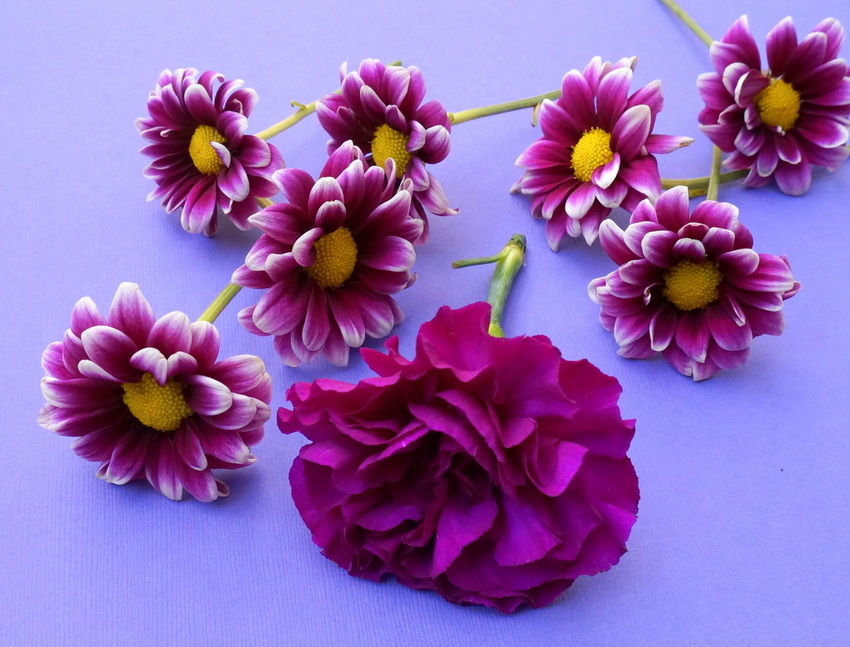 For my arrangement, I paired daisies with a carnation. Believe it or not, all of these flowers were bunched together in a very affordable bouquet I purchased at the grocery store. I trimmed them down so they would fit into my Hoth Candle Holder from CB2, shown below: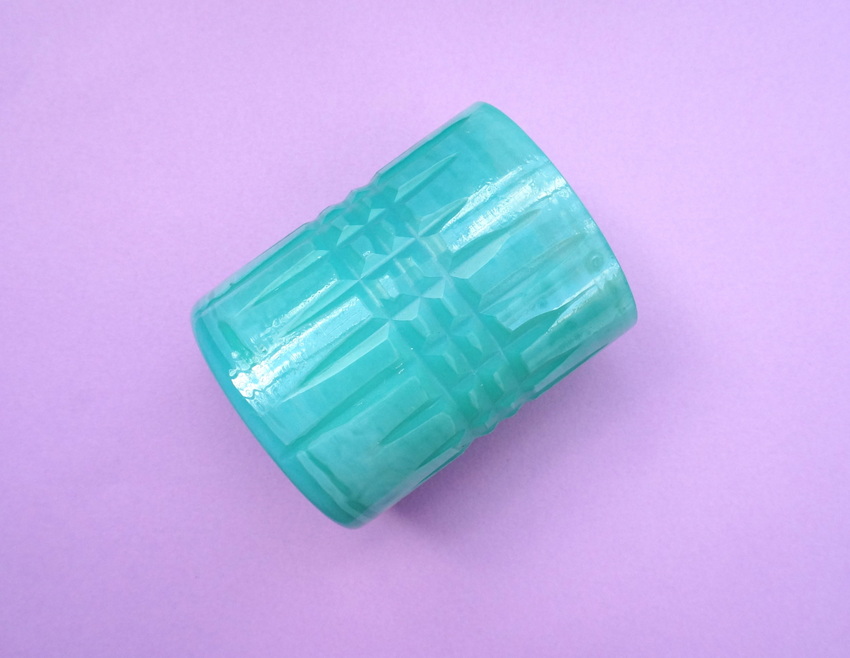 The candle holder is a bargain buy at $5.95. Votive holders are great impromptu vases for petite arrangements. When filled with vibrant blooms, they take on an elegant, charming vibe! Confession: I've purchased four of these Hoth Candle Holders, and I use two on my back patio (filled with tea lights), while two hold flowers on my dining room table.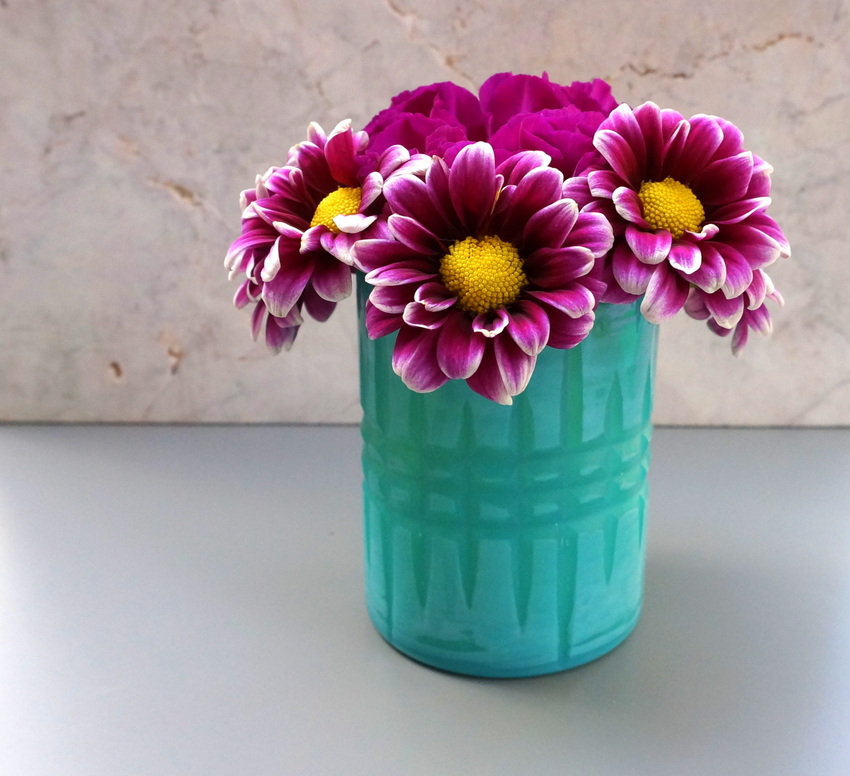 There's no trick to arranging this bouquet. I simply put the carnation in the middle and surrounded it with daisies, as shown below: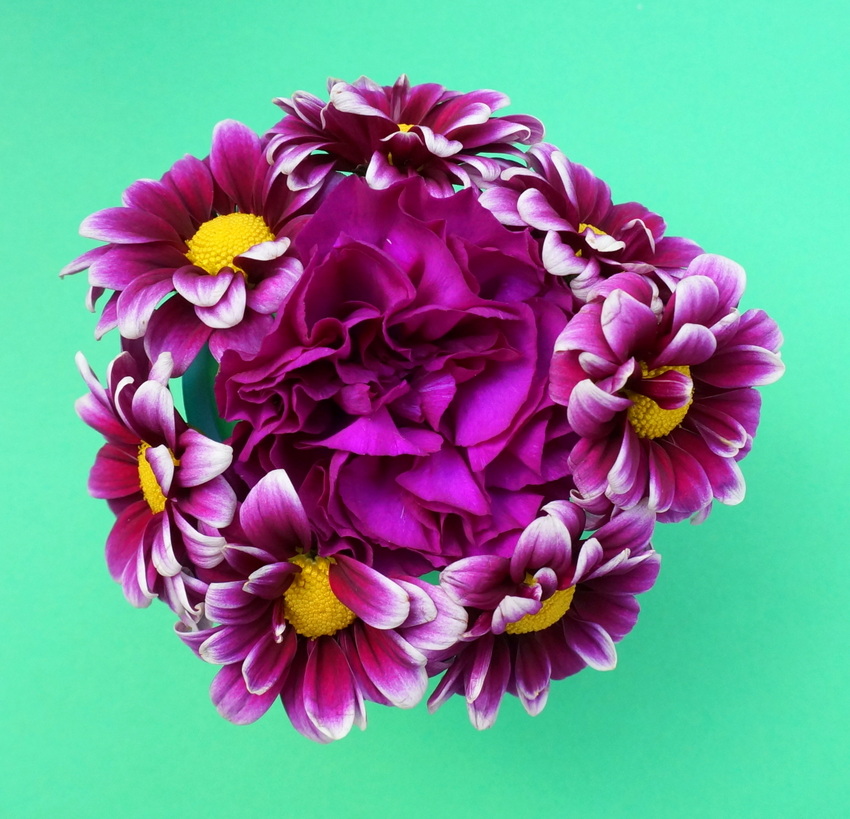 When it comes to floral arrangements, don't hesitate to get colorful for spring. There are many beautiful blooms at the ready, and they're waiting for you to embrace them. In the next image, we see daisy petals and Loropetalum leaves. Stay tuned for more fun with Loropetalum in the next section of the post…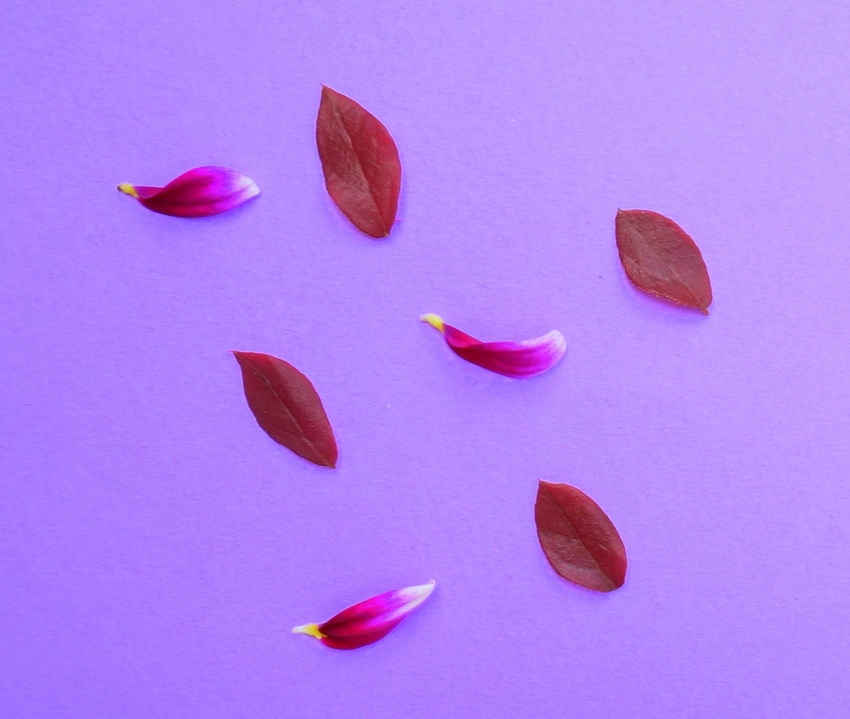 Flowering Branches
Idea #2: Cut some flowering branches from the backyard and arrange them in a modern vase.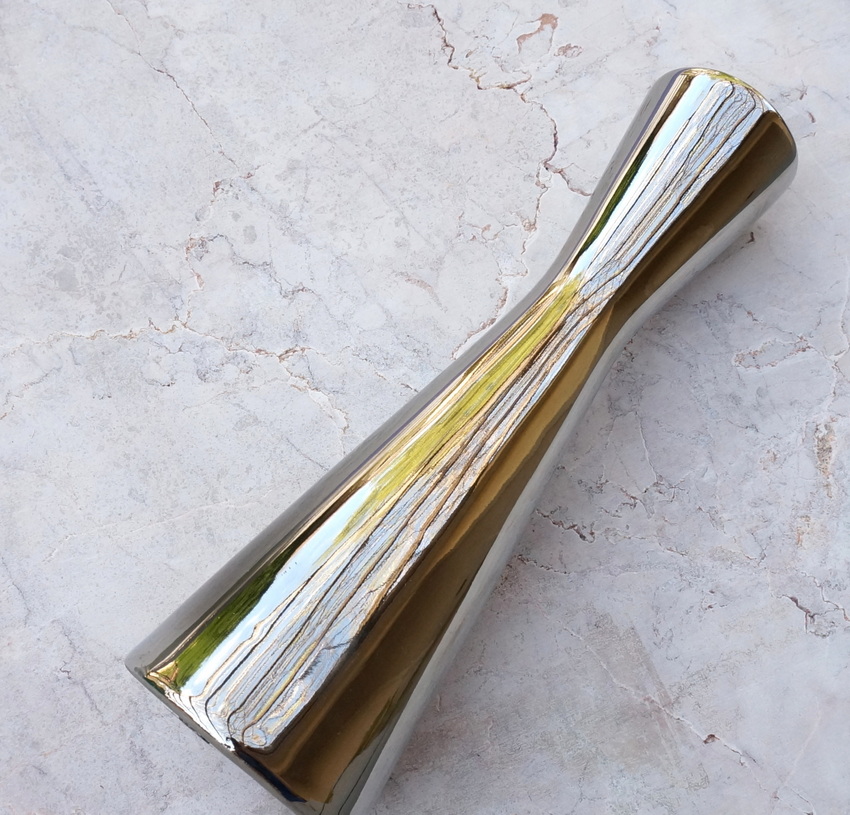 The metallic vase above was a gift from my sweet Mom-in-Law. It's the perfect receptacle for colorful flowering branches such as the Loropetalum below. This plant grows freely in my backyard, and now is the time when spiky rosy blooms cover the branches.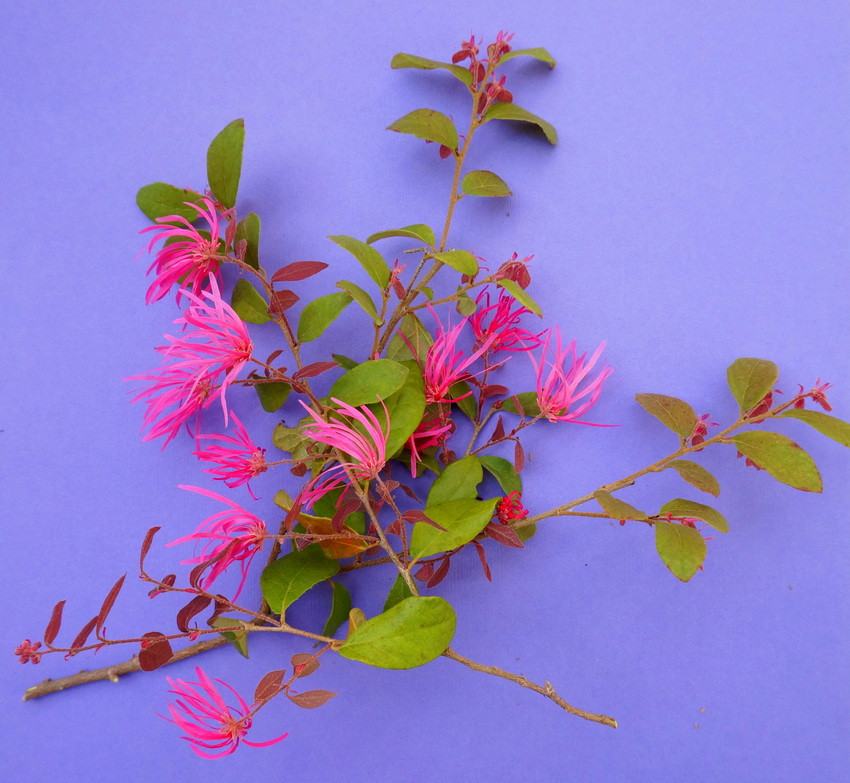 When cutting from plants in my yard, I try and choose branches that are already in need of trimming. It makes me feel less guilty about cutting them!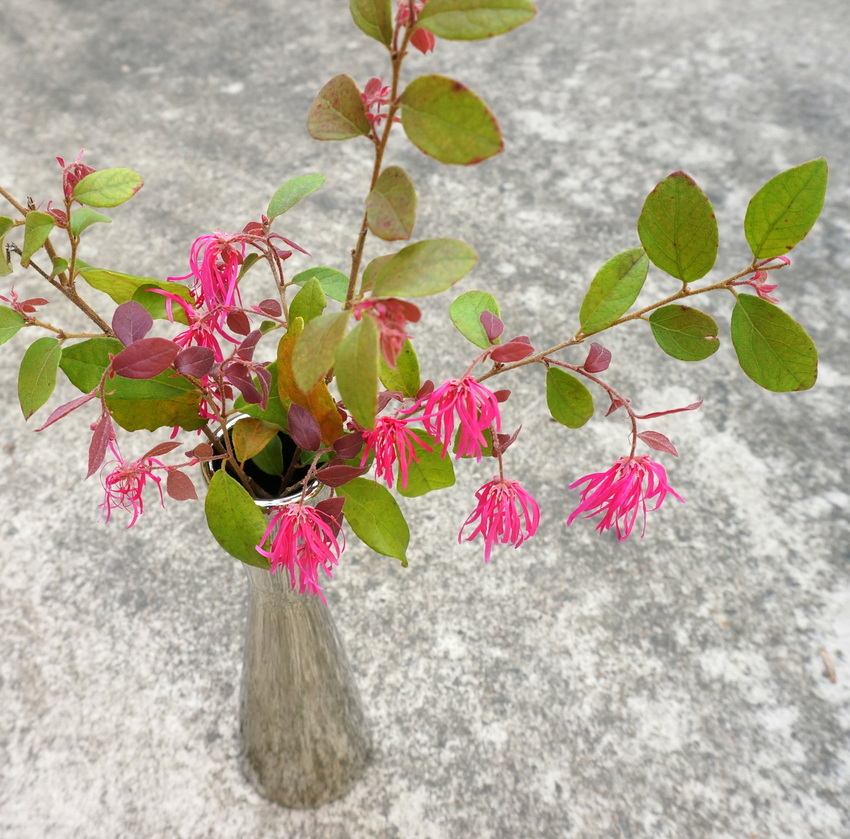 To create this arrangement, simply cut a few branches and place them in the vase! Why a modern vase? Because blooms are a wonderful contrast to clean-lined modern forms.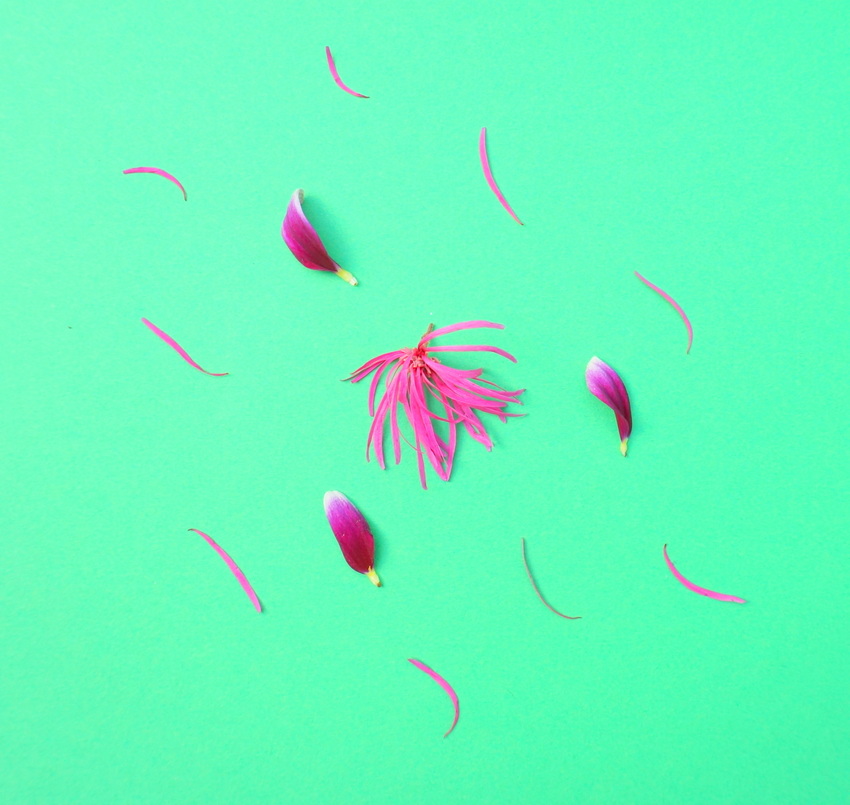 Above we see a pattern consisting of Loropetalum and daisy petals. Below we get one more look at the Loropetalum arrangement. The metallic vase is the perfect complement to the radiant hue of the blossoms: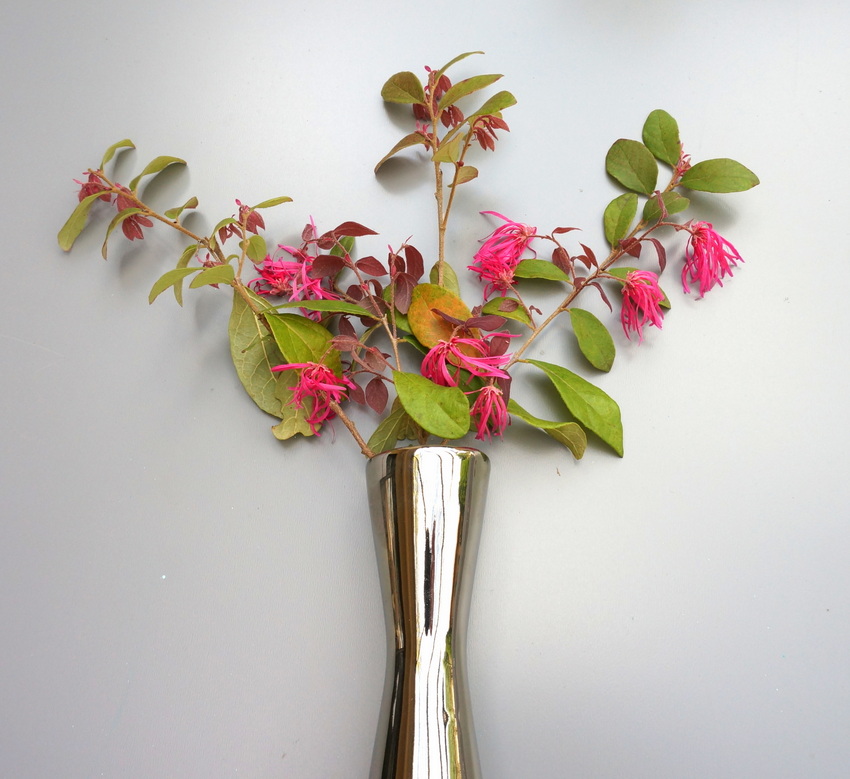 Will you be creating a spring floral arrangement for your home? Always do a bit of research before cutting plants from your yard to ensure that they're safe for pets and kids. And remember, you don't have to spend a fortune to create a memorable grouping of flowers!
Liked the story? Share it with friends.