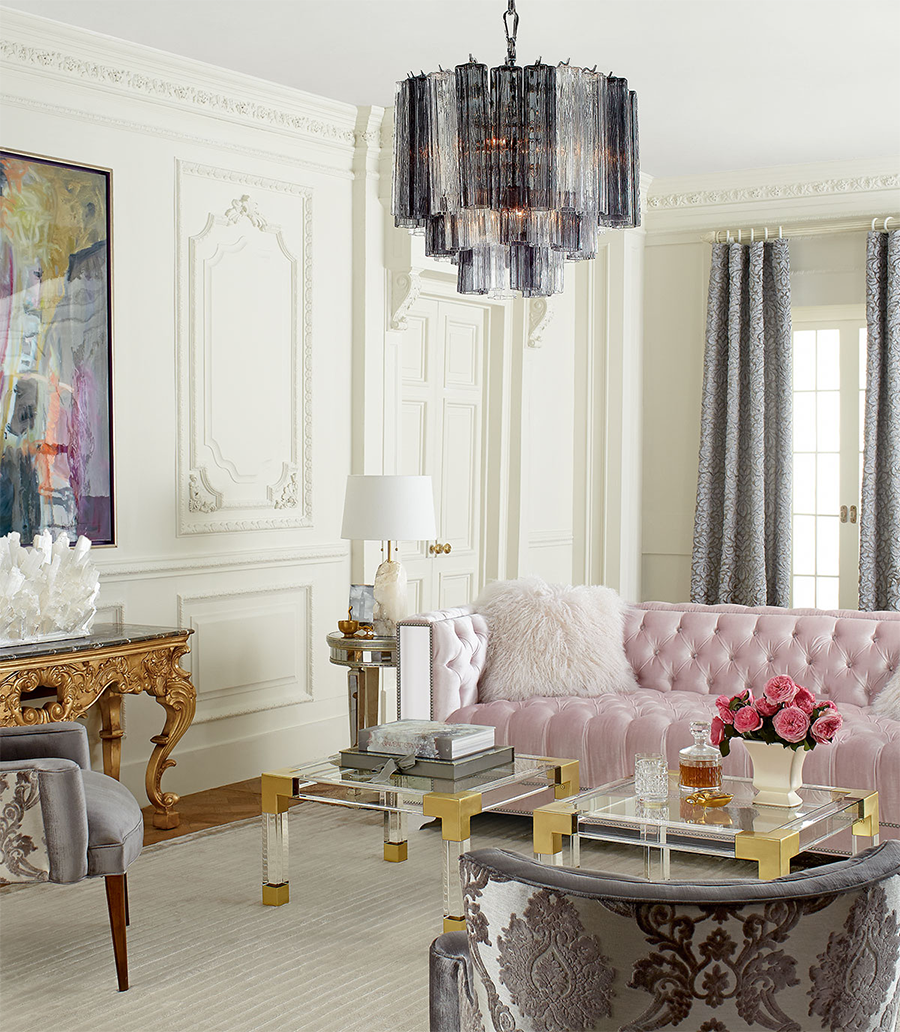 Mirrored furniture has been popular since the 1920s and 1930s, but it got a bit of a bad rap after the look was used a bit too liberally during the 1990s. Nowadays, designers have been reviving the reflective finish as a way to make small spaces appear larger and enliven rooms with extra light, but the trick to this trend really is that less is more. Too many shiny pieces in one space can easily translate as garish or tacky. We've rounded up a few of our favorite examples of mirrored furniture that make a strong enough design statement to stand on their own. Read on to see them all!
Artistic Glamour
Inspired by New York's Metropolitan Museum of Art, Boca do Lobo's Metropolitan cabinet is a work of art in itself. Each piece is handcrafted from wood and is clad in either a black glass or grey mirror finish complete with etched accents.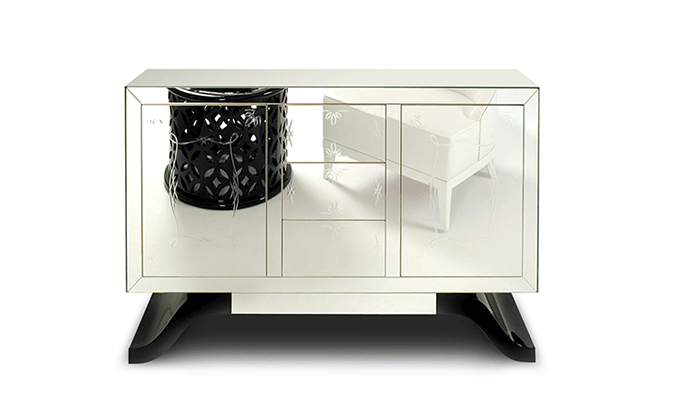 What better way to "reflect" an image of power and prominence than with Bungalow 5's Andrea Desk? Because of its fully mirrored surface, it almost seems to blend into its surroundings, given away only by glints and glimmers of light.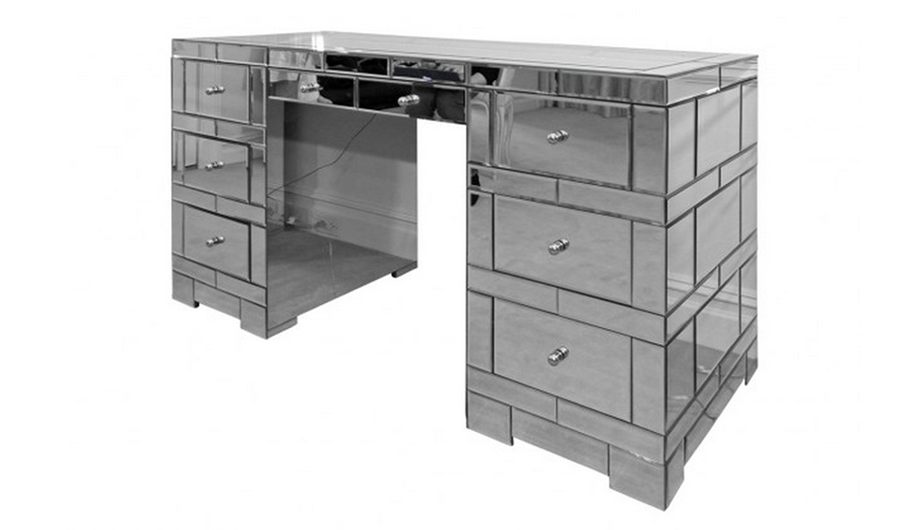 Here's a great solution for homeowners who want the convenience of a TV in a formal room without having to sacrifice a space's elegance. Seura's innovative vanishing mirror TVs appear as reflective surfaces when not in use, but turn into televisions with the push of a button.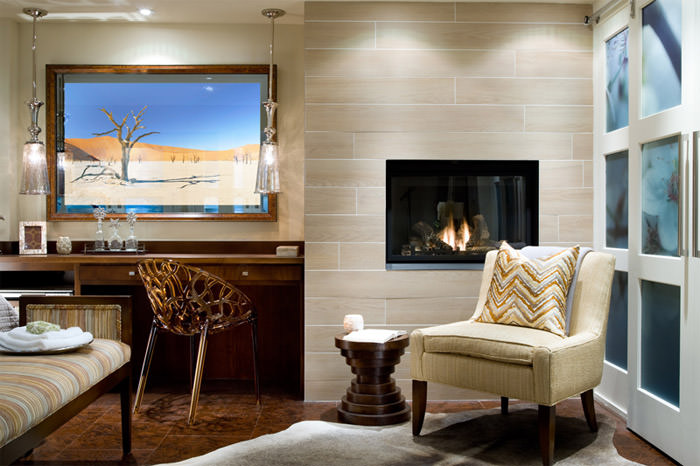 Glitz from the Past
Based on the Regency Revival style of 1930s Paris, this Cosmopolitan bar cart by Williams-Sonoma gleams in a nickel-plated metal that has been polished to a mirror shine. Can't you just imagine yourself wheeling it out so that you can mix a few of its namesake cocktails for your friends?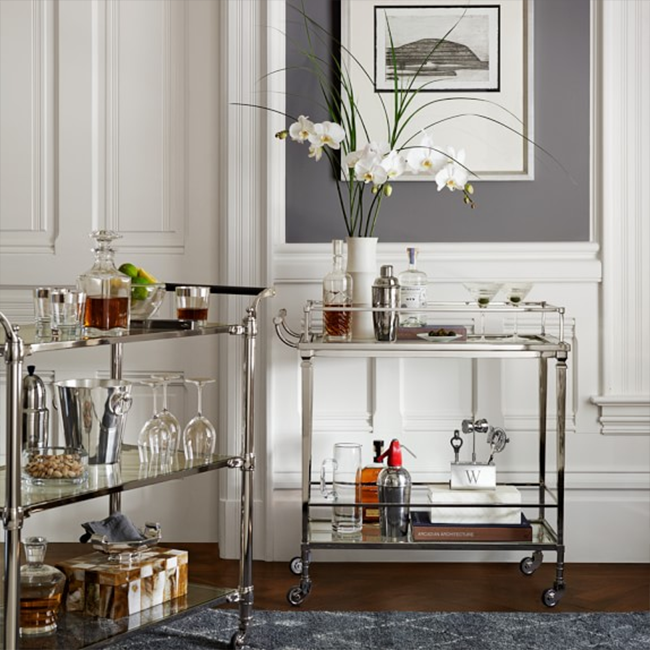 Boca do Lobo's over-sized Marie Thérèse and Marie Antoinette mirrors are mind-bending statement pieces that will have your guests feeling like they fell down the rabbit hole and into a magical realm. The limited edition pieces add a touch of whimsy to any space, whether it's ultra-modern or more traditional.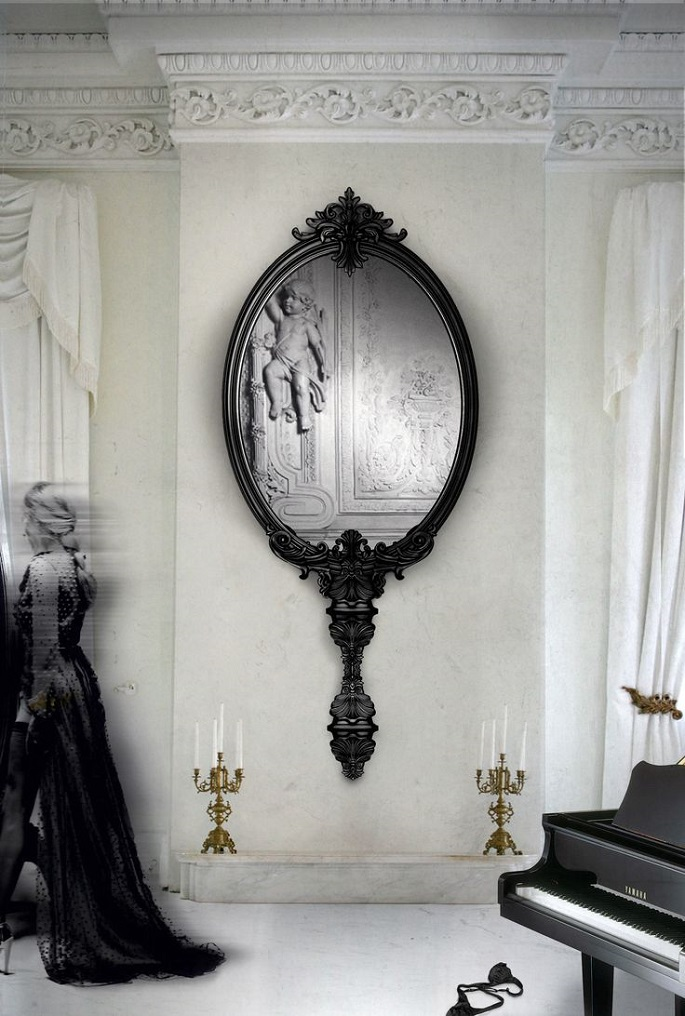 At once both rustic and sophisticated, Tracey Boyd's Mirelle dresser line is characterized by a distressed mirror finish accented by a delicate floral motif. Three sizes are available in either dark grey or black wood.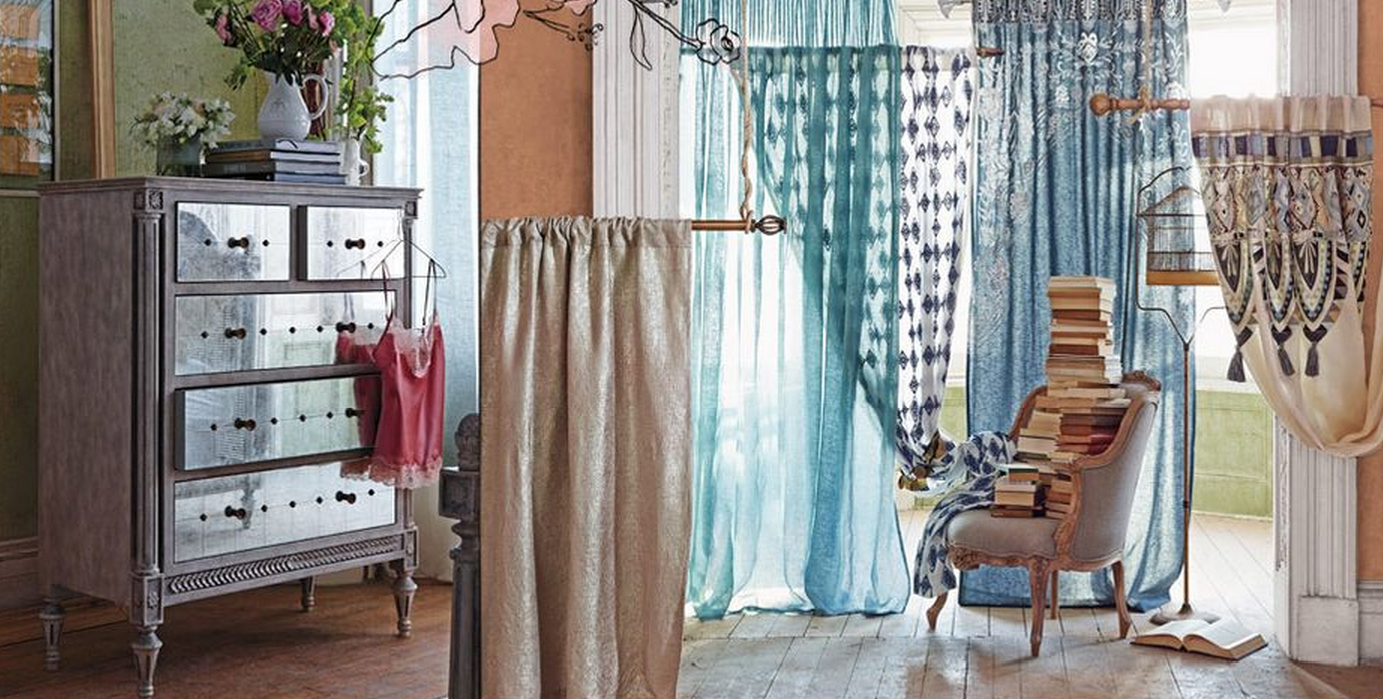 Reflective Seating!
Though it was introduced by Knoll back in 1988, esteemed husband and wife design team Robert and Trix Haussmann's lounge seating collection would look just as relevant in a modern home today. The mirrored paneling that lines each piece gives it the appearance of floating on air, and the reflected light creates the illusion of more space.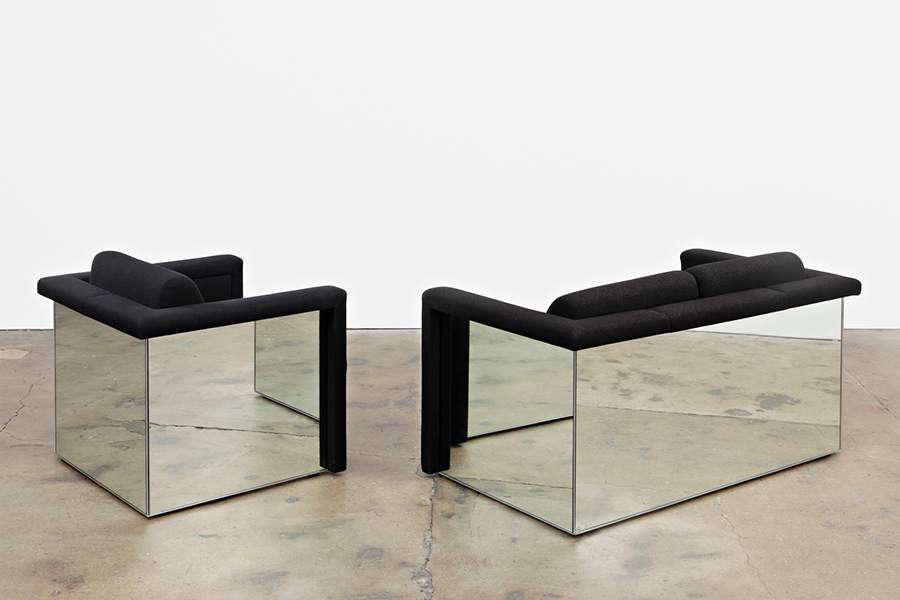 Handcrafted in the USA, the Lena sofa by Horchow is faced with two slender mirrored panels that give it just a hint of reflective flair. As an added plus, placing objects of beauty in front of the sofa will double their impact!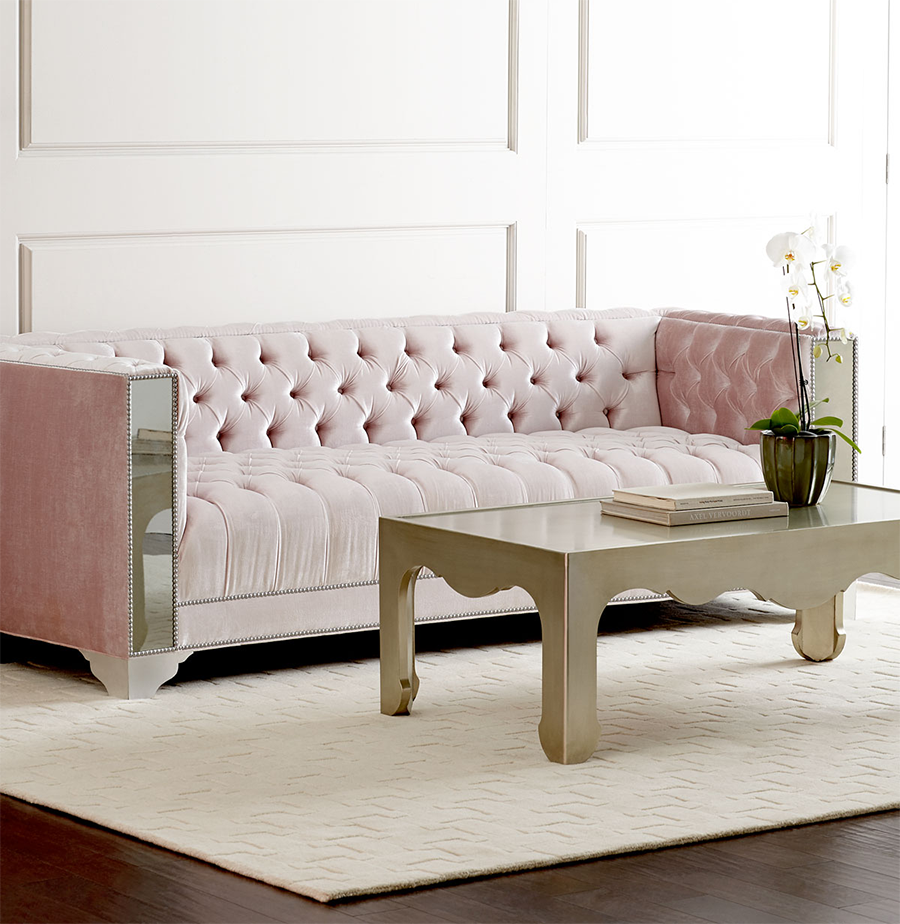 Which of these mirrored furnishings reflects your style the best?
Liked the story? Share it with friends.