Got thread?! We're guessing that if you don't, you will soon, because today's featured embroidery projects are sure to inspire your own DIY creation. But these aren't your grandmother's embroidery designs! In fact, they have a bit of a modern, unconventional twist, which is exactly why we love them. And if you don't feel like picking up a needle and thread, don't fret. The second half of today's post focuses on DIY projects you can complete with embroidery hoops. Yes, the wooden hoops! Curious to learn more?…
Modern Embroidery Design Ideas
This Graphic Embroidered Art project from Mandi Johnson of A Beautiful Mess is an easy way to create a modern geo statement piece. We're loving this contemporary take on the beloved craft of embroidery.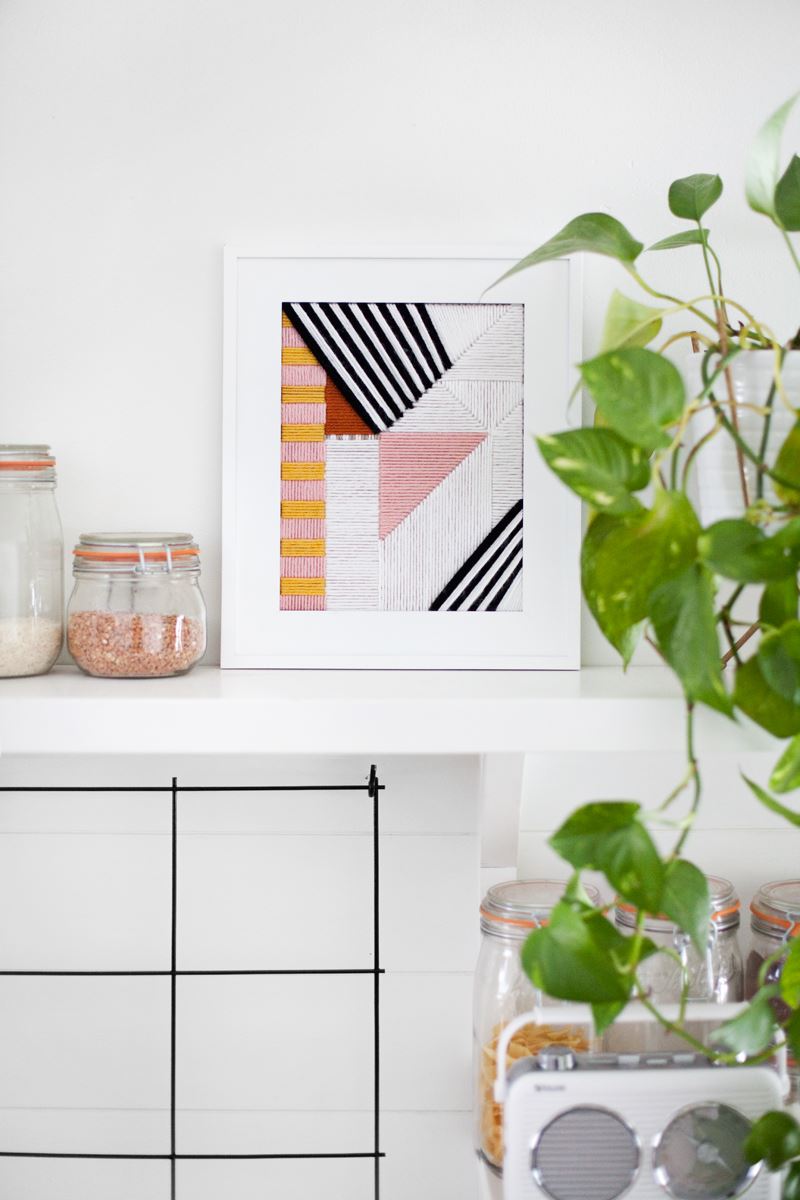 Embroidery mesh is your friend in this geo-fabulous creation from She Makes a Home. Bright colors and an abundance of triangles get the job done. This piece is filled with amazing detail, yet it's a budget-friendly project. One we're very tempted to try!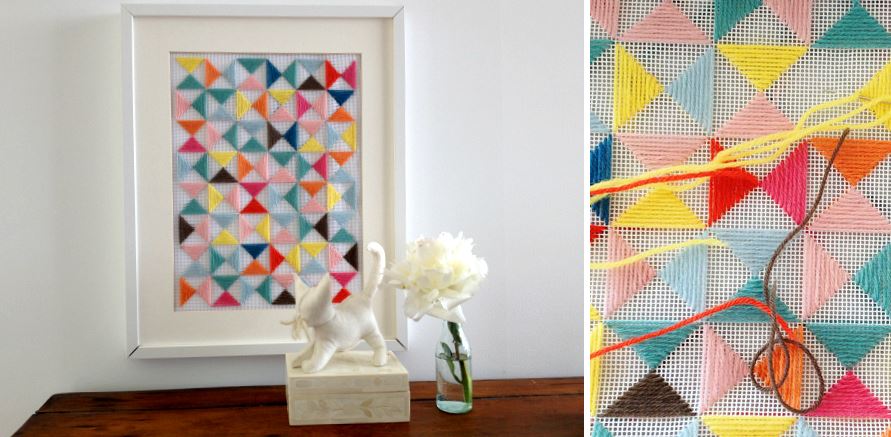 Also from A Beautiful Mess is this Embroidered Photo Art idea from blogger Laura Gummerman. By using embroidery to embellish a wearable item (sunglasses, a hat, etc.) in a photo of your choice, you can add a colorful, textural touch to your interior!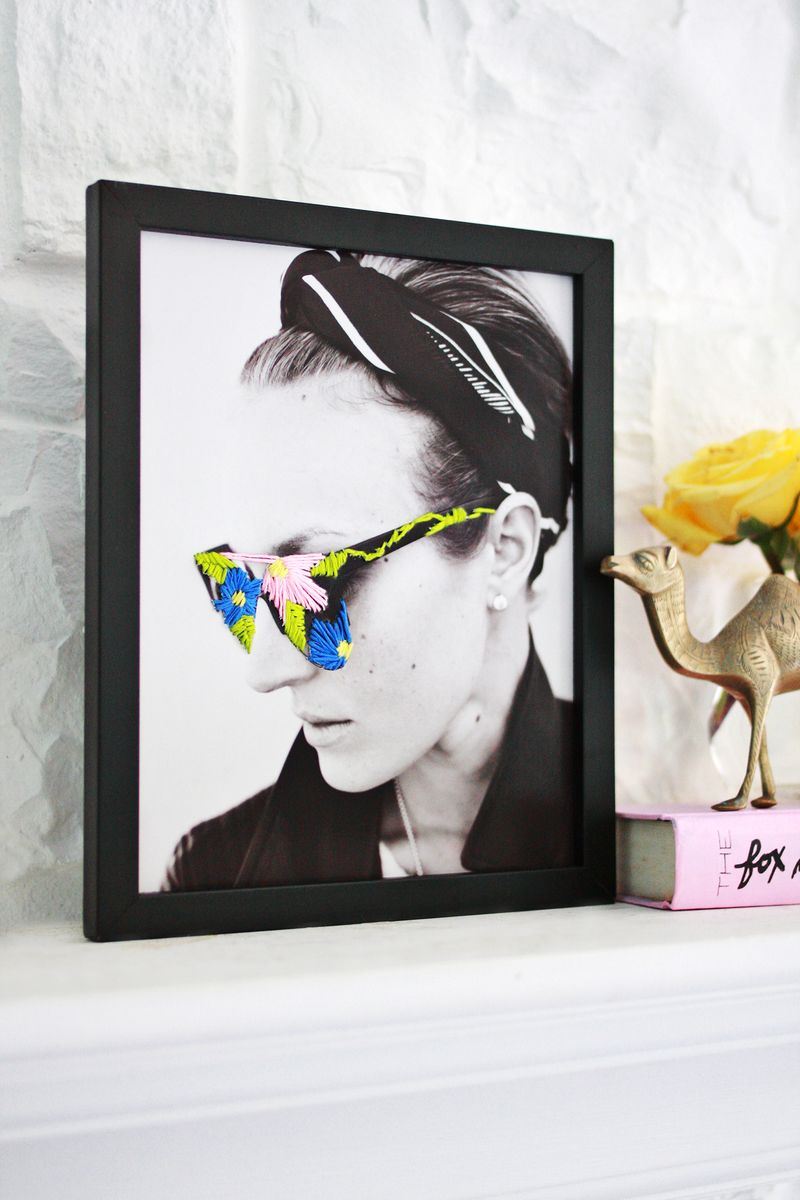 These Spirograph-style embroidery cards from Etsy shop Q en Blue are a great reminder that simple forms and careful needlework make beautiful music together. While Q en Blue is currently on hiatus, we discovered the design through Freutcake. Inspiring and creative, don't you think?!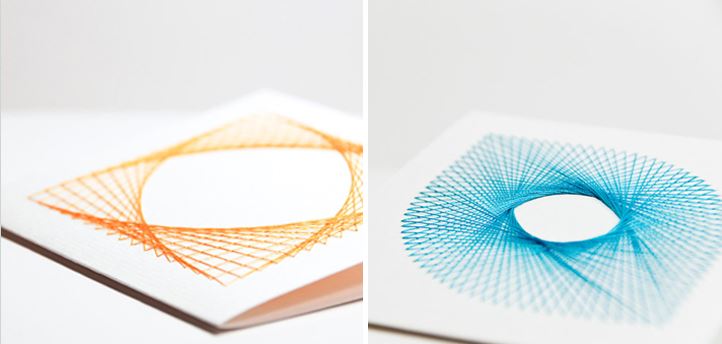 The embroidered alphabet below is nothing short of fabulous. A striking pink-on-black color combination is eye-catching in itself, but the use of straight lines to create each and every letter is a pretty amazing feat. See more images at Plenty of Colour: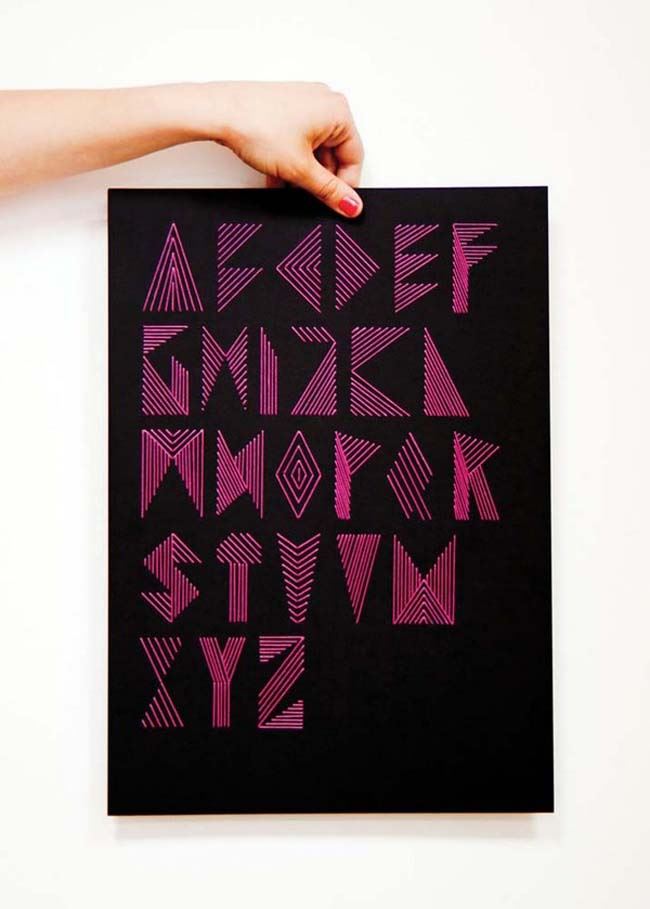 There's a bit of Scandinavian style in this wooden apple embroidery kit from Etsy shop Tiny Lizard Gifts! Birch plywood is the backdrop to a colorful, modern arrangement of embroidery thread.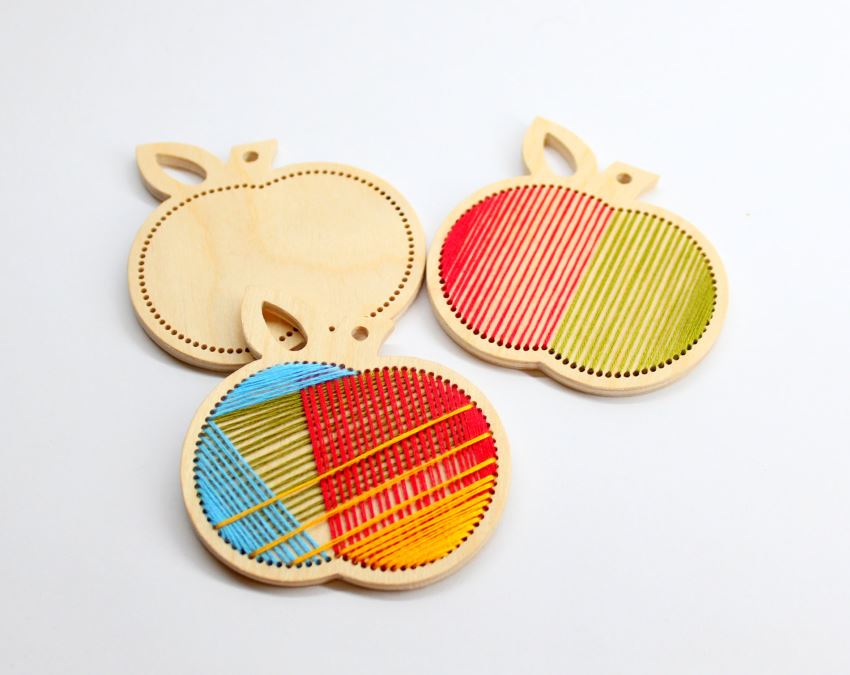 This geometric giraffe embroidery hoop art from Etsy shop Smallternative features a modern print embellished with hand-embroidered accents. The combination of aqua with the black thread creates a vibrant textural effect. Take a closer look at that linen background–it's light mint!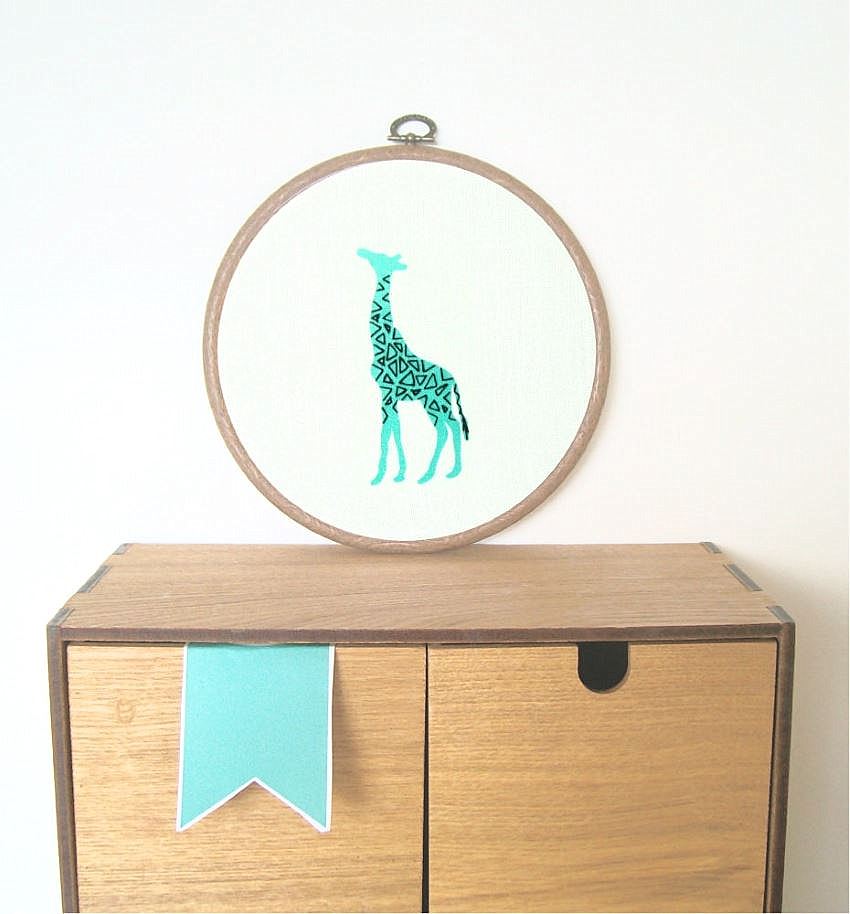 We enjoy the contemporary embroidery of artist Sarah K. Benning, from her geo patterns to her abstract pastels. Do they inspire you to give modern embroidery a try? If you're not feeling crafty, you can purchase one of her designs, such as the Tropical Geometric Hoop below: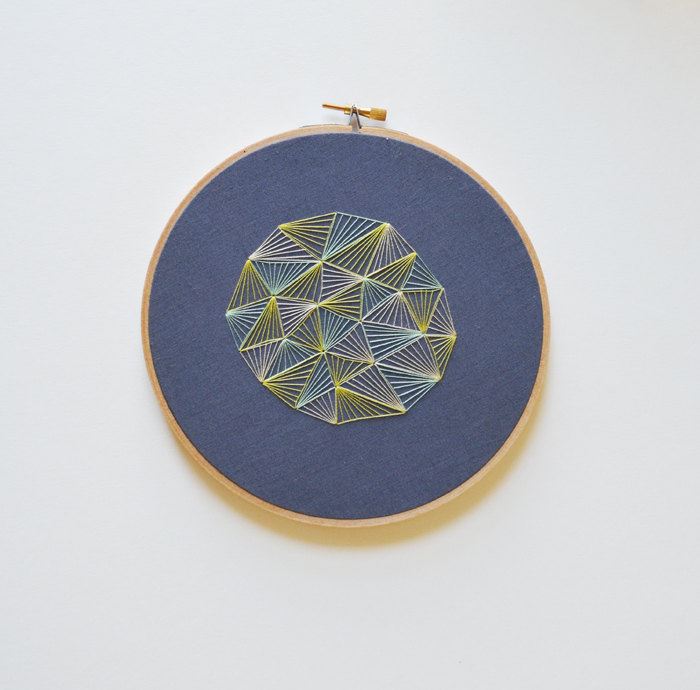 We're completely and totally inspired by the modern embroidery of Takashi Iwasaki. Below we see Mijimijiumiushipu, created with embroidery floss and fabric. While we admit that we don't have Iwasaki's skills, the artist's work inspires us to think outside of the box when designing original embroidery projects.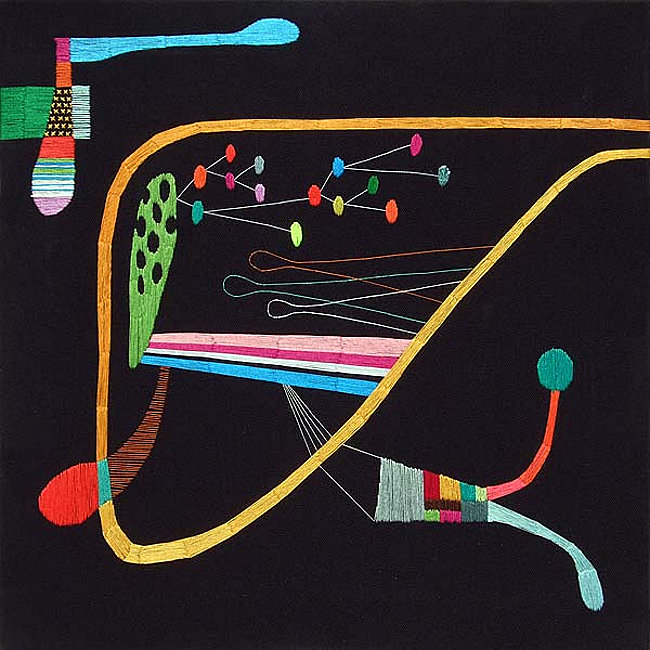 DIY Projects with Embroidery Hoops
Get ready to put away the thread, because this section is all about the hoops! Yes, there are many projects that these perfect round wooden forms are ideal for. This Modern Geo Embroidery Hoop Cork Board idea from The Plaid Palette (featured at 2Modern) is the perfect way to add a functional splash of geo style. Use an embroidery hoop size of your choosing, and personalize the project with your favorite paint colors!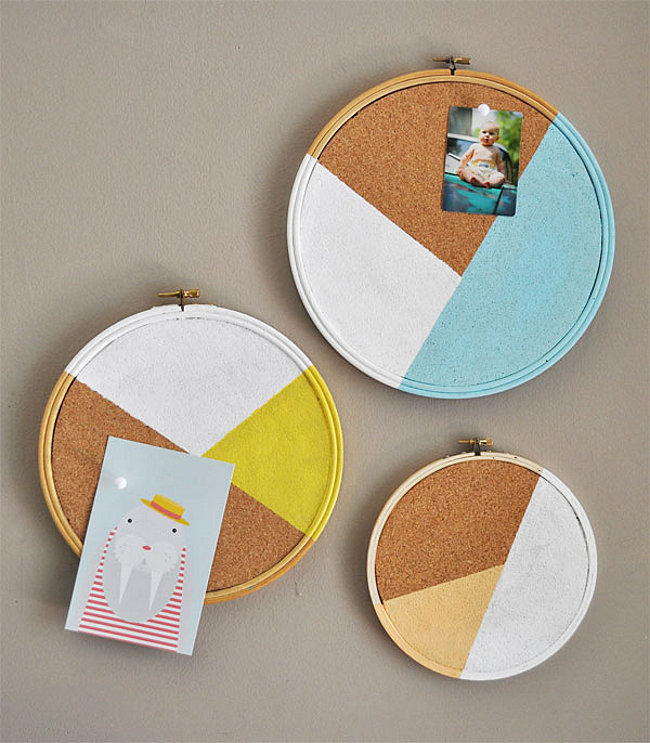 This DIY Hanging Plant Sculpture from What Else Michelle can be easily created with embroidery hoops, yarn and a few other supplies. We're loving the use of faux greenery here, as it's right in line with the "houseplant alternatives" kick we've been on this week! A very clever project…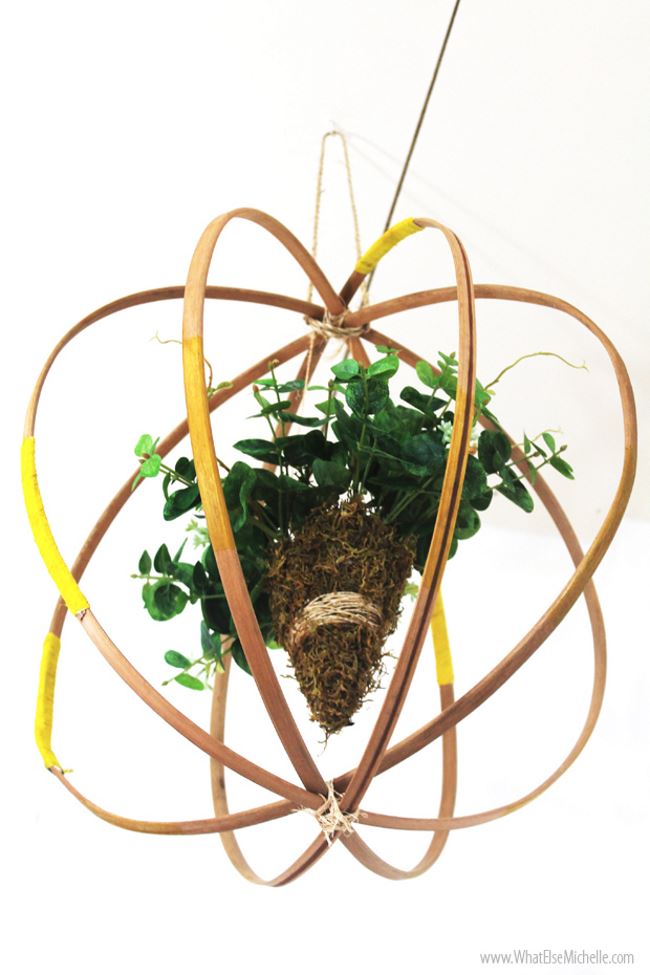 Anyone know the original source of this DIY feather mobile? We found it on Pinterest, and immediately our thoughts turned to spray paint, embroidery hoops and light-as-a-feather adornments!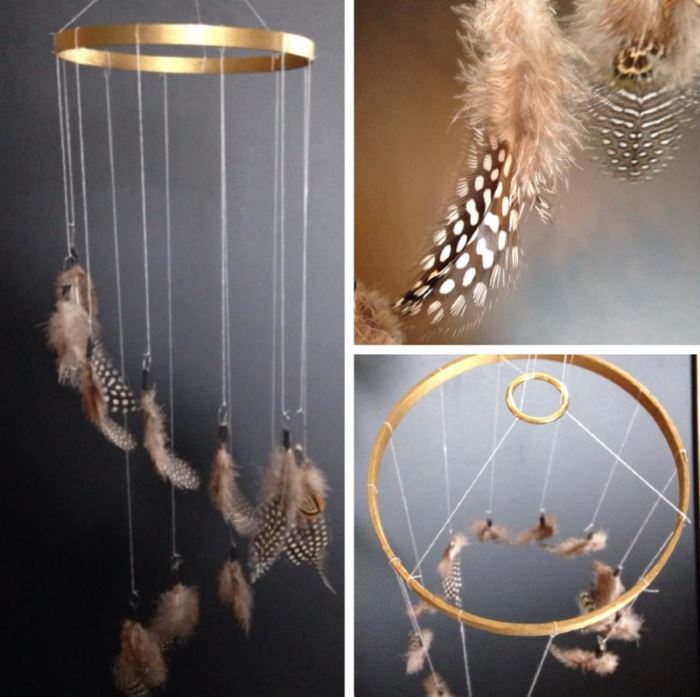 We're fully aware that this Sonadora Hemp & Brass Eclipse Wall Hanging from Urban Outfitters is crafted of polished brass rings and waxed hemp rather than embroidery hoops and yarn. But it's opened our eyes to the wall hanging possibilities of wooden embroidery hoops, especially when different sizes are involved!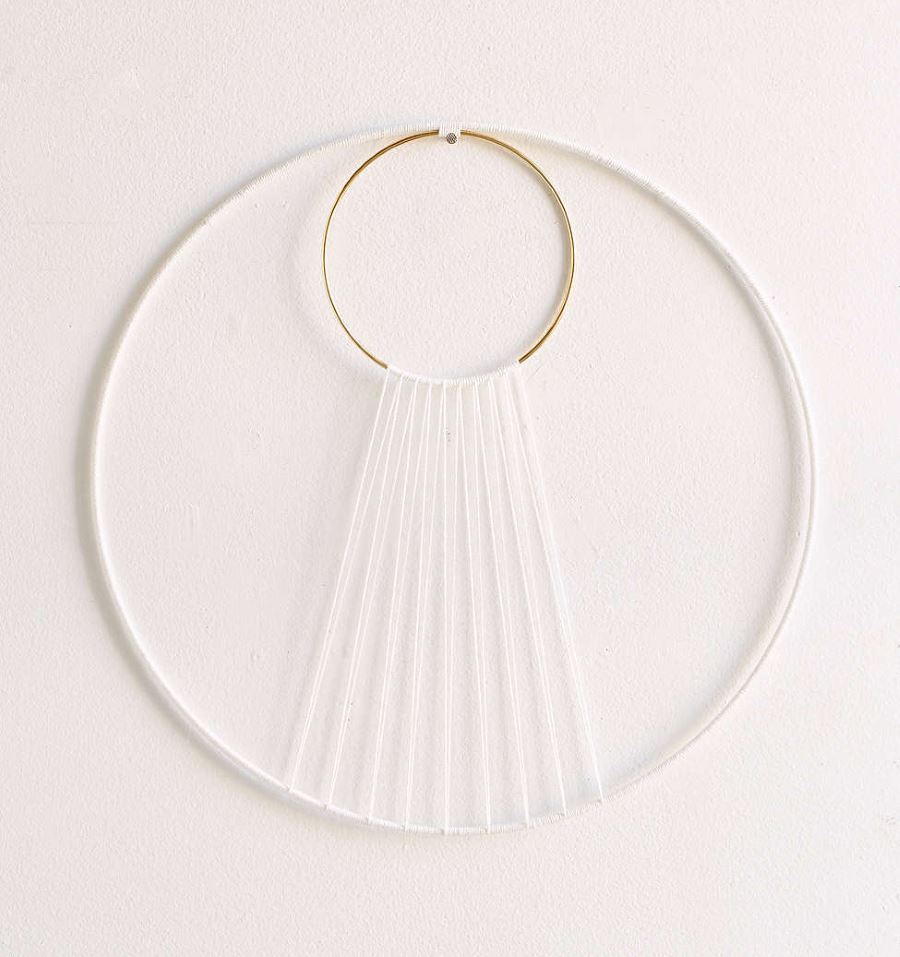 Ceci Bean's DIY Captain's Mirror is a beautiful creation. An embroidery hoop, a mirror, some wood stain, a belt and a couple other key supplies are all you need to make your own version. A beautiful form meets stylish function in this project!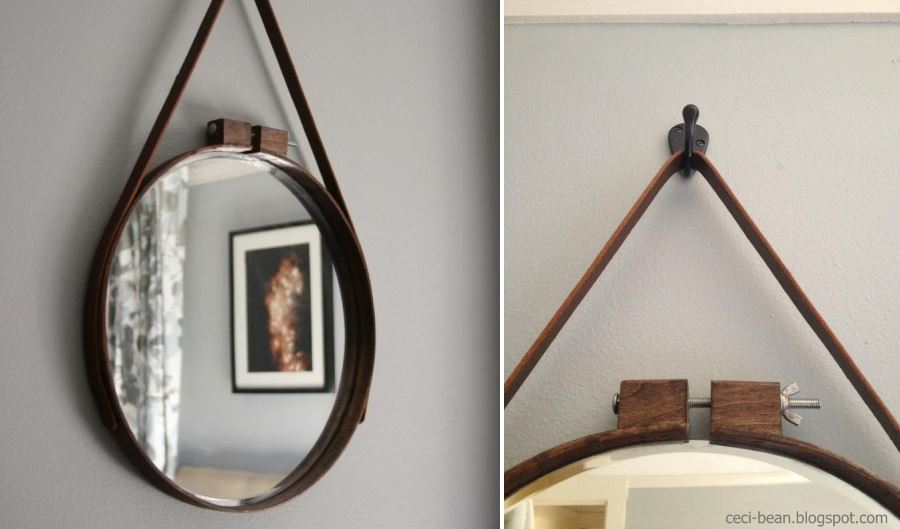 Finally, allow us to toot our own horn for a minute! We're ending today's post with a couple of original Decoist DIY projects using embroidery hoops. First up: a modern round hanging shelf, crafted from the inner pieces of two embroidery hoops. This super easy project involves no nails or screws – simply a glue gun! Use it to display lightweight items, and top it off with a coat of paint around the edge for an extra pop of color.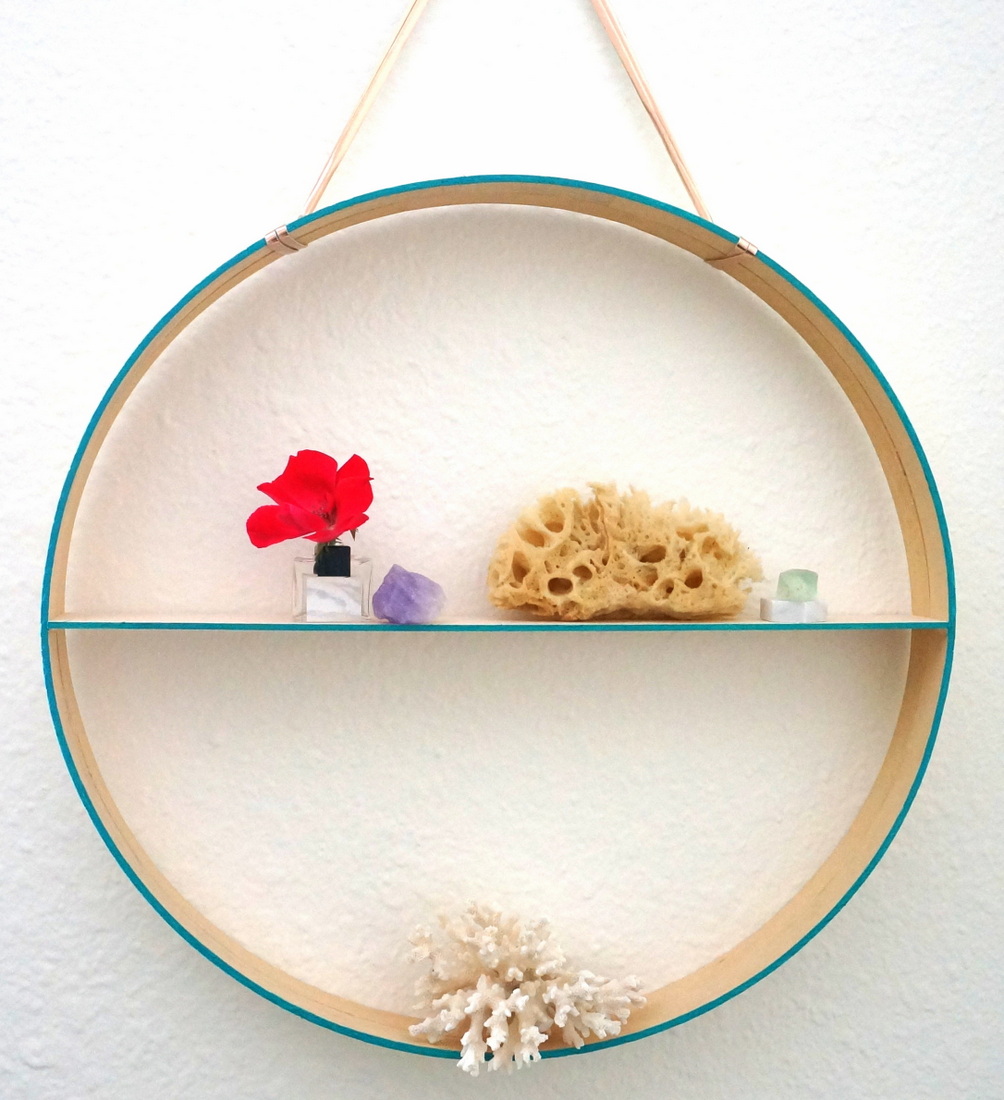 Last but not least, this wall hanging project celebrates the design trend of mixed materials. Marble, metal, yarn and the wood of an embroidery hoop come together to make a modern statement!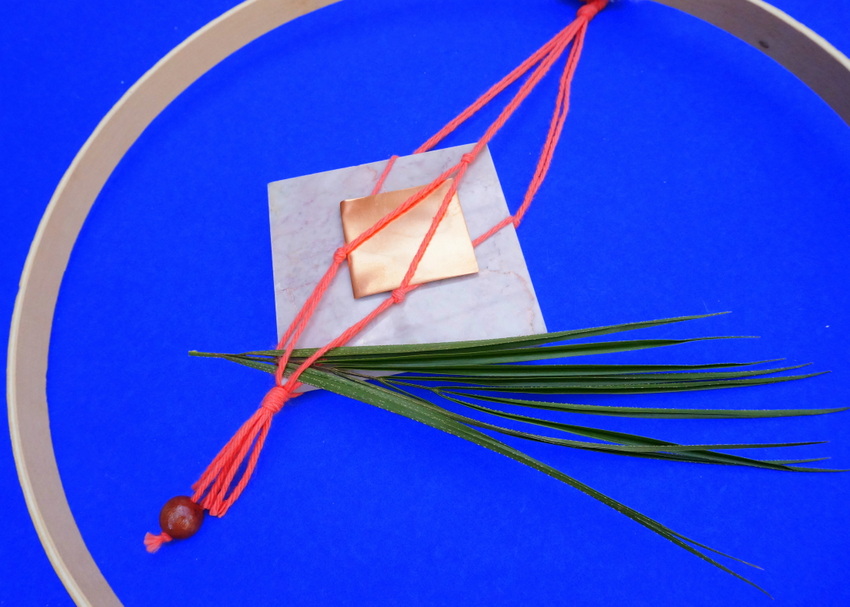 Is your head swimming with all things embroidery? Whether you're a fan of needlework or you're just in it for the wooden hoops, give one (or more) of today's featured projects a try!
Liked the story? Share it with friends.