I love a painted door! While you might think today's post is focused on exterior doors, lately I've been struck by the growing number of painted interior doors. Some of these doors are painted on one side, and others are painted on both front and back. It all started when I became smitten with the bungalow of Ashton Arthur, recently featured at Camille Styles (shown below). Then I began opening my eyes to a range of painted door photos and their potential to inspire projects at home. Ready to take a look with me?… [photo by Jessica Pages]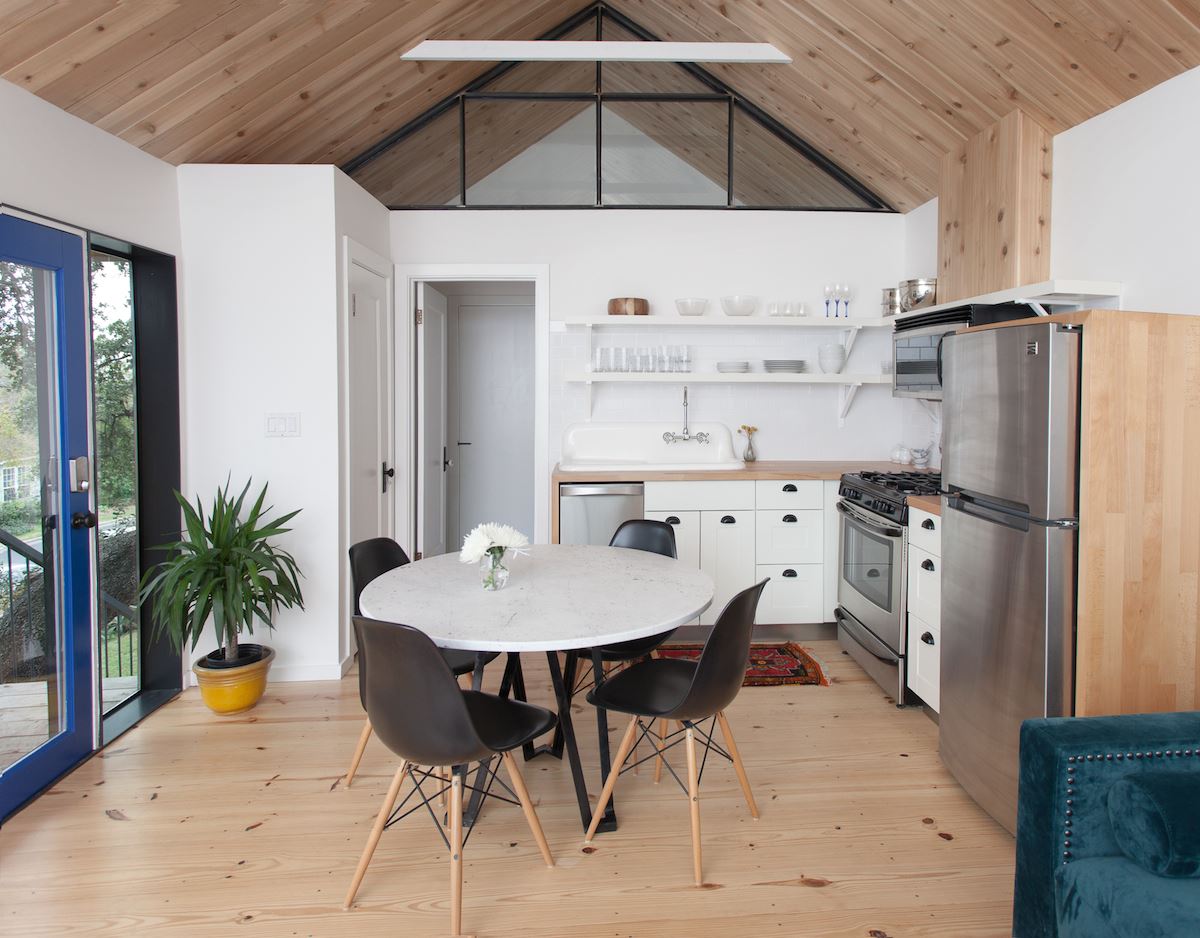 Painted Doors in Rosy Hues
Some of today's most popular painted doors are in shades of red and pink. Once again we see a room in the bungalow of Ashton Arthur, which features interior design by Claire Zinnecker. The pink door mirrors the pink of the room's bedding. Curious about the paint color? It's Gypsy Pink by Benjamin Moore!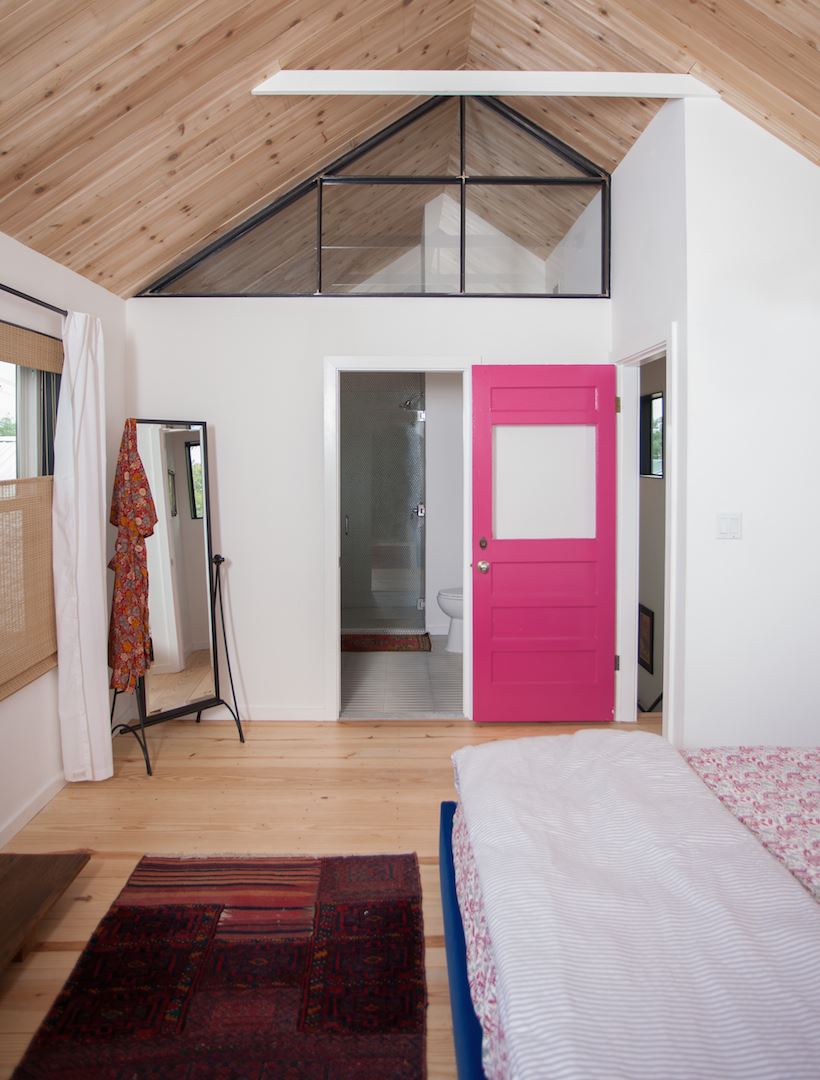 Shades of pink, red and coral are uplifting and dynamic. They can bring out other rosy shades in the room and add a bold pop of color to an all-white space, as shown in this farmhouse bedroom. [from Stephanie Wiley Photography via Houzz]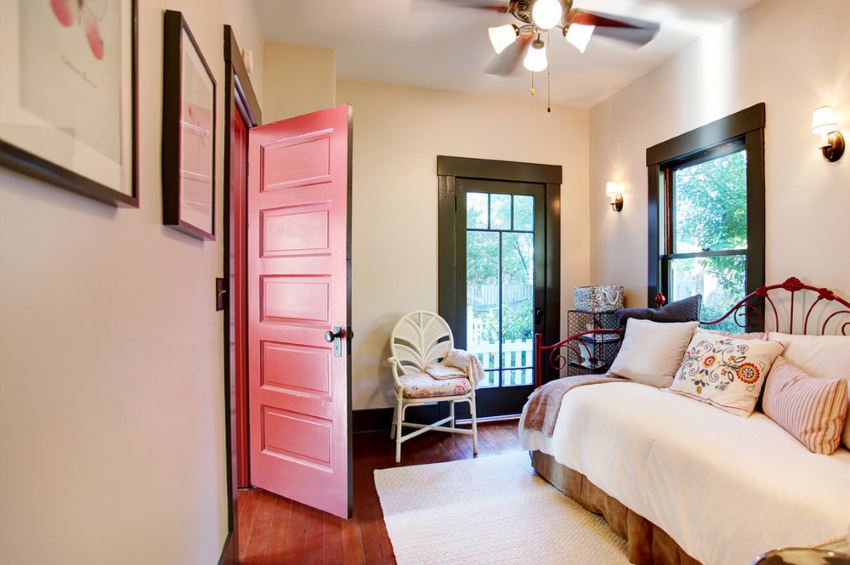 A red door makes a wonderful addition to the kitchen, especially when the kitchen is white with dark accents. The swing door below is unique on its own, but covered in red paint, it becomes a focal point of the space. [from Troy Spurlin Interiors]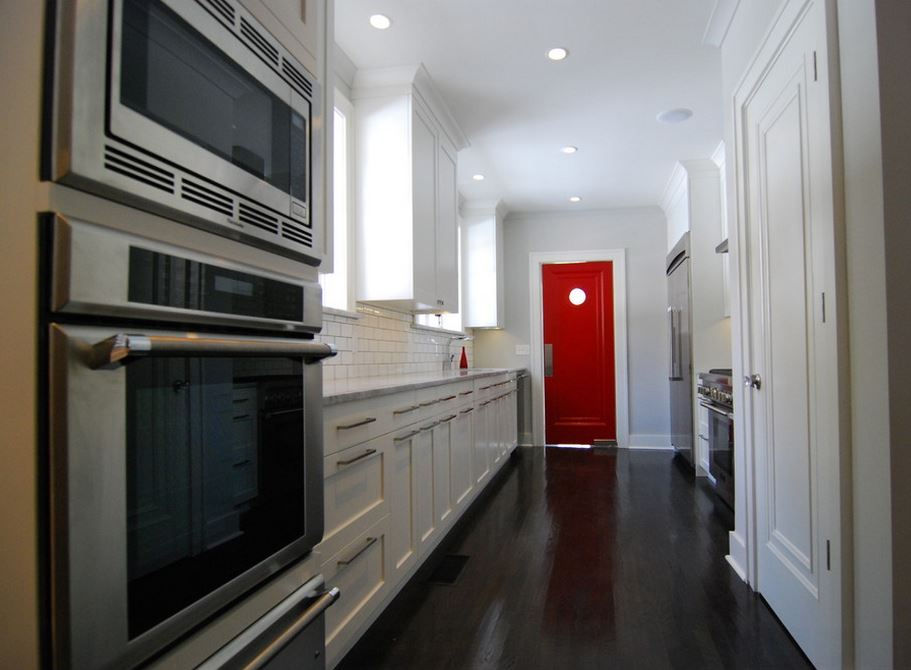 Yellow Doors
Yellow doors are sunny, bright and energizing. When it comes to the use of vivid yellow, nobody owns it quite like Elsie and Emma of A Beautiful Mess! The half-painted door below from Elsie's office showcases an amazing color, as well as an unforgettable design. The color of choice is Brilliant Impressions from Dutch Boy Paint.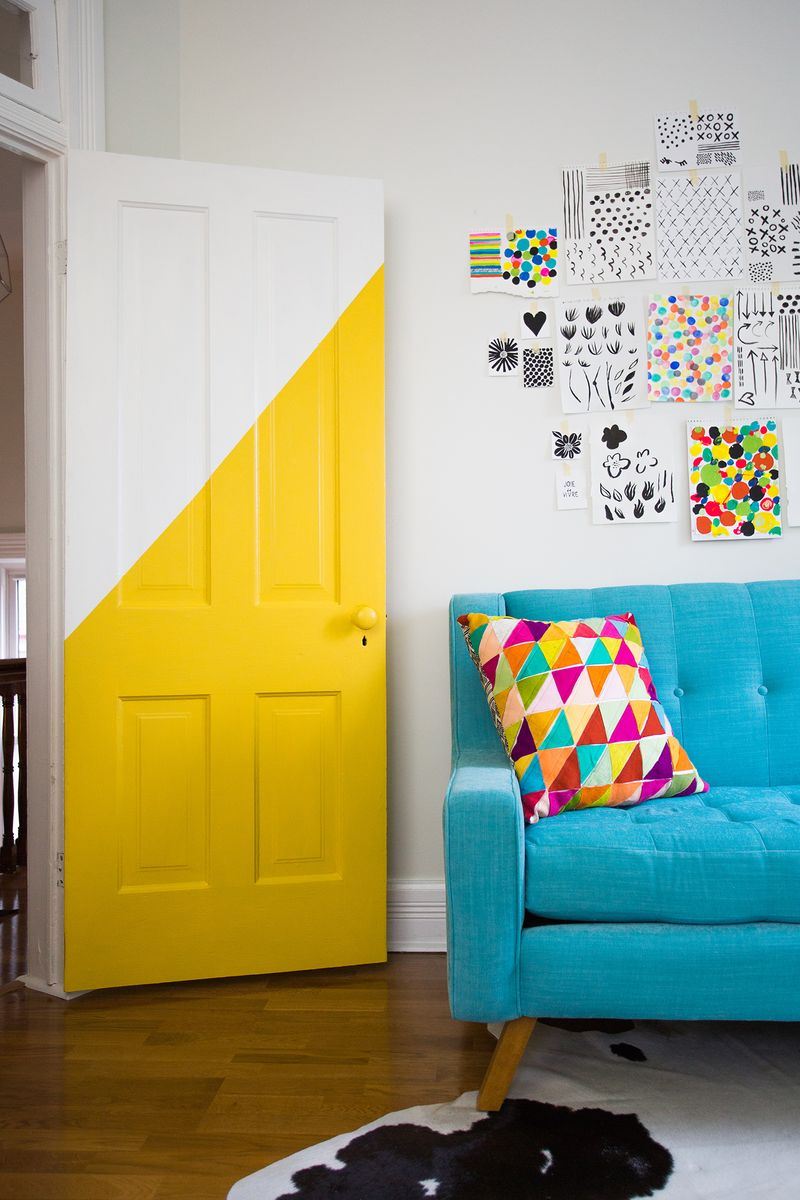 Here's another amazing painted yellow door from the A Beautiful Mess studio, this time a sliding barn door separating the kitchen and the bathroom. Talk about a bright transition!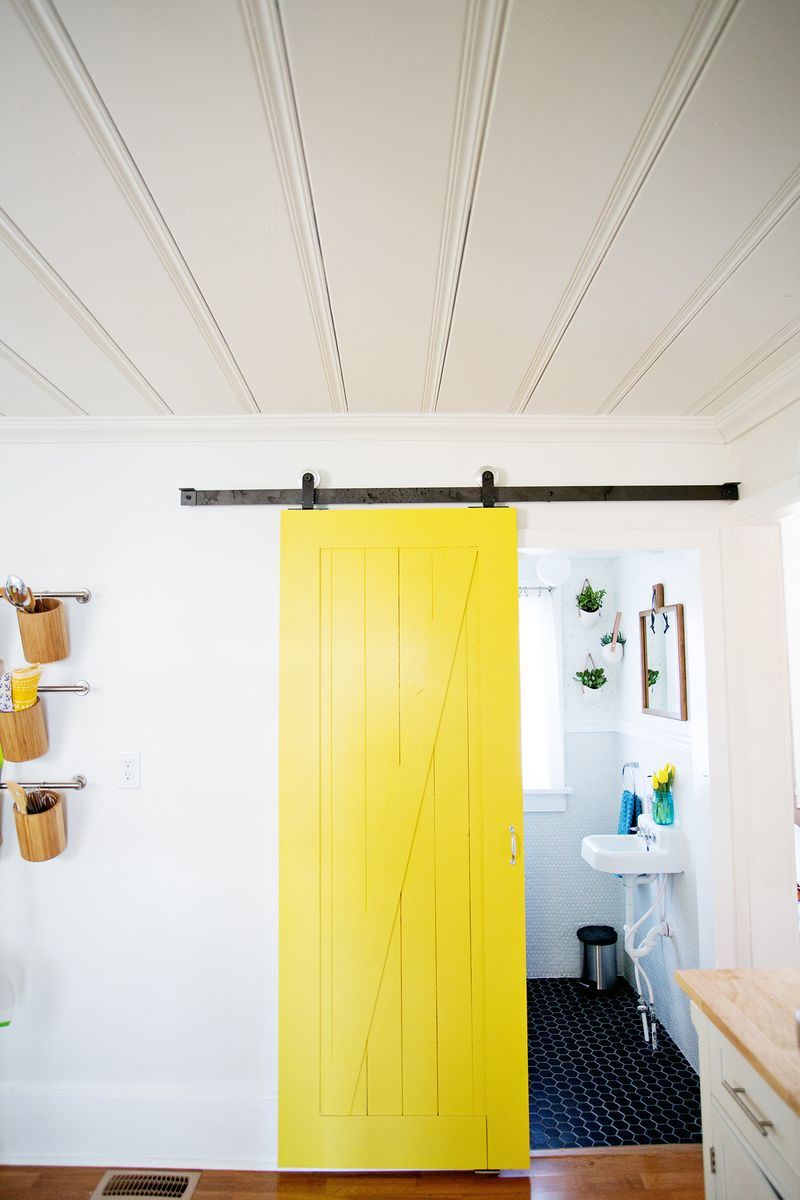 Doors in Shades of Blue
We now move on to shades of blue, which are soothing and calming. The light shade of aqua below is also refreshing, especially when placed in an all-white space with grey accents. [from White Pine Lumber, design by Mark Rickerd, and photo by Anastasia McDonald]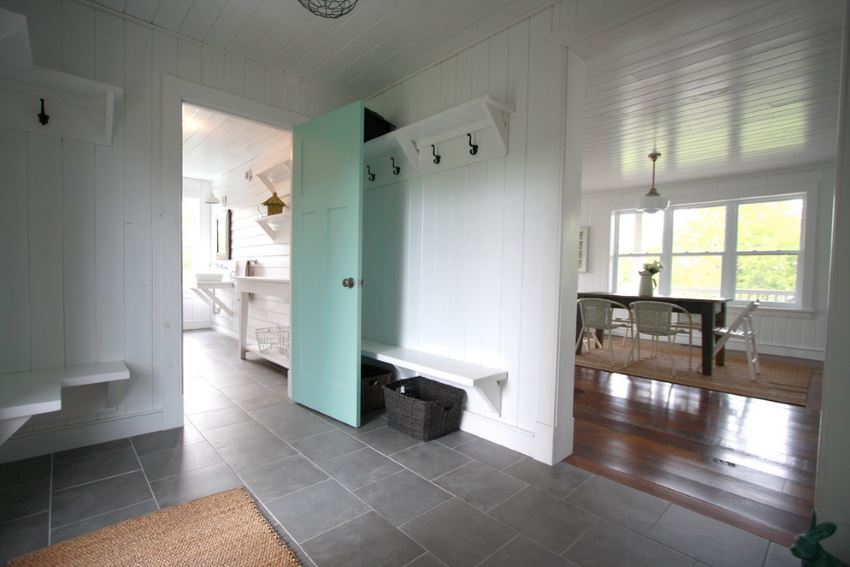 Turquoise is a striking accent hue, and it can blend with a variety of design styles. In this eclectic Miami bedroom, turquoise is a crisp addition and the perfect contrast to other prominent tones such as hot pink. [from Mina Brinkey Photography via Houzz]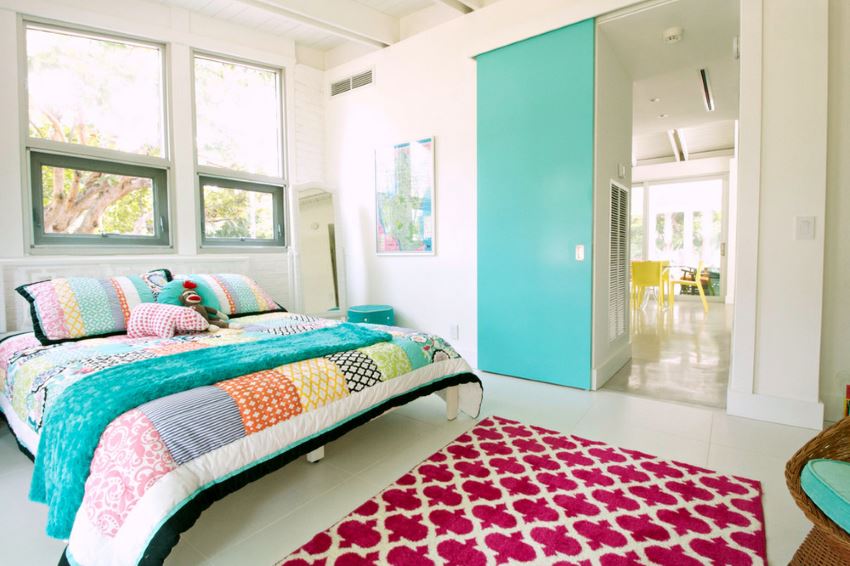 Neutral Painted Doors
I'll end today's post with a couple of painted doors in classic tones, proving that sometimes "understated" is the perfect choice! Below we see how dark chocolate brown doors add a dash of elegance to a chic interior. [from Clark & Zook Architects]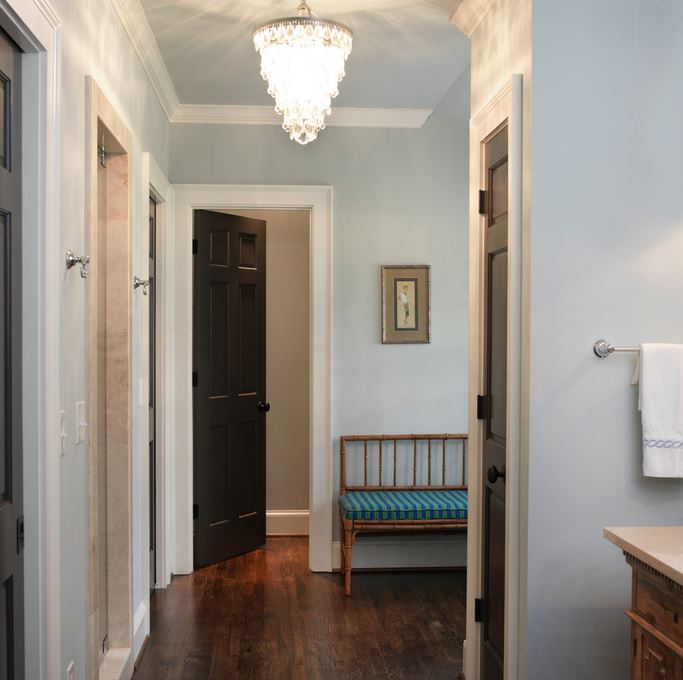 Grey and white are the shades of choice for the modern doors below, which punctuate the featured room without detracting from its standout features. [photo by Kimberly Bryan via Houzz]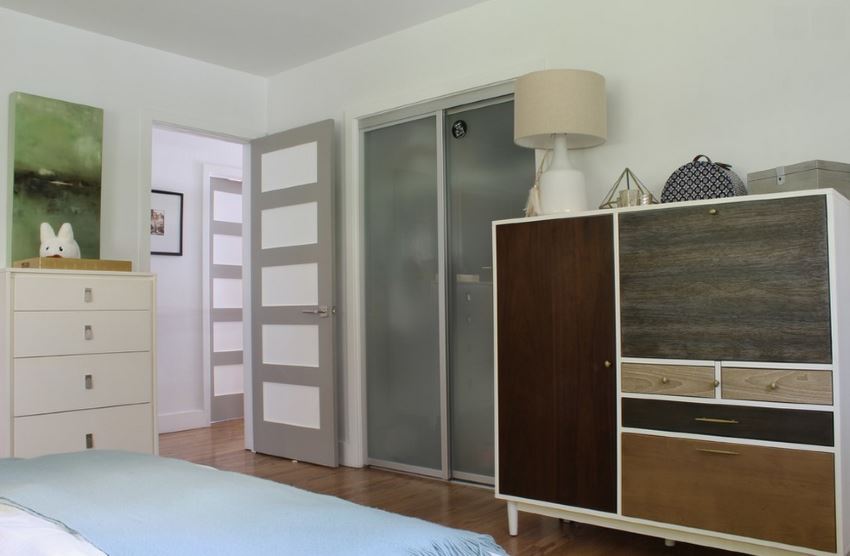 Would you paint a door in your home? I'm seriously considering this option for two different rooms that are near one another–a home office and a small bedroom. I'm thinking a shade of green-blue just might do the trick. What color would you choose for your space?!