Perhaps you decorated for the holidays the day after Thanksgiving! Or maybe you decided not to decorate, and as Christmas approaches, you're wishing you had. Either way, as December 25th gets closer, many of us have a sudden urge to deck out our spaces even more than we'd planned. But with last-minute Christmas shopping and other duties taking up our time, it can be hard to create the holiday of our dreams. Until today! Below you'll find a few easy Christmas decorating ideas that you can quickly throw together in plenty of time to fully enjoy. Ready to check them out?!
Easy Breezy Trees
So you decided not to get a Christmas tree this year and you're having second thoughts… Keep it simple and pick up a rosemary tree, like this Potted Christmas Rosemary from ProFlowers. Decorate it or leave it unadorned–either way it's an instant dose of Christmas cheer!
Whether you purchase a small evergreen plant or a bright poinsettia, wrap the base in burlap for an earthy touch. Simple yet stylish! [image source unknown, via Camille Styles]
Some Christmas tree lots or home improvement stores may allow you to pick up fallen greenery from the ground and take it home at no cost. Instead of messing with a large tree, try a small statement of greenery, created by putting evergreen branches in a vase of water. [from Varpunen]
For a non-traditional approach, create a wall of Christmas trees using washi tape, as shown below in a series of designs from Brit + Co.:
If you do go ahead and buy a tree at the last minute, jazz it up with an easy-to-create garland. It doesn't get much easier than this Five Minute Holiday Garland from Curbly, created with the help of neon string and wooden beads:
And if you're looking for an easy way to create a focal point without jumping on the tree bandwagon, try making a statement with a series of wreaths. Hanging them in the window with colorful ribbon creates a holiday-perfect vignette. These wreaths were created with embroidery hoops and greenery. [from Martha Stewart via Camille Styles]
No-Fuss Centerpiece Ideas
If you're covered on the tree front but you're still in search of a quick centerpiece idea, try adding sparkle with extra ornaments. Not only can you hang them in the window with ribbon or clear twine, you can pile ornaments into containers for a cup-runneth-over effect. The image below comes from a previous Decoist post on Christmas decorating tips: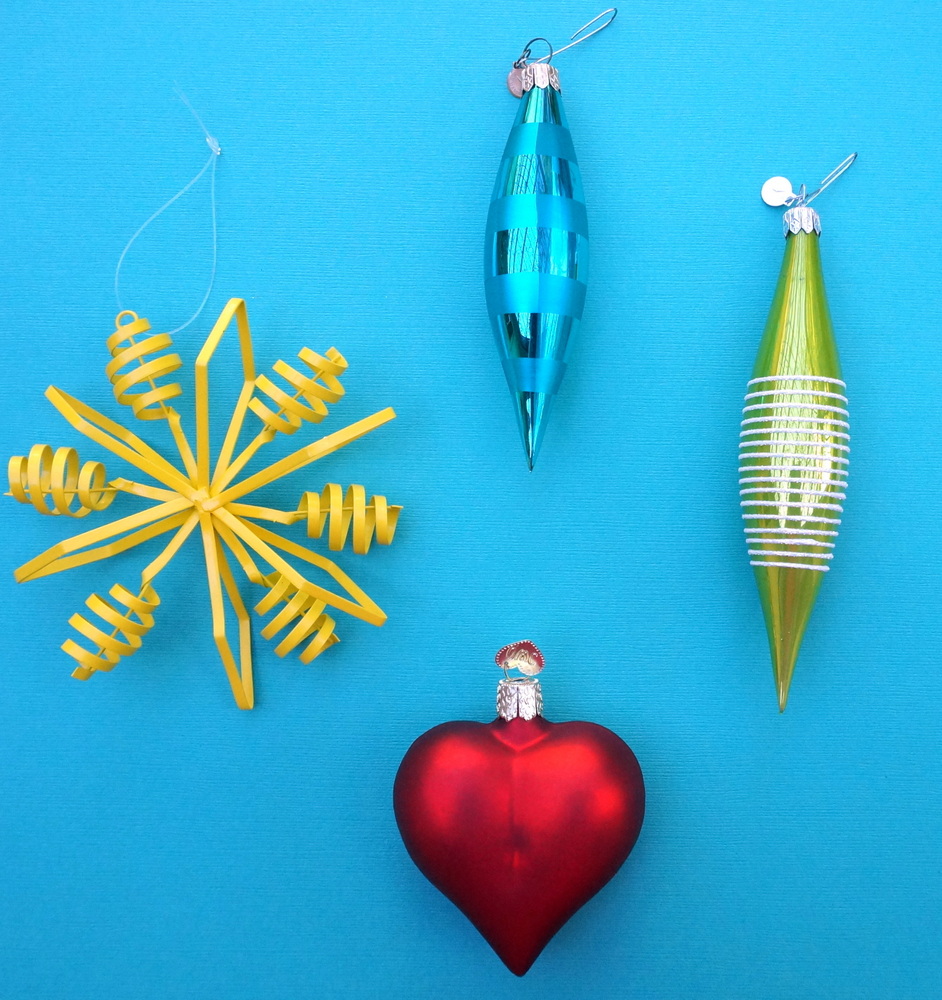 Clear containers allow you to see the ornaments from every angle. Not to mention, a clear receptacle lets the colors of the ornaments take center stage! [from Natalie Parker]
Another easy centerpiece idea: cut some greenery from the backyard! Do you remember the Loropetalum below from our Thanksgiving centerpiece post?!
This next centerpiece idea resembles a scattering of berries on new-fallen snow. And it couldn't be easier to put together! Use epsom salts, juniper and cranberries to create a fresh holiday arrangement. Display it alone for one unique statement or in multiples for a grand spread. [from Yellow Bliss Road]
Food as Decor
If you love preparing and eating holiday treats, these next three design ideas blur the line between edibles and decor. Spend time with loved ones making a gingerbread house–then display it as a centerpiece! The creation below is the product of a recipe from Food Network, but there's also no shame in using a store-bought kit!
Whip up a batch of Peppermint Marshmallows from A Beautiful Mess! These easy-to-prepare goodies are as stylish as they are delicious. Display the peppermint marshmallows in clear containers as part of your holiday decor.
Candy canes also make great holiday decorations. Keep candy canes on hand in a glass vase for those moments when you need to embellish a cup of hot cocoa. To learn more about the delicious nonalcoholic holiday drinks below, visit Mirror80.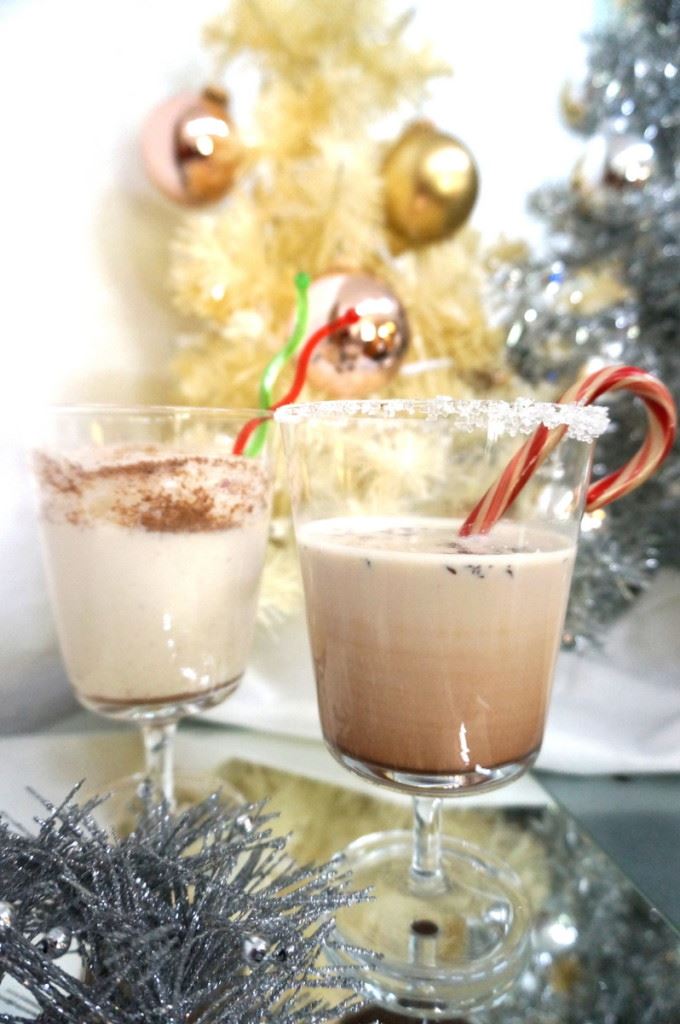 For the Mantel
Need a few more holiday decorating ideas for filling surface-tops such as the mantel? Here's an easy answer: purchase a bag of mini Christmas trees and arrange them in one large spread. This design idea was also featured in our recent Christmas decorating post: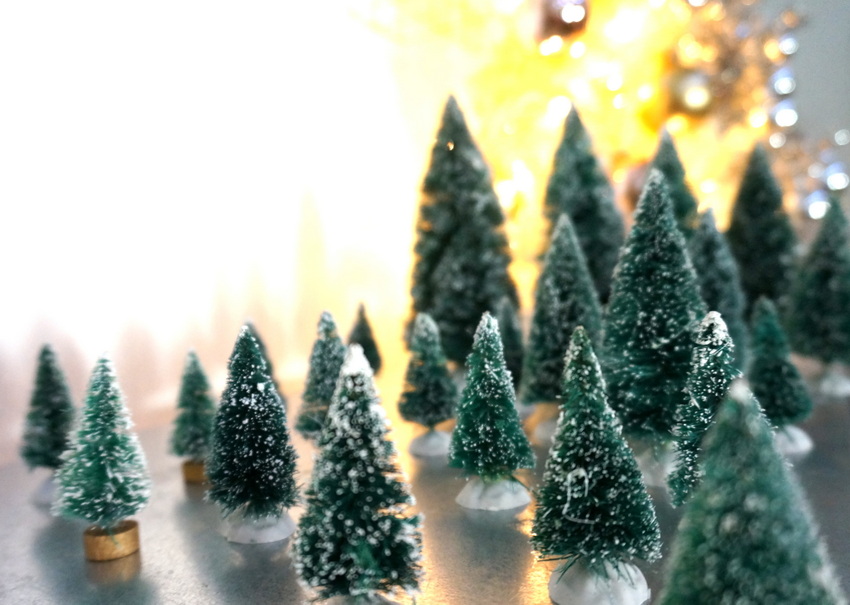 If you're looking for a departure from the flocked green mini trees, try dyeing them different colors for a vintage effect. The bottle brush tree project below comes from A Beautiful Mess, and it involves bleaching the trees, then dyeing them an array of colors to add interest.
Got leftover glass ball ornaments? Turn them into receptacles for small holiday arrangements! Remove the tops of the ornaments, and glue flat washers to the bottom so the ornaments can stand steadily. This creative Ornament Bud Vase project is from Lowe's:
No fireplace mantel? Create your own fireplace with washi tape, and hang a shelf to serve as the mantel. The Washi Tape Fireplace below is pretty convincing! Learn more about this project at Brit + Co.
We hope we've given you a few fun ideas to try out this last week before Christmas. Remember, it's never too late to DIY your way to holiday festivity! Enjoy!