While researching today's post, I've been basking in the magic of Christmas, especially that enchanting zone where holiday decor meets the wonder of interior design. The following spaces feature dazzling trees, and they are all beautifully photographed as well. May they inspire you to add a few finishing touches to your interior this holiday season and fully revel in the glow of flickering twinkle lights…
Christmas Trees with Colorful Elements
Let's start with some color! Ever since I saw a red tree with red lights at one of my favorite fancy hotels, I've been a bit obsessed with rosy Christmas trees! This Red Ashley Pre-lit Christmas Tree from Hayneedle would definitely get the job done. It even looks great sans ornaments in this promo shot. Note how it shines in a room filled with neutral tones:
A white tree is draped in shades of black, gold and teal in this lovely modern room styled by Emily Henderson for Target. If this isn't a winter wonderland, then I don't know what is!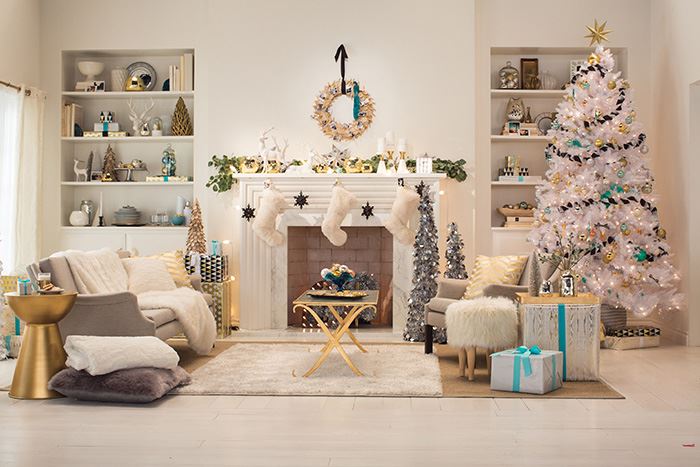 Jewel tones reign on this whimsical tree in a teal living room. Note the gilded accents and the fantastical feaures, such as the wispy tree topper! [from Room Design]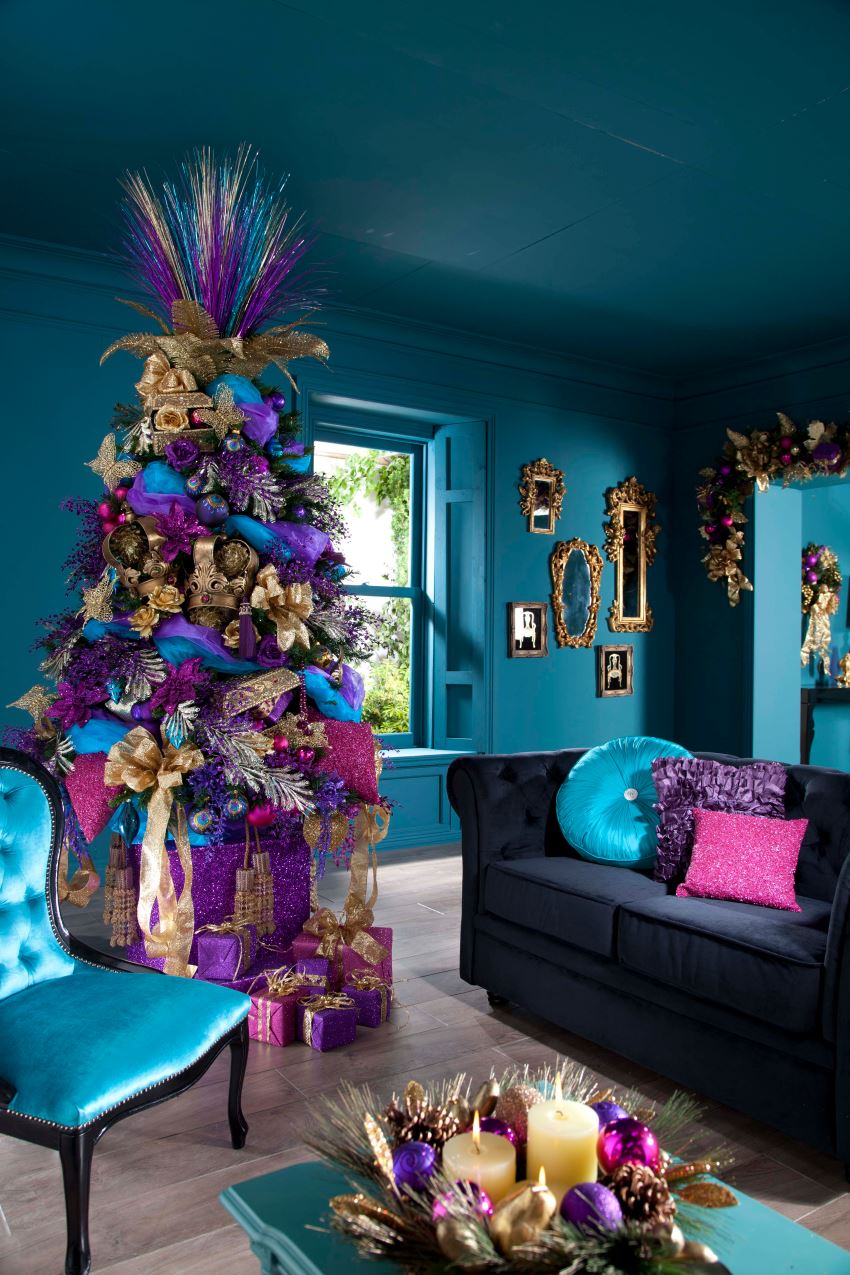 Blue-tinted greenery is the star of this next eclectic space featuring bold pendant lighting and a range of unique finds. The tree reinforces the room's rich-hued color palette. [from Lonny]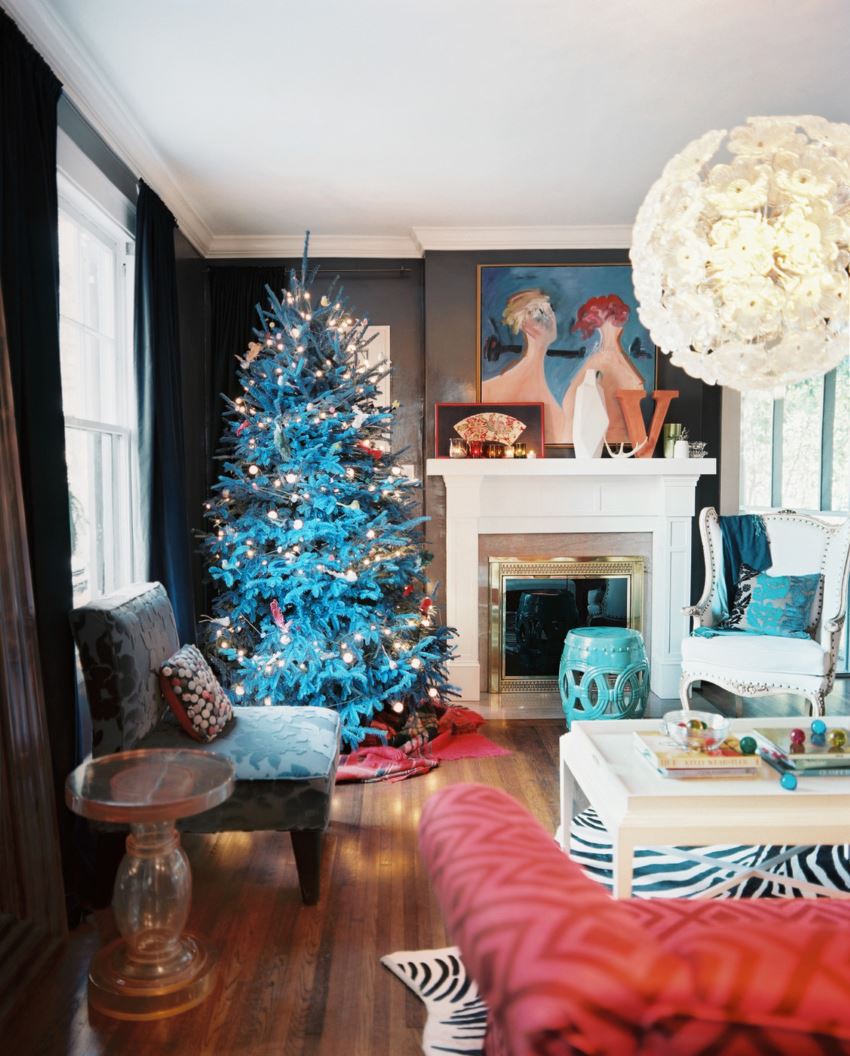 Sometimes color comes from the ornaments and embellishments rather than the tree itself. This Mid-Century space from Mindi Freng Designs is filled with red and teal blue. The tree brings the room to life with the help of vibrant ornaments and a fluffy white garland.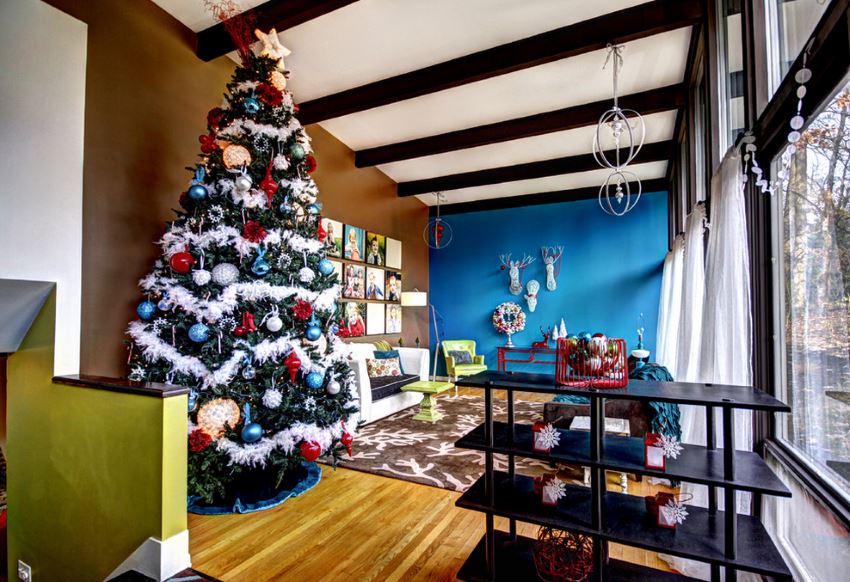 A Touch of Rustic Style
Charming trees often thrive in spaces with earthy touches. Or they can be used to introduce an earthy element to a modern room! The Charleston family room below features a lovely tree with natural elements. In fact, fresh greenery beautifully complements details such as the room's wooden beams. [from Cortney Bishop Design]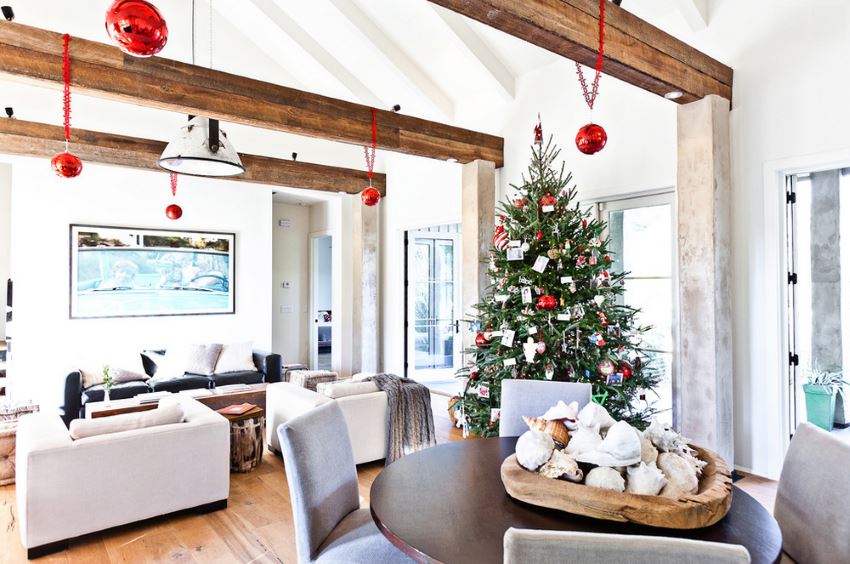 Swedish straw ornaments are the perfect addition to the green tree in this minimalist living room. White twinkle lights and red ribbon add sparkle and color. [from Lonny]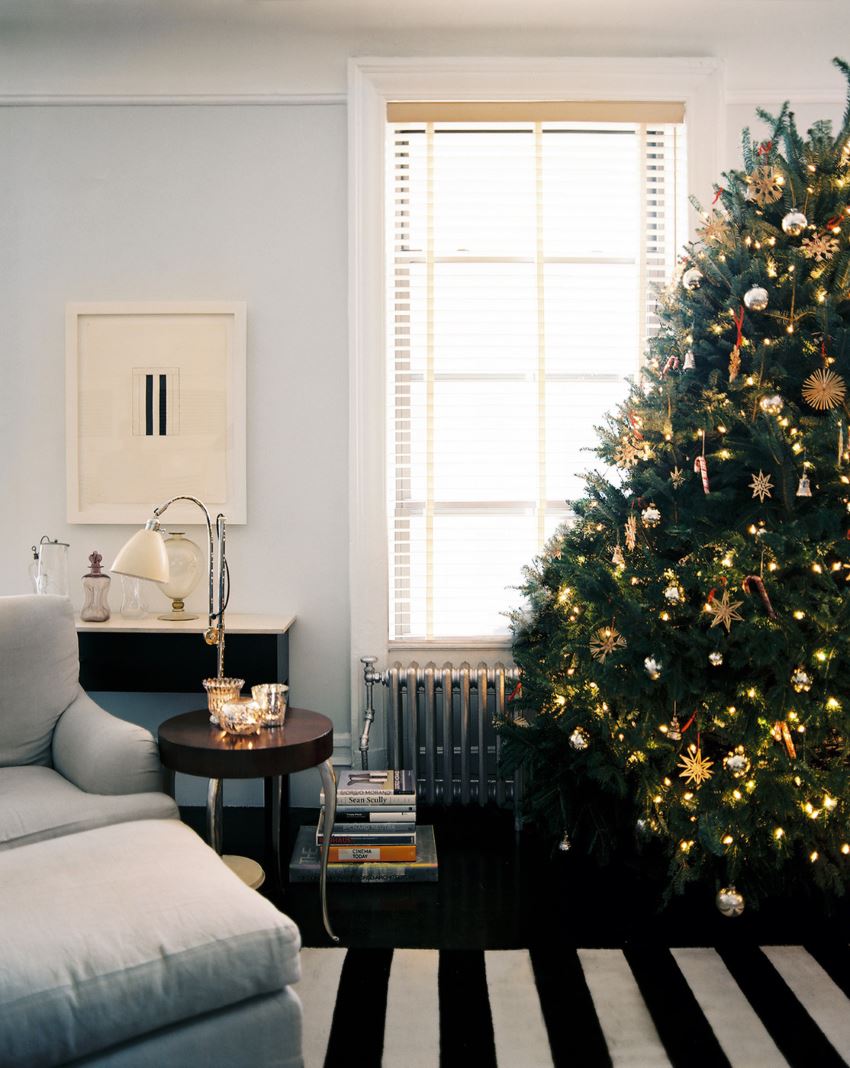 Chic Elegance
We end with a trio of spaces that bring take elegant style to a new level. In the next featured image, we see a collaboration between Apartment 34 and Martha Stewart, featuring items from the Martha Stewart for The Home Depot Metallics Collection. Grand and picturesque: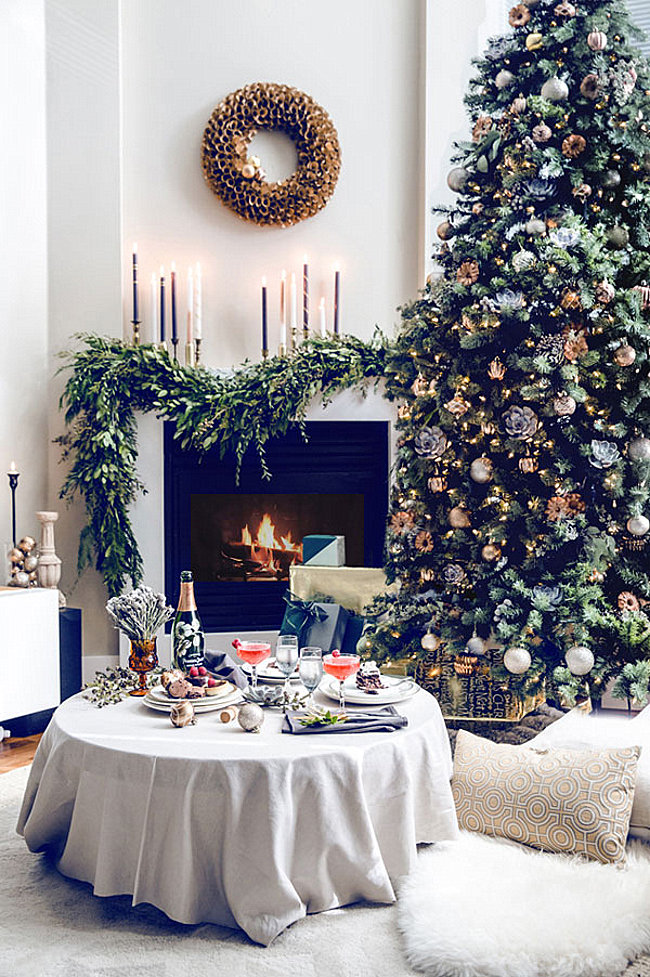 Tabletop trees can be grand as well, especially when each ornament is lovingly placed. Fresh greenery is the perfect touch for this chic living space, and wrapped gifts in color coordinated tones are the icing on the cake. [from Luminns]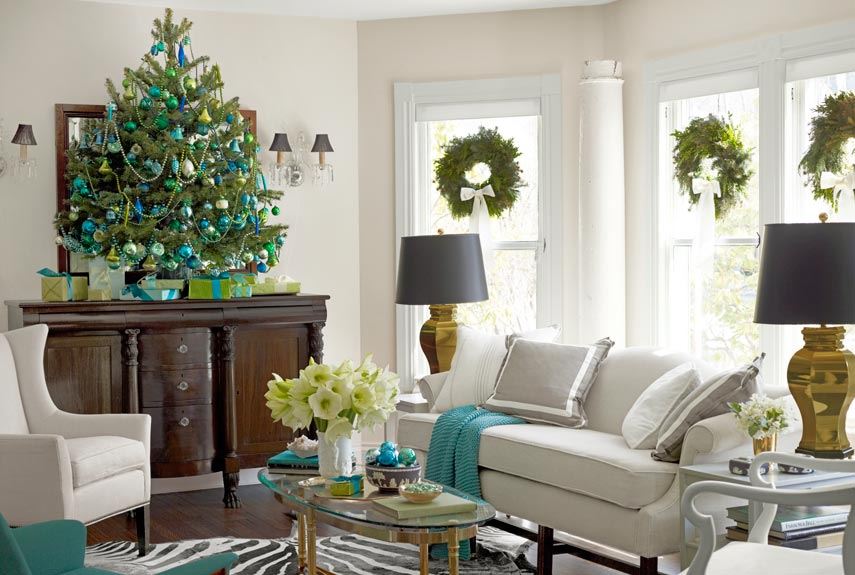 This traditional living room is rich with neutral hues, and greenery above the fireplace enhances the green of the Christmas tree in the corner. Gold and silver ornaments are an ideal choice for this space, while a vase of red tulips adds the perfect dose of holiday color. [from Munger Interiors]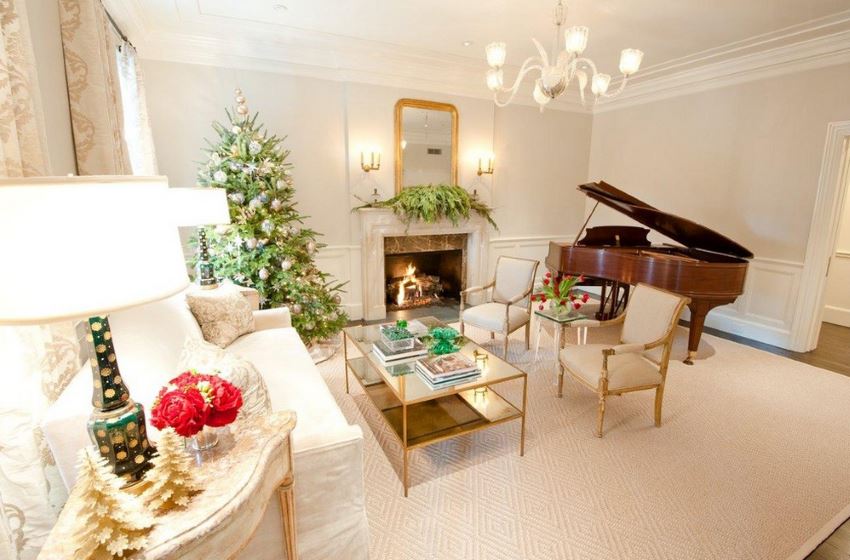 Which holiday room above is your favorite?