Open shelving is one of the most desirable features of today's modern kitchen. Have you noticed that we usually see three main vignettes when it comes to filling open shelving–the minimalist, the crowded, or a combination of the two? In other words, people often take a "less is more" approach, featuring only a few well-placed dishes or objets d'art. Then there are those who take the totally functional approach, placing anything and everything on their open shelving. Probably the most popular approach is the one that incorporates oft-used items as well as artfully placed stylish flourishes. The result: a display that is interesting, not too cluttered , and practical. Today we explore open shelving possibilities by shining the spotlight on 10 stunning kitchens. Enjoy!
Less Is More
Let's start with shelving that features very intentional displays of dishware. Like the all-white space below. Note how white dishes are stacked and arranged by type, creating a sleek display that's anything but cluttered (despite the large amount of pieces involved). In fact, the monochromatic, ordered look results in a tidy feel [from Cary Bernstein via Houzz]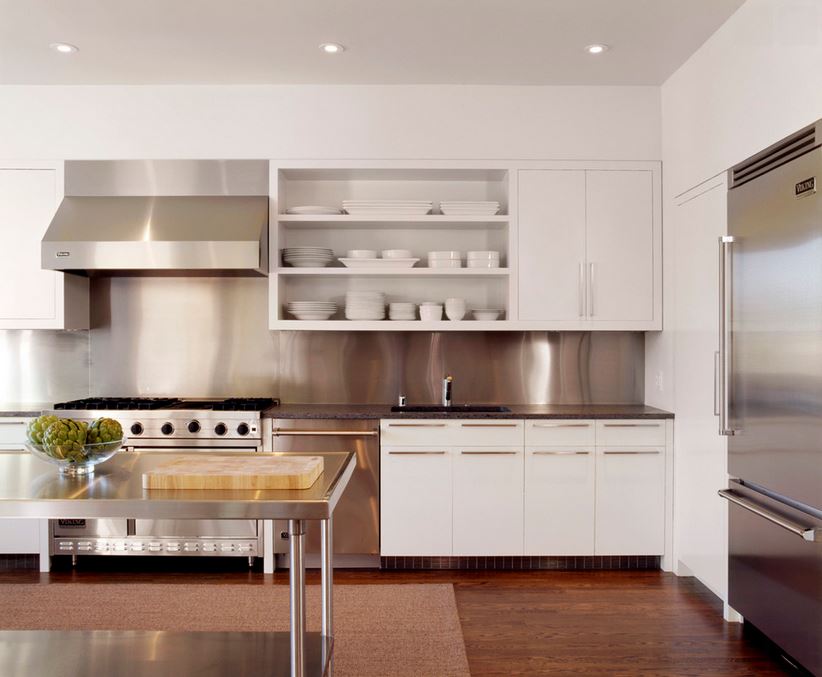 There isn't a lot of open shelving space in this elegant kitchen, yet every item counts. In fact, these pieces are truly unique, creating a display of prized collectibles. Black and white meet metallic shine in this Austin kitchen of Elizabeth Mollen. [from Lonny]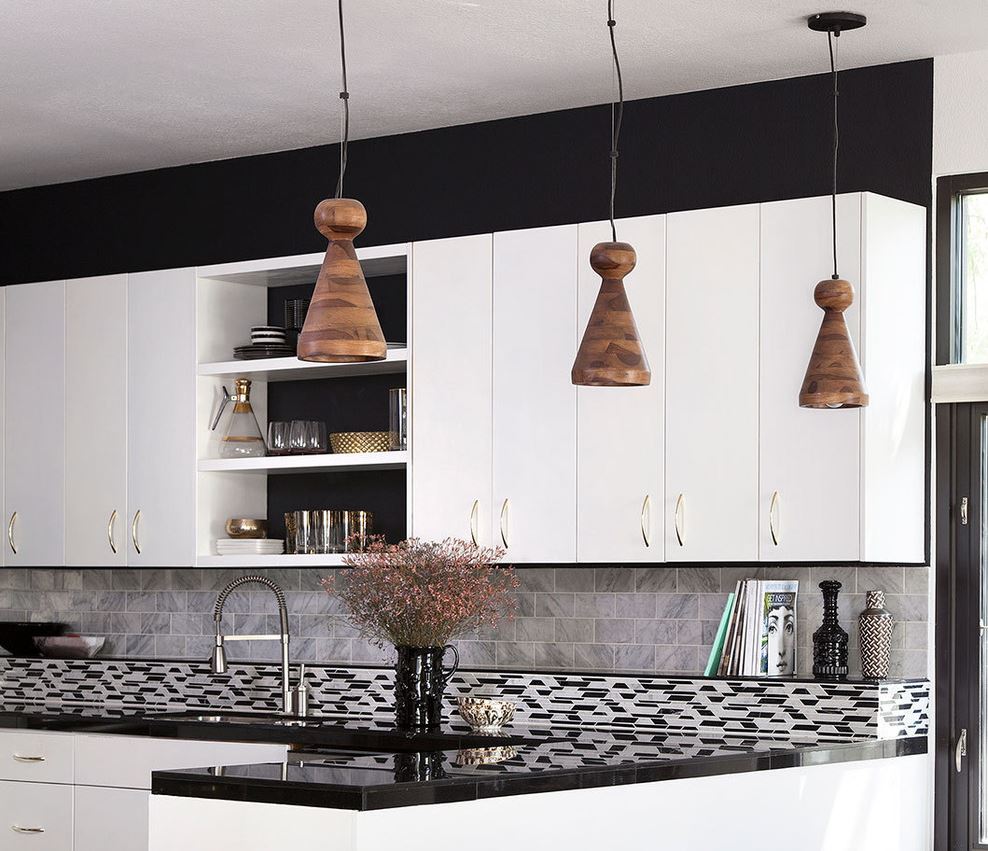 A black stone backsplash is the perfect setup for a clean, fresh display of white dishware. Ample space between items creates a spacious feel, and the contrast between dark and light is wonderfully dramatic. [from Joe Olson via Houzz]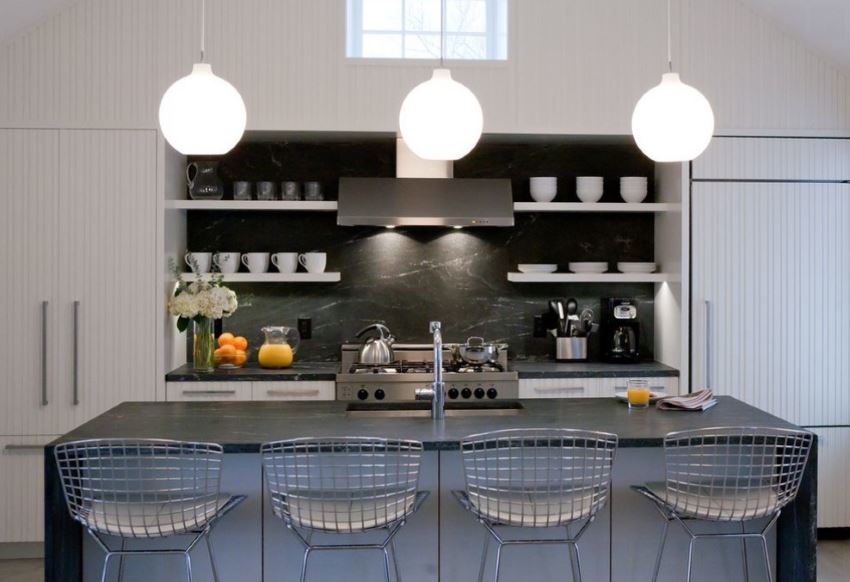 A Stylish Mix
We now move to open shelving displays that incorporate a range of items, including stainless steel mixing bowls, as shown below. When deciding what to display, it can be helpful to select pieces that fit into a specific color scheme or aesthetic. There's a retro-meets-modern feel to the items below, thanks to patterned ceramic canisters on the top level. They somehow tie everything together! [photo by Eric Staudenmaier via Incorporated]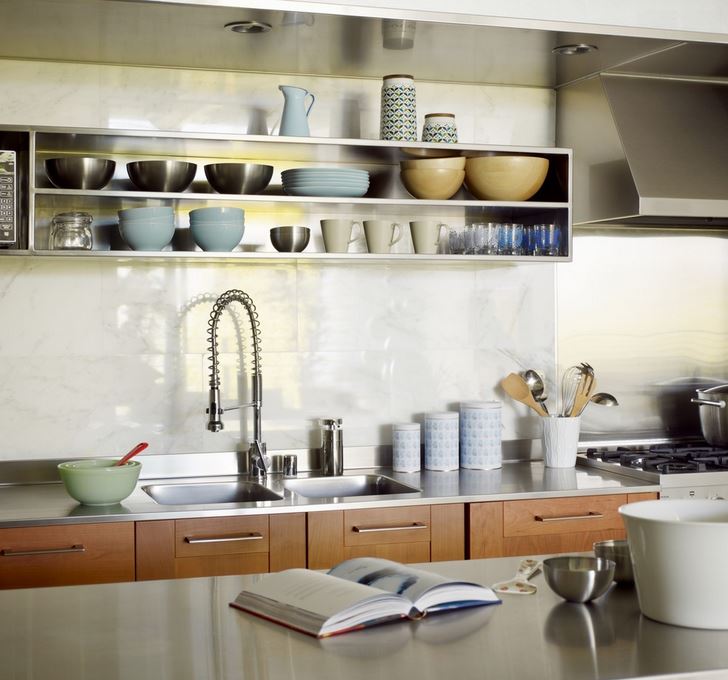 Dishware–check. Canisters filled with ingredients–check. Ice bucket–check. In fact, a range of pieces can be found on the open shelving in the industrial kitchen below. Yet because they are either white, clear or stainless steel, they somehow all reinforce the aesthetic of the space rather than create a cluttered feel. [from Pearls to a Picnic]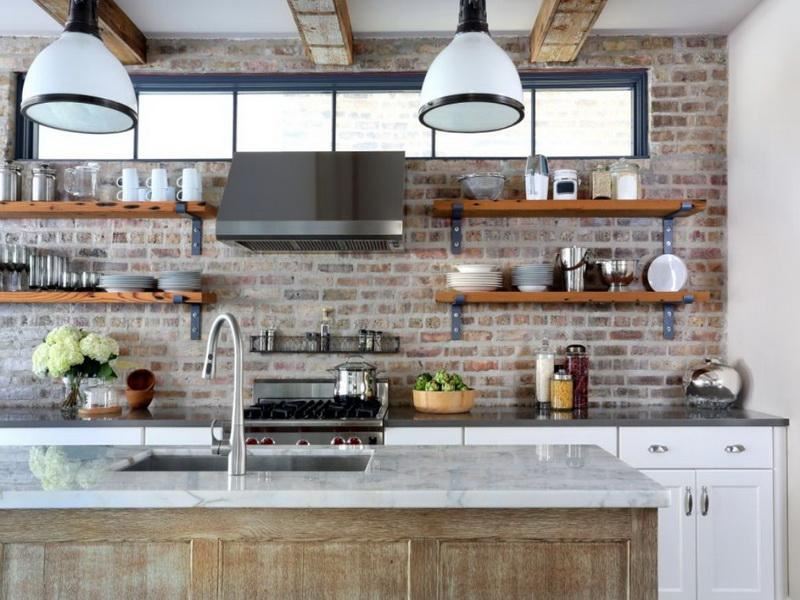 Open shelving suspened from the ceiling–definitely a visual focal point! Pasta, lemons and fresh herbs are a few of the display-worthy ingredients featured here, as well as glassware that would make any festive drink taste a little bit better. There's a fresh, foodie feel created by this arrangement, yet it's somehow practical as well. [from Lonny]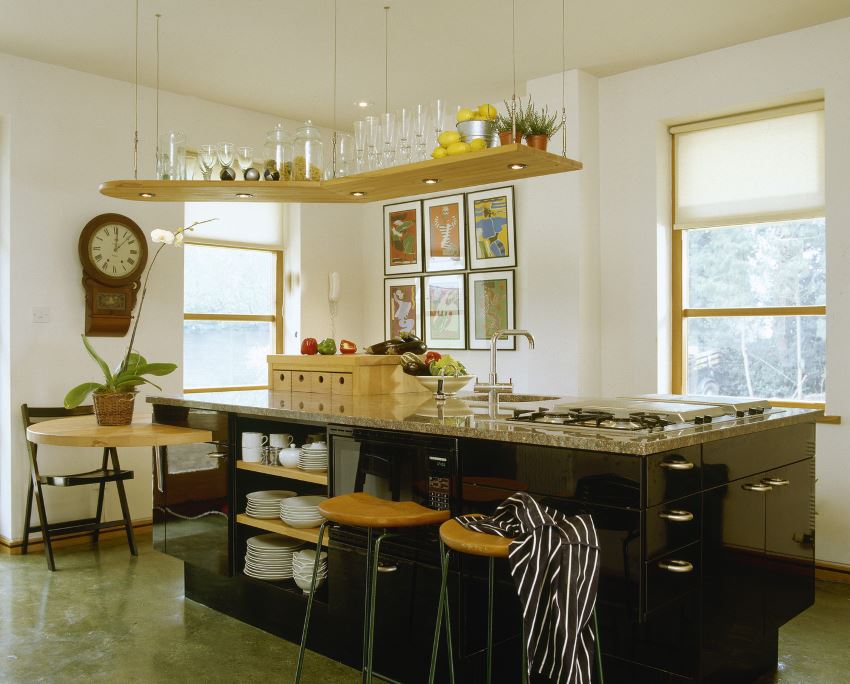 I'm a sucker for displaying bottles of San Pellegrino in the kitchen. That blue label and green glass bottle create such as refreshing packaged product. Plus, I genuinely love adding some sprtiz to my drinks (or a splash of lemon to a full glass of San Pellegrino)! Which is why the kitchen below really appeals to me. Color is added through the bottles, while special details such as a framed painting and a black mortar and pestle serve as additional focal points on this open shelving. [photo by Meikel Reece from Alice Lane Home Collection via Houzz]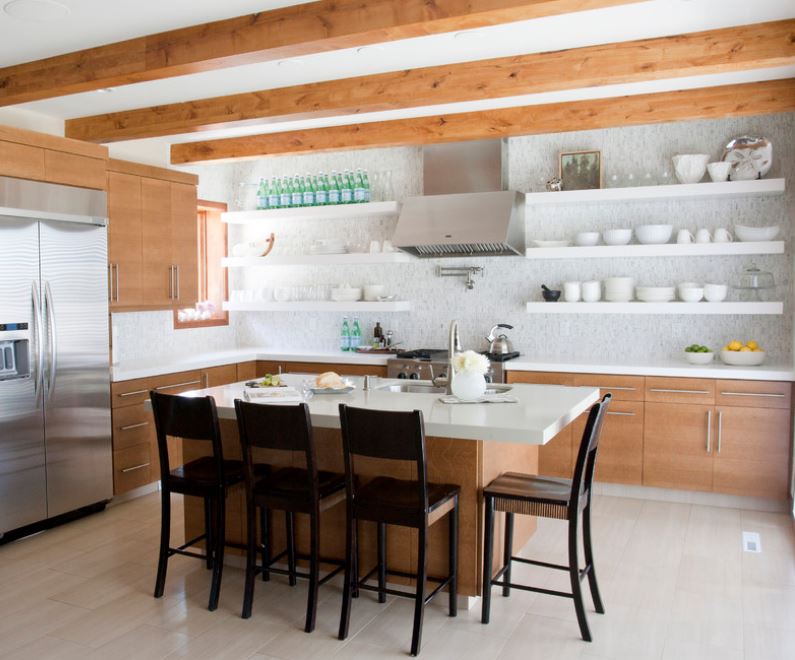 Bold Shelving Statements
We end with a trio of standout kitchens that make a bold impact. How about chevron tile behind sleek open shelving? This beach house kitchen has it all, including framed botanical artwork and patterned bowls. [from Lonny]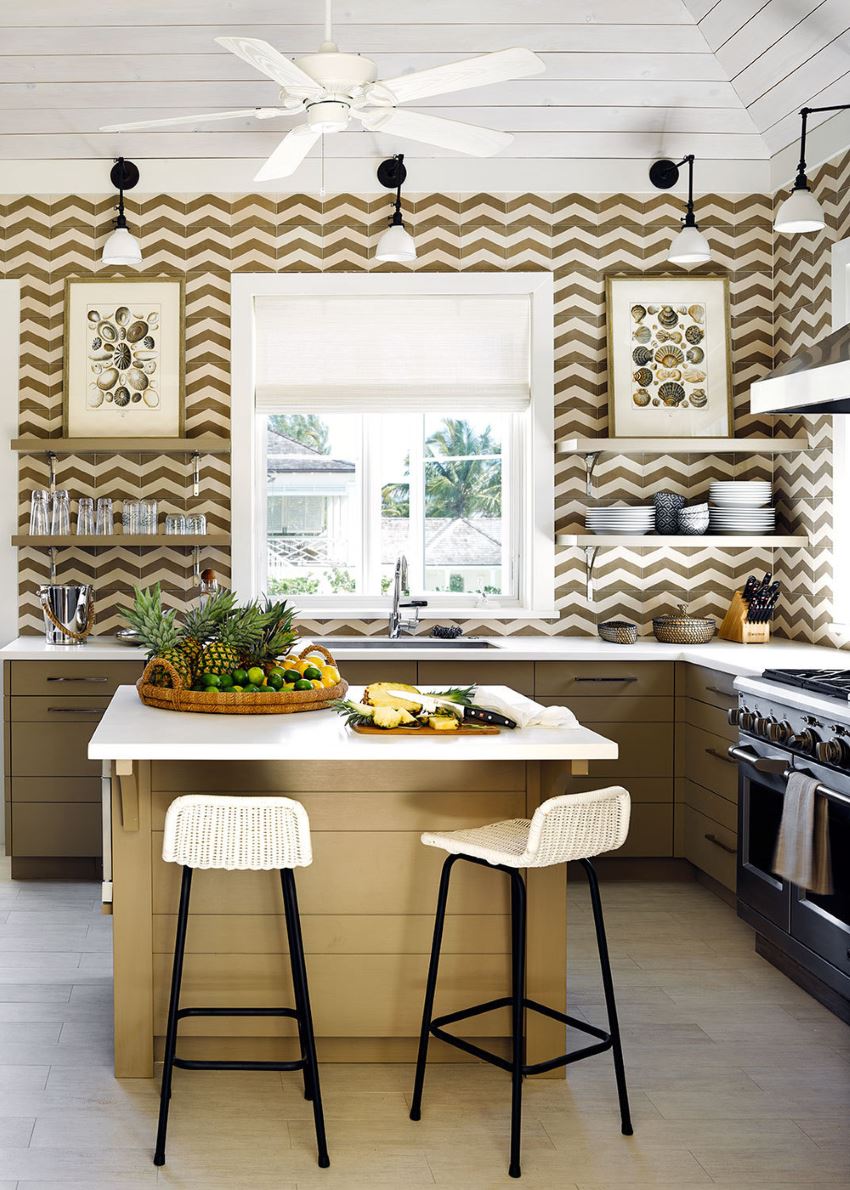 Wallpaper is another chic way to punctuate open shelving, as shown by this next eclectic kitchen. This time the open shelving is used as a bar area–swanky and innovative! [from Lonny]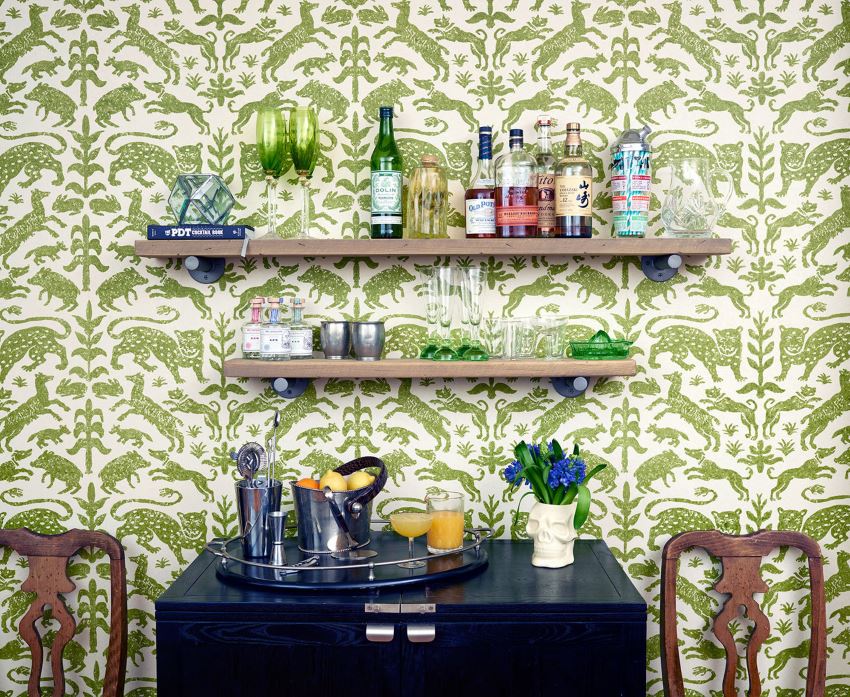 I know–these are long planters rather than open shelves! But they certainly have an open shelving feel, don't they?! And they make me dream about unconventional shelving possibilities. why not fill your shelving with potted herbs and other interesting plants?! [from Kohler via Houzz]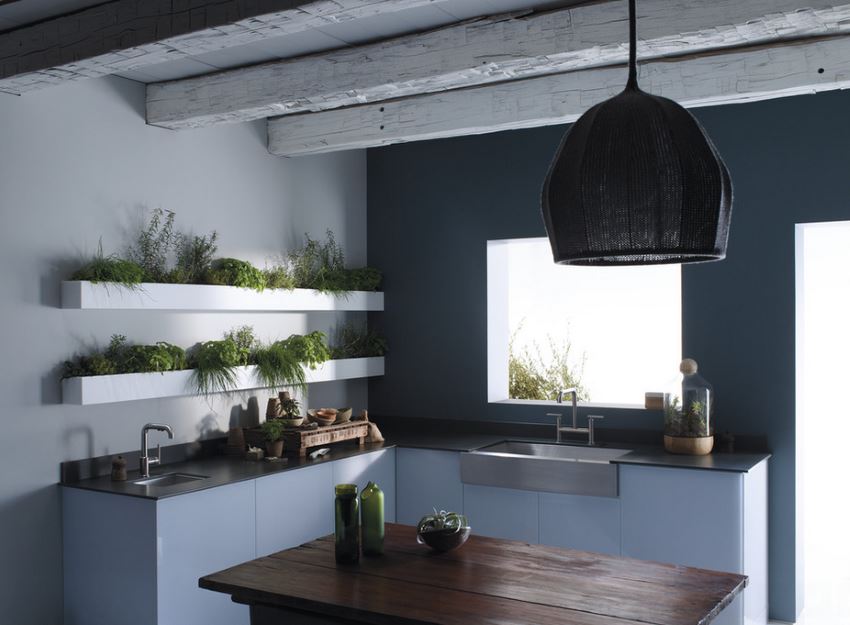 I hope the images in today's post have inspired you as much as they've inspired me. In fact, I likely won't be adding anything new to my open shelving, but these photos make me realize that strategic rearranging may be just what the doctor ordered!