When we talk about premium winter resorts and ski destinations across the globe, a name that constantly tops the list is Aspen, Colorado. With winter quickly approaching, you can bet your bottom penny that these amazing snow-filled slopes will be filled with visitors from every corner of the planet. Located in the North of Nell Condominiums in Aspen, this condo is mainly used as a rental property and was in need of an urgent makeover to transform it from a dark, dreary space into a beautiful setting. It was Anne Grice Interiors who took up the challenge and gave the lovely little condo a sparkling new ambiance.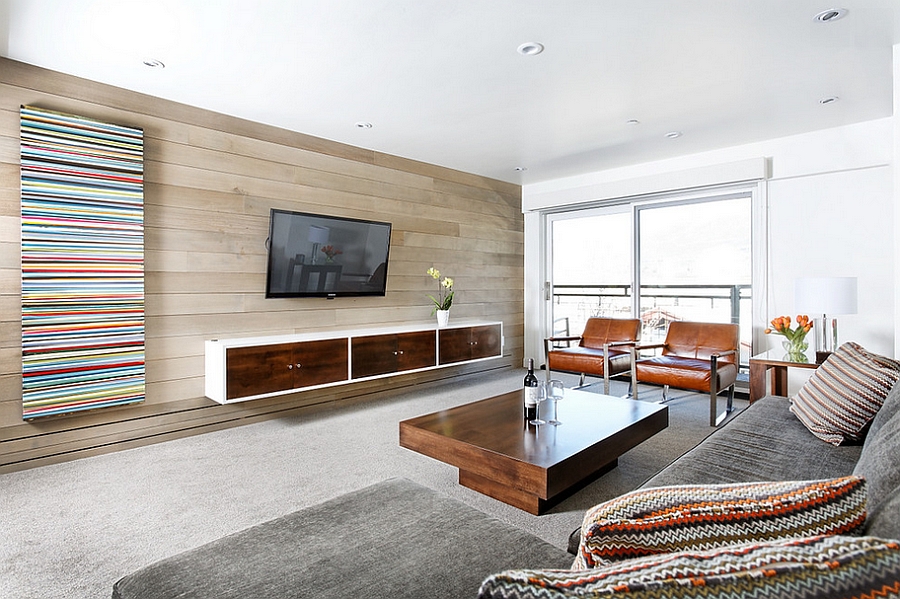 The interior of the remodeled condo looks sleek, elegant and in line with the basics of modern design. Nothing is too complicated, and a smart console becomes the focal point of the living room along with the television. An accent wall in oak wood adds a tinge of grey to the room, while low-slung decor gives the space an airy appeal. With trendy white countertops, the kitchen adds to this refreshing atmosphere, and horizontal oak laminate cabinetry brings textural and visual contrast to the area. A fun dining area with banquette seating makes the most of the corner space, while the master bedroom sports a style that is inspired by a posh hotel room.
Custom-crafted decor, bright accents of orange and red, along with cozy textures that balance the views of snow-filled slopes outside perfectly complete this cool condo. Exquisite and refined, it sure is a wonderful base from which you can explore the many wonders of Aspen!