When it comes to the world of real estate, celebrity homes steal their share of the spotlight, and while the Bergen County, New Jersey home of TV star Kim Granatell in not for sale, it has garnered plenty of attention for its gorgeous recent renovation. Popular as Kim G, thanks to Bravo TV's The Real Housewives of New Jersey, the reality star brought in Ryder Landscaping Design for the grand makeover, along with Source Outdoor, who provided the space with smart and fashionable outdoor furnishings. The result is an opulent, elegant and relaxing backyard escape befitting a star!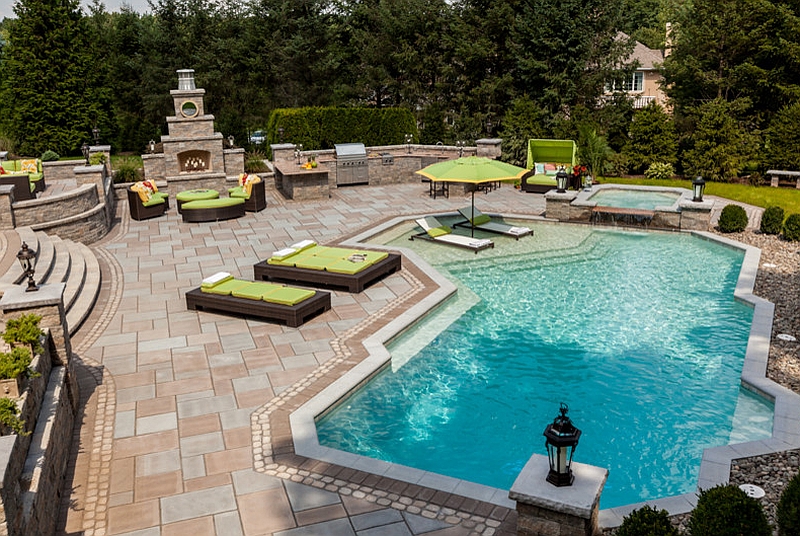 The outdoor area was enlarged to give the new backyard a tranquil and laid back-look, and the entire area embraced an earthy palette to create a serene backdrop. A beautiful modern fireplace by FireRock is at the heart of the outdoor lounge, while a refreshing pool, Jacuzzi and poolside deck space allow the homeowner to relax in style. Source Outdoor's Circa Collection and Manhattan Collection add a touch of refreshing lime green and organic brilliance to the space. The St. Tropez Dining Series offers a wonderful outdoor dining area, while a full-fledged outdoor kitchen completes the space.
Evoking an image of cozy sophistication, the lovely outdoor living space is perfectly geared for the beautiful colors of fall and for a grand party with friends and family. A wonderful inspiration indeed for those trying to shape a harmonious outdoor area that seems like a natural extension of the indoors!