It's durable, it's modern and it's easy to clean. What's not to love about stainless steel?! Many a modern kitchen features stainless steel countertops and appliances, and design enthusiasts are even turning to stainless steel paint and contact paper to get the silvery look. But have you ever considered stainless steel shelves? Today we take a look at several different types of stainless steel shelving, and we explore where it can make a big impact in your kitchen, as well as how you can enhance its style by filling it with both functional and decorative items. Ready for a little shine?!…
Stainless Steel Shelving Options
When it comes to stainless steel shelves, there are many options to choose from. In this section, we'll highlight a variety of them, with a focus on wall-mounted shelving. Floating shelves are a popular choice, as they seem effortlessly suspended on the wall, making a modern statement. [from Feldman Architecture]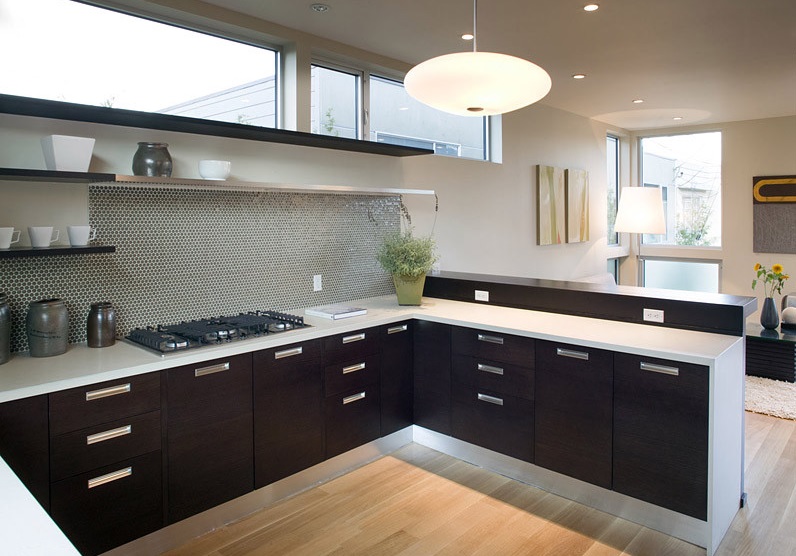 In fact, floating shelves are an ideal choice for contemporary kitchens, like the gleaming white culinary space below. [via Houzz]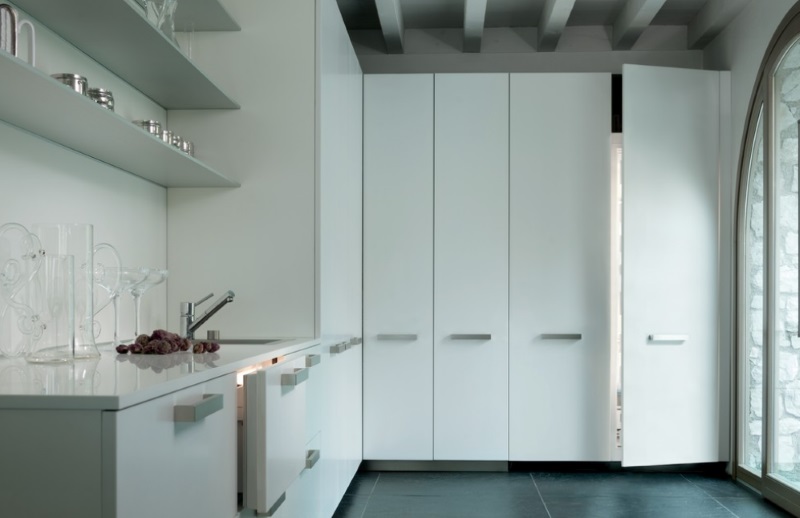 Looking to buy stainless steel shelves? You can purchase them in a variety of places, from Etsy and IKEA to online retailers that specialize in residential and commercial products. This Venlo Contemporary Floating Shelf in Brushed Stainless Steel is from DoorTechnik: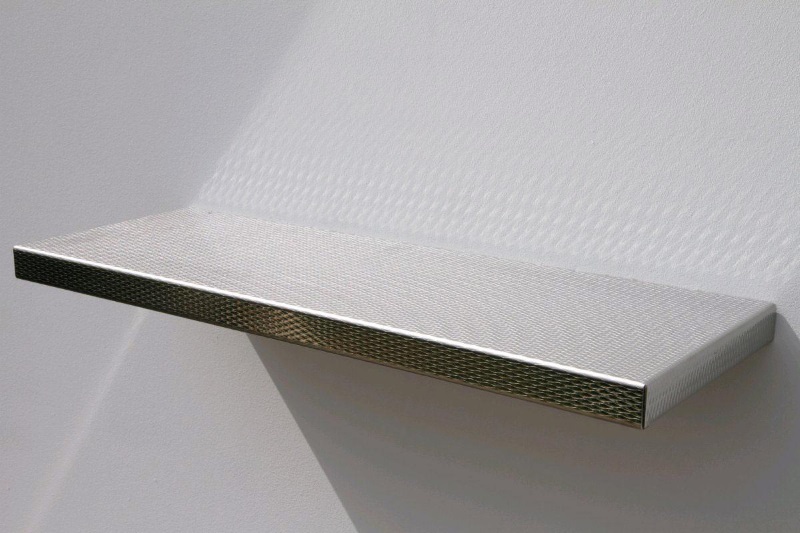 Floating shelves (and other stainless steel shelving options) are often custom ordered to fit the specific dimensions of your kitchen. They come in a variety of thicknesses, as shown by the ultra-thick shelving below. [from Leo Designs]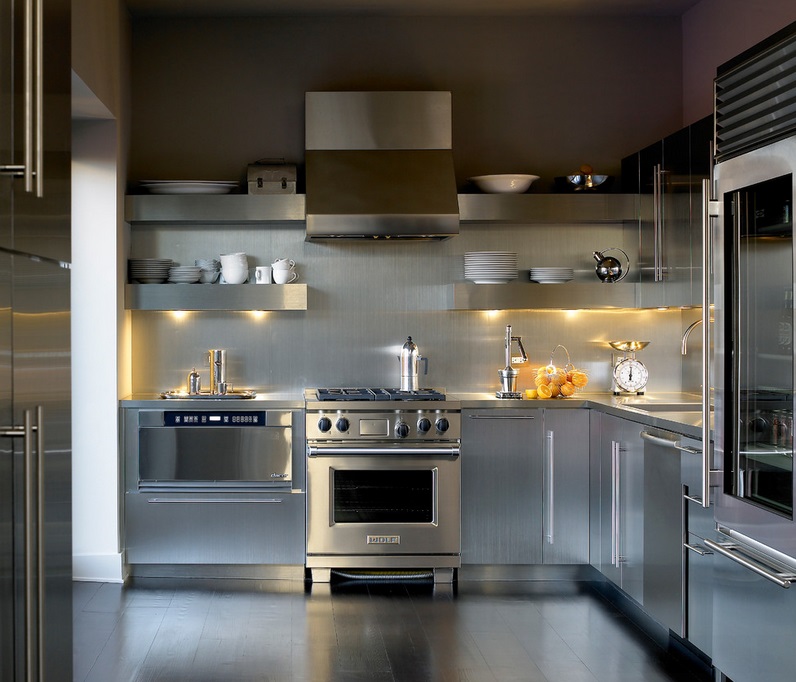 Some stainless steel shelves are designed to fit in corner spaces, as shown below. The wall brackets are visible, which is the perfect look for this rustic modern Seattle kitchen with a lived-in feel. [from Gaspar's Construction]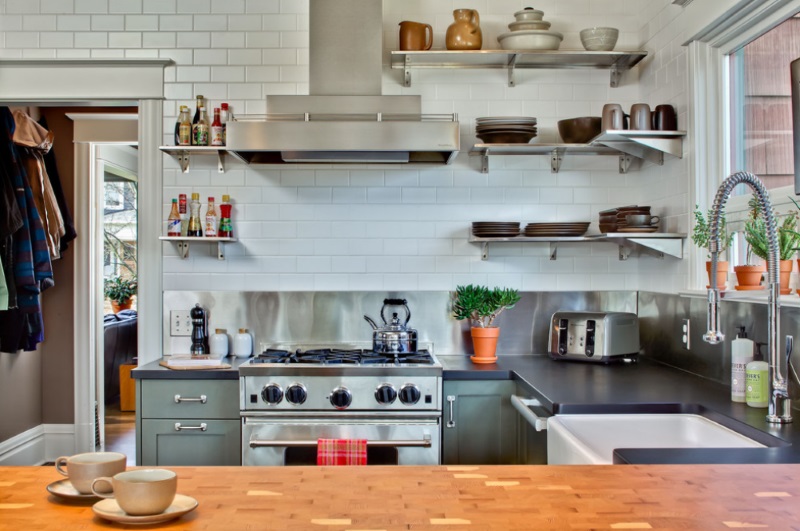 Next we take another look at corner shelving, which maximizes space and provides the perfect place to stash items such as dishes, bows and glassware. [from Kitchen Today]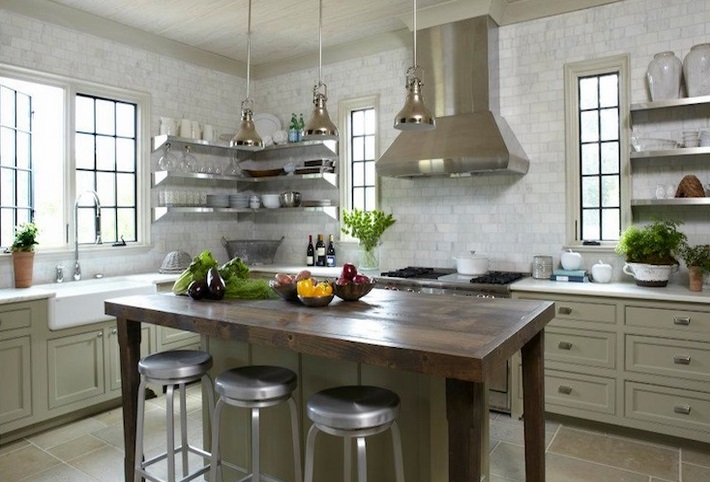 For a unique look, try slatted stainless steel shelving. This approach is unforgettable, much like the antique reels and cymbals on display in this contemporary Chicago kitchen. [from Buckingham Interiors + Design]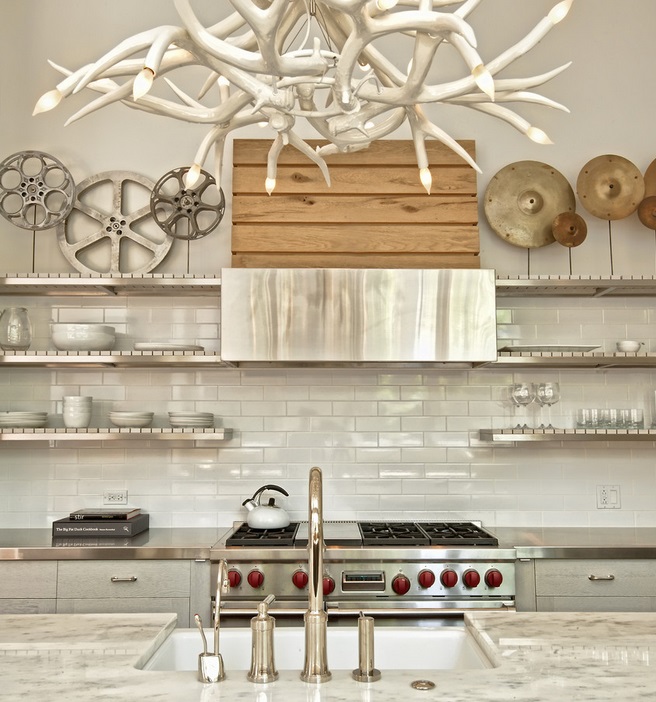 Wall-mounted slatted shelving gives the kitchen below an industrial feel. Not to mention, it's well-used, holding a combination of decorative and functional items. [photo by CM Glover Photography via Houzz]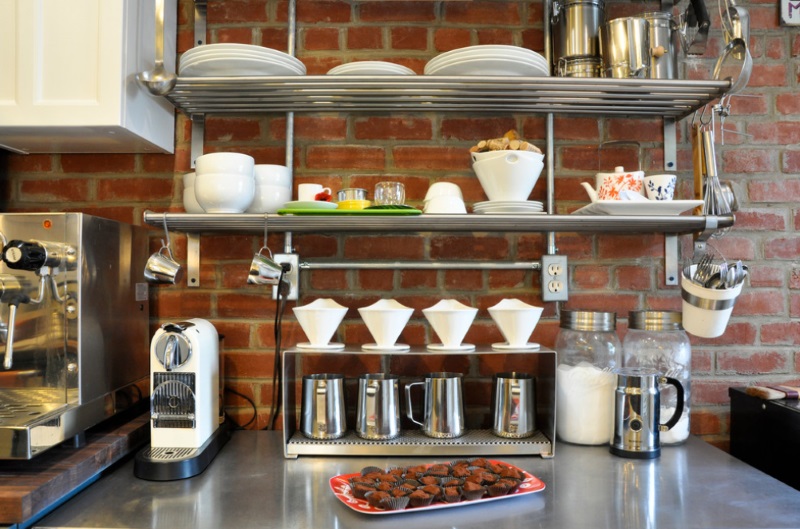 Stainless steel shelving doesn't have to be expensive! Retailers such as IKEA offer a variety of affordable options, such as EKBY MOSSBY. Slatted shelving is on display in the IKEA kitchen below. Open shelving is a great way to solve kitchen storage issues, especially in small spaces.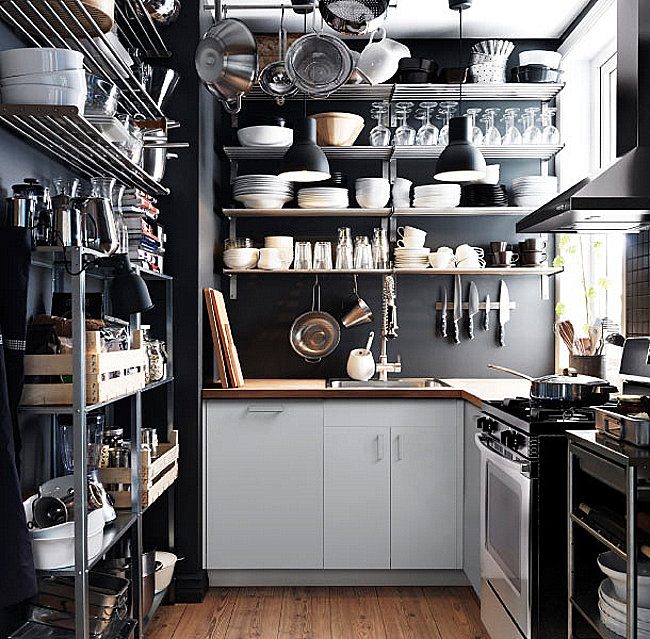 Not all stainless steel shelving is wall-mounted. Some shelving options rest on counters and other surfaces. We're quite taken with the 2-Tier Counter Storage Shelf and the 2-Tier Corner Storage Shelf from Cook N Home (via Overstock.com), shown below. In fact, these shelves could enhance any surface top–not just those in the kitchen!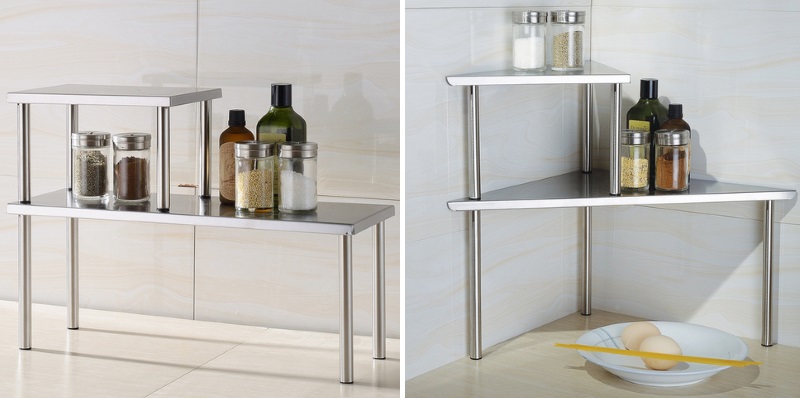 Filling Stainless Steel Shelves
Open. Floating. Slatted. Corner. Countertop. Now that you know your stainless steel shelving options, it's time to explore how to fill them. From antique kitchen tools and cork collections to stacks of dishes and cups, kitchen decor of all types can shine on stainless steel shelves. Not to mention, these shelves beautifully stand out against wallpapered surfaces, as shown below. [from E.R. Miller]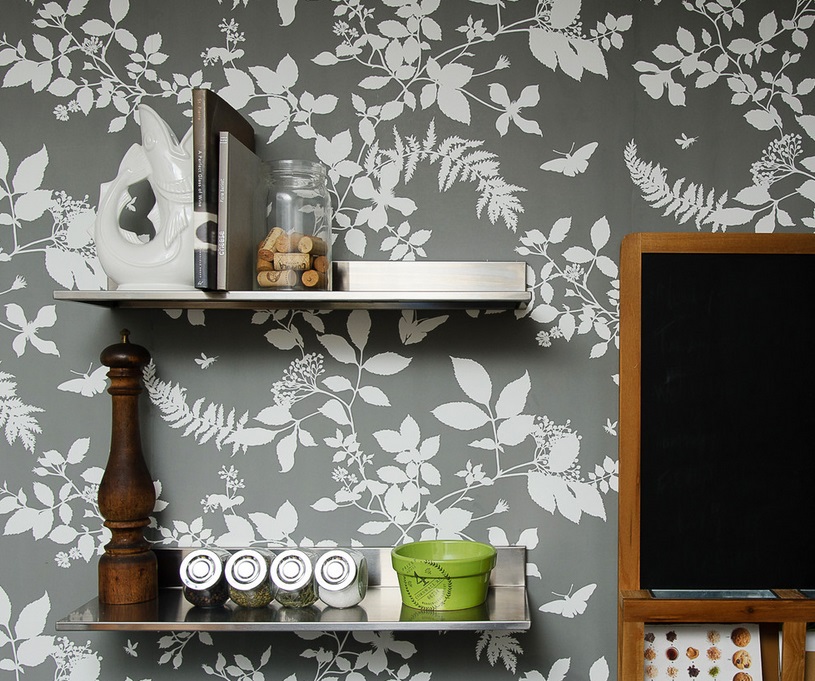 Try punctuating your shelves by mounting them on brightly painted walls! Then line them with colorful items, as well as white dishes that pop against the vibrant tone of the paint. [photo by Kenneth M. Wyner Photography via Kingston Design Remodeling]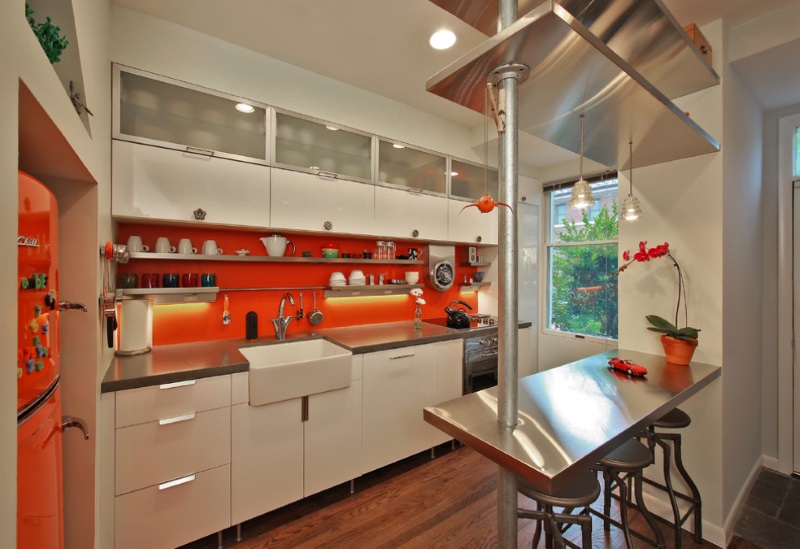 Displaying items in the same color family can make a big impact, as shown below with the apothecary jars of noodles. Wooden decor also contributes to the warm effect of the accent tones. [from Amoroso Design]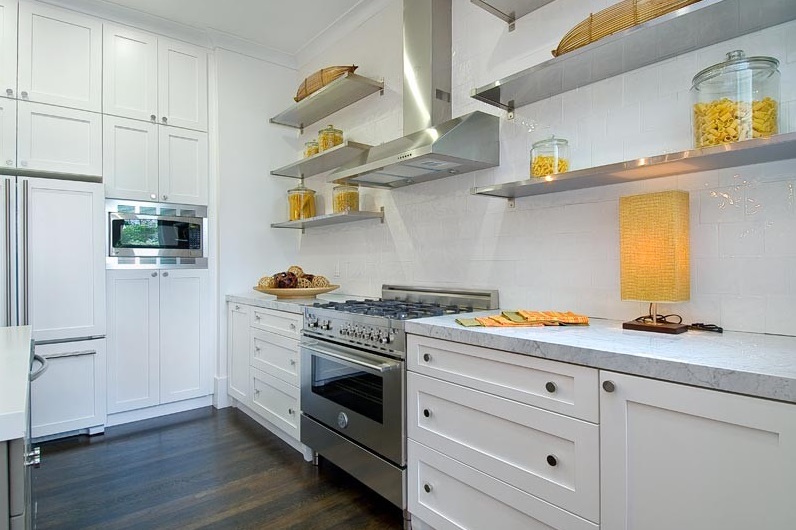 Mixing metals is another popular display technique, as shown by the copper pots on the floating shelving in the next featured space. [from Poggenpohl]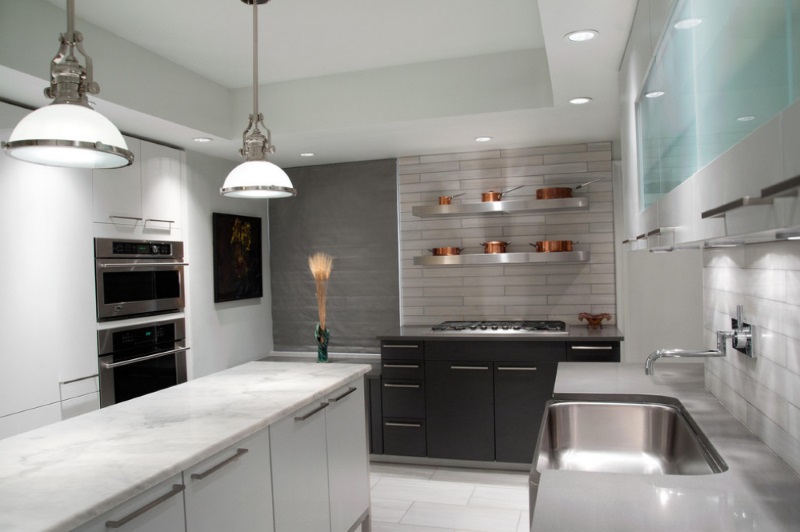 However, you can't discount the fresh, modern look of stainless steel shelving mounted on white walls, then filled with white dishware and clear glasses. The result: a clean, crisp space that beckons you to get cooking! Bottles of San Pellegrino are also a nice touch! [photo by Scott LePage Photography via Fivecat Studio]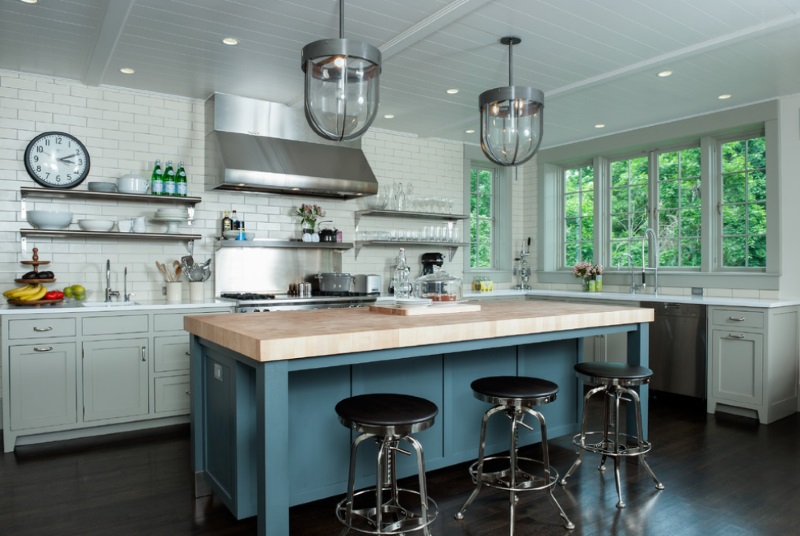 We end with an image that shows a lived-in kitchen, complete with stainless steel shelving and gridded walls. The look is hip, functional and colorful, thanks to a variety of items on display, including mugs and strategically placed lemons. Note how other stainless steel accents, such as the utensil rack, enhance the contemporary vibe when juxtaposed with the shelving. [from COCOCOZY]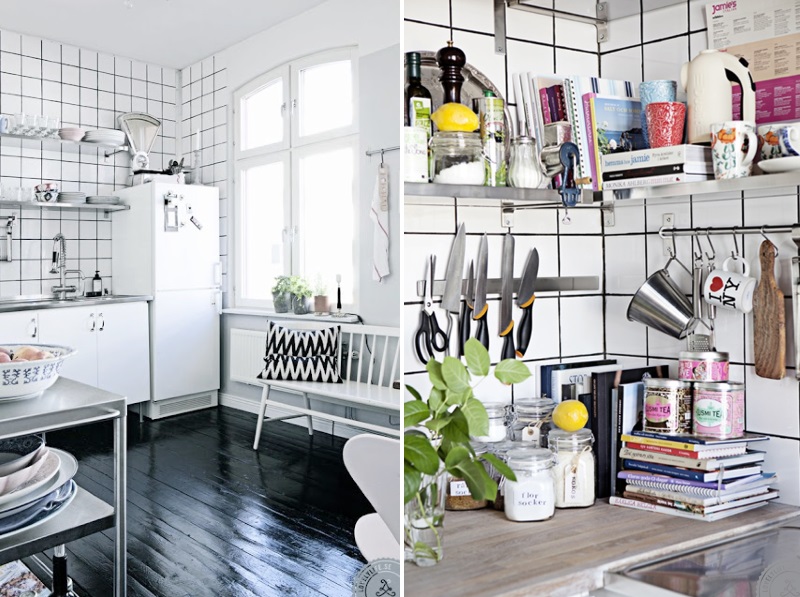 Ready to add stainless steel shelving to your kitchen? Hopefully this post has provided you with a variety of ideas and options for bringing that sleek shine home!