Clear as a crystal. That's how I like to describe the sleek, crisp interior design of Jennifer Post. Through Jennifer Post Design, she treats each home like a work of art, using her fine arts background and knowledge of architectural principles to create stunning, balanced interiors. Color, texture, brightness and clarity of form are all elements you will find inside a Jennifer Post interior. Not to mention, through her interiors-only design consultancy, ONE, she is able to offer clients her signature high standard of design, but with a faster turnaround. Ready to take a closer look at the work of this interior design firm and talented designer?…
Bath Club in Miami
I first became acquainted with Jennifer Posts's work when I saw photos of this Miami Bath Club Main House on Houzz. Instantly I was transfixed by the precision and clarity of each space in the home, as well as the overall relaxed feel: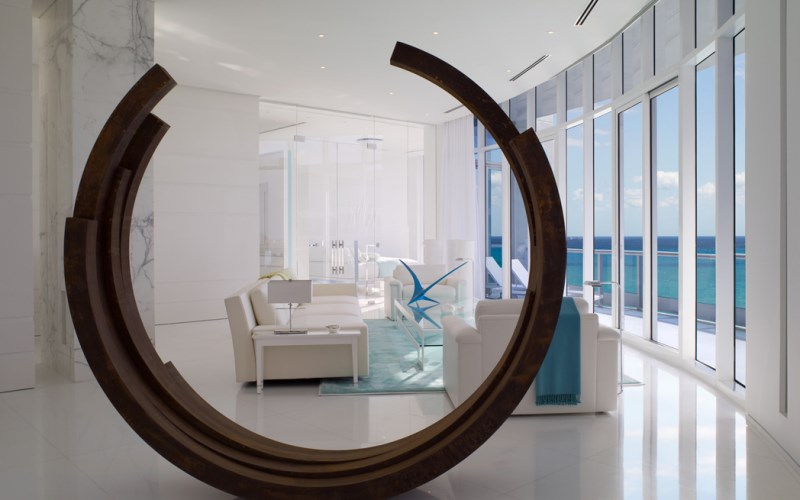 By using pure white as the main hue, the space reflects the natural light, and the sea outside can take center stage in each room: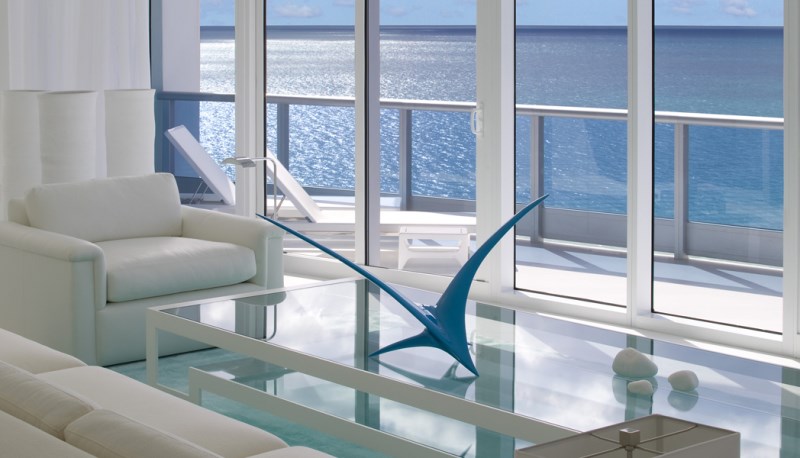 Accent colors range from citrus hues to the blue and green tones of the water. Ample windows usher in a plethora of sunshine, making the vivid hues all the more vibrant.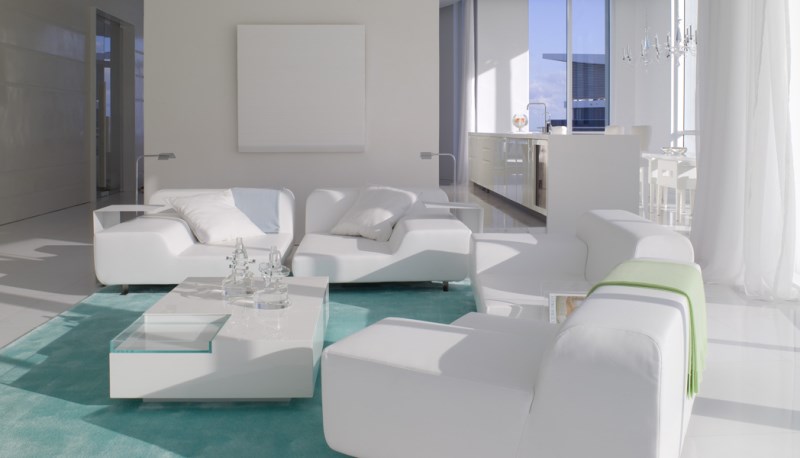 And now for the image that started it all… Yes, this was my first introduction to Jennifer Post. The simplicity of this space is anything but plain. See-through furnishings add to the crystalline feel of the room: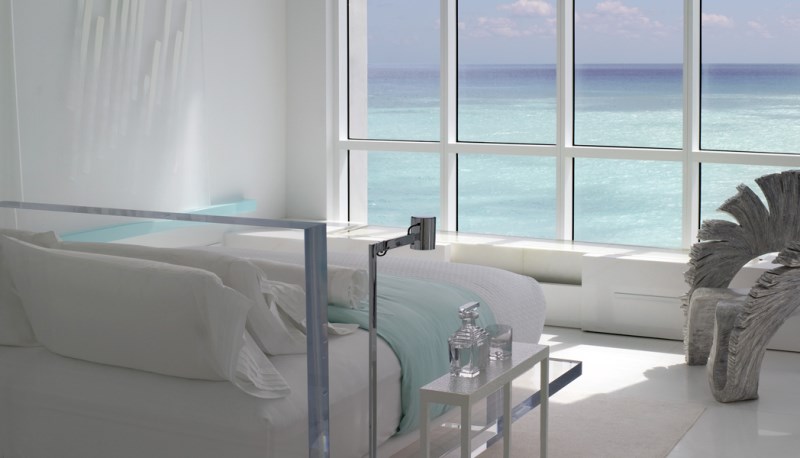 The bathroom makes a strong statement with ice blue, yet beautifully packaged bath products and bright tile enhance the overall "clean" look. No ornate frills here!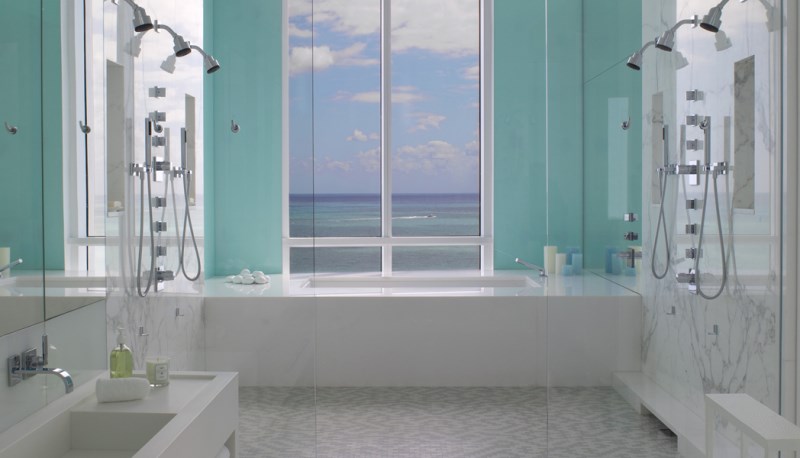 The Bath Club guest house features yellow as an accent color, creating a summery feel that channels the radiance of the sun and the tang of lemons: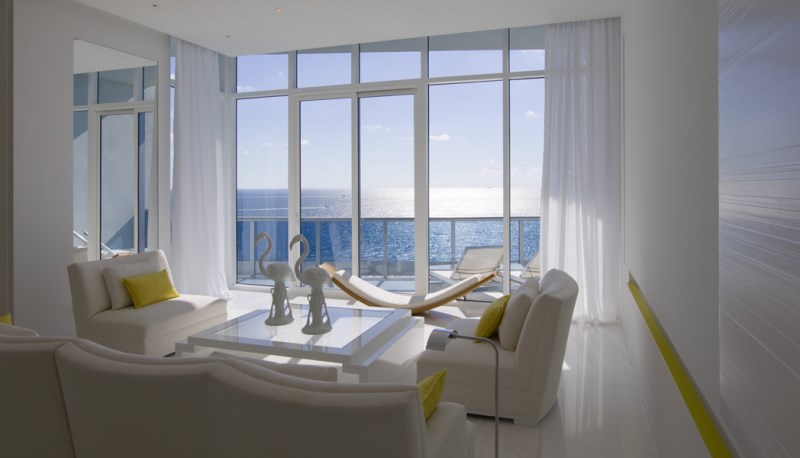 From lemons to oranges! On the roof of the Bath Club, orange is the hue of choice. And since it's the complementary color of blue, there's a harmony that results, yet also a delicious energy. Note how the use of one main accent hue (rather than a mix) creates a pure feel: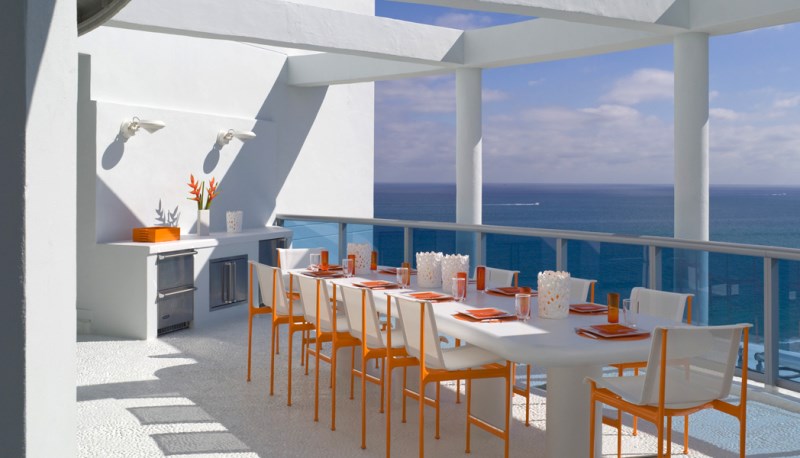 Columbus Circle in New York
We now travel from Miami to New York, where we see Jennifer Post's work at Columbus Circle, a high-end Manhattan residence. Note the use of black as a contrast to the white walls, floors and furnishings–an ideal choice for such a sleek urban location: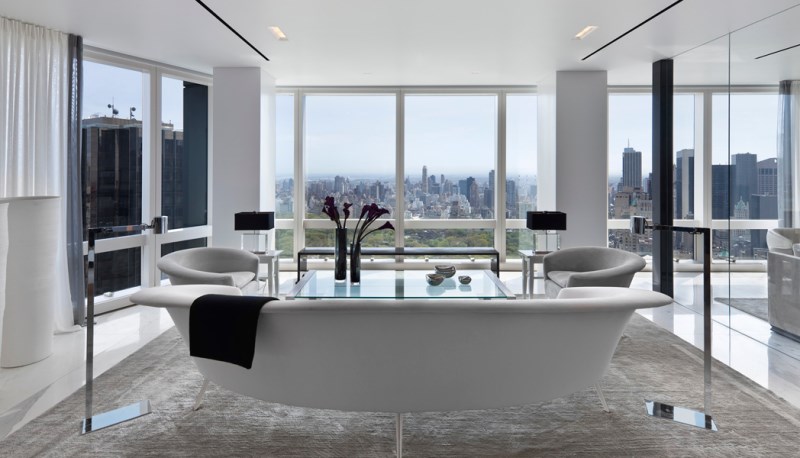 Deep purple calla lilies in black vases add a touch of modern drama to this contemporary living room: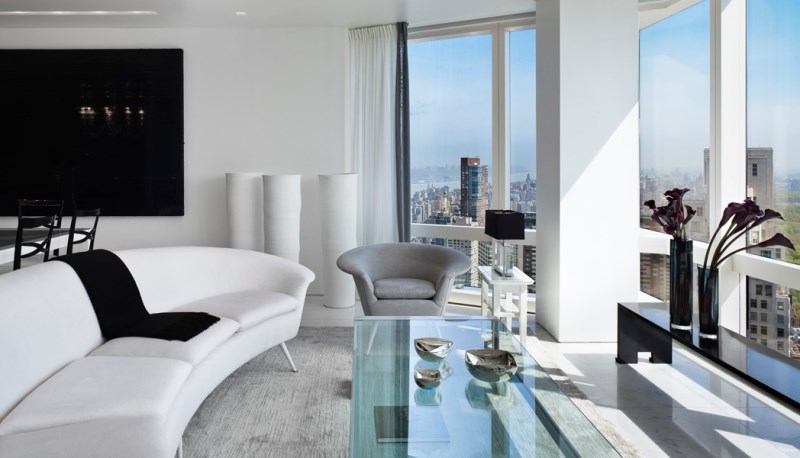 Note the abundant windows, as well as the use of clean lines. Gray-blue is a serene color choice to accent a sleeping space with a view of the skyline.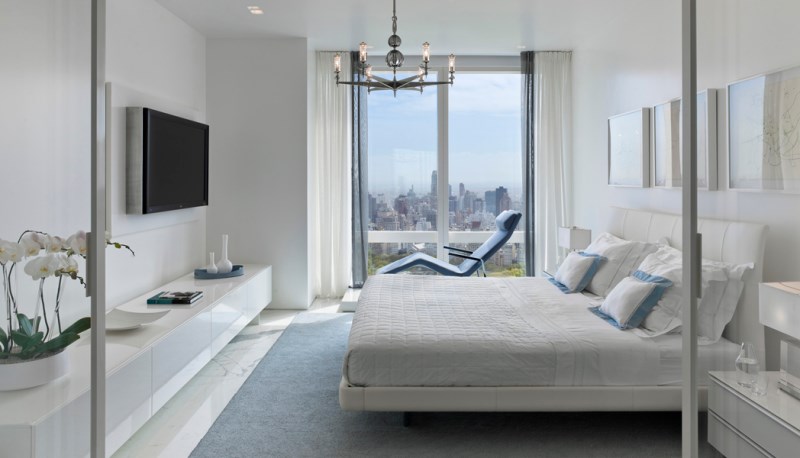 As with many of Jennifer Post's spaces, modern artwork plays a key role, as does the ability to see into a variety of rooms at one time, thanks to glass partitions: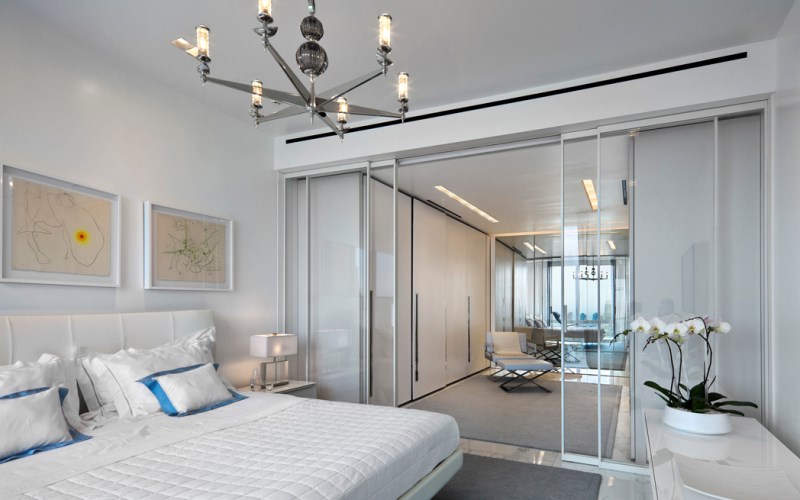 One of my favorite talents of Jennifer Post: designing gorgeous spa-style bathrooms. Her unfussy aesthetic is heightened by features such as an all-white palette, modern displays of exotic flowers, and the fresh, clean look of upscale bath products.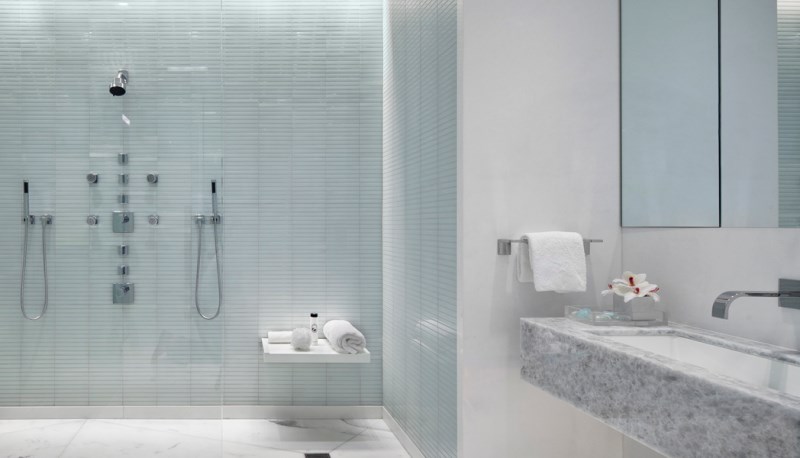 Upper East Side Duplex
We end with a tour of a high-end New York duplex where shades of green become focal points that beautifully complement the city view.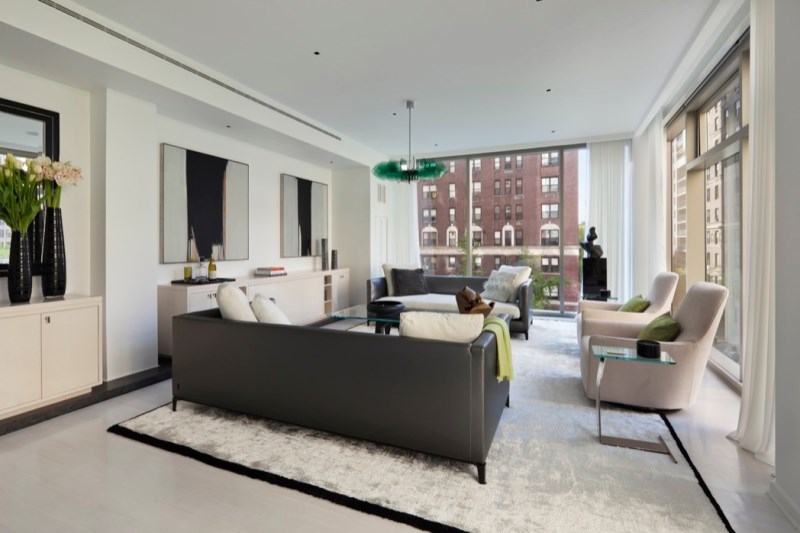 Olive, lime, kelly green–a range of shades can be found in this chic residence. Below we see the dining room, where a light citron wall is enhanced by glass vases in olive green. A white background and crystal clear accents maintain an overall light and airy feel: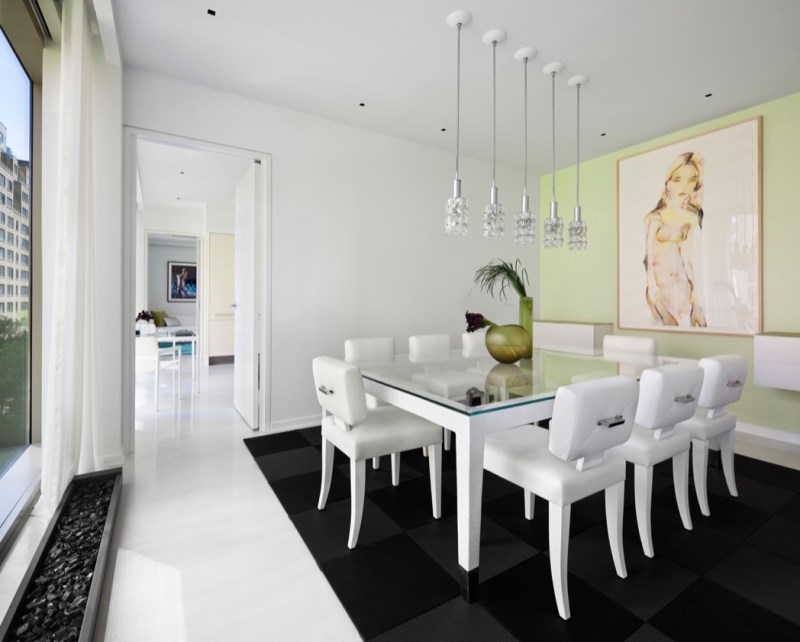 The bedroom boasts a variety of yellow hues, as well as a vase filled with fresh tulips–vivid green stems and all!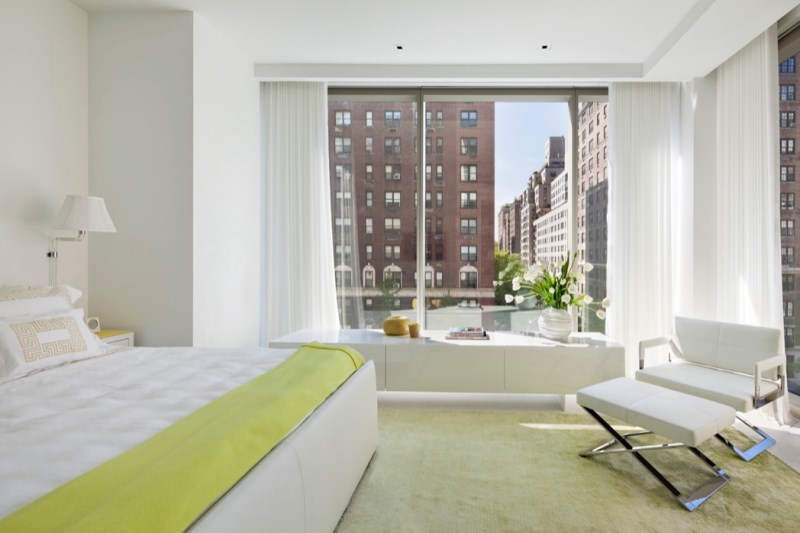 Here's a closer look at the chair and tulip vignette, which creates a sculptural setup that showcases and variety of textures and finishes, from plush to glossy: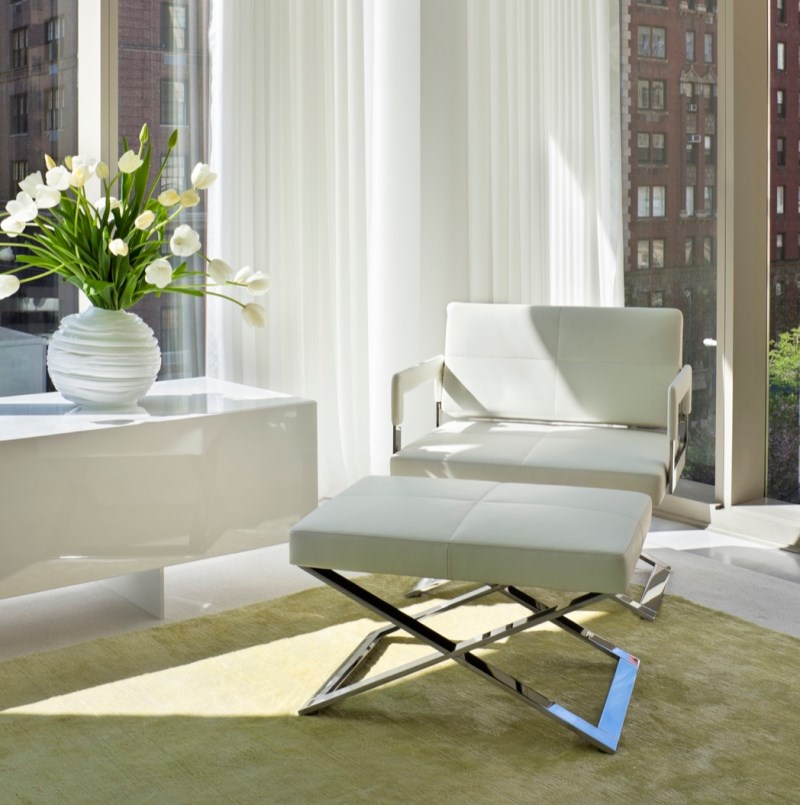 See the glass staircase through the doorway below (left)? A closer look (right) reveals just how grand these steps truly are: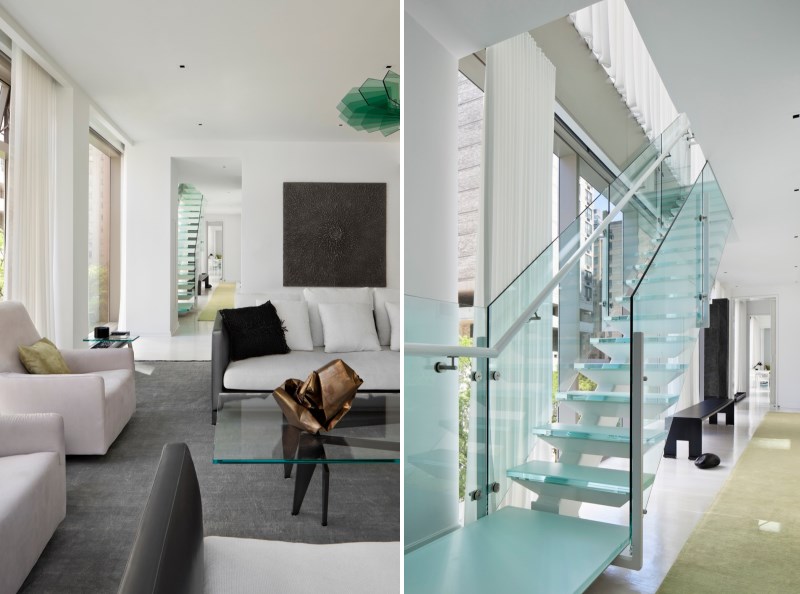 Thanks for joining me on this tour of Jennifer Post's impeccably designed spaces! It's no wonder she was recognized by Architectural Digest for the 13th year in a row as one of the AD100. If you're interested in learning more about her design philosophy, check out her book, Pure Space: Elegant Minimalism.