We've anxiously been awaiting the Autumn/Winter 2014 Collection of Ferm Living. Folks, it has arrived! What's new for the upcoming season? A fresh spin on the geometry and clean lines that Ferm Living is known for, plus a new dose of rich color. Today we feature a few of our favorite finds, including furniture, textiles and small decor items that reflect the best in modern design. These products are in the "coming soon" category, but it never hurts to get a jump start on your fall shopping…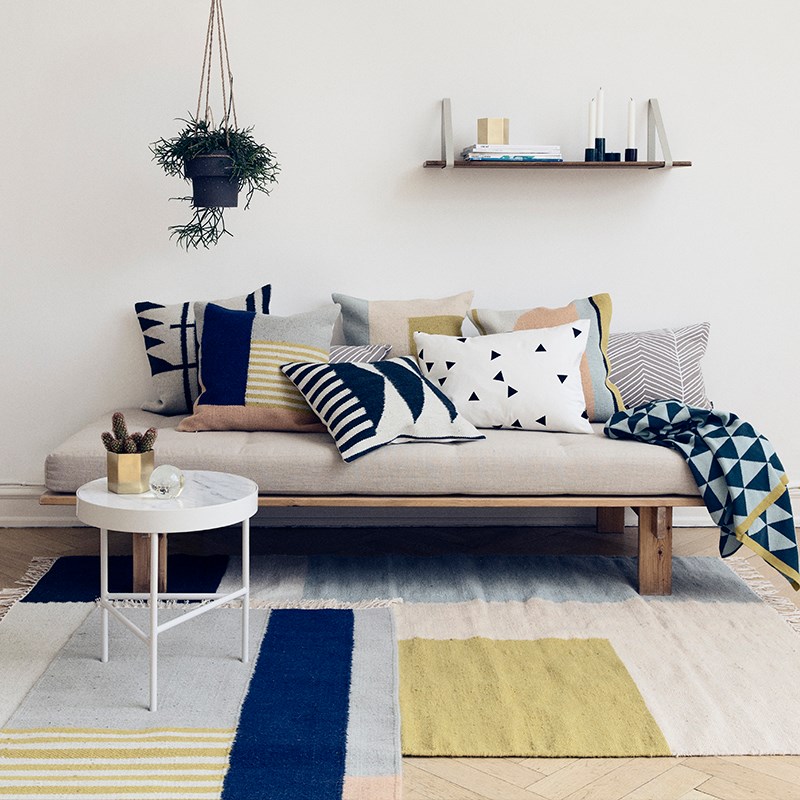 New Furnishings
Let's start with furniture! When marble meets metal, the result is nothing short of design heaven. Below we see the sleek silhouette of the Marble Table: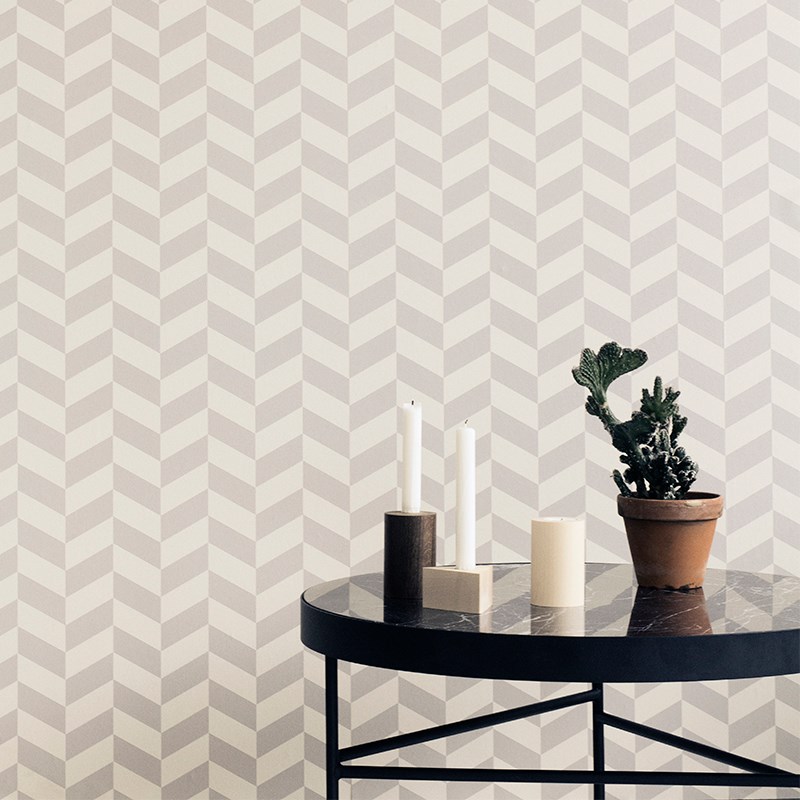 And in case you were curious, the table comes in a variety of hues and sizes. What's consistent across the board is the gorgeous marble top and the powder coated metal frame.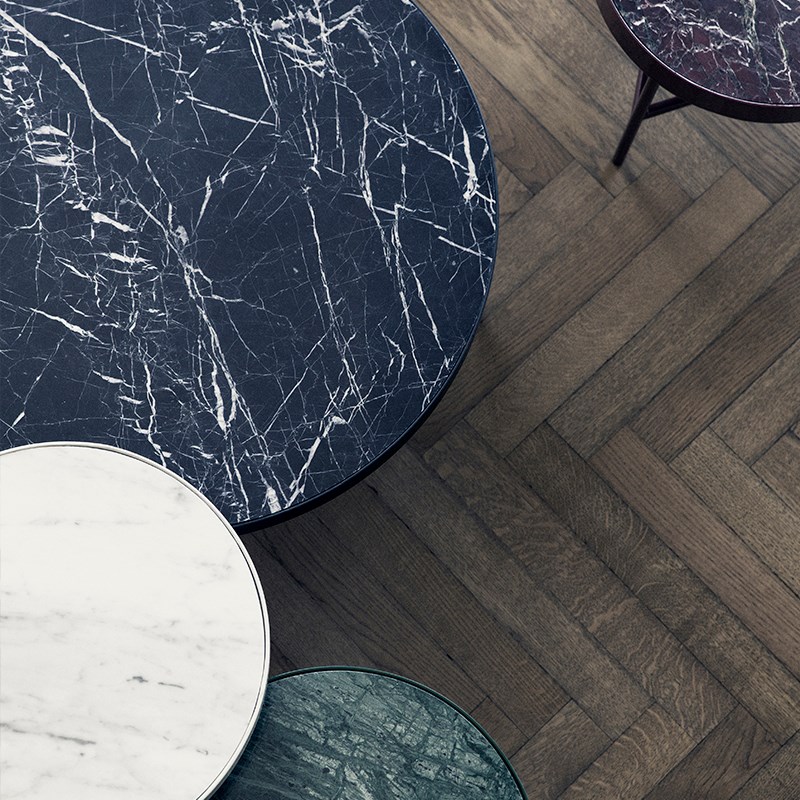 Oak, coated metal and leather are the supplies of choice for Ferm Living's Cabinets, which boast a compact form, a playful yet contemporary circular pattern, and the bold use of color.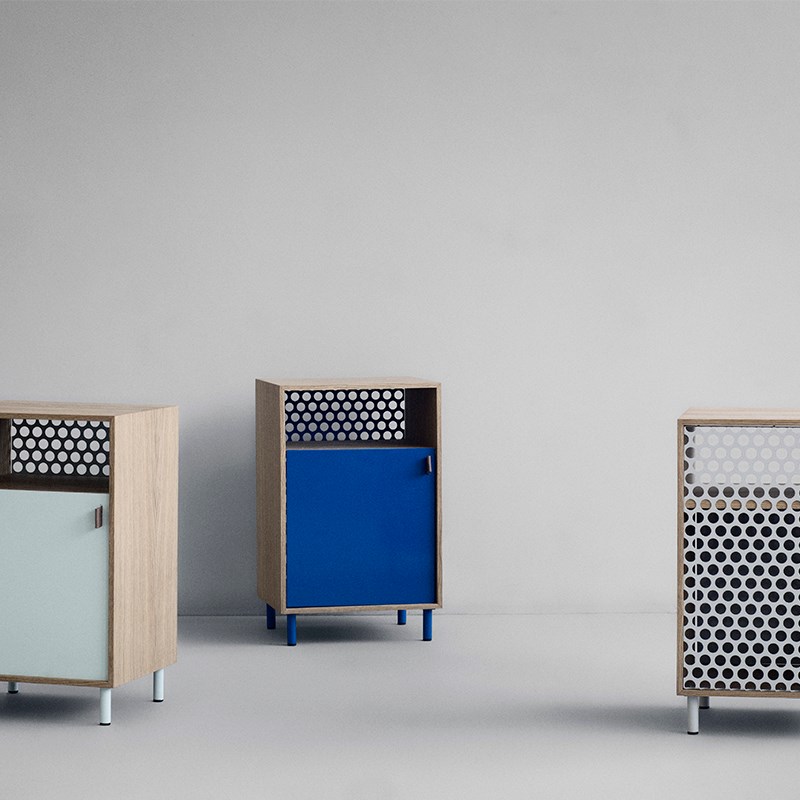 Rugs and Textiles
We've long admired the geometric designs that embellish Ferm Living's rugs, pillows and textiles. In fact, the rugs are so beautifully designed, they can easily double as wall hangings, serving as the focal point of the room. Below we see a Kelim Carpet in a creatively designed space: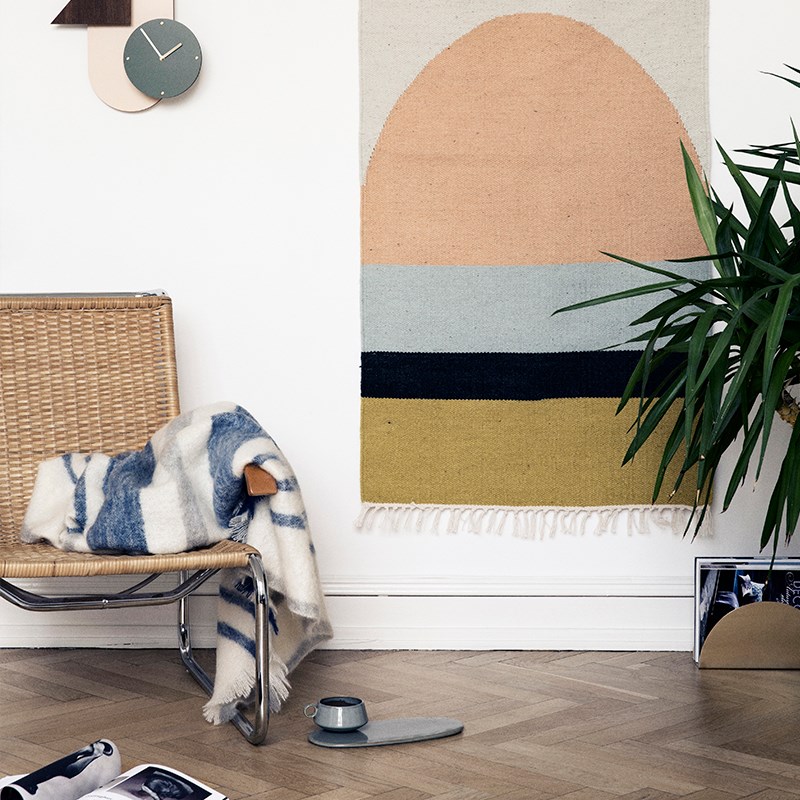 There's something whimsical and free about the Splash Table Cloth, complete with a rich blue pattern that evokes the breezy festivity of splatter paint!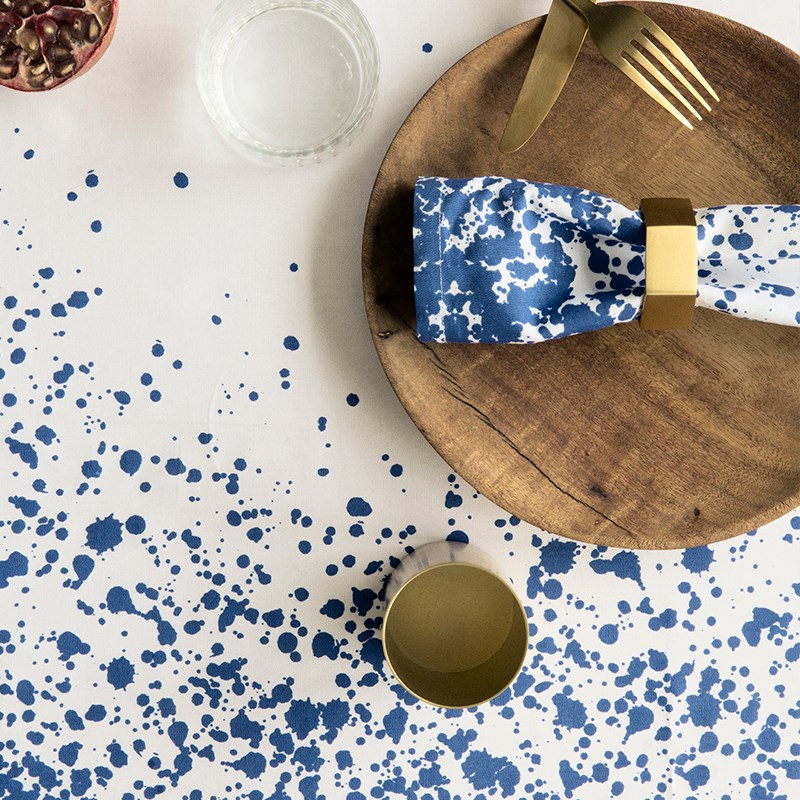 So many cushions, so little time… Below we see pillows from Ferm Living's new Autumn/Winter 2014 Collection, including the Kelim Cushions that rest at the top of the pile. They're powerful and substantial, yet the colors are anything but overpowering. Mix and match them–you can't go wrong.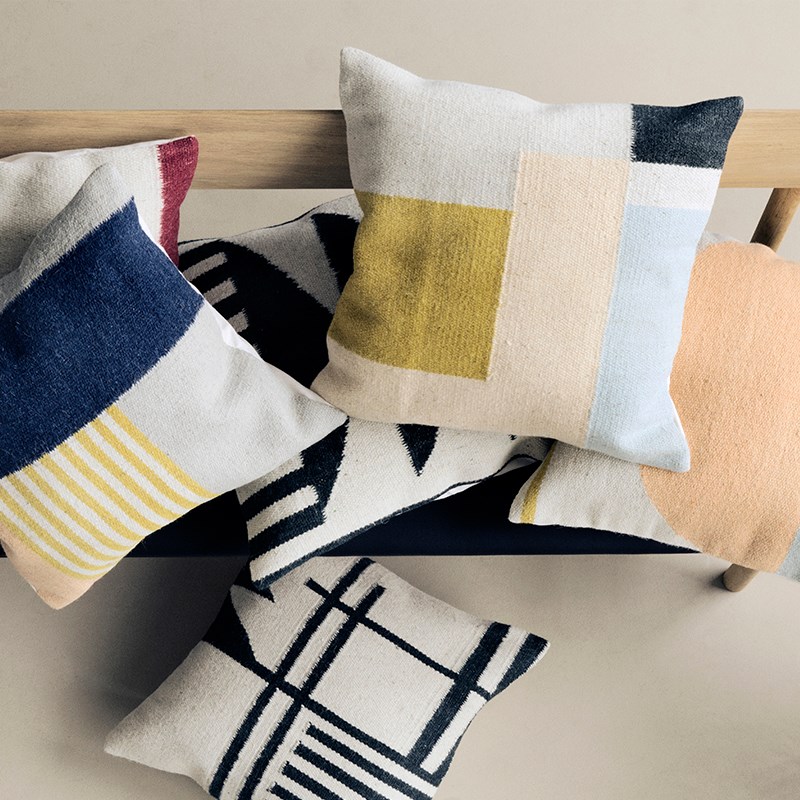 Eye-Catching Decor
We round out today's post with a few small decor items that are big on style. Below we see striking geometric stoneware pieces covered in grey glaze, such as the dishwasher-safe Neu Pitcher. Can you tell that these pieces are inspired by Bauhaus classics?!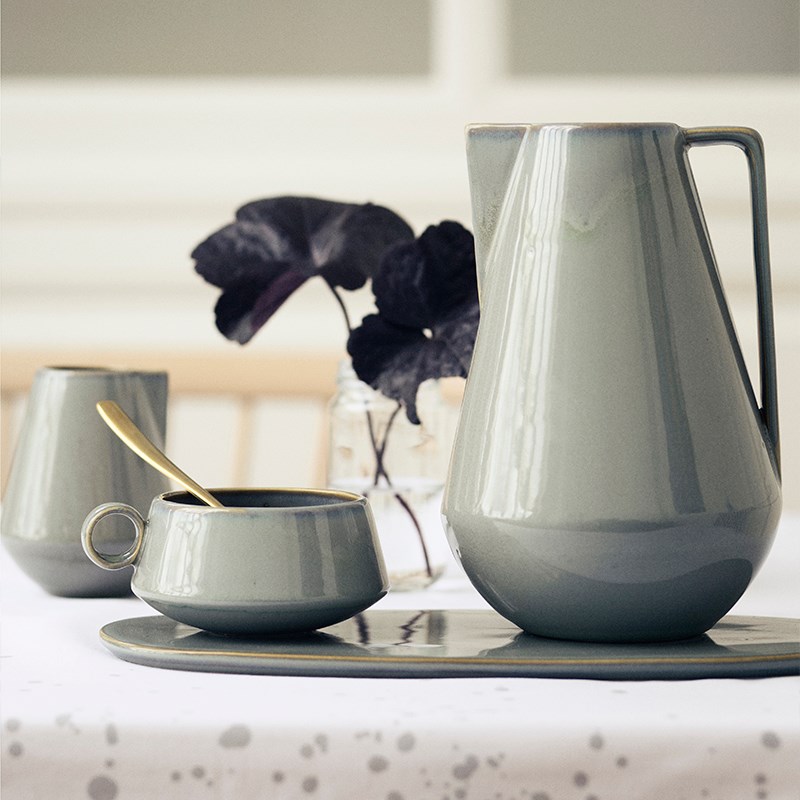 We want to collect all of the candleholders below, which are crafted of a range of materials, including marble and steel. The Half Candleholder design is complete with a geo form that extends from each piece and also serves as a handy grip: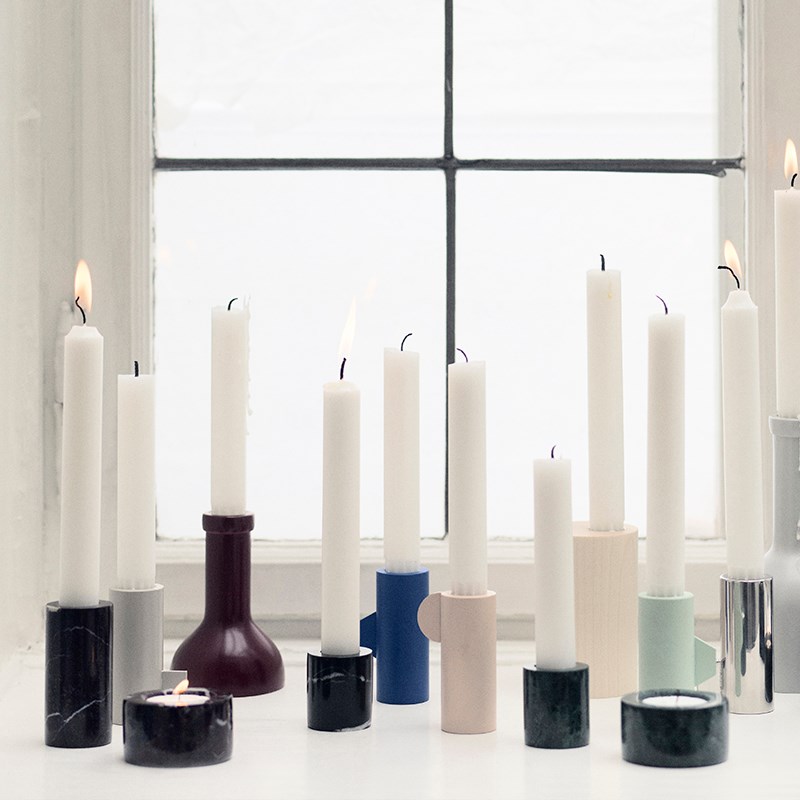 It may be getting cold outside in the next few months, but you can always keep your greenery alive and well indoors with the help of these Plant Hangers. Once again, we see the beauty of stoneware, this time coupled with a natural rope suspension. The look is retro-meets-modern: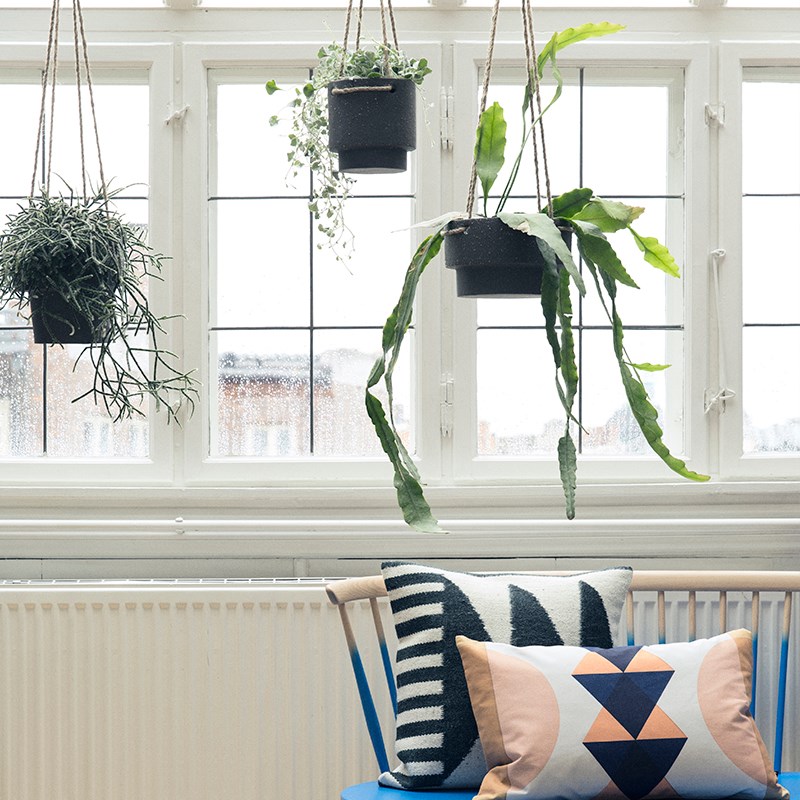 Which of today's featured items is your favorite? It's OK if you have more than one…