Did you catch our last Design Studio Profile? A week ago, we featured the work of Studio Toogood, and today we're shining the spotlight on Fort Standard, a New York-based contemporary design studio offering a range of services. Among these services are innovative product design and the development of unique spatial environments involving custom fixtures and furnishings. Not to mention, Fort Standard designs and produces its own line of stellar modern products and furniture. Read on for a detailed look at their creations. Yes, we're in awe…
Contemporary Lighting
Fort Standard consistently designs clean-lined items that celebrate material and form over embellishment. Their lighting selections are a wonderful introduction to their body of work, as shown with the geometrically fabulous Framework Large Ring below. When flat glass, sleek geometry, dimmable LEDs and thin wooden frames combine, the result is pure magic: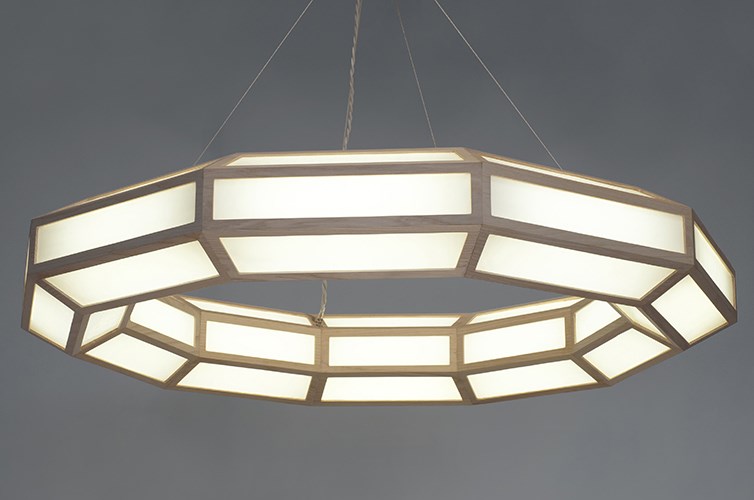 Framework Conical presents a rounded take on the studio's "Framework" lighting concept, complete with the striking interplay of light and dark, created by illuminated white glass in a rich wooden frame.
Say hello to the Counterweight collection from Fort Standard, which "utilizes the weight of stone and brass in conjunction with steam-bent white oak bodies and kiln-formed glass diffusers." Below we wee the Counterweight Floor Light (left) and the Counterweight Sconce (right):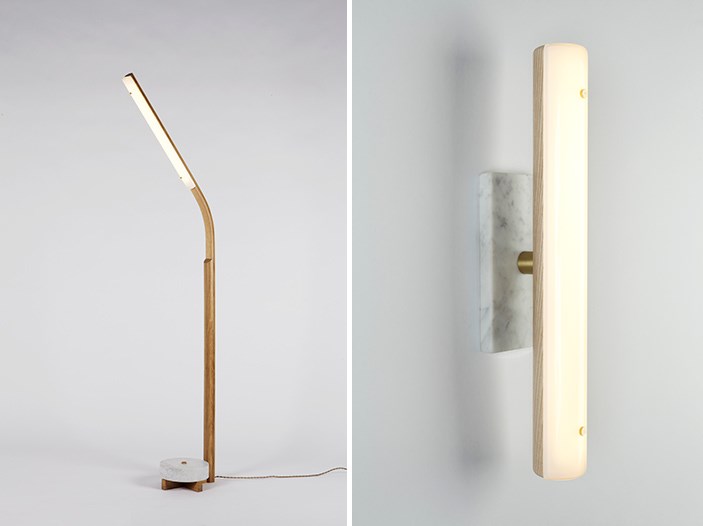 For another Counterweight selection with a suspended twist, check out the Counterweight Pendant Light, crafted of ash, white glass, marble and brass: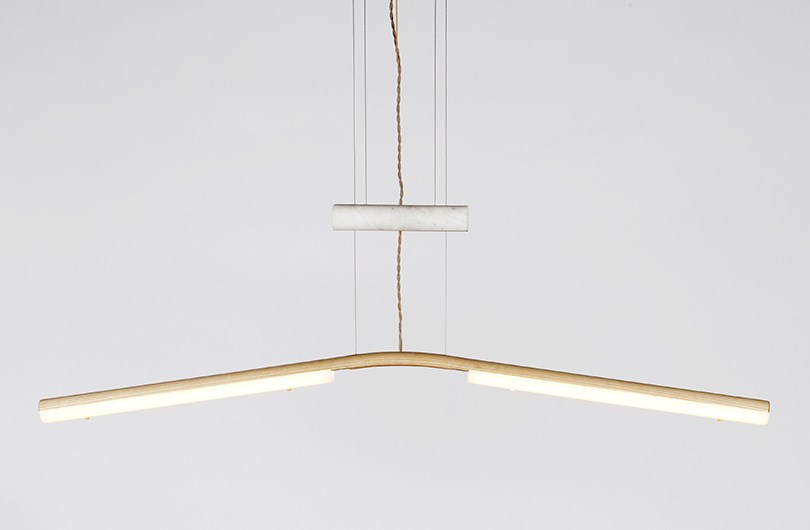 Fabulous Furniture
We now shift our focus to Ford Standard's furnishings, which are designed with an attention to detail and craftsmanship that makes each one a work of art. For example, the MAD stool is made entirely out of aluminum. It also directly answers a challenge set forth by the American Design Club and The Museum of Arts and Design: to create a seating element in one day, using only the tools that Fort Standard could bring to their studio!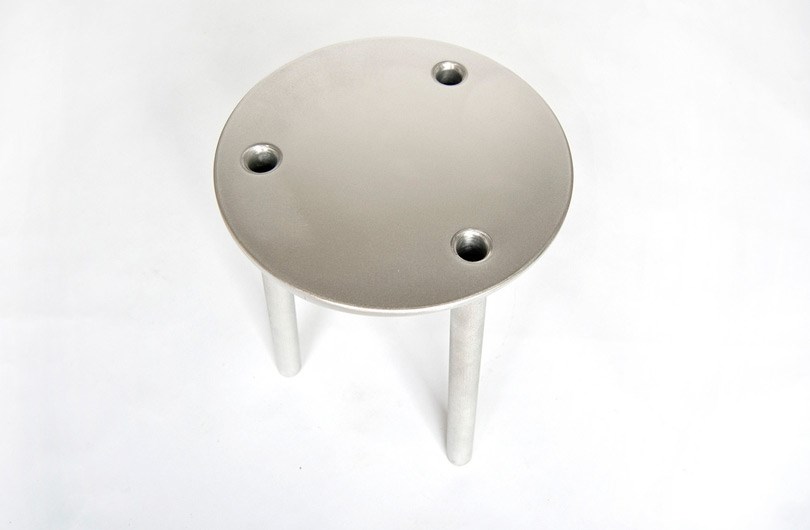 Through another meaningful design story, we're introduced to the Chainsaw Stools, donated to raise relief funds for Hurricane Sandy, Ian and Gregory, and created from fallen trees near Fort Standard's HQ in Red Hook, Brooklyn. The trees were geometrically cut using chainsaws, then painted in colors that evoke the feel of a storm. [photo by Brian Ferry]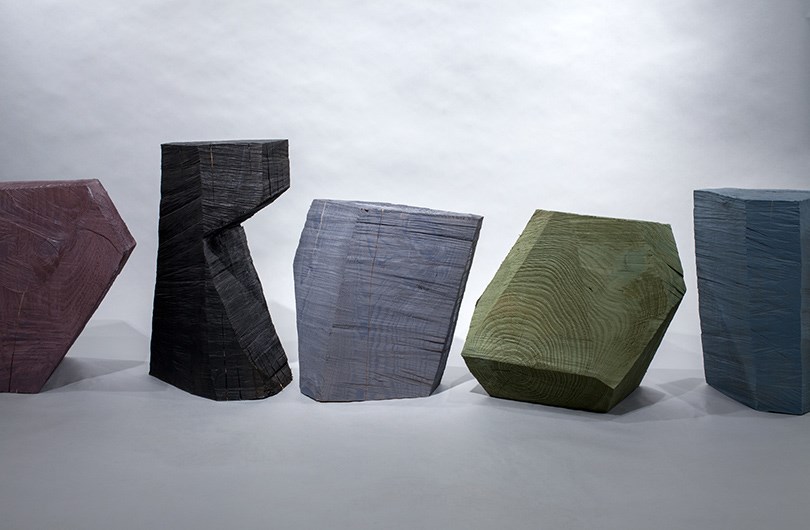 As we've noted on Decoist time and time again, marble is currently one of the design realm's hottest items, and this fact isn't lost on Fort Standard. Their Column Coffee Table features a slab of white Carrera marble that's a gorgeous two inches thick. Add four inch-diameter white oak legs, and you have an enticing combination of materials. [photo by Brian Ferry]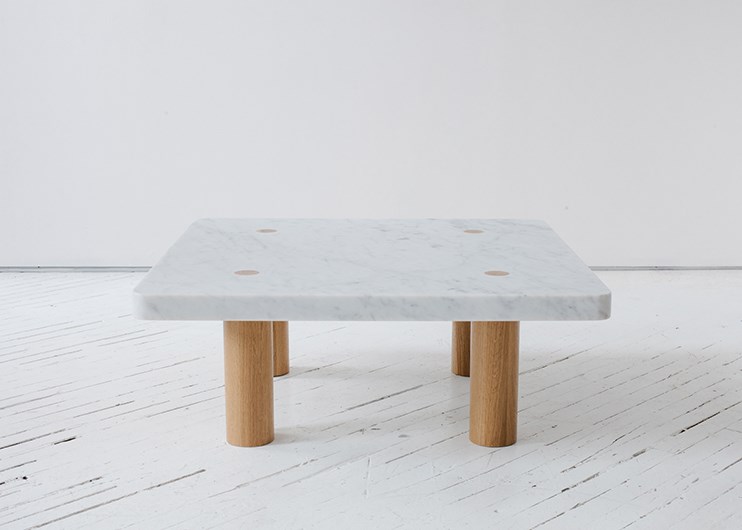 We end the furniture portion of today's post with the Range Table, which is substantial yet delicate in its thickness. Four dowel legs, a quarter-sawn top and round edges create a truly elegant modern piece. [photo by Brian Ferry]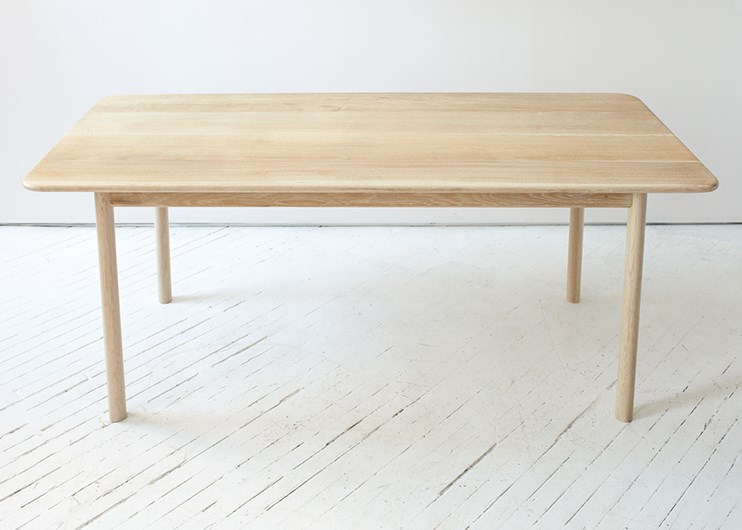 Amazing Spaces
Fort Standard-designed spaces are visually intricate while maintaining an uncluttered look. Each detail is impeccably planned, yet the overall feel is easy, clean-lined and contemporary. Below we see the studio's design for Harry's, a New York barbershop and men's retail store. The goal: "to create a space where one could walk in, get a fresh cut, professional shave then turn around and pick up a great gift from a finely curated selection of products as well as top of the line grooming products." [photo by Brian Ferry]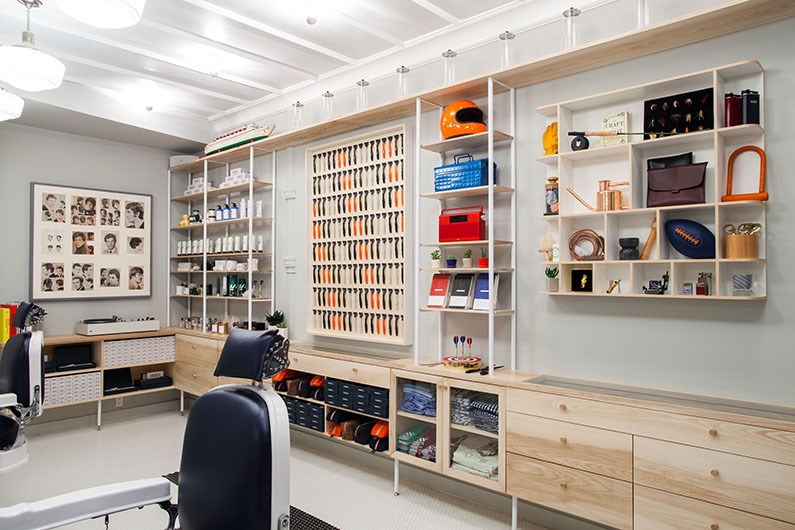 Wall-mounted shelving and elegant furniture take center stage at Warby Parker in this collaboration with Partners & Spade. Located in SoHo New York, the showroom beautifully displays a range of eyeware products, thanks to fine craftsmanship: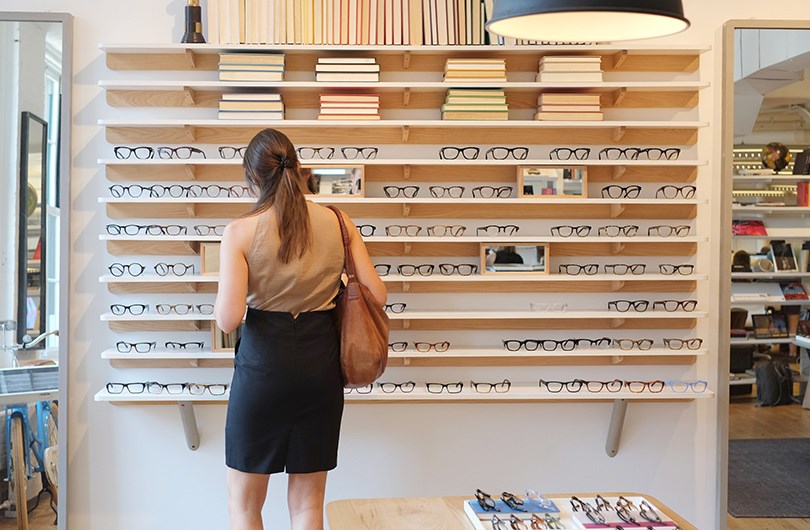 Below we see Mociun, a jewelry and home goods retail space that features custom furniture and fixtures designed by Fort Standard. From pedestal-based tables to multi-paneled glass jewelry cases, these unique pieces are crafted from ash hardwood.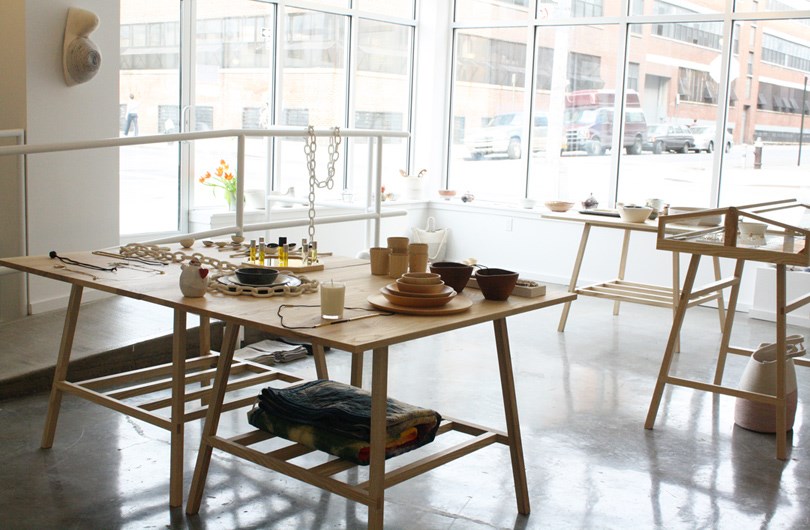 For a final look at Fort Standard interiors, we highlight Fjällräven, the renowned Swedish outdoor brand's SoHo NY store. Scandinavian style meets the glow of salvaged old growth pine in this unforgettable space: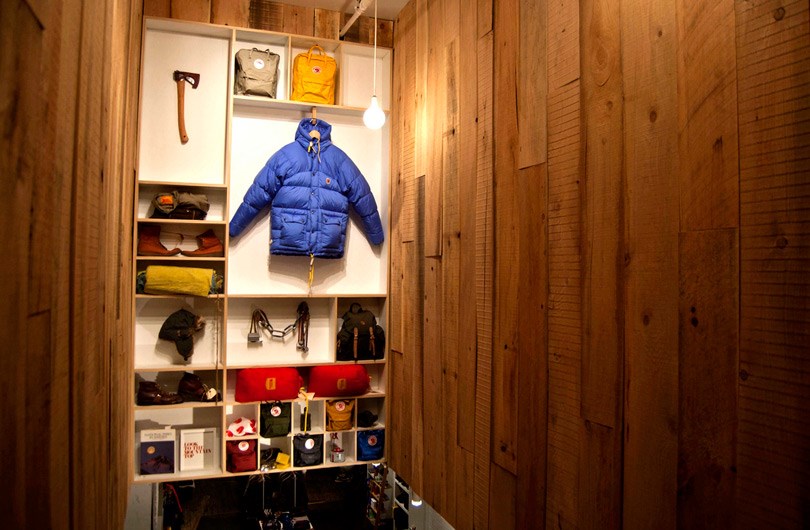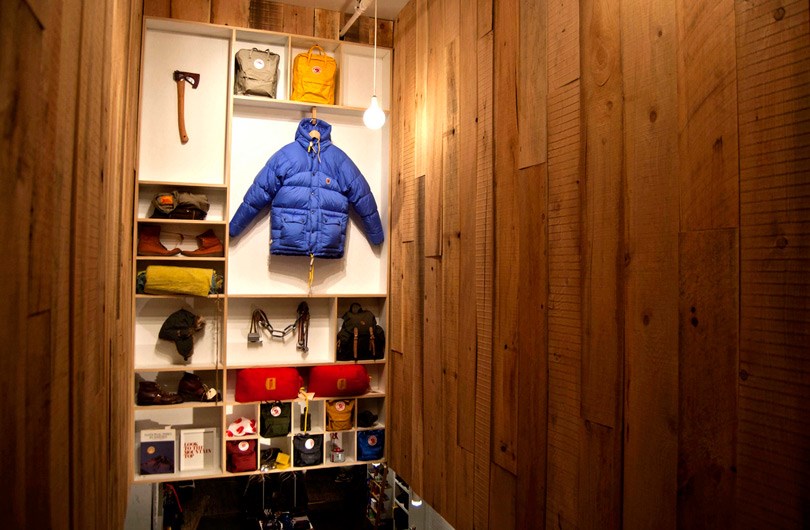 Sleek Products
We can't forget about the wide array of unique products that Fort Standard designs, produces, manufactures and sells. These Foundation Lights are small in stature yet grand in stylish presence, thanks to a construction of marble and wood. Use them on a bedside table or a dresser, alone or in a group: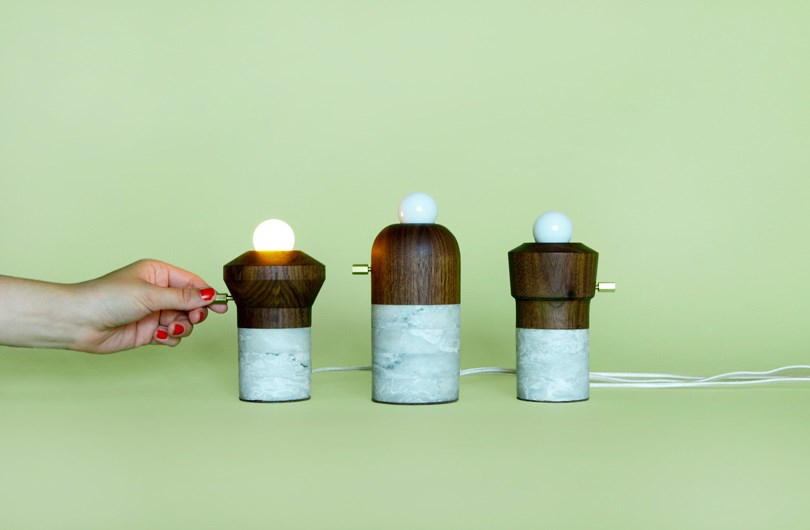 Ready for more marble? Fort Standard's trivets are cut from an array of stones in a variety of geometric shapes. Stack them, create a stylish vignette in your kitchen, or purchase only one and use it to the fullest. A hand-stamped leather bottom ensures these trivets won't scratch the table or countertop. [photo by Brian Ferry]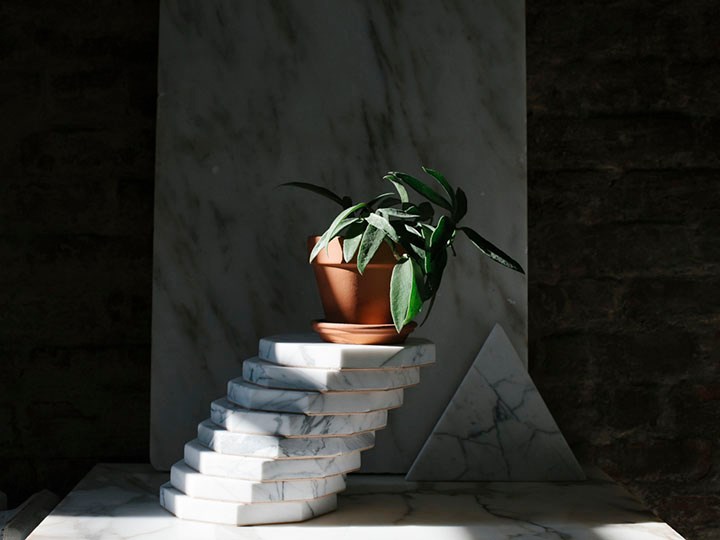 Curious about the available colors and styles of the trivets? Red, blue, green and white are among the hues offered, and shapes vary from the triangle and the hexagon to an apparent 9-sided design! Yes, it's a nonagon, shown below in green and white marble. [photo by Brian Ferry]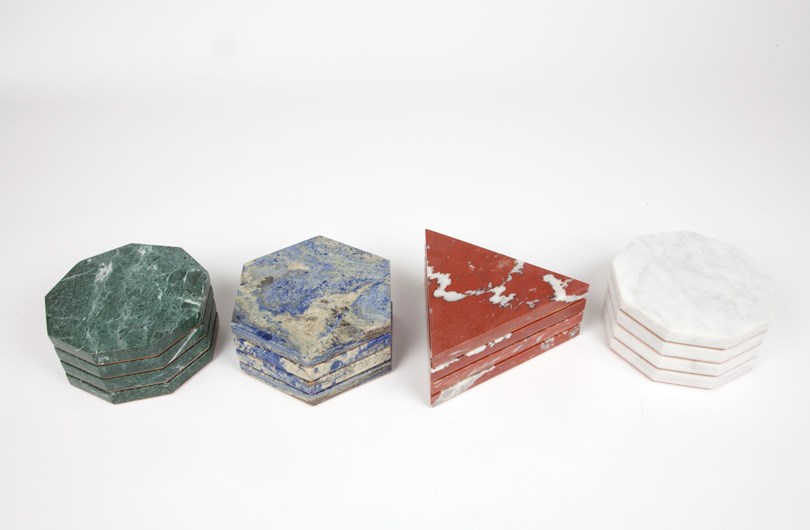 Facets meet tumblers in Standard Ware, a series of bone china pieces designed by Fort Standard for 1882. Crisp and geo-fabulous, these tumblers are true conversation pieces. [photo by Brian Ferry]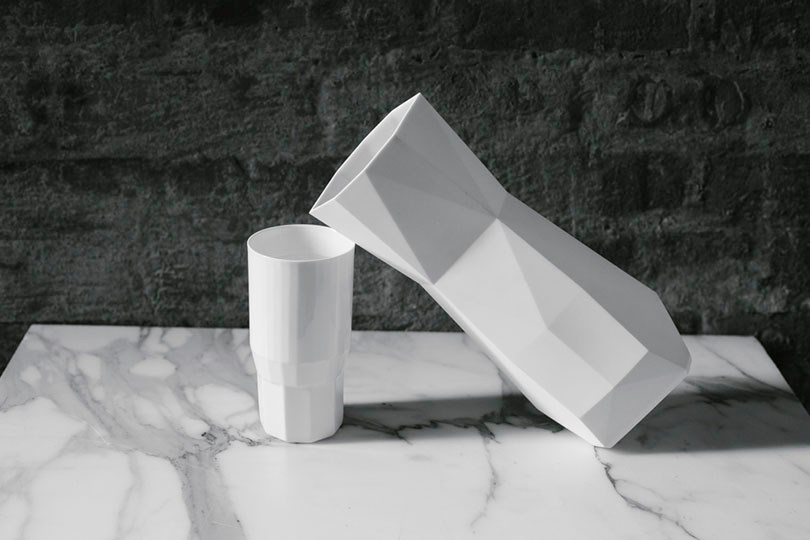 Today's final featured image reveals a selection of Standing Bowls, sand-cast aluminum pieces that boast elevating planar legs. The larger design makes an excellent fruit bowl or centerpiece, while the smaller of the two is perfect for everyday use. Both make serving a snap! A food-safe powder coated finish ensures that these striking bowls are food safe. [photo by Brian Ferry]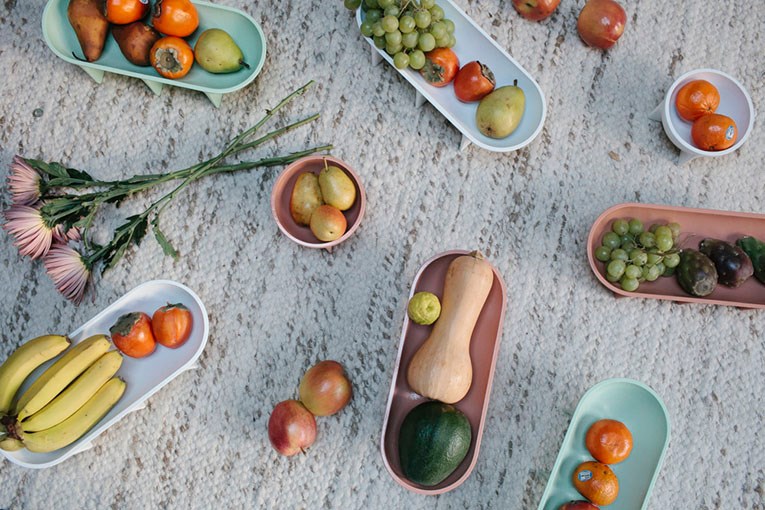 Interested in purchasing a Fort Standard piece of your very own? Visit the studio's online shop and enjoy some top-notch retail therapy…