It's Monday again, and we have another round of images that will take you away to a tranquil place, then inspire you to bring the resort style home. In fact, these relaxing bedrooms are filled with amazing design ideas. We invite you to escape. We invite you to unwind. We invite you to take in the view. And if you're interested, you can take away a collection of design techniques that will help make your sleeping space unforgettable. Enjoy!
A City View
Our first set of bedroom retreats features chic city rooms with a view. How do you decorate these dramatic spaces? The boudoir below is filled with neutral tones, clean lines and tropical greenery–the perfect counterparts to the city lights outside. [from Interior Design Ideas]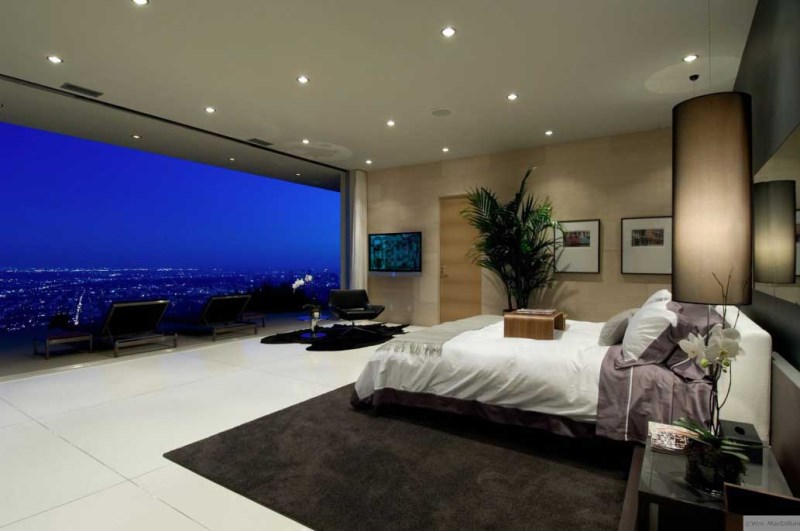 Luxe details and shades of taupe fill this elegant Chicago bedroom. From plush pillows to floor-to-ceiling draperies, the use of high-quality fabric creates an upscale hotel vibe. [from Michael Abrams Limited Interior Design]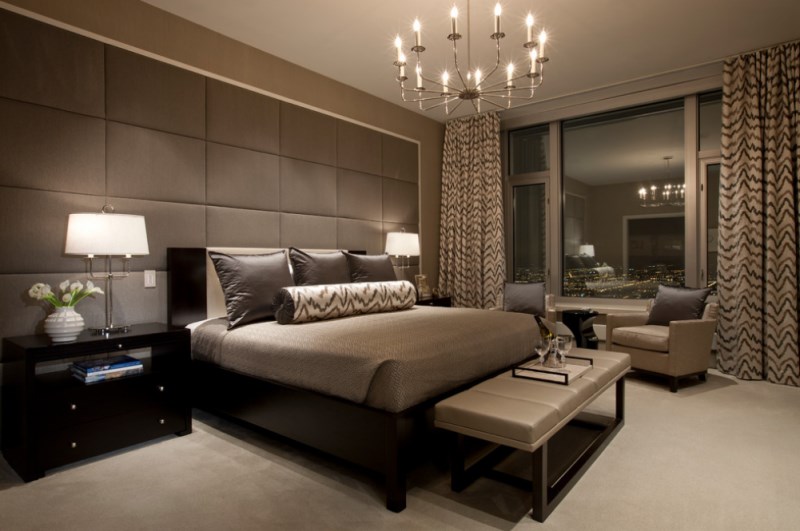 Color reigns in the Manhattan bedroom below. A vibrant painting by Dan Christensen is a powerful focal point, and wall coverings and bed upholstery by Jamie Drake are soothing yet unexpected. Drake Design Associates designed this visually interesting master bedroom. [photo by William Waldron for Architectural Digest]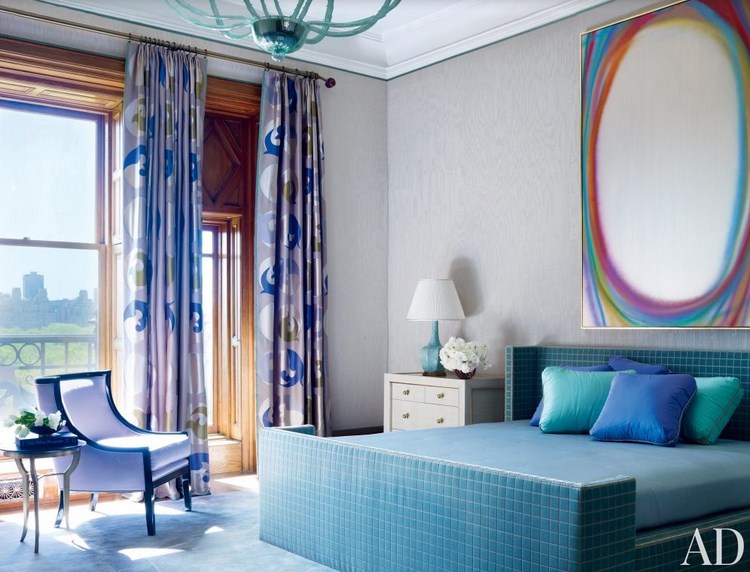 An Earthy Retreat
Our next featured trio of rooms celebrates warm tones and earthy details, all within a modern context. Wooded views await outside this next lofty bedroom that may as well be a resort cabin! A four-poster bed and bedside tables with matching lamps create a sense of symmetry. [from Ward Young Architecture & Planning]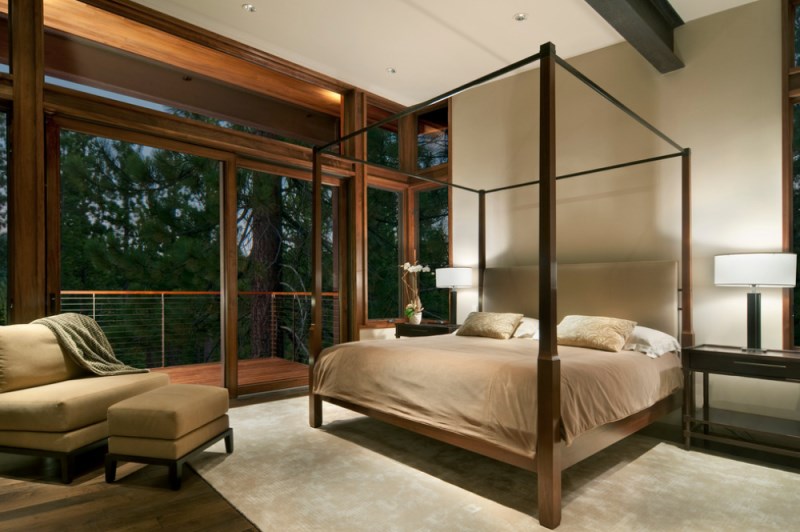 A faux fireplace is one of many features that brings this next grand bedroom down to earth. An accent wall filled with wooden planks and a celebration of texture on throw, rug and pillows adds another layer of comfort. [photo by Sue Murray for Capital Building]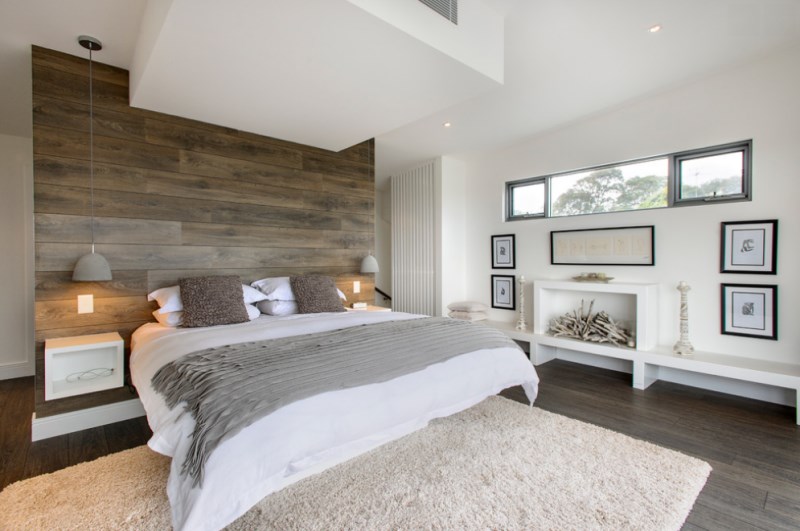 With a view of the rooftops, the warm-toned bedroom below is anchored by wooden flooring. Yet the use of charcoal on the rug, bedding and accessories provides a much-needed cool-toned element that is contemporary and soothing at the same time. [photography by Victoria Pilcher and David Ross from Nico Van Der Muelen Architects]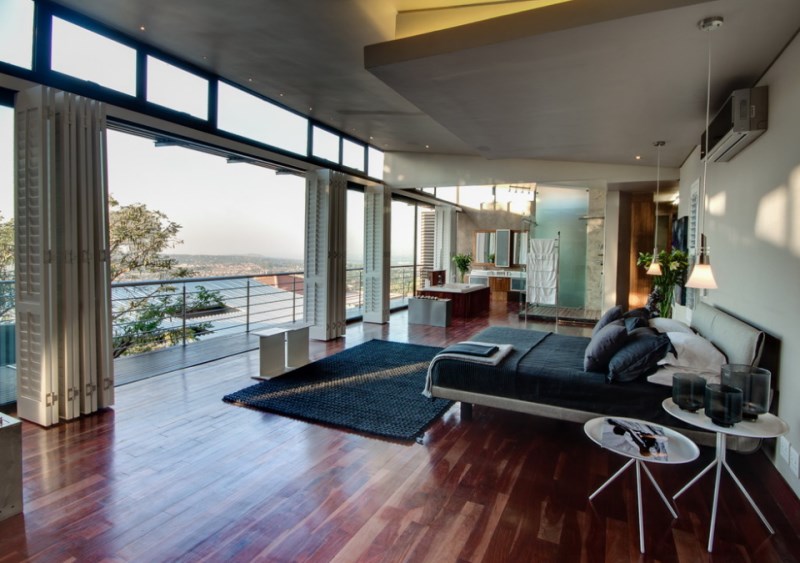 Tropical Paradise
We end with a quartet of luxury bedrooms that bring tropical style home. In this Miami high rise designed byJay Britto and David Charette, all-white walls draw our attention to modern artwork, tropical greenery and the stunning view outside.
[photo by Alexia Fodere via Architectural Digest]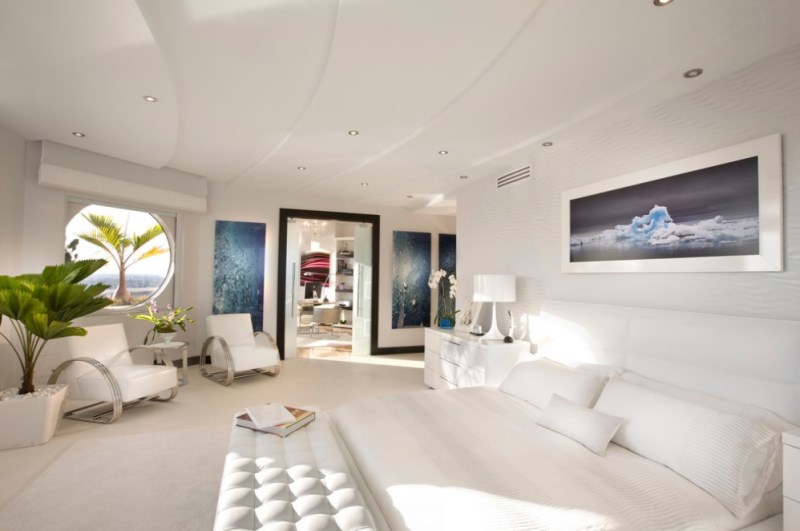 It's hard to imagine anything more pure than white loungers, gauzy curtains and an expansive view of the crystal blue ocean. By going with a "less is more" approach punctuated by shades of sea blue, pure tropical style can reign at home, as shown by the Jennifer Post-designed bedroom below. [photo by Ken Hayden Photography]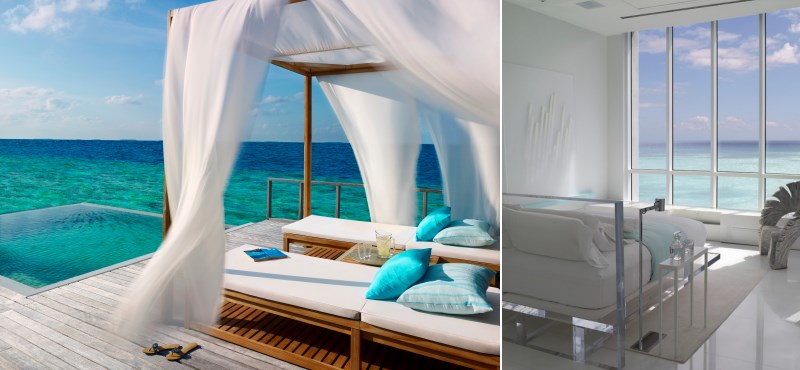 There's something so glam about this Boca Raton bedroom. A monochromatic look in shades of cream creates a sophisticated vibe, while dramatic greenery adds tropical flair. Also note the abundance of plush surfaces. [photo by Barry Grossman via Interiors by Steven G]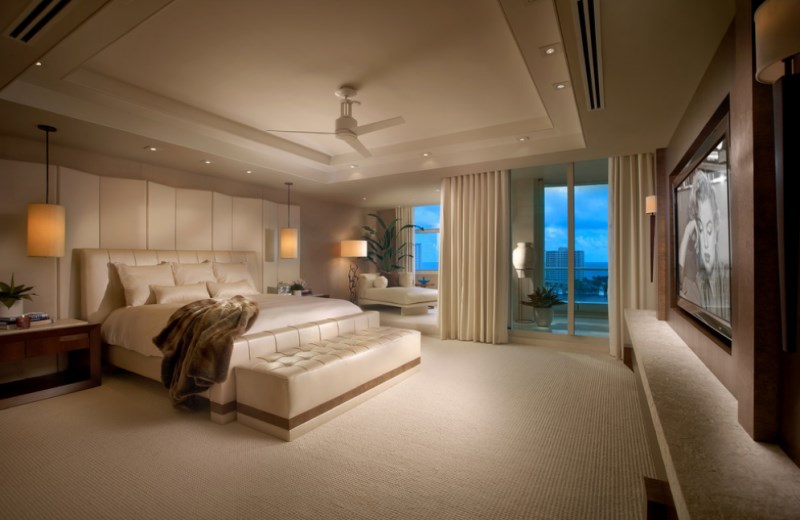 We end with a space that's as colorful as it is tropical. It's the master bedroom of designer John Barman. This Miami Beach sleeping space features an array of unexpected details in vivid tones. Radiant modern style is the perfect modern counterpart to white walls and the placid ocean just outside.  [photo by Dan Forer via Architectural Digest]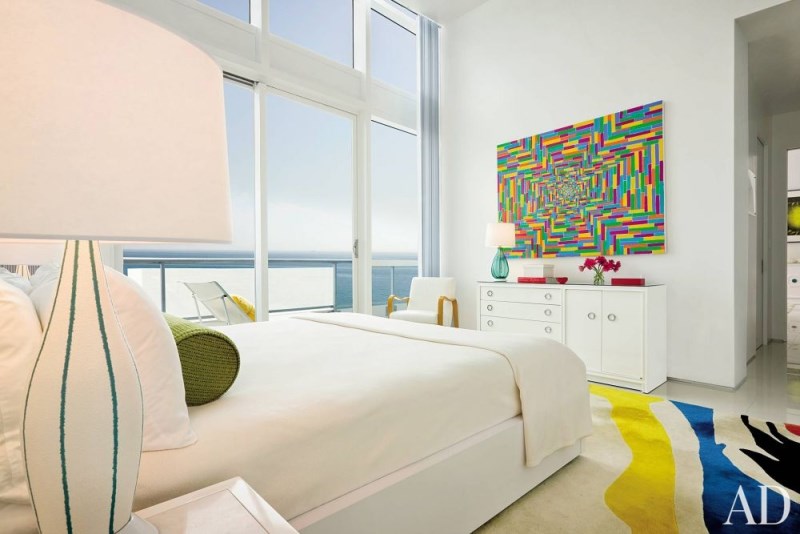 Even if your bedroom doesn't have a view of the city, the woods or the ocean, there are plenty of opportunities to create a vacation vibe at h0me. In addition to the decorative features highlighted above, note how each of today's showcased bedrooms lacks clutter. Serenity starts with a clean, organized space. Then comes the fun stuff! Have a great week…
Liked the story? Share it with friends.