The idea of renovating existing structures and combining old world charm with contemporary luxury and appeal is something that is quickly catching on across the globe. Located in an idyllic neighborhood of Kilham, Winchester, England, this beautiful house was a dull and boring old building until the creative folks from AR Design Studio decided to give it a grand new lease of life! Having undergone a fabulous renovation the Kilham House is now a cozy five-bedroom family house with a double-height entrance and an interior that exudes elegance and inviting warmth.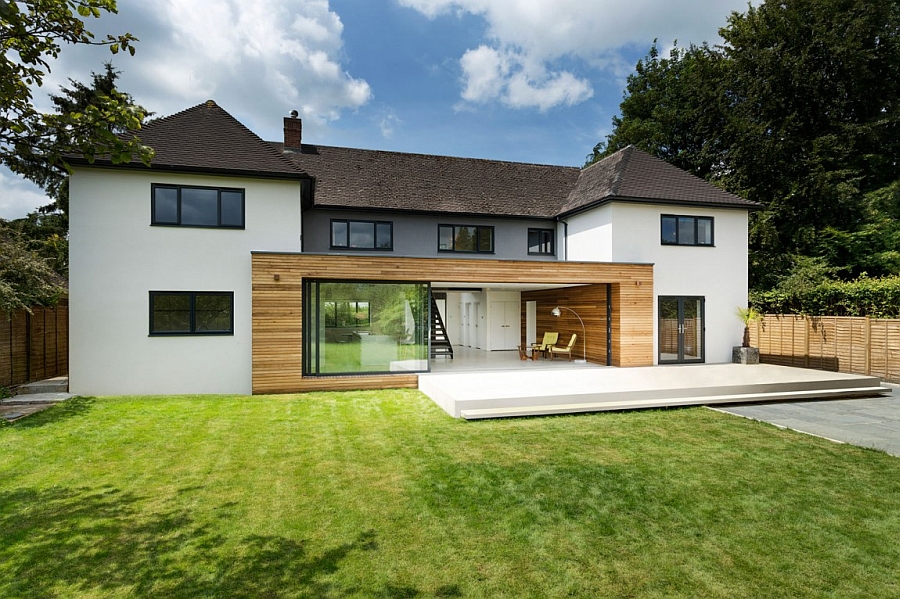 The main living space is the soul of the new house and has a seamless connectivity with the outdoor garden and deck area, thanks to the sliding glass doors. Containing the kitchen, dining area and the living areas, a neutral color scheme combined with the wonderful use of wood panels on the accent wall gives the residence a refreshing modern look. At the heart of this space on the lower level is the sculptural steel staircase with metallic wires that add to its distinct silhouette. The smart staircase instantly captures your attention and offers textural and visual contrast.
The top level houses the private areas which include the bedrooms, bathrooms and additional sleeping quarters. The innovative design of the house extends the living space outdoors and gives those inside a sense of openness and a perfect opportunity to enjoy the mercurial British summer!