Marble is a tricky surface to use in the kitchen, and while it does look absolutely spellbinding, the natural stone presents plenty of care and maintenance problems. Replicating the aesthetics of marble but offering unparalleled durability and resistance to wear and tear is the new Neolith Estatuario that has just hit stores in the US. Your quest for that ideal kitchen countertop that blends form and functionality might well come to an end with this gorgeous porcelain stoneware that is also 100% non-absorbent and LEED certified.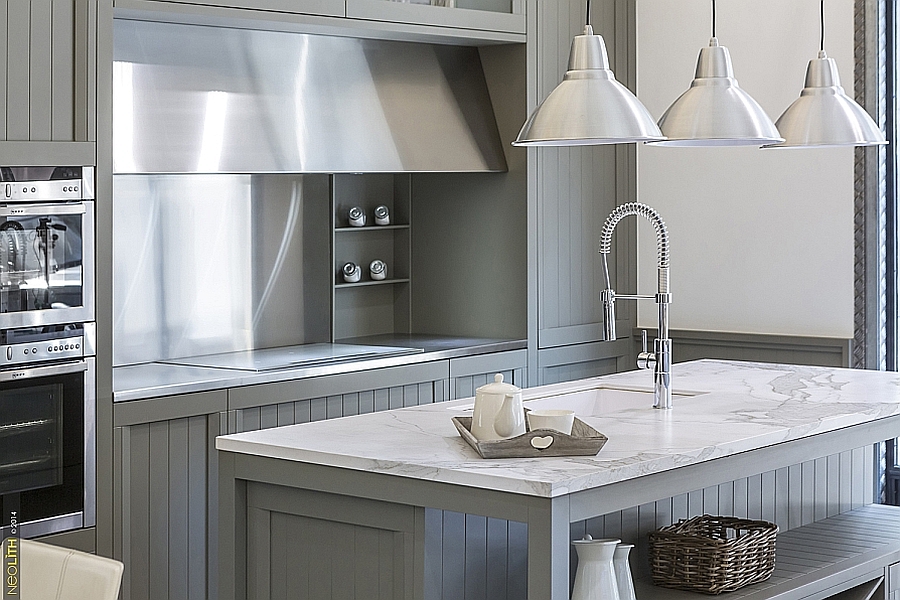 With an innate ability to withstand fire and high temperatures, the Neolith Estatuario can replace both granite and marble surfaces in your home with ease. While it is a surface that is ideal for a heavy activity zone like the kitchen, even the contemporary bathroom and living room floor can benefit from the durable and sustainable style of this trendy porcelain surface. Resistant to scratches and abrasive friction, the Neolith is also UV resilient, allowing you to use it even in rooftop kitchens and on the patio.
While the Neolith looks stunning in the marble-like Classtone color, it also comes in chic Iron copper and Iron grey versions that bring a touch of rustic charm to the kitchen without actually using any metal! Visually replicating weathered metal, these porcelain slab finishes promise to turn heads and transform your kitchen into an instant focal point in the open-plan living area.