The healthy kitchen–it's a room that's well-organized, clean and easy to navigate. It gives residents easy access to cooking utensils and ingredients, and it features fresh accents, such as potted plants and bowls of produce. In other words, the healthy kitchen makes you want to cook and live a healthy lifestyle! [from P3 Construction]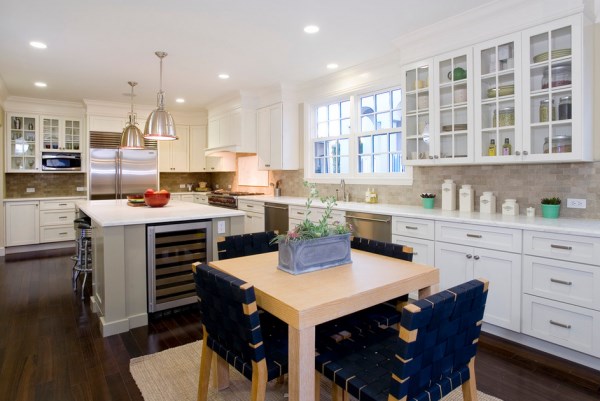 Regardless of your kitchen's size or layout, you too can create a healthy kitchen that facilitates easy access and a desire to prepare delicious meals from the comfort of home. Join us as we take you through a few easy steps that will inspire you to create a fresh culinary space! Read on for all the details…
Fresh Touches
Let's start with a dash of "fresh", shall we?! After all, your kitchen should beckon you to enter, entice you to open the fridge and point you in the direction of cooking utensils and healthy ingredients. So make it a standout with special touches such as fresh flowers. Blogger Sarah Yates from A House in the Hills makes her kitchen absolutely enticing with bougainvillaea blooms: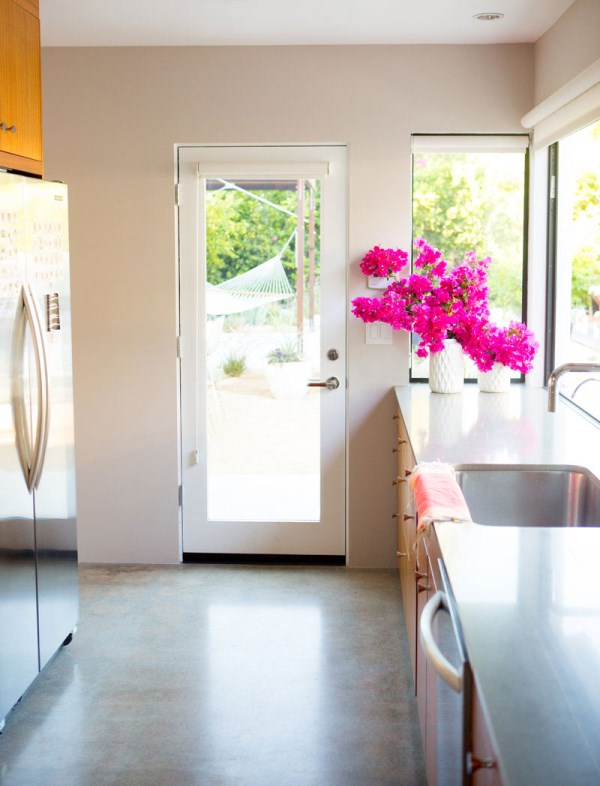 Fresh blooms–check! Produce in a bowl–check! Greenery in vases or pots–check! Fresh bread on the counter–even better! [photo by Karen Melvin via David Heide Design Studio]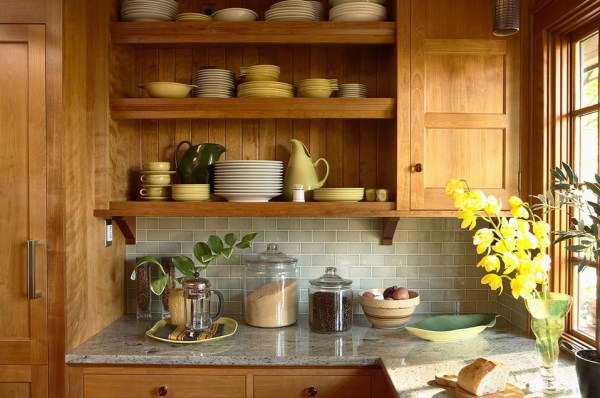 Another fabulous fresh choice: herbs. Not only are they lovely and fragrant, they will enhance your culinary endeavors. There's nothing like fresh rosemary on a healthy veggie pizza! [via Houzz]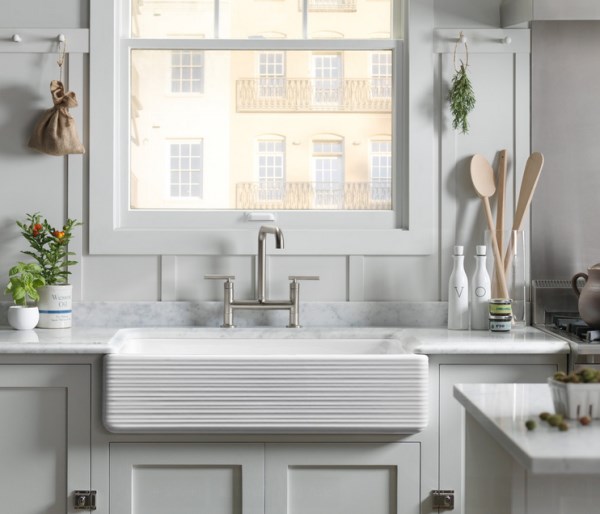 Fresh accents such as flowers, plants and produce are decorative staples in bistro-style kitchens. White walls and natural lighting are the perfect backdrop to fruits and veggies that can take center stage in your weekly meals. [from Artistic Designs for Living]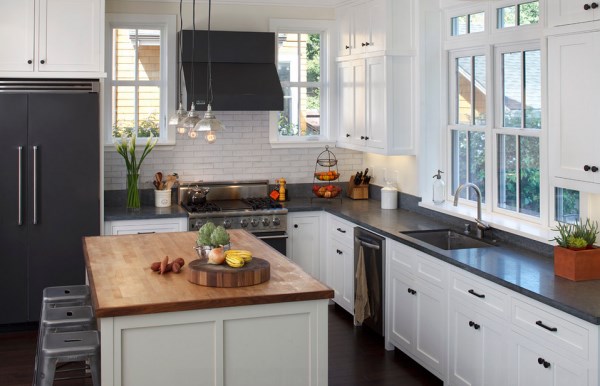 Don't forget that produce can provide a much-needed dose of color in the modern kitchen. The best part of decorating with fresh produce is the way it serves as a constant reminder that delicious food is abundant and waiting. [from Lonny]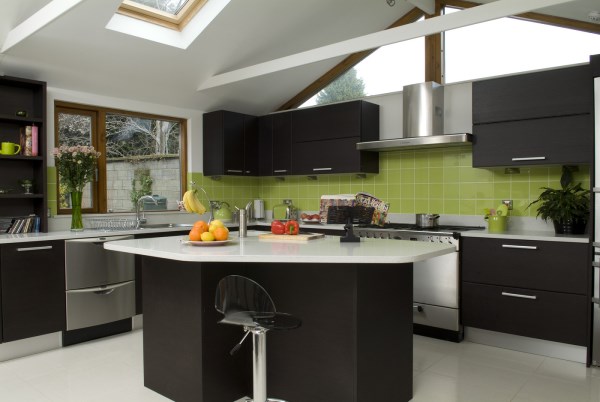 Easy Access
We now move from healthy, vibrant touches to tools and practical features, such as cutting boards, utensils, potholders, and canisters. Why design your kitchen with these vital items in mind? Because you're more likely to cook healthy meals when tools and supplies are at the ready! [from ferm LIVING]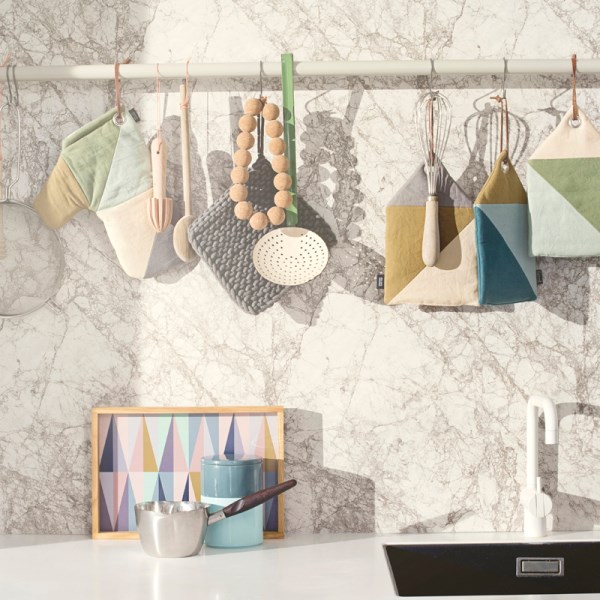 When dishes and ingredients are just an arm's reach away, there's no excuse not to use them to throw together a delicious, hearty meal. [from Lonny]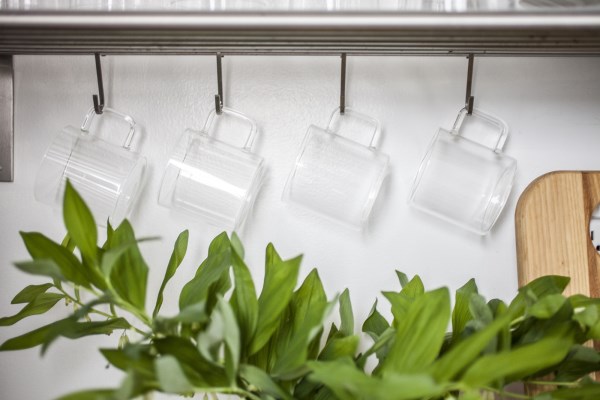 As you design the layout for your kitchen, think about how you can make the space as user-friendly as possible. Open shelving, canisters and hanging racks can help keep key items within reach. [from Emerick Architects]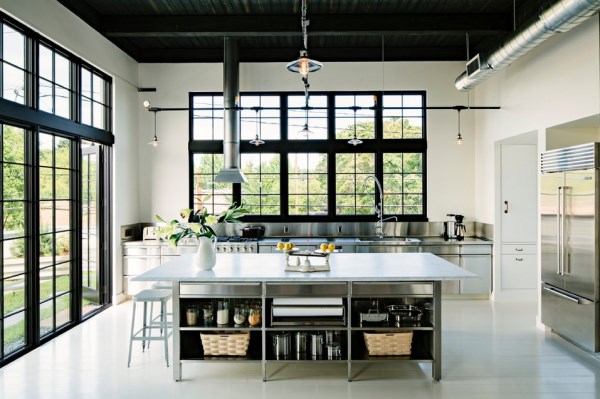 Speaking of canisters, these handy receptacles can become a stylish part of your kitchen's decor. They can also help you regularly stock culinary favorites such as grains and lentils. Bring on the quinoa! Below we see Silo Canisters from Crate & Barrel, which feature bamboo lids.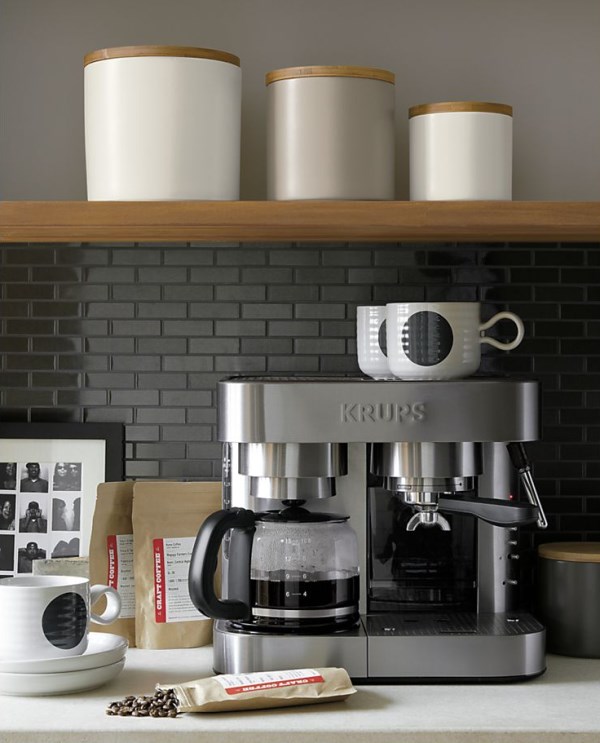 If you want to be extra sure that you'll use your contained items, opt for glass canisters that will put your favorite ingredients on display. In the next featured image, we see Montana Acacia Glass Jars from Crate & Barrel, featuring acacia wood lids: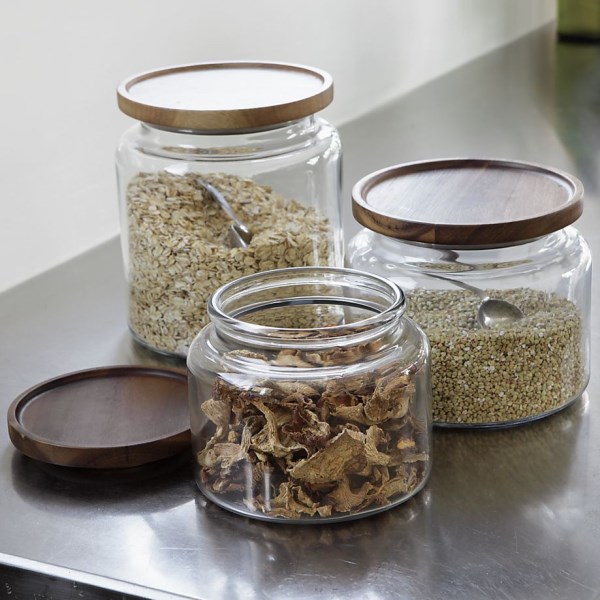 When your kitchen encourages culinary adventure, there's an added incentive to get creative with healthy meals. It never hurts to spice things up! Below we see Spice Jars from Pottery Barn, stylish with their blown glass containers and iron lids.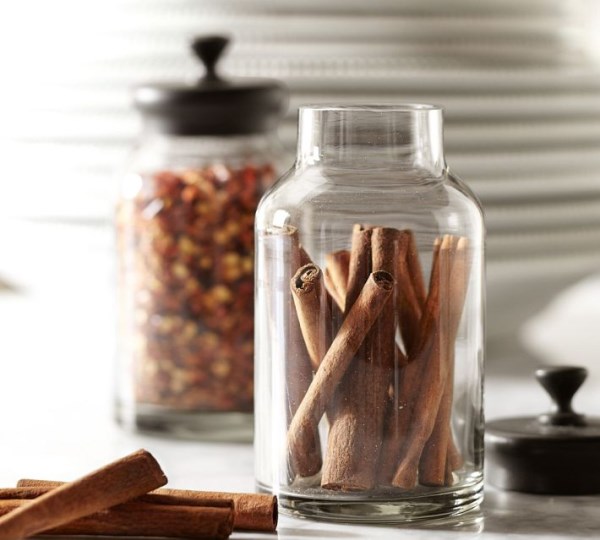 One of our favorite kitchen accents: a magnetic strip for displaying colorful cutting knives. Not only does it make a decorative statement, it keeps your cooking tools within reach, ensuring that whatever you're preparing, you can always make a clean cut. [from A Beautiful Mess]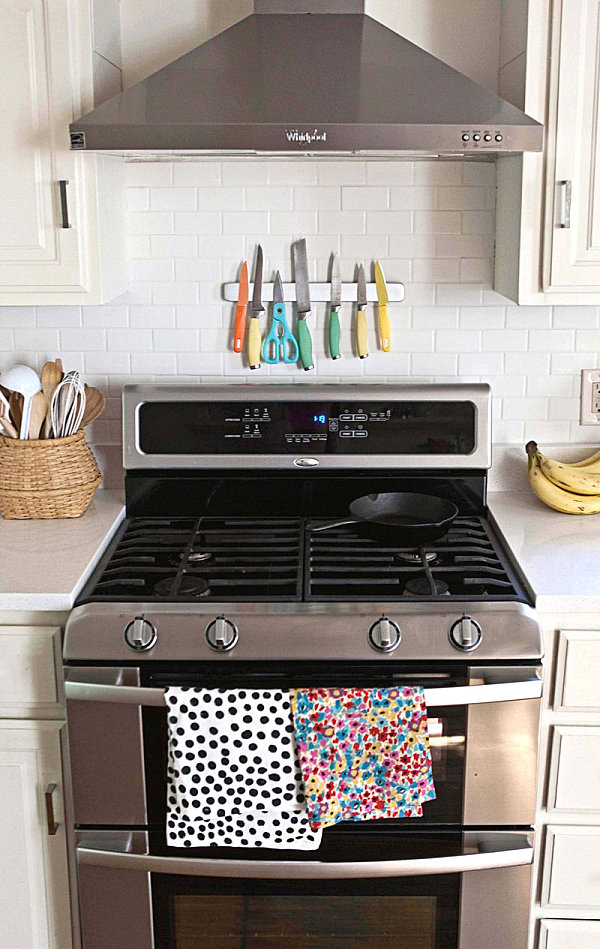 While clutter is not your friend, some kitchens actually benefit from the display of tools and supplies. And when they're as memorable as these cutting boards from ferm LIVING, you can have easy access to stylish food preparation and decorative serving.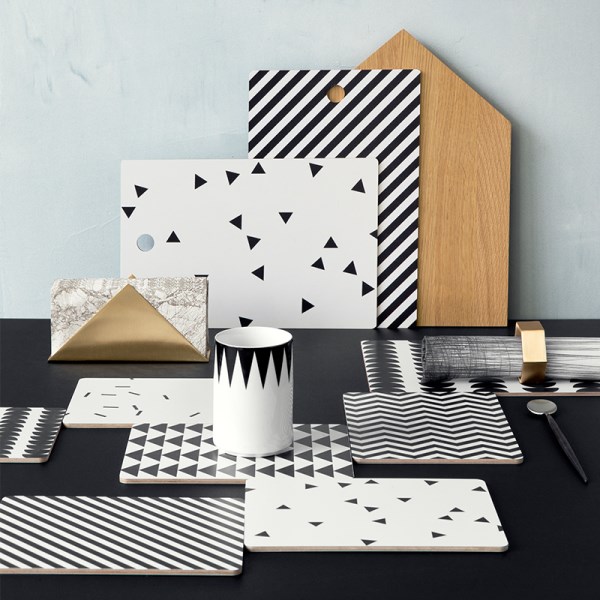 Cleanliness Counts
We end with an ode to cleanliness. Yes, your kitchen will beckon you to cook a healthy meal when there's room to spread out and get the job done. And when you have a sink full of dirty dishes or a counter full of clutter, the last thing you want to do is start a new project in the kitchen. Make an effort to maintain a clean space, and you're more likely to cook on a regular basis. [photo by Merle Prosofsky via Thirdstone]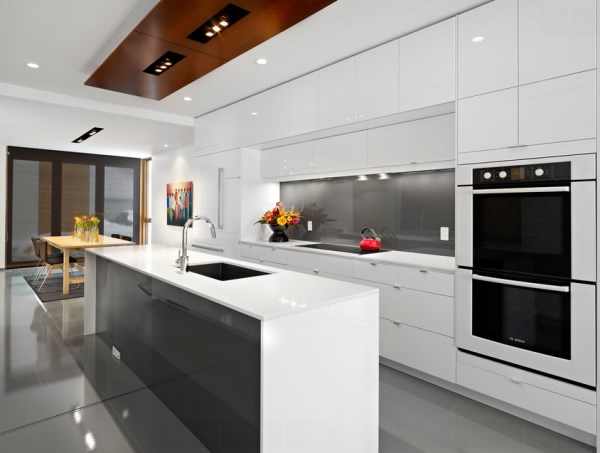 Dish towels can get grimy when they're not regularly washed and switched out. Stock up in one fell swoop with a week of dish cloths from ferm LIVING. So geometric!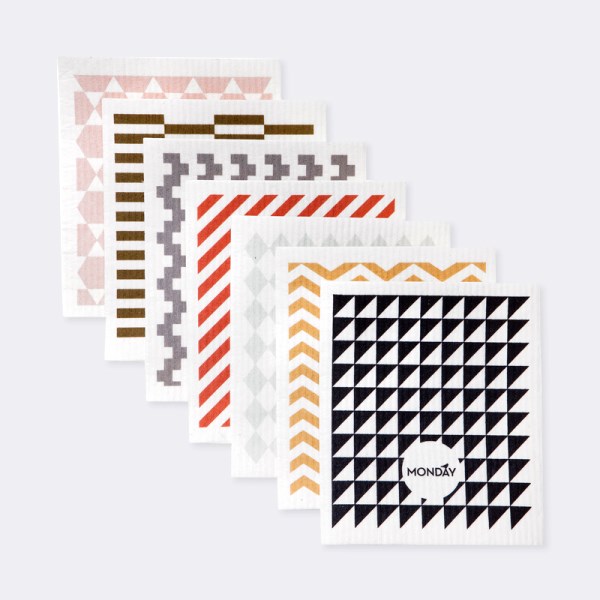 Commit to a set of cleaning products. You need them. There's currently a movement away from toxic chemicals and toward green products such as the offerings from Mrs. Meyer's Clean Day. Whatever you choose, make sure it gets the job done! [via Sophistishe]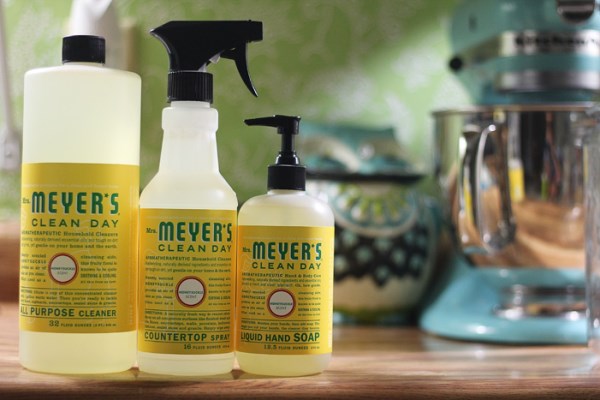 If your counters are clean, you won't hesitate to fill them with your favorite ingredients as you prepare breakfast, lunch or dinner. [from Sealy Design Inc.]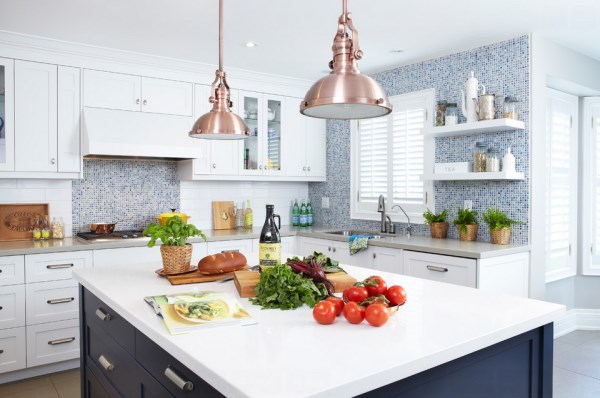 We end with one of our favorite kitchens from the studio of A Beautiful Mess. This space has a fresh, clean look. It incorporates bright pops of color. It features open shelving that puts everything within easy reach. It showcases beautiful plants that create a stylish, healthy feel. And it seems to radiate happiness!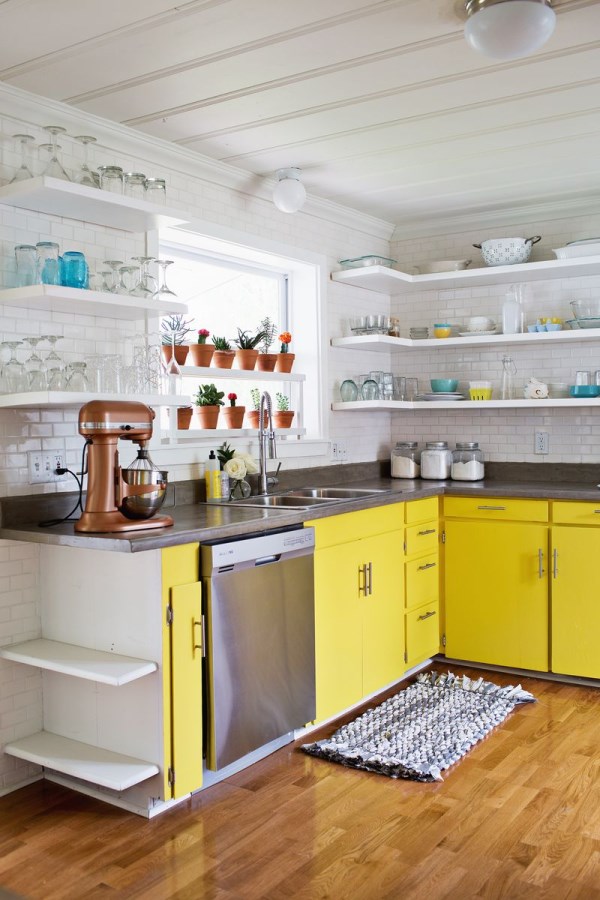 We at Decoist wish you the best as you create a healthy kitchen of your own. Remember to keep it clean, add plenty of fresh touches that draw you in, and make your culinary essentials easily accessible. Bon appetit!