Japan often creates some of the most original, ingenious, and at times quirky homes on the planet that charm you with their innate simplicity and inventive form. The captivating Origami House in Mie, Japan fits this billing perfectly, as its unique silhouette draws your attention instantly while combining brilliant aesthetics with perfect functionality. Designed to serve the needs of a newlywed couple, the house obviously takes its inspiration from the art of Origami, which is now renowned across the globe. Reinterpreting classic Japanese design in a contemporary fashion, the Origami House stands out visually with ease.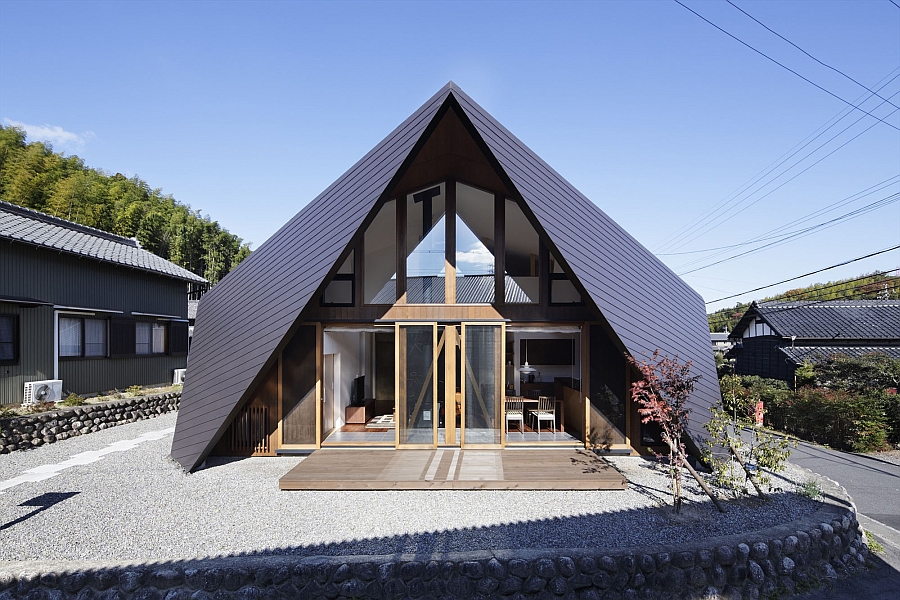 Located on a lot of 251 square meters, the house itself just occupies 146 square meters and makes smart use of whatever space is on offer. The special roof designed by Yoshiaki Tanaka of TSC Architects for the house is not just about painting a pretty picture alone. It helps give the homeowners private spaces on the deck outside while shielding the house from harsh sunlight and taking the brunt of the impact caused by strong winds in the region. Designed to withstand even mild earthquakes, the Origami roof sure helps solve many design conundrums in one go.
On the inside, one sees a stylish modern home that embraces a semi-minimal style with ease. White walls and wooden surfaces dominate the space in a style that is typically Japanese. An open living area is housed on the lower level, while the top floor contains the bedroom and the bathroom. Large glass walls ensure that the wooden deck outside becomes an integral part of the living area. This fabulous house turns out to be the showstopper in a picturesque village surrounded by mountains!