The hustle and bustle of modern urban lifestyle can be taxing and getting away from the rush is what we often do to rest, rejuvenate and find that smile which might have taken a backseat due to the daily rigors. While some might love to spend a weekend alone at the spa to rediscover themselves, others prefer a quiet trip along with the family to a beautiful cabin, away from the concrete jungle. Offering sweeping views of a secluded lake and relaxing ambiance, the Maine Lake Retreat is all about reconnecting with nature at its unadulterated best!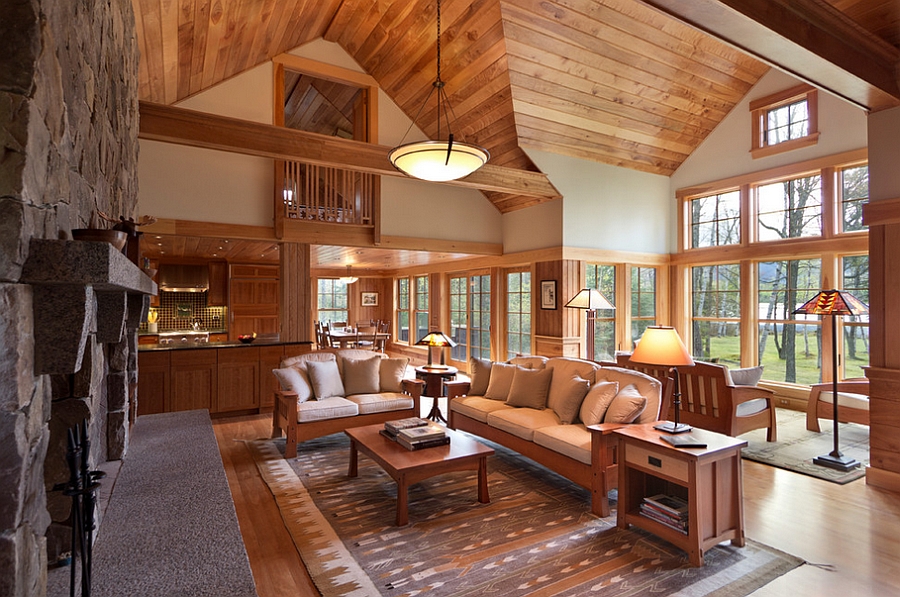 Designed by Bennett Frank McCarthy Architects with a style that brings together the rustic cabin architecture and smart elements of modern design, the wonderful getaway brings together the best of both worlds. You can enjoy all the amenities promised by an urban lifestyle here, even as you take in the panoramic views outside. Reclaimed birch that is used to shape the walls, floor and ceiling is the dominant material which defines the aura of the chic cabin. Vaulted ceilings, large windows and skylights usher in ample natural ventilation to give the interior a spacious and airy appeal.
The cabin provides perfect inspiration for anyone trying to bring home the woodsy cabin style, with its large living area centered around the stone fireplace, a modern kitchen with closed wooden cabinets and a snug bedroom that keeps things simple and elegant. Spread across two different levels, the picture-perfect exterior of the house adds to the scenic setting. With twin guest rooms and separate bedrooms for kids, there is ample space here for friends and family!