My cat LOVES spending time outdoors. But when a stray climbed over our fence and engaged our Little Mister in a feline fight, we started pondering building a catio–it's a screened-in patio (baloncy, porch, enclosure) for cats, in case you haven't heard. Often there are special features inside the catio, such as scratching posts and ledges for lounging. [from catiodesigns.com]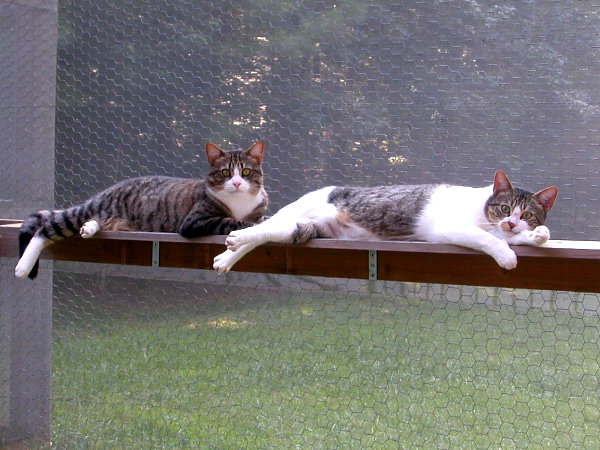 Catios are on the wish lists of many kitty owners, and why wouldn't they be? Often blending great design with feline safety, they provide outdoor opportunities for indoor cats. No wonder so many New York City residents are screening in their balconies to create safe havens for their furry friends! Furthermore, catios are becoming the pet-loving design enthusiast's favorite new phenomenon, and they've received a great deal of media attention, as reflected by this New York Times article. Read on for some fabulous catio design inspiration…
Building Your Catio
What does it take to build a catio? A dose of reality! Be honest about what you can handle. There are many ways to create a safe space for Kitty. For example, online retailer Just 4 Cats offers easy-to-follow plans, complete with drawings and descriptions. Some pet owners prefer to pay professionals to come out and do the work. [from The Cat Cottage Senior Sanctuary via Catio Showcase]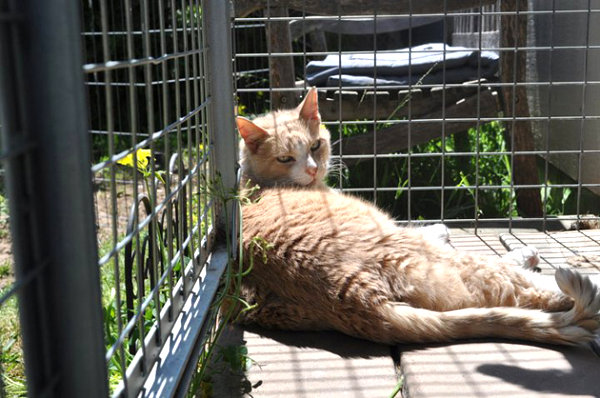 In addition, retailers such as Home of Habitat Haven offer easy-to-install kits, or they will custom design and ship a build-your-own cat enclosure that fits your needs. I love the clean-lined modern look of these enclosures, don't you?! [from Home of Habitat Haven]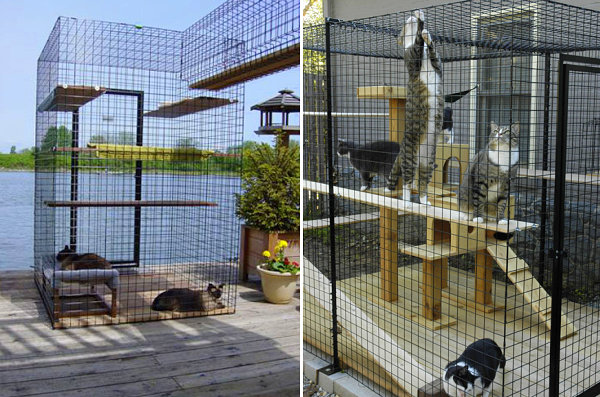 As you contemplate life with a catio, begin by setting attainable goals. If you're going to do the work yourself and you are NOT ordering a kit to guide you, keep in mind that items such as mesh, netting and galvanized fencing may be a necessity. If you aren't fencing in a patio that already has a sturdy frame, you may need to set some posts in concrete, which is no small feat. [from Home of Habitat Haven]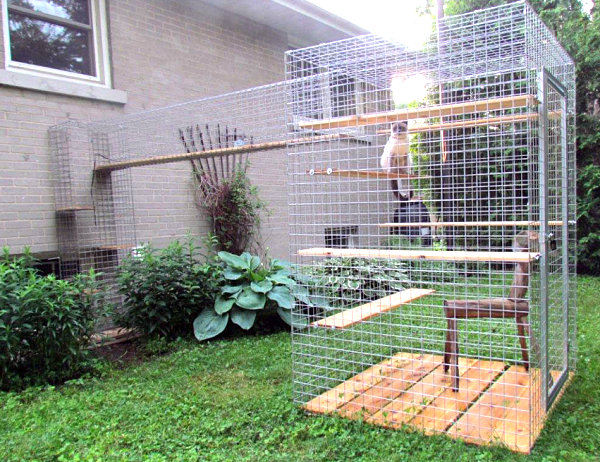 But if you choose to screen in an already-existing space, such as a patio, porch, deck, or balcony, you won't have to create the catio from scratch. For a list of catio considerations and helpful tips, head on over to CatTime.com. And remember, when it comes to the design of your catio, put your pet's safety first! Keeping predators out is just as important as keeping your kitty in. [from CatTime.com]

Catio Design Inspiration
We now share some catio design inspiration that will hopefully spark your creativity as you plan your cat's new dream home–or hangout! While there isn't specific mention of the outdoor space below being a catio, I'm loving the modern look of this screened-in room. And yes, that's a customized screen wall. Can't you see kitties enjoying lounging time on those rocks?! [photo by Benjamin Benschneider for Chadbourne + Doss Architects]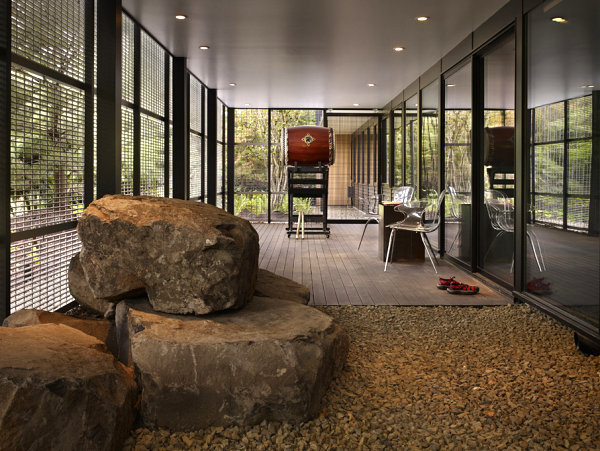 If you're a fan of catios, do yourself a favor and check out Catio Showcase! This blog highlights a range of unforgettable catios, including this tropical Florida feline space that features cat-safe foliage, ramps, perches and a koi pond: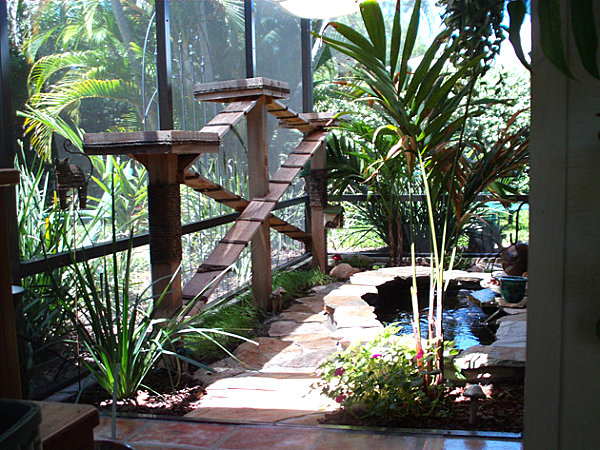 This serene catio featured at Modernica includes a range of plants, as well as Asian-inspired touches, such as bamboo. And the kitties must love using the carpeting for scratching purposes…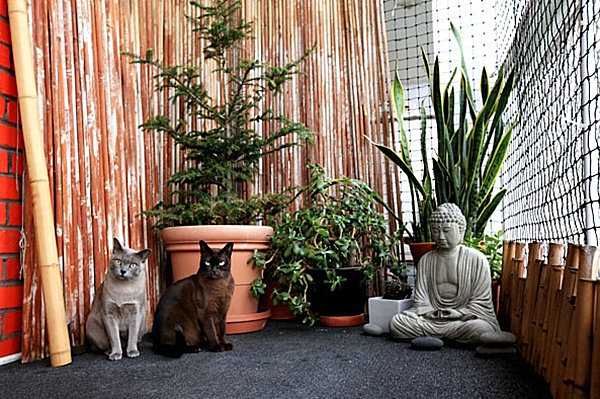 We end with a catio that's hard to ignore! This epic 600-square-foot enclosure is the turf of 16 cats, who enjoy ramps, steps, a viewing platform, and yes, a koi pond. [from PBC Consulting]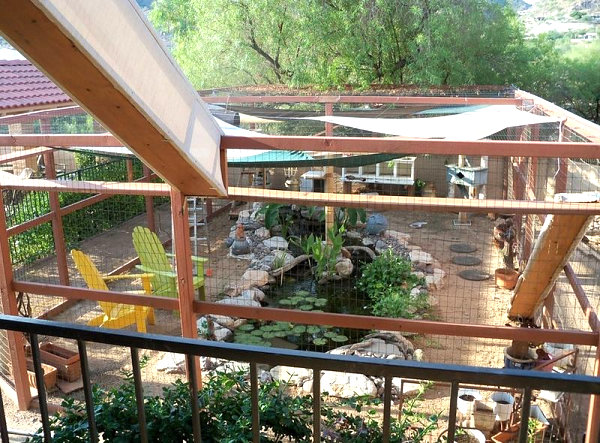 Made from plastic-coated galvanized fencing and redwood, this beautifully designed space is a happy catio where feline friends and doting owners can enjoy the outdoors together: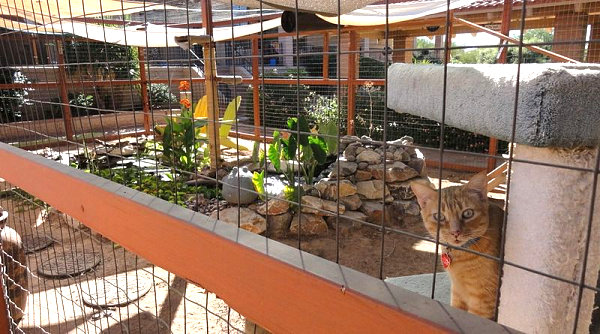 Still considering building a catio? I'm definitely pondering the design possibilities… For me, it might even be as simple as adding a gate to my front porch, which is already screened in on three sides. I'll keep you posted if I move forward with the project. And be sure to let us know all about your catio design ideas in the comments section below!