Today's post is dedicated to the little things…those knockout design details that elevate your space to the next level. Curating a truly unique interior is as easy as creating a few small statements that make a big impact. Below I'll show you some of my favorite images featuring decorative accents that have inspired me to try a bit of redecorating at home. I spy some future projects and purchases. Do you?!
Special Touches
Let's start with the image that inspired today's post–a gold-toned plate of stones in pastel hues. The minty quartz is luminous next to the selections in shades of mauve, don't you think? I love the way these specimens are presented–they look good enough to eat! The images below come to us from the bedroom makeover of Design Love Fest blogger Bri Emery. She purchased these stones at various vintage shops and flea markets: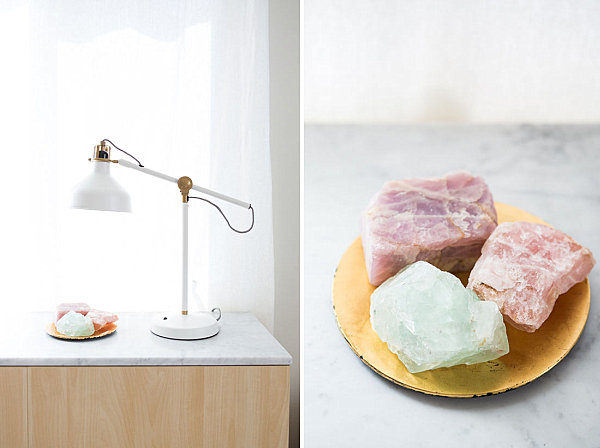 You may recognize some of the potted plants below from my recent post on tiny house design, which featured the newly built dwelling of my brother Andy. In fact, while photographing his progress on building the tiny house, I frequently got distracted photographing the lovely plants that are scattered around his home and yard (many of them succulents). Every time I leave his house, I want to add a new potted plant to my interior–and make it interesting!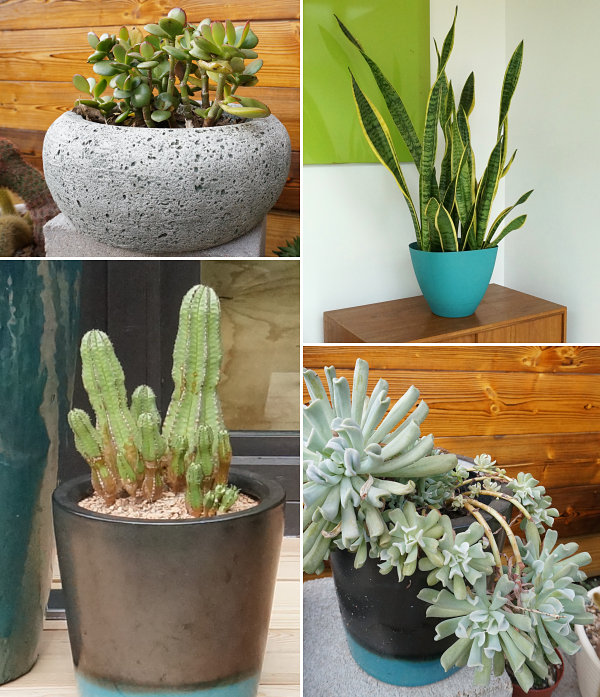 When I saw this photo by Matt Horton, I instantly fell in love with the combination of the mint tile and a glass bowl in a deeper shade of the same hue. This got me thinking about the power of tone-on-tone accents. Try purchasing a vase or bowl in the same color as one of your walls–but in a slightly lighter or darker hue. Talk about making a statement! [from Paul Davis Restoration]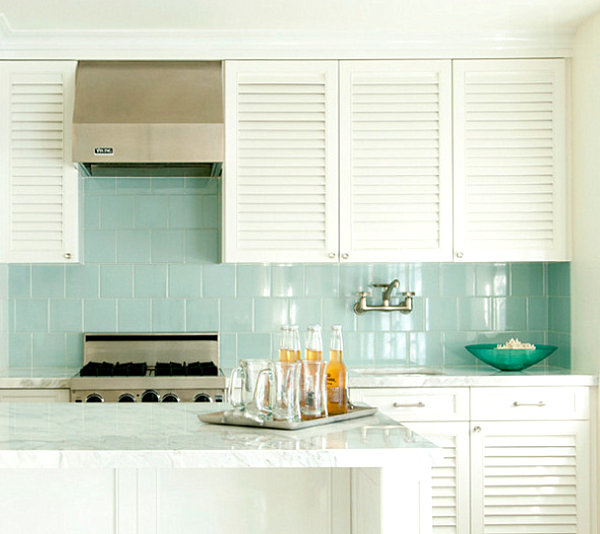 Functional Design
This next set of items falls into the "function meets style" category. There are practical selections we all need in our homes. And many of them represent an opportunity to get creative with design! Would you ever consider displaying your kitchen knives on a magnetic strip? I'll be honest–when it comes to sharp cutlery, I initially preferred to keep it hidden…until I came across the images below! First we see a display of colorful knives from the kitchen of A Beautiful Mess blogger Elsie, followed by a black, white and yellow display from the kitchen of Enjoy Cupcakes: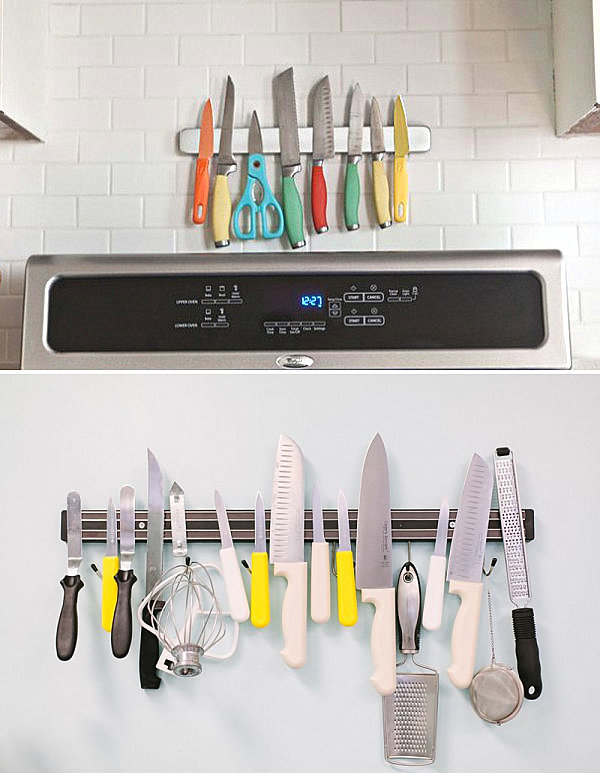 Many of us drink coffee or tea in the morning. Have you ever pondered creating a stylish coffee corner? Display your necessities, then elevate the look by adding a special find, such as a gold-toned coffee press. [image from Lily via Camille Styles]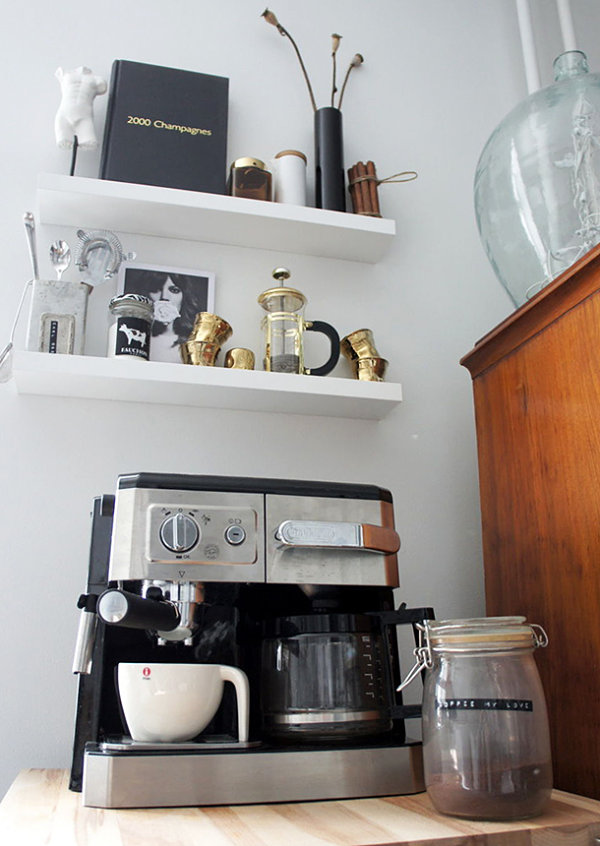 Beautiful Backgrounds
Next you'll find a trio of fabulous accent ideas for sprucing up your cabinetry and walls. Add a jolt of color to your home by painting the inside of a cabinet or bookshelf. Once again we see a vivid display of color from the kitchen of A Beautiful Mess blogger Elsie Larson. Never afraid to use bold color, she shows us how vibrant turquoise can create a retro-meets-modern look: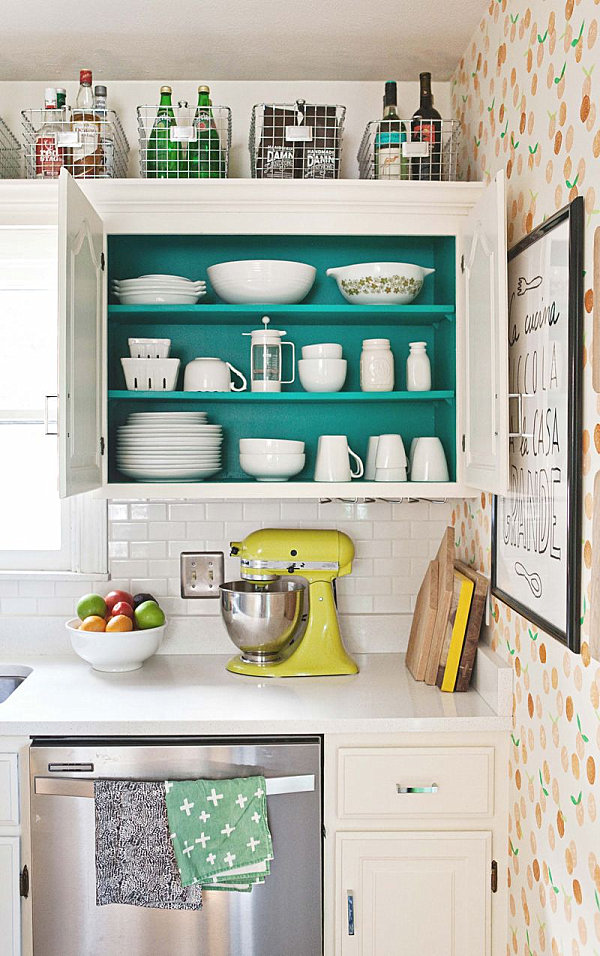 I'm a big fan of statement walls, and this wallpapered space is quite alluring. Not to mention, the wallpaper is enhanced by interesting decor, a sconce in a rich green hue, and a vibrant vase of flowers. Accent walls work wonders in all-white spaces. The contrast below is quite striking, don't you think?! [from Mr. Mitchell]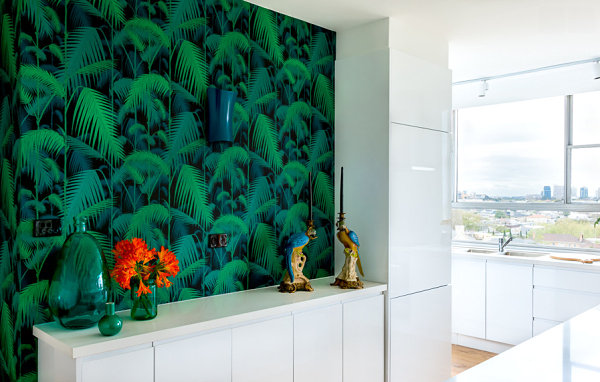 You may have noticed that my recent posts feature quite a few items from ferm LIVING. Not only do I love this retailer's decor, I'm very drawn to the backgrounds used in their photos. The geometric backdrop below has given me many ideas, from creating custom-cut wooden geometric shapes for wall art to painting triangular motifs directly on the walls. Easy and very on-trend!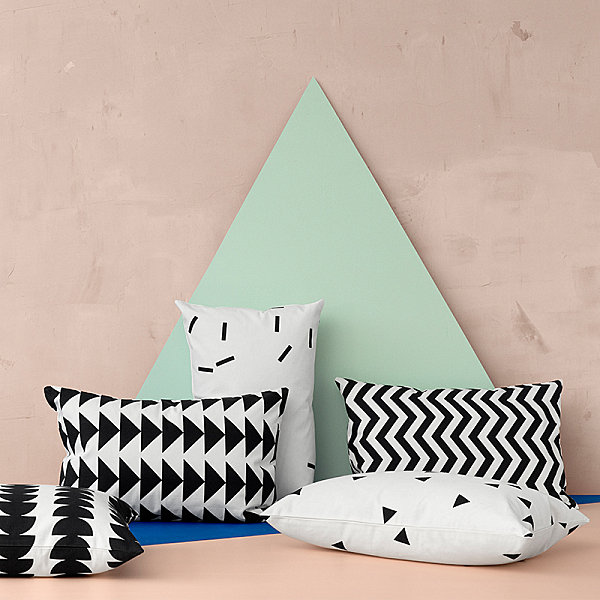 Top It All Off
I'll end today's post with a couple of hanging accessories that can serve as the icing on the cake of your beautifully designed room. We all know that small pendant lights are creating a stylish stir this season. In fact, many designers advocate buying an assortment of tiny pendants and displaying them as a group. But they're often on the pricey side, especially if you're looking to purchase more than one. That's why I love these DIY concrete pendant lamp ideas from HomeMade Modern. Not bad for a $9 project!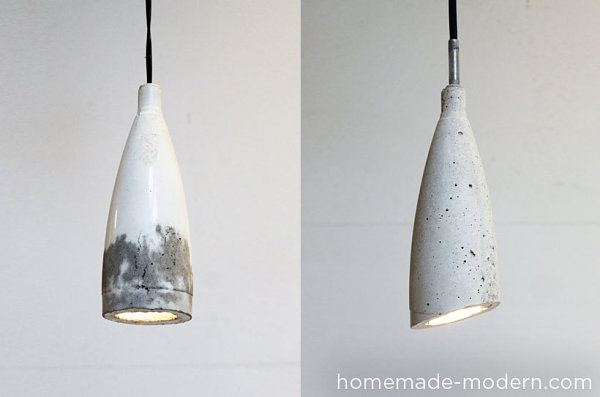 Speaking of DIY projects, my latest idea involves creating a series of hanging planters for my outdoor space. There's something so modern and whimsical about these items, and you can purchase them affordably (see the Hanging Shell Planters from West Elm below) or make your own. I'm currently cooking up a hanging planter DIY project. I'll keep you posted…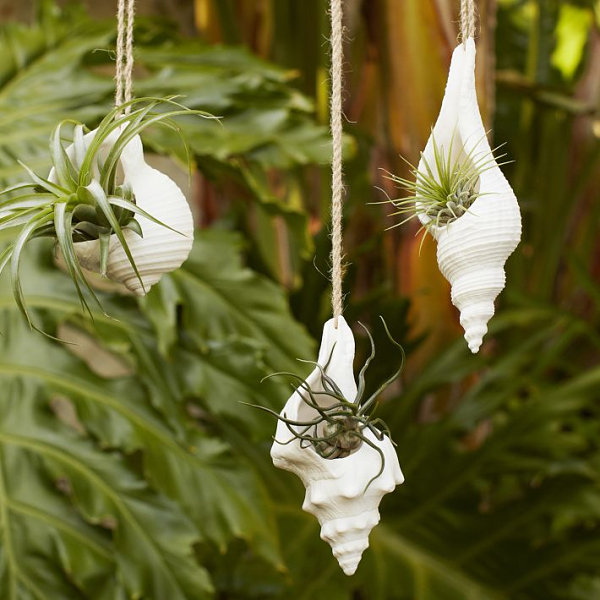 My favorite part about the images in today's post is that they present attainable, affordable solutions. Not to mention, many of the accents represent arrangements and projects that can be completed in an evening or weekend. Perfect for the busy design enthusiast!