I love writing about DIY projects. It seems that almost every time I do, I come across a new project involving the use of cinder blocks. These super-affordable building materials are solid (trust me–I've lifted a LOT of them in my time), and they can be used to create a slew of interesting finished products, from garden walls to modern seating.
Why are cinder blocks so versatile? Perhaps it's the fact that their form is simple, clean-lined and modern. And their color is a tone of gray that goes with everything. Not to mention, many of these blocks have openings that are perfect for displaying plants and incorporating other materials, such as wooden beams. Whether you're looking for a way to spruce up the outdoors or you're needing some easy-to-build pieces for your interior, check out the ideas below and get ready to be inspired!
Cinder Block Tables
We begin with a DIY project that has completely changed the way I look at cinder blocks! In fact, the image below proves there's definitely a sculptural element to these wonder supplies. You may recognize this pic from my post on Affordable Outdoor DIY Projects. Additional details can be found at The Horticult, where it is revealed that the inspiration for the amazing sculptural creations in this image comes from Frank Lloyd Wright. Love!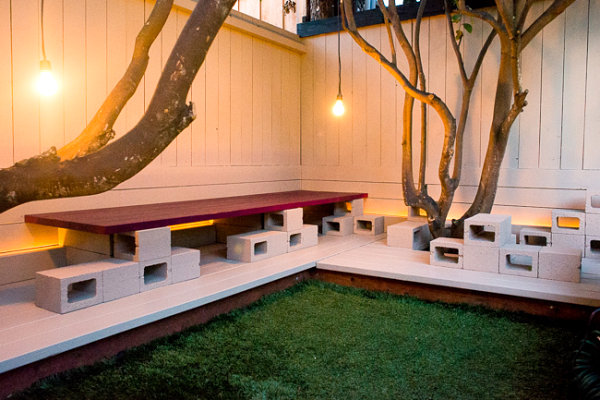 For two more easy table ideas, check out the image below. First we have a coffee table constructed from eight cinder blocks in a cube-like formation from Kikette. To the right of that modern structure is a coffee table crafted from a cinder block base and a walnut drafting-table top. This piece is on display in the stylish home of Remodelisa editor Julie Carlson. [via Care2.com]

Cinder Block Seating
Cinder blocks are my new favorite way to create affordable seating. But aren't they cold and hard? Not if you have the right cushions! This Budget-Friendly Bench featured at Better Homes and Gardens was created by stacking cinder blocks, then embellishing them with a wooden plank and pillows covered in scrap fabric. Total cost: $30!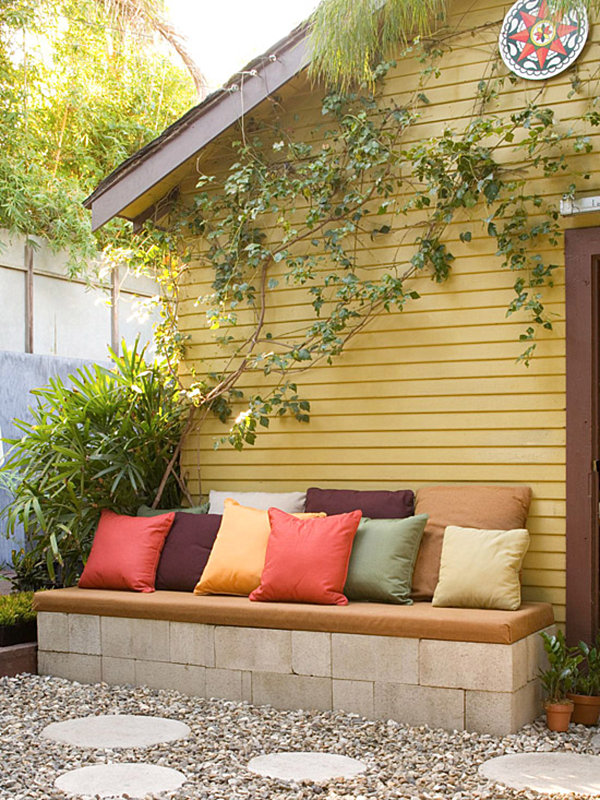 I blogged about this DIY Outdoor Bench in my recent post on affordable outdoor DIY projects. All you need: 8-12 cinder blocks, 4 pieces of lumber, and some cushions. I'm even tempted to make this project super-modern and skip the cushions (lots of squirrels end up on my front patio, and it would be easier for me to clean the bench if it were stripped down to the bare minimum). I'll let you know if I give this one a try! Check out all of the project details at The Basement.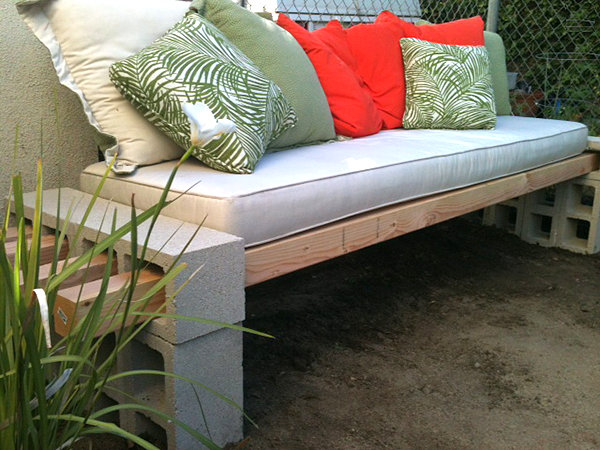 Cinder Block Beds
We now move from seating to beds, because once you sit down, you just might want to fall asleep, right?! This DIY Concrete Block Bed Base featured at Remodelista shows the power of good design and the strategic use of paint. Created by Chau Truong, it's the perfect solution for a modern bedroom with minimalist details.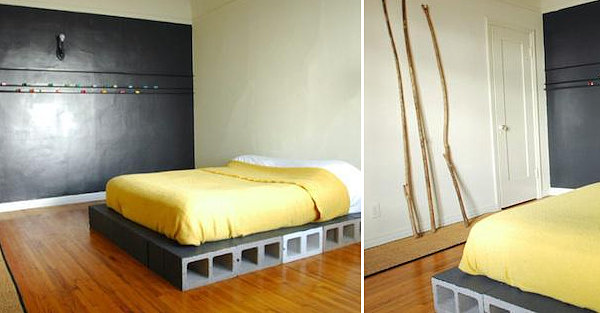 Here are two more sensational ideas for cinder block beds! Below (left) we see a bed in the home Rachel Been and Ben Brown, featured at Design Sponge. Note how it's propped up on cinder blocks, which double as shoe storage! Below (right) we see a cinder block and wooden plank bed from the home of Olga Naiman, also featured at Design Sponge. Once again, we see the shoe storage possibilities…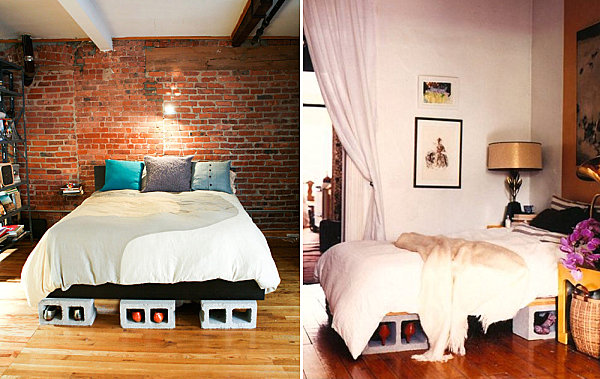 Cinder Block Shelving
Cinder block shelves used to be code for "I can't afford real furniture." Not that there's anything wrong with being on a budget! I just find it interesting that cinder blocks are experiencing a revival–and therefore, furniture crafted from cinder blocks is seen as right on trend, rather than a last result. As a design enthusiast on a budget, I totally approve! Check out this fabulous low cinder block shelf in the studio of Emma Robertson, featured at Gardenista: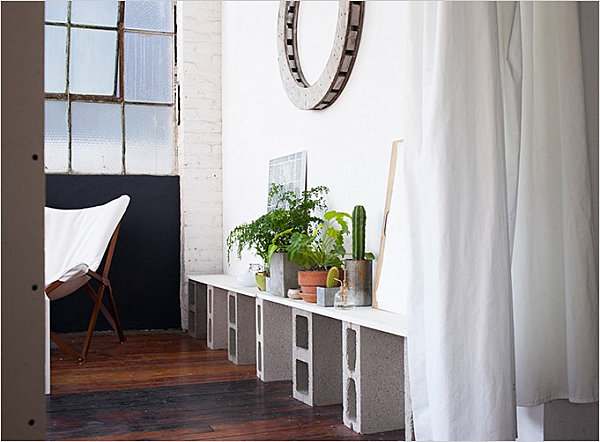 I love the shelving, as well as the vignettes on the shelving in the image below. These Besser Block Shelves were created by Sian Pascale, and they illustrate the wonder of a double-decker design!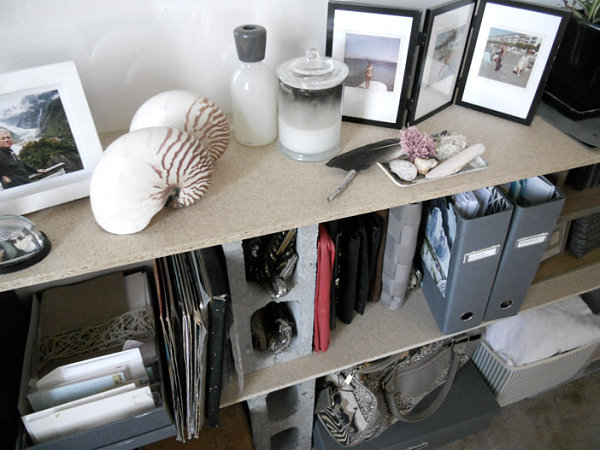 For a swanky touch that's perfect for a bachelor pad, try incorporating some black melamine into the mix. The darkness of the shelves will complement the dark border around your flat screen, as well as the speakers! Not to mention, the black tone of the melamine is the perfect complement to the grey shade of the cinder blocks. Read more about this cinder block and melamine media console/shelving unit at Park Avenue: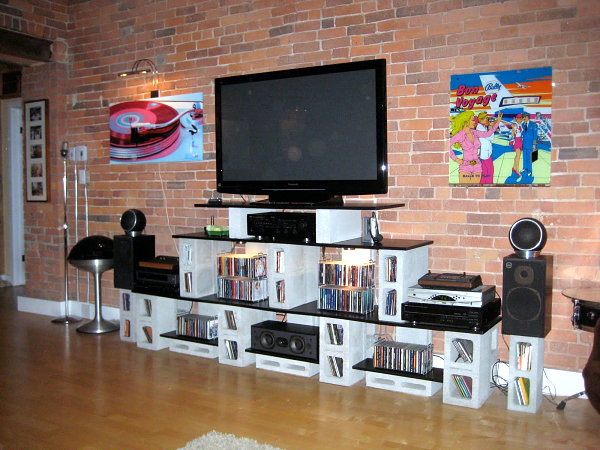 Cinder Block Planters
Cinder block planter walls are ALL OVER THE INTERNET. In fact, they're some of the most pinned images of all time. I know–they're definitely not new news at this point, but I just couldn't write this post without including at least one of them. I love this Cinder Block Planter and Succulent Brick Wall, precisely because of the many tones of grey represented. The reason: the wall was built using cinder blocks that were left in Society Bride blogger Robin's new yard. Using leftovers with a history really pays off!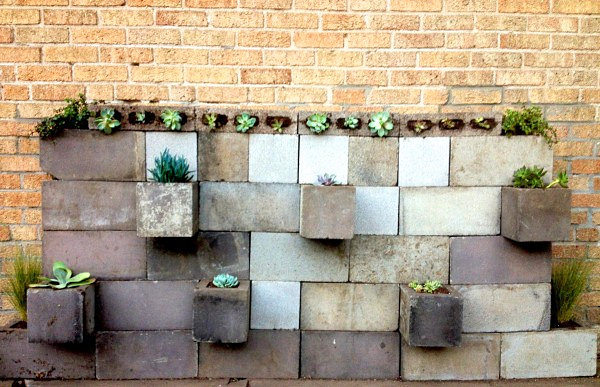 And I had to feature one more, because it doubles as a raised flowerbed/large planter! This planter project is giving me all sorts of ideas for my patio and front porch, especially if I recreate it on a smaller scale! [via DIY Contemporary]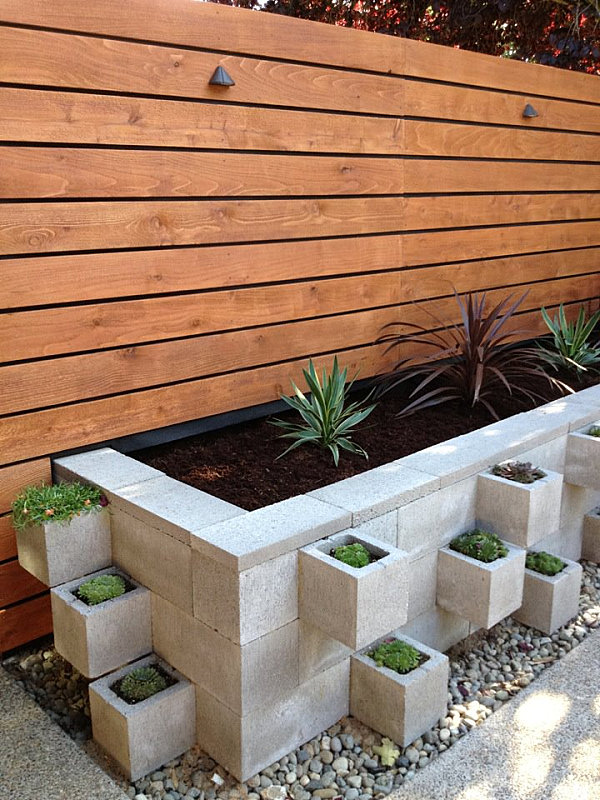 Embellishing your cinder blocks is easy, especially when you use painter's tape and spray paint! Check out this colorful Concrete Block Planter from Modernly Wed: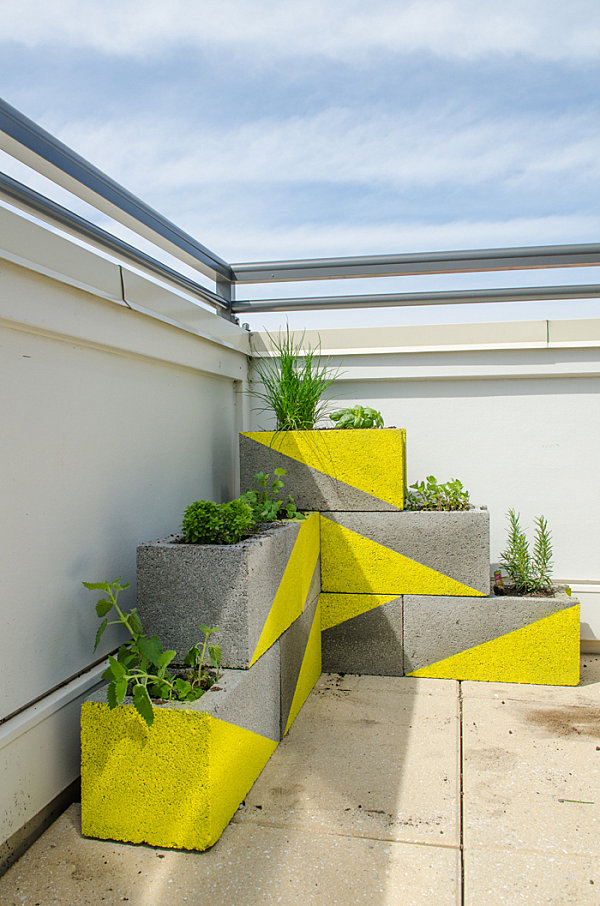 You can also keep it simple. Really simple. Here's a shot of the cinder block planters in my backyard. There are actually 5 in the row, and I've filled them with cacti since they're in a full-sun area. Some people leave the bottom open, but I placed some screen door material in the bottom to help contain the roots. You may remember this photo from a recent post I wrote about my spring yard makeover. [image from Kate Simmons]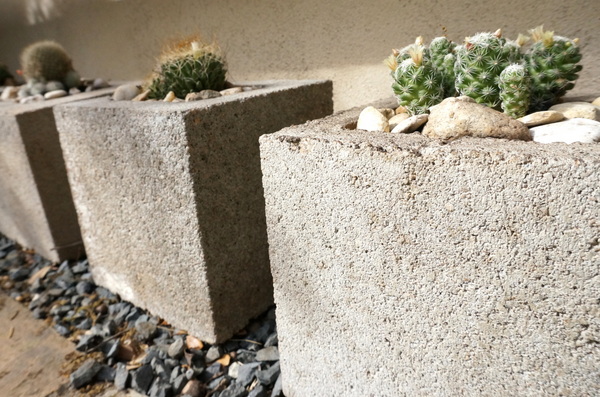 I know these are cement planters rather than planters of the cinder block variety, but the embellishment concept is the same. Use metallic shades as accents! Never has concrete looked so chic (with the help of spray paint)! [from Camille Styles]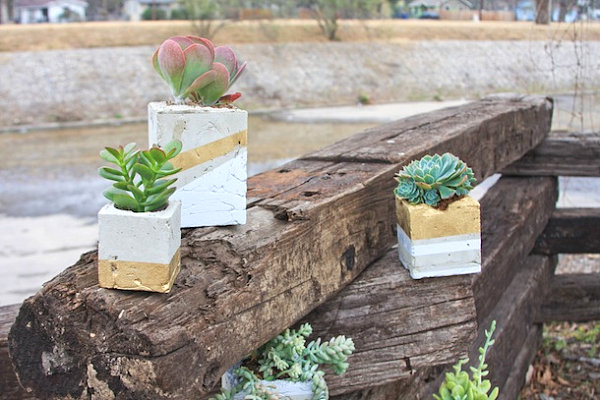 I'll end with an amazing project that reminds us to take it step by step when it comes to cinder blocks! Yes, it takes energy to load them into our carts, then into our cars at the home improvement store. But if you're willing to do the work and use a little creativity, the design possibilities are endless. How amazing are these gravel-filled stairs from from Step by Step?!!! Best of luck on your cinder block endeavors… [via A Minneapolis Homestead]