Ever have a piece of furniture you used to love, but just doesn't fit the bill anymore? Maybe your decorating tastes have changed, and the color or finish leaves you wanting more? If you're a home DIY enthusiast, you've definitely experienced this before. As trends change and you update your décor, furniture is often the last thing to which we turn our attention. However, a simple change in paint or hardware may be just what you need to tie a room together.
If you're looking to stage a furniture makeover of your own, look to these nightstand projects for inspiration. They're proof that a little DIY love can make a large impact in your bedroom.
Painted Nightstands
Fans of super saturated, high-impact color will love this DIY nightstand from HGTV. Hot pink paint with a glossy finish leaves this mounted half table a stunning bedroom addition. This project is also cost-effective–just one small table is enough to frame either side of your bed.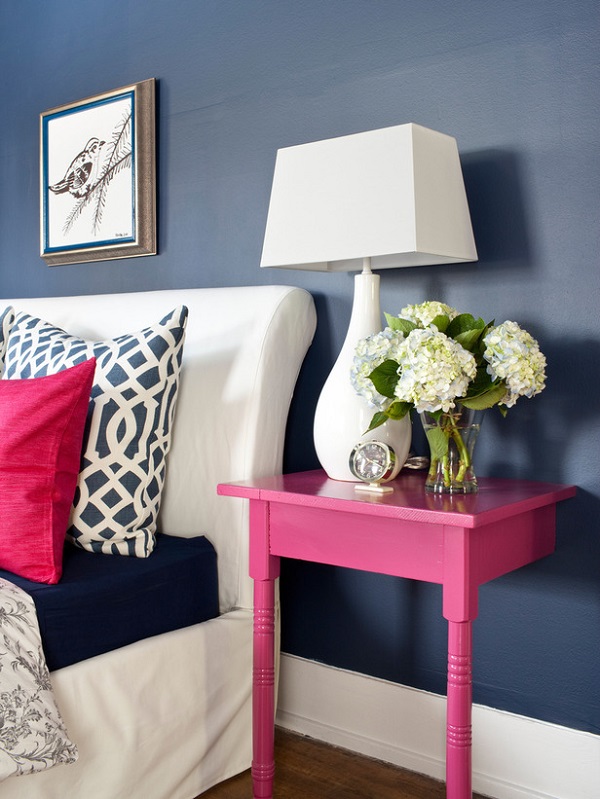 This Ikea nightstand makeover by Jonathan of Happy Mundane highlights a sleek, modern design with just a little paint. This DIY is an excellent way to spruce up an inexpensive piece without investing a ton of money. When choosing stain or paint, look for a finish that isn't too glossy and is highly pigmented.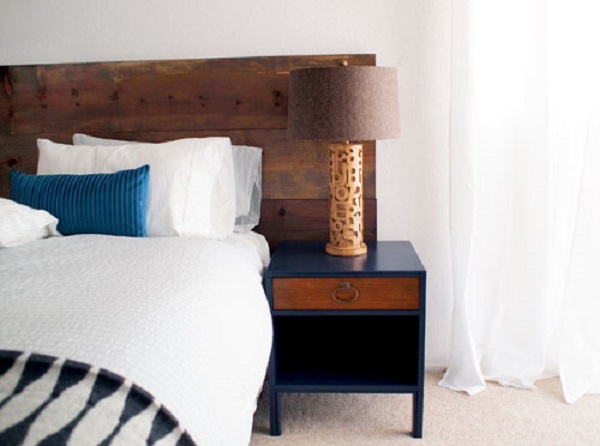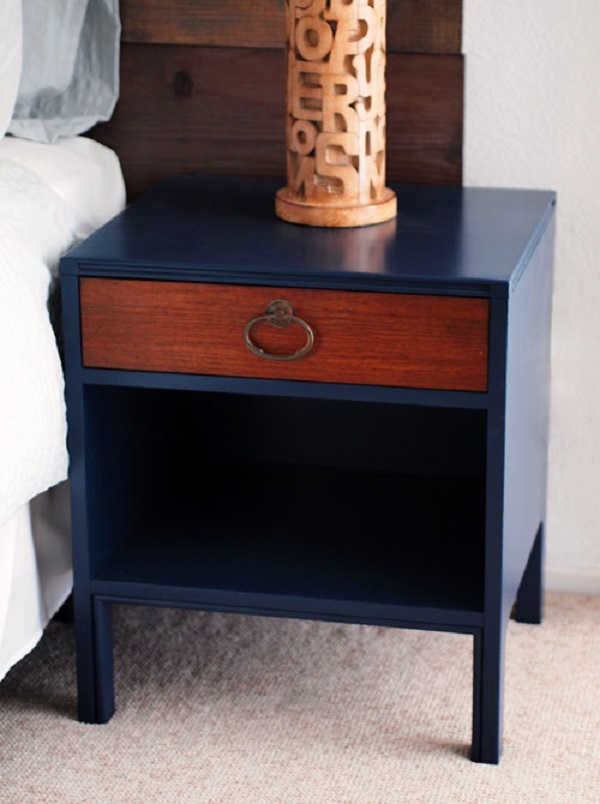 The favorite pooch in your life deserves a little bed makeover too! This clever project by Brian of DIY Network kept canine comfort in mind by omitting the bottom drawer in favor of a custom-fitted cushion. Coordinate the fabric with other patterns and colors in your room to blend this DIY project seamlessly with your other decor.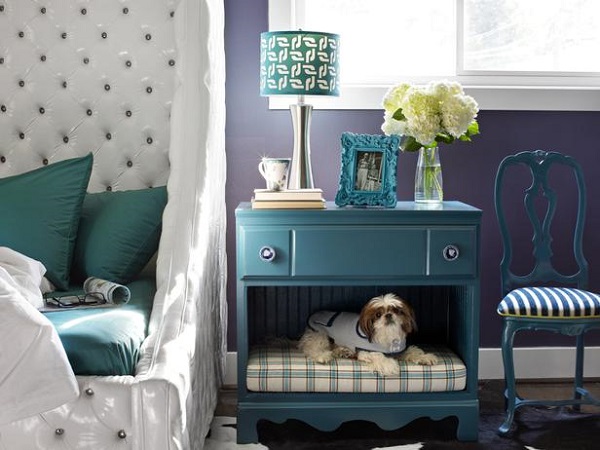 Build Your Own Nightstand
If you're handy with a miter saw then this DIY by Whitney of Shanty 2 Chic is right up your alley. Treated with a cocoa brown wood stain that accentuates the wood's grain pattern, this rustic nightstand would be perfect in a shabby chic or country-inspired home. Add metal casters to the bottom for easy mobility, which makes clearing a space for other activities (like playtime in a kid's room) a breeze.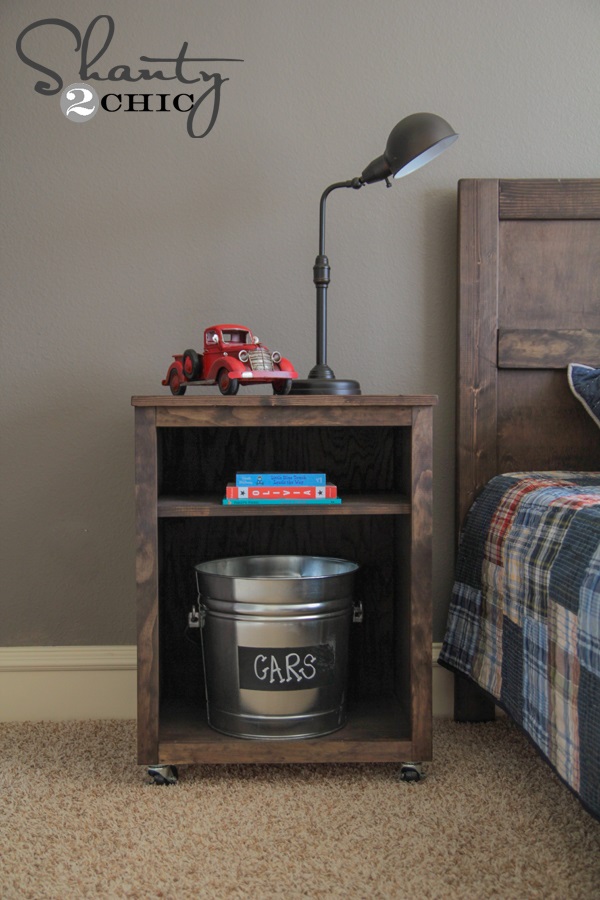 Kate of Design*Sponge paid a nod to the trend of repurposing by transforming a cheese box into a one-of-a-kind nightstand. Castors were attached to modernize the design, allowing the antique appearance to meld perfectly with added convenience. To get a similar look with a newer box, treat the wood with a light stain that allows the natural color to peek through, and feature a few painted stamps and some bronze hardware.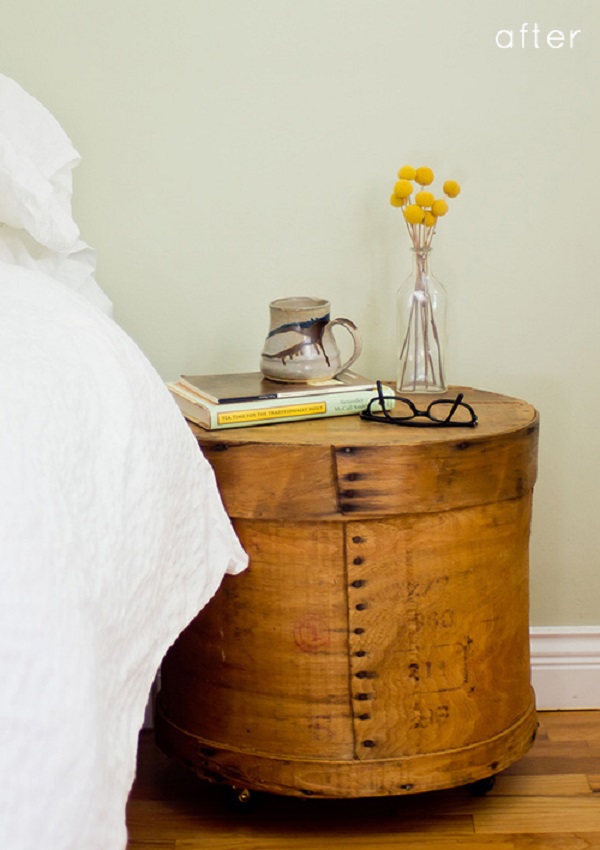 While incredibly inexpensive (just a $1 for each box!), this DIY by Jacquelyn of Jacquelyn Clark is far from cheap looking! Just a few coats of stain on these stacked wine boxes are all you need for your own luxurious nightstand. Stick to darker colors to maintain the luxe-for-less look–a lighter hue won't have as much impact.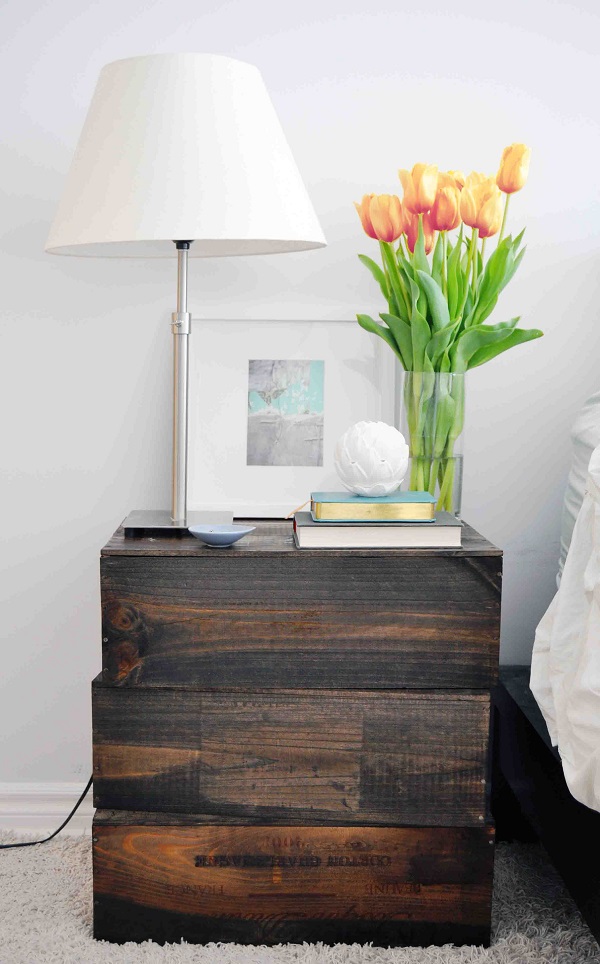 Before you go out and purchase a whole new furniture set, consider going the DIY route! A few simple fixes may be all you need to fall in love with your nightstand again. These DIY projects show just a few of the ways you can transform the pieces you already have at home. Have you ever DIYed a nightstand of your own? Tell us about the project in a comment below.