Whether you're renting a place or you've bought your home, perhaps you've come across sliding-mirror closet doors. In fact, often this feature is seen as outdated–a holdover from the glory days of '80s design. As someone who loves adding 1980s touches to my interior, I've never shied away from mirrored closet doors. And I'm not the only one. Yes, folks—they're making a comeback!
Today's post features 10 rooms with mirrored sliding doors. All of these spaces are stylish. Whether the doors are from the past or they're brand new, my hope is that they will encourage you to take a fresh look at a truly interesting design feature.
Not only do mirrored closets make a room seem bigger, but they also reflect the natural light, adding brightness to your space. See for yourself…
Mirrored Closets in the Bedroom
When it comes to closets with sliding mirrored doors, by far the most popular area in the home for this feature is the bedroom. I first encountered a mirrored closet door in the small bedroom of a condo I rented. While it looked a bit outdated in a carpeted bedroom with crown moulding, think of how amazing a mirrored closet door would look in a modern bedroom like the one below? [from Valerie McCaskill DIckman via Houzz]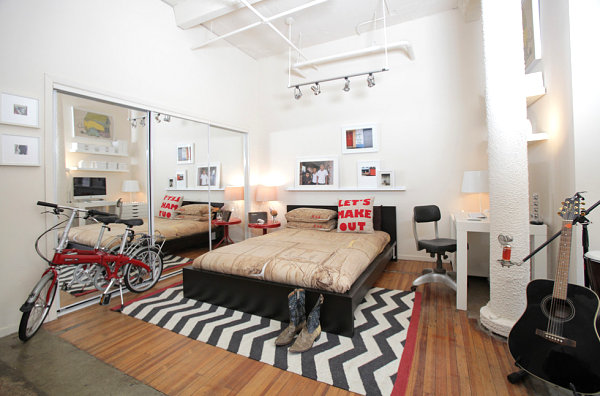 Notice how the frame of a mirrored door can really set the tone for the space. While many mirrored closet doors from the past feature metal frames (some in gold tones), the white frame you see above and the red one below create an entirely different vibe. So does the barn door-style sliding mirrored panel in the next featured image. [from Alexander Butler Design Services, LLC barn doors on a track]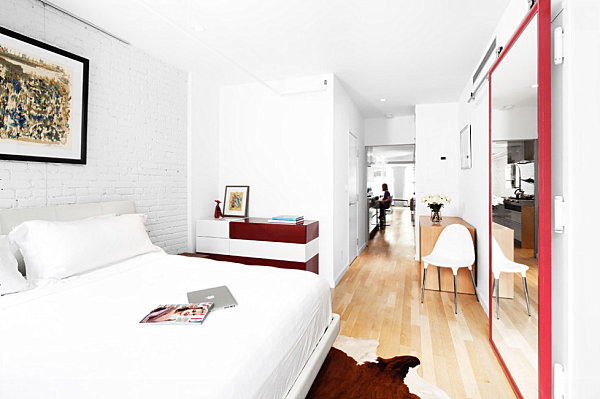 It's funny how people often think that mirrored doors are outdated–yet wooden closet doors can look equally out of place, especially when they feature old hardware. Aren't the clean lines of the mirrored closet doors below the perfect embellishment to this modern bedroom? [from House & Homes Palm Springs]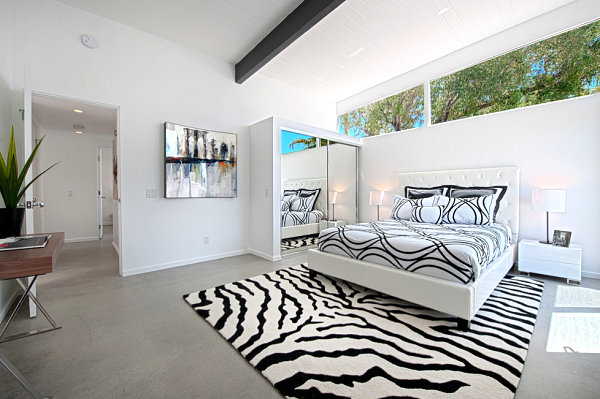 Check out the minimalist style of the bedroom below. It's hard to imagine any closet option for this space other than the sleek mirrored doors that so perfectly capture the room's no-fuss spirit. Interested in a similar look? Consider the custom solutions offered by Metro Door Aventura.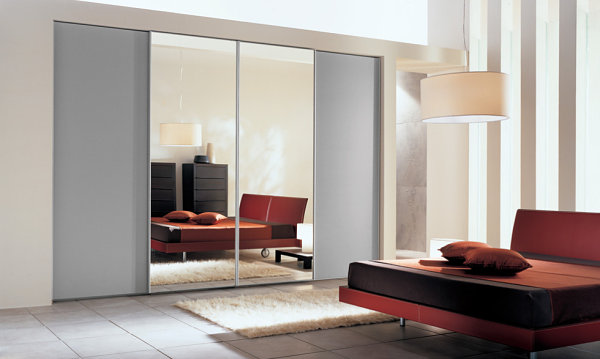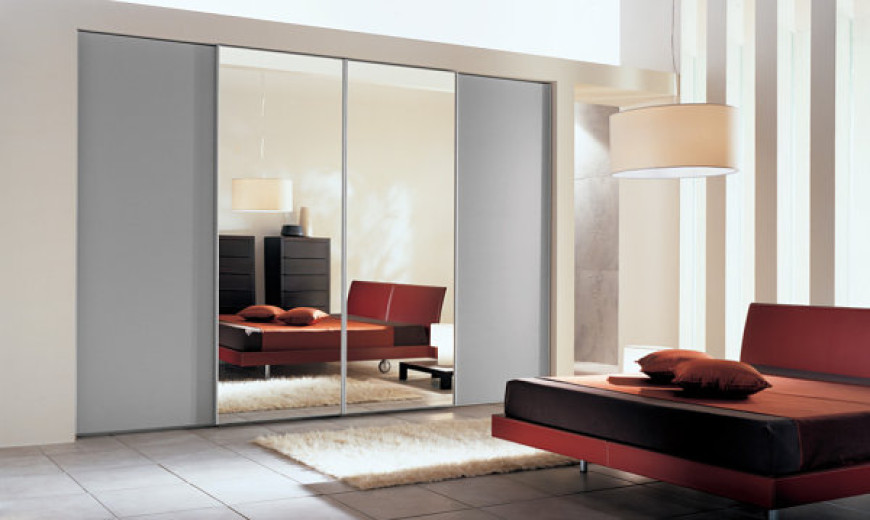 Don't think that mirrored closet doors are only for modern bedrooms. The eclectic space in the next featured image seamlessly incorporates mirrored doors, thanks to painted white trim that brings out the room's brighter features (such as the quilted bedding). [from Spectacular Design Interiors]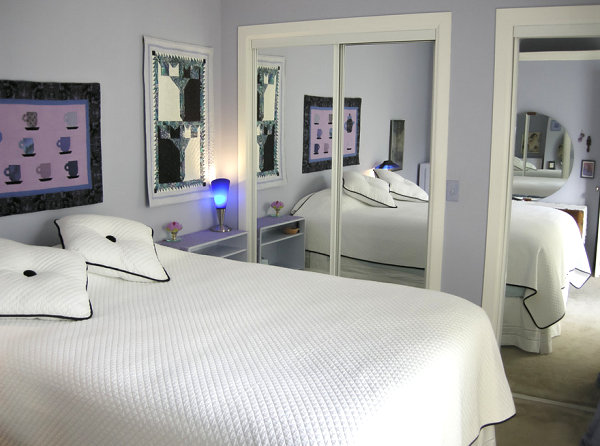 Mirrored Closets in Unexpected Places
Mirrored closets in the bedroom make sense. But it's also fun to consider using this feature in places where you'd least expect it. For example, look a little closer at the entryway below.
Aside from stunning modern artwork, to the right you'll find sliding mirrored closet doors. Why not reflect the neon colors of the hanging canvases?! [from Dana Nichols via Houzz]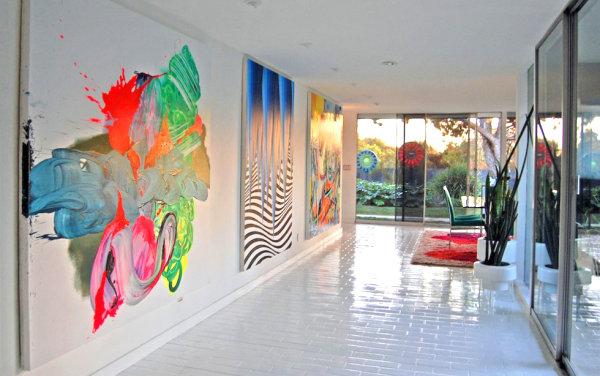 Remember the bedroom above that featured a red-framed barn-style sliding mirrored door? In the industrial kitchen that follows, we see a similar look, but this time the mirrored door stylishly conceals a walk-in pantry. Definitely not the norm…which makes this feature a true standout! [from Enigma Interiors]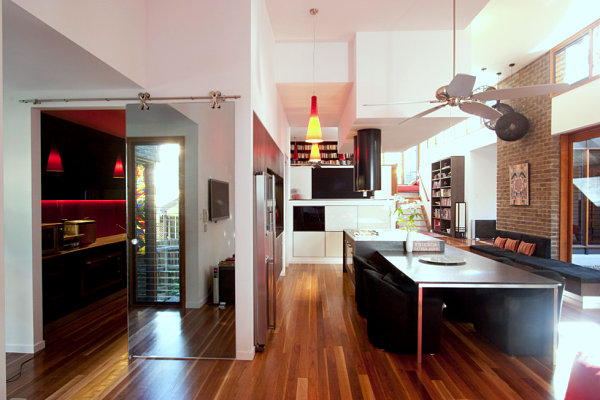 Mirrored Closet Doors in the Bathroom
I couldn't end this post without featuring a few powder rooms that incorporate mirrored closet doors. And I certainly couldn't leave out one of the most common mirrored door scenarios for homes built in the 1980s–the sliding mirrored closet door lined in brassy metal (below, left).
I happen to think this feature could work in a room that incorporates mixed metals, such as silver and gold accents. But I'm also aware that a large number of people would prefer to update a mirrored door situation when gold tones are involved. An update is just what we see in the next featured image. The space definitely looks brighter and more modern in the "after" picture (below, right), don't you think?! [from Audrey McEwen Architectural Designer and Photographer]
Clean-lined fixtures. Contemporary tiles. Mirrored closet doors. Everything seems to fit perfectly in this light, bright bathroom. Especially those closet doors! [from Alexander Butler Design Services, LLC]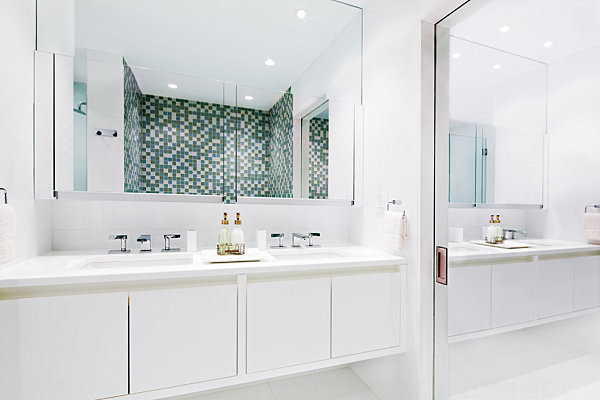 Speaking of light, bright powder rooms, the space below is a vision in sky blue. And that vision is reflected in the sliding closet door framed in crisp white. The thick white border that frames the mirror makes sense in a room with white tile and trim.
The lesson here: Let the details of your space guide you in your closet door decisions. from Leonard Grant Architecture via Houzz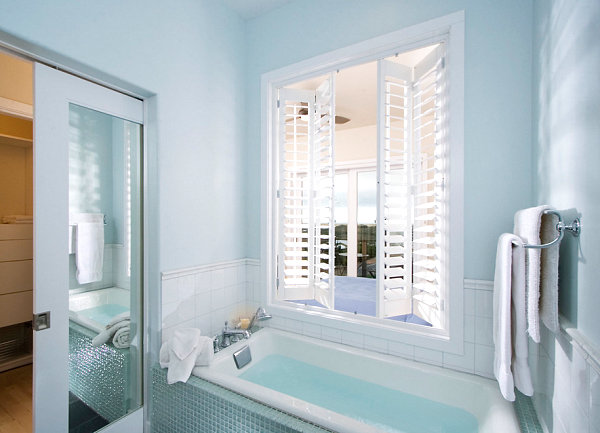 Still convinced that mirrored closet doors are a thing of the past? The images below challenge that very notion. And stylishly so!