Planning a wedding in the near future? There's nothing like standing at the helm of a much-awaited event, the master of your own ceremony. So many decisions! Even if you LOVE being in control and relish the chance to pick out flowers and decor for your special day, the choices involved can start to seem overwhelming. Don't sweat it! This is your special day, and YOU get to set the tone. And there plenty of people willing to help, from your friends to your event coordinator. No event coordinator? No problem!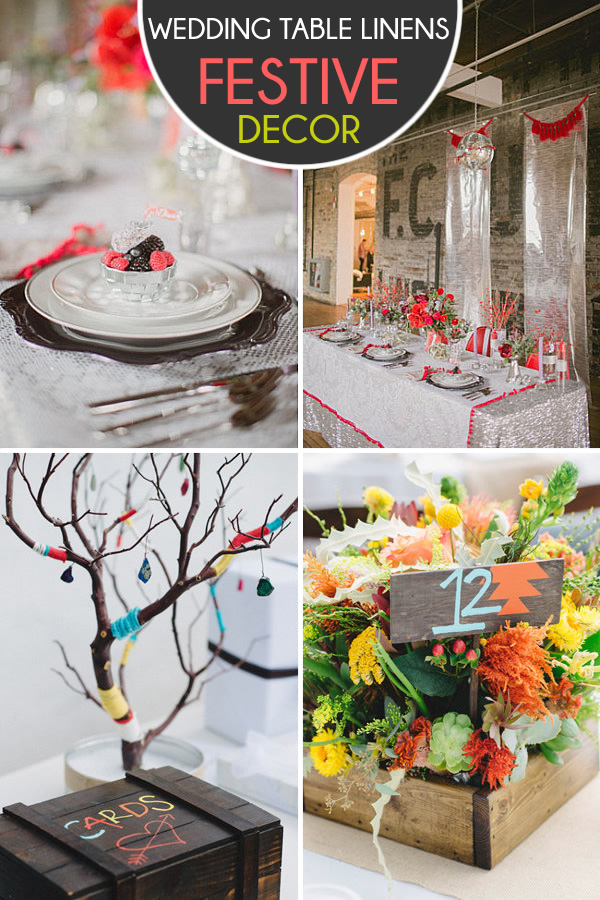 Today we present a series of tips and inspirational images to help guide you in selecting your wedding table linens for the big day. Thanks to gorgeous wedding blogs such as Ruffled, Green Wedding Shoes and Style Me Pretty, a slew of images awaits you as you plan your nuptial festivities. We've chosen our favorite linen ideas from these stunning sources and interspersed them with our helpful hints for creating an unforgettable table. Whether you're renting your linens or crafting your own DIY wedding decor, we've got you covered:
Know Your Colors
Tip #1: Strategically use color.
What are your wedding colors? While this decision may take awhile to finalize, once your colors are in place, you can use them to your advantage. There are many ways to get creative with your colors. For starters, you can cleverly pair shades that bring out the best in each other. For example, below we see a vibrant shade of poppy red strategically paired with a peachy shade of blush. The result is a fresh, summery look with a hint of vintage charm! [photos by KT Merry Photography, featured at Style Me Pretty]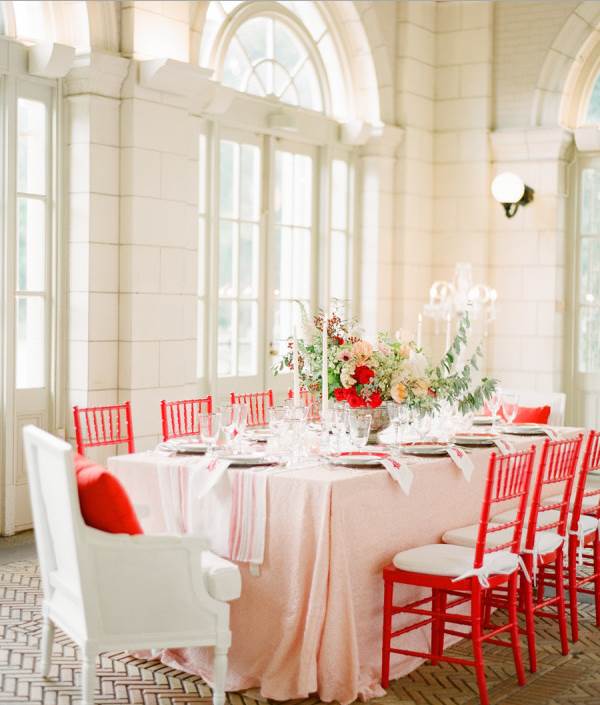 Is deep eggplant a bit heavy for a wedding table? Not in this bright and airy setting! In fact, the thoughtful use of rich-toned tablecloths adds an elegant dimension to this Chicago History Museum wedding featured at Style Me Pretty. The lesson here: Consider your setting when choosing the color of your table linens. [photography by Jaclyn Simpson]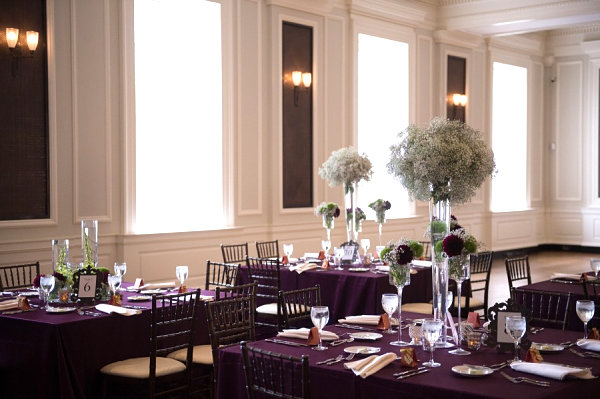 You can also add color with a vivid table runner. In this South Carolina wedding featured at Ruffled, we see a lovely interplay of citrus-hued blooms and a vibrant blue runner, set against the backdrop of thrifted tablecloths…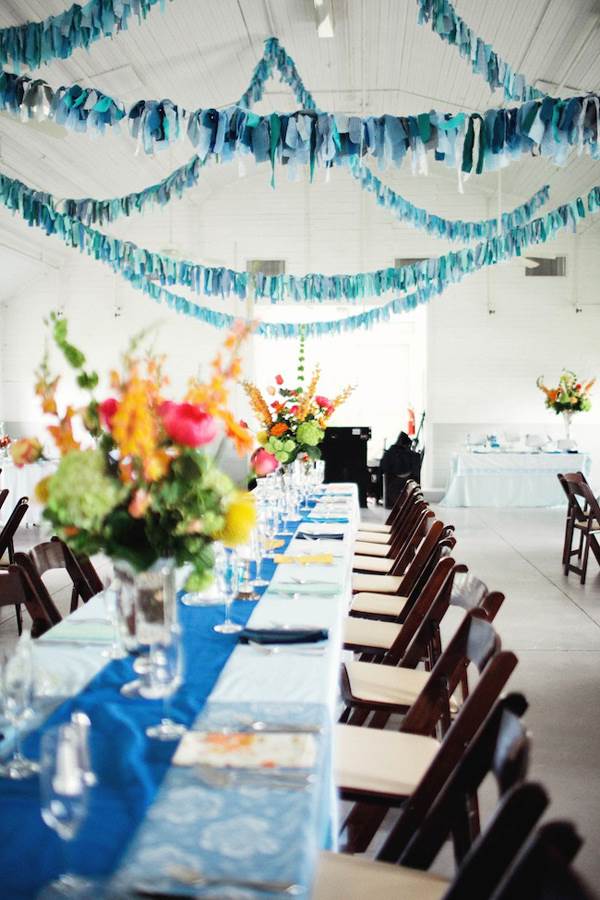 Be confident in your wedding theme. A case in point: the tablecloths below might look traditional and frilly in any other setting. But for this Victorian/Steampunk-inspired wedding featured at Green Wedding Shoes, they are perfectly intricate–with just the right amount of edge! [photography by Leslie Hollingsworth]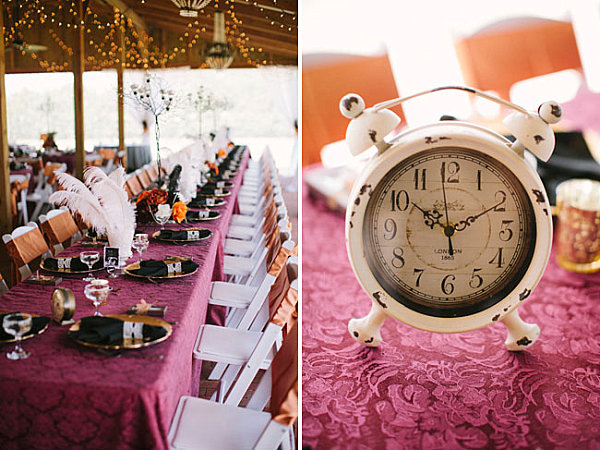 Find Your Style
Tip #2: Determine if your wedding table linens will take center stage, or if they will set the stage for a dramatic centerpiece.
Will the linens serve as a focal point of your table design, or will they be an inviting backdrop for another showpiece? Start by defining your style, as well as the purpose of your wedding linens. For example, for the Southwestern-style wedding below, a unique centerpiece was placed on each table… [photography by Matthew Morgan via Ruffled]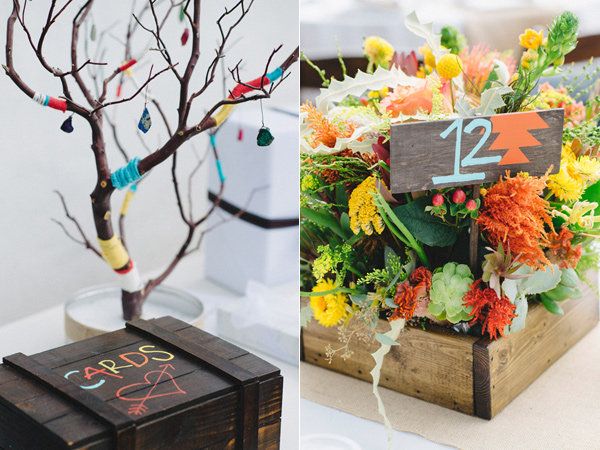 …so instead of fighting each thoughtfully designed statement with busy table linens, the event designer opted for classic white tablecloths and a palette of neutrals. What a great way to make the flowers pop!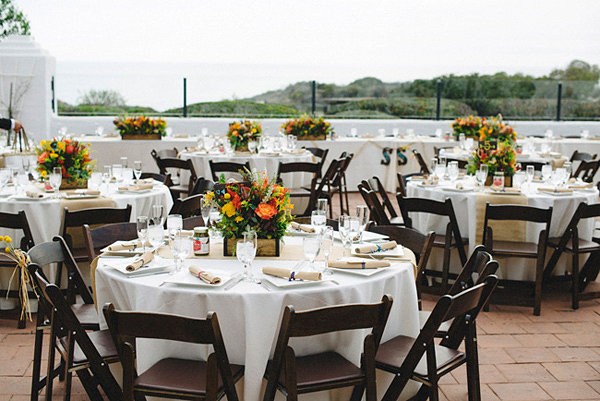 On the other hand, if your table linens are going to take center stage, you just might want to go all out! Below we see a Mid-Century Metals theme in a photo shoot featured at Green Wedding Shoes. Styled by Jennifer Laura Design, the tables feature runners embellished with metal washers spray painted gold! [photography by Feather & Twine]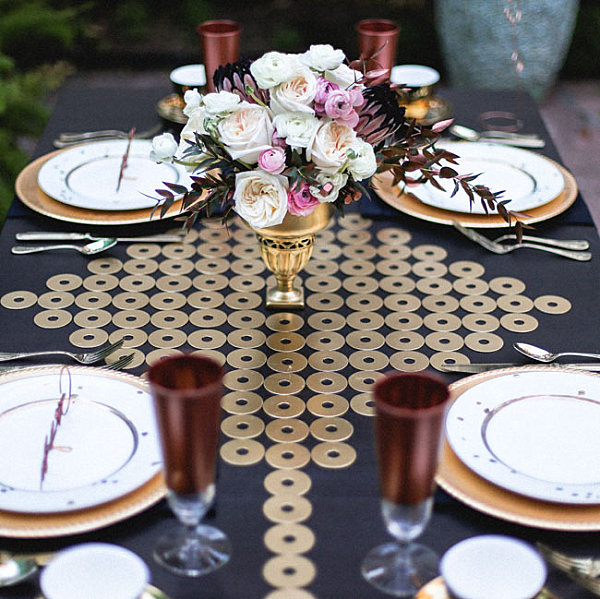 Showcase Your Creativity
Tip #3: Get creative!
We mean it! You'd be surprised by the interesting combination of themes that grace today's most creative weddings. Like this Glam Disco Wedding Inspiration shoot! Disco meets vintage elegance, thanks to shimmering tablecloths with a lace overlay outlined in the brightest of reds… [from Green Wedding Shoes, photos by Elizabeth Kaye]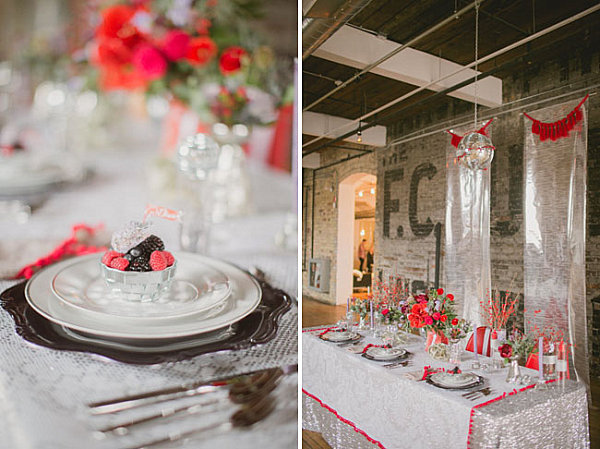 Bring on the bling! Sequins take center stage on the Great Gatsby-inspired table below. But this isn't just any table–it's the table displaying the wedding programs. Don't be afraid to go bold on your "special" accent tables. This strategy works well if you're keeping it simple at the guest tables. [photography by Erin Hearts Court, featured at Style Me Pretty]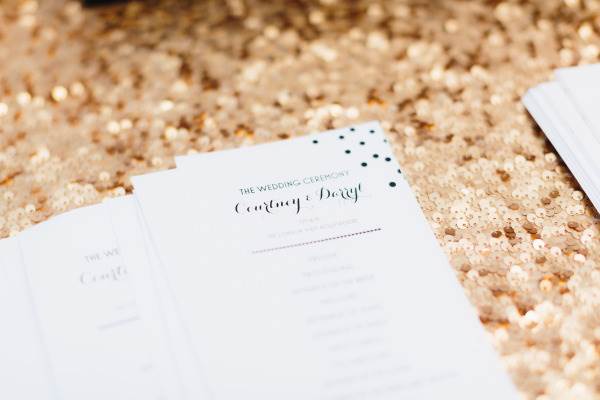 Sometimes the simplest of materials can be cleverly arranged for an upscale effect. In this circus-inspired wedding, we see how black tablecloths and vertically-oriented white napkins create a striped look at each table. [from by Maria Mack Photography, featured at Green Wedding Shoes]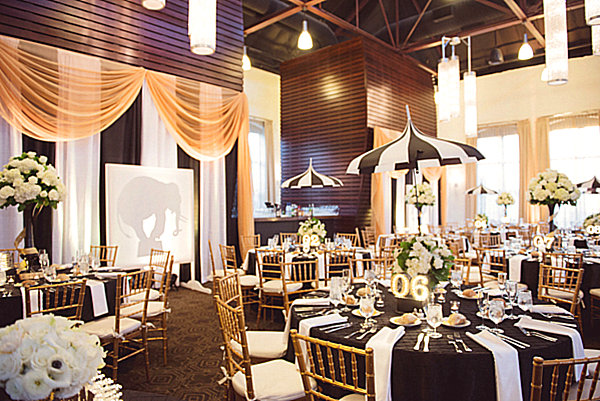 Did any of today's ideas spark your creativity?
Do you have wedding linen ideas of your own to share?
Leave a comment below…