We at Decoist love profiling the latest design trends. Today we shine the spotlight on one of today's hottest combos: brass and glass. We're all very aware of the fact that brass is back. Artist and designers are revisiting this warm-toned material to evoke a sense of the past–with a modern twist, of course! One way to give brass a modern feel: combine it with glass for a sleek, clean-lined look. Forget the heavy brass figurines and candlesticks from the '70s and '80s. The new brass is chic and contemporary, especially when glass is involved….
Brass and Glass Accessories
We begin with brass and glass accessories with the power to stylishly embellish your shelves, tables and walls. This Brass Base Terrarium from West Elm is a great way to celebrate the perks of indoor gardening. Not only does it embody everything we love about spherical terrariums, it features a square brass pedestal for a vintage-meets-modern look.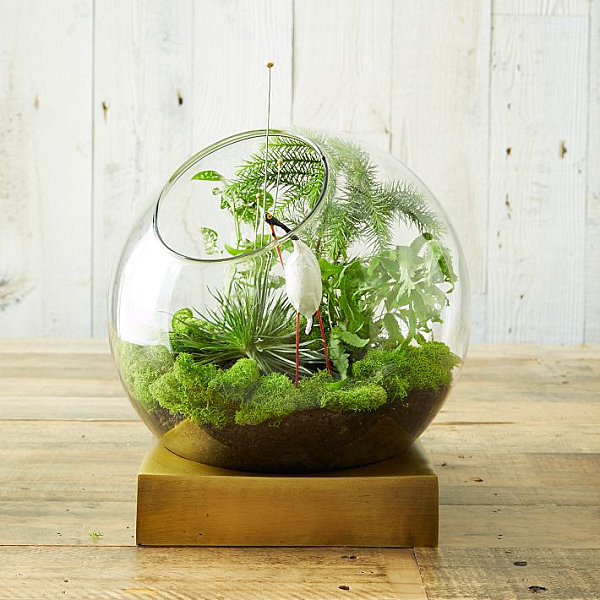 Speaking of vintage, a weathered, time-worn feel is often achieved with the help of an antique brass finish. If you're looking for a way to incorporate brass with a 14th century vibe, pick up a Vintage Brass Hourglass from Restoration Hardware. Mouth-blown glass is beautifully offset by an antiqued brass metal frame. FYI: the hourglass "empties" in about 30 minutes.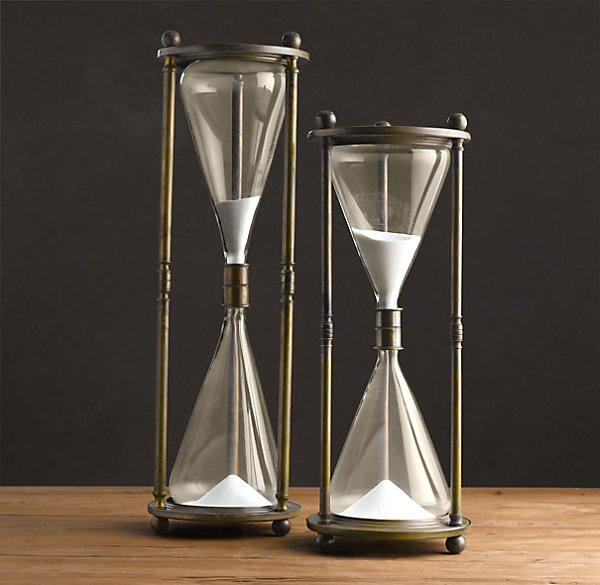 The Bodum Eileen French Press has taken the blogosphere by storm, ushering in a new era of golden style. Still going strong, this gorgeously designed utilitarian item actually features gold stainless steel rather than brass. But we won't say anything if you won't… [from Deejsounds]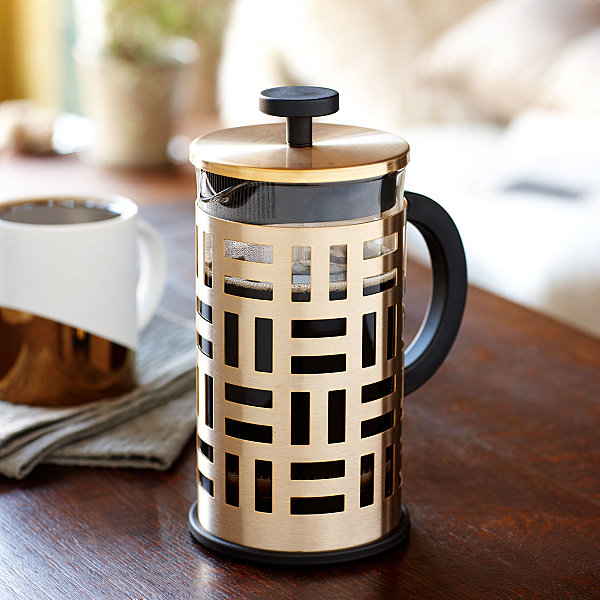 Searching for a way to combine brass and mirrored glass? Look no further! The Rivet Medicine Cabinet in Antiqued Brass from Restoration Hardware boasts an industrial look, thanks to exposed rivets in the piece's lacquered solid brass frame.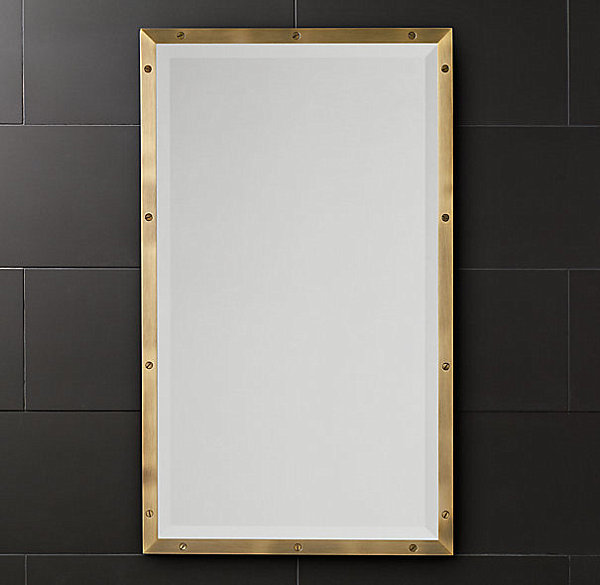 Brass and Glass Lighting
When the brass of a light fixture meets the glass of a bulb, you get pure design magic! Some of today's most interesting brass and glass pieces come in the form of lighting. This Brass Ceiling Light from onefortythree is available in 3-arm and 4-arm options. Hand-bent natural brass arms and unpolished natural brass sockets give this made-to-order piece a truly unique look: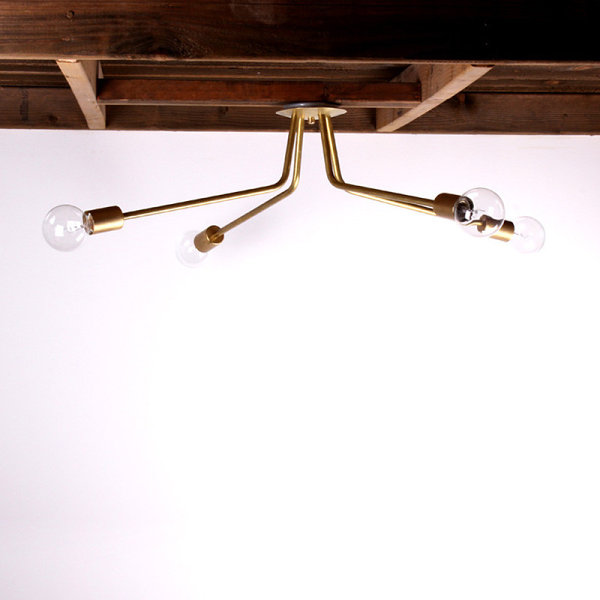 For a chandelier effect, we feature a design boasting hand-blown seeded glass and a brass finish frame. It's the Eclipse Chandelier in Brass from West Elm! Note the industrial-meets-glam look of this stunning piece: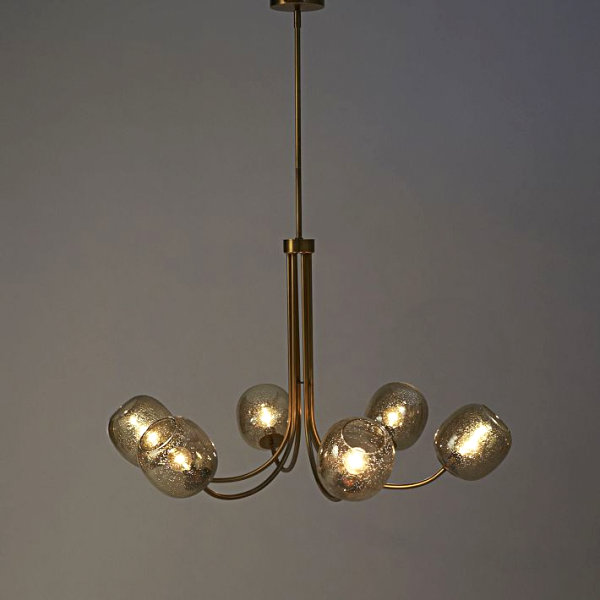 This next lighting selection features an eye-catching milk glass bulb. It's the Starboard Milk Glass Pendant in Antique Brass from Restoration Hardware, once used to communicate key information to Allied ships and aircraft during wartime. Clearly the piece has an interesting history, which includes more than 50 years in storage… The grey paint has been removed, and the pendant is now polished to brassy perfection!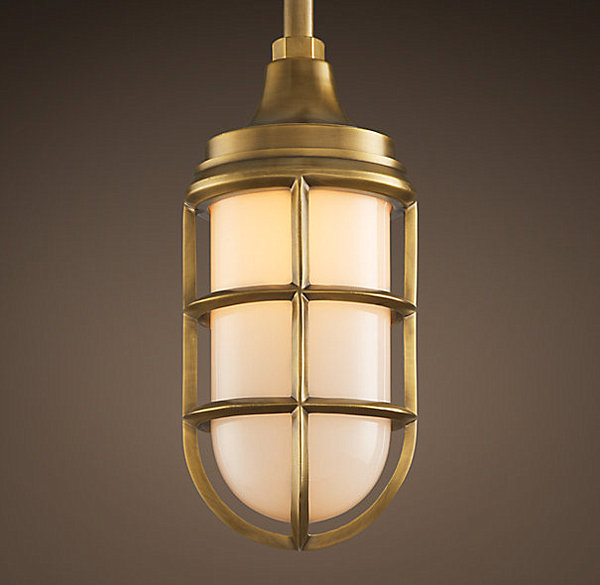 We now feature another stunning piece from onefortythree… It's the Brass Swing Lamp, featuring bent solid brass tubing buffed to a dull shine. Did we mention that this wall-mounted lamp swivels?!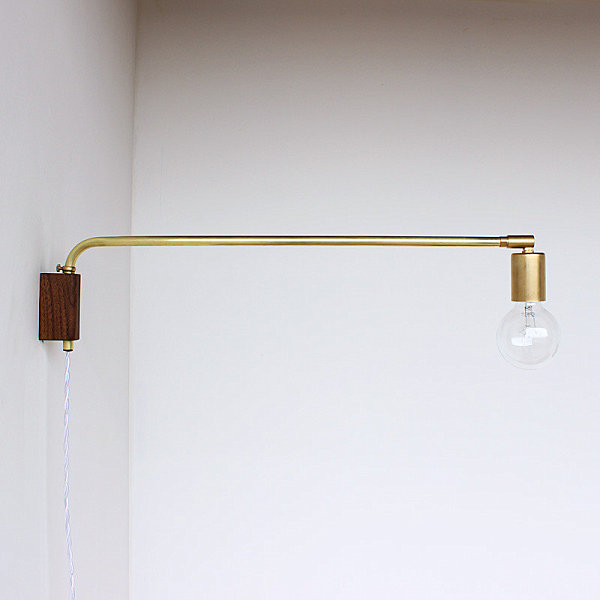 Charming yet undeniably contemporary, these String Lights from onefortythree feature natural brass sockets. An unexpected design choice, and a brilliant one at that! Available in two lengths, this set of lights can also be ordered with sockets of wood veneer. We're a bit partial to the brass…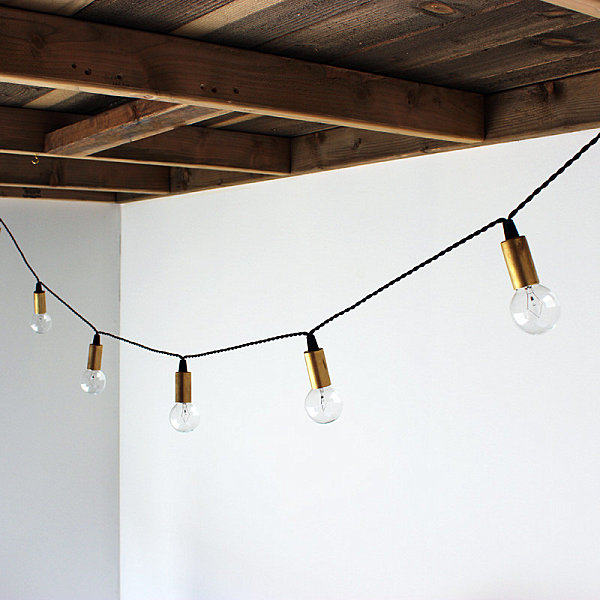 Brass and Glass Furniture
We end today's post by featuring a trio of modern furnishings in brass and glass. The Terrace Side Table from West Elm (below) features tiered clear glass shelves framed in antique brass. Inspired by Mid-Century design, the piece is subtle and striking at the same time: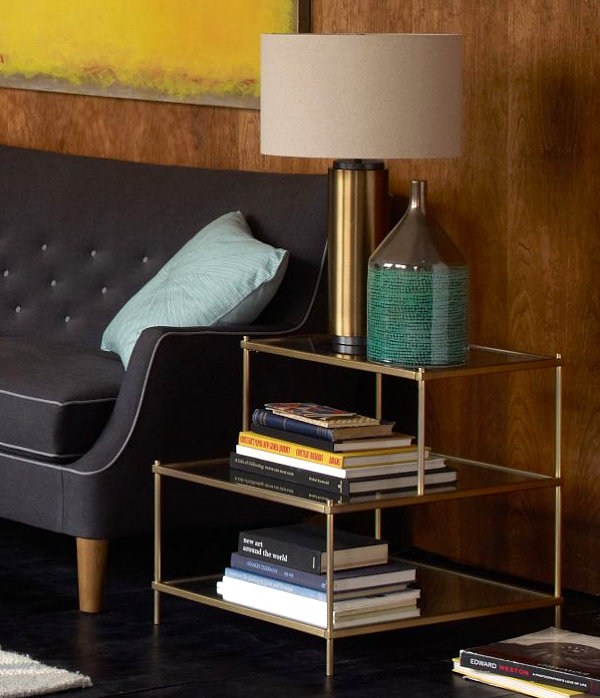 This next brass and glass selection is anything but subtle. And that's exactly why we love it! Say hello to the Jack Cocktail Table from Arteriors, featuring an aluminum jack base in an antique brass finish, as well as a round glass top. Whimsically contemporary, don't you think?!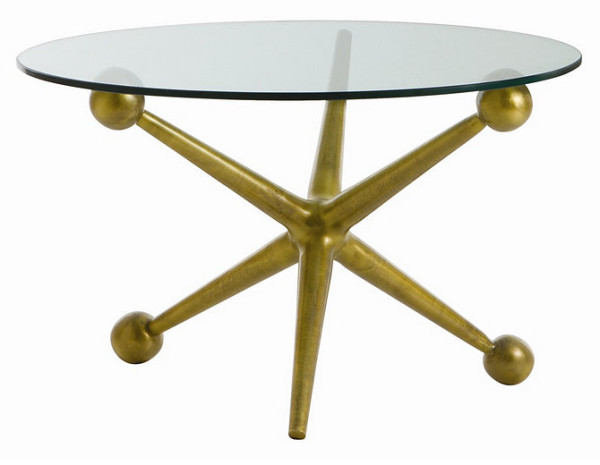 We have a confession to make: our last showcased piece features acrylic rather than glass. Isn't it fabulous?! It's the Novo Acrylic Folding Table from CB2, created exclusively for CB2 by husband-and-wife-design duo Robert and Cortney Novogratz. The table is perfect for entertaining, and you can also use it as a nightstand or an end table.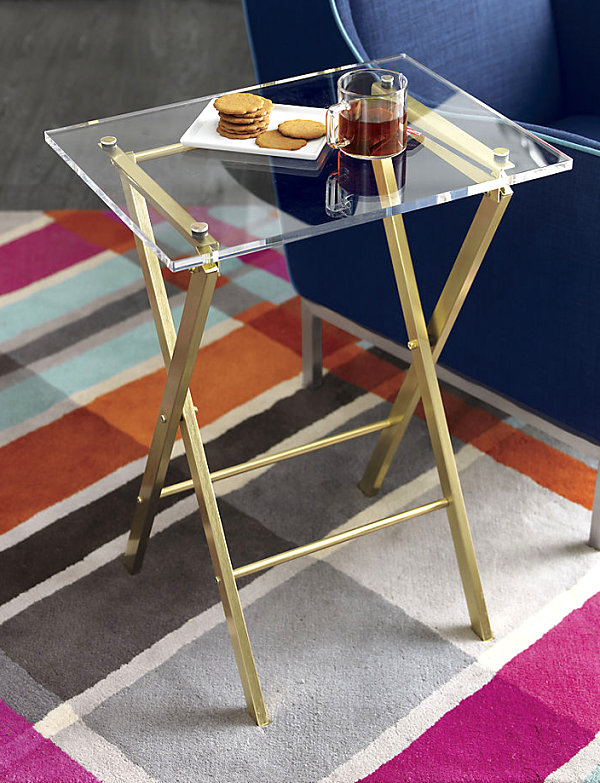 What do you think of today's featured combo of brass and glass? Would you incorporate one of these pieces into your home? Share your thoughts below…