Love is in the air. As Valentine's Day approaches, it's easy to feel inspired. Not in a romantic relationship? There's still plenty to celebrate during this season of hearts, flowers and decadent goodies. How about good friends, great food  and the promise of spring?! We know it's not yet February, but when it comes to DIY projects for Valentine's Day, now is the time to start gathering supplies and ideas…
That's why today we're featuring a collection of 15 easy DIY Valentine's Day decorations. We love the modern simplicity of each project, as well as the fact that these crafty ideas are easy to complete. Seriously. There was one on the list that was cut because it was a little bit too involved. We know you're busy, and when we promise to keep it simple, we deliver! Enjoy browsing the creative ideas below, and tell us about your favorites in the comments section at the end of the post.
Valentine's Day Backdrops and Hanging Decorations
Let's start with decorations that set the stage for a festive celebration. These backdrop and hanging decoration ideas are great for decking out your home for a party, or for adding a special touch just because! For example, this DIY Chocolate Heart Wall from The Sweetest Occasion is a design-lover's take on the box of chocolate. A fabulous idea for a gathering of friends, it would also be the perfect surprise for your sweetie. Simply wrap chocolate hearts in gold foil candy wrappers and secure them in place with the help of a wall-safe adhesive. If you like packaging of the chocolate hearts you purchase, there's no need to cover them with gold foil. You decide! [photo by Studio DIY]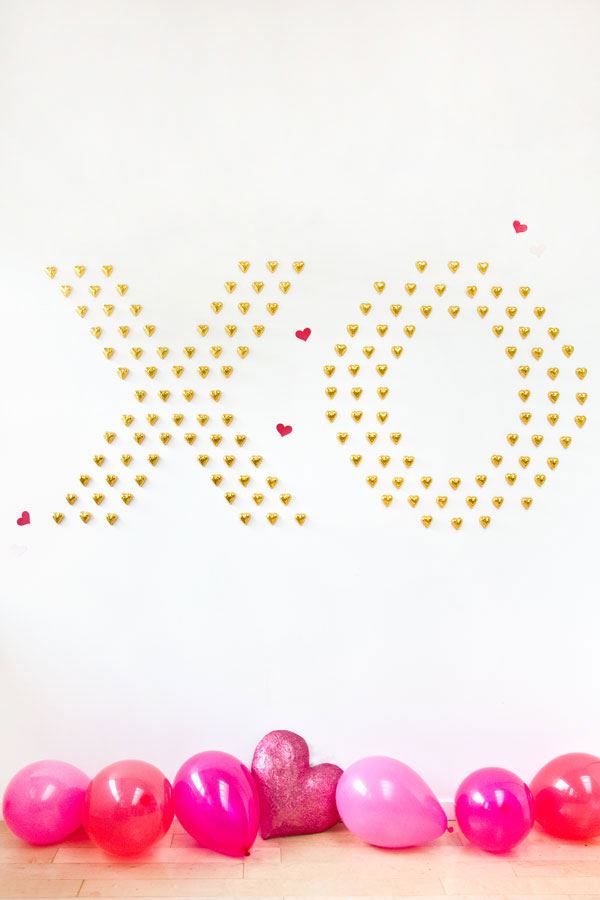 This Easy & Affordable Heart Backdrop was created for Design Love Fest with the help of Jesi Haack Design. The materials of choice: wood, chicken wire and napkins. Yes, those red bunches are napkins! Check out all the DIY details at Design Love Fest…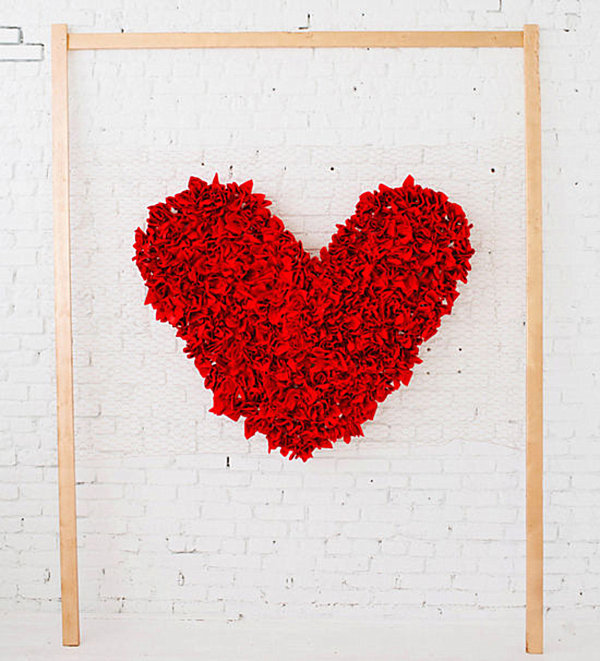 We're loving this festive idea for a DIY Giant Balloon Heart. You can affordably purchase a small helium tank and fill the balloons yourself, or simply purchase them pre-filled at the party supply store. Strategically tape the strings to the floor at different heights to create the heart. Anyone spot a photo backdrop in the making?! More deatils at Studio DIY…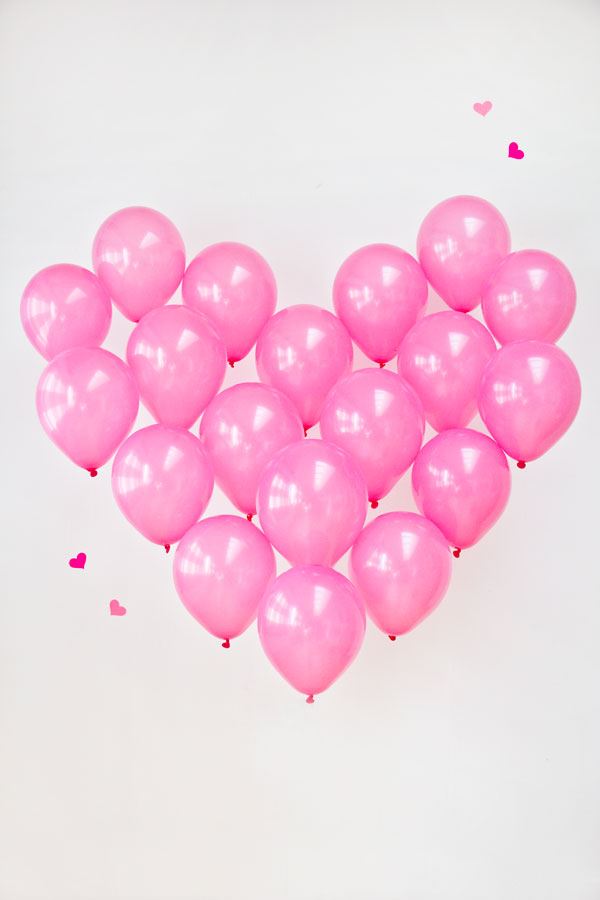 The next easy decoration idea is a Floating Heart Backdrop DIY, crafted with the help of supplies such as clear fishing line, a heart punch, tape, and card stock in the colors of your choice. By taping the fishing line to the floor and arranging the hearts underneath the line before finally securing them in place, you can create your ideal design before anything is taped to the string. A helpful tutorial can be found at Hank & Hunt: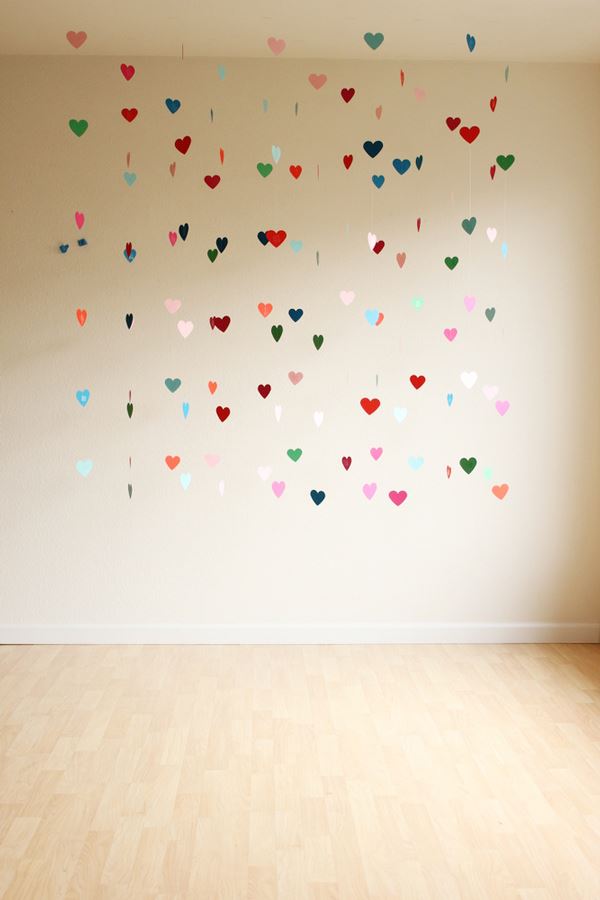 Aren't these glittered feathers divine?! While a mobile effect is created by hanging them from strands of twinkle lights, you can get a similar effect by tying them to a wooden hoop. We fell in love with the look when we spotted the glistening feathers at Ruffled. We instantly had thoughts of embellishing white craft feathers with gold glitter. Easy and ethereal, don't you think?! [photo by Krista Leigh Hurst]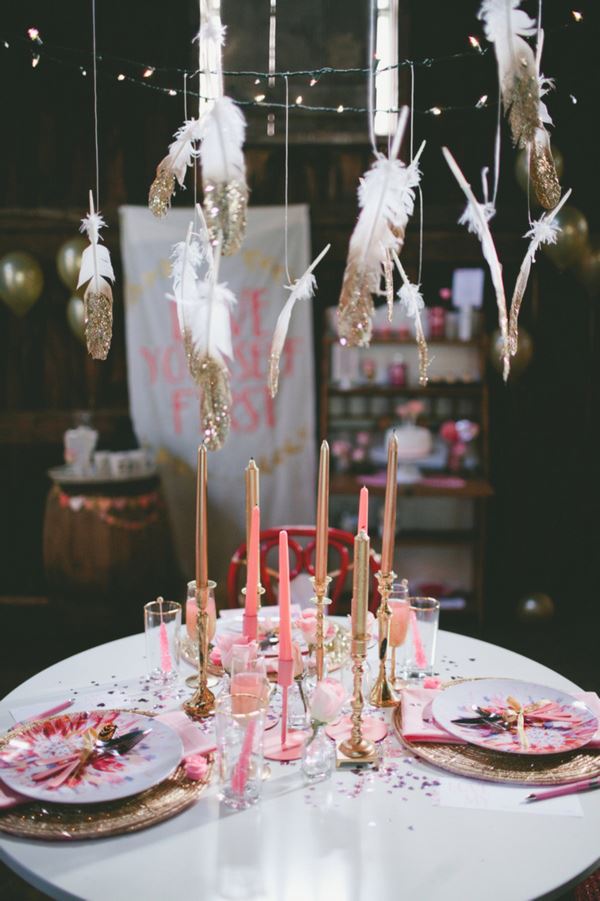 This DIY Zip Tie Chandelier was created by HEYLOOK for Ruffled. By crafting a wire ring and using it to anchor zip ties in hanging strands, you can achieve a modern, colorful accent piece that's perfect for Valentine's Day. Spray paint will add the finishing touches…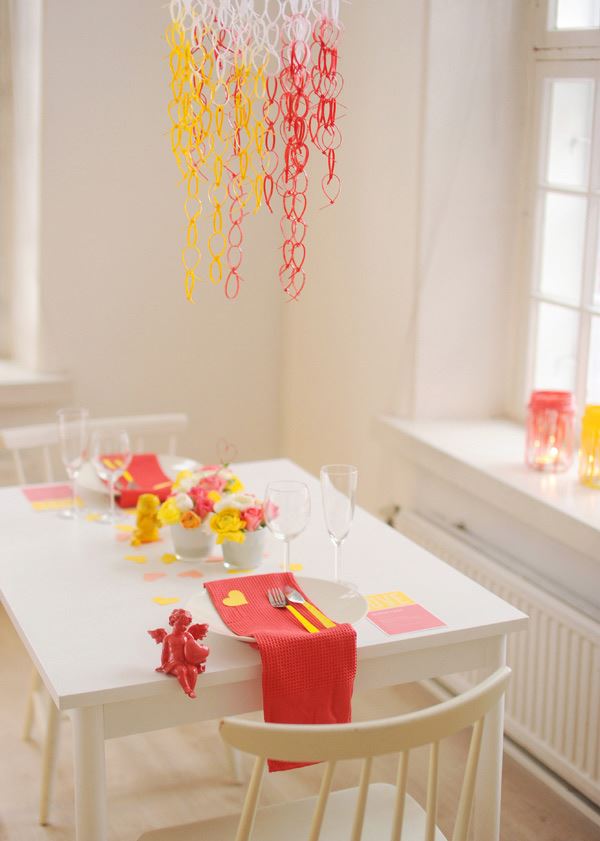 A Unique Dash of Valentine's Day Festivity…
We now move on to Valentine's Day decorations that add a whimsical touch of festivity to your home. In fact, some of these ideas bring a dash of the unexpected to your life… Like this surprise Heart Balloons in a Closet idea, the perfect way to shower the one you love with love! Visit Oh Happy Day for all the details: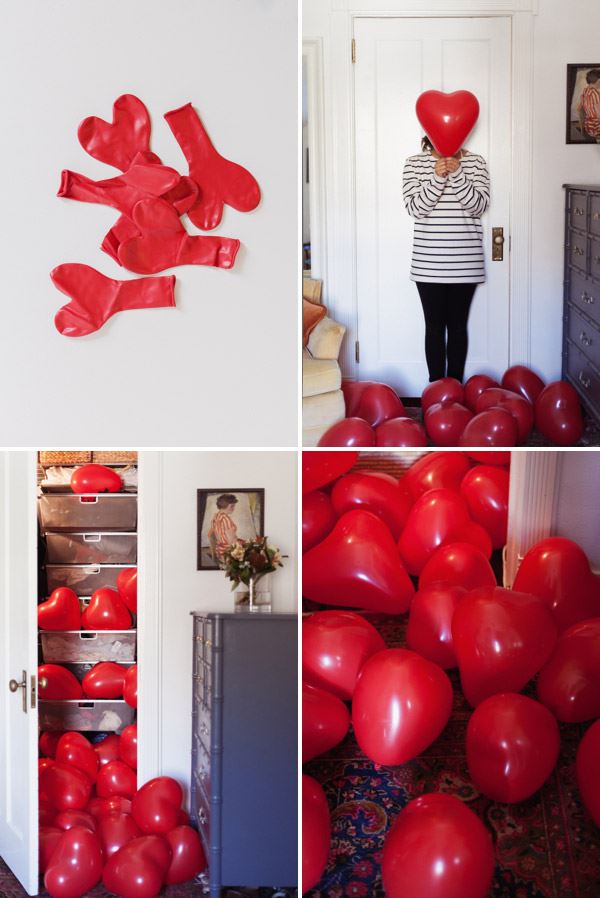 Wouldn't you beam with joy if you opened your front door and found these hearts on your lawn? Don't worry–they're not bad for your grass. That's because they're made of flour! That's right–it's a Valentine's Day Garden Heart Attack, made with the help of a homemade heart stencil, a sifter, and of course, flour. Check out Oh Happy Day for the full tutorial…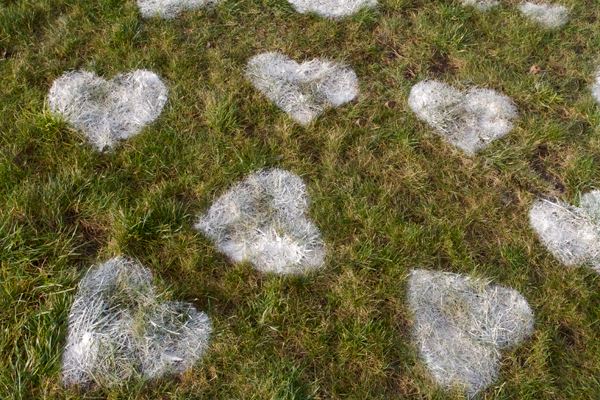 Give your bestie some custom DIY wall art, crafted with paint and vinyl letters. It's Best Friend Wall Art from A Beautiful Mess, perfect for showing that special friend some warm and fuzzy love on Valentine's Day! Or a few days before so he or she can enjoy this decoration the entire week of February 14th (and beyond)!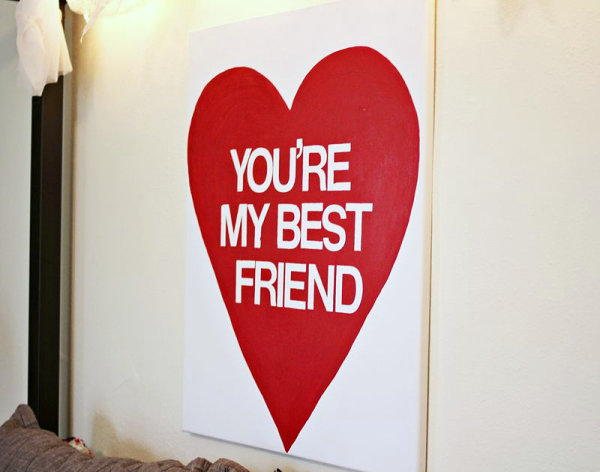 How fabulously chic are these DIY Heart Pillows from Design Love Fest?! Simple, modern and colorful, they bring a classic-meets-contemporary look to your Valentine's Day. This easy project can be created with the help of a sewing machine and the fabric of your choice.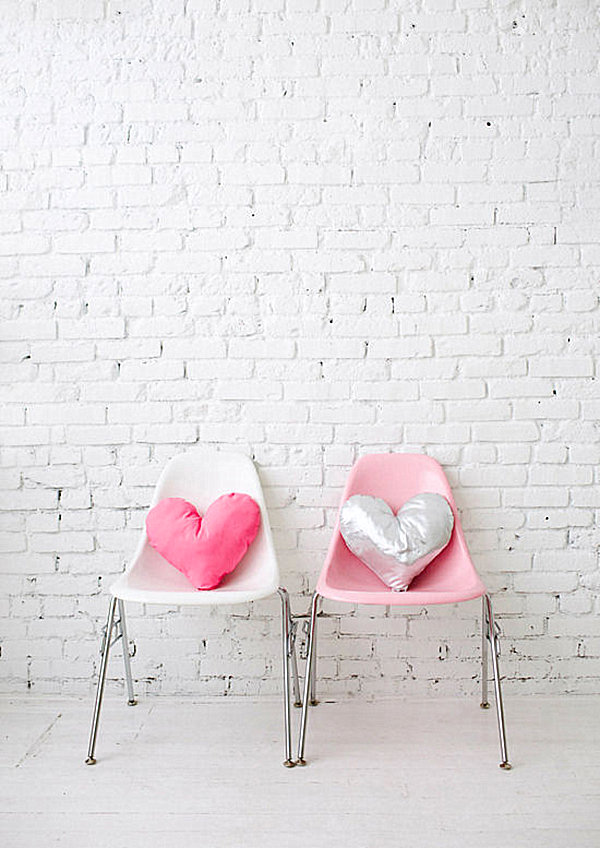 Stamp it, then display it! This Heart Blanket DIY is created by embellishing a store-bought blanket with red paint applied to homemade stamps. Details can be found at A Beautiful Mess…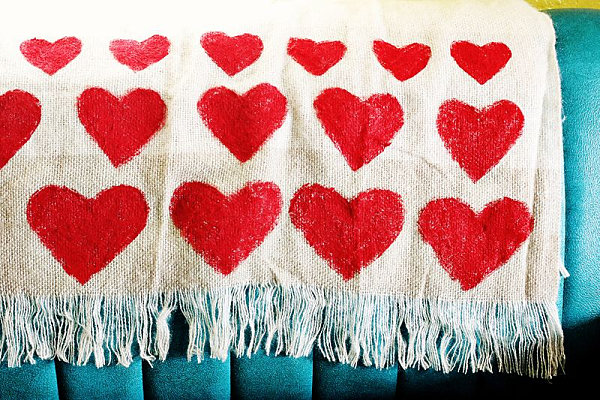 Gold and white create a modern statement in this Valentine's Day decoration featured at Ruffled. While no DIY details were shared in the post, we're tempted to recreate the design using a papier mache heart (either store bought or homemade), then embellishing it with gold paint and adhesive letters. The furry backdrop is optional! [from Natalie Spencer Photography]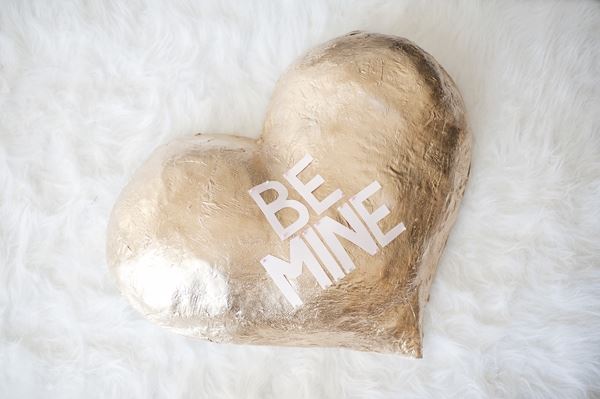 There's something so colorful and 8-bit about the Perler Bead Valentines below! Using Perler beads (of course), a Perler Bead pegboard, parchment paper and an iron, these little valentines also make great decorations. We're loving the unexpected color combinations! Visit Camille Styles for a full tutorial.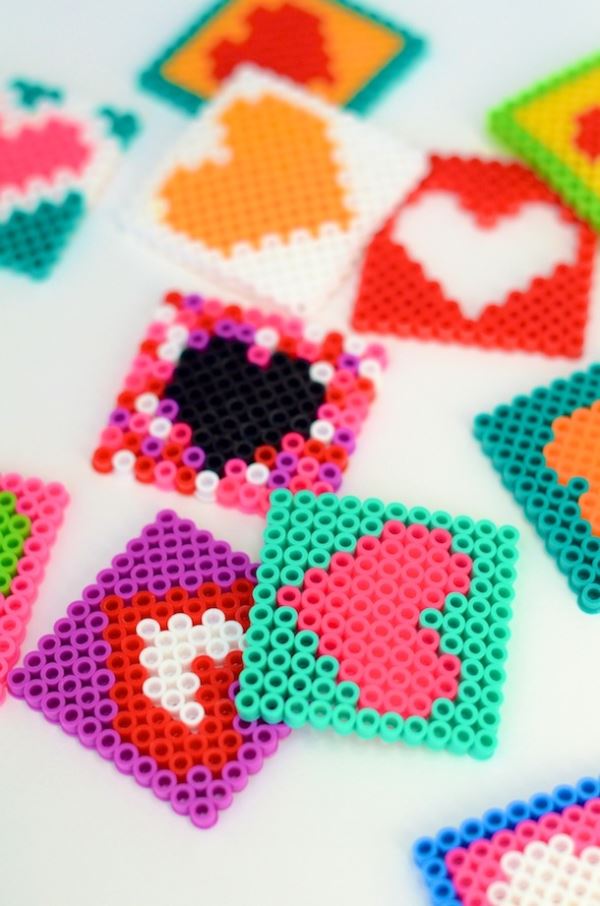 Sometimes the simplest of ideas are themost powerful. Like this DIY Pipe Cleaner Heart Toppers from The Sweetest Occasion, easily crafted using pipe cleaners, bamboo skewers. They make ideal dessert toppers and swizzle stick. Wouldn't a bunch of these be cute in a vase as well?!…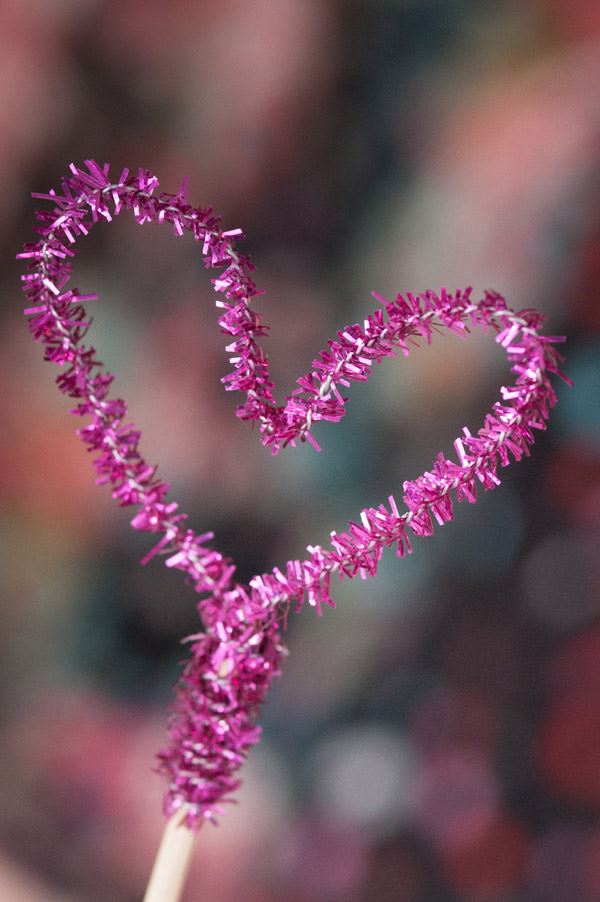 We end with another eye-catching design on a stick. These "Sweet Lips" Printable Photo Props by Amy Moss of Eat Drink Chic for Oh Happy Day are not only great for playfully posing over your face during a photo. They make terrific gift tags, mini note cards, or sprinkle-fabulous display pieces, as shown below…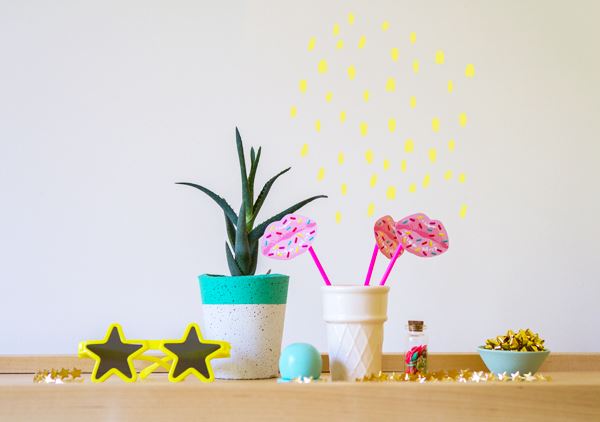 Did any of the projects above inspire you to get creative this Valentine's Day? As February 14th approaches, we'll be sharing more festive ideas, from unique party themes to fabulous gifts for the design lover in your life. Stay tuned…