An architectural masterpiece overlooking spectacular mountain panoramas, Zinc House stuns with its dynamic architectural language. The name explores the handcrafting qualities of zinc – this material lends its charm to the whole building, creating a unique architectural display.
Located on a 2,500-square-meter property on the hillside near the historic center of Brasov, Romania, the impressive concrete and glass residential construction designed by Romanian architect Horia Reit is partly covered in zinc, exploring the unique versatility of this material. Designed for a young successful entrepreneur and his family, the expansive luxury residence was carved into the hillside, extending toward the breathtaking landscape.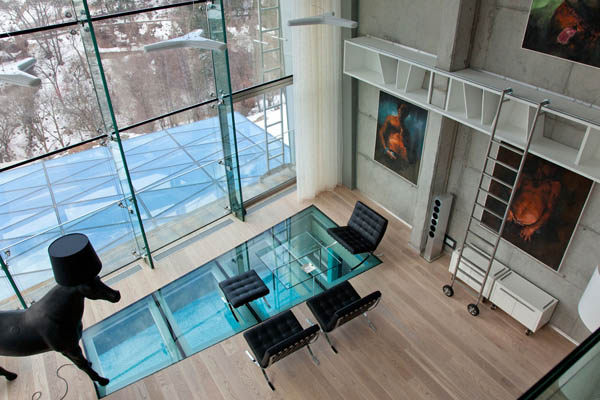 Accessible via an intermediary floor, the home's four levels were designed to offer both entertaining and private zones. The top floor is dedicated to private spaces like the master bedroom and children's rooms, alongside a large panoramic terrace. The double-height living space boasts a 14-meter-high structural glass wall protecting an inviting relaxation and entertaining zone. Here, the Horse Lamp by Moooi sits next to Mies van der Rohe's black Barcelona Chairs, and a staircase leads up to the modern dining zone separated from the kitchen by a bamboo-decaled glass wall.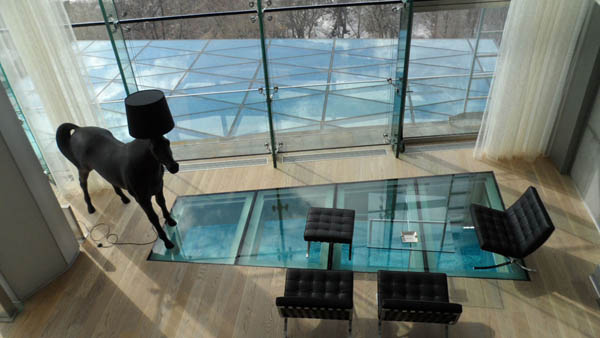 Tucked underneath the living zone, a multi-functional recreational space ensures the family takes advantage of both modern design and exceptional landscapes. A glass wall separates this space from the indoor pool, allowing natural light to flood the interiors. Exceptional customization is shown in the design of the cigar lounge – a highly private space inspired by the Once Upon a Time in America opium scene. Completed by a sauna, an outdoor barbecue space, an outdoor metallic staircase and a panoramic glass elevator, Zinc House is the epitome of a private haven.