We at Decoist love great design. So do our readers. The holidays are here, and when it comes to gifting your nearest and dearest, you just might want to share your love of design in the process. That's why we've rounded up our favorite gift ideas for the 2013 holiday season! It's the 2013 Decoist Holiday Gift Guide! This is the good stuff, folks. Innovative items that showcase the best in modern style…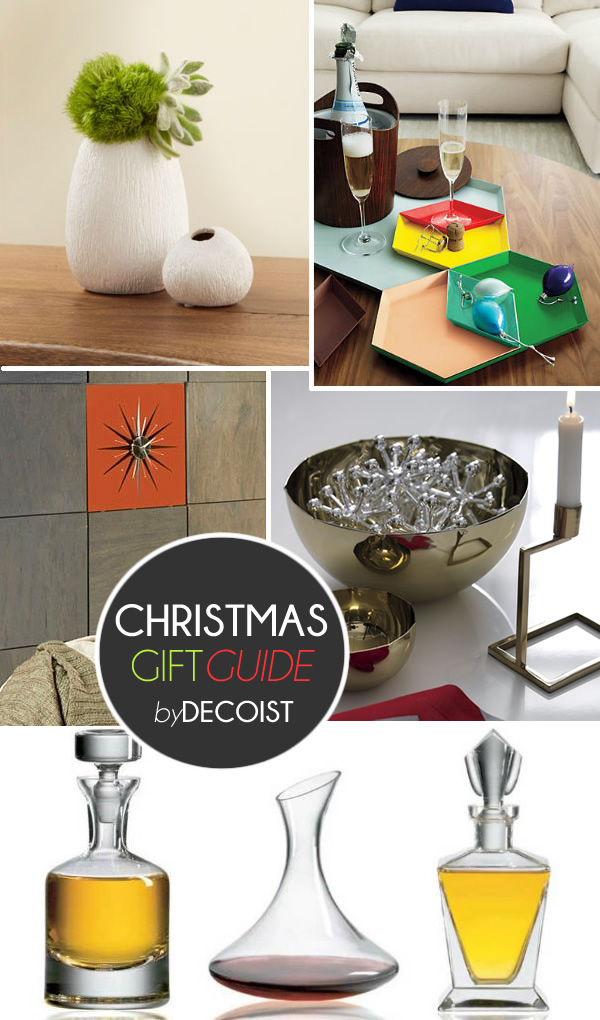 We at Decoist also know that it's important to honor your budget. At what other time of the year are you buying gifts for everyone important in your life?! Just because it's the holiday season doesn't mean you need to break the bank. We have gift ideas for every price range. From gorgeous finds for under $10 (yes, under $10!) to fabulous treasures in the $50+ realm, nothing on our list is over $100. Check out our top picks below, and don't forget to click on the accompanying links for more detailed pricing and ordering information.
Happy Holidays from all of us at Decoist!
Gifts $10 and Under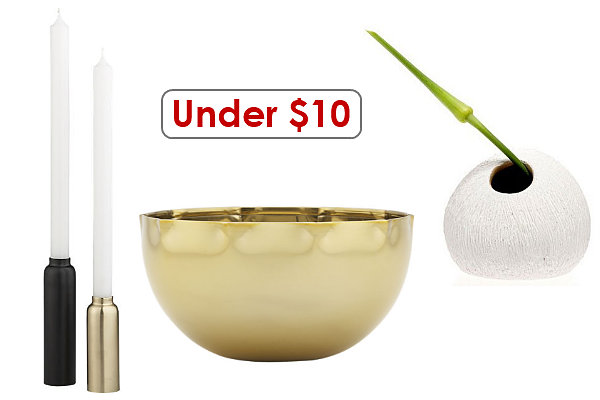 We kick off our gift guide with a series of breathtaking finds in the super-affordable price range of $10 and under! Some of these gifts we've ordered ourselves! And we were delighted to open the packaging and find treasures that were just as beautiful as their pictures and descriptions promised. Check out the Drohgo and Braun Candleholders from CB2, which boast a simple form and a stunning finish (in either matte black or brass). Crafted of iron, they accommodate taper candles and are sold separately. Below we see them with the yellow Kalisi Candleholders: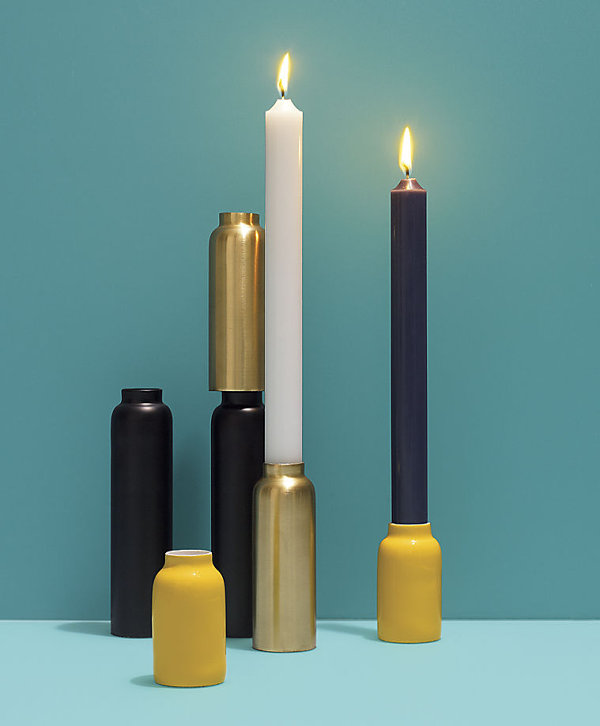 Also from CB2 are these Pinch Bowls in brass-plated stainless steel. While both selections are well under $20, it's the small size that's under $10. Use these bowls to serve food or let them speak for themselves as gorgeous display pieces. A pinched edge is the distinguishing feature…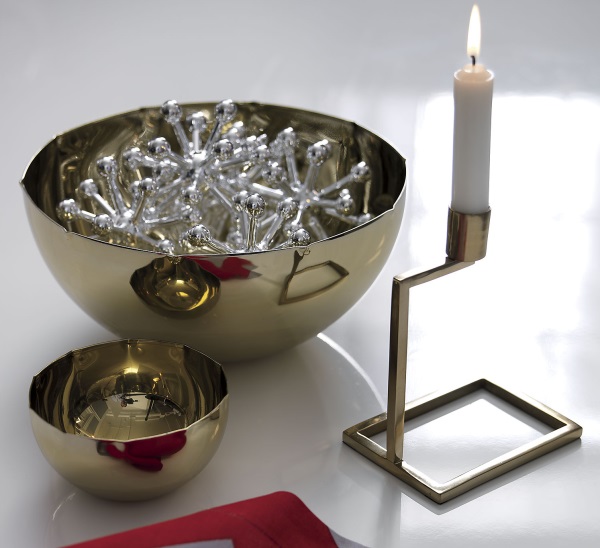 Can you tell we're a bit hooked on affordable finds from CB2?! This Ruby Red Glass Candleholder is crafted of durable beaker glass. Its faceted style and rich hue make it a showstopper–and for just $4.95!!! The piece is also available in aqua.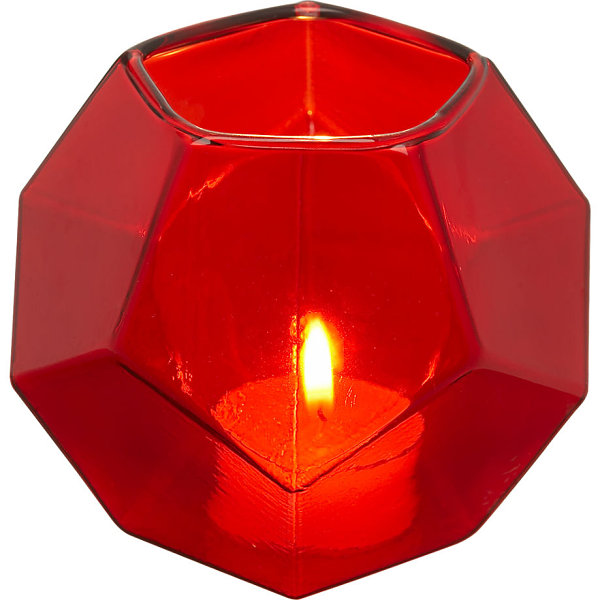 Need a stocking stuffer for the manly man in your life? After he's done chopping wood, he'll need to freshen up. Good thing he'll have this Men's Cedarwood Soap from West Elm, extracted from actual tree bark. The woodsy scent is quite rejuvenating!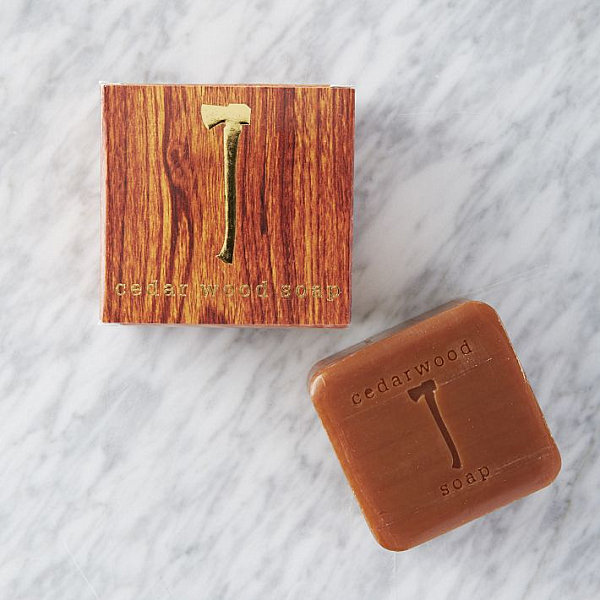 You can't go wrong with a vase in white. Especially when it's as contemporary and fabulous as the Koski Bud Vase Small in White from Lovesac. Constructed of textured ceramic, the piece is pictured below with the Koski Bud Vase Large: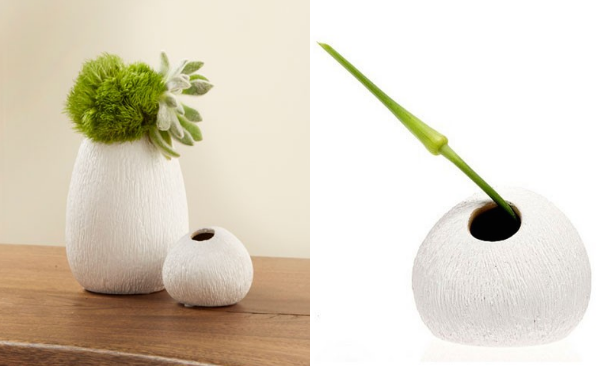 Gifts $25 and Under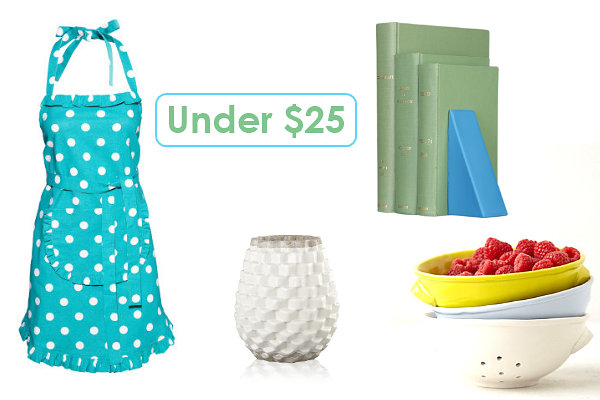 If you have a little more to spend, this next group of gifties features selections that are super stylish while still being easy on the wallet. The simple form and vivid color of this Wedge Silicone Bookend from CB2 is the result of bright blue silicone over cast-iron angles. Buy one and use it to secure books or a door (yes, this item makes an ideal door stop). Or since it's well under $25, you can buy two and gift your loved one with a set!
These Slim Lacquer Jewelry Boxes from West Elm are as stylish as they are colorful, thanks to an engineered wood frame, a lacquered finish and a linen lining. The boxes' clean-lined, glossy look makes them lovely enough to gift without wrapping. Just place a bow on top and you have a present that's pretty as a package!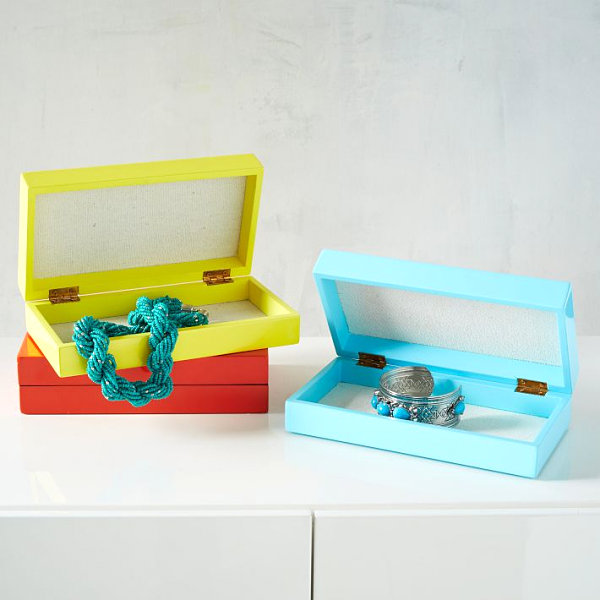 We continue to showcase our love of textured white vases with this Rati Vase from CB2, crafted of faceted terracotta glazed in white. With a sculptural stair-step design, the piece can take on many looks, from tribal to geometric: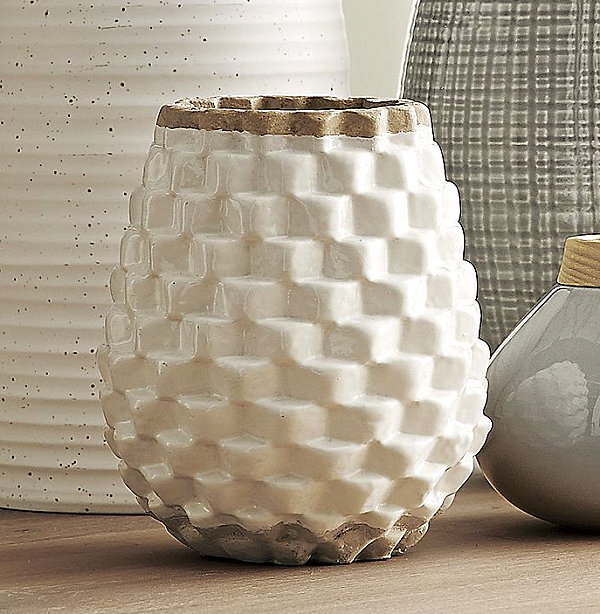 For the foodie in your life, the polka dot apron from H&M Home is a radiant shade of blue. Woven organic cotton and a ruffled trim ensure this gift is comfy AND eye-catching. In fact, the recipient of this apron may choose to display it in the kitchen!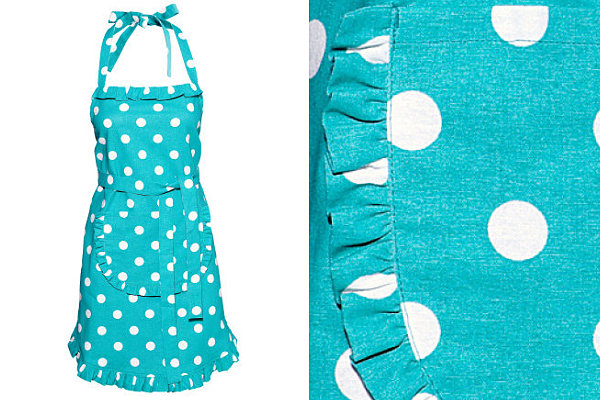 Speaking of display-worthy pieces for the kitchen, these Ceramic Mini Colanders from Anthropologie are practical and stylish. And at just $14, they are a bargain. Don't they look amazing stacked in a set of 3?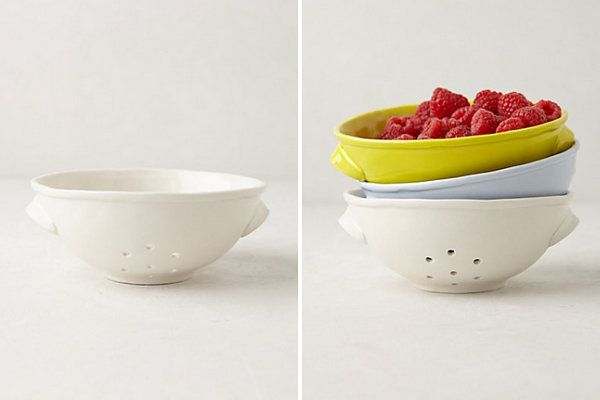 Gifts $50 and Under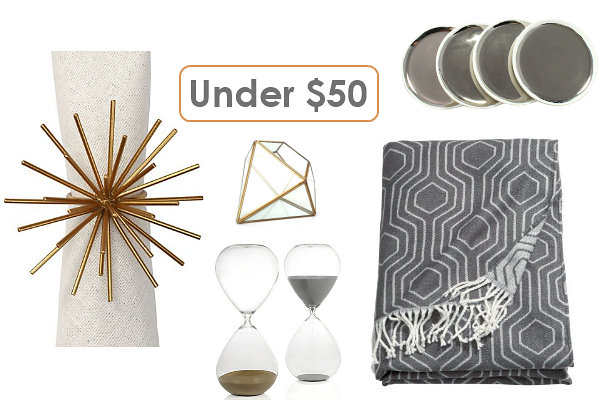 We now move up in price point with a series of luxe gold and silver gifts that are $50 and under. These Spike Napkin Rings from Z Gallerie have garnered quite a bit of attention in the blogosphere (as in this previous Decoist post). And why shouldn't they? Crafted of iron with a gold-toned finish, they are the epitome of modern sculptural style. If you prefer cool tones to warm hues, these napkin rings are also available in silver…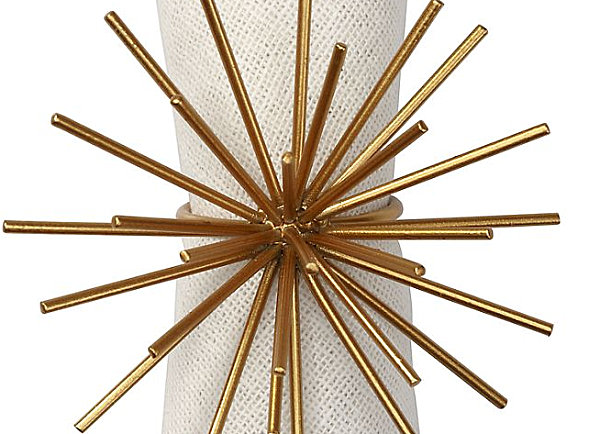 Porcelain meets platinum glaze in our next selection, the Marais Tidbit Plates in Platinum from Dwell Studio. Sold in a set of 4, these glamorous finds would be perfect for a hostess gift. Especially if your giftee loves tableware that shines…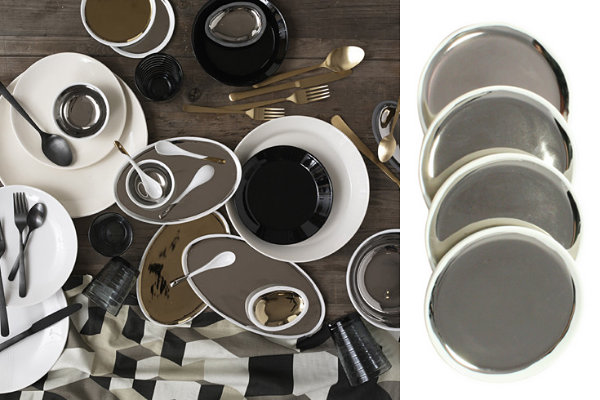 When it comes to shopping for holiday gifts, time is of the essence. Don't let it slip through your fingers! Thanks to the Hourglass XXL, time can be preserved in a glass container. It takes two hours for the sands to move from the top compartment to the bottom. Choose silver or gold sand when ordering this treasure from Z Gallerie…
It's edgy. It's geometric. It's classic. It's the Magical Thinking Geo Terrarium from Urban Outfitters, and it's perfect for containing plants or displaying your favorite tiny collectibles. A faceted form and antique metal frame will remind you of the timeless display boxes you grew up with. Yet a trendy geo form makes this gift undeniably modern: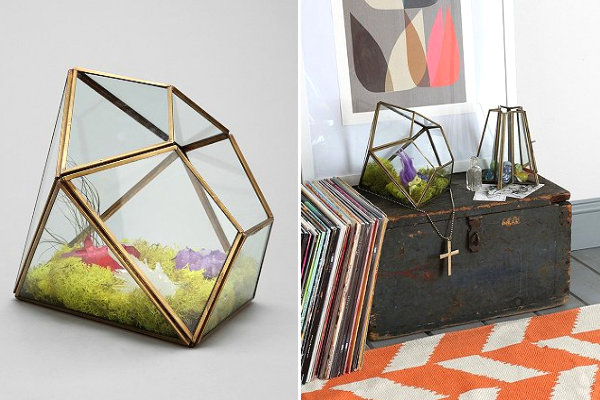 Baby, it's cold outside! Keep your loved ones warm with the Jacquard-Weave Blanket from H&M Home. The blanket's pattern can accommodate a variety of design styles, including Hollywood Regency. Yet this is a pattern that hasn't been overdone, so it still feels fresh. The cozy throw is also available in turquoise…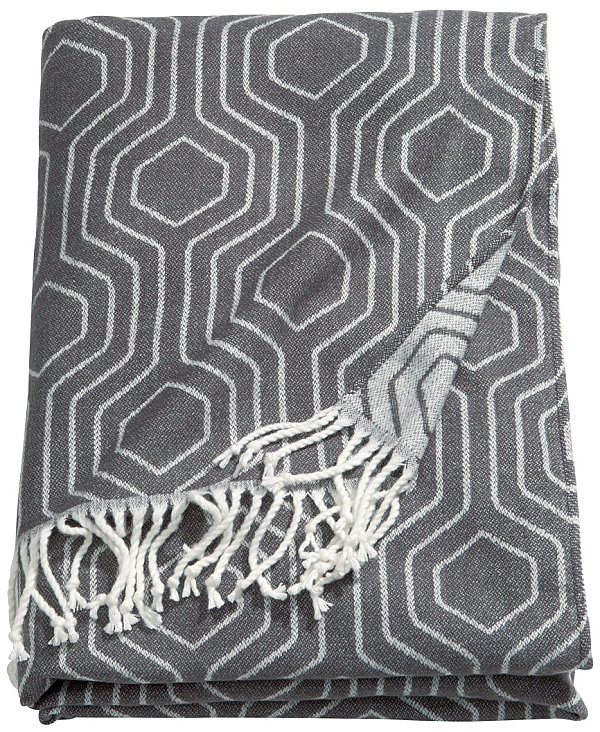 Gifts $100 and Under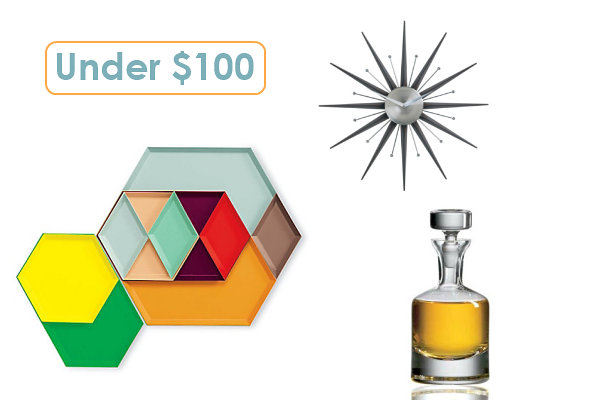 We top off our Gift Guide with a collection of showstoppers and conversation starters available for $100 and under! If you're looking for a statement piece for the Mid-Century modern design lover in your life, check out the Sunburst Round Clock from Lovesac, complete with a stainless steel body and a retro-style form: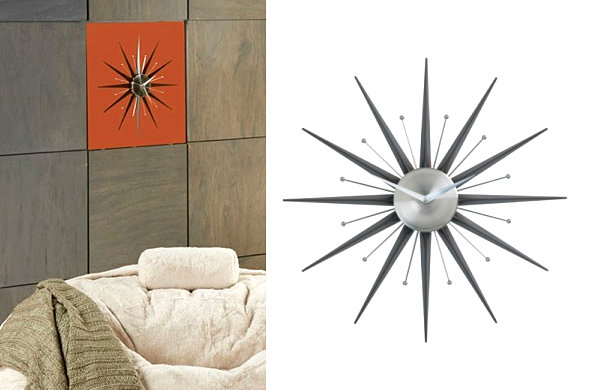 With a modern detailed pattern that's undeniably chic, the Dotted Trellis Lantern from Dwell Studio can be used as a candleholder or a display vase. Yes, we couldn't resist topping off our gift list with one more white vase! Neutral yet stunning, this piece is perfect for those who love both the simple and the intricate: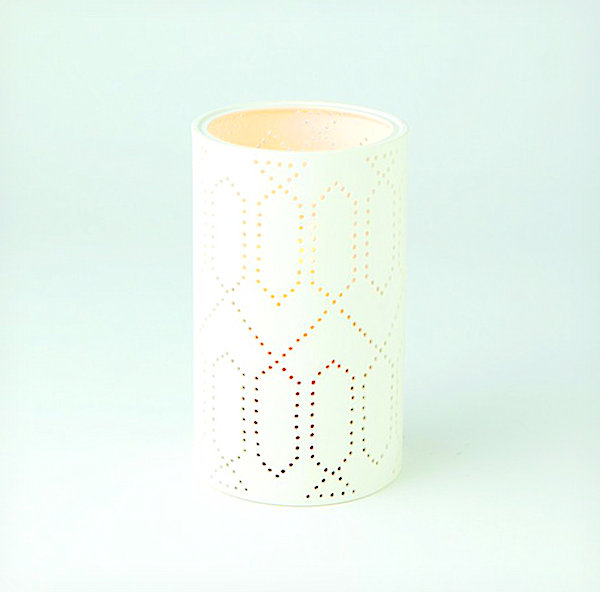 We at Decoist are long-time fans of these Kaleido Trays from Design Within Reach. Designed by Clara von Zweigbergk, they are modular, stackable and nestable. Crafted of powder-coated steel, they are also fabulously vivid. Since they're available in a range of prices, you can buy the largest size or purchase a few smaller trays and still fall in the "$100 and under" price point!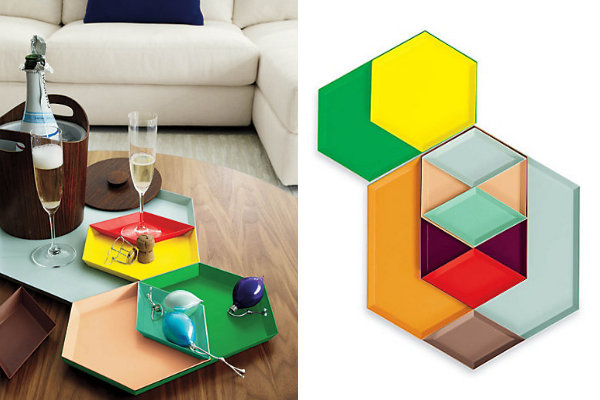 How posh are these Ravenscroft Crystal Decanters from Homeclick?! With an array of sleek forms, you can choose the shape and style that best suits your giftee. From the curvy form of the middle decanter to the dramatic shape of the decanter on the decanter on the far right, there's a look for everyone on your gift list!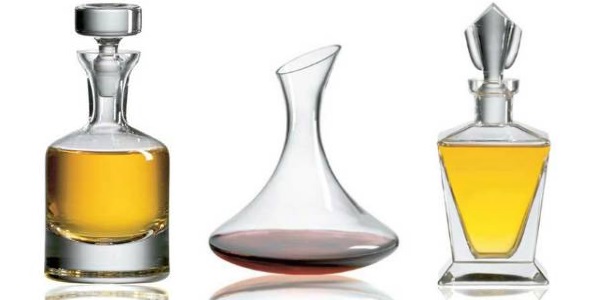 We end with a gift that's perfect for kids. Or adults who still enjoy playing with blocks! These Greater Pyramid Blocks from The Land of Nod (made by Grimm's) are safe for ages 3 and up. And since each piece is handmade and hand sanded, there are no sharp edges or corners. The set comes with 100 blocks in a range of heights, yet all are crafted from lindenwood and colored with water-based dyes and natural oils: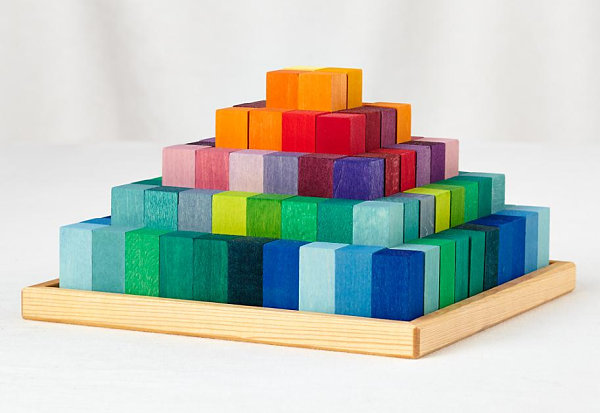 Happy shopping to you and yours!…