Do you ever notice how the biggest design challenges often result in the most creative solutions? Limited space is a definite challenge, yet it's one that most people experience at least once in their residential lives. And when you're faced with space constraints, you're forced to simplify, simplify, simplify. The result is often less clutter, an increase in clever design strategies, and if you really pull it off, a glowing pride in your home!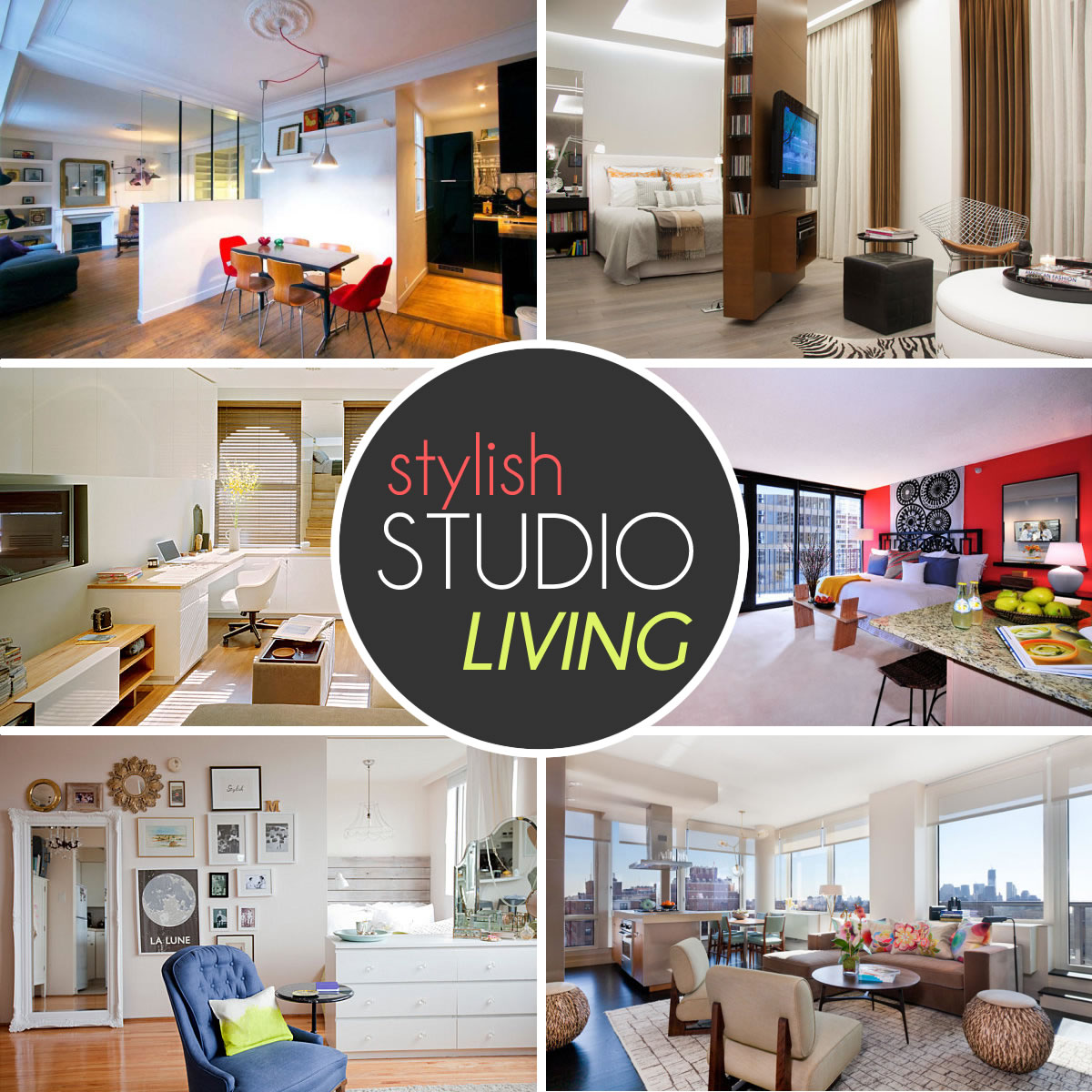 I have to confess–studio living is close to my heart. I lived in a tiny studio apartment for six years, and I will always remember that time with such gratitude. I was grateful to have my own place, without a roommate for the first time in my adult life. I was grateful for the lessons that small space living taught me–I regularly got rid of excess stuff out of necessity. I quickly learned that less is more, and when I moved, I had very little junk to transport.
There was something quite liberating about that! And let's face it–studio apartments are cozy! The trick is keeping them from looking cramped. That's why today we at Decoist present The Design-Lover's Guide to Stylish Studio Living. Read on for tips, tricks and helpful tidbits…
1. Start with your style.
Notice that the title of today's piece involves the phrase "stylish studio living." So why would we forget about the style?! For some people, this is the perfect place to start. It can be totally intimidating to ponder small-space living. But if you begin with a look you like, your excitement over the "fun design stuff" can override the more intricate problem solving strategies that are soon to follow… [from Mary Cook Associates]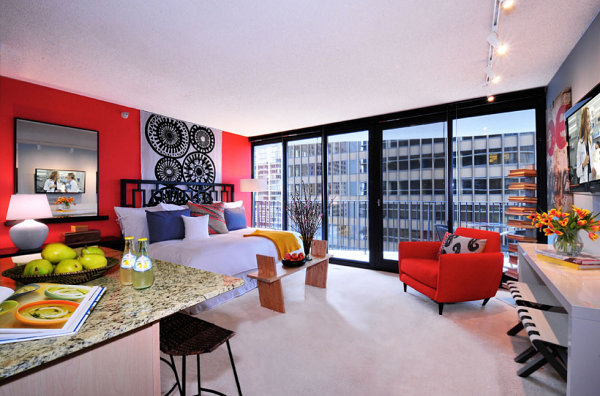 Consider the items you own, as well as any pieces you may purchase shortly. What is your look? Is it colorful and modern, as shown above? Or perhaps you prefer contemporary neutral-toned pieces accented by bright pops of color? [from Drew McGukin Interiors]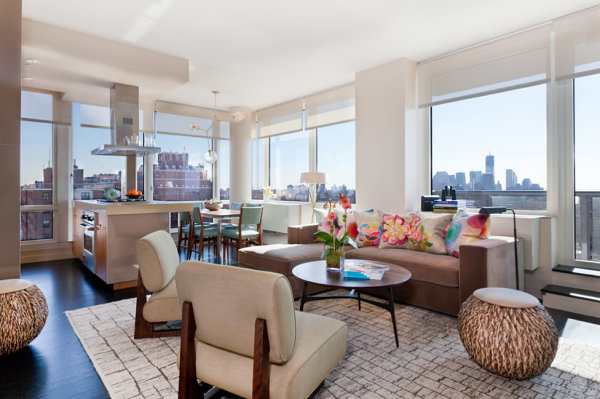 If you don't own much, now may be the perfect opportunity to try on a minimalist look that plays up the space you have… [from Murovec Renovations]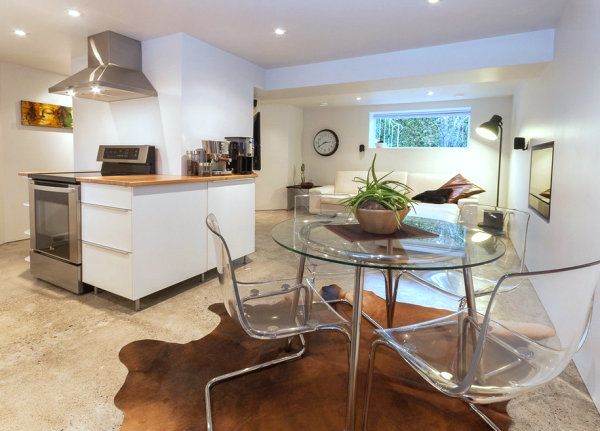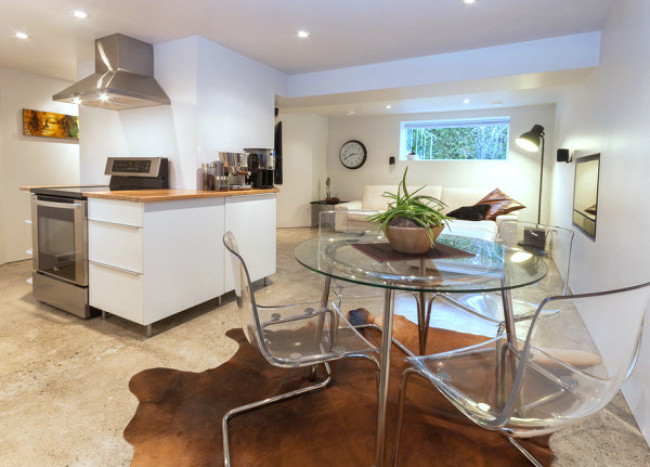 If your new abode includes features such as exposed ducts, try an industrial look. This is perfect for spaces such as the New York studio below. There's much to love about this abode, including the dining table and benches. Yet I can't help but be drawn to that clothing rack on wheels–the perfect stylish solution for minimal closet space! [from Sarah Reynolds via Houzz, photo by Chris A. Dorsey]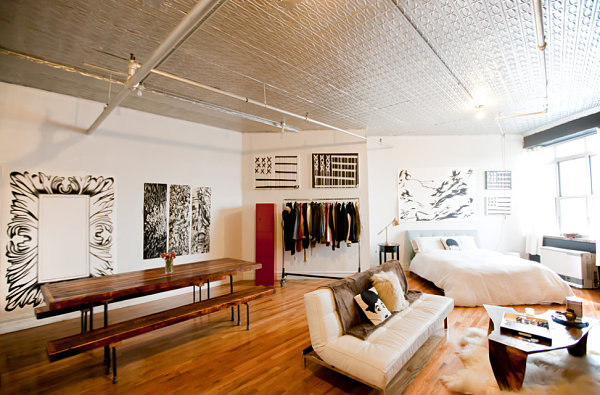 Don't feel like you have to trash the items you already own in order to get "a look." If you have a mish-mash of pieces, know that eclectic is a fabulous look too! Trust that you'll find a way to put it all together. [from The Cross Design]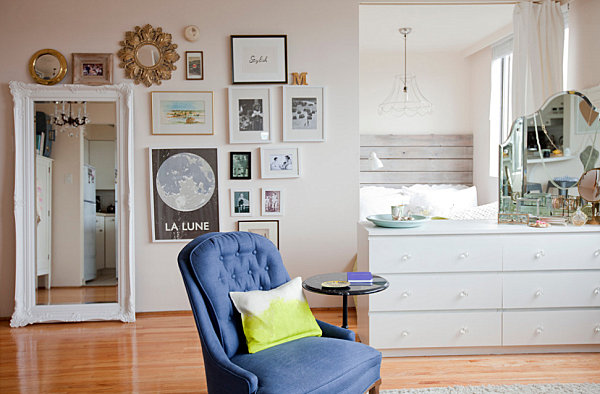 2. Plan your layout.
This one is a no-brainer. When a small space is involved, some advance planning may be in order. Plus, it's always important to have a general idea of where each item will be placed–it makes moving day so much easier! Take measurements. Ponder what to bring with you, what to donate, and what to purchase. If you can, ask to see your new place one more time before moving in. The first time you viewed it, you were likely preoccupied with whether or not you wanted to move there in the first place (rather than where your two-seater sofa would go). [from iDesignArch]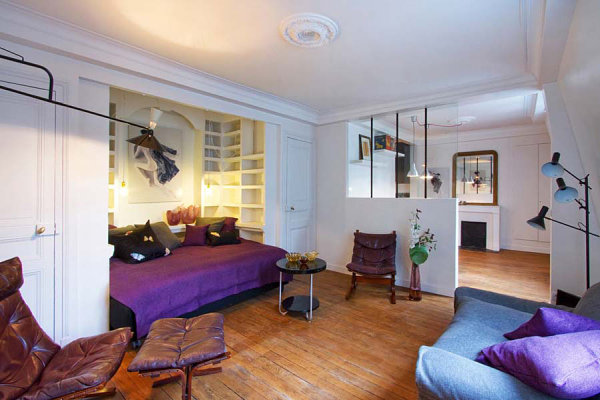 Below and above, we see pics of a Paris studio apartment with a stellar layout. Also at play: fabulous furniture selections, from the daybed that doubles as a sofa to the not-too-big dining room table!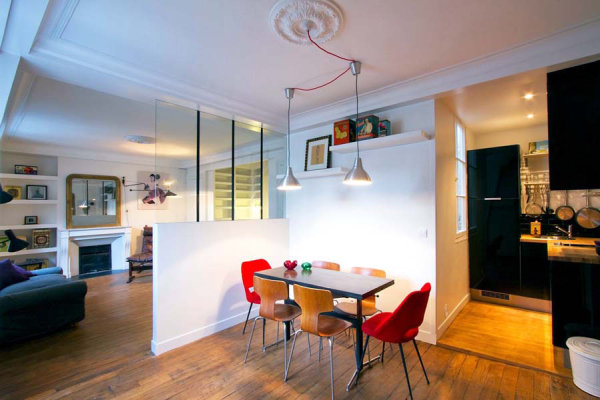 Just a quick reminder: When it comes to studio apartment layout solutions, go with the flow! Really. Consider the lines of your space–if your main room is a long, vertical one (like the studio below), plan accordingly. Select long, lean pieces that fit the space well. And it may pay off to avoid interrupting the flow with the placement of a furnishing that cuts the room in half. [from Jordan Parnass Digital Architecture]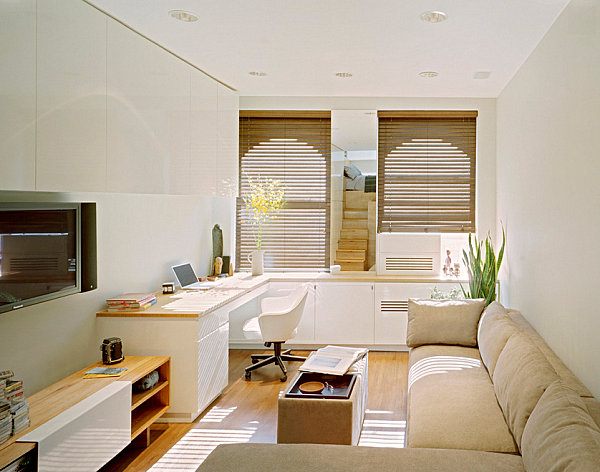 3. Let in the natural light.
The brighter the space, the less cramped it looks. If your studio has a fabulous view or ample windows, resist the urge to cover them up. Invest in window treatments or shades that can easily be raised and lowered. We're not suggesting that you skip out on privacy. But if you have a way of adding some sunshine to your space, take full advantage! [from DigsDigs]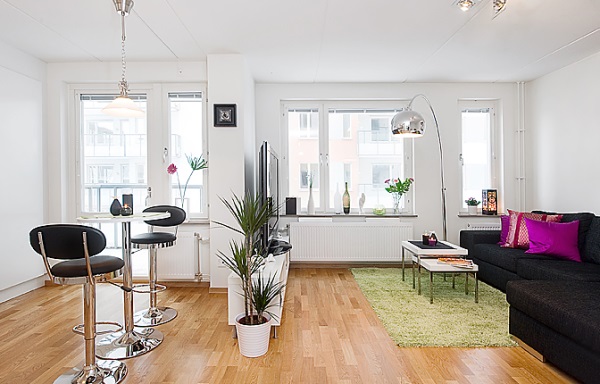 In another image from the same studio apartment, we see how light fixtures are just as important as natural lighting. Don't fret if your small space doesn't have an abundance of windows. Invest in some bright bulbs, and switch out the light fixtures or install additional lighting if you can…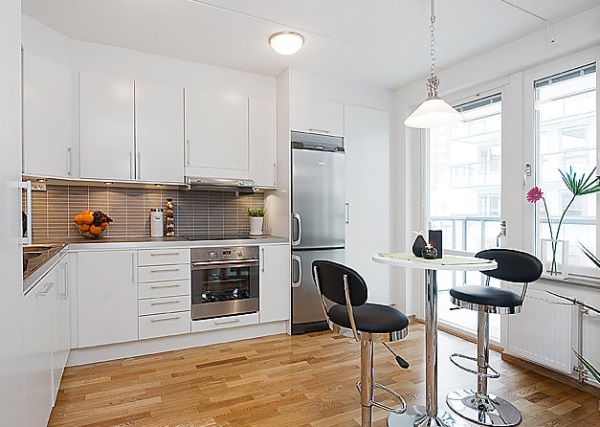 4. Make your sleeping space special.
We're not trying to get all warm and fuzzy here, but if you're living in a studio apartment, chances are you don't have your own room. Not the end of the world! But anything you cam do to carve out a little space for a good night's sleep will pay off. Below we see a studio apartment that distinguishes its living and sleeping areas with a bright red accent wall! [from Apartments I Like]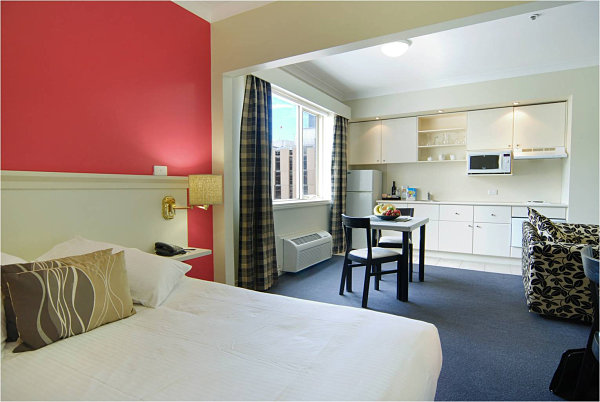 This next space features a bed enclosed by a privacy curtain mounted on a ceiling track. A not-too-busy fabric for the curtain ensures that this nook has a luxe look rather than a claustrophobic one. Note the monochromatic feel, as well as the strategic way that curtain and wall share much of the same color… [from Tobi Fairley]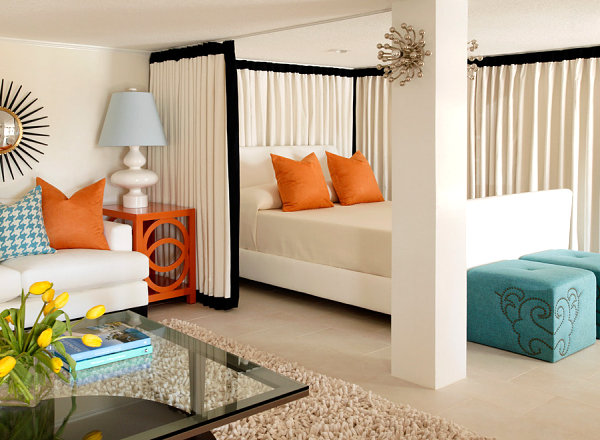 A privacy wall separates the living area from the bedroom (can't see it, can you?) in this next studio apartment. We're loving the look of the wooden planks and the modern artwork that hangs on them! [from The Brooklyn Home Company]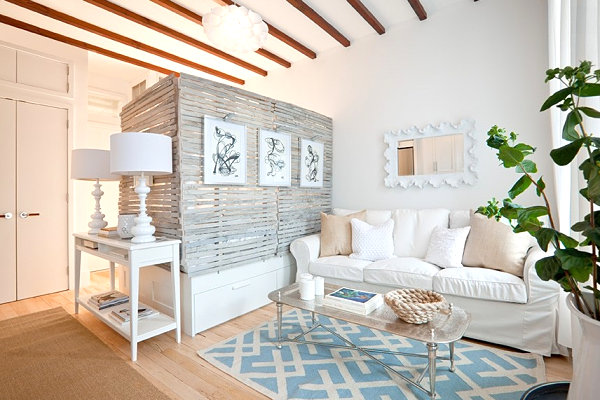 If a privacy wall or a curtain is out of the question, even a strategically placed shelf can do the trick in separating a bed from a living area. Plus, it's a great place to stash an item such as a TV! Below we see floor-to-ceiling storage shelving from IKEA. [from Urban Oasis]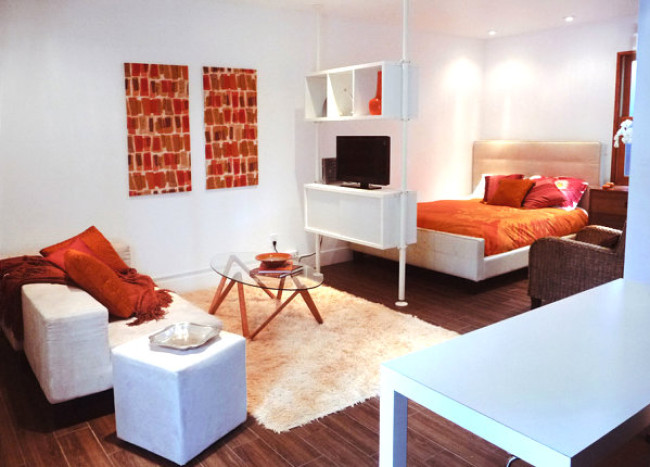 How fabulous is this rotating shelving unit?! Now you can watch TV in the living room during the day AND in bed before you fall asleep. What an innovative space-saving solution! [from Elif Kinikoglu Interiors]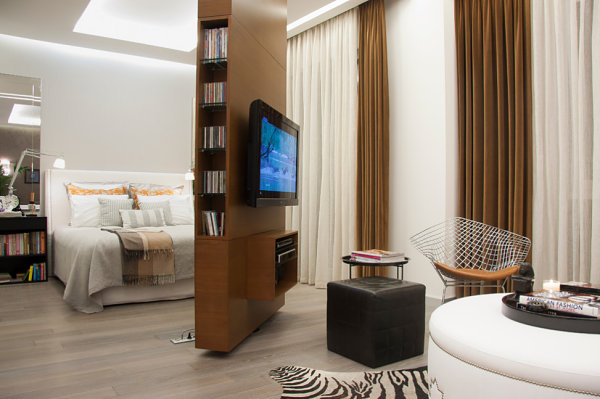 5. Implement space-saving solutions.
Speaking of solutions that save space… Now is the time to find them. And use them to the max!!! No cabinets? Try open shelving. It's practical and stylish, and the possibilities for artistic vignettes are endless… [photo by Megan Buchanan via Houzz]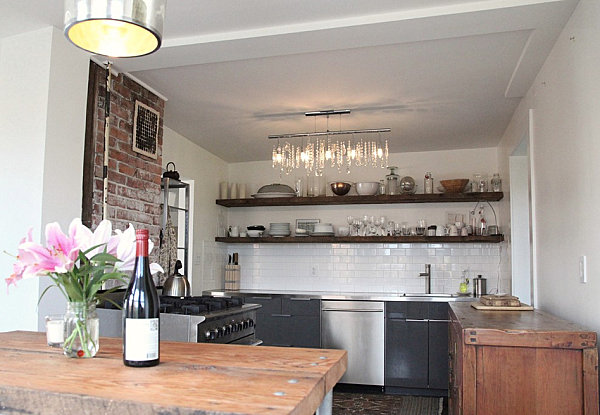 No room for a bed? Try a hideaway bed–a Murphy bed! No, these sleeping solutions aren't just for dingy big-city hotels. They've come back with a vengeance. And the image below shows us why…modern, sleek and practical, don't you think?! [from Bloomberg Sustainability]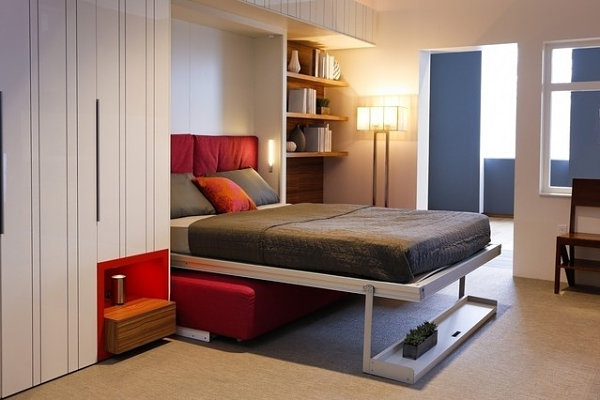 Don't forget about the little things you can do to maximize space and function in your studio. In our last featured image, we see a bathroom door embellished with chalkboard paint. Not only does it help tie in a dark shade to unify the room, it provides a handy place to write lists filled with to-dos and grocery items! [from General Assembly]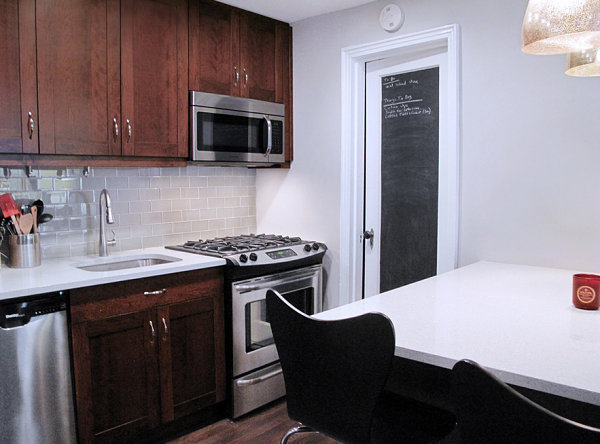 When it comes to studio living, it's important to focus on what you have rather than what you're lacking. Start with your studio's best quality. For example, mine happened to have a roomy kitchen. I couldn't change the paint color, flooring or layout of this space, but I could sure make it special! Play up your home's best qualities. Then create new ones. Celebrate your studio space in style!