Anyone else noticing how advent calendars have experienced a true revival in the last few years?! When I was a kid, we bought our advent calendar at the store and opened the little paper doors one day at a time to reveal tiny treats each morning before school. But in today's DIY culture, making the advent calendar is half the fun! And there are some AMAZING ideas currently circulating the blogosphere. The best part: your children can help in the construction process…
Today we feature 10 DIY advent calendars to make with the kids. As a companion piece to our recent post on DIY advent calendars, we now present another round up to inspire you in your last-minute calendar endeavors. And no, it's not too late to jump on the bandwagon! These advent calendars are super easy to make…but we all know that the anticipation of opening each box or envelope is where the real fun begins!
DIY Advent Calendars Made from Boxes
Let's start with the boxes. Advent calendars have transformed from flat cardboard creations to three-dimensional interactive extravaganzas. If you're concerned about how to construct a little package to open each day, don't sweat it! Today's ideas are as easy to make as they are clever. This Mini Tree Advent Calendar from Oh Happy Day is created with the help of mini pine trees, brown boxes, a free downloadable template for the number flags, and a little bit of glue. The kids will have fun deciding where to glue each tree…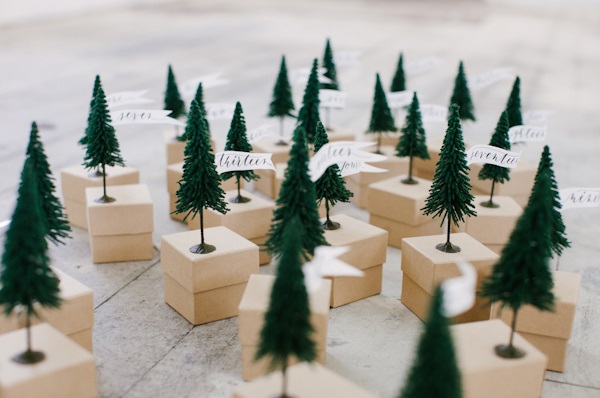 If you're like me, you love the eye-catching look of the vivid advent calendar below! White boxes are covered in colorful shapes that celebrate the festivity of the season. This look can easily be created with the help of small white gift boxes and a slew of stickers. Let your little ones go to town as they decorate each box! For a look that's interesting and tidy, use stickers of the same color. You might also consider varying the color of choice from box to box. [from Dawanda via A Subtle Revelry]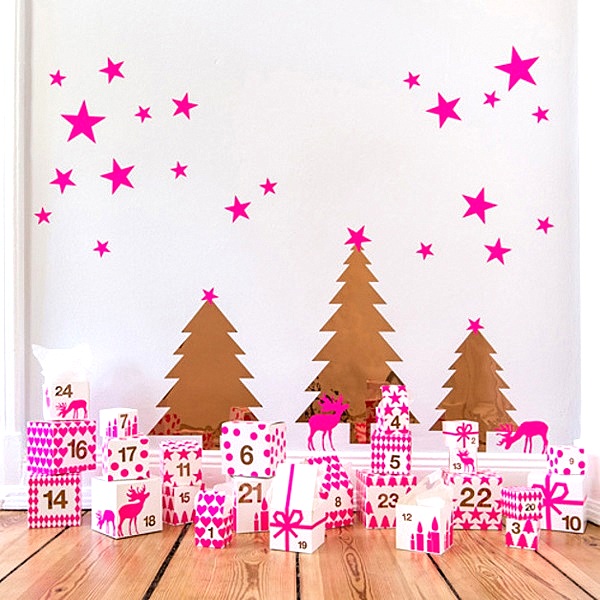 This DIY Pantone Advent Calendar from Brit + Co. cleverly incorporates gift boxes, Pantone postcards, crinkle paper and goodies into one beautiful finished product. Using Pantone cards is an excellent choice, but we also think paint sample chips would work just as well. Your kiddos will love selecting paint card colors at the home improvement store, then gluing them to the boxes once you return home.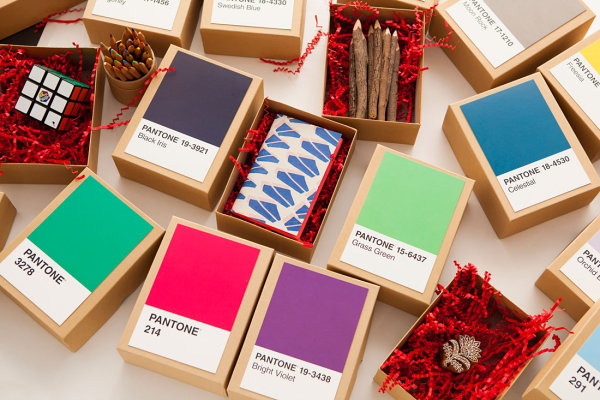 Bring on the chalkboard paint! Will we ever stop thinking of uses for this wonder supply? The next featured Chalkboard Advent Calendar from Hank & Hunt involves covering boxes with chalkboard paint, writing the numbers in chalk, and of course, filling the boxes with treats. Once you're done with the painting, invite the kids to write the numbers on the boxes with chalk. Or cover another surface with the paint while you're working and let the kids use it as a canvas once dry. They can draw freely while you write the numbers on each box… [via Young Austinian]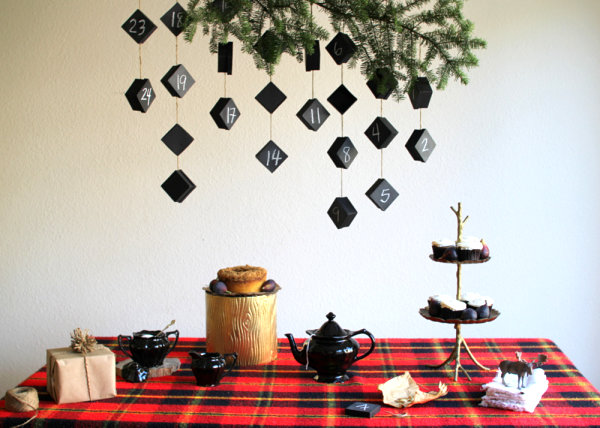 How fabulous is this next DIY advent calendar idea?! It's a DIY Grab Box Advent Calendar from Studio DIY, created by wrapping a cardboard box, cutting a hole in the top, and then filling the box with treats. While you will be the one to cut the hole and tend to the filling duties, let the kids be involved in wrapping and/or decorating the box. Then let them retrieve one treat each day by reaching into the box through the hole at the top!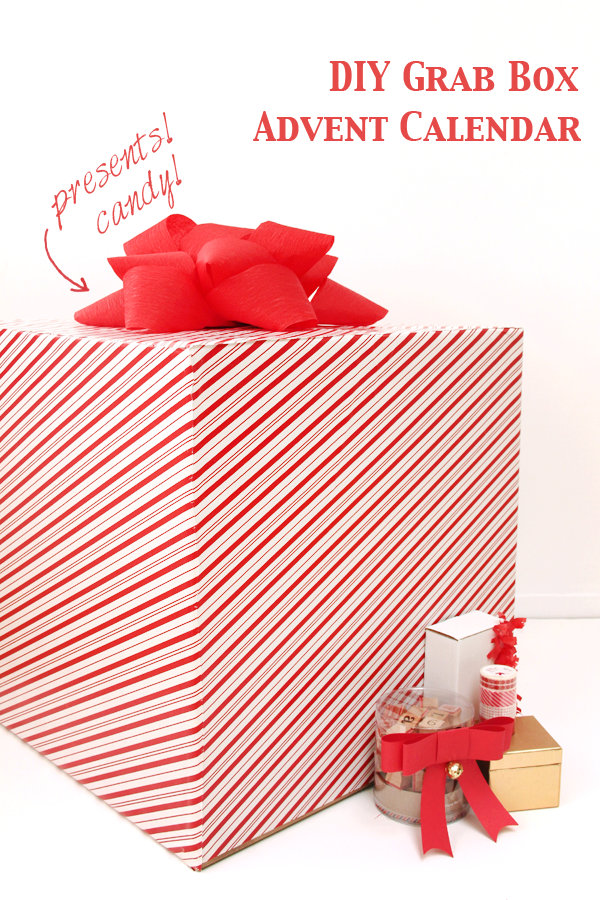 Advent Calendar Fun with Envelopes
Next we showcase advent calendars that are made with the help of envelopes. Or envelope-like favor bags! This DIY Instagram Advent Calendar from Studio DIY utilizes the services of Stickygram, who turns Instagram photos to magnets. While you may choose to fill this calendar with items other than photo magnets, make sure your treats of choice can fit into a white favor bag folded envelope-style. Cover each envelope with a bow–or better yet, have your kiddos be the ones to apply the gift bows. Don't forget the twine, which helps suspend your finished product while keeping everything together!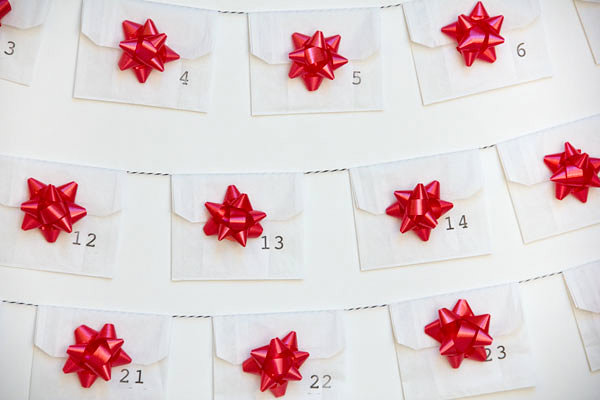 This Envelope Advent Calendar from A Few Things from My Life involves store-bought envelopes, number stickers, and a few special goodies to embellish the vignette. For a kid-friendly touch, have your children make little decorations to hang on this calendar display. They won't be stuffing the envelopes, but they sure will have fun opening them, especially when surrounded by small reminders of their creativity. [via Brit + Co.]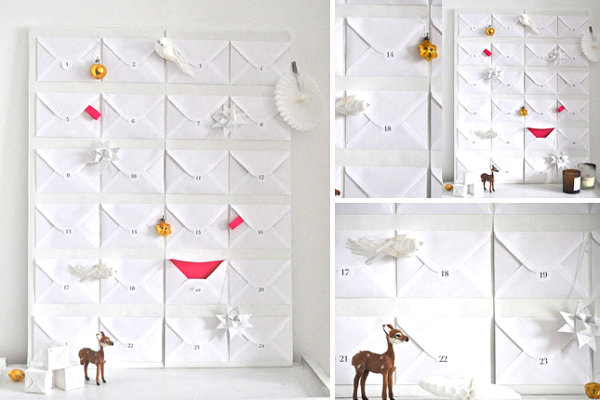 Clever Advent Calendar Uses for Everyday Objects
Our last batch of DIY advent calendars showcases unconventional uses for everyday objects. Like tiny socks! This DIY Baby Sock Advent Calendar from Blog a la Cart is super easy and oh so fun to make. Use your children's old socks as the basis for the calendar, adding number stickers to note the calendar days. Have the kids help you clip the socks to a twine clothesline before you stuff each selection with treats.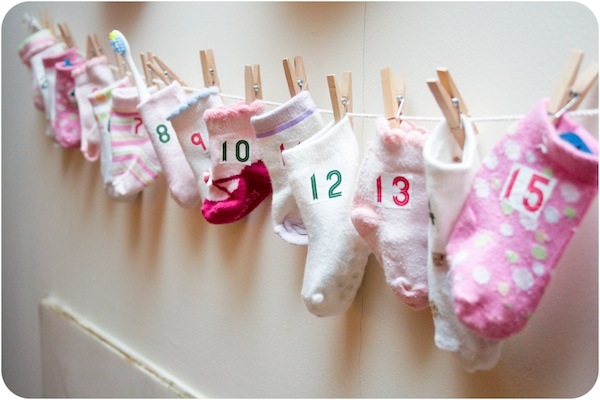 Those little plastic containers that hold condiments and small food items are the basis for this Bonbon Advent Wreath from Oh Happy Day. Simply wrap the containers in crepe paper squares and secure the ends with gold ribbon. Don't forget the sticker numbers! Let the kids help you bunch and secure the ends of each "candy" while you tie the bows.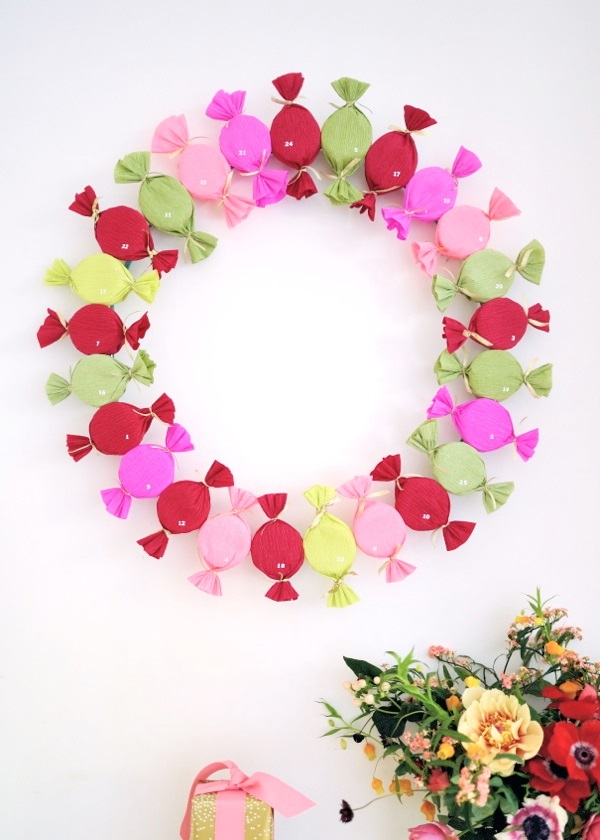 Our last featured calendar features ornaments and tags pinned to a burlap-covered board. While the kids may not be as involved in the creation of this DIY Advent Calendar Pinboard by Andrew & Amanda LeJeune, they will love adding the ornaments to your tree one day at a time!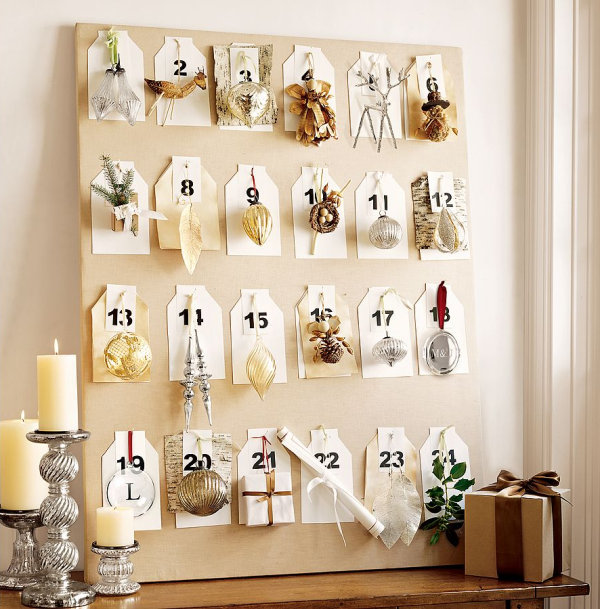 As you prepare your advent calendar, remember that you are the one who will be filling each container. Your kids can help with the decorating, but you'll want the treats to remain a surprise until it's time to reveal them each day. We at Decoist wish you and your family a Happy Holiday!