Friendsgiving. If you're not familiar with this growing tradition, it's a festive gathering of friends (often before Thanksgiving). The idea: to give thanks before people go their separate ways to be with family for the traditional Thanksgiving celebration. And since Friendsgiving is a bit non-traditional, your menu and decor can stray from tradition as well.
Friendsgiving gains popularity each year, and some even hold Friendsgiving celebrations on Thanksgiving Day if they can't travel for their family gatherings. Today we round up a collection of ideas that will inspire you to host your own Friendsgiving feast. From delicious recipes to eye-catching decor, the images below may even inspire you as you plan your Thanksgiving decor and menu. Enjoy, and don't forget to tell us about your favorite ideas at the end of today's post…
Friendsgiving Decor
Let's start with the decor! One of the most popular Friendsgiving concepts currently lighting up the blogosphere comes from Elsie and Emma of A Beautiful Mess. They recently hosted a friend-filled celebration of thanks, complete with gold and white pumpkins, candles, flowers in fall shades, and a modern "THANKS GIVING" banner in the window. On a side note, you can read more about Elsie's fabulous dining room (pictured below) here.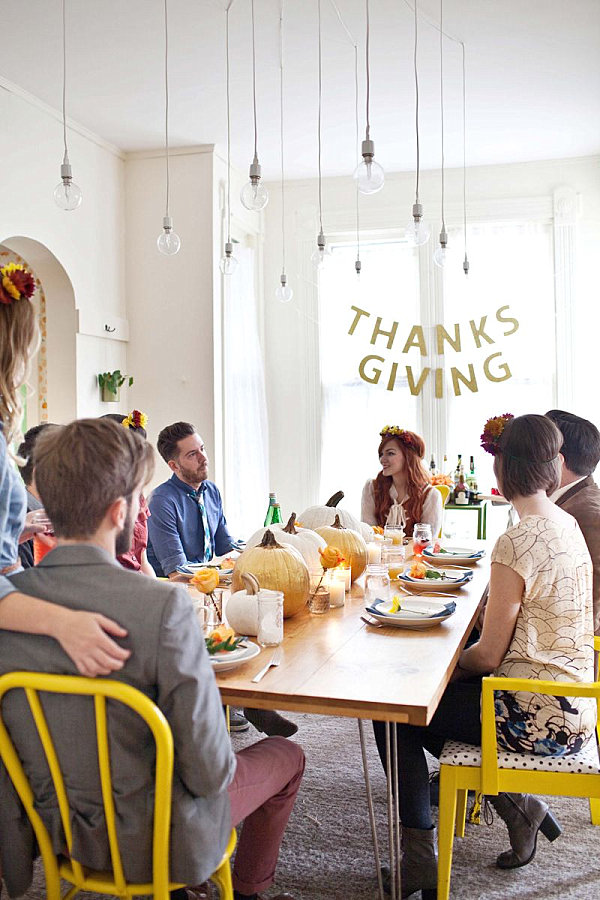 Another fun Friendsgiving decor idea: A delightful Geometric Paper Backdrop created by Going Lovely for Green Wedding Shoes. Not only is this DIY project perfect for festive gatherings, it just might be your next wall art installation for year-round style! A step-by-step tutorial can be found at Green Wedding Shoes…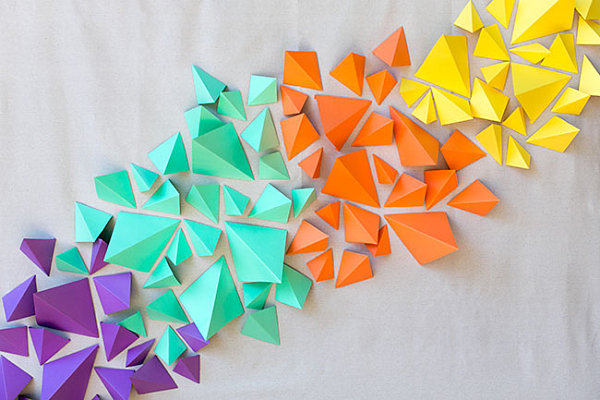 We love the rustic look of this Friendsgiving hosted by Brad and Jen of Q Avenue Photo. The setting: Brad and Jen's backyard. The decor: striking branches and silver-toned vases filled with eucalyptus. Not to mention, a table built by Brad and Jen themselves! Absolutely divine! [via Visual Supply Co.]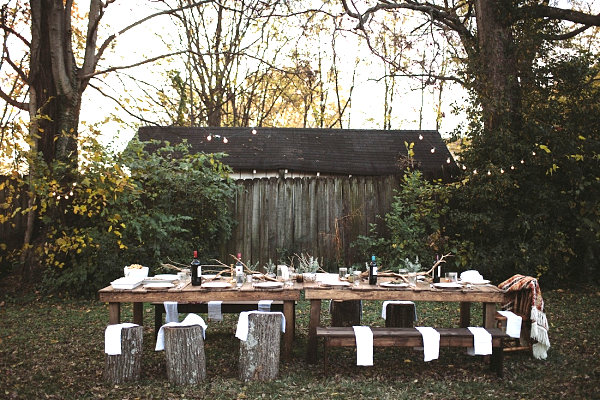 Earthy meets modern in this next vignette from Crate & Barrel. It's fun to see a blend of textures and warm-hued tones on one table. Round braided placemats, a linen table runner and contemporary wooden candles create a soft, sandy palette. Yet bright pumpkins and colorful napkins in an abstract pattern keep this tabletop from being drab.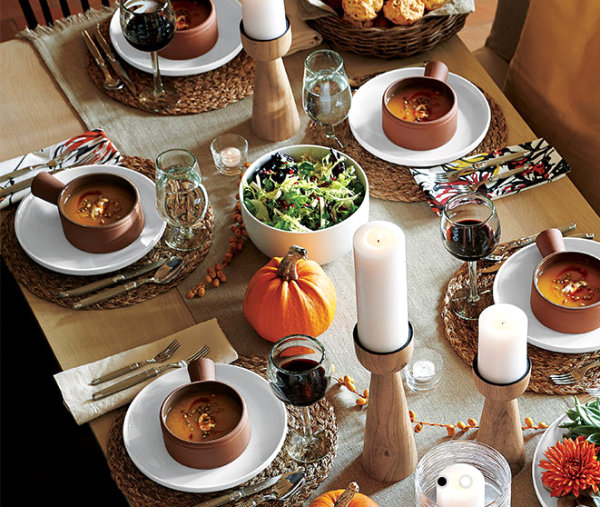 Don't hesitate to add a touch of metallic shine to your Friendsgiving table. We were delighted to find a DIY project for Metallic Leaves Table Decor at Oh Happy Day. Can you believe those leaves were crafted from a foil baking sheet? Their color comes from a coat of spray paint…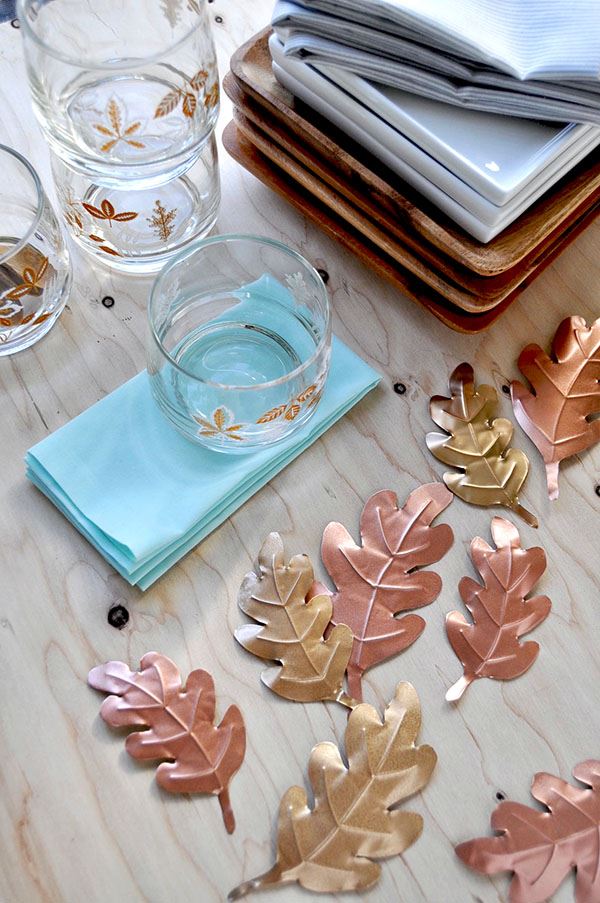 Artful Friendsgiving Recipes
It's no secret that we at Decoist love good design. So when we come across a recipe that creates a beautiful finished product, we can't help but celebrate it! This gorgeous turkey from A Beautiful Mess is adorned with orange slices and cloves. Funny how a few pieces of cleverly arranged citrus can elevate the ultimate Thanksgiving edible to a delicious new level…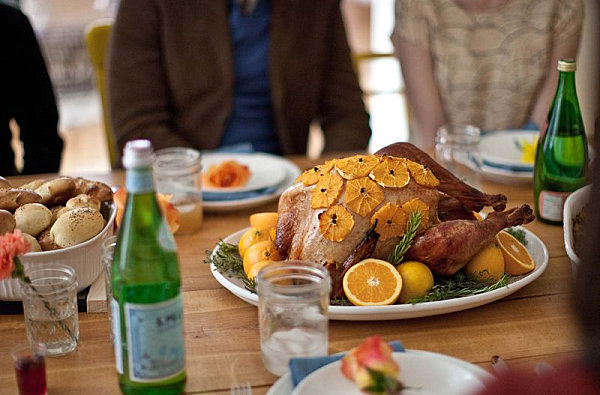 Got vegetarians at your table? No problem! This Quinoa Stuffed Acorn Squash from Say Yes to Hoboken is the perfect hearty Friendsgiving recipe. It's easy, it's got foodie flair, and it will brighten your Friendsgiving table. In fact, you can serve it for a fall dinner party anytime this season!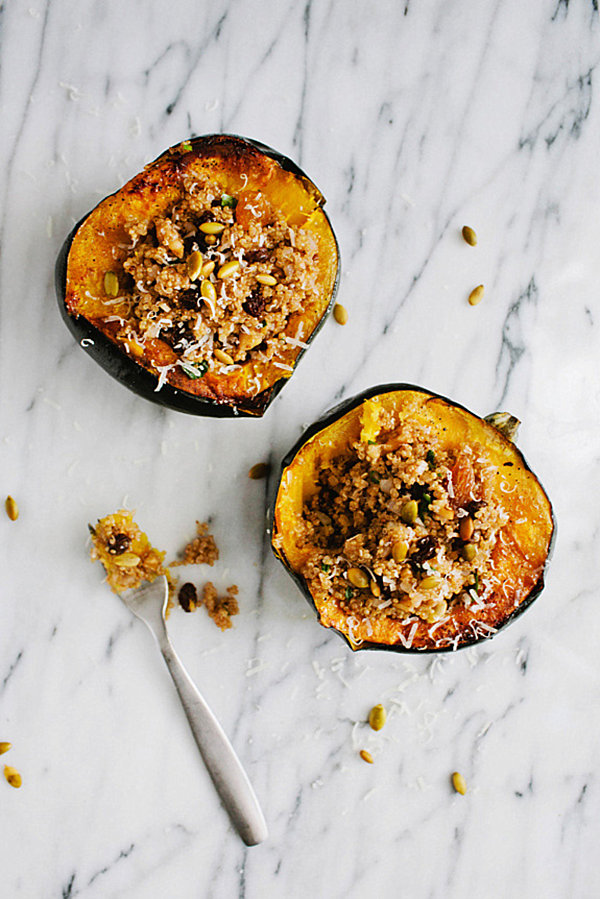 Who says you have to prepare a traditional main course with sides at your Friendsgiving? Another option is cooking up a tapas-style feast filled with delectable small plates. This recipe for Tiny Grilled Cheese with Apple & Bacon comes from entertaining guru Camille Styles, and it makes an amazing appetizer or small plate addition to your Friendsgiving table…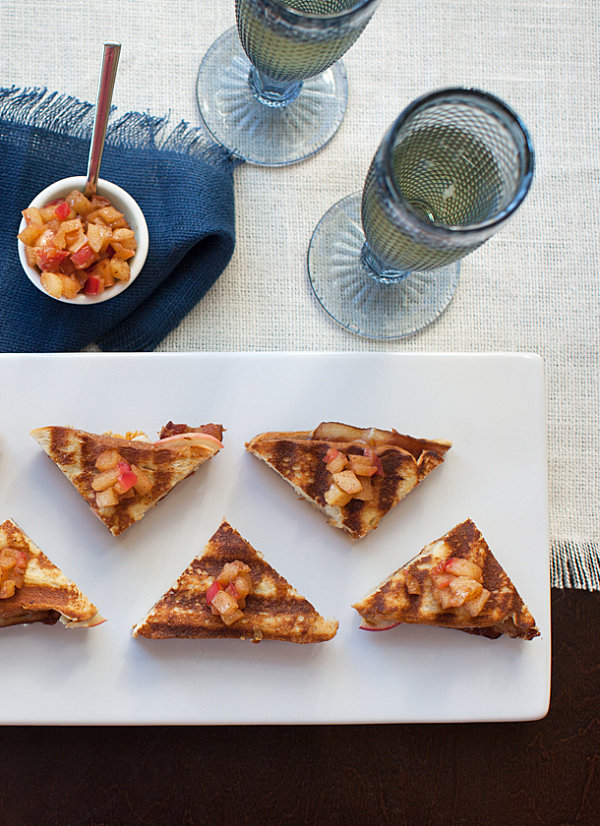 Look at these gorgeous Pumpkin Dinner Rolls from Beyond Kimchee! Yes, they really have pumpkin in them! Strategically flattening and cutting the balls of dough before baking them gives these rolls their signature look. And don't forget to add the "stems" post-baking–they're pecan pieces! [via Rainbow Delicious]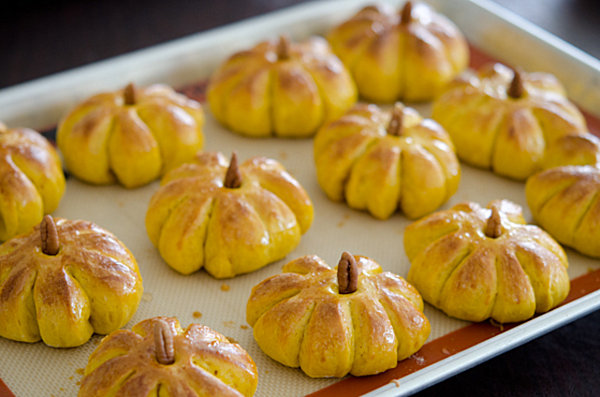 Don't forget to leave room for dessert! Especially if dessert is this colorful… Say hello to a scrumptious recipe for White Chocolate Cranberry Lemon Truffles from Our Share of the Harvest. The best part: they're the perfect size for serving on porcelain appetizer spoons!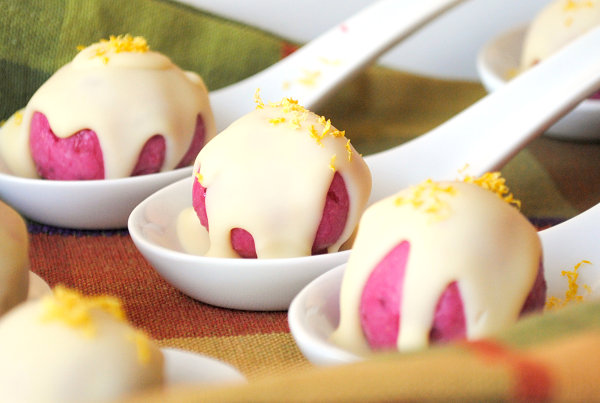 Did any of today's images catch your eye? Will you be hosting a dinner party before Thanksgiving? Possibly a Friendsgiving? Tell us about your festive plans by leaving a comment below…